If you're planning a trip to Crete, one of the first things you'll be looking into is accommodation. Chania is the second most important city on Crete as well as the capital of the westernmost region (also named Chania). The guide breaks down the information into budget, mid-range, and luxury accommodation in the Old Town of Chania and in the modern city. Finally, there's also a small section focusing on other popular areas of the region to help you find the best place to stay in Chania.
Where to stay in Chania, Crete
Best places to stay in Chania
Only in the center of town, the accommodation range in Chania is huge. It goes from convenient family rooms to exclusive boutique hotels in wonderful historic Venetian buildings. But that is not all, it's also possible to splurge in unique seaside resorts Or even save some money renting a flat in town or sharing a bedroom in a city hostel. You can also find plenty of convenient deals and cheaper fees the earlier you book or the farther you get from the city center.
Where to stay in Chania on a Budget
If you have a somewhat limited budget, this does not mean you cannot have a holiday on Crete. The island has long been known for being a very convenient destination and there are some wonderful places you can book without declaring bankruptcy!
And you don't necessarily need to be staying in some remote location. There is accommodation for any pocket in every area of Chania, even in the heart of the Venetian quarter.
These are some of the best places to stay in Chania if you want to stay within a limit of €50-€60 per day.
Anatolia Guest House
Just crossing the magnificent wooden door of this ancient Ottoman mansion will be enough to fall in love with Anatolia! The place has been recently refurbished with unique modern charm while keeping some traditional features of the old mansion.
Anatolia is in the area of Kastelli, just a few minutes from the Venetian Harbor and the Arsenals, and yet on a very quiet street, just minutes from the busy center of Old Town Chania.
It's possible to choose double suites or the apartment, perfect for up to four guests. The property counts with a communal modern kitchen. There's also a cozy sitting area and a beautiful open yard where you can sit and enjoy a drink after a busy morning visiting the city. Anatolia Guest House grants real value for money in the heart of Chania.
(Courtesy: Anatolia Guest House)
Anastasia Apartments
Anastasia Apartments is in one of my favorite streets of the Venetian quarter, Theotokopoulou Street, one of the few wide alleys of the old town which marks its western boundaries.
The flats are just a stone's throw away from the main landmarks in town, the best restaurants, and the souvenir shops. Hosts are super friendly, and always have a cool drink waiting at your arrival.
Known for its elegant atmosphere, the rooms are spacious, and the beds really comfortable. Choosing the two-level apartment will make you feel as if you were at home.
Cocoon City Hostel
One of Chania's top-rated places to stay is Cocoon City Hostel, in the modern area of town. The hostel is just a few meters from the Central Bust Station which makes it ideal if you're using the bus to come from the port or the airport. Among the different services, Cocoon also offers a shuttle service as well as bikes to rent, a comfortable and cheap way to navigate the city.
Accommodation options include rooms with a private bathroom, rooms with shared bathrooms and mixed dorms with wardrobes. While some of the rooms have a balcony, all of them feature air conditioning.
The place is super modern, clean, and friendly, and it's a favorite place to stay for backpackers and digital nomads. Every morning, a very good vegetarian breakfast is available for about €5. The price for a bed in a mixed dorm starts at €22 per night!
(Courtesy: Cocoon City Hostel).
Narkissos Guest House
This cozy city hotel is a restored 16th-century building located in the heart of the old town, on Kondilaki Street. Some of the balconies have great views of the Venetian Harbor. The hotel is centrally located, a few steps away from Chania's last remaining synagogue, Etz Hayyim.
Also in the area, you can visit the Archaeological and the Folklore museums. There are also many bars, restaurants, and shops just a few steps from the hotel. The local bus station is a short 10-minute walk away.
Every room has a private bathroom, air-conditioning, and basic kitchen facilities which makes it really convenient if you're traveling with a tight budget. It's also possible to have English breakfast (for an extra €12) served on the ground floor where there's a snack bar as well. The staff is super helpful and friendly.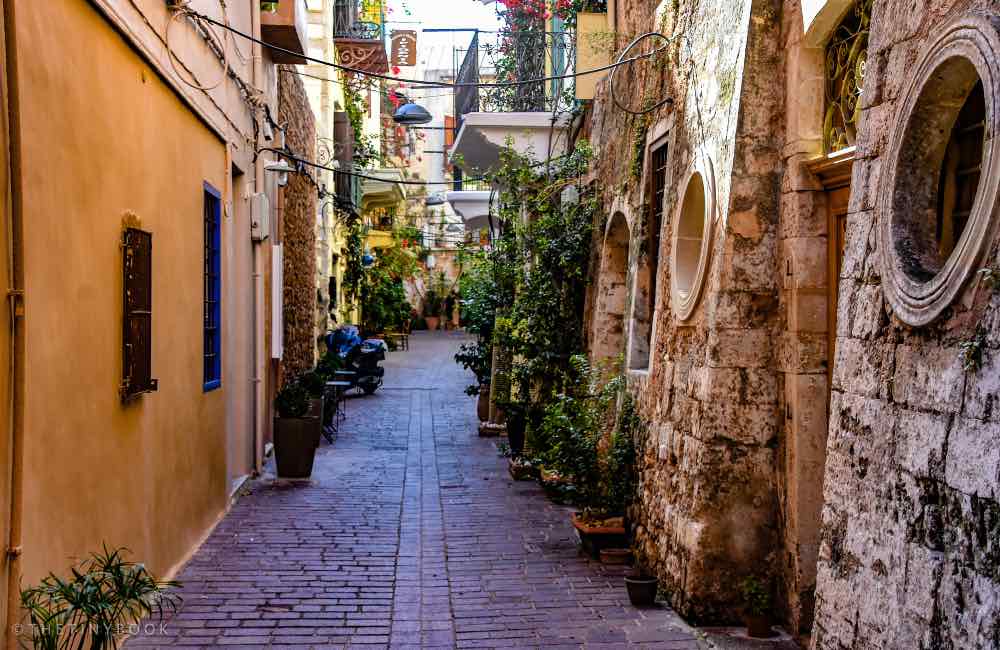 Porto Antico
One of the best-located budget hotels in the old town is Porto Antico. And it's an authentic deal. The rooms in this 17th-century mansion have been carefully decorated preserving some architectonic traits of the original house, such as the limestone walls and the magnificent traditional ceilings.
Some of the rooms have an unforgettable view of the old port, yet there's also a common rooftop sitting area where to enjoy the city landscape as well. The rooms are super clean and comfortable while the staff is hospitable and helpful. You can opt to have breakfast every day for an extra fee (€10).
There is a coffee machine in some of the rooms, a facility that I find an absolute must in any place I stay. Porto Antico is a great budget-friendly place to stay in Chania.
>> Discover Chania with these guided tours <<
Mid-Range Accommodation in Chania
There are some great places to stay in the old town and in the modern city if your budget stretches a little bit more. These are are some of my top hotel choices between €60 to €150 per night. A higher budget availability clearly offers more possibilities to choose from. Still, you should keep your eyes open since last-minute deals are not an oddity in Crete.
Kumba Hostel
Another great place in the offbeat neighborhood of Koum Kapi, quite close to the old town. The building has been beautifully renovated in recent years. Guests of Kumba praise the clean rooms, the friendly atmosphere and respect for privacy. Those are two things you don't want to disregard when staying in a hostel.
The place is quite budget-friendly and a great asset for those renting a car is that parking in the area for free is not as hard as it can be in the center of Chania.
Beds start from €18, but a whole suite all for yourself is about €70 (that's why I've included in the mid-range section, yet if you don't mind sharing a room it can be quite convenient). They also serve a very abundant breakfast for about €5.
Porto Veneziano Hotel
Porto Veneziano is one of the hotel landmarks in the area known as Arsenali, the Dockyards of Chania, right on the waterfront, with great views of the lighthouse. And it's a great pick if eco-minded travel is something you care for since they have a geothermal cooling system that is a hundred percent environmentally friendly. The hotel is also smoke-free.
A classic hotel in town, Porto Veneziano is close to the center of the old town and not far from the Turkish neighborhood either. A stay in the area will easily allow discovering the most bohemian corner of Chania.
Prices start from €135 per night, quite convenient if you also consider that the fee includes a fantastic buffet breakfast of homemade Cretan delicacies.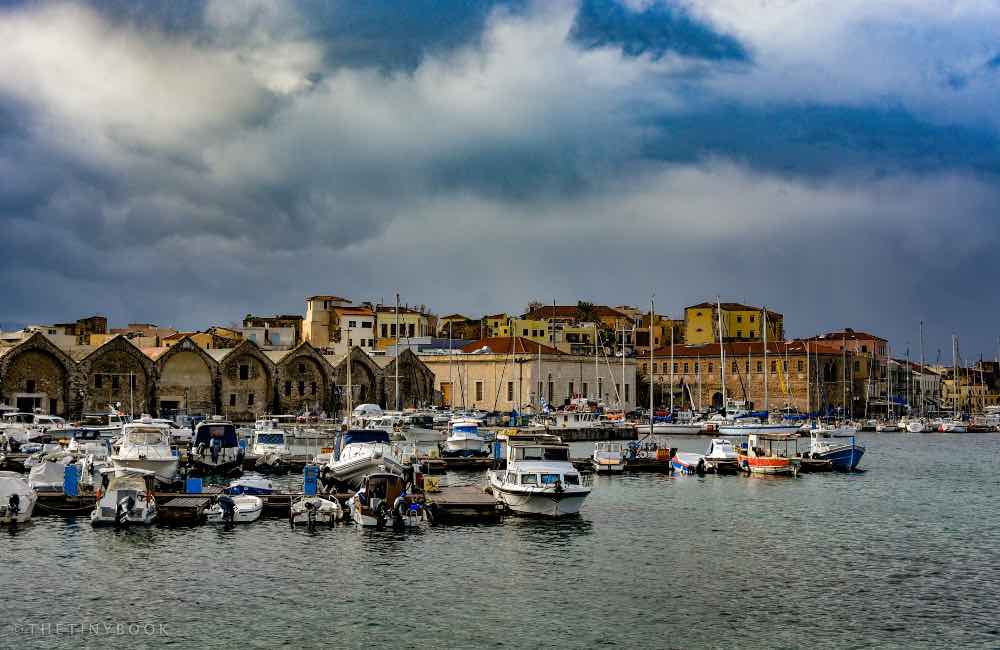 Aoria Estate Old Port
In the elegant Skoufon Street, Aoria is another place to stay on the island offering allergy-free rooms (like this one). The rooms are bright and clean, full of light and air.
The decoration simple and edgy, still maintaining some of the traditional architectonic traits of Chania's old buildings, such as limestone walls and wooden ceilings.
The place has been totally renovated. Every room has a private lounging area, high-pressure showers, and super comfy beds as well. There is a rooftop terrace to admire the tower bells and minarets of Chania's skyline. As usual in Crete, the staff is available and friendly!
The 48Suites
An absolute gem of a hotel in a fantastic location, Theotokopoulou Street. The position is ideal to walk along the alleys of the old town, discover the Venetian Harbour, and some great restaurants.
More of an aparthotel, there are just three luxury suites to choose from. These give guests a unique sense of privacy and a feel of being at home. Beds and showers are comfortable and new. Every room features essentials including a fridge, a coffee machine, and a kettle.
I don't think you'll stay in for long with everything there's to see and do in Chania… Yet, some might be happy to know that Netflix is available too.
Another great advantage of the accommodation is that it's conveniently close to Nea Chora beach. There's a public parking space right at the end of the road.
Hotel OFF
Hotel OFF is one of my favorite mid-range boutique hotels in town so much so that I also tell the story of the building in this article. I love the fresh and lush atmosphere of the patio where it's possible to sit and enjoy breakfast every morning. Or just for a refreshing drink after a walk around the old town.
The suites in Hotel OFF are beautifully decorated and have a minimal design. If you're able to splurge more, go ahead and book the Exclusive Suite Hammam, you won't regret a single bit of it!
Hotel OFF has earned quite a great reputation for its excellent breakfast, which is included in the room fee. The staff is knowledgeable and very attentive.
Top Boutique Hotels in Chania's Old Town
With a higher budget you'll be able to stay in one of the elegant boutique hotels in the old town of Chania. These places start from €160 per night. Even if the price range is high, these hotels are usually fully booked, so don't miss your chance if you find the available room you're looking for!
Domus Renier Boutique Hotel
One of the most exclusive hotels in town is the unique Domus Renier, facing the magnificent Venetian harbor. After my first visit, I was crazy about the views and the style of the rooms and the decoration, so I wrote a whole review devoted only to this hotel which you can read here.
Some of the key features include a TV with satellite channels, sitting lounges, and a wonderful patio. Pies and other Cretan delicacies are freshly-baked every morning for breakfast too.
The hotel couldn't be in a more strategic location, dominating the whole waterfront, the Lighthouse, and the small but picturesque Küçük Hasan Mosque.
Casa Delfino Hotel Spa
Another favorite of mine is Casa Delfino. Located in a traditional mansion that has become a landmark in town, the hotel excels for its elegant environment. Personal touches that make any stay a memorable one. The staff is knowledgeable and able to arrange any kind of excursion or day trip with extreme detail.
It has a remarkably beautiful patio to have breakfast every morning. The rooftop bar is an inviting area to enjoy a drink during sunset admiring the views of Chania as the sun goes down.
Casa Delfino also features a renowned spa which you can access for an extra fee.
>> Read also the accommodation guide for the best places to stay in Crete <<
La Maison Ottomane
There are only three rooms in this unique accommodation in Old Town Chania. Oriental flavor for the decoration of the suites brings a subtle reminiscence of the Turkish past of the city.
Another city hotel in the quiet area of Kastelli Hills, La Maison Ottomane is literally minutes away from the hustle, and still incredibly silent and peaceful.
Other than the excellent location, the elegant facilities, La Maison Ottomane has the best guest reviews in town.
Looking for more exclusive accommodation?
>>Check Chania's historic boutique hotels<<
Luxury villas in Chania
Estia
Estia is a fantastic four-bedroom house in a gorgeous area of Chania, right in the heart of the Turkish quarter, Splantzia. The city beach of Koum Kapi is only meters away from the property.
This comfortable villa is ideal for a family or for a group of friends up to 9 people. There is a comfortable kitchen with every needed facility, and a beautiful lounging area. There are also a terrace and a patio with a barbecue and a fridge to keep your drinks cool!
Best places to stay near Chania
Nothing like the magic of the ancient harbor or the sunsets at the lighthouse for a romantic stay. However, some people argue that they rather stay close to the beach and how could I argue with that?
However, it's good to remember that most roads in the old town are cobblestone alleys, usually pedestrian, and more often than not there are stairs involved. This can be an issue if you're traveling with a lot of bags or have mobility problems. Unfortunately, only the most exclusive hotels will offer a luggage assistance service to their guests.
On another note, if you're keener on exploring the natural landscapes of the region, you should rent a car to move around. If this is your case, take advantage of convenient fees in hotels far from a central position.
Down here, I only include a few of my top-favorite hotels close to Chania's different attractions. In each case I will point you in the right direction to find the best hotels in your area of interest.
Akrotiri Peninsula – Mr. & Mrs. White Resort and Spa
The beautiful landscape of Stavros Beach puts a frame to the fantastic luxury bungalows and suites of Mr. & Mrs. White, definitely my favorite place in the area.
The hotel is located on the unique Cape Akrotiri, a place I've often recommended s one of the most convenient areas to stay when visiting Chania. Not too close but neither too far from the bustling city center, Cape Akrotiri is also the place I call home!
When it comes to Mr. & Mrs. White, there's no way you can go wrong. Relax and quietness are the two words ruling your stay. There's a top-notch spa managed by Aegeo Spas, and private pools in the honeymoon suite and the spa suites as well. As from the 2020 season, the hotel offers an all-inclusive boarding plan that you can enjoy in any of the three buffet-style restaurants: Italian, Asian, and International.
You can also discover more accommodation opportunities in the Akrotiri Peninsula if you visit this guide to the area, and click on the "Where to Stay" tab.
Agii Apostoli – Domes Noruz Autograph Collection (Adults Only)
The areas of Platanias, Kato Stalos, Agia Marina, and Agii Apostoli are Chania's place of choice for all-inclusive resorts and nightlife. Indeed, some of the best hotel chains in the region are in this area. When it comes to top-accommodation in exclusive and beautiful suites, no other place beats the standards of Domes Noruz.
Upgrade your holiday style with Haute Living. This world of exclusive pampering includes Domes' Sublime Lofts and Haven Suites (Pure Haven, Ultimate Haven, and Absolute Haven), as they love to call them, an "ode to luxurious leisure". This is the Domes way to offer unparalleled services and luxury amenities.
Tavronitis – Lycasti Maisonettes
To enjoy the lonely vibe of Cape Rodopou and Kolymbari, you can choose to stay in Tavronitis. The gorgeous gardens of Lycasti Maisonettes are an oasis of Cretan hospitality. This boutique-styled, cozy, family hotel caters to every one of your requests with their trademark first-class service.
You can discover Lycasti's wonderful swimming pool and pool bar or access the beaches in the area. Every self-catered room, some of them occupying two levels, is designed with unique taste and keeping comfort in mind.
Almyrida – Almyrida Resort
Those wanting to explore the east of Chania can stay in the area of Apokoronas, comfortable to visit the beaches of Kalyves, Georgioupolis, and Almyrida.
Almyrida Resort boasts a central position in the small village, but it's also next to the sea. So you have the best of both worlds without the real need to go very far… Unless you want to explore the traditional villages of the Apokoronas region, such as Vamos or Gavalochori.
Here, it's also possible to book a spa suite. Splurge in the magnificent daily Cretan breakfast served by the pool.
Best places to stay in the region of Chania
With so many stunning beaches to discover, the region of Chania is not short of places to stay. Although some people prefer in town and drive around daily to visit places such as Elafonisi, Balos, Paleochora, Loutro, or Falasarna.
For many others, the more relaxed lifestyle far from the city is all they want from a holiday in Crete. That's why they prefer to spend more days in less-accessible places. If this is your case, I can only recommend you to rent a car and explore. This gives you real independence and freedom from schedules. No more bus-routes or fixed timetables… In the end, you're here on holiday, so you might as well fully relax.
>>Check this guide for car rental on Crete and plan your itinerary with this road trip<<
Elafonisi
This magnificent pink sand beach is about 70 km south of Chania town. It is a fantastic spot to enjoy a tranquil holiday. Although the beach is popular among tourists, many visitors are there just for the day. They prefer to depart somewhat early in the day to avoid mountain roads. This lets you enjoy one of Crete's most picturesque sunsets without crowds or chaos. There are just a few places to stay in Elafonisi, you can check them all in this link.
Falasarna (and Balos Beach)
Another remote location to spend a pacific holiday is Falasarna (often spelled Falassarna too), on the west coast of Chania. The stunning bay is a great place for water sports while the village is small and rather quiet. In fact, there's not much to do in the area, which I believe represents the best reason to stay a few days in Falasarna.
What's more, this area is perfect if you also plan to visit the unique Balos Beach where there's no place to stay. These are the best places to stay in Falasarna.
Loutro
The spectacular fishing village of Loutro is impossible to access by car, either you hike there or you sail. Yet, it's so enchanting and unique that people often wish they could stay longer rather than going back to Chania on the same day.
From Loutro, it's possible to take a taxi boat to move around, This is also the only way to check other incredible beaches of the region, such as Marmara, Illingas or Glyka Nera. You can read about these places in this guide to the southern beaches of Crete. Check this link to find the best accommodation in Loutro.
Paleochora
Another delicious village in the south of Crete is Paleochora, it's a favorite among many tourists who visit every year for its somewhat hippie style and laid-back vibe. The village is picturesque and full of life, while there are several beautiful beaches you can visit in Paleochora, some of them among the favorite beaches of naturism fans. if you think you can give Paleochora a try, why not comparing hotels in this link?
Paleochora in your plans?
>> Check what to do in Paleochora and which Airbnbs to choose <<
Georgioupolis
I bet you've seen that famous picture of a small chapel that looks like floating on the sea! Of course you have! If you're willing to get a close-up view of the tiny Agios Nikolaos, such is the name of the church, staying in Georgioupolis can be a good idea. Obviously, there's much more to do in the area. Not far from the village you can visit the wonderful Lake Kournas or explore the ancient settlement of Argyroupolis and its mountain springs.
Read more about the attractions of the area in this West Crete article, which also includes countless other beaches in the region of Chania. To book a stay in Georgioupolis, check this link.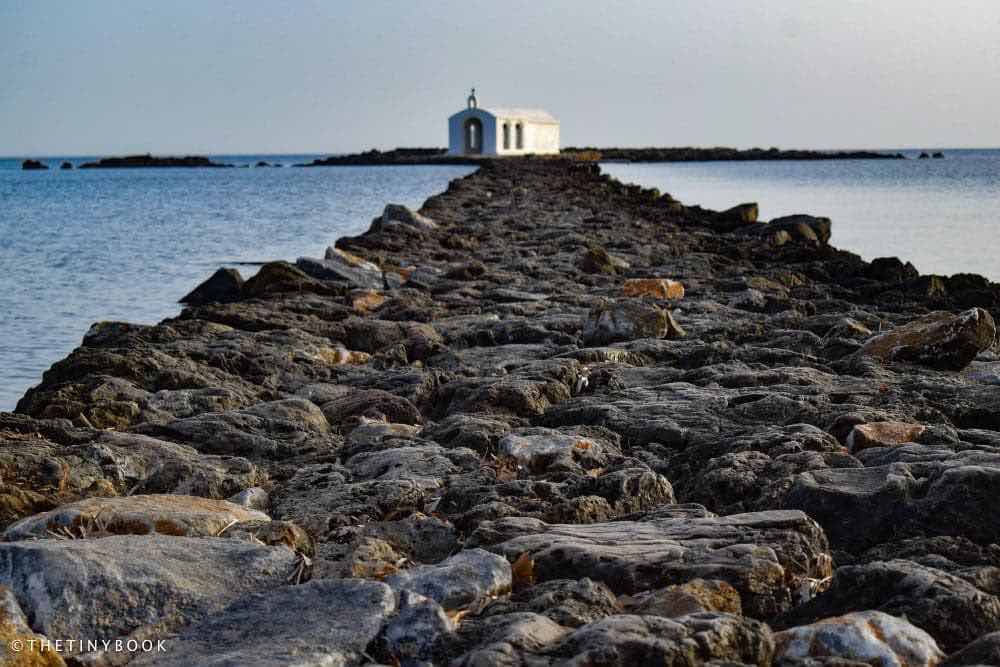 So, there you go, a list of the best hotels you can choose to spend a magnificent time in Chania. No matter whether it's the old town, the city center, or the most remote villages the region is an awesome holiday destination.
And again, it doesn't really matter whether you choose a 5-star resort, a small boutique accommodation, or a family hotel, Chania is (according to me), the best place in Crete for an unforgettable vacation.
---
Have you decided where to stay in Chania?
Let me know in the comments below!
---
Travel Plans for Crete?
More Resources to Organize Your Trip!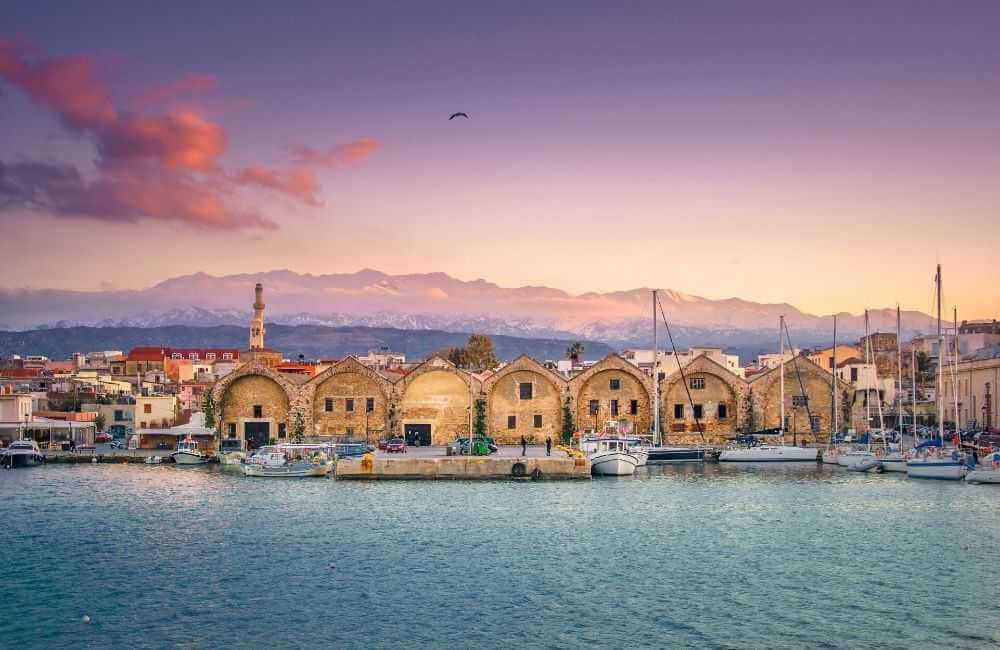 Start by heading right to my tips to plan a trip to Crete for in-depth details you need to know about Greece. You can also check my post to better know what to pack for a trip to the island or read this info to visit Crete with children!
Get in touch if you need extra help to plan your trip. If you want to tour West Crete, check my guide. Want more? Join my Private Facebook Group to connect with like-minded travelers who love Crete as much as you do!
Make Sure You've Got Everything For a Hassle-Free Vacation!
I never move around the islands without my Osprey backpack, a sturdy but light travel partner I just love. For short trips, I carry this little crossbody bag. If I drive, I pack my Nikon D7200 and a good travel guide! Lonely Planet's Best of Greece & the Greek Islands.
When it comes to plane tickets, compare prices with a powerful search engine. However, nothing beats traveling by sea in Greece. With Ferry Hopper, you can book in advance at the lowest price.
For accommodation, I personally use Booking.com. Traveling to remote places is easier with Discover Cars. Other times, I join organized tours with GetYourGuide, which features anything from cooking lessons to airport transfer!
Are you coming to Crete any time soon?
Get in touch and let me know!
Read more:
10 Amazing Places to Visit in Greece
How to Spend 3 Fantastic Weeks on the Road in Crete
Where to Stay in Rethymnon: Great Accommodation Guide
Unique Things to Do in Ierapetra, Crete
Greek Islands: Travel Guide for Your First Time in Mykonos
This is a pin-pin situation!
---
You might also want to read:
---