Looking for the best things to do in Chania at night? You're in the right place!
Chania offers a lot more than meets the eye. You may spend a week in this city and still have places to go and things to do. And this is true for both the day and the night.
The sheer amount of things you can do in Chania at night may surprise you.
---
Disclaimer: Posts include affiliate links to products or services. I might earn a commission if you make a purchase.
---
Things to Do in Chania at Night: Everything about Nightlife in Chania, Crete
It's already been five years that I live in Chania and the city never ceases to amaze me with the number of opportunities you can grab to have fun.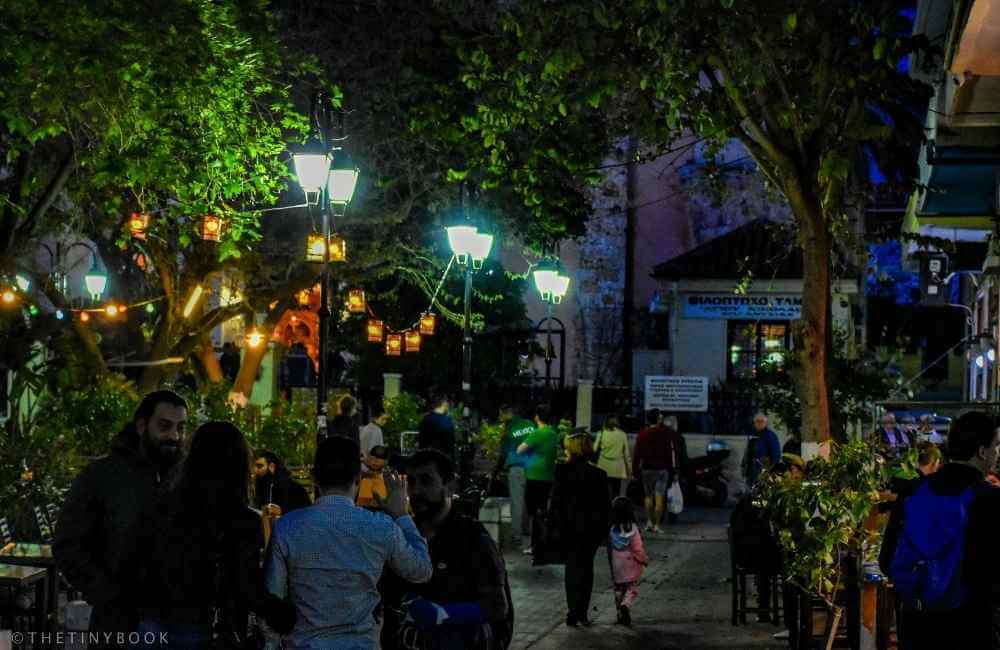 When it comes to the evenings, there is a lot you can do in Chania, ranging from a traditional round of drinks by the sea to less common experiences.
This article focuses on the most popular and fabulous things to do in Chania after sunset.
Discover the Old Town Under the Moonlight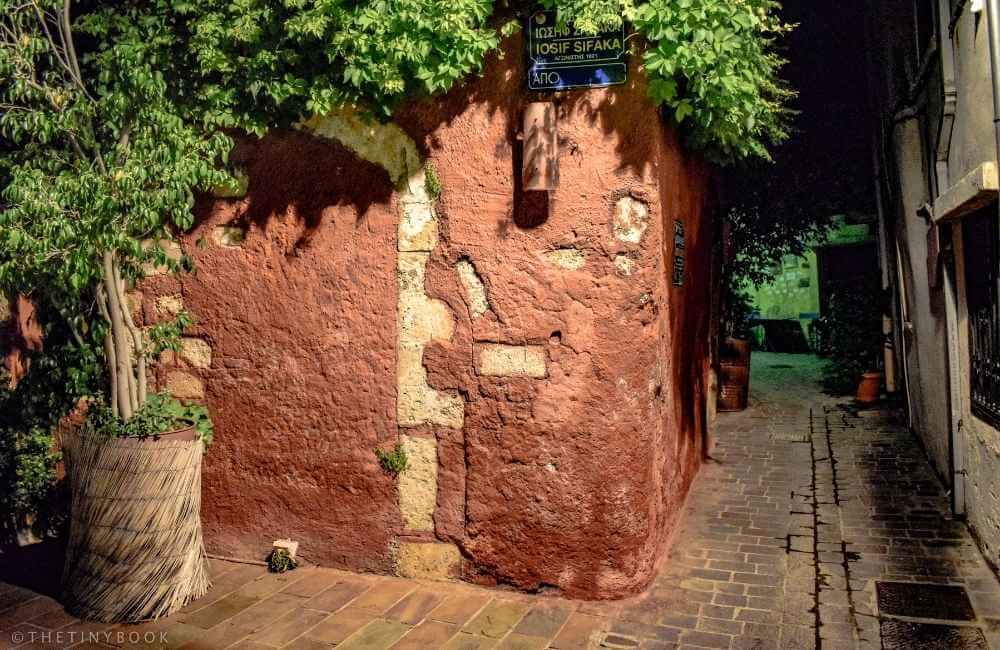 If you want to discover Chania at night, then there is no better option than strolling around the old town. Walk the picturesque narrow alleys and soak in the vibe of this historical place.
While you enjoy yourself and admire the views, feel free to find the perfect gift for your beloved ones back home. There are plenty of souvenir stores available in the area.
Looking for more things to do at night? Check the best bars, clubs, and pubs in Chania.
You can locate anything from ceramics and wood utensils to jewelry and clothes. The options are truly limitless.
Apart from physical stores, you can find a few street vendors in the port who have an aptitude for bargaining. Don't miss the chance to have some fun negotiating and lowering the price.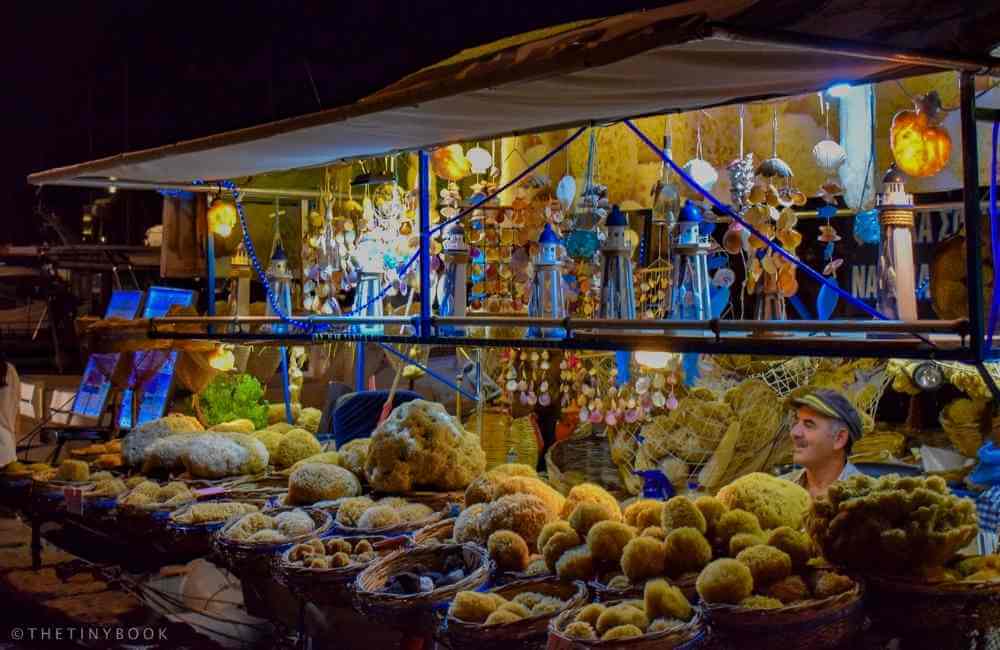 This whole bargain makes the purchase more memorable than the actual item. As a result, you start to value the item more just because of the negotiation. It is a win-win.
On some days, you can even find the Municipal Market open, get inside, and discover the almost empty market, this is a unique opportunity to admire the architecture and the surroundings without worrying about the crowds.
Locals know: The Municipal Market of Chania will be closed for renovations until December 2023 (or a bit more…).
Explore the Old Venetian Harbor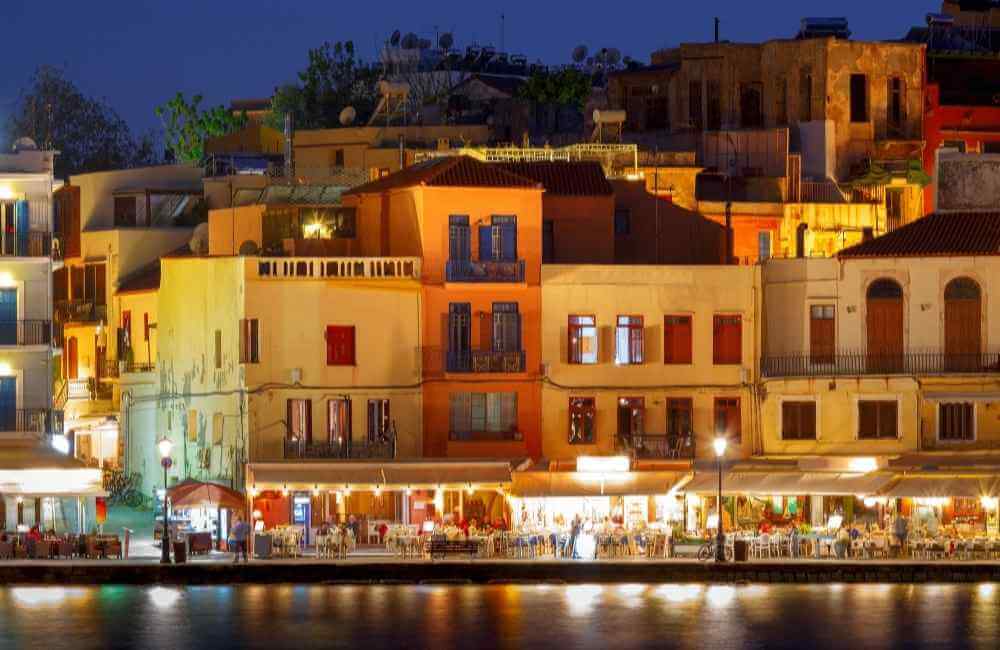 If walking around the old town is not enough for you, then the port and the lighthouse are just next door, no more than a 5-minute walk. And this place carries as much history as the old town.
Venetians built that harbor in the 14th century to protect Chania from pirate raids and external enemies.
In a matter of a few years, this harbor became one of the most important economic centers of the Venetian Republic.
The glory left behind is still evident all around. Elements of the Ottoman and Cretan culture are also visible, intermixed with Venetian architecture.
All in all, the ambiance is magnificent and the atmosphere majestic, as if it comes from another era. The modern bars and restaurants are the only reminder that we are in the 21st century.
Of course, the highlight of the harbor is no other than its lighthouse. This structure amid the bay is one of the oldest in the world.
Thanks to its location and elegance, it gives the old Venetian harbor an extra charming character that invites thousands of tourists during the day.
However, the best time to visit the lighthouse is after the sun has set. At night, you can walk 500 meters from the far end of the harbor to the lighthouse with relative ease, as it won't be as crowded nor as hot as during daylight.
Although you cannot enter the lighthouse itself as it is locked, the views will make up for the short walk.
From this point, you can have a panoramic view of the old town and the entire city. It is an ideal location to take a photo and enjoy the view.
Because of its length, walking to the lighthouse will not tire you, no matter how big your day was.
Remember that the fresh Aegean breeze will cool you down no matter how hot the night can be. And the views, in the end, will be rewarding.
Visit the Kipos, Chania's Municipal Garden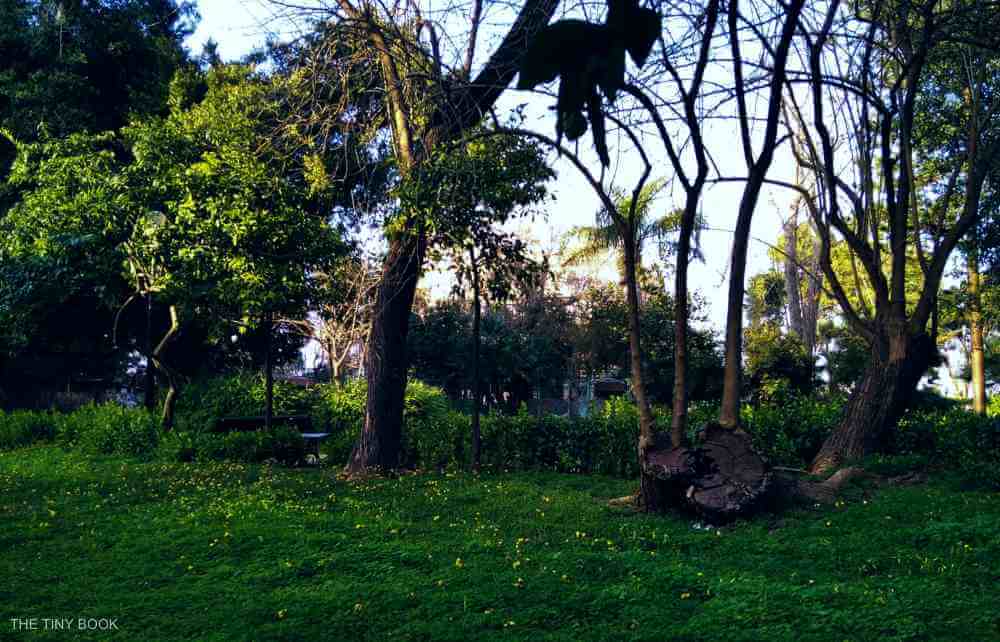 If you are looking for a late adventure, consider visiting the Municipal Garden of the city. Located about 500 meters southeast of the old town.
The kipos is a public garden that is rich with animal life, century-old trees, and shady paths.
Although you can walk around this little green oasis in the middle of the city anytime during the day, you will appreciate it most during the evening.
Since there are no crowds around, you can enjoy the calmness of the garden while you take in fresh oxygen from the surrounding trees.
Along your path, you may wake up some of the permanent residents of the area. You can find Cretan goats, swans, turkeys, ducks, and even fowls left or right of the main paths.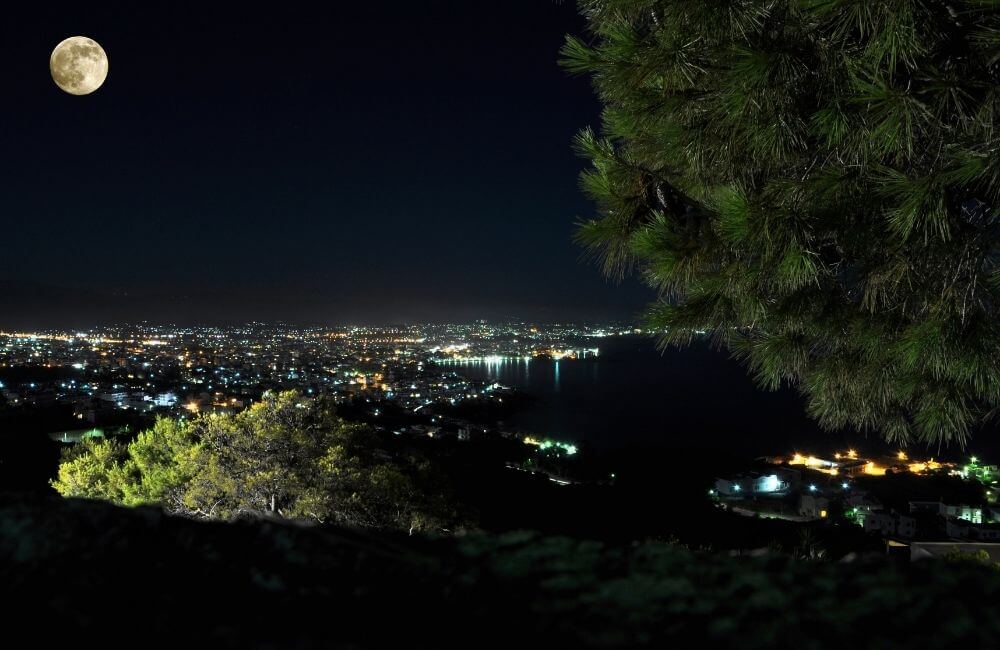 As you walk along, you may also notice the whisper of birds or cicadas. These tiny creatures are always present in summer. Sometimes, you can listen to their characteristic sound (some call it a melody!) even late in the evening.
Very often, this park hosts free concerts or other live events. If you are lucky, you may come across one during your visit here. In that case, the place will not be as quiet since crowds of people come together to celebrate and have fun.
As a result, street vendors gather in the area and offer anything from food and drinks to souvenirs.
However, you won't need to rely on these rare occasions to find something to drink in the park. There is a popular 100-year-old cafe bar in the center of the garden.
There, you can relax, have a drink or two and enjoy the ambiance of the garden.
Just note that the cafe is usually open until midnight. So, make sure you come at least an hour before to get the most out of what the park and bar offer.
The kipos is an ideal spot if you are looking to get away from the hustle and bustle of the main roads, especially in the evening.
Discover these amazing things to do in Chania Old Town.
Enjoy a Drink in a Local Bar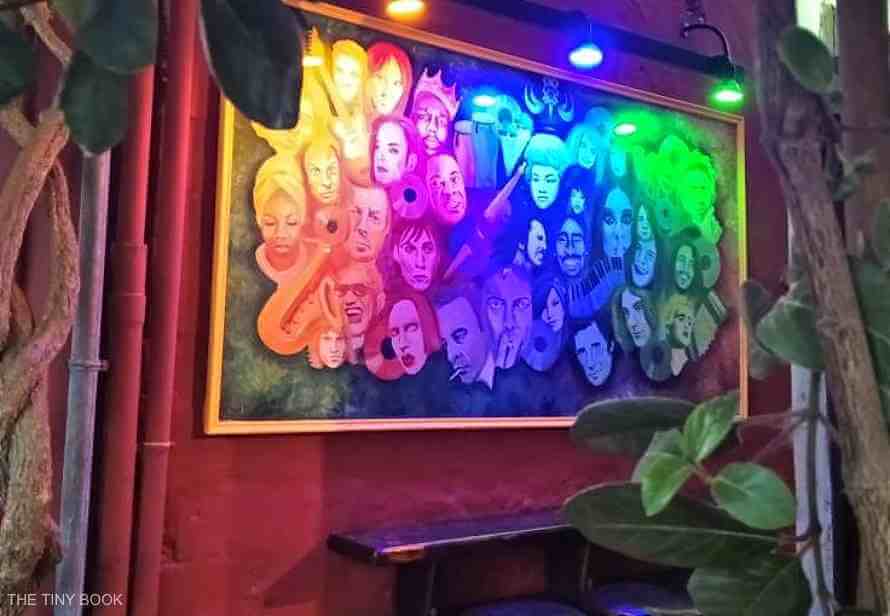 Walking and exploring is an indispensable part of travel. However, it is not supposed to be a full-time endeavor.
When it gets dark, there is less room for discovery and more for going out for a drink. And Chania has all you need to make the most of your night out.
There are as many bars spread around the city as you can count.
Atmospheric bars and lounge cafes that stay open until early morning create the perfect setting for a bar-hopping experience.
The most popular destinations for a night out are the old port of Chania and the backstreets of the Old Town. Agia Marina and Platanias, two districts a few kilometers outside the city center, are also rich in nightlife.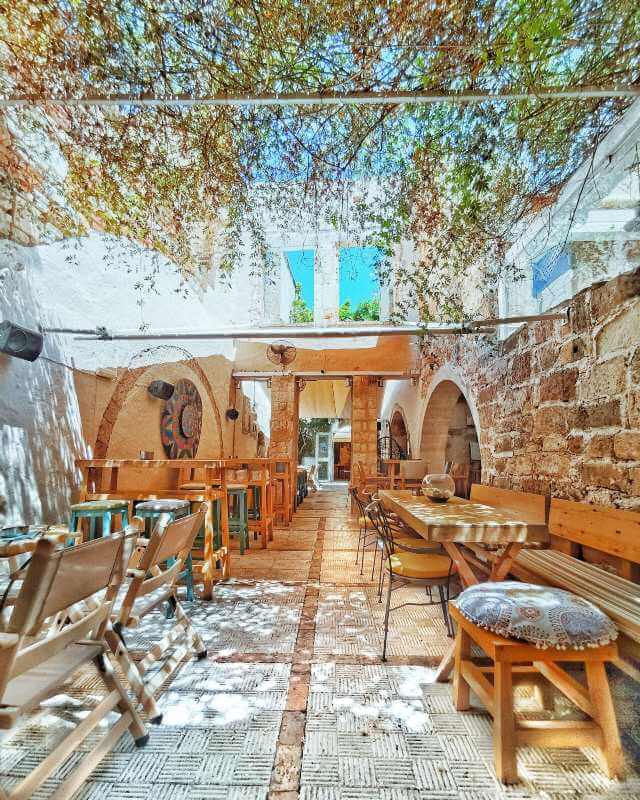 However, if you don't want to travel much outside Chania, then the old port is your best bet. There are many bars to choose from.
And each bar has its own identity. For example, Klik is renowned for its popular international music and party vibes while Avalon Rock Pub attracts those in love with rock and metal.
For a super bar experience, head to the small road behind Kondilaki Street, and there, right next to the Old Etz Hayyim Synagogue, you can enjoy both cocktails and music at Sinagogi Bar.
If you're into discovering alternative places, Charles Monastery on Daliani Street is a great bet for music, wine, and popcorn!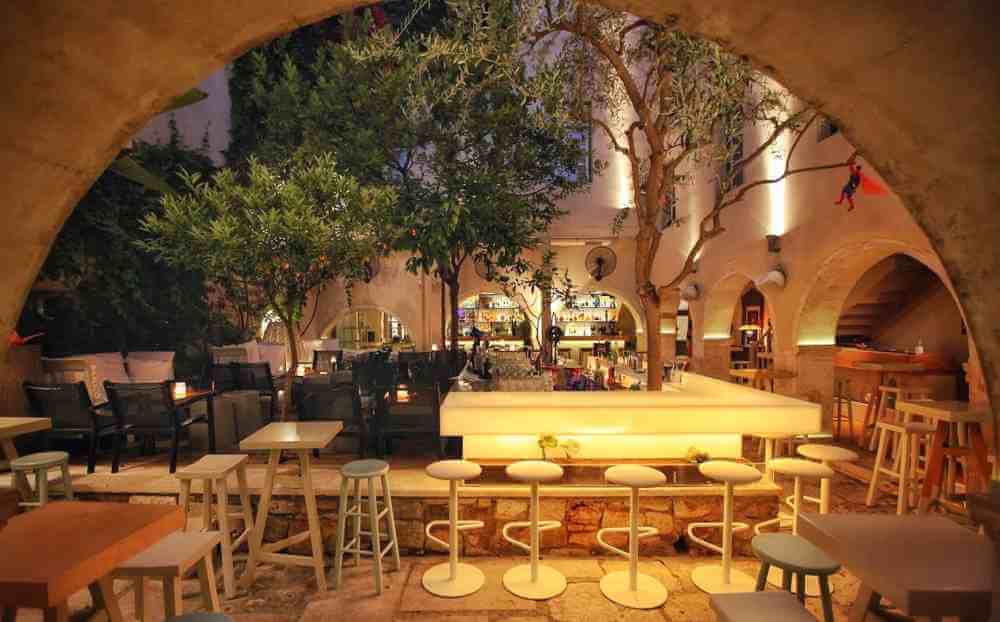 To experience great music head to Sifaka Street, where you can enjoy a beer in Plaka, or even live music on special occasions in Mamouth Bar, one of the top places when it comes to nightlife in Chania.
Even if you are looking for a full Irish pub experience, the old port has you covered. The Conor Pass Irish is another bar in the area with a laid-back and relaxed atmosphere.
Bottom line, no matter your taste, you are bound to find the perfect bar for you and your friends. Chania can certainly guarantee a memorable night out.
Dance Your Way to the Morning After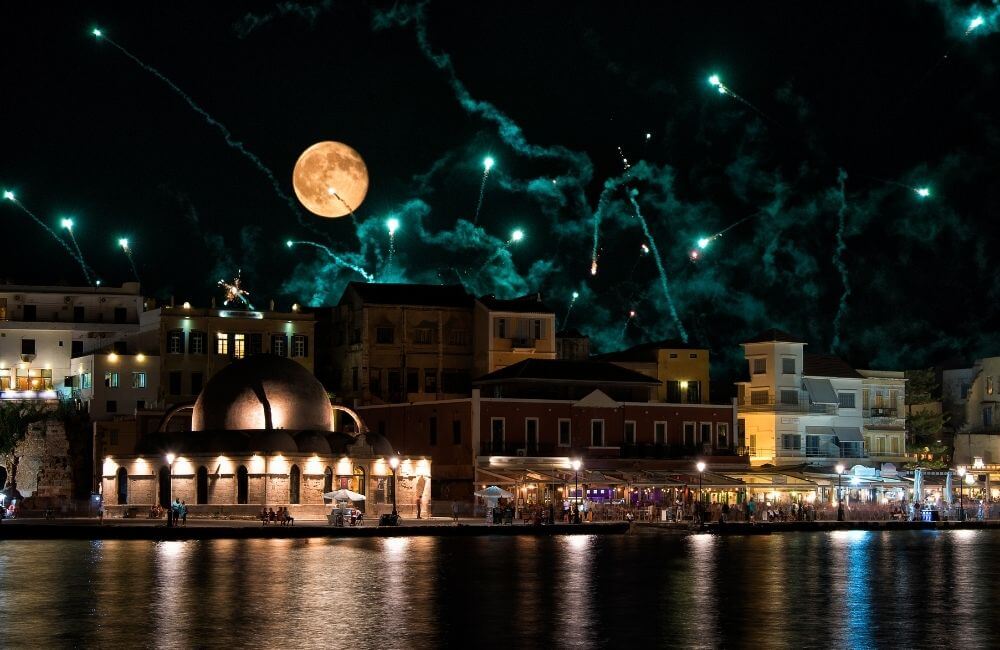 If you are looking for a more active and full-of-dance night out, then you may need to travel a bit outside the main city. Although you can spot plenty of bars in the center, clubs are easier to find outside the main residential areas.
Even so, you won't have to spend more than 15 minutes in a taxi if you want to visit places where you can dance your way to the morning.
Speaking of such places, the beachfront Agia Marina and neighboring Platanias are about 12 kilometers west of the old town.
Here, you can find dancing clubs that play loud music and stay open until the sun rises and beyond. And the most exciting part is that many clubs are only a few meters away from the beach and the water.
It is the perfect setting for a night that you will never forget. (Or in some cases, a night that you won't remember).
This part of Crete is hugely popular with younger visitors and the local youth. And for a good reason. Regardless, everyone is welcome to join.
There are even clubs that are specifically tailored to different age groups, or as they like to call them: older youth (no comments!).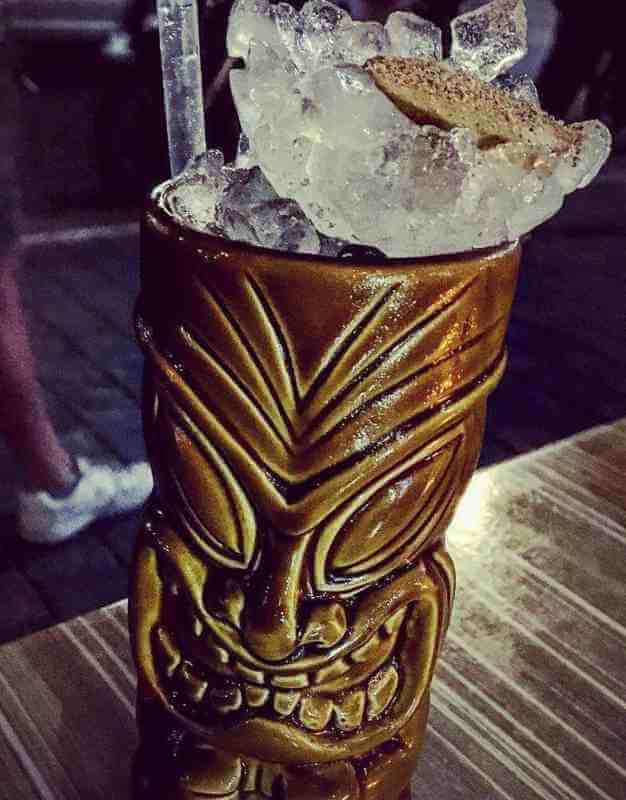 In general, the options are plentiful. There are clubs for all tastes and pockets. For example, Eclipse in Platanias is a lively bar that turns into a nightclub with a casual atmosphere.
If you want something more extreme, you only have to walk a few hundred meters to get into Splendid, a nightclub for the younger public and those looking to party until morning.
If you want to try something different, then feel free to spend a couple of hours tasting exotic cocktails and playing pool games at the Cafe Cafe Cocktail & Gin Bar again in Platanias.
Utopia is another beachfront club where it feels like you are partying in a tropical forest, where palm trees and lush greenery surround you.
Apart from Platanias, neighboring Agia Marina also has its own worth-visiting dancing clubs. Villa Club, Cabana Mare Beach Club, and Costa Costa Beach Bar are only a few options.
Every bar and nightclub has its own identity and unique atmosphere. If you feel like club-hopping, one night can never be enough to discover all clubs Chania has to offer.
Looking for a hotel in town? These are the best places to stay in Chania.
Experience a Greek Night Out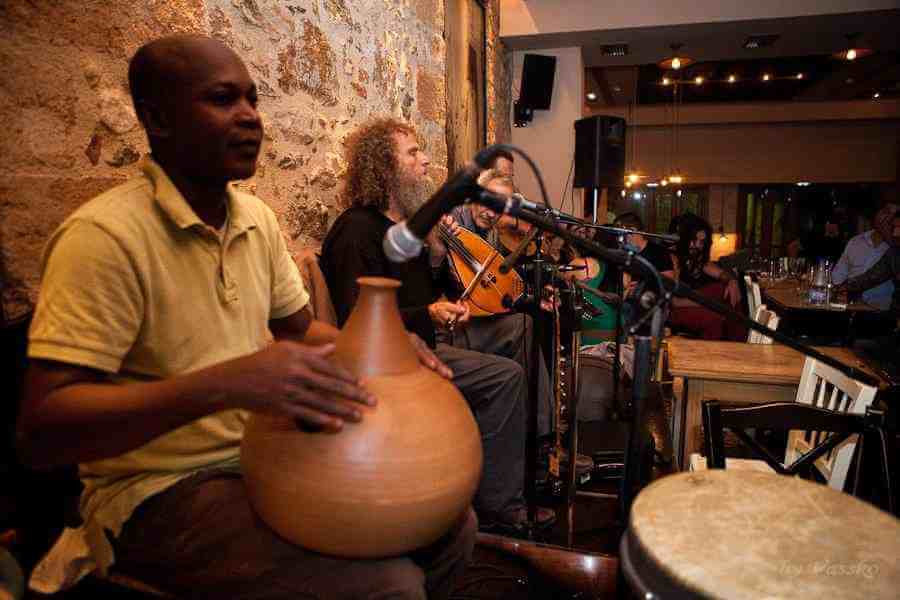 If dancing and loud music are not your forms of entertainment, then don't worry at all. Chania has you covered.
There are dozens of tavernas and restaurants where you can enjoy a peaceful dinner. And very often you can do so while listening to live traditional Greek music.
After all, a trip to Crete would not really be complete if you don't experience a traditional Greek Night, or as the locals call it: a Cretan Evening.
The Greek Night means a lot of music, dancing, and some of the finest Greek dishes next to local Cretan cuisine.
Apart from the taverns and restaurants that you can find in the city, there are also taverns close to Chania that organize such Greek Nights.
The main reason is that everything in the city gets fully booked very fast. So if you want to ensure you have a spot, it is best to plan it a few days in advance and make the reservation in time.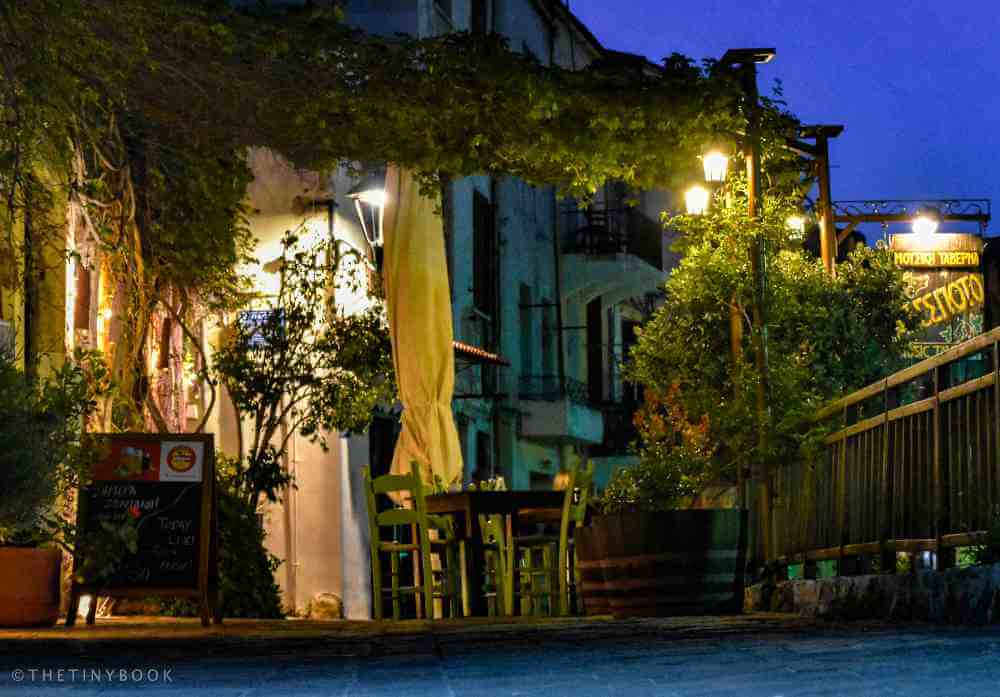 The Greek Night usually starts around 7 in the evening. You start with appetizers while you listen to live music from a group of local musicians.
The music and lyrics are mostly Greek while in some cases you may discern specific Cretan words or other variants of the Greek language, such as Pontiac.
Once you finish with the appetizers, the waiters bring you the main dishes of the evening. At different times you may have different choices.
The most common options, however, are mousaka and pastitsio, but I'd recommend you to stay with more local tastes, such as kleftiko, antichristo, or stifado. There are also vegetarian alternatives if you prefer.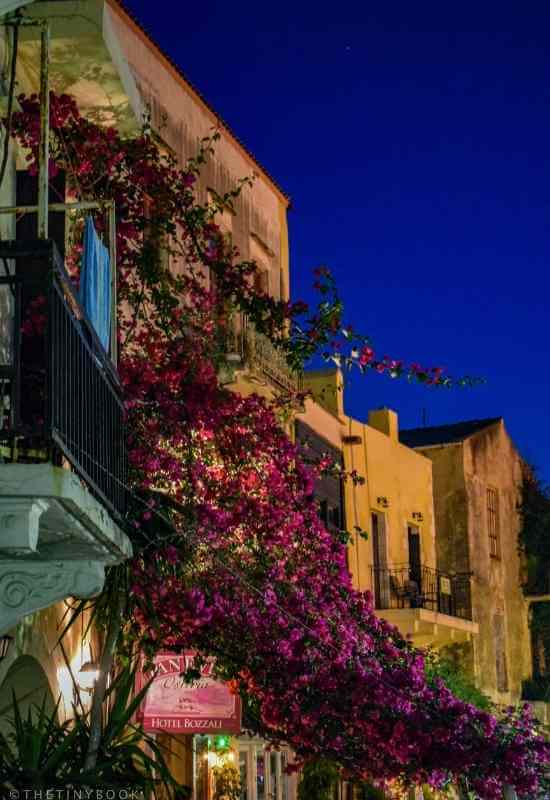 A few minutes after the main meal is served, the dancing starts. There is usually a group of professional Greek dancers with their suits and equipment.
They dance and complete their choreography until late in the evening.
No matter how much you enjoy others dancing, you will love it the most when you dance together with professional dancers.
Syrtaki is the most popular among tourists as well as one of the easiest songs to dance to. You all get in a curved line and follow the person leading the dance.
You don't even have to worry about missing the steps as there are only a few of them. On Crete however, you'll usually witness pentozali, a local dance incredibly catchy and full of energy.
The Greek Night can go as late as midnight. In the meantime, they serve you dessert and entertain you with more Greek music and elaborate dancing performances from the crew.
It is certainly an experience like no other, especially if it is your first time.
Like any proper Greek city, Chania gives you the chance to experience an unforgettable Greek Night out. My fav taverna for a Greek Night out? Xalkina, at the New Marina!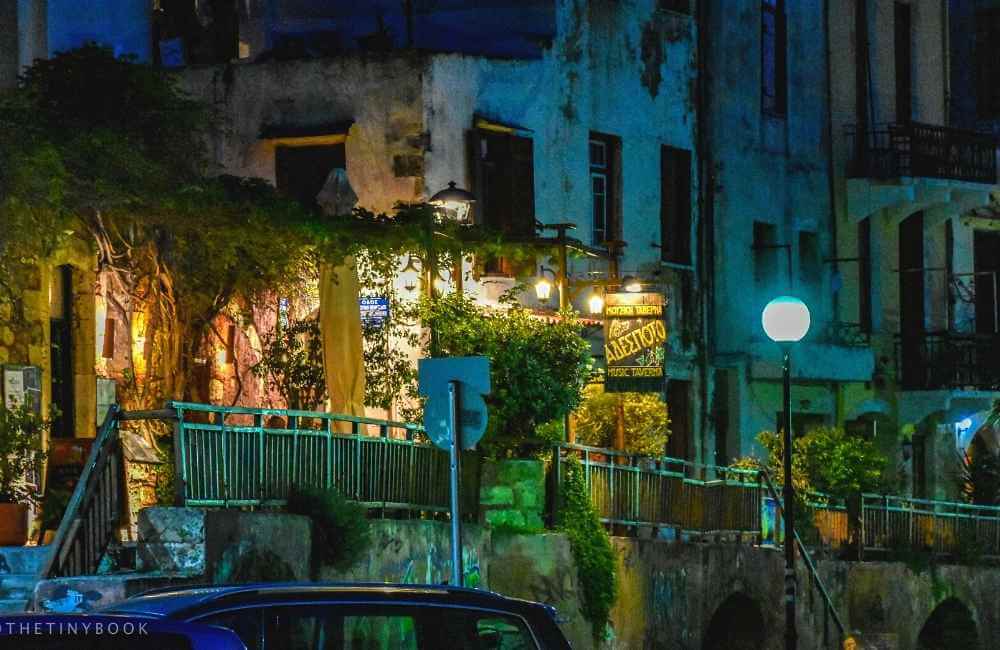 All in all, Chania offers everything you need to enjoy your night.
Walk the old town and Venetian harbor, discover the greenery of the kipos, enjoy a drink or two in a local bar, dance your way to the morning, or experience a Greek Night.
No matter your taste and mood, you can try or discover something new every single night during your stay in Chania.
Ready to experience nightlife in Chania?
Read more about Crete
🛌 Suggested Accommodation in Chania
🗺️ More resources to book your trip to Crete
Pin it Down and Get it Done!
Pin these Best Things to Do in Chani at Night for Your Next Vacation!
---
You might also want to read these posts about Crete's regions:
---
About my blog: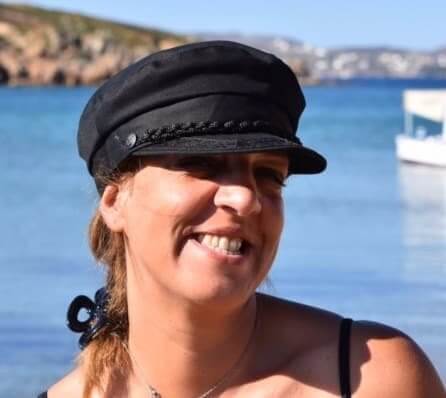 I moved to Crete in 2016. During these years, I learned much about the island.
In Crete, I juggle being a solo mom, hosting culinary tours, and writing for several travel media.
I've written for Greek Reporter, published travel guides about Greece, co-authored DK Eyewitness Top 10 Crete, and had more glasses of frappe than any regular person could ever handle.