Chania, in Crete, has one of the most vibrant environments on the island when it comes to its gastronomy. The city hosts dozens of unique places to eat and discover not just traditional flavors. You'll be able to find ethnic, fusion, and international cuisines as well as some delicious dishes from the Cretan Diet. This guide to Chania's best restaurants is the perfect starting point to find where to eat in West Crete during your adventure on the island!
---
Disclaimer: Posts include affiliate links to products or services. I might earn a commission if you make a purchase, at no extra cost.
---
Best Restaurants in Chania, Crete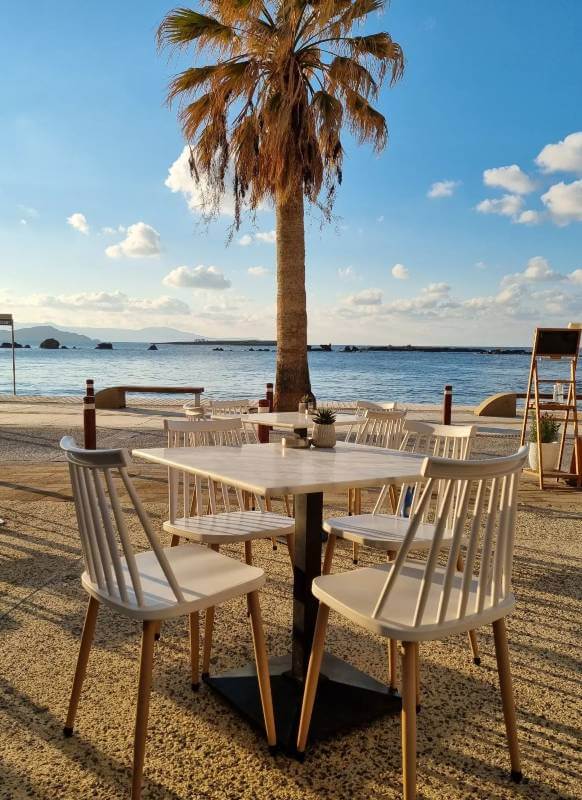 RESOURCES TO BOOK YOUR TRIP TO CRETE:
FLIGHTS: Use Skyscanner to compare prices before booking a plane ticket.
FERRIES: Check out Ferryhopper for convenient ferry tickets.
ACCOMMODATION: Look for hotels and rental homes on Booking.com.
PRIVATE TRANSFER: Welcome Pickups offers local English-speaking drivers, flight monitoring, and a very convenient (flat) pre-paid fee
CAR RENTAL: Use Discover Cars to find an affordable car to rent.
TOURS: Live unforgettable adventures and cultural experiences with Get Your Guide.
INSURANCE: If things go wrong, you'll get coverage against illness, injury, theft, and cancellations. I recommend Safety Wing for peace of mind.
Greek cuisine has some of the most loved and delicious dishes in Europe. Everyone wants to have a Greek dinner.
However, no matter how good you are at cooking and following online recipes, it is an altogether different story and experience if chefs prepare the dishes for you.
When you are in Chania, you want to go to such places. First, because you need to eat. Secondly, because the food is delicious.
But most importantly, you want to go to a Greek restaurant because it is a place you will find original Greek dishes.
So here is a list of more than 20 of the best restaurants in Chania!
Prepare yourself for your Chania trip and mark the restaurant you want to visit. There will be many of them.
Where to Eat in Chania
In no particular order, these are some of the best places to eat in Chania and I totally recommend visiting each and every one of them!
Tamam
Location: Zampeliou 49, Chania
In the center of Chania, right on the backstreet of the Venetian harbor, Tamam is a local restaurant with a unique vibe. An old European style is evident and will bring you to another era.
In perfect harmony, the menu offers simple Mediterranean food with some traditional Greek dishes and local specialties.
Although there is plenty of indoor seating, you will find only a few tables outside in the narrow alley. The place is usually full during peak hours.
At the same time, people are passing by almost non-stop. It is a convenient spot if you want to have your meal while watching the crowds passing by.
Best Hotels in Chania
Affordable: Aelia Apartments or Polixeny's Suites in the old town.
Mid-range: Elia Estia in the old town and Civitel Akali Hotel in the new town.
Luxury: Casa Delfino in the old town or Domes Noruz by the sea.
Check also Chania Accommodation Guide and Boutique Hotels in Chania.
Thalassino Ageri
Location: Vivilaki Str. 35 Tabakaria, Chania
If you would like to avoid the traffic and noise of the city center, Thalassino Ageri will be the perfect spot for a peaceful and romantic getaway.
Only 2 kilometers away from the harbor, this restaurant sits in one of the most scenic locations in Chania, right on the beachfront.
Enjoy your dinner over the majesty of the sunset and the melody of the waves. You will fall in love with it all. And the food is equally good. They serve modern and gourmet Mediterranean cuisine.
Also, don't forget to order a bottle of wine from a local producer. All in all, you'll remember your visit here for a long time.
Maiami
Location: Akti Miaouli, Koum Kapi Beach, Chania
A whole eclectic vibe for this brand new place by the sea, Maiami. Simple and delicious staples from Med cuisine, a touch of art, and Cretan wines from Manousakis Winery. In all, Maiami offers unforgettable dining experiences.
Amazing appetizers plus pasta the way it has to be. Trust me, the place will put you in the right mood for an unforgettable evening in town.
Maiami invites you to discover authentic ingredients and a lesser-known area in the city: a more authentic facade that you should not miss.
Walk to the end of Koum Kapi to begin your trip into a new, undiscovered Chania.
Bohème
Location: Chalidon 26-28, Chania
Right back to the harbor, Bohème is another unique restaurant in the area. This time, however, the setting is a more serene one.
Even though you will be in the heart of Chania, it will feel as if you have traveled to a secluded mountainous village.
There is an open courtyard with plenty of seats between the greenery and the stylish decorations. In general, the place will remind you of the 90s with its mystique ambiance.
Although you will find some traditional Greek dishes here, the restaurant is ideal for breakfast or brunch.
Salis
Location: Akti Enoseos 3, Chania.
For a more modern setting, you may want to visit Salis restaurant, located right on top of the promenade in the old Venetian harbor.
Unlike other establishments in the old Venetian Harbour, this place isn't just another tourist trap. It is the epitome of a luxurious restaurant.
By any standard, Salis is a world-class restaurant, from the quality and innovation of its dishes to its extensive international wine list.
What you will love the most, however, is the service. Everyone here is attentive, friendly, and helpful.
Don't hesitate to ask for any meal or a wine recommendation.
The Five Restaurant
Location: Akti Papanikoli 15, Chania.
Right in front of the local beach of Nea Chora, The Five is another modern restaurant. Here, you will find innovative dishes inspired by traditional Greek cuisine.
The owners and chefs pay meticulous attention to details. They want every single plate to be creative and delicious.
The Five is the place to go if you are the kind who appreciates quality food and a complete dining experience. Read my review of this restaurant here.
And don't forget that you can enjoy your dinner over a 180-degree view of the entire beach in front of you. It is a truly magnificent setting.
If you plan to come here late in the evening, make sure to reserve a table as the place gets packed fast.
You might also want to read my review of this restaurant: The Five Restaurant Chania (5 Senses and a Few More!)
Adespoto Music Taverna
Location: Sifaka Street, Chania.
What a wonderful surprise it has been to book a table and enjoy the delicious food in Adespoto.
If you're looking for a super romantic atmosphere, never-overwhelming local tunes, and fresh Cretan dishes, then this is a low-key restaurant in Chania that you have to visit!
Try their delicious vegetable fritters, their selection of mushrooms, and the creative potato peels fried with Extra Virgin olive oil and sprinkled with pungent sea salt. Adespoto Music Taverna is another of my favorite places to dine in Chania.
Looking for a salad? Try their stamnagathi salad with local graviera cheese, pomegranate, figs, and petimezi!
Fan of street food? Check out the best street food in Chania.
Mirai Sushi Bar
Two Locations: Daliani 11 & Tsouderon 83, Chania.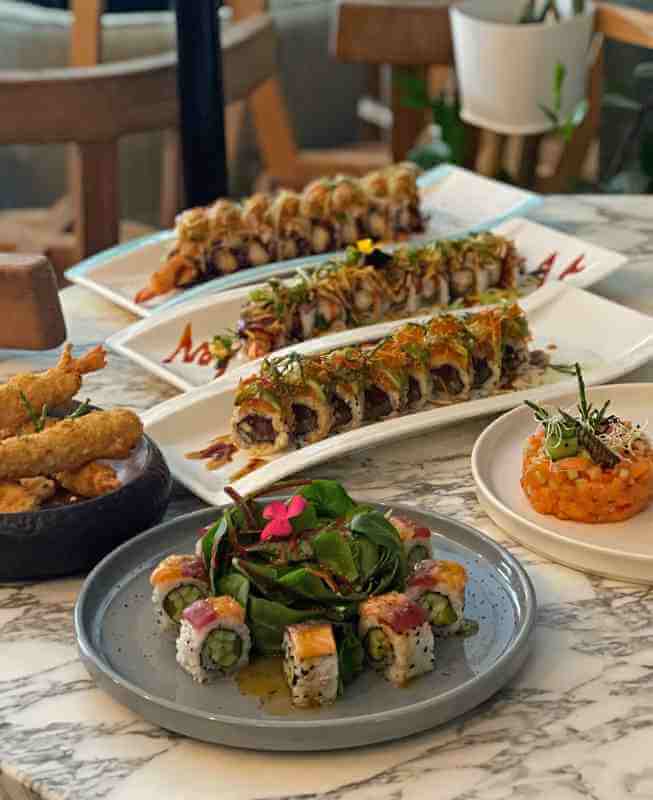 If you want a break from Cretan food and Mediterranean dishes, then the Mirai Sushi Bar can be a great restaurant to visit. Here, you can find some of the finest sushi in the town.
Just make sure to order and try their specialty: the salmon tartare.
For those suspicious of Japanese food on a Greek island, fear not. Mirai Sushi Bar is the place to go for many locals too. The food is always of top quality, both in appearance and taste.
At the same time, the atmosphere is chill and the staff is always friendly and polite, just like Japanese culture requires.
In the mood for a drink after dinner? Check out the best bars, clubs, and pubs in Chania.
Matzenta Kouzina del Sol
Location: Elirou and Polirrinias, Chania.
Super off the beaten track and certainly not touristy, Matzenta Kouzina del Sol is probably the best place in Chania for an intimate night with the most delicious food you can imagine…
Do you like spicy, creative food? If you are a fan of Mexican dishes, then Matzenta will surprise you with a magnificent combination of Mexican gastronomy and Cretan ingredients.
Spoiler alert: Some of the best salads I've ever eaten in Crete come from this place. And the Margaritas are to die for!
Pallas
Location: Akti Tompazi, Chania.
Back to Greek food and standards, Pallas is another top-quality restaurant in the heart of the old Venetian harbor.
You can sit literally 4 meters from the water and the closest boat.
Apart from the sunset and spectacular port views, you can enjoy your meal watching people passing by the narrow footpath in front of you.
When it comes to the cuisine, you will find traditional Greek and Mediterranean dishes.
Because they always use local products and ingredients, there is a deep taste on every single plate. In addition, the service is fast and the staff professional and helpful. All in all, if you pass by Pallas, you have to stop by and try the food.
Oinoa
Location: Theotokopoulou 61-63, Chania
On the other side of the old Venetian harbor, Oinoa sits in a more quiet area with an equally splendid view over the Cretan sunset.
However, there are only a few tables available outside. Once they are complete, there are spots to sit inside, where the design is equally impressive.
You will love the service here. The staff will make you feel at home with their informal and friendly attitude.
They also know a lot about Greek wines in case you want to ask for any wine recommendations.
In sum, if you are into affordable fine dining, then Oinoa is the place to go.
You might also want to read: The Most Delicious Seaside Restaurants That You Should Visit in Crete!
Avli ton Thavmaton (The Miracles' Garden)
Location: V. Roussou 1, Splantzia, Chania.
This local place is a bit outside the tourist spots in Chania. However, it is always full of locals and, hence, you will have to wait to find a seat.
This is a testimony to the great work they do here. It is a lovely spot to have your raki or ouzo over delicious and well-prepared food.
Order a Tsikoudia and use it to clean your mouth while tasting different Cretan mezedes.
You can get an overview of all Cretan cuisine in this little paradise. It is no wonder they named it the Miracles' Garden.
Throubi
Location: Daliani 74-76, Chania
Another restaurant that locals prefer is Throubi. This one is in the alleys of the old town and, hence, has easier access from the center.
You will find everything from proper Greek dishes to fast food options like Gyros. You will also love the on-the-house homemade dessert that the owners offer after every meal.
Because it is a less touristy restaurant, you can feel the difference in the way waiters talk to you.
They are all very friendly, eager to help and have a good time with you. All in all, if you are looking for a value-for-money option, a visit to Throubi is a must.
The Well of the Turk
Location: Sarpaki 1, Chania.
If you do not want to walk far from the city center, then The Well of the Turk is your next-best option.
Located in the heart of the old town, this picturesque restaurant offers traditional Turkish and oriental cuisine.
If you are double thinking because you don't want to have Turkish food in Greece, think again.
This restaurant will change your mind.
Their cooking is a whole new level and a nice break from the usual Greek plates. In addition, if you are a vegetarian, you will love this place.
Here, you can try a vegetarian version of one of the most famous Greek dishes: Moussaka.
Chrisostomos
Location: Devkalionos and Ikarou, Chania.
A few hundred meters to the north, Chrisostomos is the epitome of traditional Cretan food. They specialize in local dishes from Sfakia, made in their wood oven by renowned chefs and cooks. Their goal is to show you the warmth and quality of genuine Cretan hospitality.
Because of its high standards, the restaurant is usually fully booked and, thus, you may not find an empty table if you walk in. It is best if you reserve a table beforehand.
All in all, if you want to taste authentic Greek food in a pleasant atmosphere, Chrisostomos should be at the top of your list.
To Maridaki
Location: Daskalogianni 33, Chania.
Again in the heart of the old town, To Maridaki is a small no-frills restaurant. Here, you can find changing daily lunch dishes that complement the standard plates on the menu.
As a result, the food is always fresh and ready to serve fast. This is the main reason why this place gets full of locals.
Another reason to visit Maridaki is no other than the staff working here.
They are all very polite and happy to help and make meal recommendations. After your main dish, they will serve you a complimentary dessert that comes free of charge.
You can also read: Not Your Usual Greek Food Guide: 20 Authentic Local Dishes from Crete!
La Bodega
Location: Akti Kountourioti 60, Chania.
In another quiet spot of Chania, on the edge of the old harbor, La Bodega is a modern waterfront restaurant with a unique style.
Order fresh seafood, try elevated versions of traditional Greek dishes, or get a few mezedes to enjoy your raki while you gaze off the Aegean.
There is also a wide selection of wines available, including local specialties and varieties.
What's more, the staff and owner Nicholas are all friendly and polite. All in all, it is no wonder why tourists and locals alike queue up to get a table in this serene location.
Semiramis
Location: Skoufon 8, Chania.
Semiramis is one of the most beautiful restaurants in the heart of Old Town. The cozy atmosphere and polite staff create the perfect setting to enjoy a typical Greek meal.
The dining area is an open garden surrounded by traditional houses from all sides.
The highlight of Semiramis is the live music that local bands play every day from eight to midnight. After all, the food tastes better when accompanied by quality live music.
And the owners know that. In any case, if you are looking for a typical Greek tavern, Semiramis should be among your options.
Laganon
Location: Daskalogianni 69, Chania.
It is difficult to get bored of Greek food. However, in case this ever happens, or if you want to taste homemade pasta, then Laganon is the place to go in Chania.
On the outskirts of the old town, within walking distance from the center, this lively restaurant offers some of the finest pasta plates in Chania.
Everything is homemade and tastes delicious. Kudos to the owners and staff who put their love into what they do. The results are simply outstanding.
When you visit, remember to ask the waiters about the story behind the restaurant. It is exciting to learn how a Sunday ritual with Mom and Dad became the core component of a successful business.
Ginger Concept
Location: Sarpaki 36, Chania
Ginger Concept is a little restaurant hidden in a small alley in the old town of Chania. Surrounded by small traditional houses, the area has plenty of shade and lovely sitting areas out in the open.
Dinner in Ginger Concept circles the wine and how to elevate its taste. Depending on the variety of wine you will choose, the waiters will recommend specific plates.
In general, the menu is all about classic, light, and freshly flavored dishes with carefully selected ingredients to enjoy your wine.
Even if you are not a wine lover, again you will want to visit Ginger Concept. This time, however, it will be for a refreshing and filling breakfast or brunch in town.
Kariatis
Location: Katechaki 12, Old Harbour, Chania.
Last on our list is Kariatis, a stylish restaurant built on the old Kasteli wall next to the Venetian harbor of Chania. Kariatis has carried a reputation for top-quality food and service since 1993.
Their menu is a mixture of Italian and Japanese dishes. The result is an elevated cuisine with elements of traditional Greek plates.
If you are a wine lover, you will have an extra reason to visit this gourmet restaurant. Here, you will find an extensive selection of award-winning Greek and international wines from all around the world.
The service is also outstanding and professional. All in all, for a top-quality dining experience, all you have to do is book a table at Kariatis restaurant.
You won't regret it.
Mikro Kelari
Location: Daliani 80-82, Chania.
Mikro Kelari is one of my many recent finds when it comes to traditional delicious food that is closely connected to Cretan gastronomy.
Located on the famous Chatzimichali Daliani Street, probably the best street to go when visiting Chania to find the best food, this little gem serves incredible meat dishes, typical sauces, and some of the best baked and fried potatoes you could expect.
Everything you will be served is made in Crete, from the local sausages stuffed with Graviera cheese to the soft drinks. So forget all about Coca-Cola, and indulge in a very Cretan Arpa Cola instead!
63o Mezedosxoleion
Location: 63 Daliani Street, Chania.
As you can see, nothing can go wrong when you walk along Chatzimichali Daliani Street at dinner time. Other than being the right place where most locals gather for a great dinner, you will find some of the best traditional restaurants in Chania, one right next to the other!
Hard to choose where to eat? Well, worry not, in general, no matter where you go most of the restaurants on this road offer top Cretan dishes at quite convenient prices. Just grab a table and enjoy the vibe.
If you're looking for something special, then head to Mezedoscholeio. Check out the old-school decorations and taste some of the best meze (the Greek version of the more famous Spanish tapa) in town.
I love their tirokafteri dip, one of the best spicy cheese dips in the city, as well as their fried potatoes with truffle perfume and grated Graviera cheese: An incredibly delicious treat!
To Steki
Location: 5, Agio Deka Street, Chania
Traditionally considered one of the many instagrammable places in Chania, this small restaurant is located in a tiny ally of the old town.
It serves excellent dishes, many of them from the Cretan and Greek traditions while others have a more international twist.
Do not miss their platter of Cretan starters and go for the cold spaghetti with zucchini if the temperatures in town are high!
Want to end with a sweet on the go? We've got just the right place to visit…
Sketi Glyka
Location: 63 Vrison Street, Chania.
Located in a small, hidden alley, right in the heart of the old town, this traditional pastry shop serves some of the best sweets and desserts in town, including creamy Galaktoboureko, tiny lemon pies to go, original ice cream, and one of the best tiramisu in the city, both in sweet and bitter chocolate versions!
As you can see, Chania can be a one-of-a-kind foodie paradise, you just need to know exactly where to go, so bookmark this article, as I periodically update it with new incredible places to eat in Chania!
Best Hotels in Chania
Affordable: Aelia Apartments or Polixeny's Suites in the old town.
Mid-range: Elia Estia in the old town and Civitel Akali Hotel in the new town.
Luxury: Casa Delfino in the old town or Domes Noruz by the sea.
Check also Chania Accommodation Guide and Boutique Hotels in Chania.
---
---
Pin it Now! Where to Eat in Chania: The Most Delicious Chania Restaurants For Your Next Adventures!
About the author of this blog: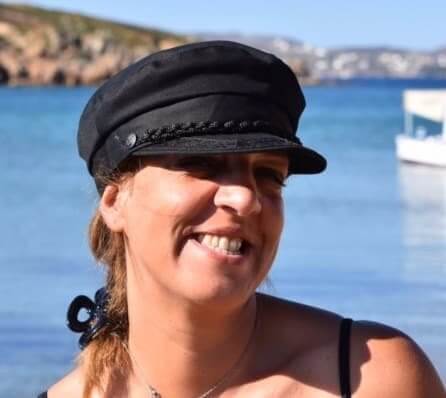 Gabi has been living in Crete for the last six years. On the island, she juggles being a solo mom, hosting culinary tours in summer, translating, and freelance writing for several travel blogs.
She's written for Greek Reporter, published several travel guides about Greece, and had more glasses of frappe than any regular person could ever handle.
---
COMING TO CRETE SOON?
Get in touch and let me know!