Delicious souvlaki, crunchy fries, tasty pies… these are some of the mouthwatering bites that you can grab while you're sightseeing the old town of Chania. They are a popular way to have a snack if you're short of time and prefer to devote your scarce hours in town to sightseeing. And although there are some restaurants in Chania that serve incredible dishes, some at very convenient prices, checking Chania's street food is a unique way to experience the local vibe.
>> Traveling with a limited budget? This guide is a useful resource to discover the best street food in Chania, Crete.
Street food in Chania, Crete
This article may have affiliate links to products and services that I use. If you make a purchase through these links, I might earn a small commission at no extra cost to you. Some of the articles in this blog have affiliate links to properties and services provided by Airbnb. As an Airbnb Associate, I might earn a small commission – at no extra cost to you – if you book through one of these links.
Street Food in Chania, Crete
If you're not in the mood for sitting and waiting to be served, but just want to grab a bite on the go and keep exploring, check the following cheap, fast, convenient, and tasty options for a quick meal. 
Let's see down below what traditional bites you can have as well as which are the best places for a quick lunch in Chania.
Top Street food in Greece: Gyro Or Souvlaki?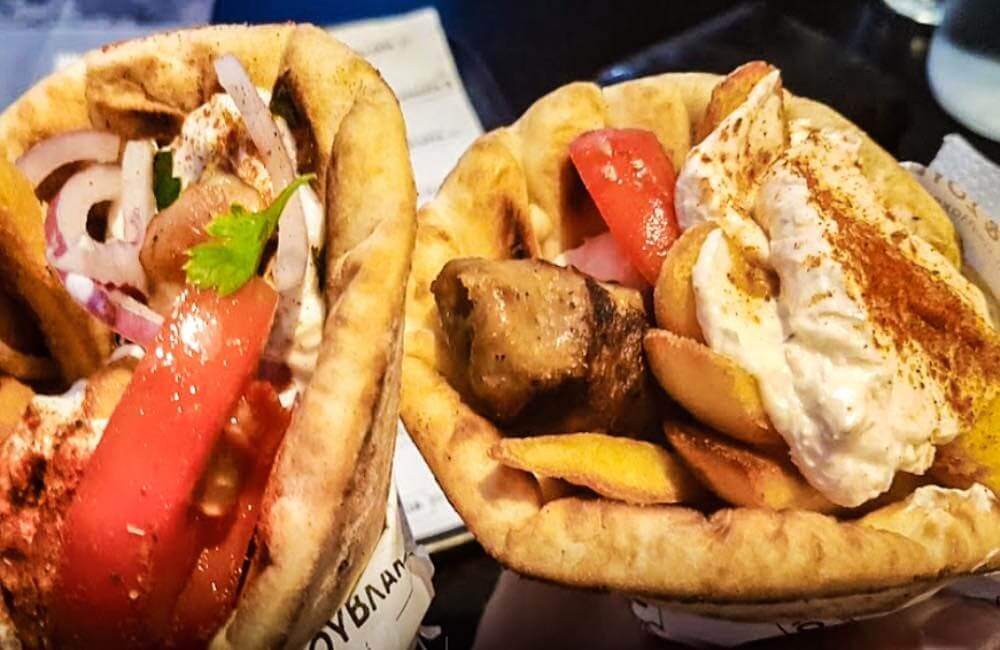 Souvlaki or Gyros, depending on where in Greece you come from, is basically the same thing. Souvlaki is the most popular kind of street food you can get in Greece. The dish is made of small portions of meat (usually pork or chicken… but if you find lamb gyros, definitely go for it!).
The meat is grilled on a vertical rotisserie and cut at the moment to be served inside a pita. (Pita bread is a traditional Middle Eastern soft and flexible flatbread).
Other than the grilled meat, traditional souvlaki usually comes with onions and tomatoes, yogurt or tzatziki, and sometimes with fries too. However, there are all kinds of wraps around, you can find gyro wraps with lettuce, bacon, cheese… and many more original ideas which not many locals really support.
If you don't find a souvlaki wrap fulfilling enough, it's also possible to order a gyro or souvlaki dish. In this case, you'll need to trade the "to go" comfort for a table or a bench at the souvlaki place. The gyro plate has basically the same ingredients as the wrap, but it is usually more abundant.
Kalamaki
One more tasty and traditional bite in the streets of Greece is kalamaki. It can be enjoyed on the go provided you ask for it to be wrapped in a pita. A kalamaki is a stick (basically a skewer), with delicious chunks of meat (same varieties as with gyro) that has been grilled.
Kalamakia (the plural of kalamaki) can also be served on a plate and is especially delicious accompanied by lemon juice and yogurt. Some places serve both souvlaki (or gyros) and kalamaki. In many places, they come with a side dish of French fries.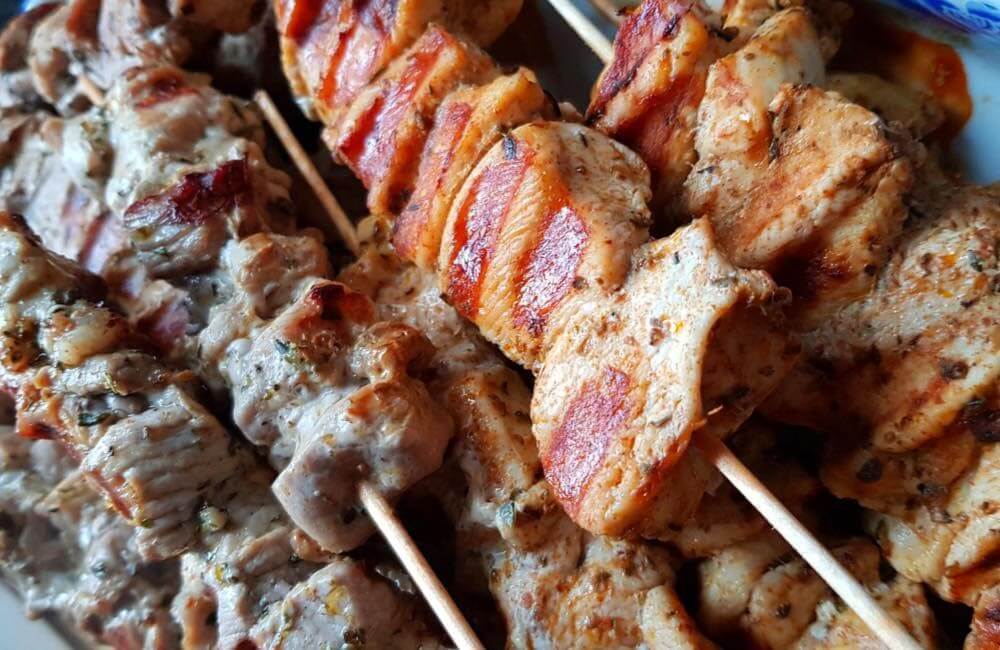 Discover everything about Cretan food…
>> Check these organized food tours in Chania <<
Where to eat the best gyros in town
Oasis Souvlaki
Where: 4 Vouloudaki Street, Chania.
If your goal during your trip to Chania is to check every single landmark in town, then you can't skip a visit to this souvlaki place.
According to both locals and visitors, Oasis Souvlaki prepares the best souvlaki in town. And it's been doing so for the last 50 years. This souvlaki joint first opened the doors to the public back in 1967, and they must be doing something really well if they're still one of the hottest spots in town.
Don't get there late, when the meat is over, this shop closes until the next day (usually this happens at about 3 pm). So even if it's still a bit early according to your inner clock, listen to me and head there to taste one of Chania's best known secrets, Oasis Souvlaki.
Forget French fries or any other fancy ingredient, inside the wrap there's only meat, tomato, and onion. There are very few places to sit, so it's better to buy and take away.
Ladi & Rigani
Where: 21 Apokoronou Strett, Chania
Or Oil and Oregano (in English), that's the name of this souvlaki shop just a few steps from the Public Market of Chania.
I personally like their late hours, their pork gyros, and some of the best fries I've ever had in Chania (here, I always order a side portion of French Fries, they are delicious, with the right quantity of oregano sprinkled on top). Their tzatziki sauce is to die for.
Delivery service available.
Kalamakia and Souvlakia
Where: 16 Chatzimichali Giannari Street, Chania.
Kalamakia and Souvlakia is one of the traditional places where to order souvlaki in the city is this small joint on one of Chania's main streets.
With just a few places where to sit right on the street, the shop serves traditional gyros and kalamakia. However, there are some unique dishes, including meat sandwiches and unique pita wraps stuffed with meatballs and cheese. For those with more time to spare and a bigger appetite, there are fantastic meat platters big enough to share.
Delivery service available.
Se Anammena Karvouna
Where: 20 Chatzimichali Giannari Street, Chania.
Another staple souvlaki restaurant on the same street, Se Anammena Karvouna is known for quick service and convenient prices. If you're not so much into grilled meat, go for the grilled halloumi cheese. There are just a few places to sit and the friendly is really friendly.
Crazy tasty fried potatoes and delivery service available.
Thraka
Where: 34 Chatzimichali Giannari Street, Chania.
77 Anagnostou Gogoni Street, Chania.
My second favorite place for souvlaki in town is Thraka. Just the delicious grilled meat smell coming out from this place is one good reason to stop and order a wrap.
Time allowing you can also check their potato salad and their huge gyros on a plate. They also serve really good traditional kalamakia. Thraka never disappoints with its friendly staff, fresh ingredients and super convenient prices.
Delivery service available.
Pork to Beef Wild
Where: 68 Daskalogianni Street, Old Town Chania.
Close to the backstreets of the old Venetian Arsenals and the main square of Splantzia, Pork to Beef Wild, as the name says, has pork and beef sandwiches, but also chicken wraps, hot dogs, and grilled sausages on their menu.
Taste the unique wraps made with a fresh and fragrant handmade pita and add as many ingredients as you can get from their vegetable selection.
O Kostas
Where: 51 Daskalogianni Street, Chania (Splantzia)
Right across Plateia 1821, in the heart of Splantiza, there is a little souvlaki shop serving traditional gyro wraps.If you have time, sit at one of the tables in the open and enjoy the simple tastes and the friendly service.
And if you're really hungry, go for the meat platter, a Cretan salad or grilled feta cheese. Add a freshly squeezed orange juice, and then head for a walk in the neighborhood.
>> Check these top-rated Airbnbs in Chania Old Town <<
More than gyros: Where to grab a bite in Chania
Funky's
Where: 76 Chatzimichali Giannari Street, Chania
6 Sarpidonas Street, Arsenals, Old Town
Are you in the mood for pizza? Funky's serves the best Italian style pizza in Chania. Classic flavors in their menu include
Margarita
Carbonara
Solemio
Philadelphia cheese
Other dishes popular at Funky's are salads, crepes (sweet and savory), sandwiches, and hamburgers. Also, great coffees to go. Prices are very convenient and it's always crowded, pizzas come out of the oven every 5 minutes or so.
There are very few places to sit in the Funky's at Chatzimichali Giannari Street while the joint close to the Arsenals has more tables available, all of them on the sidewalk.
Meat Box
Where: 31 Andrea Papandreu Street, Chania
If you're looking for a great burger or are in the mood for a hot dog, this is the place to hit. Also open until late in the night, check their Chili Burger if you like spicy food.
I love their PacMan sandwich, it comes with double meat, double cheddar, double bacon, onion, and a fried egg on top. They have menus with fries and a drink too. They have a menu sauce that is crazy delicious.
Meat Box's Cheesus burger is the apotheosis of burgers: Three burgers, Jack Daniel's sauce, triple everything, and fries with local cheese grated on top. Mini Bites (small sandwiches) are ideal for kids, they also have Veggie versions.
Prices are very reasonable. Delivery service is also available.
Bougatsa Iordanis
Where: 24 Apokoronou Street, Chania
Craving for something sweet? Reach the most classic place in town for a bite of the famous Chania staple, bougatsa. Try this delicious phyllo pastry wrap with a filing of local myzithra cheese. Add sugar or cinnamon on top if you want too.
Bougatsa is a great bite to start the day, in fact, many locals go to Iordanis in the morning and have a portion of this pie with a Greek coffee for breakfast. The shop closes at 2 pm every day, on Saturdays at 1 pm.

Where to eat in Chania: Best street food in the Public Market
Where: Plateia Agora, Chania
Chania's Municipal Market is a great place to eat if you're on a budget or if you simply want to try fresh flavors, recipes of the Greek tradition, or Cretan specialties. After a visit to the market, it's a good idea to find (sometimes it can be a hard task) a free table and sit at one of the few food shops in the old market.
The food is very fresh and has a homemade taste that you'll hardly find somewhere else. The Agora is also the place where many Cretans eat. And you won't be disappointed at all.
Common dishes include gemista, moussaka, pastitsio, stifado, and kalitsounia, small veggie pies, sometimes stuffed also with local cheese which you can buy and eat on the go.

My Favorite Places to Eat in the Agora
O Michelas
Manolis, his mom, and his aunt get there early every morning and start cooking fresh dishes that are ready to be served sometime around midday. They serve grilled tsipoura (local fish), lamb with artichokes, grilled kalamari, wild greens (horta). My favorite dish is a traditional Chania pie, boureki (with potatoes, myzithra cheese, courgette, and fresh mint.
Here you can also taste snails, moussaka, and kalitsounia. They cook with their own olive oil.
Are you a foodie at heart?
>> Discover my unique culinary tour A Taste of Crete <<
Agapinis
Another favorite, ideal for those who want to try the forgotten dishes of Crete. Among the most popular among Cretans is their patsas, a soup known for its high protein value, which according to locals helps cure a hangover and will give you all the energy you need to face the day.
Patsas is usually eaten for breakfast after a long night of partying or drinking. There are different recipes for this soup, its main ingredient can be kilia (tripe) or podarakia (feet).
On Saturdays, Agapinis also grills the traditional kokoretsi, a typical dish from the Balkans consisting of lamb or goat intestines wrapped around seasoned offal, including sweetbread, kidney, heart or lung. Here you can learn more about this dish.
Stou Pissa
This small restaurant in the market serves incredible fish, snails, and grilled seafood. A favorite of mine in this place is their makaronia me xtapodi (pasta with octopus). Here you can also try the stuffed kalamari, horta with lemon, beetroot salad.
The service is incredible! As a personal note, one of my kids does not eat seafood at all! Here, they always offer to buy a few skewers from the butcher's stall, right opposite the restaurant, and grill them in the moment for us. One of the best places in town.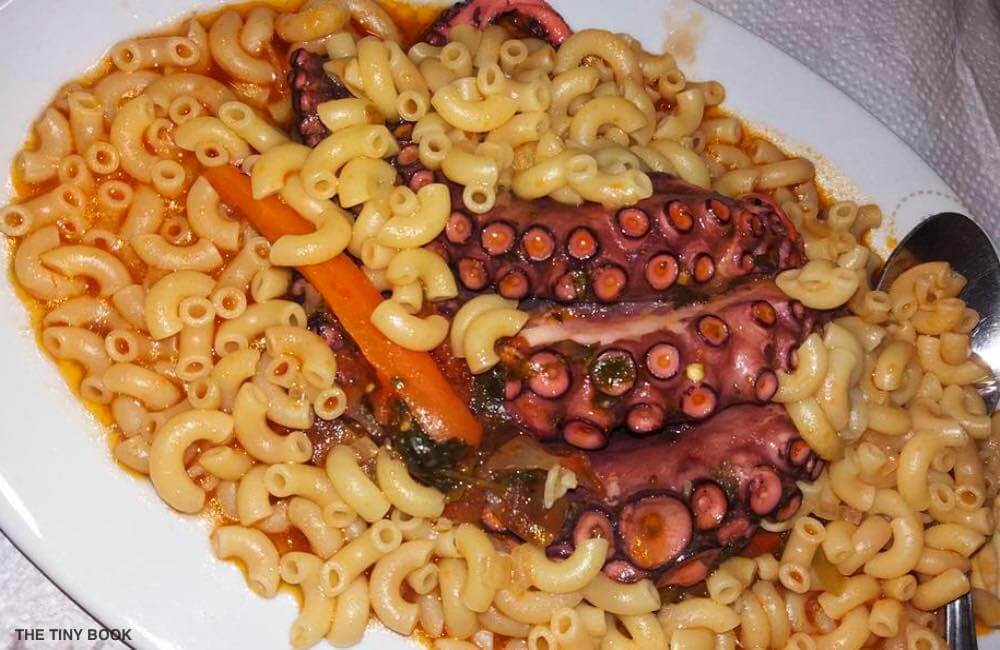 ---
Do you like street food?
Let me know in the comments below!
---
Travel plans for Crete?
These resources will help you organize the trip!
Start by reading these helpful tips to plan a trip to Crete or check family holidays in Crete if you travel with kids. To visit Crete's heavenly beaches, check my guide to the best beaches. Discover what region is best to stay in or check what to do in Crete.
Get in touch if you need extra help to plan your trip. If you want to tour West Crete, check my guide. Want more? Join my Private Facebook Group to connect with like-minded travelers who love Crete as much as you do!
Make sure you've got everything for a hassle-free trip!
I never move around Crete without my Osprey backpack, a sturdy but light travel partner I just love. For short trips, I carry this little crossbody bag. If I'm driving around, I pack my Michelin map and my Nikon.
When it comes to plane tickets, compare prices with a powerful search engine. However, nothing beats traveling by sea in Greece. With Ferry Hopper, you can book in advance at the lowest price.
For accommodation, I personally use Booking.com and Airbnb.
Traveling to remote places is easier with Discover Cars. Other times, I join organized tours with GetYourGuide, which features anything from cooking lessons to airport transfer!
Are you coming to Crete any time soon?
Get in touch and let me know!
Read more:
Best Historic Boutique Hotels in Chania's Old Town
2 Fantastic Days in Chania: A Unique City Break in Crete
Where to Stay in Chania: Great Accommodation Guide
51 Great Things to Do in Chania (Region) for an Unforgettable Holiday 
Greek Islands Cruises: Best Cruise Port Destinations in Greece
Pin this article and read it later!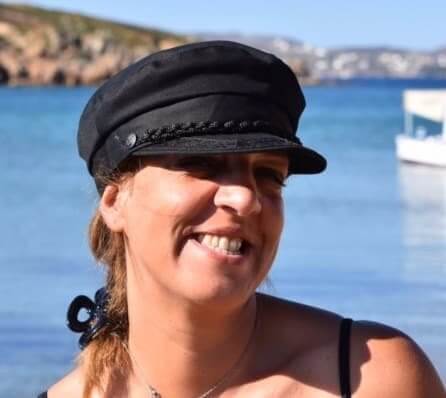 About the Author
Hola! I'm Gabi. Welcome to The Tiny Book – Crete Travel Blog! I moved to Crete to explore the island all year round. I love taking pictures and driving on the mountain roads of Crete. I'm a beach freak and on this island I've found heaven on earth!
---
You might also want to read:
---