Agia Roumeli Crete is a lot more than the average visitor sees; it can surprise you with its hidden beauty and strong sense of character.
So, if you're up for exploring the village's authenticity and beauty or looking for things to do in Agia Roumeli, this guide has you covered.
---
Disclaimer: Posts include affiliate links to products or services. I might earn a commission if you make a purchase at no extra cost.
---
Agia Roumeli, Crete
Essential Things to Know about Agia Roumeli
The most important thing you must know before visiting Agia Roumeli is that it can get surprisingly busy from 1 pm to 5 pm.
This peaceful community transforms into a chaotic and touristic cosmopolitan resort for those three to four hours daily. The reason? Samaria Gorge's day-trippers and hikers.
You see, the village is right on the exit of the Samaria Canyon, so when thirsty, hungry, and tired trekkers appear, it's a Black Friday-like frenzy.
That being said, the moment they hop on ferries to Paleochora or Sfakia, the whole place transforms once again into a peaceful community filled with rich Cretan heritage. So there you have it, it's a village with two faces!
Obviously, if you want the full experience, make sure to spend at least one night in the main village.
You will love every second of your stay, especially as you explore unspoiled deserted beaches, endless hiking routes, and quaint taverns. Let alone all the extra attention and time with locals.
Where is Agia Roumeli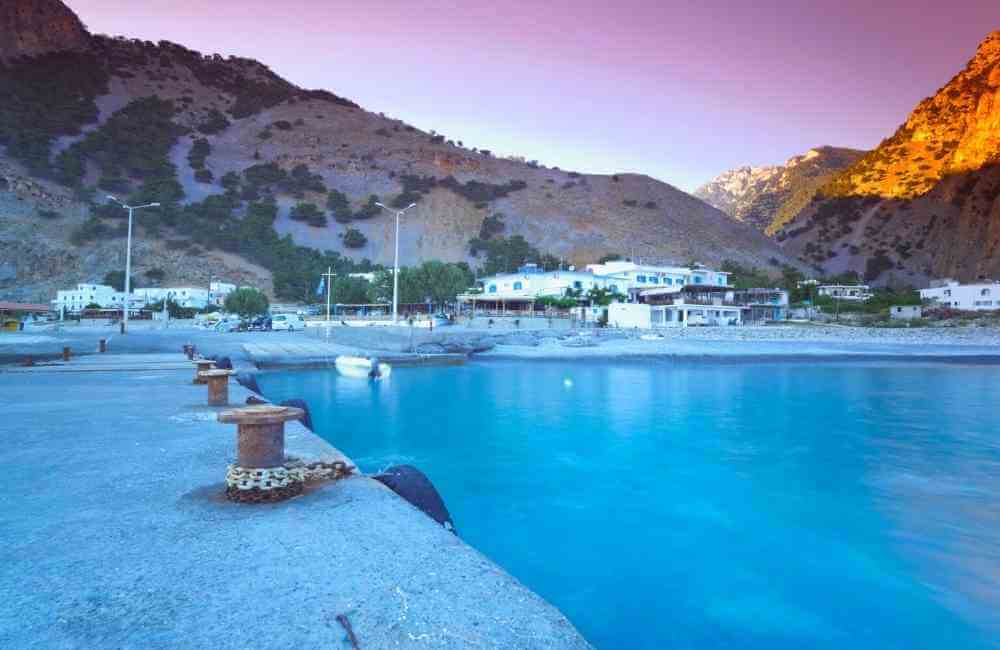 Surrounded by towering mountains and breathtaking waters, Agia Roumeli is located in one of the wildest regions of Crete, and no words or pictures can give it justice. But if you want to try, think of rare flora and fauna, unique geology and history, and breathtaking mountains and beaches.
Most interestingly, there is no way to access Agia Roumeli by car, so ferries are the primary means of transport. In short, it's like an island inside an island. And lucky us, it's an "island" you can hike to!
How to Get to Agia Roumeli, Crete
Although you can take a ferry to Agia Roumeli, hiking offers a grander experience you can't find anywhere else.
Chances are you are already planning to visit the village on foot once you have completed the Samaria descent. However, it's not the best route you can take if you ask me.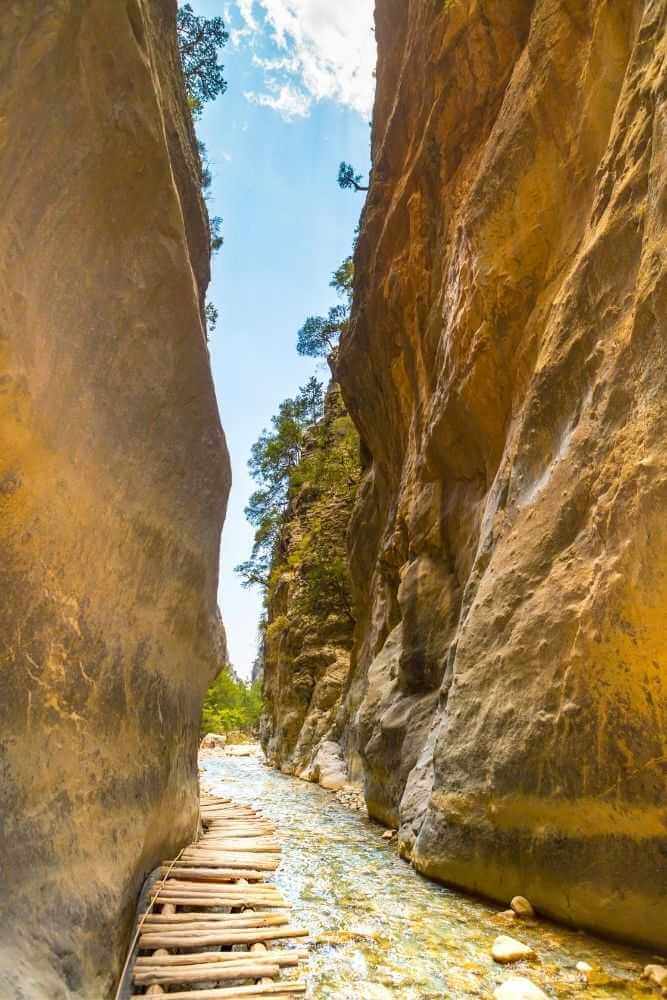 Obviously, if we consider only natural beauty and uniqueness, choosing to hike Samaria Gorge (or any other gorge in Crete) is a no-brainer.
But then you must remember how busy this canyon can get during summer. As long as you're okay with it, you will absolutely love this popular trekking route.
On the other hand, if you're like me when it comes to walking in nature, you may prefer fewer crowds. In that case, I urge you to walk from Chora Sfakion to Agia Roumeli.
This gorgeous and relatively flat path is a notoriously fascinating section of the E4 European Path.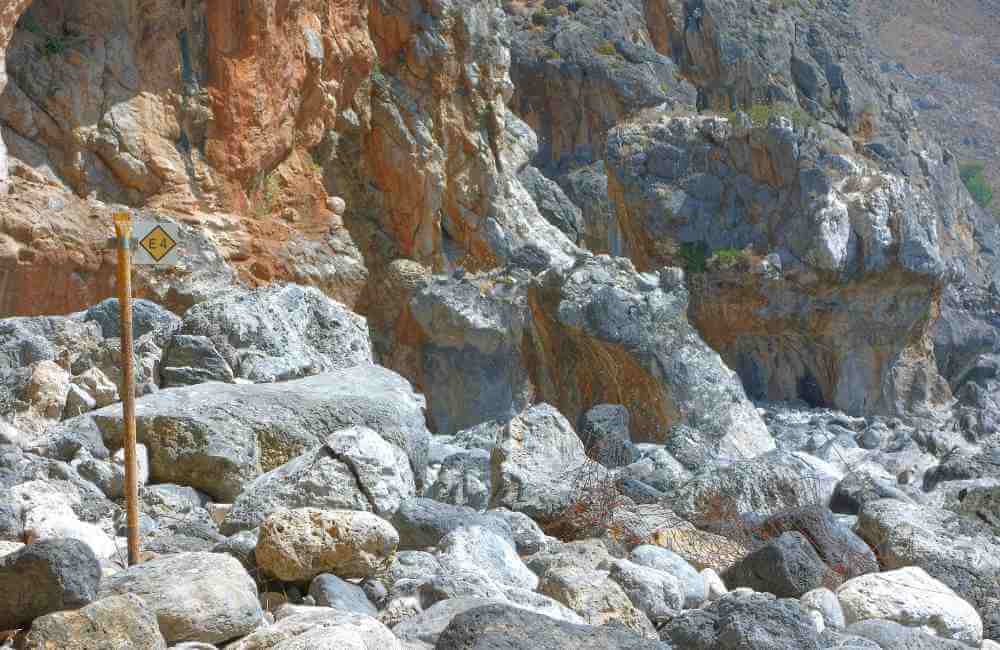 If that sounds too much of a hustle, you could alternatively take an Agia Roumeli ferry. There are services from Paleochora and Sougia in the west or Loutro and Chora Sfakion in the east.
Best Attractions to See and Things to Do in Agia Roumeli, Crete
If you're wondering what to do in Agia Roumeli, you're in for a treat. Apart from the obvious choice of hiking Samaria Gorge, here are all options for activities in the area.
Swim in the Main Agia Roumeli Beach
Although it can get quite busy in the early afternoon, the Agia Roumeli beach, also known as "Gialos," is worth all the attention it gets.
Imagine a stunning background of the White Mountains hugging the azure waters of the Libyan Sea. And in the middle of it all, you're standing in a coarse gray sand, soaking up the Aegean sun.
Take a Kayak to the Caves
Renting a kayak in Agia Roumeli is a unique activity and ideal for enjoying the nearby scenery. If you want a suggestion on a route, head west to view three hidden caves which are only reachable by sea.
You'll love sitting on their little pebble beaches and snorkeling around the stunning rock formations. Alternatively, you can also head to Mashali Beach
Discover Sheltered Beaches
Apart from the main beach, the area around Agia Roumeli is blessed with tens of pristine sheltered beaches.
So, you know what that means? It's time for an adventure day, hopping from one secret location to another.
To enjoy it the most, rent a boat since many beaches are only accessible by water.
Explore the Hiking Routes around Agia Roumeli
If you want a break from beach hunting, the trekking and walking options around Agia Roumeli will leave you in awe.
Whether you head north toward Samaria Gorge or east along the coastal paths, the scenery will be one of a kind, not to mention all the sights along the way.
For example, not far from the village, you will come across an ancient Byzantine chapel where St. Paul is said to have landed on the island while traveling to Greece.
Walk Among the Remains of the Old Village
If you want a glimpse of what life was like in Crete just a few decades ago, you cannot miss visiting the old village of Agia Roumeli.
Situated right before the entrance to the protected national park of Samaria, the settlement was a lively place until only 50 years ago.
Unfortunately, the river's flooding ruined many houses, ultimately forcing the inhabitants to move to today's location.
Enjoy a Meal in the Local Taverns
You'll always get it right when deciding where to eat in Agia Roumeli. The local taverns take great care of their dishes and have a reputation to uphold. Plus, the sheer amount of serving they handle due to Samaria day trippers ensures the ingredients are always fresh.
If you want specifics, Artemis Restaurant is a top choice with delicious traditional cuisine and local specialties, such as lamb meat fresh from the mountains.
Take a Day Trip from Agia Roumeli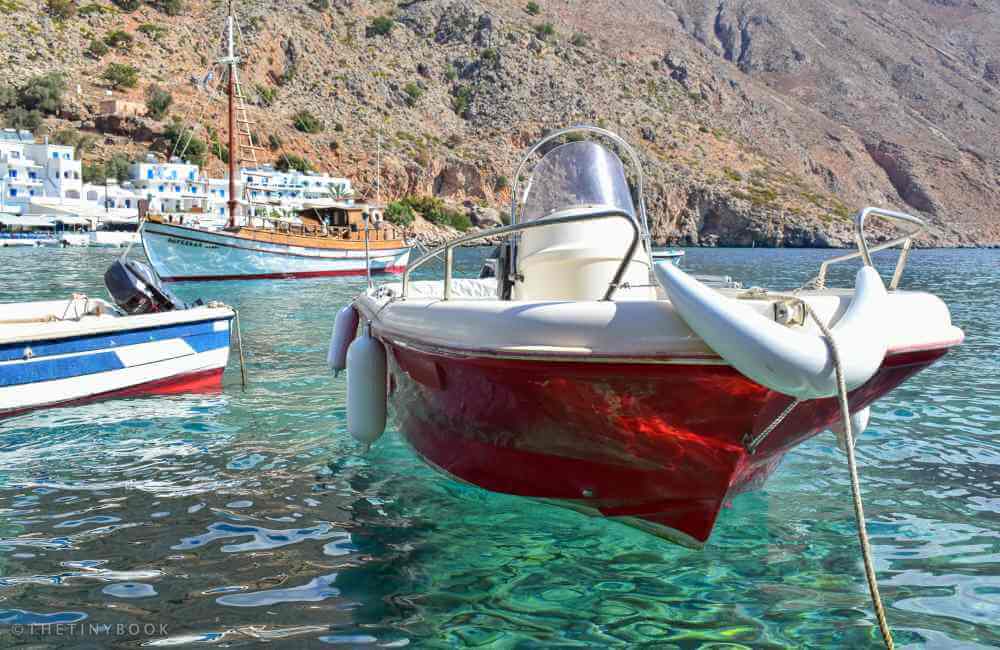 If you stay in Agia Roumeli for a while, consider a day trip to the nearby coastal settlements connected by a ferry service.
Paleochora and Sougia are the options on the east, but if you had to choose, I recommend heading west. The ferry from Agia Roumeli to Loutro will reward you with glorious landscape views while dropping you off at one of Greece's most popular car-free resorts.
CHECK OUT THESE SAMARIA EXCURSIONS ENDING IN (or starting from) AGIA ROUMELI:
Where to Stay in Agia Roumeli
If you'd like to spend a quiet night on the Libyan coast, then check out my recommended places to stay in Agia Roumeli:
Budget-friendly option:
Tarra is perfect if you want your stay to hardly touch your bank account. This beachfront accommodation is an excellent choice for either a long or a short stay in Agia Roumeli. The place features a terrace and mountain views only 100 meters from the beach. The place also offers a bar, outdoor seating, and a daily continental breakfast. There's also a family-friendly Greek restaurant open for dinner, lunch, and brunch.
Click here for more information and the latest prices.
Value option:
Faragi is a family-run room rental complex with a unique location in the village and right by the sea. You will love the hospitality of the owners, who also operate a traditional restaurant in town where continental breakfast can be enjoyed upon request. The property features rooms and apartments with a tea and coffee maker, a fridge, and air conditioning.
Click here for more information and the latest prices.
Deluxe option:
Hotel Agia Roumeli by the Sea will tick every bullet in your list if you're after supreme accommodation no matter the cost. There is nothing like having a spacious private balcony and direct access to a private beach, among other amenities and comforts. The aparthotel offers accommodation with a private beach area and a balcony a few steps from Agia Roumeli Beach. Breakfast is available daily, and includes à la carte, continental, and Full English and Irish options. There is also a coffee shop and bar.
Click here for more information and the latest prices.
Where to Eat in Agia Roumeli
These are some of the places where you'll find genuine Cretan dishes at very affordable prices:
Agia Roumeli is a fantastic getaway destination, especially if you spend a few nights here. You'll always have things to do, while the sheer peace and serenity you'll experience outside the busy afternoons will reward you tenfold. So, what are you waiting for? Plan your visit to Agia Roumeli, and prepare to be amazed.
Read more about Crete
🛌 Suggested Accommodation in Crete:
🗺️ More resources to book your trip to Crete
Written by Dimitrios Tsevremes
Passionate about travel, spirituality, and sports, I have lived in 5 countries and traveled to more places than I have counted. Writing, for me, is a way to express myself and my creativity. Whether I write for my blog or a freelancing gig, I always fall in love with the process and often lose my sense of time. If you want, you can check out more about me and my work here.
Pin this Guide to Visit Agia Roumeli During Your Next Adventures in Crete!
---
You might also want to read these other articles about Crete:
---
About my blog: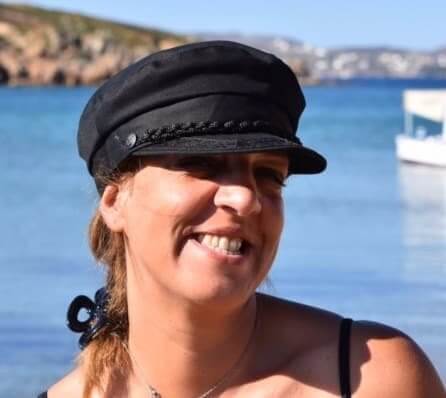 I moved to Crete in 2016. During these years, I learned much about the island.
In Crete, I juggle being a solo mom, hosting culinary tours, and writing for several travel blogs.
I've written for Greek Reporter, published travel guides about Greece, and had more glasses of frappe than any regular person could ever handle.