Considering visiting eastern Crete? Make sure to include an adventure day out to the historic Monastery of Toplou (or also Moni Toplou) – something your visit would be incomplete without.
Of all the Crete monasteries, you can find Toplou nestled in the northeastern tip of Crete in a vast area of 800 square meters. A day trip here will give you a deeper sense of what makes Crete's culture and people so unique. Curious? Follow along to find out why!
---
Disclaimer: Posts include affiliate links to products or services. I might earn a commission if you make a purchase at no extra cost.
---
Toplou Monastery, East Crete
The History of Toplou Monastery
As with many other monasteries in Crete, Toplou has heavily impacted the island's history. It all started in the 14th century.
What began as a small church built by locals quickly transformed into a monk's sanctuary within two centuries.
Soon, Toplou was the largest and most impressive castle monastery in Eastern Crete.
The exterior and glory of the monastery came hand in hand with quality work from its monks.
Byzantine hagiography and icons that survived until today in the monastery show how the educated monks of Toplou helped upgrade the level of Crete during the Renaissance period.
Toplou under Venetian and Ottoman Rules
After a devastating earthquake in 1612, the Venetians helped rebuild the monastery to benefit from its strategic position in east Crete.
However, it still followed the destiny of the rest of Crete and fell into the hands of the Ottomans.
Although you might expect a Christian monastery to decline in importance when another nation takes control of the land, the opposite happened for Toplu.
Through the 267 years, 7 months, and 7 days of violent Turkish occupation that the Cretans faced, the monastery was a source of life, health, and comfort.
Through providing food and protection to countless victims of the violence, the monks of that period were thankfully there to support the hurting.
During those turbulent times, fate had it that the monastery would give up its last name of Akrotiriani for its current one.
Although how the transition exactly happened is unknown, locals believe that Toplou comes from a Turkish word.
Top means Metal Ball and refers to the monastery's cannon used for defense purposes. I guess that shows Turks had a hard time capturing the castle.
Toplou under German Rule
As you can imagine, during the German occupation of the island, the monastery was once again a vital shelter for resistance fighters.
In fact, the monks even possessed a radio used to communicate with allied forces in Egypt, although the capture of this radio led to the infamous torture and execution of its abbot.
Despite recent events, the monastery continued to support the fight against Germans. Thankfully, the monks returned to their spiritual work, which has continued until today.
Plan the Visit: What to See in Toplou Monastery, Lasithi
These are the things you should definitely check out when visiting Moni Toplou:
The Exterior
Marked with greatness, Toplou is known as the only surviving monastery within the Sitia area, as most others were destroyed by either war or pirate raids.
You could easily attribute this success to its fortified 10-meter-high walls, which will impress you from afar.
The Interior
As for the interior, it holds three floors, with 40 rooms and a 33m high bell tower.
And to pique your curiosity, it has been said to have 100 doors; however, only 99 have been found. So if you feel lucky, keep an eye out for the lost ones!
The Entrance
You can find the main entrance on the west side of the fort; it has a sturdy door that rolls open on large wheels.
If you pay close attention, you can even notice the hole from where the defenders would throw stones or boiling liquids at unwelcome visitors.
Hopefully, you won't have to experience any of that!
The Inner Courts
On the contrary, once you go through the door, you will embrace a view of a well-maintained establishment.
You will especially love the two beautiful inner courts and the ancient well, which played such an essential role during sieges.
The Church
After you roam through the courtyard, prepare to enter the main temple. Once inside, you cannot but admire the murals and frescoes that decorate the walls. There's also a unique silver icon of the virgin near the altar.
Don't forget to gaze at the imposing bell tower and belfry, rare examples of Renaissance architecture in the area.
The Icons
If there is one element, however, that you should pay the most attention to, it is none other than the famous icons of the monastery.
They date as far back as the 15th century and demonstrate the monks' impressive artistic talent.
The Museum
Although some of these icons are in the temple, you will find most of them in the monastery's museum.
And if that's not enough, the collection includes other essential finds, such as crosses, bibles, seals, holy robes, paintings, and objects monks used to defend against Germans during WWII, including weapons, helmets, and a radio!
Moni Toplou: The Winery
If you decide to visit in the summertime, then lucky you because the wine-tasting facilities are open for business!
And this is different from your average Cretan wine, too – with a unique climate known only to the Lasithi region, you will not find this variety of wine, known as Assyrtiko, anywhere else on the island.
Here you will have the chance to sample Toplou Monastery wine, raki, and top-of-the-line olive oil, all produced within walking distance of where you will take your first sip.
Tips to Visit the Holy Monastery of Toplou
Keep these details at hand and bookmark the page to prepare for a visit:
How to Get to Toplou Monastery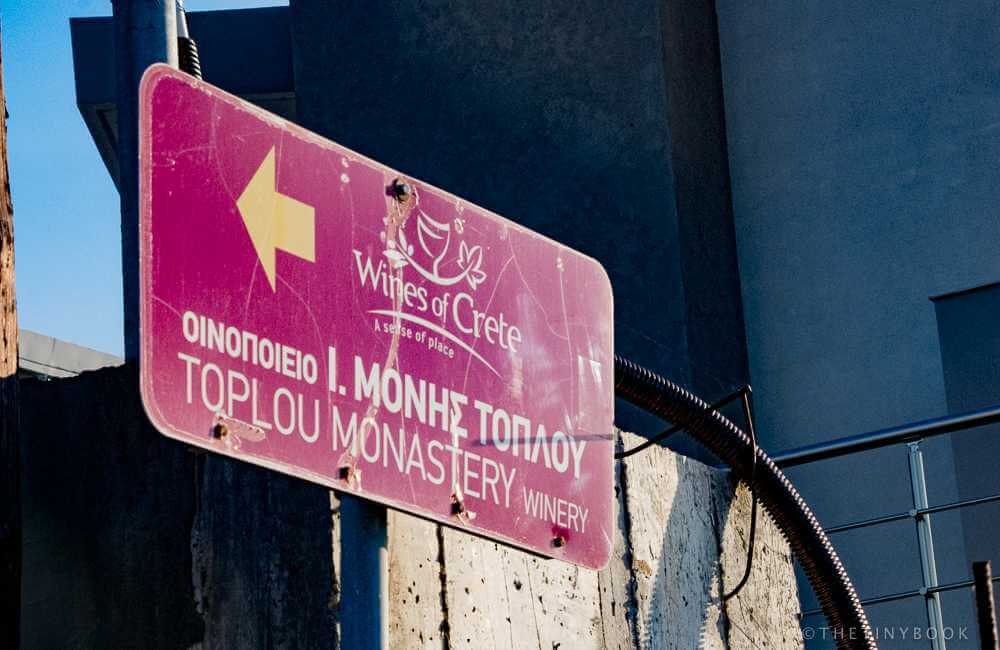 Due to its remote location, Toplou Monastery might be a bit challenging to reach. The main road goes through Sitia, which is 10 kilometers west.
However, the nearest central city hub is Palekastro, 6 kilometers south. In any case, you will need to rent a car since there is no bus service in the area. Follow the Wines of Crete signs and get to Toplou Crete.
Toplou Monastery: Opening Hours and Entrance Fee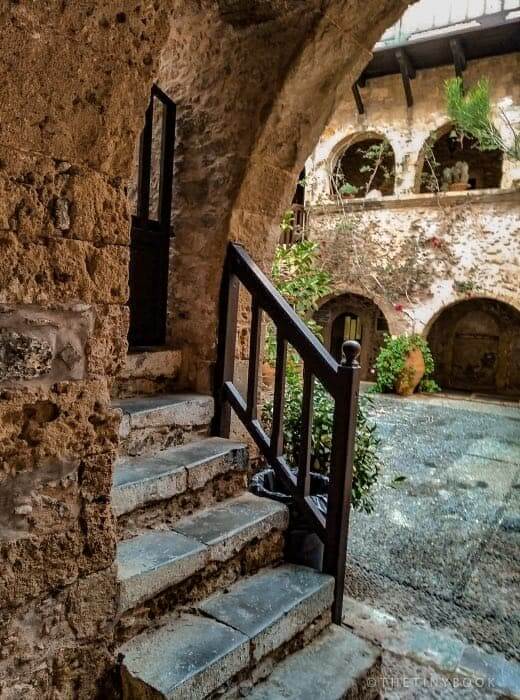 Thankfully, the monastery of Toplou is open all year round from 9 am to 1 pm and then again from 2 pm to 6 pm. Note, however, that the museum is closed on Sundays.
Regarding costs, the ticket fare comes to only €4, but prepare to spend more if you're after the famous Toplou Monastery olive oil and wine offerings.
The Restaurant
Although you wouldn't expect it from monasteries in Lasithi or greater Crete, Toplou is home to a quite reputable restaurant, Kamaroto.
This hidden gem offers delicious dishes in elevated outdoor seating areas, complete with incredible panoramic views.
Look closely, and you can admire the biological vineyard and olive tree cultivations from afar, not to mention the first wind farms in Crete.
Essential Things to Know Before the Visit
Since you visit a spiritual establishment, remember to dress appropriately and cover your shoulders. Plus, photography is not allowed in the museum and the church, but you can still take pictures of the courtyard and outside areas.
Finally, if you want to use the toilet, prefer the one in the tavern over the main one.
What to Do Near Toplou Monastery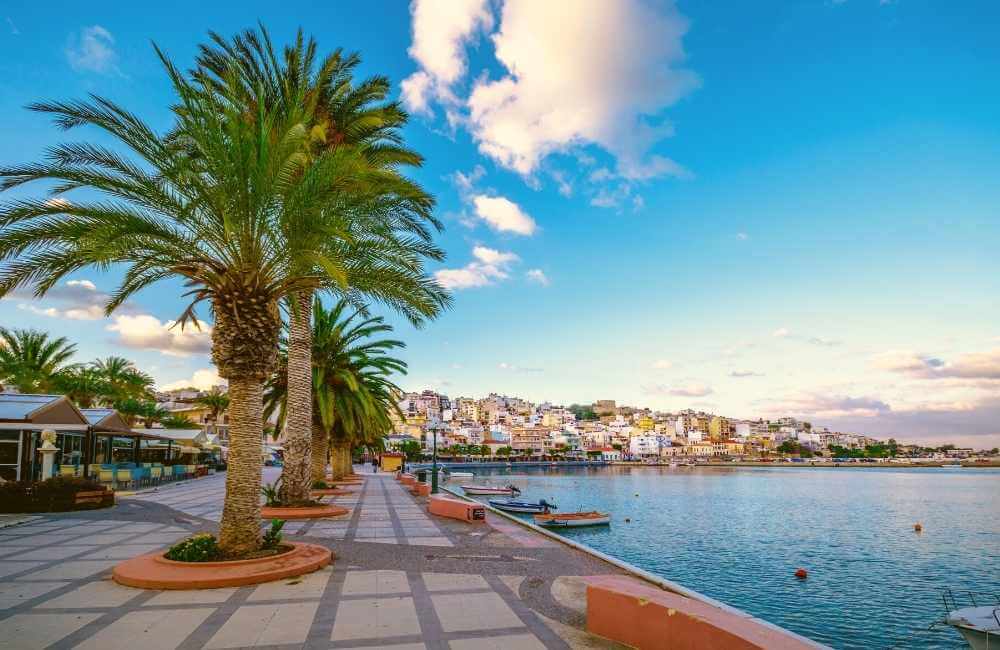 It goes without saying that since you're in Toplou, you have to visit Bai Beach in the east. Also known as Vai Palm Beach, the location will captivate you with its exotic appeal in no time.
And if you want some adventure, try walking the nearby Gorge of Toplou; it's challenging but worth every bit of the effort.
Another interesting place a relatively short drive from the monastery is Sitia, Crete's easternmost port city, and discover the magnificent archaeological museum and its impressive Venetian fortress.
If you enjoy hiking and history, you can also combine a visit to the Gorge of the Dead and the Minoan Palace of Kato Zakros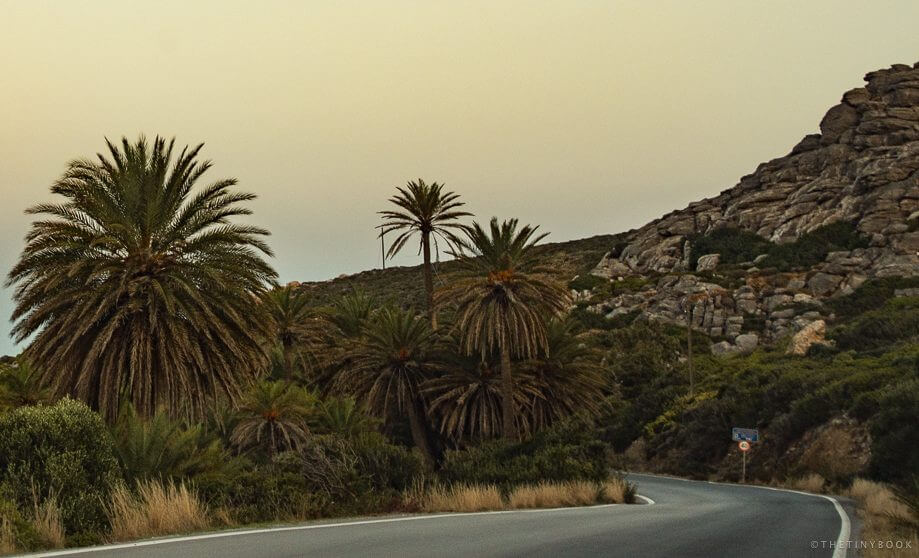 Overall, visiting the Toplou Monastery can be a delightful experience. You will love its quiet setting, cute restaurant, and historical artifacts.
Often finding yourself transported back in time, I am sure it will be an experience that you will never forget! So if you plan on visiting, here's to amazing travels, scenic views, and incredible times ahead.
Accommodation Near Toplou
Although the immediate area surrounding Toplou is isolated and there are no places to stay, it's a good idea to book a stay either in Sitia or in the small village of Kato Zakros to explore the archaeological site, the gorge, and enjoy the solitary beach.
These are some of the places I recommend:
🛌 Suggested Accommodation in Lasithi:
🗺️ More resources to book your trip to Crete
Read more about East Crete
Written by Dimitrios Tsevremes
Passionate about travel, spirituality, and sports, I have lived in 5 countries and traveled to more places than I have counted. Writing, for me, is a way to express myself and my creativity. Whether I write for my blog or a freelancing gig, I always fall in love with the process and often lose my sense of time. If you want, you can check out more about me and my work here.
Pin this Toplou Monastery Visit Guide and Read it Again Later!
---
You might also want to read these other Crete travel blogs:
---
About my blog: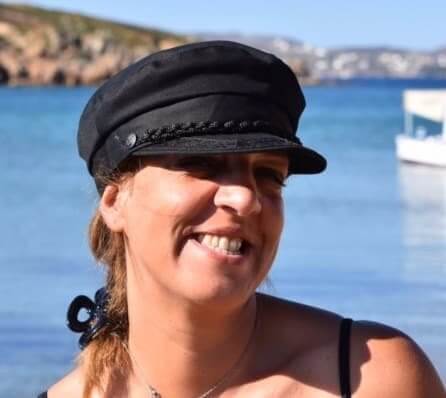 I moved to Crete in 2016. During these years, I learned much about the island.
In Crete, I juggle being a solo mom, hosting culinary tours, and writing for several travel blogs.
I've written for Greek Reporter, published travel guides about Greece, and had more glasses of frappe than any regular person could ever handle.