An ideal destination for those seeking a relaxing beach holiday in a charming Greek setting, this southern village in Crete near Ierapetra is home to fantastic beaches and amazing day trip opportunities in the surrounding area.
If you're looking for a vacation filled with long days by the sea, exciting outdoor experiences, and adventurous boat trips, then check out this complete guide to Makrigialos Crete, which – who knows? – could be your next summer destination on the island!
---
Disclaimer: Posts include affiliate links to products or services. I might earn a commission if you make a purchase at no extra cost.
---
Top Things to Do in Makrigialos Crete
Basic Things to Know about Makrigialos
Makrigialos (which you will also find written as Makry Gialos or Makrygialos) is a coastal town in the southeastern part of the island of Crete, in the region of Lasithi.
Where is Makrigialos
Makrigialos is approximately 25 kilometers east of Ierapetra and about 120 kilometers southeast of the capital city, Heraklion.
The small coastal settlement features safe sandy beaches with crystal-clear waters and a relaxed atmosphere, ideal for a calm holiday, like most of the southern coast in Lasithi.
In the last decades, Markigialos has developed as a popular tourist destination yet managing to keep intact a captivating Cretan atmosphere and a calm pace.
Although there's not much to do in the village, the place is often chosen precisely for that reason.
However, should you get bored of the quiet atmosphere, Ierapetra is just a few minutes away and offers more entertainment and attractions.
In Makrigialos, favorite activities include swimming and some water sports, visiting nearby islands, and enjoying leisure walks along the harbor.
Although not as big as Ierapetra, Makrigialos remains a great base for exploring the wide Libyan coast in eastern Crete.
How to Get to Makrigialos, Lasithi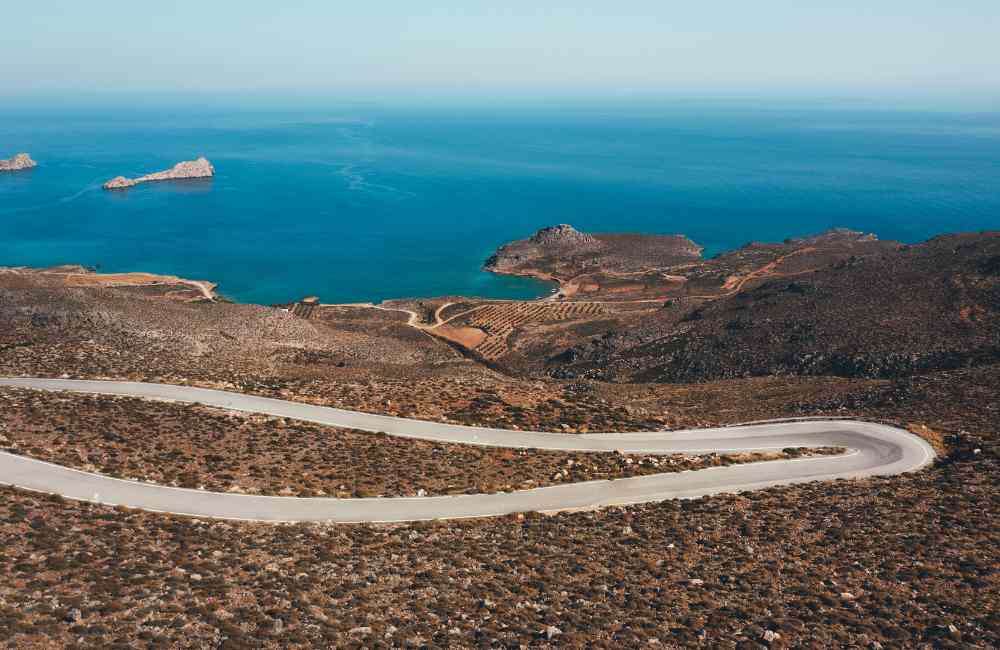 The easiest way to get to Makrigialos from Heraklion (or any other point on the island) is by car. The distances are as follows:
Heraklion – Makrigialos: 120 km (about 2 hours)
Agios Nikolaos – Makrigialos: 60 km (about 1 hour)
Ierapetra – Makrigialos: 26 km (about 30 minutes)
Sitia – Makrigialos: 34 km (about 45 minutes)
Matala – Makrigialos: 148 km (about 2 hours)
Rethymnon – Makrigialos: 197 km (about 2.5-3 hours)
Chania – Makrigialos: 258 km (about 4 hours)
If you're reaching Makrigialos from Heraklion by car, keep in mind that the journey is about 2-2.5 hours. You must drive east along the National Road E75 towards Agios Nikolaos and then follow the signs to Ierapetra. From Ierapetra, continue east along the coast for about 26 km.
You can also get to Makrigialos by bus. There is a bus service that connects Heraklion to Ierapetra, the nearest major town.
From Ierapetra, you can then take a local bus or a taxi. The whole journey can last from 2.5 to 3 hours.
Driving in South Crete is an amazing adventure. The area is wild but incredibly beautiful and it's not easy to get lost as long as you keep the coastal road.
In any case, I always suggest keeping an updated map of Crete at hand (I ALWAYS use this one) or renting a car with a good navigation system installed.
Besides, you can also keep handy this guide to driving in Crete for more details.
Which car rental service is the best to choose?
If you want to rent a car for your trip and look for the best service, then I am here to help you! Consider choosing Discover Cars, an international car rental booking service present worldwide. This way, you will find the best car for your trip wherever you are!
Best Things to Do in Makrigialos, Crete
A quintessential southern beach town in Crete, Makrigialos offers a limited yet fantastic array of things to do.
Start by spending some lazy time on the beach, resting from a long year of work, and continue by enjoying the laid-back atmosphere of the village.
Explore nearby gorges and attractions, and other equally charming fishing towns, and be amazed at the southern pace of life, made of hospitality, simplicity, and wild landscapes.
Beach Time in Makrigialos
One of the top beaches in South Crete, Markigialos features beautiful sandy beaches and crystal-clear waters.
One of the best plans in Makrigialos is to spend your days lounging on the beach, swimming in the sea, and soaking up the sun.
Some popular beaches in the area include the main shore Makrigialos Beach, Lagada Beach, and Diaskari Beach.
Try Water Sports
All along the coast near Makrigialos, you will find water sports activities available. You can try snorkeling, scuba diving, kayaking, paddleboarding, and windsurfing, or simply purchase a pair of goggles and enjoy the seabed in the area.
For those interested, several local water sports centers offer equipment rentals and lessons for beginners.
Explore the Sea Caves
Join a boat tour or rent a kayak to explore the fascinating sea caves and rock formations along the coastline.
This is a great way to discover hidden gems and enjoy the natural beauty of the area.
Head to Makrigialos harbor and discuss with a local boatman about excursions and fees, you'll find a great deal and the schedule will be quite flexible too.
Visit Perivolakia Gorge
Also known as Kapsa Kanion, the Perivolakia Gorge is located close to Makrigialos and Ierapetra.
Those into hiking and outdoor activities can hike through Perivolakia Gorge, a scenic ravine with stunning landscapes, towering cliffs, and a river flowing through it.
The hike is a rewarding experience for nature lovers and hiking enthusiasts with some experience. The gorge is generally considered a moderately challenging route, and the hiking time goes from 3 to 4 hours.
Alternatively, you can also visit Pefki Gorge, another great option for nature lovers and hikers near Makrigialos.
This canyon is located northwest of Makrigialos, it offers a less touristy experience compared to other gorges in the area. The gorge features impressive rock formations, narrow passages, and stunning views.
The village of Pefki, at the top of the gorge, is at an altitude of 420 meters and is on the southern slope of the Romanti Mountains. All Trails offers more information about this and other gorges to explore in Crete.
The trail is fairly easy, however, proper footwear and hiking equipment are recommended whenever exploring the gorges in Crete.
Visit Richtis Waterfall
Although Richtis is not on the southern coast, it's located only one hour north. The hike through the gorge is picturesque, and the waterfall is a refreshing sight.
Don't forget your camera to capture the beauty of this natural attraction.
Discover Ancient Sites
Although there are no major archaeological sites in Makrigialos, the area is close to some of the most important Minoan ruins on the island, so jump on your car and start exploring these sites within a short drive from the area:
Minoan Palace of Zakros
The Minoan Palace of Zakros, or Palace of Kato Zakros, is approximately 40 kilometers east of Makrigialos. It was one of the four major Minoan palaces in Crete and dates back to the Late Minoan period (1600-1450 BC). The palace complex provides insights into the Minoan civilization and allows you to explore the ruins of the palace.
Gournia
Gournia is an ancient Minoan settlement situated on the north coast of the Isthmus of Ierapetra, around 25 kilometers northwest of Makrigialos. Gournia was a thriving town during the Late Minoan period (1550-1450 BC). Today, you can see the remains of houses, streets, a central court, and a marketplace. The well-preserved ruins provide valuable information about Minoan urban planning and architecture.
Myrtos Archaeological Site
Myrtos, a village located approximately 40 minutes west of Makrigialos, is home to the ancient settlement of Myrtos that dates back to the Minoan era and features remnants of a Minoan palace and a cemetery. Excavations have uncovered important artifacts, including pottery, figurines, and jewelry.
Try Cretan Cuisine
Indulge in the local Cretan cuisine and try traditional dishes. Makrigialos has several taverns and restaurants where you can enjoy fresh seafood, Cretan specialties, and delicious Mediterranean flavors.
One of my favorite places to eat in the area is located on Diaskari Beach, the taverna is called Diaskari and it's just a few minutes from the main beach of Makrigialos.
Visit Nearby Villages
Take a day trip to nearby villages, such as Myrtos, Analipsi, Koutsouras, or Kalo Nero, to experience the local culture, charming streets, and traditional architecture… but also the spectacular beaches!
These villages often offer a glimpse into the authentic Cretan way of life.
Ancient Villa
Located in the northern area of the village, archaeologists have found the ruins of an important villa of the late Minoan period that is supposed to have been destroyed by fire.
The villa featured solid walls as well as inner courts. It was probably roofed with bamboo and a layer of clay. On the site, during the excavations, researchers came across vessels of pottery, figurines, and an important seal stone.
Day Trips and Excursions from Makrigialos, Crete
There are several incredible places to visit on the southern coast of Lasithi, not just beautiful coastal villages, but also two of the most beautiful uninhabited island off the coast of Crete, and they are both easy to reach with a boar from the small port of Makrigialos.
Down below are some of the best day trips you can enjoy in the area.
Ierapetra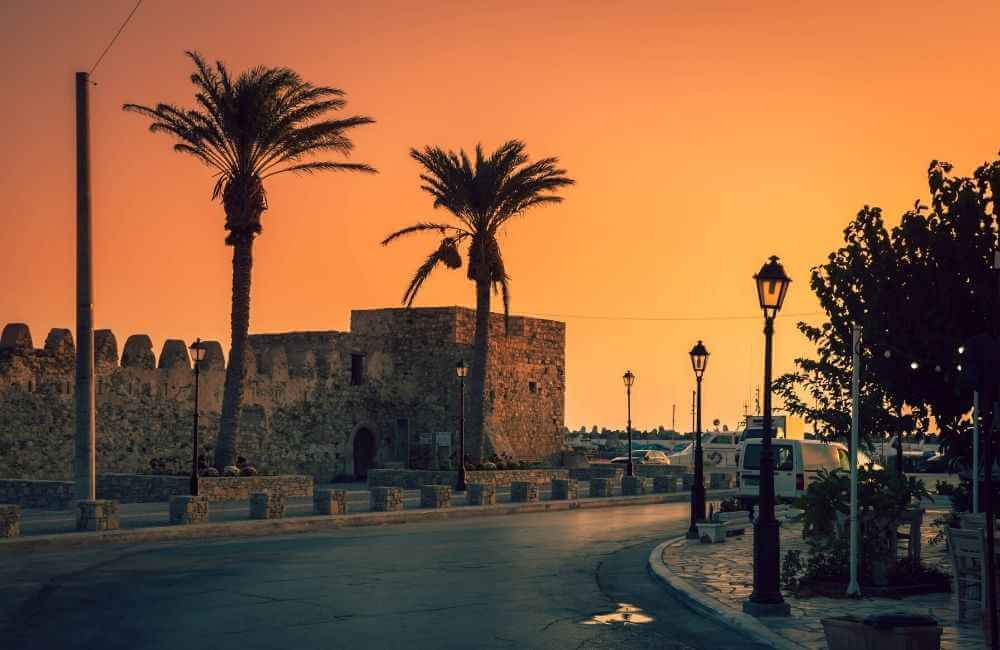 Ierapetra is an important town on the southeast coast of Crete, about 35 minutes from Markigialos.
Vai Beach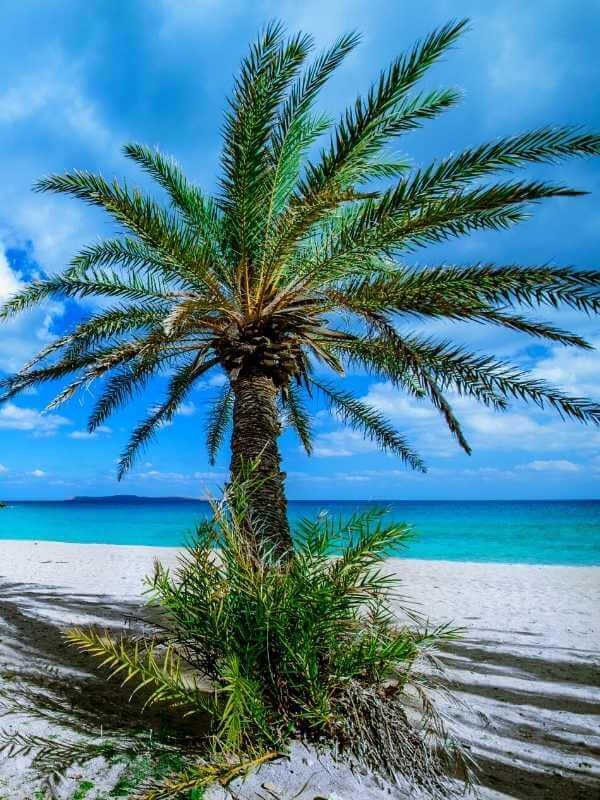 Vai Beach (Παραλία Βάι – Paralia Vai, in Greek) is one of the most beautiful and exotic beaches in Crete and a fantastic place to discover. It's located 55 km from Makrigialos and it's a great place to experience a really exotic Cretan beach.
Toplou Monastery
If you're planning to travel to Vai, then make a stop and pay a visit to one of Crete's most important monasteries, Moni Toplou.
The monastery which also hosts an important war museum, is only 9 km from Vai and about an hour's drive from Makrigialos.
Due to its isolated and rather vulnerable position, but also because of the continuous attacks it went through, Toplou stands behind solid fortification walls which are about 10 meters high.
On the premises, you can also check out the rare collection of icons and engravings and the on-site winery that produces some of the best wine labels on the island.
Myrtos
Myrtos is a picturesque seaside village in the south of Crete, just a few kilometers away from Ierapetra, the most important city in the south.
The journey from Makrigialos to Myrtos is about 50 minutes.
The village is a favorite among tourists who appreciate the traditional and relaxing atmosphere as well as the hippie-like vibe that you can experience in Myrtos.
If you have the time, spend some time at one of the local taverns to try delicious Cretan dishes.
Chrissi Island
Only 14 km off the coast of Ierapetra, on the southern coast of Crete, Chrissi Island is a magnificent gem and a natural ecosystem with pristine beaches facing the Libyan Sea.
Daily boats to Chrissi Island depart both from the harbors of Ierapetra and Makrigialos.
Considered a natural paradise, this uninhabited island is one of those places you cannot miss visiting.
A whole day on Chrissi guarantees a rare experience of unique beauty, made of enchanting crystalline waters and one of the wildest landscapes you can dream of.
Adding to the enchanting atmosphere, a cedar forest extends into the center of the island, while almost the entire island is covered by white sand.
Koufonisi Island
One of the most exotic islands off the coast of Crete, Koufonisi is a small group of tiny islands located on the Libyan Sea and features wonderful beaches and sea caves as well as wild bays and deserted landscapes.
The two main islands are Pano Koufonisi (Upper Koufonisi) and Kato Koufonisi (Lower Koufonisi) and their main trait is the crystal-clear turquoise water that surrounds the islands.
Land of untouched natural beauty, both islands are uninhabited. The larger of the two, Pano Koufonisi, offers stunning sandy beaches, rocky landscapes, and beautiful hiking trails.
Kato Koufonisi is known for its impressive sea caves, which can be explored by boat or kayak. Both islands are protected nature reserves in an effort to preserve their unique ecosystems.
Where to Eat in Makrigialos, Crete
You can enjoy the best dishes of Cretan cuisine, as well as Greek dishes and a variety of fresh seafood in the many taverns along the waterfront of Makrigialos.
These are some of the places I loved when I visited the village.
Breakfast and Bakeries in Makrigialos:
Takis Voula Patisserie: Located in Analipsi, you won't believe the lavish desserts and delicious pastries prepared by this bakery! Check out the reviews.
Best Areas to Stay Near Makrigialos
Although there are quite a lot of places to stay in Makrigialos, the village is not huge, and not being able to find accommodation is not odd – it personally happened to me, twice!
For that reason, other than looking for a hotel in the village, you can also check out other areas close by, where accommodation might be more easily available.
Makrigialos Beach
Of course, this is the best place to stay as it is steps from the center of the village, the harbor, the beach, and most of the shops and restaurants in the village. There is a good choice of hotels, apartments, and studios to rent. As always in Crete, booking early is key, especially if you plan to visit in August.
Lagada Beach
Situated about 8 km east of the town center, Lagada Beach has a long stretch of sandy beach, and there several accommodations available in this area, including hotels and self-catering apartments.
Analipsi
Not to confuse with the more popular Analipsi on the northern coast of Heraklion, this small neighborhood, east of the town center, is a quieter place with a very tranquil vibe yet within walking distance from Makrigialos.
Koutsouras
Situated 2.5 kilometers west of Makrigialos, Koutsouras is a secluded village with a beautiful beach and a small fishing harbor nestled in a gorgeous olive grove. There are a few hotels and apartments available in this area.
Galini
Not to be confused with the village of Agia Galini in Rethymnon, this small settlement is 10 km west of Makrigialos, on the way to Ierapetra. Offering another place to pick if you're looking for a laid-back ambiance and stunning sea views.
Where to Stay in Makrigialos
Despite what you might think and even when the village is quite remote and not so much on the beaten track, finding accommodation in Makrigialos can be tricky and difficult.
Many people visit the village year after year and stay for long periods, making it sometimes hard to find available accommodation.
However, if you book well in advance, you will certainly find the right place to stay and the best prices in Makrigialos.
Read more about Crete's Villages
🛌 Suggested Accommodation in Lasithi:
🗺️ More resources to book your trip to Crete
Pin this Useful Guide to Explore the Village of Makrigialos in South Crete!
---
You might also want to read about these other places in the Lasithi region:
---
About my blog: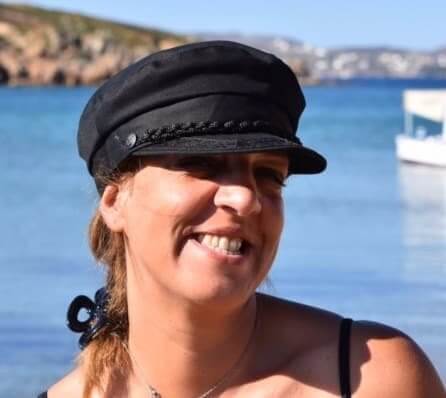 I moved to Crete in 2016. During these years, I learned much about the island.
In Crete, I juggle being a solo mom, hosting culinary tours, and writing for several travel blogs.
I've written for Greek Reporter, published travel guides about Greece, and had more glasses of frappe than any regular person could ever handle.