With a coastline that extends for 1,046 km (650 mi), Crete is a great destination to practice water sports and spend time enjoying countless thrilling sea activities. If you're still not sure where exactly to go to enjoy a day at sea, or what to do during your days at the beach, then this article comes to the rescue. Bookmark this guide to the best water sports in Crete and keep it handy when it's time to visit the island!
---
Disclaimer: Posts include affiliate links to products or services. I might earn a commission if you make a purchase.
---
Water Sports in Crete
Here is a list of the most thrilling water activities that you can enjoy in Crete, including adventurous water sports, kid-friendly activities, relaxing sea exploration, and other unique experiences at sea on the island.
Let's see now some of the most popular water sports to have wet fun in Crete!
Scuba Diving
Although we have a whole article devoted to the best scuba diving spots in Crete, which I recommend you bookmark and read later, this is one of the most popular water activities on the island.
Therefore, I've included it here and added some of the top-selling experiences for divers of all levels and ages.
Scuba Diving PADI Courses from Myrtos Beach, South Lasithi
Discover Scuba Diving in Crete (Chania Region – Beginners)
Other Scuba Diving Activities in the Rest of Crete:
Sea Kayaking, One of the most popular water sports in Crete!
There are dozens of sea kayaking experiences available around the island. In fact, this is one more of the many popular water sports in Crete which sees hundreds of fans year after year. It can be practiced in every corner of the island!
These are the most popular activities offered this season:
Sea Kayak Excursion from Loutro Beach, Sfakia, Chania
Sea kayak Excursion from Bali Beach, Rethymnon
Other Sea Kayaking Activities in the Rest of Crete:
Snorkeling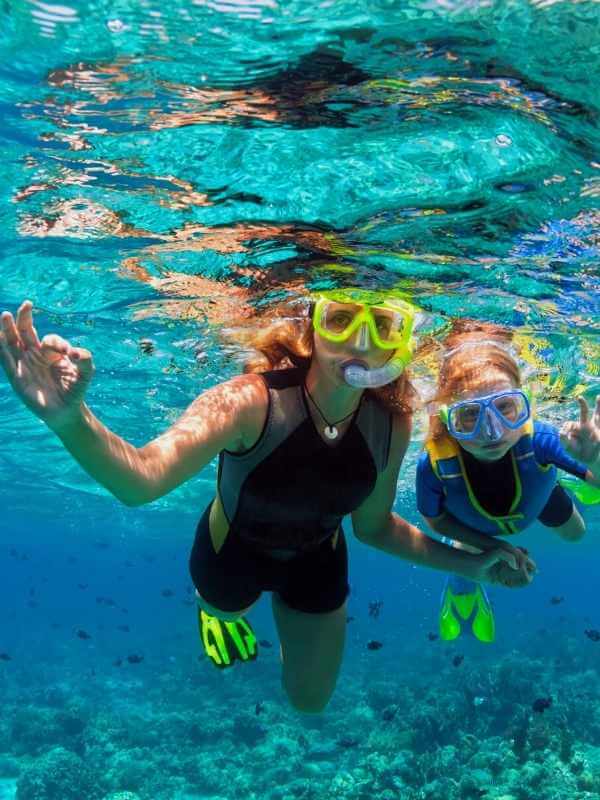 Nothing says summer holidays in Crete more than snorkeling! This is probably the easiest activity on the waters around the island, perfect for all ages, and guarantees hours of fun and entertainment.
You can go snorkeling all over the coast, but if you want to upgrade the experience, then check these different proposals:
Speedboat Tour with Snorkeling in Rethymnon
Snorkeling Tour on Agia Pelagia Beach, Heraklion
Other Snorkeling Activities in the Rest of Crete:
SUP – Stand-Up Paddle
One of the most popular activities in Crete in recent years, ok for almost any age as long as you are able to swim, SUP (stand-up paddle) is the perfect thing to do to have some fun time on the beach.
Stand Up Paddle Excursions, Chania
Stand Up Paddle and Snorkeling in Loutraki, Akrotiri Peninsula, Chania
Stand Up Paddle in Falasarna and Elafonisi, Chania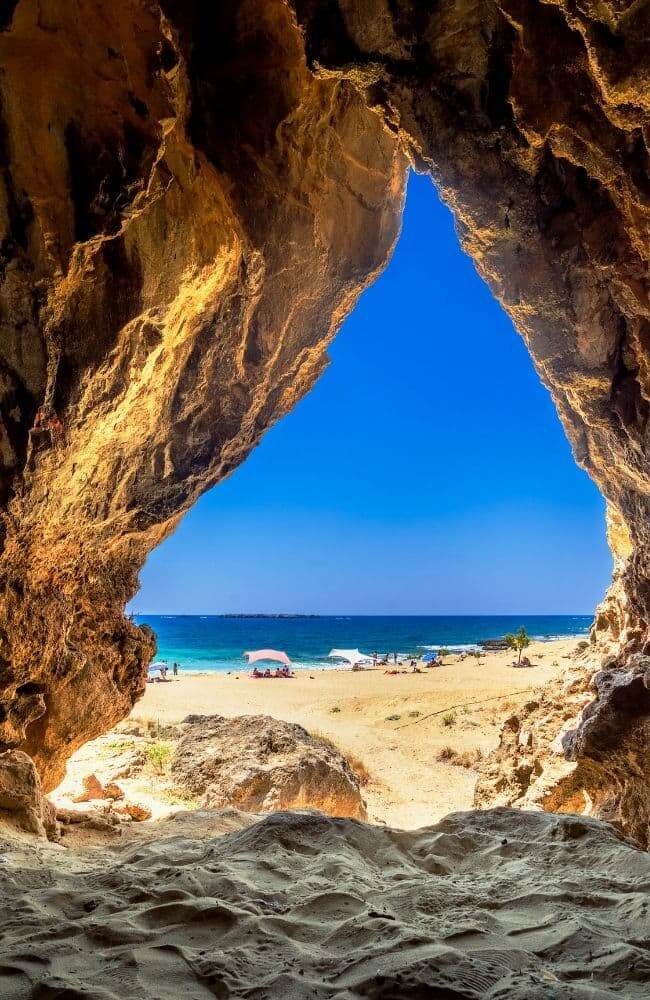 Stand Up Paddle, Kalathas Beach, Chania
The gorgeous Kalathas Beach, also part of the Akrotiri Peninsula, is another popular place for SUP fun!
HIGHLIGHTS: Kalathas is a kid-friendly beach about 20 minutes from the center of Chania with transparent blue-green waters. This beach is perfect whether you have experience in stand-up paddling or not. You can either rent high-quality equipment or have full training with friendly and expert trainers. In the area, you can enjoy the calm waters of the bay as well as explore several caves that are close by. You might even get to see some sea turtles that keep their nests close to the beach!
Check out this incredible experience combining Guided Snorkeling & Stand-Up Paddling in Chania.
Canyoning
With dozens of incredible gorges scattered all over the island, Crete is the ideal scenario to enjoy canyoning.
In fact, there are quite a few spots where you can have fun canyoning in Crete; the following are just some of the options; check them out and decide which is better for you:
Water Trekking Kourtaliotiko Gorge, Rethymnon
Read everything about Kourtaliotiko Gorge here.
Canyoning in the Portela Gorge, Viannos, Heraklion
Canyoning in Seitan Limani, Chania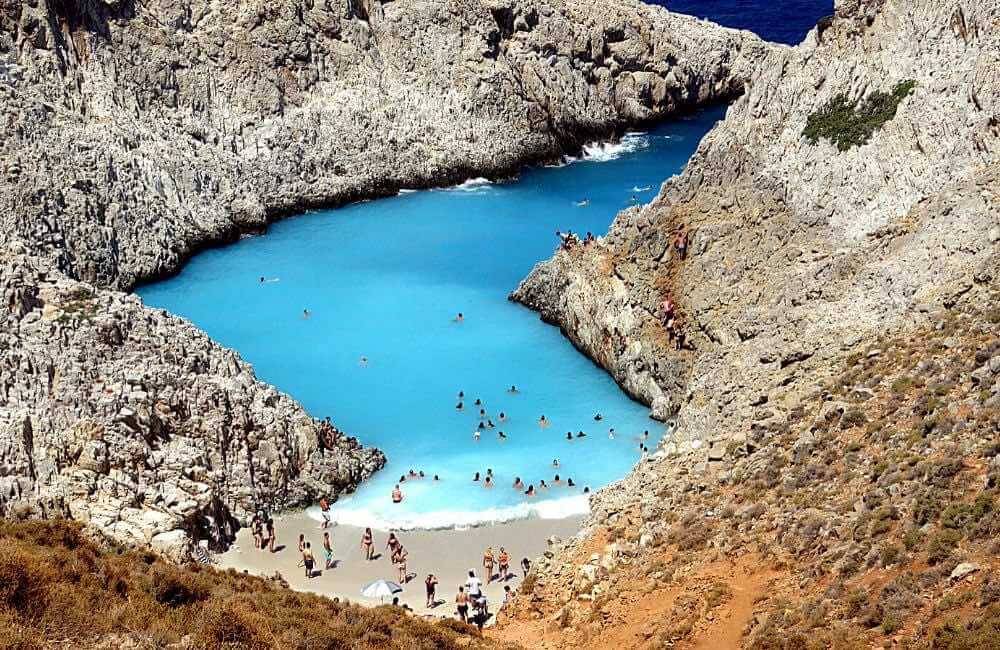 Jet Ski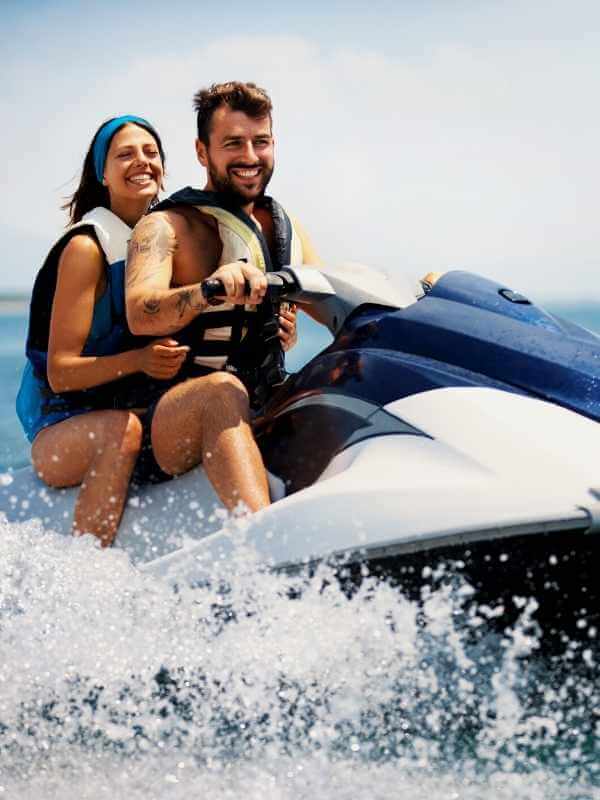 Jet skiing is another of the different water sports you can take up in Crete. In this case, you will head to the blue waters of Heraklion Bay, only a few minutes from the center.
Windsurfing
Is there a better place on the island for a fun day at the beach than the magic coast of Elafonisi Beach? Well, it can get even better if you pair it with windsurfing lessons!
Surfing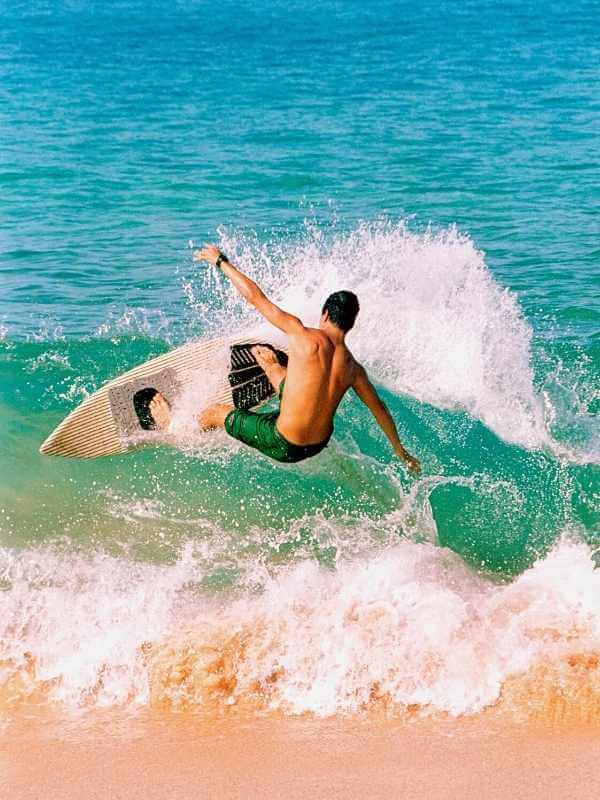 One of the most traditional water sports you could think of is surfing! This is also possible in Crete, currently, in two locations: Falasarna, one of the top places on the island due to its optimal winy conditions, and on the coast of Chania.
Surfing in Falasarna
Falasarna's main beach is ideal for surfing activities. The sandy beach with waist-high water is a perfect playground for the first steps in wave riding. The station provides a full range of surfboards for all levels and needs. Everyone can have fun in the water safely, from young kids to adults.
Surfing starting from Chania
The offer includes a full-day surfing trip with an instructor who will choose the best spots for surfing depending on the weather conditions and with top-notch equipment.
Parasailing
Parasailing is also possible in Crete! Individually, in couples, and groups of three. Although technically, it is not 100% a water sport, fun and entertainment are fully guaranteed!
This activity takes place on the beach of Ammoudara, one of the most popular shores in Heraklion, only 10 minutes from the city center.
Boat Wakeboarding
Quickly becoming one of Crete's most popular water sports, wakeboarding will guarantee hours of unbeatable fun! This sensational sport needs calm waters… and there is no better place than the Mirabello Gulf for this experience.
So, if you're staying in Elounda or somewhere on the northern coast of the Lasithi region, then don't miss this chance.
Coasteering
Have you ever heard of coasteering? I admit that the first time I heard of it, I had to run to Wikipedia because I had no idea what it was…
Their definition was quite puzzling: "Coasteering is a physical activity that encompasses movement along the intertidal zone of a rocky coastline on foot or by swimming, without the aid of boats, surfboards or other craft."
Apparently, the term combines the words mountaineering and coast, and it is pretty much related to adventure swimming.
And although this was pretty new to me, apparently, it is possible to go coasteering in Crete too! You need to head to the southern coast, near the area of Lentas, south Heraklion. And incredible thrill and fun are guaranteed!
So, there you go, a range of activities in Crete for the wettest, most thrilling adventure. No matter your age or fitness level, I'm sure you've found the right thing to do when eager for a water experience in Crete!
Have you practiced any of these water sports in Crete before?
Read more about Crete
🛌 Suggested Accommodation in Crete:
🗺️ More resources to book your trip to Crete
Pin This Guide to the Best Water Sports in Crete for Your Next Adventure!
---
You might also want to read these posts about Crete's regions:
---
About my blog: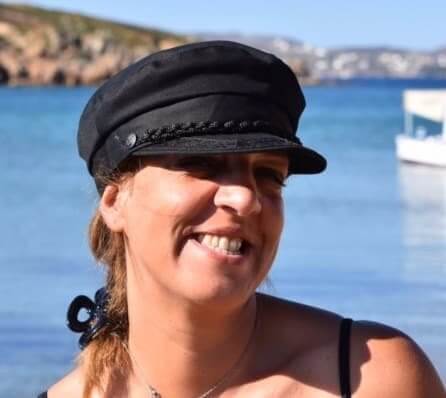 I moved to Crete in 2016. During these years, I learned much about the island.
In Crete, I juggle being a solo mom, hosting culinary tours, and writing for several travel media.
I've written for Greek Reporter, published travel guides about Greece, co-authored DK Eyewitness Top 10 Crete, and had more glasses of frappe than any regular person could ever handle.