The magnificent Cape Akrotiri is — first and foremost — home. It is the place where I chose to live when I moved to Crete. Akrotiri is a fairly developed area, home to Crete's Technical University and Chania's International Airport. Despite being less than 10 kilometers from the center of Chania, it still retains a provincial atmosphere in some of its villages. I live in one of them, and this has allowed me to thoroughly explore the region and find the best beaches in the Akrotiri peninsula, all of them conveniently close to Chania town.
---
Disclaimer: Posts include affiliate links to products or services. I might earn a commission if you make a purchase, at no extra cost to you.
---
Akrotiri Peninsula, Stunning Beaches Near Chania
General Information About Akrotiri, in Crete
Akrotiri Meleha or Peninsula is a large circular cape that lies northeast of the city of Chania.
The densely populated area is home to an International Airport and the Port of Souda, as well as the Technical University of Crete. There are also NATO naval bases inside the Bay of Souda.
Some of the most beautiful beaches on the northern coast of Crete are hidden among the rocky cliffs of the peninsula. In the area, there are also some important historical landmarks, monasteries, and a winery, all of them worth a visit.
Best Hotels in Chania
Affordable: Aelia Apartments or Polixeny's Suites in the old town.
Mid-range: Elia Estia in the old town and Civitel Akali Hotel in the new town.
Luxury: Casa Delfino in the old town or Domes Noruz by the sea.
Check also Chania Accommodation Guide and Boutique Hotels in Chania.
During the last five years, the different villages in Akrotiri have seen a fast development. With more villas for rent and hotels being opened every year. The residential atmosphere of the cape makes it a good place for living all year round too.
There are enough facilities and shops to save you a trip to Chania, and it's still close to the city center for a night out.
These characteristics, plus a few rather unknown blue flag beaches, make Akrotiri not just a comfortable residential area, but an excellent place for relaxing holidays.
Let's Start by Getting Ready for Crete!
RESOURCES TO BOOK YOUR TRIP:
Book your flight: I use Skyscanner to compare prices before booking a plane ticket.
Book your ferry: When ferries are more convenient than air travel, I use Ferryhopper.
Book your accommodation: I've tried many different platforms for accommodation, but none of them beats the advantages of Booking.com.
Book your car: The best way to find an affordable car to rent is to use a powerful search engine that compares all the rental companies in the market. I use Discover Cars.
Book your tours: Live unforgettable adventures and cultural experiences with Get Your Guide. For instance, you can Visit Elafonisi, discover Balos Beach, hike Samaria, or explore Knossos.
Don't forget travel insurance: Things can go wrong at times, but travel insurance will protect you against illness, injury, theft, and cancellations. I recommend Safety Wing for peace of mind.
In this article I will mainly focus on Akrotiri's beaches, you will also find about where you can stay and eat, but the places to see in Akrotiri will be discussed deeply in another post.
Map of Akrotiri Peninsula
Which are the Best Beaches in Akrotiri, Crete
There are at least three rather well-known beaches on the peninsula, plus a few more hidden jewels that massive tourism has yet to discover. Let's begin with the best-known one.
Stefanou Beach (Seitan Limania)
Stefanou Beach, Mouzouras, Crete, Greece.
Latitude: N 35.551902
Longitude: E 24.193404
Characteristics: Sand mixed with pebbles – Not organized – Basics you need: Hiking shoes, cold drinks, lunch.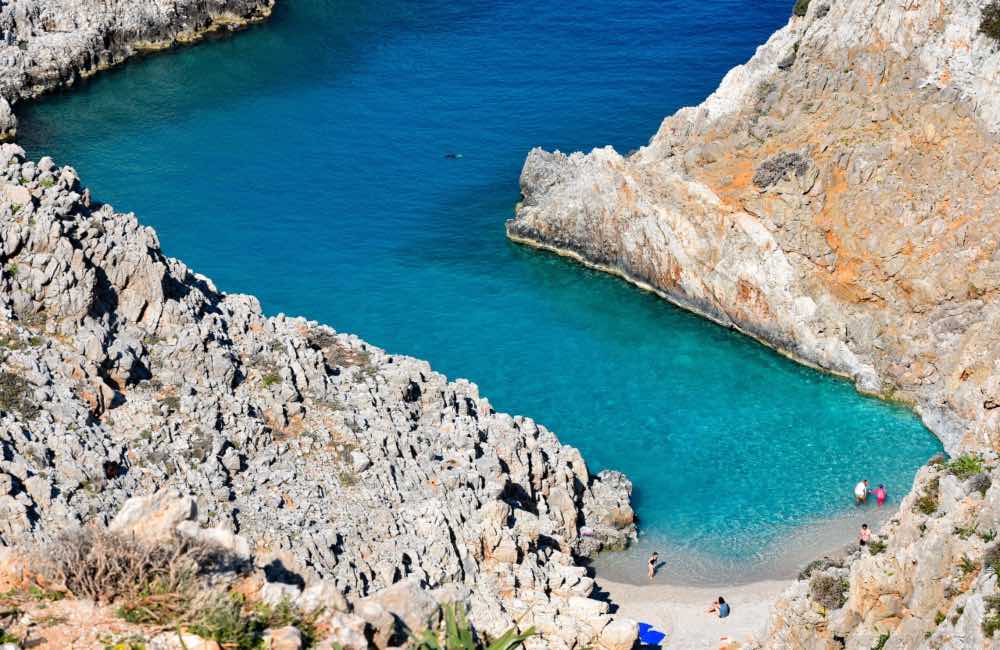 Unknown — even to most locals — until a few years ago, when Stefanou Beach made its way to Instagram, the place became a hit.
No matter how hard it was to access, the alluring clear shades of blue contrasting the bare rocks of the cove proved irresistible.
The original name of this tiny beach is Stefanou, but now everyone knows it as Seitan Limania (or the Devil's ports). The famous name, refers, in fact, to the broader area. As well as to the group of three different narrow coves, one next to the other.
Stefanou Beach is the only one of those coves that can be accessed by land. To visit the other two you will need a boat.
Stefanou Beach is enclosed by impressive cliffs and a rough landscape, while the waters in all the three coves are known for being subject to strong streams, dangerous for both swimmers and boats.
It's for this reason that, in recent years, several yacht owners started declining trips to Seitan Limania.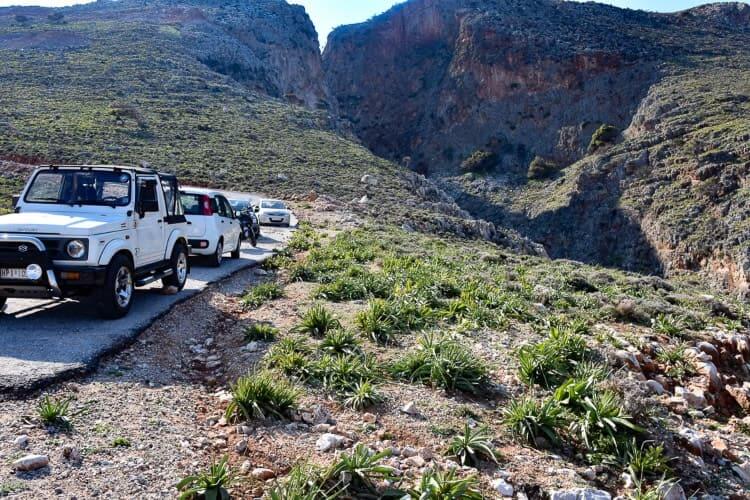 Nothing of what I've just mentioned stopped people from attempting to visit Stefanou Beach. This magnificent shore has small pebbles mixed with clear sand and the characteristic shape of a lightning bolt. Notice that the beach had only pebbles originally, sand was transferred here not long ago.
The beach of Seitan Limania is crowded most of the high season, but you can find it empty in April, May, and October. The beach is too small. Don't even consider this beach if you hate crowds or have difficulties hiking.
Once you have climbed up the hairpin turns of the asphalt road, you will need to park and face a 20-minute steep descent in the company of goats and… more tourists!
Where to stay in the area
– Kamera House is just 2.9 km from Seitan Limania and 15 km from the city center. It's a comfortable villa, 5 km from the International Airport of Chania, with middle-range prices for the high season. Click here for more information and the latest prices.
– M&M Villa is very close to Chania International Airport and it has a private pool, a garden, barbecue facilities, and free WiFi. It's hard to find availability in this gorgeous property. Click here for more information and the latest prices.
Stavros, the Beach of Zorbas
Stavros Beach, Stavros, Crete, Greece.
Latitude: N 35.591
Longitude: E 24.0957
Characteristics: Fine sand – Organized beach.
One of the most popular beaches in the peninsula of Akrotiri is Stavros, both for locals and visitors.
This is a very shallow and calm bay, well protected from the winds and usually waveless. It has a wonderful emerald color, and fine, white sand, and it's especially safe for kids or for those who can't swim.
Stavros Beach is on the north coast of Akrotiri, about 16 km from the city center of Chania, and it's fairly well organized.
It's possible to rent sun lounges and umbrellas in one area, while there's another part of it completely free and not organized. There's public parking available, as well as showers, bars, and tavernas.
You may also want to read: Gay Travel in Crete – Insanely Useful Guide to the Top Gay-Friendly Spots on the Island!
Locals say… When it's windy in the rest of the peninsula, beach-goers target Stavros (as well as Agios Onoufrios) since it's rarely hit by the winds.
The village of Stavros is small and very quiet. There are a few hotels, several villas and houses to rent.
There's an imposing mountain standing opposite the beach with clear paths and caves that tourists sometimes venture to explore (despite the locals usually advising against it).
Stavros Beach is virtually a closed bay, opening to the sea on the west. There the landscape is rocky and harsh, and it can be explored provided you have tennis shoes. The unmarked path is very slippery. On one of the extremes of the beach, there's also a tiny fishing port and a place to rent kayaks.
The mountain standing behind the beach is famous, because here, in 1964, scenes from the film Zorba the Greek, for example, the one in which Anthony Quinn dances the Sirtaki Dance was shot here.
Where to stay in Stavros
– Paradisio Baby and Kinder Hotel is a place I've already mentioned here. It's the perfect accommodation for families with kids as there are special children's facilities, such as a 400-m² play area, a go-kart track, a tree-house, and an animal farm. Click here for more information and the latest prices.
– Blue Beach Villas Apartments is a great mid-range place to stay with great views of the sea. The pool is stunning. The structure has excellent reviews. Click here for more information and the latest prices.
– A stay in Zorbas Beach Village Hotel is perfect if you want to have the option of a pool just a few meters from the beach. Click here for more information and the latest prices.
Map of Hotels and Rental Homes in Stavros
Kalathas Beach
Kalathas Beach, Kalathas, Crete, Greece.
Latitude: N 35.5543
Longitude: E 24.0872
Characteristics: Sand mixed with some pebbles – Organized beach.
Kalathas is the place where I realized I had fallen in love with Crete. I remember lying on this exact beach thinking "I will move here one day". In the end, it happened. Now I live less than 2 km from Kalathas and I couldn't be any happier.
This is also the beach that my kids (and all their schoolmates) choose when I say "Today we're going to the beach". Kids simply love Kalathas.
Popular essentially among locals, but lately also discovered by tourists, Kalathas Beach is a wide semi-circular shore less than 10 km from the center of Chania. It used to be a fine sandy beach, but during the last two seasons, we started seeing more and more pebbles.
The water is transparent, and there's a small island opposite the shore, less than 200 meters away. Children and adults alike love to reach the islet swimming.
If you go snorkeling close to the islet you can easily spot sea urchins, different fish, and — provided you pay good attention — even octopus! Rumors say that this tiny islet used to be a WWII bunker, but I still haven't found any official confirmation.
The beach is organized. It's possible to rent kayaks, SUP surfs, and boats. There's a taverna as well as a good beach bar (known for their hotdogs and Greek salads).
If you prefer, just across the street, there's another traditional Greek taverna with convenient prices and a view of the bay.
Remember: This might sound weird, but for some strange reason, I find that the sand on Kalathas burns more than on any other beach I've been on Crete. If you need to make it from your umbrella to the bar on a hot summer afternoon, please wear your flip-flops!
Another tip: There's just one annoying thing about Kalathas, trying to find a parking spot! Get there early to avoid this issue.
Those who venture to explore the area will discover a beautiful cove on the left of the beach, with a few rocks and shallow waters. Here, you can swim and even sunbathe.
Kalathas is a beach loved by the extensive community of ex-pats residing in the area.
In December 2017, we spotted dolphins in the sea, close to the islet. Yes, we also go to Kalathas in December. My kids love this beach to play sports in winter because it's sunny until late, virtually empty, and huge.
In summer, if you manage to arrive early in the morning, you can take advantage of the few trees on the beach that provide shade. And don't leave soon, the sunsets in Kalathas are beautiful!
Where to stay in Kalathas
– Kalathas Sunset Villas is one of the most beautiful properties in the area, just a few meters from the beach. Prices can be on the high side, but you can find a deal if you book early. Click here for more information and the latest prices.
– There are more accessible prices at Esplanade Apartments, a beautiful collection of self-catered studios less than 800 m from the beach. The hosts are very friendly and there's a pool with a great sea view. Click here for more information and the latest prices..
– Vila Fotini is another great house for families, just 8 km from Chania International Airport. Click here for more information and the latest prices.
– If you have a reduced budget check Dione Apartment. This two-bedroom apartment is ideal for a small family. It's just 700 m from the beach and has all you need to feel at home. Click here for more information and the latest prices.
Tersanas Beach
Tersanas Beach, Chorafakia, Crete, Greece.
Latitude: N 35.56189
Longitude: E 24.09248
Characteristics: Sandy beach – Organized.
Tersanas Beach is located in the region of Chorafakia, on the way to Stavros. It's in a hidden position, so pretty much unknown to tourists.
This very shallow, narrow bay is ideal for children since it's in a protected position, usually not affected by dangerous currents or strong winds.
On one side of the beach, there's a small fishing port, once serving the village of Chorafakia.
The beach is organized, there are umbrellas and showers as well as a bar very close to the shore. Tersanas is crowded, especially during the weekends, when local families and groups of teenagers reach the area to playing volley or tennis on the sand, swim, and sunbathe.
Those who don't want to rent an umbrella will find plenty of space for their beach towel on one side of the beach.
Places to stay in the area
The lodging offer in Tersanas is very wide and it ranges from very economical places to exclusive (and expensive) villas. You can check the reviews and book at this link.
Maxairida Beach
Maxairida Beach, Chorafakia, Crete, Greece.
Latitude: N 35.56189
Longitude: E 24.0862281
Characteristics: Sandy beach with rocks – The beach is not organized – Basics you need: tennis shoes, cold drinks, lunch.
One of the most hidden jewels of the Akrotiri Peninsula is the beach of Maxairida. This is a very tiny cove, protected by high rocks, with a small but beautiful sandy beach.
The beach is completely unorganized, and if you really want to find where to stay, my suggestion is to arrive very early in the morning.
I've seen people leave (rather frustrated) at 10 am because there was no place where to put their beach towel.
Being so unspoiled, and virtually unknown, Maxairida Beach is popular among naturists. And it's also hard to find kids on this beach because there's no place for them to run or play.
The water is transparent and very shallow, with stunning shades that go from turquoise to deep blue.
This is a rather exclusive area, and it's not uncommon for private yachts to anchor in this shore for a day or two. The sunset hour in Maxairida is very pretty, the beach receives the direct sun from the West, so the colors on the sea are amazing.
To reach the seaside, you have to drive inland from Tersanas beach for about a kilometer, park close to the road, and then hike down for about 10 minutes until you see the beach. It's a dirt path with rocks, abundant oregano, and thyme bushes, so it's always better to wear tennis shoes rather than flip-flops. Since there's no organization, it's better to carry your drinks and pack a lunch.
Where to stay in the area
Being so close to Tersanas, it's possible to find a good property in the area. Accommodation tends to be on the expensive side, but the most luxurious villas have every comfort, some of them even streamline services such as Netflix. Here you can check reviews and book.
Agios Onoufrios Beach
Agios Onoufrios, Akrotiri, Crete, Greece.
Latitude: N 35.548692
Longitude: E 24.063133
Characteristics: Sandy beach – Organized.
Agios Onoufrios is our beach! It's the place my kids go after school or where I go after I come back from work. We have lived in this village for the last 4 years and we don't intend to go anywhere else! The village has a fantastic little beach at the end of a long narrow bay.
The sea is extremely safe and shallow, and the beach is completely organized. In fact, although Agios Onoufrios is really tiny and unknown, there are tennis and beach volley courts and spaces to play soccer.
There are showers, lifeguard service, and a tiny beach bar managed by a Jamaican guy who organizes reggae nights and full moon beach parties often. And still, the beach is one of the most peaceful in Akrotiri.
During the summer months, the local authorities mount a platform for safe access to the beach for people with mobility issues. There's a tiny fishing harbor, and from here depart different excursions to do immersions off the bay.
Unfortunately (well… it's a fortune for us, locals!), at the end of one side of the bay, about a km from the shore, there are a few fuel tanks that prevent tourists from trusting the beach.
What they don't know is that, despite those tanks not being really aesthetic, they guarantee that water quality controls remain a high priority for the neighbors.
As a matter of fact, the beach has been awarded a blue flag for several years in a row.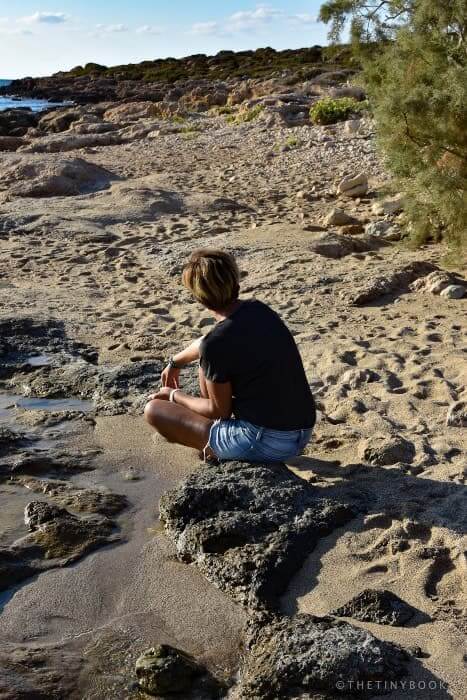 Just opposite the beach, there's a nice taverna and a tiny church which gave the name to the beach and the village. The church of Agios Onoufrios celebrates its day on June 12th with a huge barbecue on the beach.
Besides, Agios Onoufrios Beach turns into a festive place of meeting on July 4th, when the American community that lives in the area gathers to celebrate Independence Day with music, food, and spectacular fireworks.
Where to stay in the area
– This tiny village lacks hotels and resorts, but there are many houses, apartments, and villas you can choose from to plan your stay. Reviews and prices can be found in this link
You might also want to read: The Most Beautiful Beaches in West Crete.
Marathi Beach
Marathi Beach, Akrotiri, Crete, Greece.
Latitude: N 35.505203
Longitude: E 24.173665
Characteristics: Sandy beach – Organized.
On the opposite side of the peninsula, facing the Bay of Souda, the beach of Marathi is popular for its very shallow and clear waters and soft sand.
Marathi Beach can get really crowded in summer since it's a rather narrow shore and lacks a bit of space. In the area, it's possible to practice different water sports.
There's a big parking space as well as a few kiosks to rent boats and to pay for your SUP surfing hour. In front of the beach, there is a sidewalk with good restaurants and beach bars. They serve fresh food at convenient prices.
Opposite the beach, it's possible to admire the islets on Souda Bay. On a clear day, you can even spot the castle standing on top of the Archaeological Site of Aptera.
A few meters from the beach, there is a small port for fishing and recreational boats.
Marathi has a relaxed atmosphere, and it's a favorite among locals. During the weekends it's almost impossible to find a free table for lunch on the many tavernas at the beachfront. The same goes for Easter and other important occasions.
Places to stay in Marathi
– Marathi does not have the most convenient prices in the area since it has a strategic position, however, you can find a convenient solution at Marathi Panorama Rooms. The views are nice, and it's good for couples and families. Click here for more information and the latest prices.
– If your budget is higher, Villa Marathoula is a magnificent property with stunning views of the bay and the beach. Click here for more information and the latest prices.
– Those who can splurge will love Mare Nostrum Villas, a remarkable place a few meters from Marathi Beach. Click here for more information and the latest prices.
You might also want to read: Elafonisi Beach Crete: The Best Beach on the Island.
>> Update 2022 <<
This is how it is in summer 2022, beaches are taking all the necessary measures for you to spend a safe holiday. This is happening in Marathi beach right now, where social distancing and other measures are being taken into serious consideration every single day.
Loutraki Beach
Loutraki Beach, Sternes, Crete, Greece.
Latitude: N 35.49911
Longitude: E 24.163967
Characteristics: Sandy beach with small pebbles – Organized.
There's a lot of debate going around in Chania on whether this is a beach to love or to hate. Some people really love Loutraki Beach, and others a bit less. I'm in the second group, and down below you can read why.
Loutraki Beach is just a few hundred meters from Marathi, but unlike this last one, instead of having a favorable position, the sun goes down really early on Loutraki.
So, while the place might be good for the morning, I don't usually go in the afternoons since the sea tends to get chilly. Besides, it's a preferred spot for teens and groups of young kids, that means it's safe but somewhat noisy at times.
The beach is fairly well organized, there's a free ample parking place at the entrance, opposite a restaurant (which I cannot recommend since I've never eaten there). On the beach, there's a bar and it's possible to rent canoes.
On both sides of the bay, there are hotels with private access to the beach. You can rent umbrellas and sun lounges, or just place your beach towel on the sandy-pebbled beach.
Places to stay in the area
Since Loutraki and Marathi are just a few hundred meters from each other, in this page you can find accommodation for both areas.
Check this guide about where to stay in Crete if you don't know where to book.
Best Places to Eat Near the Beaches in Akrotiri, Crete
There are dozens of places to eat in the peninsula, but since I live and really know the area, I am leaving here a restricted list of those places I consider to be the best ones.
These are the ones we usually visit when I'm not in the mood for cooking, the ones we choose to take away and, some of them, ideal for special occasions.
Tersanas Beach: Patrelantonis
This restaurant is located a few meters from the beach and I usually pick it up for special dinners (it was our place of choice to celebrate my last birthday). Here, try their spaghetti with salmon and their octopus salad with avocado.
Stavros Beach
There are two restaurants that I really like in the area, the first of them, Almyriki, is good for afternoon appetizers. The second one is perfect for lunch.
Almyriki is perfect for an afternoon beer with fried fish and other finger food. There are great views at sunset. Try their gavdos marinatos (marinated small fish) and their fried shrimp in kaidaifi pastry, perfect with a cold beer.
Zorbas is my absolute favorite in the area. It's not located right on the beach road of Stavros, so it's not so well-known. It has a relaxed and familiar atmosphere and you can eat the most amazing fried sardines under the lush red grapes of their patio. Try their homemade spoon sweets with yogurt or the homemade biscuits with raki!
Tersanas: Taverna Irini
A favorite among locals and visitors alike, this is a typical Greek taverna serving delicious local food. Taverna Irini is open all day long until late at night.
Kounoupidiana Area
(Close to the beaches of Kalathas and Agios Onoufrios)
Mitsos: This is a great place for grilled meat, when choosing Mitsos, don't miss their spinach salad with local graviera cheese.
Ta Gourounakia: Another favorite of our family, also to take away. It has great gyro and souvlaki that kids love, while my most favorite dish is their pork kontosouvli (on the spit).
Coffee with a View
Carte Postale: This is a new entry in the neighborhood, with beautiful views of the port of Chania. It's an all-day lounge serving coffee, lunch, and dinner.
Koukouvaia: The most traditional cafeteria in Chania with stunning views of Chania's Lighthouse. Normally crowded in every season, Koukouvaia is loved among locals and visited from every corner of the island. Their cakes (especially the hot chocolate cake Zoumero) are delicious.
Please, help us protect the beaches in Crete. Respect the environment and don't leave any trash on the beach.
Are you ready to discover the beaches in Akrotiri Crete?
Let me know in the comments below!
You might also want to read these articles about Crete:
– 51 Great Things to Do in Chania (Region) for an Unforgettable Holiday
– The Most Amazing Things to Do in Chania Old Town
– How to Get from Heraklion to Chania: Practical Guide by a Local
– Tours in Chania: Top Day Trips from Chania, Crete
– Top Convenient and Beautiful Airbnbs in Chania, Crete
Pin This Guide to The Best Beaches in Akrotiri Crete for Your Next Travels!
About the author of this blog: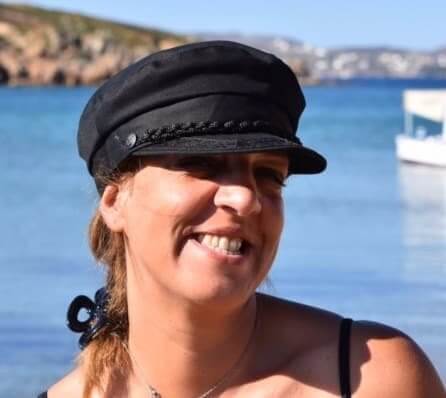 Gabi has been living in Crete for the last five years. On the island, she juggles being a solo mom, hosting culinary tours in summer, translating, and freelance writing.
She's written for Greek Reporter, published several travel guides about Greece, and had more glasses of frappe than any regular person would be able to handle.
COMING TO CRETE SOON?
Get in touch and let me know!