Cretan Raki or Tsikoudia, is a synonym of Crete, of its people, and the culture of the island. It would be reductive to describe raki as just a drink. There is a ritual involving the moment of drinking a shot of raki. Sharing a little bottle of this spirit represents friendship, hospitality, and communication. Raki is the essence of Crete and its culture… are you curious to know what is raki?
---
This site contains affiliate links to products and services. I may receive a commission for purchases made through these links.
---
What is Tsikoudia?


A Glass of Cretan Culture
Every time that Cretans welcomes a guest, there is always a glass of raki. Raki's natural scenario is on the table of the traditional kafenio (the Greek version of the café).
And raki is always there, during long conversations among friends, after a round of delicious mezedes in a taverna.
Raki is a thing in Crete, a big thing. It's an excuse that brings together joy, laughter, and moments shared in good company.
It's Crete's natural remedy for broken hearts and painful stomachs alike. It's an elixir, a piece of homemade culture, a glass of Cretan hospitality.
No, Seriously… What is Raki?
Let's start by its name
The authentic local name on Crete for raki is tsikoudia (pronounced /tsi-ku-diá/). The name raki, instead, comes from the days of the Turkish occupation of Crete.
They currently use both names on the island, but the raki served in Turkey has a completely different taste, resembling more the Greek ouzo than the Cretan spirit.
Is it really that strong?
Since I moved to Crete, one of my favorite hobbies has become to look at tourists' faces every time they taste a complimentary glass of raki for the first time. It's really funny to see their eyes opening wide after they swallow the first shot.
The deceiving small glass should be a warning that they're about to taste something strong, and still, being the shot so short, they think they can handle it easily. They normally don't!
And I'm not bragging about my skills to endure with raki! I still get a burning throat whenever they offer me a strong homemade version. You see? The alcoholic volume of raki varies from bottle to bottle, and from producer to producer.
And since much of the raki made on the island is made at home, there are no rules about how strong it should be.
So sometimes, surprises are just around the corner… or inside the glass, so to speak.
So, What is Tsikoudia Made Of?
Raki shares the same humble origins of other gastronomic staples of Crete, and of the Mediterranean in general, in which nothing was wasted, and everything had a second purpose.
The same as the olive tree would give precious olive oil, but also wood for heating and leaves to feed the animals, raw materials to produce soap, candles, and many more things. Just like that, the vineyard would give grapes and wine but also leaves to roll dolmades, molasses to sweeten desserts (petimezi), and must.
Did raki get your attention? Then you might want to read everything about Cretan wines! Click here.
Must is at the base of raki. In fact, the solid part of must (seeds, skin, and steems) is known as pomace, and that's not discarded, but rather kept after the grape harvest is done with.
In Crete, once the months devoted to winemaking are over, we get ready for tsikoudia!
The pomace or strafylla, that mix of crushed grapes, skin, and seeds resulting from grape pressing to make wine, ferments for more than a month in barrels. So, when November comes, and fermentation is over, locals boil the strafylla in special cauldrons… this is the basic process to distillate tsikoudia!
Raki, Ouzo, Kitron… What's All About?
Most tourists I've met, usually compare raki to the Italian grappa. However, even if the production process remains similar and both are grape distillates, the taste varies a little.
When we taste a glass of raki during a visit to Chania's market, many tourists I've met, fearing to offend me, usually whisper to each other "This tastes like grappa". I just laugh, because it's ok to compare raki to grappa. In fact, the production process is quite similar and the taste does not really differ for those who drink it sporadically.
Distillation of pomace has been practiced for centuries all over Europe, it could be fair to say that every Mediterranean country has its own version of raki. For Italians it's grappa, for Cypriots is zivania, and even within Greece itself, we have different distillates.
Around the Cycladic islands, for example, they call it souma. And on every island, they will be proudly distinguishing Parian souma (made in Paros), from Sifnian souma (made in Sifnos)… but it's basically always the same.
In other areas of Greece, distillation has given origin to several spirits, some of them adding extra herbs or fruit zest to them. So we have tsipouro, ouzo, koum quat in Corfu, kitron in Naxos… and more.
Tsipouro or Tsikoudia? What's Going On?
If you've been to Greece before, you've already passed the test of ouzo. You've tasted it, liked it or not, and know what it's all about. However, if you've been to Greece more than once, chances are you've also been put to the test of tsipouro. But what's the difference between tsipouro and tsikoudia.
To be honest, there's a lot (and I mean a looot!) of confusion around. You will find contradicting information on every single website you look into.
So to avoid adding further mist to the question, I first asked a pro, my best pal and sommelier, Anna Maria Kambourakis. She runs the most amazing wine tasting tours on the island and knows her stuff very well. She was really clear:
So this is like a gyro/souvlaki question. Some call it a gyro pita, some call it souvlaki…some put tzatziki on it, some don't! In Crete, we call it tsikoudia or raki. The home-made version is distilled once. The raki produced by wineries is sometimes double distilled. And in both cases, nothing is added.

On the other hand, tsipouro can be the exact same thing. However, on some islands, they add some anise for the liquid not to stick to the bottom of the kazani (the cauldron).
Then I asked a pro… whose family has been distilling raki for generations. This is what he had to say:
That's a very long story… but to put it short, raki goes through a single distillation and we don't add anything to it. Tsipouro, instead, can sometimes have anise in it, and it's always double distillation. And, as far as I know, ouzo is single with anise and a lot more herbs.
So they basically gave me the same version. Let's now see the process.
Raki Distillation: The Process
Raki is a transparent liquor, for those who know nothing about it, it's similar to gin in gradation and color but different in taste. Both the ingredients and the process give it a characteristic flavor. But how do they make it?
If you're really interested in the process of making raki, you should take this tour of Cretan traditions. You'll visit typical mountain villages in Apokoronas (Chania), and learn everything about the production of raki, cheese, and the lost craft of Greek embroidery, kopaneli. Check prices, reviews, and book here.
Distillation follows an ancient method, a process that has been maintained for centuries, and that's now part of the Cretan tradition. As we said before, the pomace left to ferment for more than a month in barrels (I've also seen it fermenting under the sun in a few mountain villages), boils in a special cauldron, the kazani.
The raki cauldron
The cauldron or kazani is made of 4 parts:
the pot containing the pomace.
the lid, tall enough to trap as much steam as possible.
the pipe, sufficiently long to put distance between the fire that heats the pomace and the cold water (see next step). The pipe (loulas, in Greek) transfers the steam to the barrel.
the barrel (or rouba) with cool water inside so that the steam passing through the pipe, turns into drops of raki.
The producer puts the pomace in the cauldron with some water and lights the fire to make it simmer. The fire shouldn't be too strong so as not to burn the pomace. Yet a fire that's too low wouldn't be enough.
There must be a balance in the intensity of the flames.
After a while, one drop after another, raki begins to flow. The first raki that comes out of the pipe is the proto raki or "before raki". And I've heard locals define it as pure fire! It's indeed very strong at first. Yet, again, balance is the key.
Do you know what grandpas and grandmas used to do with that proto raki? They would keep it in jars to rub it on your chest to prevent you from getting a cold or to keep you warm! (Now, modern Cretans throw it away and buy Vicks!).
The more that raki boils inside the cauldron, the more steam it concentrates. The steam then turns into water, reducing the final alcoholic volume of the raki. A good raki must have a proper balance to reach a characteristic taste, gradation, and intensity.
Rakokazana, the Feast of Distillation
However, raki distillation is more than a process, it's part of a local rite deeply rooted in the traditions of the island. The feast of raki distillation is known by the names of rakokazana or kazenamata.
During the rakokazana, the locals distillate and taste the very first raki of the season, and — pretty much as in every Cretan feast — people eat, dance, sing, and drink… loads of raki!
It's a moment of joy and celebration, particularly special in several villages. A much-awaited moment after the hard work of collecting grapes and making wine.
If you visit Crete in late October or in November, you should definitely make a point to attend a rakokazana to witness the magic moment when the pure Cretan spirit starts dripping out of the pipe. You will probably taste stunning Cretan food, drink lots of raki, dance, sing, and take a bottle back home!
Raki in History
Greece's first prime minister, the Cretan Eleftherios Venizelos first instituted the custom of distilleries in the 1920s.
Back then, farmers received special permits or licenses to make raki at home and obtain an extra income. Until the present day, there is at least one inhabitant in every village with a license to produce the drink.
Did you know…?
Raki is a protected product. The European Union protects Crete's Raki (tsikoudia), together with other spirits and considers them original only when they are produced in their original place, in our case, Crete.
The other protected spirits in the list are Brandy (from Jerez), Grappa (from Barolo), Berliner Kümmel, Genièvre Flandres Artois, Scotch Whisky, Irish Whiskey, Cognac.
Cretan Raki, More than Just a Drink
Raki is more than a drink. For Cretans, it is the king of drinks — even pairing cold coffee in popularity —.
In case you're wondering, raki has a delicious flavor of sweet raisins and a unique level of pureness, containing no dyes or industrial alcohols. This fragrant grape-based spirit has about 40-60 % alcohol by volume, mostly when it's produced at home.
In Winter, we love to mix it with honey (and sometimes a bit of cinnamon) to transform it into Rakomelo, according to some, the perfect elixir for cough and sore throats.
Iced raki is a common refreshing drink served after or before a meal, but most of all, raki is a metaphor of Cretan hospitality.
Whenever you visit a restaurant, the owner of the taverna will bring a small bottle of homemade raki to your table. He will serve it chilled in shot glasses, and leave the bottle for you to have some more.
Don't be surprised if he joins you for a toast at the joyful shout of Gia Mas (Γεια μας!), "to your health", the Greek way to say cheers and celebrate life. This is how they express their gratitude for your visit, offering it as a complimentary aperitif and often adding a dish of fresh fruit or sweets to go with it.
Superstitions about Raki
There're several myths, legends, and superstitions revolving around raki, let's check out a few:
Raki mustn't miss in any Cretan household, if that happens, it's grousouzia (rotten luck)!
When you attend a rakokazano (the distillation evening), you'll be given a bottle to take home with you. You must accept it and, whenever you have a shot of that raki, it will be like making a toast to the health of the producer.
In some areas of Crete, instead of the typical gia mas, they say xares when they make a toast. Xares means happiness!
If you're coming to Crete and are curious about it, you can taste Crete's raki the way locals do, joining my "A Taste of Crete" experience in which tsikoudia and traditional local bites are the leading characters!
When you visit the island, try the homemade raki. And if you like it, go ahead and taste the raki produced by some of the top local wineries. And then let me know, which one did you like best?
---
Have you ever tasted Cretan raki?
Let me know in the comments below!
---
Travel Plans for Crete?
More Resources to Organize Your Trip!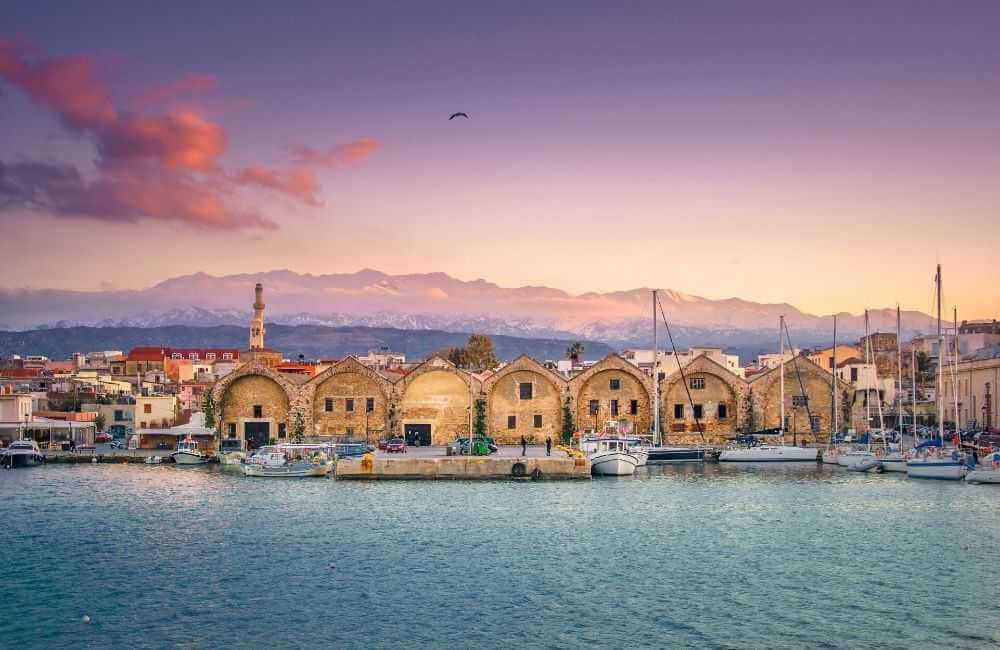 Start by heading right to my tips to plan a trip to Crete for in-depth details you need to know about Greece. You can also check my post to better know what to pack for a trip to the island or read this info to visit Crete with children!
Get in touch if you need extra help to plan your trip. If you want to tour West Crete, check my guide. Want more? Join my Private Facebook Group to connect with like-minded travelers who love Crete as much as you do!
Make Sure You've Got Everything For a Hassle-Free Vacation!
I never move around the islands without my Osprey backpack, a sturdy but light travel partner I just love. For short trips, I carry this little crossbody bag. If I drive, I pack my Nikon D7200 and a good travel guide: Lonely Planet's Best of Greece & the Greek Islands.
When it comes to plane tickets, compare prices with a powerful search engine. However, nothing beats traveling by sea in Greece. With Ferry Hopper, you can book in advance at the lowest price.
For accommodation, I use Booking.com. Traveling to remote places is easier with Discover Cars. Other times, I join organized tours with GetYourGuide, which features anything from cooking lessons to airport transfer!
Are you coming to Crete any time soon?
Get in touch and let me know!
Read more:
Where to Stay in Heraklion: Accommodation Guide
Top tours, day trips, and excursions from Heraklion
Comfortable Airbnbs in Heraklion
What to do in Heraklion in 1, 2, or 3 days
Travel Tips: How to Plan a Fabulous Road Trip in Crete
Pin This Supedr Useful Guide to Remember What Raki is All About!
About the author of this blog: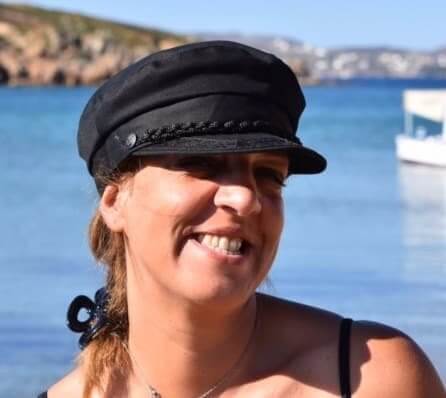 Gabi has been living in Crete for the last five years. Here, she juggles being a solo mom, hosting culinary tours in the summer, translating, and working as a tech advisor.
She's written for Greek Reporter, published two travel guides about Greece, and had more glasses of frappe than any regular person would be able to handle.
---
You might also want to read:
---