Over the years, I've written a few guides to help you visit wineries on the island and to encourage your journey through the flavors of Crete and the striving wine tourism industry.
This time, though, I wanted to offer you a full insight into the wines of the island. But I wanted it to be knowledgeable, clear, and different.
Ok, yes, I do drink wine and I'm a Cretan wine enthusiast, but I'm no expert. So, I reached my friend and star sommelier in Chania who knows better… Therefore, with no further ado, enjoy this brilliant sommelier's guide to Cretan wines.
---
Disclaimer: Posts include affiliate links to products or services. I might earn a commission if you make a purchase.
---
Complete Guide to Cretan Wines
The Best Wines to Try in Crete: A Guide to Cretan Wines for Wine Lovers
Crete is known for pristine beaches, incredible archeological sites, friendly people, and delicious food which oftentimes overshadows our history as one of the oldest winemaking regions in the world.
The Minoans, who were the first civilization of Europe, were making wines from vitis vinifera vines as long as 4000 years ago.
A lot has happened since then much of which is why most people don't know that Crete even has wine.
Crete is in a crucially strategic location in the Mediterranean. It is the crossroads of 3 continents. Throughout history, those who were seeking power and control over the regions occupied Crete. These were not thriving times for the Cretan people ergo not for the wines either.
After a long recovery from wars and dictatorships, it wasn't until the 1970s that Crete has seen a major revival in the wine industry resulting in wines of character, quality, and value.
Crete has at least 11 indigenous grape varieties- new discoveries are being studied. They are truly unique, hard to pronounce and express themselves differently in each wine region. All is not hopeless, there is a wine for everyone. Here is your guide to finding a Cretan wine you will love.
White Grapes from Crete
There are 7 white and 4 red wines found on the island. The most beloved white wine is Vidiano. Vidiano is medium-bodied, medium-acid, and medium-aromatic. There are citrus, peach, and flower notes.
Vidiano is a Cretan wine that also pairs great with local cuisine. It can be found in unoaked versions as well as opulent oak-aged versions. It's a safe bet.
If you're looking for something simple to enjoy by itself or with light dishes, Vilana is a great choice. This white wine is the most widely planted meaning it's also easy to find.
Vilana has high acidity, a light body, and a pleasant bouquet.
Thrapsathiri is the hardest to pronounce but it is worth it! This is the most interesting and unusual grape. It makes a wine that is often described as salty but balanced out with ripe pears and apple flavors as well. Thrapsathiri is a great choice for any seafood dish.
If you prefer aromatic white wines, Crete has two! Muscat of Spina and Malvasia are similar in that they are perfumey and flowery. Both are light-bodied with medium acidity.
Muscat of Spina is more generous with apricot and lime flavors while Malvasia has beautiful gardenia and orange blossom aromas and flavors. These Cretan wines just need a balcony overlooking the sea to be enjoyed!
Dafni and Plyto are very rare white grapes that you will unlikely come across in your travels but if you do, give them a try!
Dafni is named after the bay leaf which is a strong characteristic of the wine. Plyto is also on the herbal side of the wine spectrum.
Let Anna Maria guide you through the vineyards and flavors of Crete. Join one of her unique Wine Tours in Chania and let me know what you think about the local labels! <<
Cretan Wines: The Reds
The red wines are few but cover all the bases!
Kotsifali makes a fruit-forward bright wine. On its own, it's light-bodied with plenty of berry flavors and a lower tannin structure. It smells and tastes cranberry, pomegranate, and raspberry.
Unoaked varietal Kotsifali is a great summer red that can even accompany fish dishes. It is often blended with Syrah to beef it up a little bit.
Traditionally it is blended with Mantilari which serves a similar purpose of giving the wine more structure, color, and tannins.
Mantilari is the boldest native grape. Wines from this grape can be inky, full-bodied, and gamey. Most Mantilari will be aged in oak barrels which accentuates its spice notes.
It is the wine you want for lamb dishes or with grilled meats. Quality Mantilari wines can be aged for quite a few years.
Liatiko is the most elegant red grape of Crete. Liatiko offers a subtle but rewarding depth of flavor punctuated with cherry, Cretan herbs, and earth. Liatiko is medium in body, light in color, and tannin. Any mushroom or vegetable dishes will be well served with Liatiko as well as with tender meats.
Romeiko is grown all over western Crete though it is rare to find bottled Romeiko wines. It is a grape whose wines oxidize easily.
The sherry-esque style is an acquired taste that the locals love but may be off-putting if you are not used to it. The best expressions of Romeiko are in its very sweet sun-dried liasto-style dessert wines.
Recently, Romeiko has found its way into the mainstream vinified as white wine, as well. We have not seen the last of Romeiko!
Eat, Pink, and Be Merry
Rosé wines from Crete really shine and are perfect in our hot summers. They are often made from the international varieties Syrah and Grenache though you will also find them from the local varieties as well.
If you are still feeling intimidated by the Cretan wines, a blend may help you ease into them.
A lot of producers will blend a local variety with a more famous international variety like Sauvignon Blanc or Merlot. If you like it, then try the local grape on its own next time.
Which of these wines would you like to taste?
Anna Maria Kambourakis is a Massachusetts native. She studied wine in Chicago where she also became a Certified Sommelier. She has been active in the Greek wine industry for many years and is its biggest cheerleader. In 2013, she took the giant leap to move to her ancestral home of Crete where she owns Chania Wine Tours. She has established herself as a leader of wine tourism on the island. She delights in sharing wine stories with her guests on her tours and to the world through her writing.
Read more about Crete
🛌 Suggested Accommodation in Crete:
🗺️ More resources to book your trip to Crete
Don't Leave Before You Pin! Pin This Guide to the Best Greek Wines from Crete For Your Next Adventures!
---
You might also want to read these posts about Crete's regions:
---
About my blog: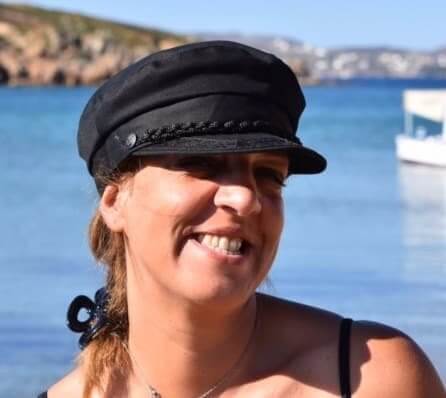 I moved to Crete in 2016. During these years, I learned much about the island.
In Crete, I juggle being a solo mom, hosting culinary tours, and writing for several travel blogs.
I've written for Greek Reporter, published travel guides about Greece, and had more glasses of frappe than any regular person could ever handle.