Are you looking for an isolated place to put some of this year's stress behind? Gavdos island, about 23 nautical miles from Chora Sfakion in South Crete, can be an ideal place to enjoy a different kind of holiday… technically still in Crete! If you're wondering where to stay in Gavdos, such an isolated paradise, here you will find some of the most beautiful vacation villas and other places to stay that you can book in Gavdos to live a different and beautiful summer in Crete.
The featured photo belongs to Gavdos Princess.
---
Disclaimer: Posts include affiliate links to products or services. I might earn a commission if you make a purchase, at no extra cost.
---
Where to Stay in Gavdos Island
Best Vacation Apartments & Rental Villas
When looking for a relaxing vacation far from everything, then Gavdos may have all the answers you need. If you're headed there this summer, ready to enjoy the beautiful beaches, panoramic views, incredible hikes, and gorgeous crystal clear waters, you will need a place to stay.
Day trips to Gavdos are not possible, it is necessary to spend there at least a few nights due to the limited ferry connections. If you are visiting soon, down here you'll find some of the best villas and places to stay in Gavdos, in no particular order…
Akrogiali
When looking for a place where to stay in Gavdos, check this seaside property. Akrogiali is a simple property in a magnificent location and it has earned top reviews. It is located facing the beachfront of Korfos in Gavdos, and it has a garden and a private beach for the guests.
The place also features a comfortable terrace with a fantastic background of the Libyan sea for you to enjoy.
Most guests love the free private parking facilities available. The property is kid-friendly and pets are welcome too.
Extras include free private parking available and a transportation service for those who want to explore the surrounding area.
Click here for more information and the latest prices.
Kalypso Apartments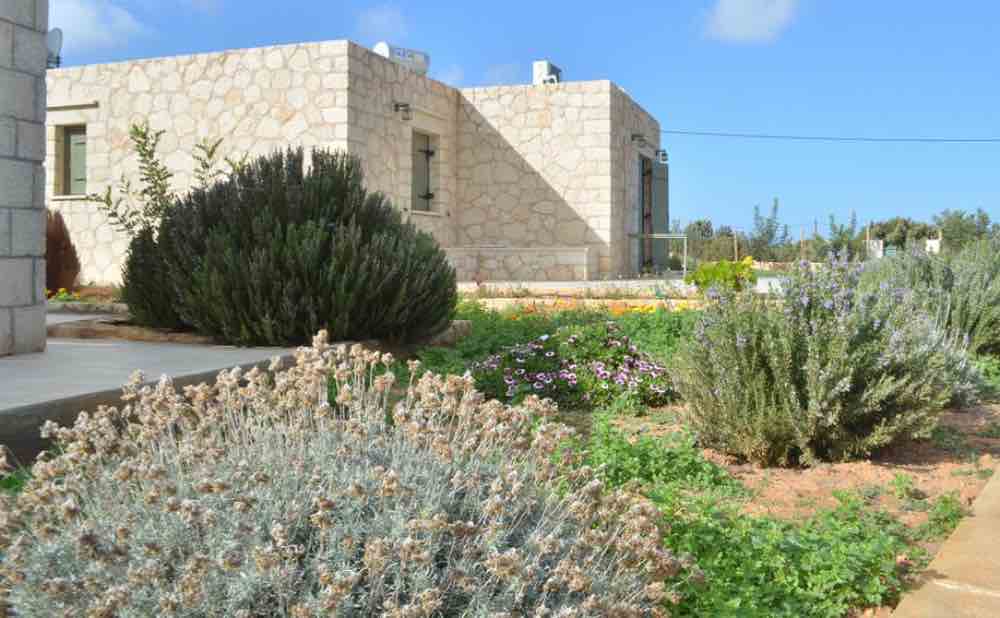 Unique, traditional stone villas, and apartments in the capital of Gavdos, Kastri. A cozy, familiar atmosphere with edgy decorations, modern furniture, and fully renovated spaces.
Most guests praise the host's hospitality to tourists, especially if your boat back to Crete is canceled. There are enjoyable spaces in the open and a beautiful garden you can enjoy from the comfort of your terrace.
Click here for more information and the latest prices.
Gavdos Princess
Still wondering where to stay in Gavdos? Well, Gavdos Princess features all the comfort of a hotel in a complex of self-catered villas with the highest reviews on Booking.
The gorgeous terraces open to the Libyan Sea or they offer either garden or mountain views
The small houses are not close to the main stores, restaurants, and not even to the closest beach.
It's highly advisable that hosts also rent a car either upon arrival or consulting with your local hotel or villa reception desk.
Click here for more information and the latest prices.
Two Unique Rental Homes in Gavdos, Crete
Although rental homes and villas are skyrocketing all over Crete, Gavdos is still quite off-the-beaten-track. And while informal family hotels and villas can be common, these two places to stay in Gavdos are quite rare and give you the opportunity to enjoy a whole villa on the island…
Villa Kastri
Villa Kastri is located in the small town of Kastri, the main settlement in Gavdos. The villa can host up to 5 people and it enjoys stunning views of the Libyan sea.
The traditional stone villa is a super comfy place to stay, including every single feature to feel right at home even on this remote tiny island.
Those who are searching for a relaxing holiday will be glad to read that the place is truly quiet and silent. The villa also features a laptop-friendly workspace, Wi-Fi, and one-of-a-kind views.
Click here for more information and the latest prices.
Small Villa Kastri
In the same town and area, the same host of Villa Kastri also offers Small Villa Kastri, another Gavdos property to rent, a bit smaller, perfect for a party of 2-3 travelers. This villa is ideal for couples or families with one kid.
Click here for more information and the latest prices.

You might enjoy: Discover + 45 Most Gorgeous Beaches in Crete (A guide by an insider!)
Looking for an Alternative Place to Stay in Gavdos?
If you're looking for a place that is in complete harmony with the natural landscape of Gavdos, featuring legendary hospitality and unique vibes, why not give a try to this place…?
Metochi Gavdos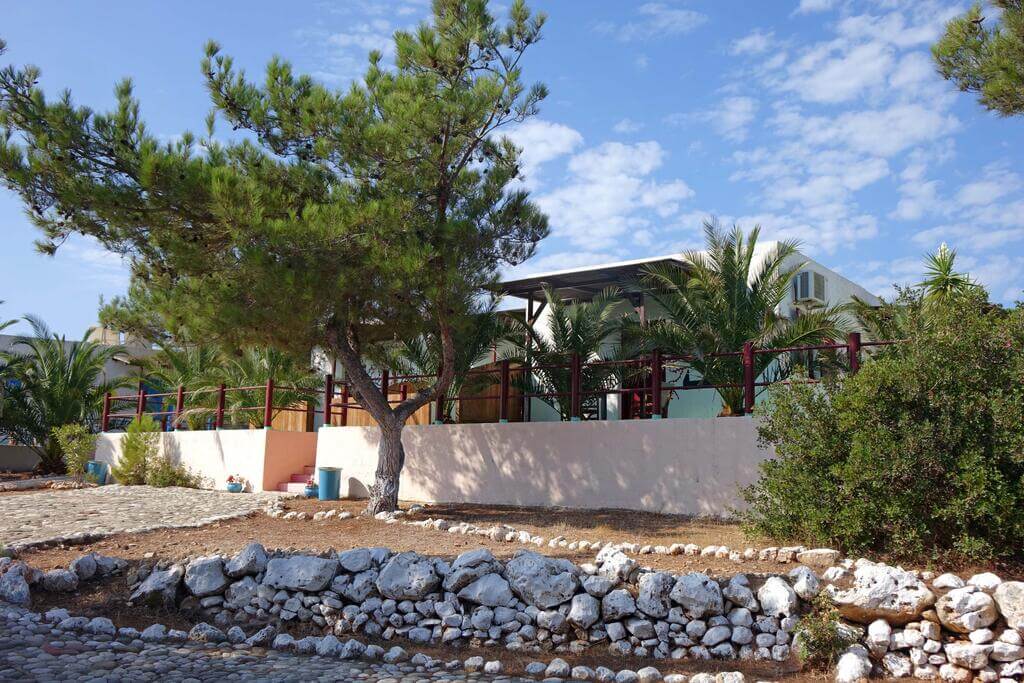 Metochi Gavdos is an aparthotel located in the East part of Gavdos, about 1 km away from the beach of Korfos. A stay in this simple but unique and traditional place, you'll be able to discover a peaceful area surrounded by woods with an amazing view of south Crete.
The property offers accommodation for up to 4 guests, in basic but pretty units as well as all the comfort food you would want (and more) in a traditional family restaurant.
Click here for more information and the latest prices.
Everything you Need to Know About Gavdos Island
If you're looking for an isolated, lonely, and relaxing place for your next summer holidays, the island of Gavdos, about 3 hours south of the Greek island of Crete can be just what you need.
Dozens of heavenly beaches to choose from, a laid-back vibe, and a different pace are the distinctive traits that have given Gavdos legendary fame all over Europe.
Gavdos belongs to the island of Crete and it's part of the Chania regional unit. It's located a little less than 50 km from the city of Chora Sfakion, on West Crete.
Among the best places you can stay in Gavdos, the capital Kastri or nearby the port of Karabe where boats from Crete dock. Although many of the best beaches can only be reached on foot, it's not a bad idea to rent a bike.
Together with Ierapetra, Gavdos has the highest number of sunny days per year in Europe, and it's also the sunniest spot on the continent.
You might also enjoy: Gavdos Island Guide
How to Get to Gavdos, Crete
To travel to Gavdos you must board a boat either in the port Chora Sfakion or in the villages of Paleochora and Sougia. Sometimes it's also possible to leave from the port of Agia Roumeli. Never fail to check the departure schedules because they tend to change often. The best place where to check the schedules is the official site of the local ferry line ANENDYK. Most ferries depart from Chora Sfakion.
USEFUL TIP: Also keep ANENDYK's office phone number at hand in case of need: +30 (28210) 95 511.
Are you planning to spend your Summer on an island? Let me know in the comments below!
You might also want to read:
– Gavdos, Crete: The Only Guide to the Island you Need – A visit guide to discover Gavdos Island.
– Guide to Driving in Crete: Everything You Need to Know – A practical guide for those who plan to rent a car in Crete.
– Where to Stay in Crete: Insider's guide to the best areas on the island – A guide with the best areas and hotels in Crete.
– Insanely Practical Tips to Plan a Trip to Crete – Everything you need to know to plan a trip to Crete.

Get Ready for Crete!
RESOURCES TO BOOK YOUR TRIP:
Book your flight: I use Skyscanner to compare prices before booking a plane ticket.
Book your ferry: When ferries are more convenient than air travel, I use Ferryhopper.
Book your accommodation: I've tried many different platforms for accommodation, but none of them beats the advantages of Booking.com.
Book your car: The best way to find an affordable car to rent is to use a powerful search engine that compares all the rental companies in the market. I use Discover Cars.
Book your tours: Live unforgettable adventures and cultural experiences with Get Your Guide. For instance, you can Visit Elafonisi, discover Balos Beach, hike Samaria, or explore Knossos.
Don't forget travel insurance: Things can go wrong at times, but travel insurance will protect you against illness, injury, theft, and cancellations. I recommend Safety Wing for peace of mind.
Don't Leave Without Pinning! Pin this Guide to Where to Stay in Gavdos For Your Crete Vacation!
About the author of this blog: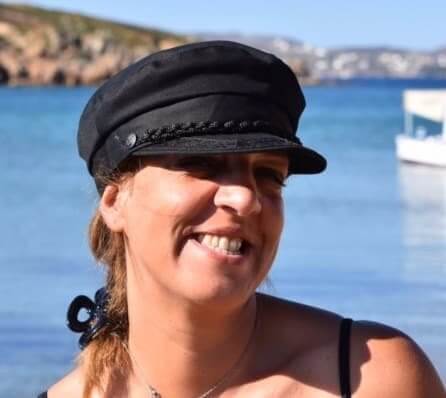 Gabi has been living in Crete for the last five years. On the island, she juggles being a solo mom, hosting culinary tours in summer, translating, and freelance writing.
She's written for Greek Reporter, published several travel guides about Greece, and had more glasses of frappe than any regular person would be able to handle.
COMING TO CRETE SOON?
Get in touch and let me know!
---