Paleochora (or Palaiochora) is a gorgeous, traditional village located about an hour and a half from the center of Chania, Crete.
One of the main characteristics is the spectacular coast that covers more than 13 km from East to West and is dotted with magnificent beaches and hidden coves.
Let's now take a look at all the things to do in Paleochora when you visit.
---
Disclaimer: Posts include affiliate links to products or services. I might earn a commission if you make a purchase.
---
Paleochora, Crete: Top Things to Do
Where to Stay in Paleochora
There are quite a few pretty hotels on the seaside promenade if you're looking for a practical place to stay, close to Paleochora's main beach.
These are some of the places I recommend if you're looking for a hotel. If you prefer a rental home in Paleochora, check out this vacation home guide.
If you're not renting a car and want to be just a few steps from everywhere, The Pal Beach has excellent reviews and good fees, and it even offers discounted rates when renting an umbrella at Pachia Ammos.
During my last weekend trip to Paleochora (early May 2023), I booked a stay at Glaros Hotel and I was pleasantly surprised at the comfortable rooms (they have very comfy mattresses), modern bathrooms, and beautiful garden.
Plus the breakfast was excellent. As of this year, this place is one of my top choices for a budget holiday in Paleochora.
However, Paleochora is also known for its family atmosphere, therefore nothing can go wrong when renting a room or a studio, or when picking an Airbnb. Check Polydoros for top hospitality and budget fees.
Things You Need to Know About Paleochora
One of the things I love the most about Crete is that just a small drive can take you away from a crowded city center to a magical hidden village where the time goes by at a different pace.
Driving from the north through the mountains, and reaching the Libyan coast allows you to discover a completely different landscape and atmosphere. Just as if you were on another island.
That's exactly what happens when you leave from the center of Chania and head south to visit the unique settlement of Paleochora.
About the Village
Paleochora is a charming and important seaside town lying on the southern coast of the Chania region. The city grew on top of the ruins of a former Dorian settlement known as Kalamydi.
The unique landscape of Paleochora helped the development of the coastal town which grows on both sides of a peninsula.
The coast of Paleochora extends both to the east and the west of the center of town and offers over 13 km of beaches, from Krios Beach on the extreme west, to Gialiskari Beach, east of the peninsula.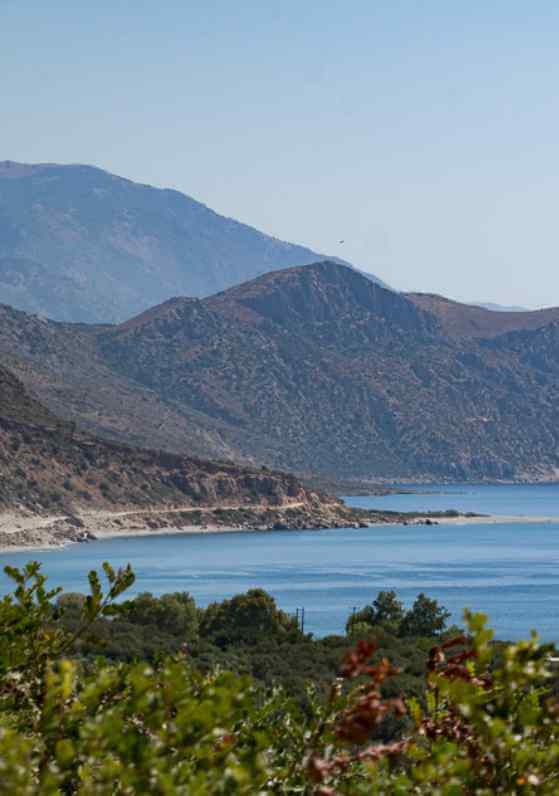 A unique choice of shores that includes both pebble and sandy beaches, some of them well-organized and others wild and isolated. Some are great for kids, others perfect for naturists.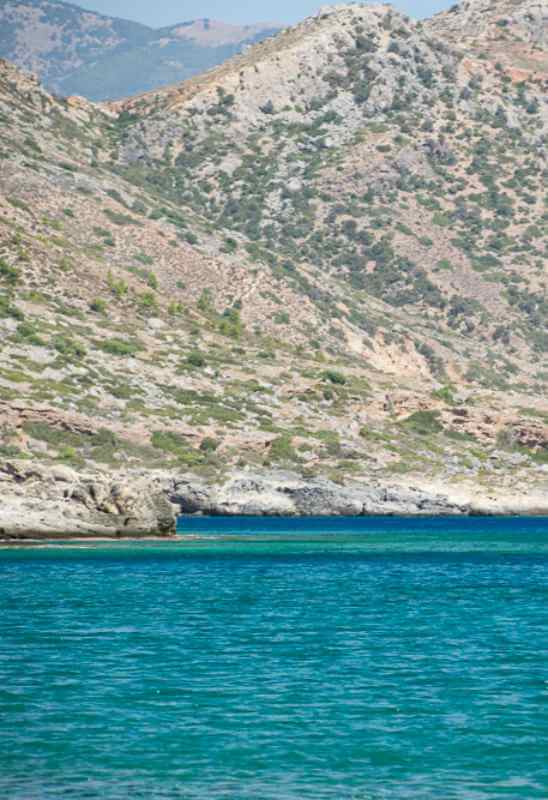 All these reasons make Paleochora a favorite destination in the region of Chania, chosen every year by hundreds of travelers many of them returning to the area year after year.
A Bit of History About Paleochora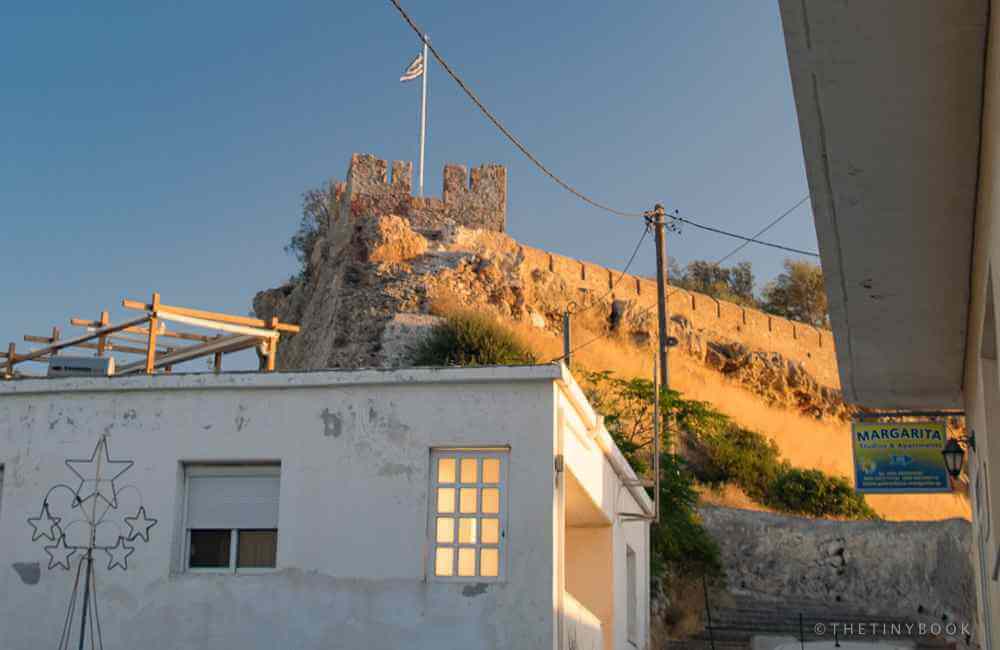 The history of Paleochora goes hundreds of years back in time, starting in 1272 when a Venetian general built the fort that became known as Kastelli Selino (Selino Castle).
The whole area took the name of the castle and it's still today known as the province of Selino.
The fortress, which endured several attacks during the centuries, was also targeted by the famous pirate Barbarossa, well-known on the island since much of Crete's fortune is linked to his repeated attacks.
When the Ottoman Empire conquered the region, also Paleochora was captured in 1645.
After some years, the Turks and the local inhabitants abandoned the village which was rebuilt and populated once again in 1866.
At the beginning of the nineteenth century, and in the period leading to the Great War, the city flourished again since Paleochora was connected to the port of Piraeus, on mainland Greece.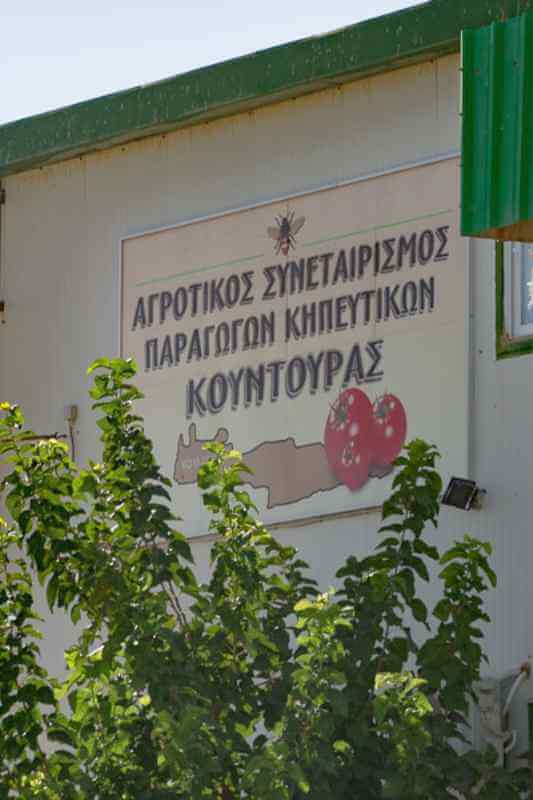 Today, the village's main sources of income are tourism and agriculture, mostly in the area known as Koundoura, a few meters from Krios Beach, about 30 minutes west of town.
Tomatoes and olives are the most important products in the region, in fact, you will see dozens of greenhouses on the road that connects the center of Paleochora to Krios Beach, passing through the village of Kountoura, one of the best places in the area to but cucumbers, aubergines, peppers, and – of course – tomatoes.
And if you cannot buy a box of fresh produce because you're not staying long in town, then do try a tomato salad in Paleochora to learn why this is their best-known culinary staple!
Together with other southern villages, such as Matala and Sougia, Paleochora became a well-known hippie destination during the 70s, with a unique atmosphere still alive all over the village.
Where is Paleochora and How to Get There
The most comfortable road to reach Paleochora when you depart from Chania is to head west on the national highway and then take the exit in Tavronitis, close to the former military airport of Maleme.
⛴️ Check out ferry ticket fees and schedules
From there, follow the road that takes you through the traditional settlement of Kandanos, and then follow the signs until you reach Paleochora.
The village is 77 kilometers from Chania. The trip takes about one hour and 15 minutes, and the road is in very good condition.
There are no scary cliffs or hairpin bends and the landscape is gorgeous.
You can also reach Paleochora from Falasarna, Kissamos, or Elafonisi coming from the west, or from Sougia, from the east.
If you're staying in Chora Sfakion, Sougia, or Loutro, you can travel to Paleochora via ferry. This boat also connects Paleochora to Agia Roumeli, at the exit of Samaria Gorge.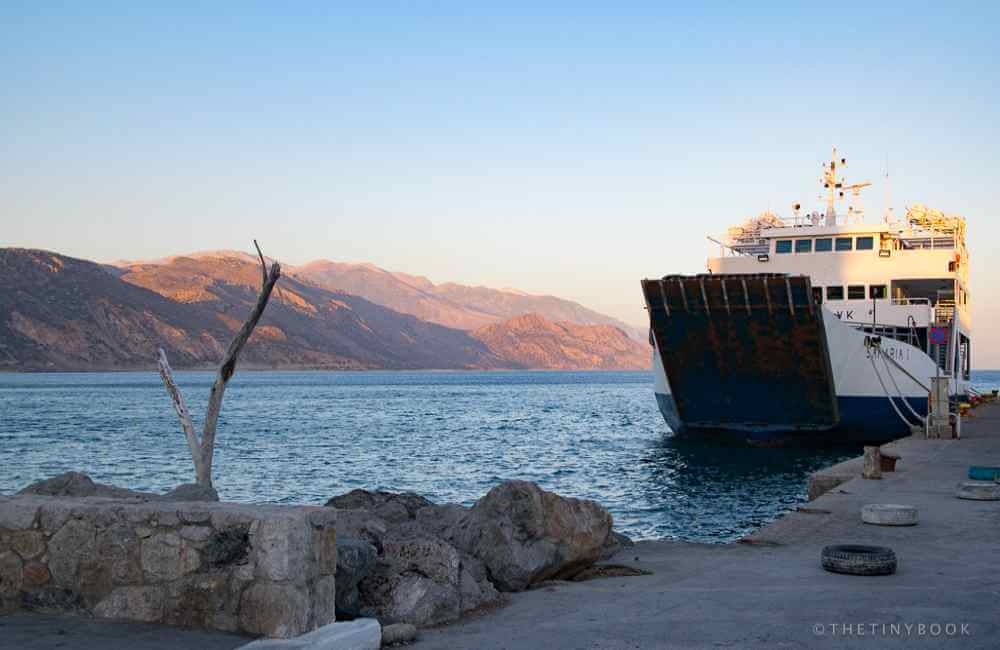 What's the Weather Like in Paleochora
The village is in a favorable position on the southern coast, protected by two different bays.
Therefore, the main advantage is that when the wind blows on one side of the peninsula, the other one enjoys a calm, waveless sea.
Just like many other southern villages, the weather is usually dry and hotter than on the northern coast, even during Winter.
Summers tend to be torrid, which is why the end of September and October can be the perfect months for a stay. (Check out this guide about things to do in Crete in the Fall).
What to Pack for a Trip to Paleochora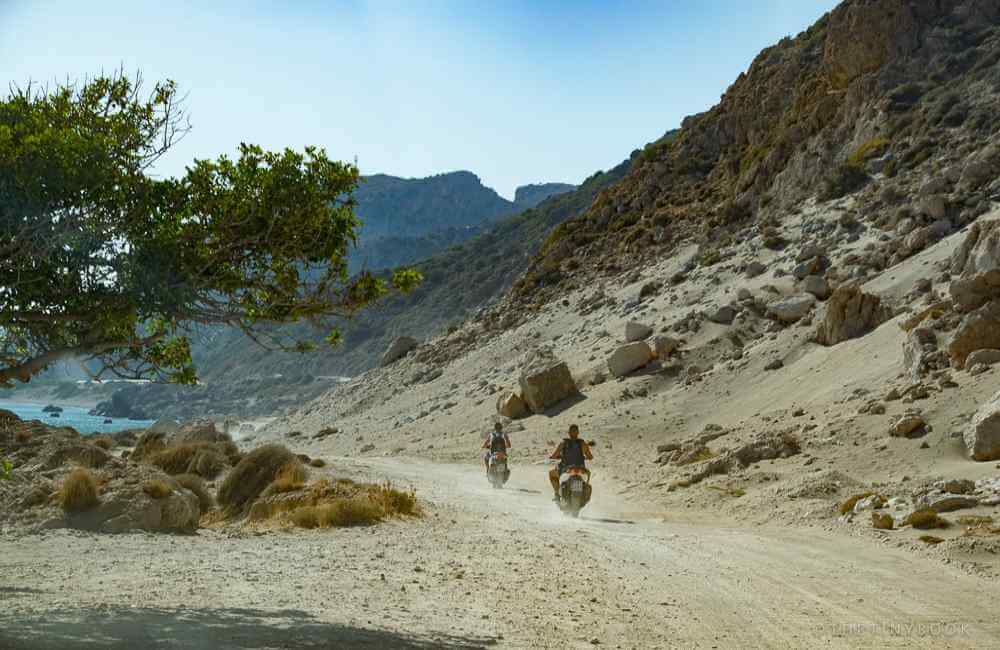 Besides packing the essential beach bag, with a couple of swimming suits, a high UV factor lotion, and good snorkeling equipment, Paleochora is a perfect destination for hikers.
One of the best things to do in Paleochora is, in fact, to walk along the coastal road, part of which belongs to the European E4 path.
If this is your choice, packing hiking shoes is a must. Combine it with a comfortable and light daypack (you already know I'm an Osprey fan), and add walking poles for a better experience. These ones are collapsible, so ideal for travel.
The dirt road is also used by cars, so do include a good water bottle (better if insulated), absolutely necessary if you remain trapped in a cloud of dust!
Also, remember that most beaches in Paleochora have pebbles, so add a good and light pair of water shoes for extra comfort.
Best Things to Do in Paleochora, Crete
In no particular order of importance, don't forget to check these options when deciding what to do in Paleochora…
Swim and Sunbathe at Pachia Ammos Beach
If there's one thing you must do in Paleochora, that's spending at least one day at the sandy beach that everyone loves: Pachia Ammos.
The longest and most popular beach in Paleochora is good for families for its wide, sandy beach and shallow coast.
Pachia Ammos, in the west area of the village, is the best place to practice water sports. It's also the right beach when you want to escape the wind on the eastern side of the peninsula.
Since this coastline is over 500 meters long, you will always have the feeling that there's nobody there, even when it's crowded.
Bear in mind that sometimes, southern or western winds can make the sea wavy.
As far as the organization is concerned, you'll find umbrellas, a few bars, showers, and a lifeguard too.
There are a few secluded coves towards the west that naturists usually prefer.
Remember: Pachia Ammos is the best beach in Paleochora to witness the sunset!
Climb your Way Up to Selino Castle
Although it was destroyed, abandoned, and rebuilt more than once, Selino Castle is an imposing silhouette part of the local skyline.
Strategically located on the highest but also the most central point of the peninsula, it offered a panoramic view of the Libyan Sea that allowed to protect the locals from pirate attacks.
The castle, almost square and with two towers, probably had residences for the officials and a church.
Originally built by the Duke of Crete Marino Gradonigo, Cretan rebels demolished the fortress back in 1332. However, it was quickly rebuilt by the Venetians due to its strategic location.
One of the best things to do in Paleochora is climb the several steps that lead to the top of the ruins. Once there, you can enjoy the most inspiring views of the sea.
PALEOCHORA DAY TRIP
Did you know that you can join this tour to discover the best of Paleochora? They will pick you up from Chania, drive you to Paleochora, show you the best of the town, take you to the beach, and even tell you where to have the best lunch in town. Prices a really affordable for a whole-day excursion! You can book this day trip here.
Discover the Beautiful Church of Evangelistria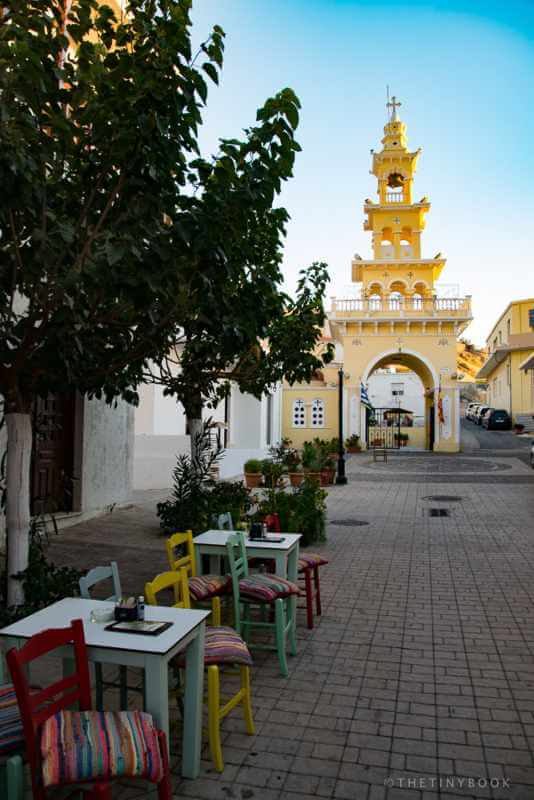 Another iconic image of Paleochora is the pristine church of Evangelistria (or Church of the Ascension, in English). Another building in town that you must see.
It's located right before you access the Castle and it's impossible to miss the unique bell tower that has become a landmark in the village.
If you can, don't just admire the bell tower, but take a look at the inside of the church to discover the beautiful frescos of the Orthodox building.
Hike the Coastal Path to Search for Beaches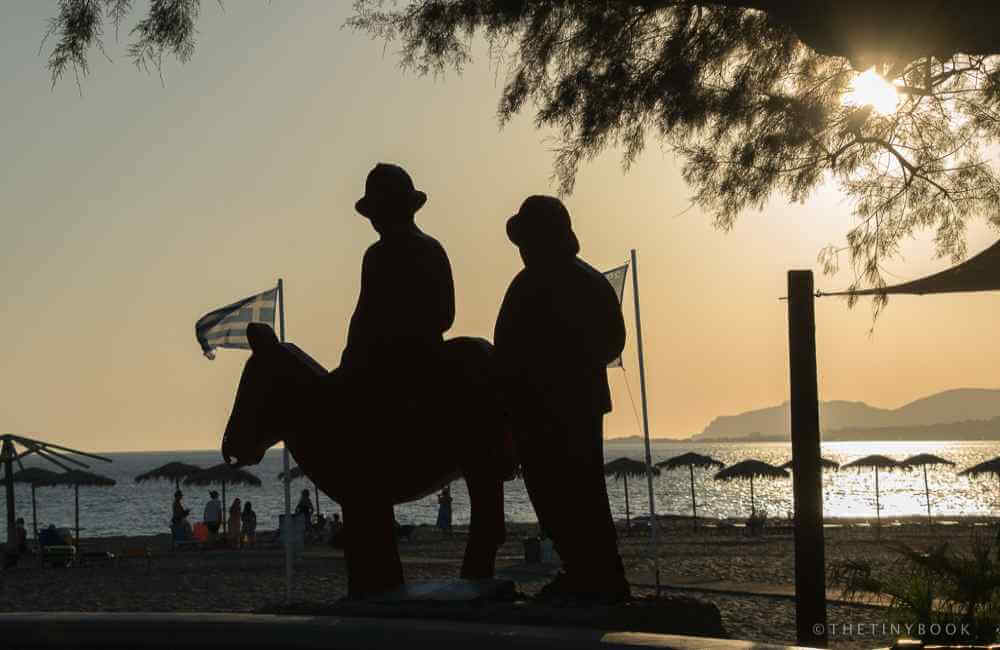 Paleochora is a perfect destination if you travel to Crete to discover more than its heavenly beaches. If you're looking for an easier path, walk west and discover the beaches along the way.
From Paleochora to the West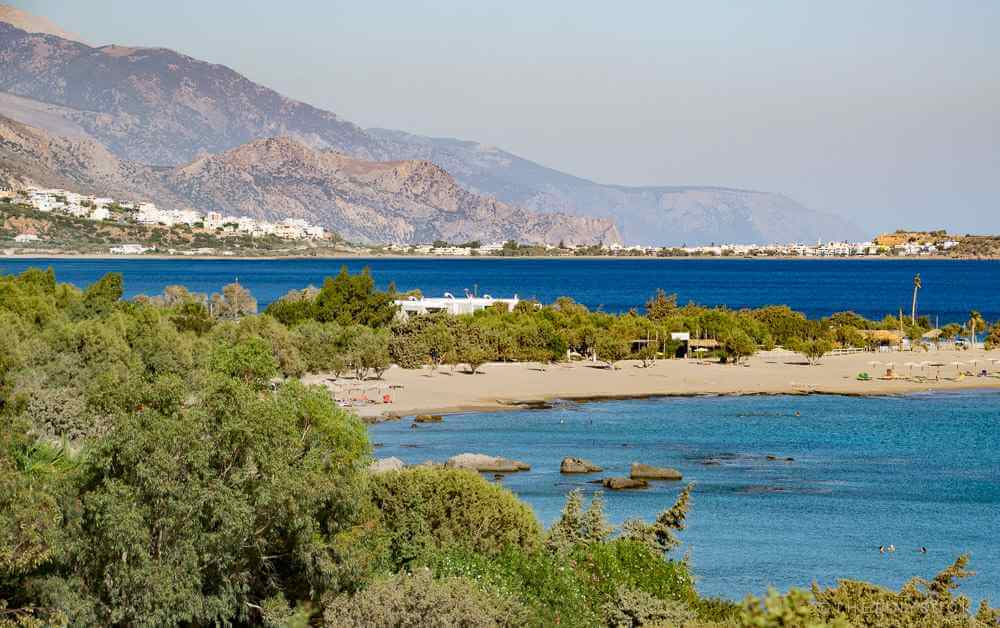 Departing from the center of town, you will walk past Kalamakia Beach, and the small bay of Psilos Volakas, which has a unique position facing the west.
This lets you enjoy the sunrays until late in the afternoon and witness the sunset at its best. Psilos Volakas is organized and it's located at the base of a small peninsula, which ends in another small beach known as Apo Braxo.
A few meters ahead, you will pass a few different isolated coves preferred by the locals. Some of them are not organized.
Check out the pebbled Troxalou Beach and Karavopetra, known for the imposing rock standing by the sea.
Always walking to the west, pass by the small bay of Plakaki, and Azzurro or Umbrella Beach, ideal for families as it is wide and well organized.
Azzurro has a parking spot and a tavern for drinks and food. The place is loved by visitors because you don't have to pay for your umbrella!
Other beaches along the way include Alonaki and Grameno Beach (also written Grammeno), well-known and popular among tourists.
Right before the longer strip of Kountouras, another popular shore west of Paleochora, you can stop and swim at the small hidden Wild Beach.
Finally, after the Marina of Kountouras, you'll find Krios Beach, a wide pebbled coast, organized and famous among naturists too.
From Paleochora to the East
While on the western side of the peninsula, the famous Pachia Ammos is a perfect sandy beach for families, windy days call for a more protected shore.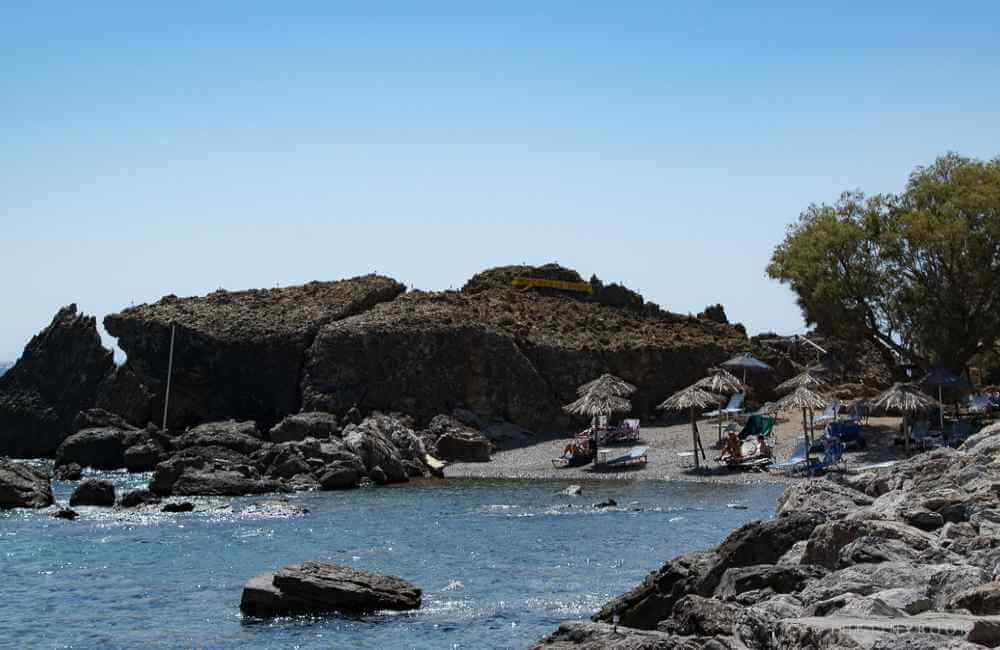 Head west passing Paleochora's New Marina. Along the road, the first small cove you'll find is Methexis Beach, and a few meters ahead, the fantastic Chalikia.
A long, pebbled beach well protected from the winds, with lounges and umbrellas.
If you're on the search for a drink before venturing further east, stop at Votsalos, a small all-day bar serving great cold coffees and mouthwatering sandwiches!
The more you venture towards the east, the wilder the road gets.
Once you've passed Paleochora Camping (yes, you can also camp in Paleochora!), the coastal path takes you as far as Gialiskari, the last beach in our tour.
This beautiful road offers endless photo stops for spectacular landscapes.
There are some unique pebbled coves, most solitary and unknown, perfect hideaways for nudists, and ideal for those who love snorkeling.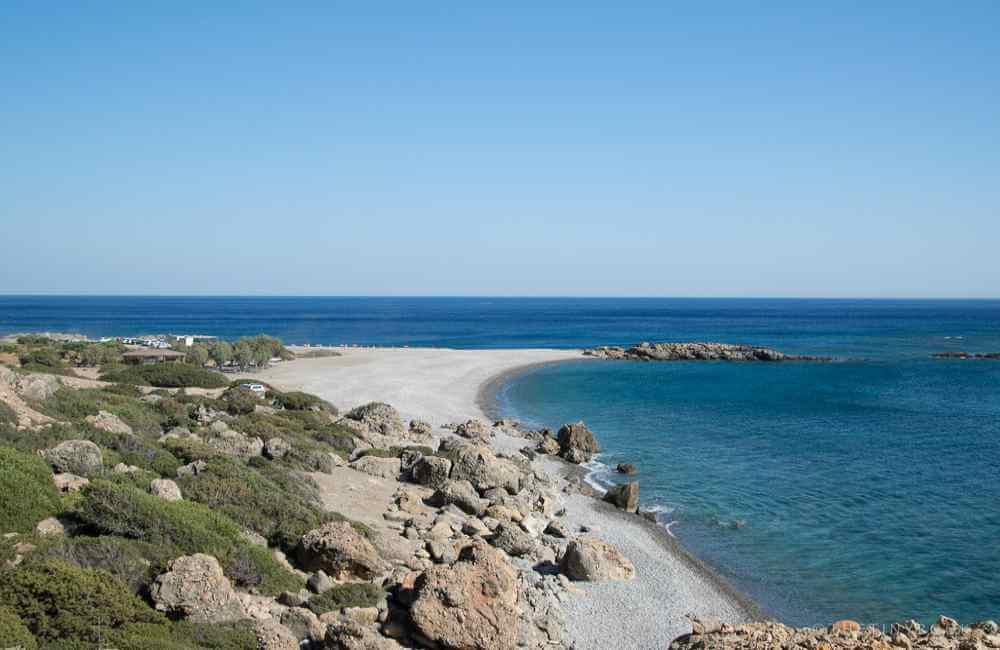 Opposite the camping site, check Keratides, a nice, wide beach with sand mixed with pebbles, perfect for a solitary retreat by the sea.
A few hundred meters ahead, another famous beach along the coast of Paleochora will be waiting for you. It's Anidri, and it's one of the favorite shores in the area.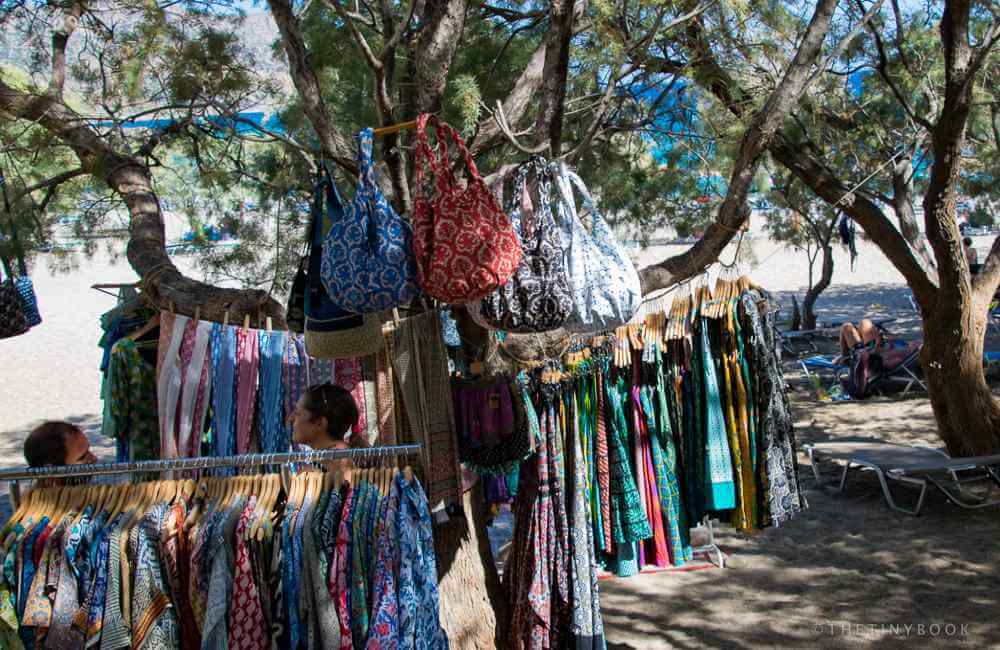 Finally, extending along the two sides of a small peninsula, Gialiskari offers both a pebbled and a sandy beach with tavernas and good organization.
There's ample parking space, and it's possible to rent kayaks and pedal boats too.
Gialiskari makes a perfect destination for a day trip from Paleochora. There are some tamarisk trees providing generous shadow, and you'll certainly find everything you need to spend a perfect day.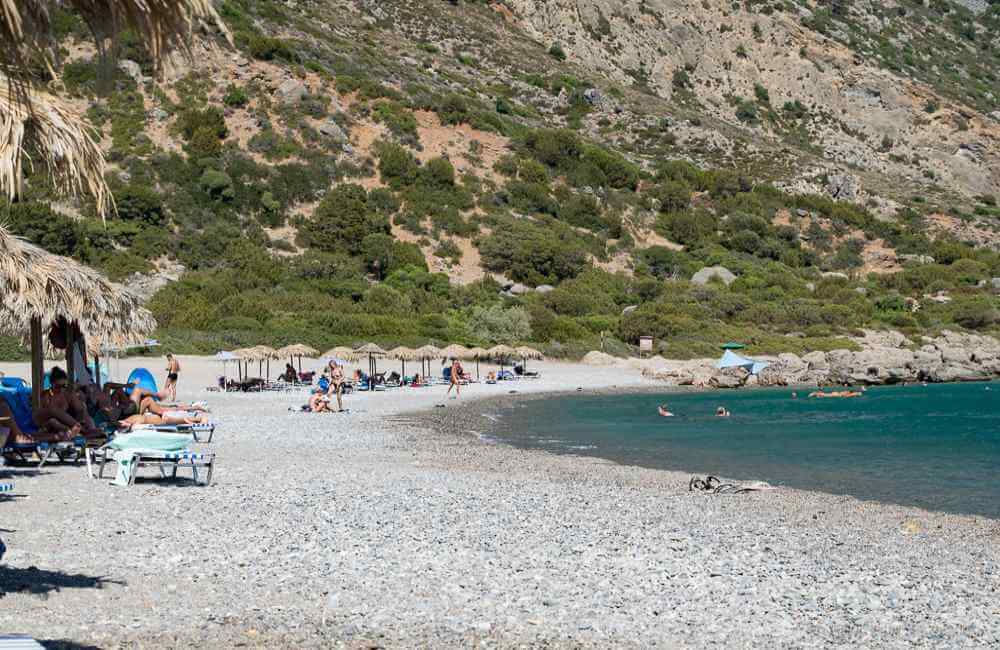 There's even a bus that can take you all the way to Gialiskari and drop you back in the center of Paleochora at 6.30 pm.
Remember, if hiking is not your thing, renting a motorbike or a bicycle is also a good idea to explore the area.
Walk Along the Pedestrian Road at Night
One of the things I loved the most about Paleochora is the lively nightlife I could experience in the village.
We all love places such as Falasarna or Elafonisi, but let's face it, spending the night in such remote areas is not for everyone.
Over there, there's nothing much to do at night other than visiting a few tavernas for dinner.
Paleochora is certainly different. It can be isolated and alive at the same time!
If you prefer a place where you can also walk around, have a wide choice for dinner, or enjoy a drink at the local bar, then Paleochora can be a great compromise.
The town is big enough for a varied nightlife, without being as overwhelming as the bigger cities of Heraklion, Rethymnon, or Chania.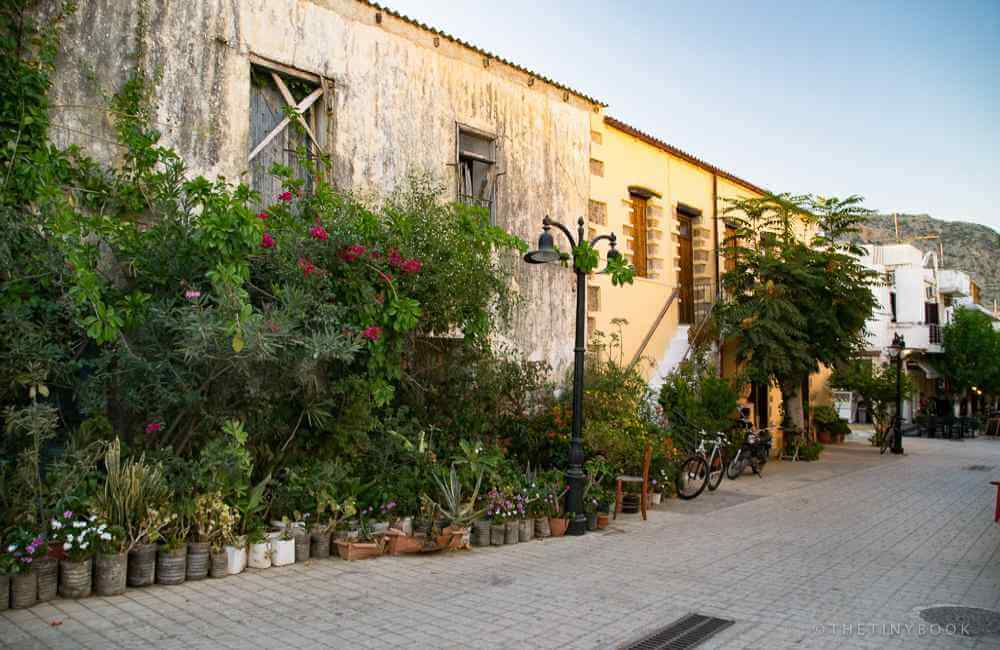 Here, you can go shopping for souvenirs and local crafts. You can also walk along the seaside promenade, or have a cocktail.
Get lost in the tiny maze of alleys, and discover the most picturesque shops, the romantic corners, and the colorful atmosphere of the village filled with music.
Besides, if you love street photography, you'll have the time of your life!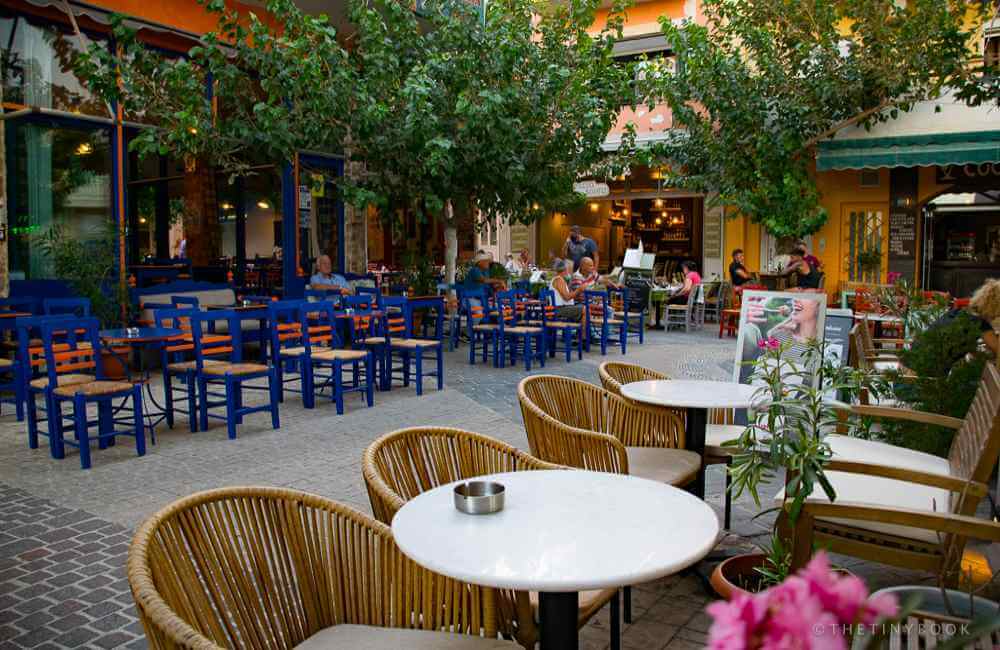 Shop for Local Crafts
The hippie spirit that conquered the city back in the 1970s never really left. And there are several places in town where you can experience it.
It's not just about hanging out in colorful bars and bohemian coffee houses, but it's also an opportunity to get yourself some original souvenirs from Crete.
As a matter of fact, buying your gifts from Crete in the village is one of the best things to do in Paleochora.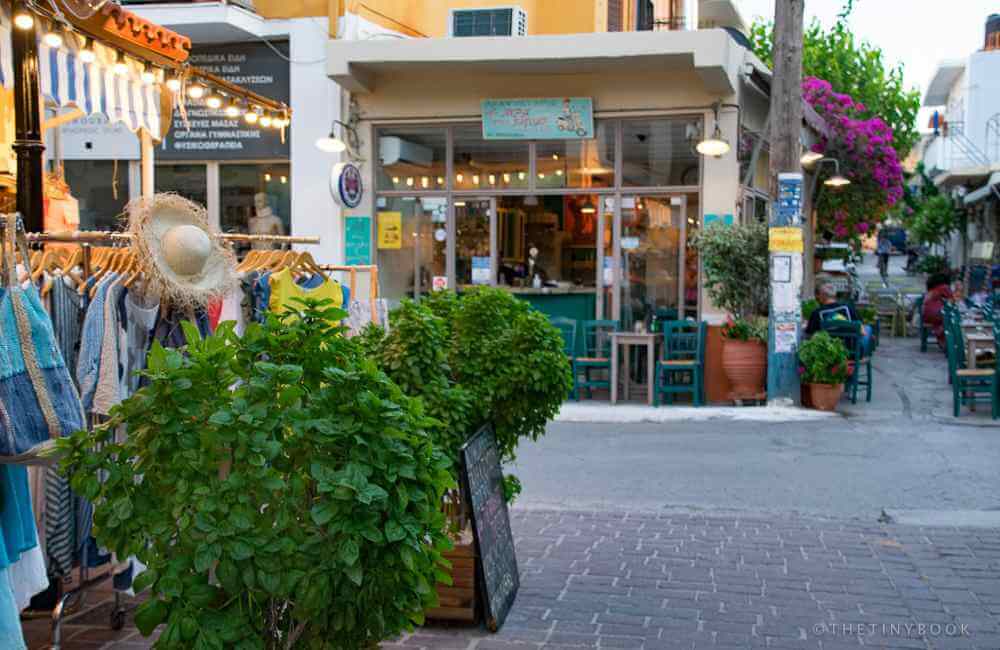 You can get anything from elephant pants to handmade jewelry, to some eclectic hats and original, handmade beach bags.
You can also shop for local produce, including tasty Cretan honey and olive oil.
Chill with a Glass of Cretan Wine
A trendy place to spend some time with friends and in good company is Monika's Wine Bar, right on one of the most central streets in Paleochora.
The beautiful setting includes a romantic garden, with dim lights, plants, and earth tones, perfect to chill out.
Start your Cretan wine discovery journey trusting the knowledgeable sommelier who will certainly suggest the best labels to try.
To make the experience perfect, pair your wine of choice with a homemade Pavlova or any other delicious cake on the list.
Spend a day at Gialiskari Beach or Anidri Beach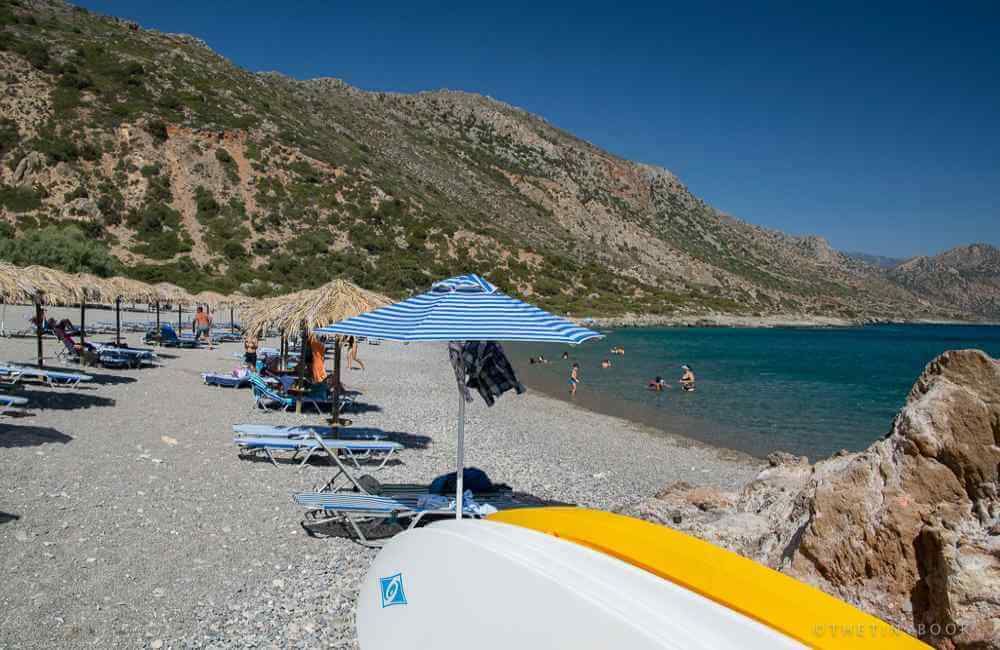 Nothing like preparing your beach bag or backpack, getting in your car and heading East to discover the isolated beach of Anidri and the more popular Gialiskari.
Oftentimes chosen by hundreds of visitors, however, the wide spaces and unspoiled coves allow you to feel alone almost everywhere.
Although there are several other nudist beaches in Paleochora, Gialiskari is great for those who wish to swim naked.
Just reach the extreme east of the beach to find a secluded place to enjoy in total privacy.
Gialiskari offers sunbeds, umbrellas, a taverna, and kayaks to rent in the central part of the beach.
But also a stunning mountain landscape and its own discrete place to take off your clothes!
And if you enjoy hiking, then you might head inland from the beach to reach Anidri Canyon, not far from the beach of the same name.
You can park in the camping area and follow the colorful signposts that also mark the way to the start of the path.
This is a relatively easy hiking trail that takes about an hour to complete, although there are a few parts with challenging climbs (don't attempt them with flip-flops).
Have a Drink at Agios
Agios is the must-go place for visitors to Paleochora. A landmark in town, the corner has a unique history of its own.
Originally, the building used to be called The black cat and it was known for welcoming the most important villagers.
But it was not just a place for the locals. In fact, during the 40s, many captains sailing the Mediterranean probably had a drink in this corner.
Later on, in the 60s, this typical Cretan kafenio doubled as the local bus station, featuring the typical blue chairs that many traditional bars still have all over Greece.
Today, the youngest generation of the original owners has taken over, they have transformed this bar into the heart and soul of Paleochora's social life.
Indulge in the Local Gastronomy
The food on the island is known for its genuine traits and unique tastes and aromas.
Especially in the less developed areas of Crete, close to the mountains or in small villages, almost every gastronomic experience can be labeled as "from farm to fork".
Vegetables often come from the owner's orchards and wine is homemade too.
As I've mentioned above, Paleochora produces fantastic cucumbers, tomatoes, and olives. Tomatoes are indeed the flagship product in the area, they indeed taste really good so don't put up ordering a salad!
Seafood is also a good choice when served with abundant vegetables, some local wine, or a refreshing glass of cold beer.
Explore Krios Beach
Another thing to do in Paleochora is to pay a visit to Krios, a famous beach west of town.
The beach has small pebbles and, as in most of south Crete, the sea is clean and transparent but colder than in the north.
The beach is divided into two different parts. The smaller area is a naturist beach, (towards the west) fairly isolated. The eastern side is organized, there's a taverna, showers, and a parking place.
More Resources to Visit Paleochora
Keep this information at hand when visiting the village. Discover where to eat, where to stay, and what places are the best ones to hang out at night…
Where to Eat in Paleochora
Looking for a good restaurant in Paleochora? Go to Masasoura Restaurant, on the main road leading to the church.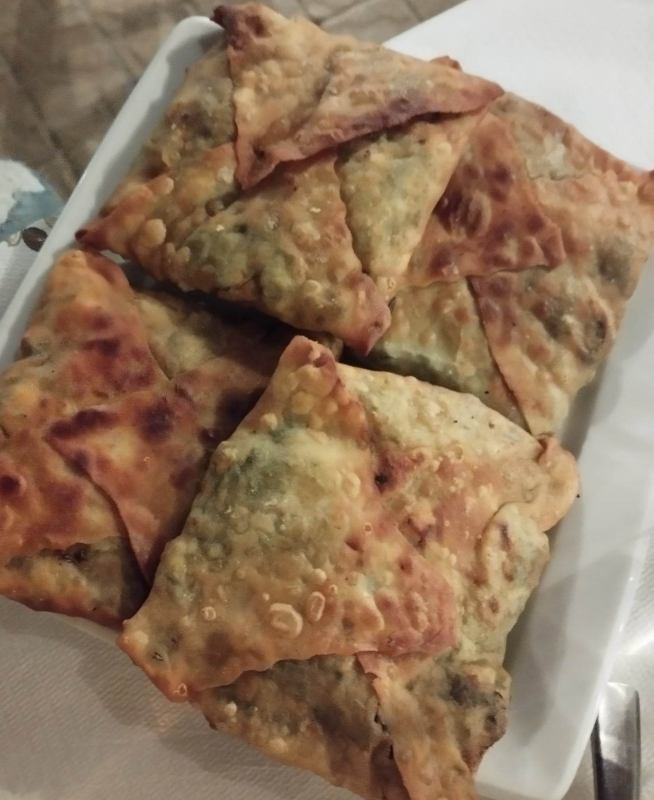 This place has been tried, tested, and approved by us for its incredible traditional dishes, such as the huge fried kalitsounia (with spinach and feta cheese), and the spectacular spicy cheese spread among other delicacies!
Palm Tree Bar Café is another good place to taste local dishes and discover its eclectic coffee selection and great wine list of Cretan and Greek labels.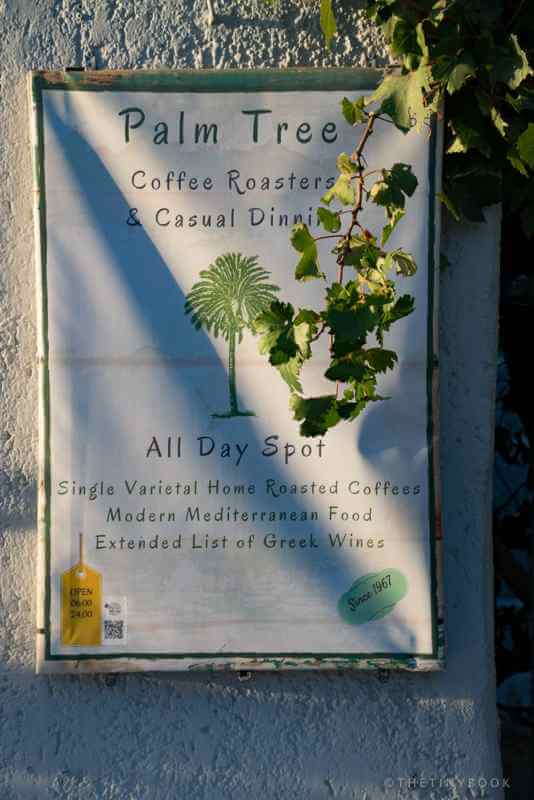 Pizzeria Niki is perfect for a tasty pizza served under the colorful bougainvillea adorning the fresh patio. Perfect for kids and families. Do not miss their spinach pizza!
To Votsalo: Right opposite Chalikia Beach, choose this informal taverna for a snack, a coffee, or a tasty Greek salad.
On a budget and looking for a simple gyro to go? Head to Everest, in the center, for a selection of quick snacks, gyros, souvlaki, plakoti (gyro-styled sandwich), and salads.
Breakfast in Paleochora: Don't miss the bread, sweets, cakes, biscuits, and freddo espresso at Vakakis, the most traditional bakery in the city with beautiful views of the sea. Do try their baklava!
Best Places to Hang Out in Paleochora
Agios Bar is a traditional music café, pub, and bar that you cannot miss. A meeting point for locals and visitors alike, Agios proudly serves snacks made from fresh Cretan and Greek products, supporting local family businesses. Check their website here.
Monika's Garden Wine Bar is a cozy place with a great wine list of local varieties and different mouthwatering desserts every evening. Check their page here.
Best Paleochora Hotels
These are my favorite hotels in town:
Have you ever been to Paleochora? Let me know in the comments below!
Read More about Paleochora & South Crete
Hey! Don't Leave Yet! Pin this Guide to What to Do in Paleochora for Your Next Crete Holiday!
---
---
About my blog: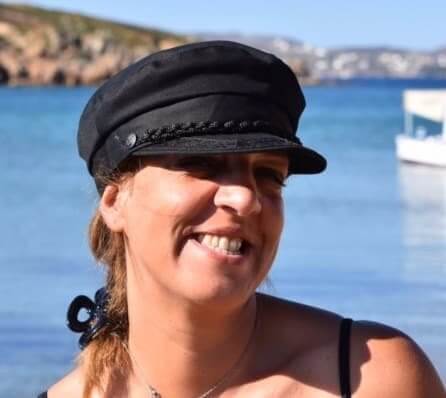 I moved to Crete in 2016. During these years, I learned much about the island.
In Crete, I juggle being a solo mom, hosting culinary tours, and writing for several travel blogs.
I've written for Greek Reporter, published travel guides about Greece, and had more glasses of frappe than any regular person could ever handle.