Naxos island is an amazing Summer destination in Greece. It has a charming Cycladic environment made of whitewashed cubic houses and pretty traditional churches facing the blue Aegean sea. The green mountainous landscape portrays amazing tiny villages where time seems to never go by. If you're planning your next holidays on a Greek island, why not consider some of the best Airbnbs in Naxos, Greece for a relaxing and unforgettable stay.
Where to stay in Naxos, Greece
Amazingly gorgeous Airbnbs in Naxos, Greece
Naxos is one of my favorite destinations in Greece. The island is big enough to offer plenty of opportunities for a fun vacation, with a variety of landscapes and some of the most beautiful coastlines in the Aegean. The beaches in Naxos are simply stunning, ideal for those who cannot conceive a summer holiday far from the sea.
If you're looking for a different place to stay on the island of Naxos during your next holiday, this is the Airbnb guide you were looking for. If you're in search of a unique experience to enjoy the comforting feeling of your own home with gorgeous features, refined details, and one-of-a-kind views, then you will certainly find this article extremely useful. Let's check the best Airbnb rentals to spend an unforgettable holiday in Naxos, Greece.
Queen Studio in Naxos town
Why you should stay: A modern and aesthetically pleasing studio rental in the center of Naxos Chora.
Sleeps: 4
Minimum stay: 2 Nights
Pets allowed: No
The exclusive Queen Studio features every facility you need for a comfy stay, including its own small furnished patio for a tranquil afternoon rest. The studio comes with the possibility of enjoying coffee, a glass of wine, the free use of the mini-golf course in a close-by hotel.
The rental home is in a fantastic position in the center of Naxos right next to Agios Giorgos beach, only 600 meters from the port of Naxos. In the area, you'll be able to find supermarkets, shops, restaurants, and bus stops to explore the rest of the island.
Grotta Sognare seafront suite with views of the Portara
Why you should stay: This is the ideal, romantic place with unique seafront access, with amazing views of the Aegean and the Portara.
Sleeps: 3
Minimum stay: 1 Night
Pets allowed: No
No service fee!
It's impossible to ask for a better place to stay on Naxos. Quite close to the Chora, the place enjoys a privileged seaside position that makes you feel you're far away from it all… but you'e not!
You can enjoy the magnificent sunsets on the Portara from the comfortable private lounge set right on the beach. The apartment comfortably sleeps a couple yet there is also a sofa bed for an extra guest or child.
This Airbnb rental is ideal for a romantic weekend as well as for a solo holiday in complete relaxation. Grotta Sognare it a top-rated Airbnb in Naxos, so don't let it go if you find availability for the dates you're looking for!
>> Grotta Sognare is one of the best Airbnbs in Naxos, Greece!
Boutique Room in the heart of Naxos' Chora
Why you should stay: If you're looking for simplicity, this boutique suite with a beautiful patio has every comfort feature for a short stay in Naxos town.
Sleeps: 2 (Queen bed)
Minimum stay: 3 Nights
Pets allowed: No
No service fee!
Small, cozy studio inside an apartment complex called Ep'Avlis which used to be the residence of a famous merchant in the early 20th century who was doing business between the Cycladic islands and Istanbul. This Airbnb rental is part of a collection of apartments with a sophisticated style.
This Boutique Room is in a key location since it sits next to everything in the town of Naxos but it's super peaceful and quiet at the same time.
In case you were wondering, the host committed to a rigorous cleaning protocol developed with leading health and hospitality experts.
Naxian Traditional House in Naxos town
Why you should stay: This is a fantastic place to experience what it's like to live in the old town of Naxos, in a picturesque whitewashed house with traditional stone walls and modern, stylish details.
Sleeps: 5
Minimum stay:

1 Night

Pets allowed: Yes
Small service fee!
This is a convenient and comfortable Airbnb rental in the heart of Naxos town, ideal for a family or for a group of friends.
Just a few minutes from the port on foot, this traditional house is in a quiet neighbourhood near the beautiful Castle of Naxos.
Known as Naxian Traditional House, this is a comfortable duplex fully equipped with every amenity you might need. It's only 150m from the bus stop that takes you to explore different villages and beaches on the island.
If you're planning to explore the islands with a car, there is also a free parking place nearby.
The closest beaches are the beautiful Agios Giorgos and Vince, which you can even reach walking. Naxian Traditional House is a top-rated accommodation in Airbnb.
La Bouganville, Naxos Beach Maisonette in Agios Prokopios
Why you should stay: Agios Prokopios is home to one of the most beautiful beaches in Naxos. This two-story house is located just a few meters from the sea and only a few minutes from the Chora of Naxos by car.
Sleeps: 4 (2 bathrooms)
Minimum stay:

4 Night

s
Pets allowed: No
With veranda and barbecue!
One of the prettiest Airbnbs in the area, La Bougainville is a fantastic place to stay for families with kids, with a dedicated room for children.
The property is decorated respecting every traditional detail of Naxian houses, and super close to the bus stop, mini markets, tavernas, pharmacies, and even a parking spot.
For a longer stay, the house features every comfort you need, including a washing machine! The spaces are fresh and luminous and you will need nothing else to experience the authentic feel of the Greek lifestyle.
Looking for a hotel instead?
>>Check the best hotels on Naxos island<<
Naxian Stema Pearl in Agios Prokopios
Why you should stay: This Airbnb Naxos rental is located in Agios Prokopios and it's a stylish condominium with modern decor and comfortable furniture. It's a beautiful and quite instagramable place to stay.
Sleeps: 3
Minimum stay:

4 Night

s
Pets allowed: No
With veranda and barbecue!
The Naxian Stema Pearl is a brand new accommodation just 3 minutes from the island's most popular beach, Agios Prokopios.
This cool semi-basement is part of a series of different houses, including the Naxian Stema Blue and the Naxian Steam Gray. Guests may also take advantage of the small indoor private yard or use the common veranda and the swing in the beautiful garden of the estate to enjoy a relaxing drink in the afternoon.
Aphrodite Luxury Apartment in Agios Prokopios
Why you should stay: About 100 meters from the stunning Agios Prokopios you will find this Airbnb apartment with incredible features, including a beautiful jacuzzi and a laundry service for your full comfort.
Sleeps: 3
Minimum stay:

1 Night

Pets allowed: No
All the comfort of your home and more in Aphrodite Luxury Apartment, a fantastic Airbnb in Naxos. It's really close to everything: the beach, the shops, and the seaside tavernas of Agios Prokopios.
One of the key features of the 120-square-meter apartment is the free nearby parking spot that guests can use.
The place is completely equipped, has a comfortable kitchen and dining space and a small but comfortable balcony where it's also possible to enjoy your meals.
Cycladic Seaview Villa in Agia Anna
Why you should stay: Agia Anna and Plaka are two fantastic beaches on the coast of Naxos island quite close to the center of town. This place is ideal for big families or for a large group of friends.
Sleeps: 9
Minimum stay:

3 Night

s
Pets allowed: No
Flexible check-in
This Villa in Agia Anna, in the area of Plaka Beach is a wonderful and very spacious home ideal for a long stay in Naxos.
The outside space features a barbecue area as well as a comfortable shower. Inside, the cozy huge spaces are beautifully decorated while the house is equipped with every comfort feature you could ever think of.
The sunny veranda with beautiful views of the sea features a great sitting area to enjoy an afternoon drink as well as a long table to enjoy your morning breakfast with all the family.
Medieval Tower in Halki, Naxos
Why you should stay: Elevate the vibe of your holiday by staying in a cool Medieval Tower in the mountain village of Halki, Naxos.
Sleeps: 4
Minimum stay:

2 Night

s
Pets allowed: Yes
The Medieval Stone Tower is a unique ancient townhouse mansion in the picturesque village of Halki. The tower is one of the top sights in the gorgeous village and you can have it all for yourself for a romantic weekend, or for a longer stay.
This charming studio is perfect for travelers who desire to explore the unique villages of the island of Naxos. Besides, if you choose to stay in this place, you will be contributing to the finalization of the restoration works of this medieval monument.
The ancient townhouse has a private entrance and a large terrace. Guests can enjoy the complete comfort of the fully equipped kitchen and enjoy the thrill of sleeping in an authentic Medieval stone tower. The thick, 1.20-meter walls provide excellent thermal insulation so no air conditioning is needed.
This Medieval Tower is one of the most original Airbnbs in Naxos, Greece!
Dreamcatcher of Mountain Zeus in Filoti
Why you should stay: A top villa in the magnificent village of Filoti, in the Naxian mountains, close to stunning places to visit, such as Mount Zas, Apeiranthos, and Halki.
Sleeps: 4
Minimum stay:

3 Night

s
Pets allowed: No
Self check-in
Just a few hundred meters from the main square of the traditional village of Filoti, Dreamcatcher of Mountain Zeus is a heavenly refuge for a peaceful and enchanting holiday surrounded by the nature. The village is only 18 km from the center of Naxos town.
Even if you are still not sure about renting a property not close to the beach, a home in the mountains can reveal the best decision for a different vacation.
Filoti enjoys quite a central position on the island, therefore a stay there can allow you to explore Naxos cutting on driving times.
The apartment has a beautiful yard and it has been recently renovated with an edgy and modern design.
---
What's your favorite kind of place to stay?
Let me know in the comments below!
---
Travel Plans for Greece?
More Resources to Organize Your Trip!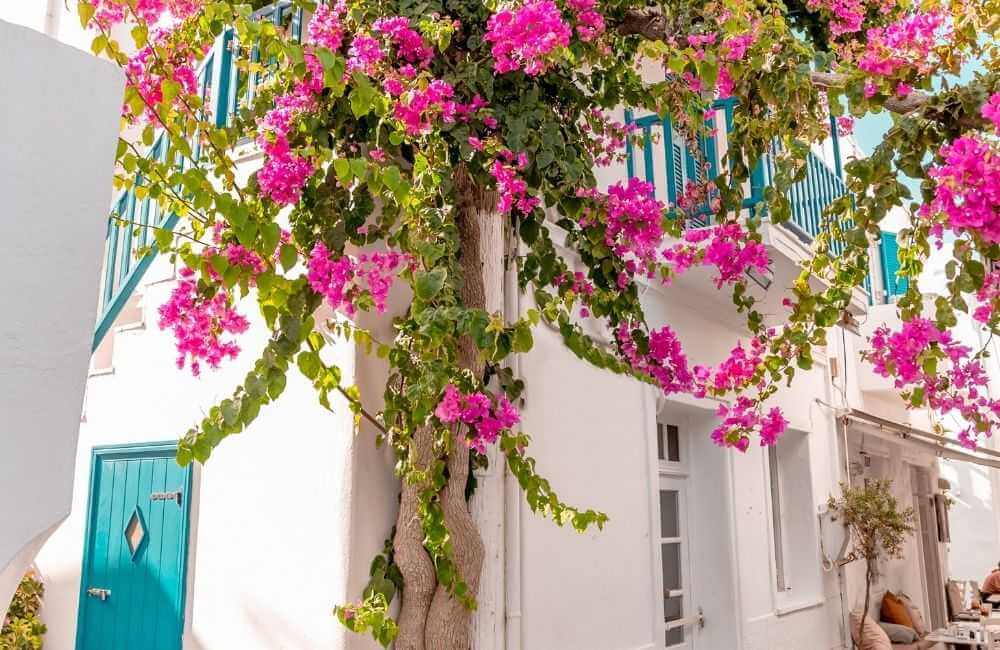 Start by heading right to my Greece travel guide for in-depth details you need to know about Greece. You can also check my post to plan a trip to Greece with children!
Get in touch if you need extra help to plan your trip. If you want to tour West Crete, check my guide. Want more? Join my Private Facebook Group to connect with like-minded travelers who love Crete as much as you do!
Make Sure You've Got Everything For a Hassle-Free Vacation!
I never move around the islands without my Osprey backpack, a sturdy but light travel partner I just love. For short trips, I carry this little crossbody bag. If I drive, I pack my Nikon D7200 and a good travel guide! Lonely Planet's Best of Greece & the Greek Islands.
When it comes to plane tickets, compare prices with a powerful search engine. However, nothing beats traveling by sea in Greece. With Ferry Hopper, you can book in advance at the lowest price.
For accommodation, I personally use Booking.com.
Traveling to remote places is easier with Discover Cars. Other times, I join organized tours with GetYourGuide, which features anything from cooking lessons to airport transfer!
Are you coming to Crete any time soon?
Get in touch and let me know!
Read more:
The Most Awesome Things to Do in Naxos
Travel the Greek Islands: How to Get to Naxos
Fantastic One-Day Itinerary in Naxos, Greece
Best Beaches in Naxos and Top Archaeological Sites to Visit
Villas of the Naxian Luxury Collection, review
This is a pin-pin situation!
---
You might also want to read:
---