Check out the unique setting of the Villas of the Naxian Luxury Collection, a unique place to stay in Naxos island, Greece.
Dare to imagine wide open spaces, with breathtaking views of the chora and the Portara. Walk to the most fantastic beaches a stone's throw away or enjoy a sublime private pool. Dare to discover a place where the Aegean meets smooth landscapes and alluring rock formations. This is what the Villas of the Naxian Luxury Collection promise to visitors. An idyllic environment where dreams seem to come true. This is what was waiting for us upon our arrival to the island. A property blending stunning sophistication with relaxed Greek hospitality.
The structure and the premises
If you are looking to pamper yourself with the most amazing Greek atmosphere, the suites and villas of the Naxian Luxury Collection are the right choice when you visit Naxos.
As our hosts and the staff explained to us, all accommodation has been designed with modern comforts. From private or semi-private pools and natural toiletries, from espresso machines to free Wi-Fi internet. There are four Grand Suites in the property, all of them with a fantastic kitchen and living space. Ideal for families. For solo travelers and couples, Premium Suites are the best way to go.
Villas of the Naxian Luxury Collection
Upon arrival, we were kindly explained about all the things Naxos can offer to visitors. Soon after, a spectacular villa in perfect Cycladic style welcomed us to a holiday of a lifetime. We took the comforts of the upper floor leaving the lower floor to the kids. This room opened to a comfortable veranda boasting a Jacuzzi and comfortable dining area for meals under the stars.
The main bathroom upstairs also includes Jacuzzi bathtub, scented candles, refined toiletries and great views of the island. Our private pool with comfortable sun beds and umbrellas provided the perfect place to relax after a day exploring the island.
A great living and dining room, a fully equipped modern kitchen, espresso coffee facilities and all the comforts and appliances to stay and dine at home. Quite tempting when surrounded by such a graceful atmosphere.
Extremely comfortable beds, pillows and mattresses, fine luxury bedding sets, slippers, bathrobes and amazing natural products for body care. A selection of books and magazine next to the fire-place and satellite TV in every room with DVD/CD player. A selected collection of DVDs is available in the reception.
Gastronomy is a serious business at the Naxian Collection
Leaving the villa every morning was a task only made easier thinking about the fantastic breakfast we were about to indulge in.
In fact… are you ready for a gourmet morning? Buffet and à la carte options changed every day and were always top class quality.
Fantastic omelets with fresh vegetables, local cheese of several varieties, fresh orange juice, sweet pastries and savory pies of the day. Of course, a rich Greek yogurt with organic local honey and perfect tasting fruit.
Coffee any style you choose and a selection of local herbal teas as well as imported tea blends. A breakfast that you eagerly wait for every single morning.
Either for lunch or dinner, the menu features hearty specialties carefully created jointly by a talented chef and the co-owner, Maria. Every now and then the owners host surprise barbecue nights.
The Naxian Collection is also known for its organic garden. On the Greek islands (and we know about this, living in Crete), have long practiced organic gardening, not because it's fashionable, but it's the way this has always been done in Greece.
Tomatoes, eggplants, strawberries and aromatic herbs grow in the Naxian's organic garden. Take a basket from the hotel and collect your own produce, especially if you feel like making at salad in your villa!
Enchanting Naxos, Enchanting Naxian Luxury Collection
Naxos, in the meantime, remains a Mediterranean paradise made of eclectic faces. Traditional villages, water sport possibilities, amazing mountain trails, impressive views and landscapes and mysterious archaeological findings.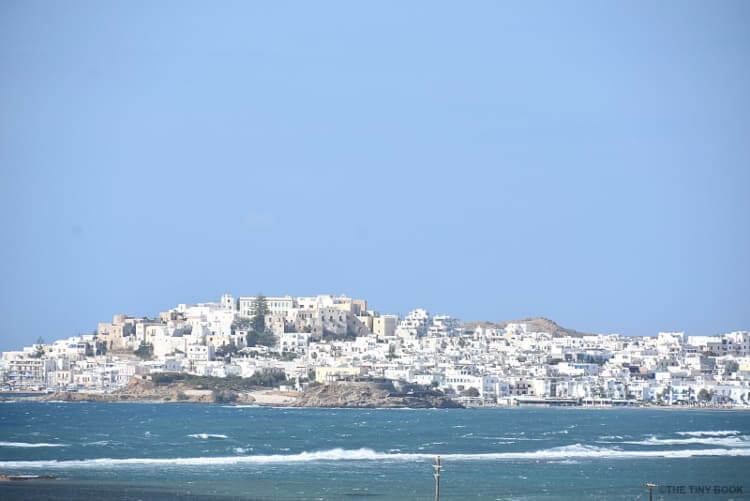 A vibrant town full of history and places to discover. A place that, at night, after the sunset at the Portara, will amaze you for its uniqueness and style.
A week in Naxos won't be enough to discover all its beauty. A stay at the Naxos Luxury Collection will add a touch to this experience that will make it impossible to forget.
Contact the Naxian Luxury Collection, luxury villas & suites
Stelida – Naxos.
Tel. +30 22850 24300
Email: [email protected]
Pin For Later: Villas of the Naxian Luxury Collection
Disclosure: We were offered a complimentary stay at the Naxian Luxury Collection
All our opinions remain honest and true.
Thanks to the South Aegean Region and the municipality of Naxos, as well as
to the Naxian Luxury Collection for the great hospitality.
Thanks to Naxian Luxury Collection for providing some professional photos.