Are you planning a trip to Thassos and want to know what the food on the island looks like? Or are you looking for more reasons to visit the island? Either way, keep reading to discover what to eat in Thassos. Spoiler alert: prepare for an increased appetite.
---
Disclaimer: Posts include affiliate links to products or services. I might earn a commission if you make a purchase at no extra cost.
---
Mouthwatering Dishes and Ingredients that you
Must Try on Thassos Island
>> Here are some of the most unmissable dishes and products you can taste in Thassos.
Stuffed Zucchini Flowers and Sarmadakia
A specialty of the island, Sarmadakia is a dish you can find almost everywhere in Greece. However, every region gives a different flavor and identity to the plate. In Thassos, you will often find a variation with stuffed zucchini flowers.
Locals pick up the flowers early in the morning when they are still open. The moment the sun rises, the flowers close, and it is too late. Once they have the open flowers, they stuff them with cheese and eggs. It is then time to dip them in flour and fry them in fresh olive oil. It is the same procedure with Sarmadakia and the stuffed grape leaves.
You may also find the zucchini flowers filled with fresh herbs and rice. It makes for an excellent light summer dish and a must-have in your table as a meze. If you want, dip it in fresh yogurt and let the combination travel you in a world full of sensations. It will be your favorite dish in Thassos.
Pitarakia
Imagine delicious packets of golden pastry wrapped around a melty cheese filling. That is how Pitarakia looks like in Thassos and other islands in Greece. Here, these light fritters are made from slices of courgettes.
Once they are dipped in flour with mint and other spices, they are fried for a few seconds and immediately served. They often come together with zucchini relish giving them a sweet taste, all in perfect harmony.
To enjoy this light meal and meze at its fullest, make sure to have a glass of ouzo or retsina nearby. Sit in a traditional tavern, order a bottle of tsipouro, and prepare for the Pitarakia to come. You will be spoiled.
PLANNING A LAST-MINUTE TRIP TO GREECE?
Be sure to book accommodation and tours in Greece ahead of time to ensure availability!
🛥️ Book ferry tickets with Ferryhopper.
🛌 Find hotel deals on Booking.com.
🚘 Compare car rental prices with Discover Cars.
💳 In need of money? Use WISE as a digital card and top-up from the app.
Peppered Cabbage
Although preferred by the locals in winter, peppered cabbage makes for a great addition to your summer table as well. Especially if you intend to enjoy your glass of ouzo with a variety of mezes. There is nothing like dipping your bread or Sarmadakia with the peppered cabbage.
Although a bit spicier than you may be used to, the dish brings a unique flavor to the table. It is a tasteful combination of local pickled cabbage, white beans, and peppery spices. And if you are a fan of wine, make sure to order a dish of peppered cabbage and enjoy it along with your glass of red wine.
If you do not want to wait until you get to Thassos, you can prepare a similar version in your kitchen. Place the chopped cabbage, celery seed, and pepper in a container, add some water, vinegar, and salt, and toss thoroughly. Then put it in a fridge for a couple of hours or more, and there you have it. You are one dish closer to Thassos.
Tatarka
If you are looking for a simple dish with a deep taste and brushing flavor, look no further than the Thassian Tatarka. Fresh vegetables and local herbs simmer together for a final result that will leave you in awe. You can discern the aftertaste of zucchini, chilies, peppers, among other vegetables.
As unique as this dish can be, it can also prove hard to find. Since herbs thrive in spring, it may be hard to spot them in summer, although not impossible. To increase your chances, make sure to get to the more sophisticated and elegant Thassos restaurants.
The moment you find Tartaka on a menu, do not hesitate a moment to order it. It is the epitome of Thassian gastronomy in vegetarian and seasonal dishes.
Seafood
If there is one food category you can never go wrong in Thassos, it has to be seafood. And that is for a reason. It was not long ago when the main source of income and food for the locals was the sea. Although tourism is now on the rise, the remnants of the older time still remain.
Almost every household has a family member or relative who has their own fishing boat. As a result, it is easy to find fresh fish on the island all year round. Whether you are after Red Snapper, Bream, Salmon, lobsters, or mussels, you will find it in Thassos. And it will be fresh.
No matter how tasty and juicy a fish can be, there is an art in cooking it. And Thassian restaurants with their cooks have perfected the technique. Even if you do not know much about names and fish terminology, head to the kitchen and ask to see the fridge with the fresh fish.
Many taverns have the fridge with the fish at plain sight, in the sitting area, between tables. When they see you standing there, a waiter or a cook will come to explain the differences and help you choose. Remember that pricing in fresh seafood in Thassos is by weight.
Kolios "Gouna"
One seafood you must not miss in Thassos is no other than Kolios Gouna. The delicious chub mackerel is cut open and around its neck so that it falls as one piece on the plate. After adding a bit of salt, it is smoked and then baked.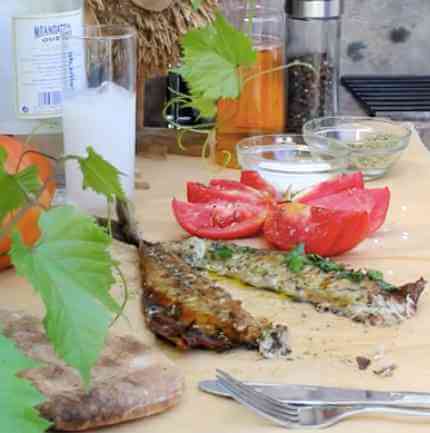 Once you try Kolios Gouna, you will be amazed by how juicy and tasty Kolios feels in your mouth.
Such a delicious fish deserves this unique way of preparing and cooking it. Its spicy and smoky flavor is out of this world.
You have every reason to make it a priority on the list of what to eat in Thasos.
And in case you are wondering what is the best side to Kolios, this listens to the name ouzo. Imagine yourself at a table by the sea, the fresh Aegean breeze on your face, the rich taste of Kolios in your tongue, and the flavors of local ouzo bringing everything in harmony. Welcome to Thassos.
🛌 Suggested Accommodation in Thassos
Bouyourdi
A favorite of many Thassians, Bouyourdi is one of the most popular dishes on the island. You already know Greek feta tastes brilliant. But wait until you try the feta in Bouyourdi. Anything else will seem dull after this.
To make Bouyourdi, the instructions are simple enough for everyone to follow. You place a few slices of feta into a small clay pot. You then top it with fresh tomatoes, sliced peppers, olive oil, and other soft cheese. After you bake everything for a few minutes, Bouyourdi is ready to serve.
Although quick to make, Bouyourdi is priceless in each taste and appeal. To make the most of it, try to finish it while it remains hot. You will love it even more while the ingredients melt in your mouth. You will not find any more delicious appetizers in Thassos.
Desserts
Although the Thassian main dishes are a good enough reason to visit and remember the island, do not forget to try the many dessert specialties on the island. And there is even better news. Most taverns and restaurants will treat you to an on-the-house dessert once your meal is over.
Although a variety of fresh fruit or slices of watermelon may be the norm in most taverns, you can also find a selection of homemade sweets. Traditional Greek cakes, Baklava with chopped nuts, fresh Kataifi, Galaktoboureko, or Greek custard pie are all desserts you may come across in Thassian restaurants.
Thassos Olive Oil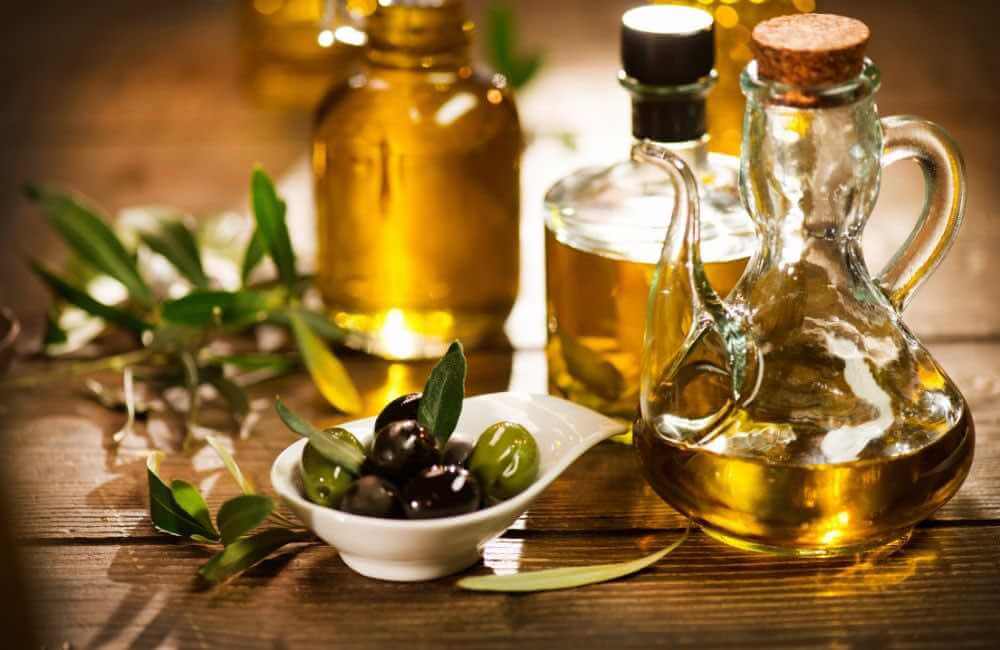 Perhaps the most characteristic element in Thassian cuisine, the island's extra virgin olive oil is among the most delicious and pure olive oils in the market. And it could not be any other way.
The art of olive oil has passed from generation to generation. Do not forget that Thassos is filled with olive trees. And olive harvesting is the main activity on the island during the last two months of the year.
Every village has a different factory where locals bring their olives and get olive oil in return. The process can often take months, with the first deliveries coming in March, five months after the harvesting period begins.
Whereas in other parts of the country, they save the olive oil for gourmet plates, Thassians use olive oil for everything they cook. In short, you will feel the difference in the taste of any typical Greek dish after you add a few drops of the Thassian olive oil.
Thassian Honey
Another popular local product in Thassos is its honey. The island is home to a unique environment that allows bees to produce top-quality honey in its purest form. Its pine trees and rich collection of flowers are the reasons behind the success story of Thassian honey.
You can buy the honey from any convenience store, souvenir shop, or directly from an independent producer. Just ask around, and the locals will direct you to the best place to buy organic honey. It also makes for a great gift to your loved ones back home.
All in all, Thassian cuisine and specialties will reward you with sweet and tasty memories. The food here is one of the reasons to visit Thassos again and again. You will know once you try.
Featured author: this article is part of the extensive Thassos Island Series, written and curated by our Thassian writer, Dimitrios Tsevremes.
---
Have you tried any of this Thassos food?
Let me know in the comments below!
---
This Belongs to a Board! Pin This Guide to the Best Thassos Food!
---
Written by Dimitrios Tsevremes
Passionate about travel, spirituality, and sports, I have lived in 5 countries and traveled to more places than I have counted. Writing, for me, is a way to express myself and my creativity. Whether I write for my blog or a freelancing gig, I always fall in love with the process and often lose my sense of time. If you want, you can check out more about me and my work here.
You might also want to read:
---
About my blog: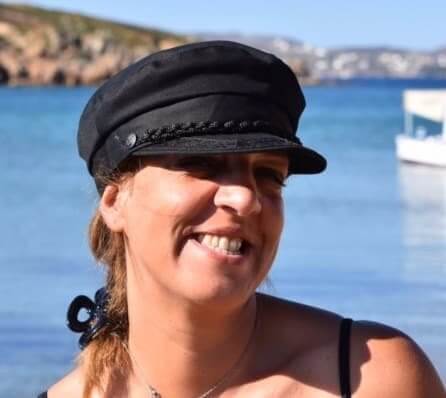 I moved to Crete in 2016. During these years, I learned much about the island.
In Crete, I juggle being a solo mom, hosting culinary tours, and writing for several travel blogs.
I've written for Greek Reporter, published travel guides about Greece, and had more glasses of frappe than any regular person could ever handle.