There are many reasons to visit the Greek Islands; the sun, the beaches, and the nightlife, to name but a few. Yet there's one more reason that shouldn't be overlooked: The food. Greece is renowned for its healthy and delicious Mediterranean Cuisine and the islands are among the best places in the country to try the most authentic Greek dishes. In this post, we will tell you what to eat on Sifnos island.
Collaboration post
---
Disclaimer: Posts include affiliate links to products or services. I might earn a commission if you make a purchase, at no extra cost to you.
---
Best Food in Sifnos, Greece
Last-minute plans for Greece?
Get there: Use Ferryhopper to book your tickets.
Stay: Find accommodation deals on Booking.com.
Move around: Compare car rental prices with Discover Cars.
Tours: Visit popular places with GetYourGuide.
Read more: Pack the Lonely Planet Guide to Greece.
Where to Stay in Sifnos
If you're thinking about spending your summer on Sifnos island, it's a great idea to plan where you'll be staying in advance, I've written a guide to the best rental homes on the island, but you can also check these hotels that I recommend.
Budget accommodation: Aerides Boutique Rooms is located in Vathi, one of the most gorgeous corners of the island. Check fees on Booking.com.
Mid-range hotel: A more flexible budget? Enjoy a stay in Ammos Sifnos Village. Check offers on Booking.com.
Luxury hotel: Have an unforgettable stay in Apollonia, check the spectacular swimming pool and the gorgeous suites in Gerofinikas Boutique Hotel. Check availability and book on Booking.com.
Rental Home Type? There are stunning villas to choose from on the island. One of the properties I prefer is Eutixia Sea House, check availability here.
Best Dishes to Try on Sifnos Island
There are many reasons to visit the Greek Islands; the sun, the beaches, the nightlife, to name but a few. Yet there's one more reason that shouldn't be overlooked: the food. Greece is renowned for its healthy and delicious Mediterranean Cuisine and the islands are among the best places in the country to try the most authentic Greek dishes.
There's one island in particular where food plays a very significant role. The tiny island of Sifnos in the Cyclades complex is home to a long culinary tradition that's famous all over the country. In fact, food is among the top reasons to visit Sifnos in the first place.
Looking for a place to stay on the island?
>>Check the best holiday homes in Sifnos<<
Food in Sifnos
Sifnos is one of the most beautiful and unspoilt islands in Greece. From pristine beaches and picturesque villages to scenic drives and stunning traditional architecture, Sifnos has all those ingredients that are necessary for a perfect Greek summer vacation.
That said, the island's food is also a valid reason to visit Sifnos in its own right. Prepared with the freshest local ingredients and utter love, food in Sifnos is as authentic and mouthwatering as everywhere else in Greece but it also comes with a twist. Here's why.
Nikolaos Tselementes
Sifnos is the birthplace of Nikolaos Tselementes, a Greek chef who's known for changing Greek cooking for ever. Tselementes published the first Greek cookbook back in 1932. This cookbook was such a huge success that it found its way to each and every household in Greece and changed the country's cooking mentality once and for all.
Tselementes was responsible for introducing Western tastes to Greece's thus far Eastern Cuisine. In other words, he is responsible for the Greek Cuisine as we know it today, this fascinating mixture of Western and Eastern flavours.
Evidently, locals in Sifnos are really proud of Tselementes, and for a good reason. This is why the island continues the great chef's legacy by keeping food standards at the highest level and by constantly experimenting on new tastes, but without ever turning its back on the core of local gastronomy, which comprises of no other than the island's century-old, hassle-free recipes.
Festival of Cycladic Gastronomy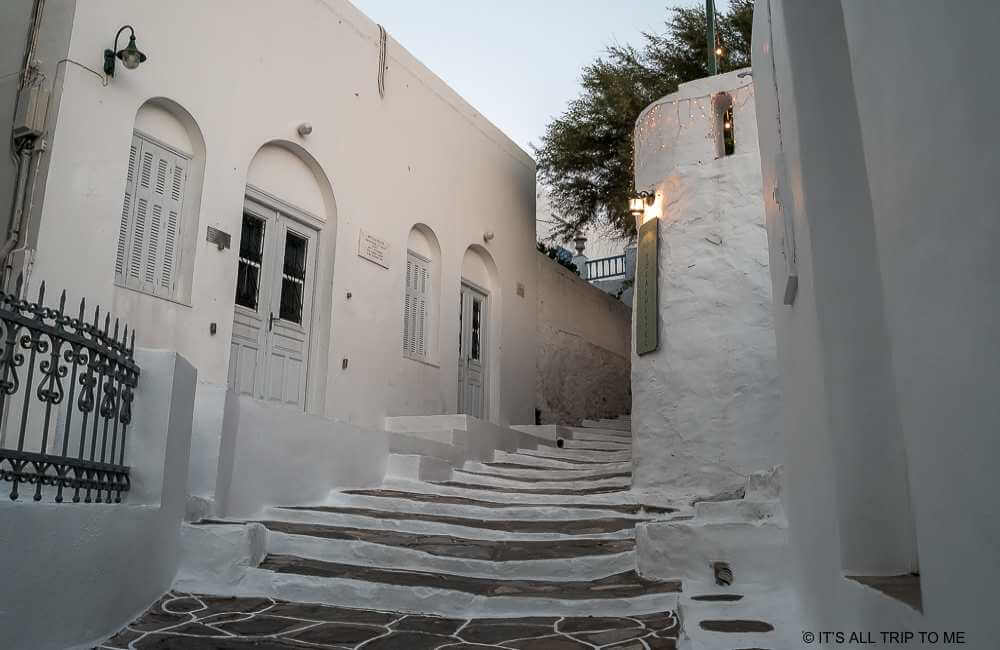 Moreover, the people of Sifnos pay homage to Nikolaos Tselementes by organising an annual culinary event, the much loved Festival of Cycladic Gastronomy.
The latter takes place every September and it's a unique feast where visitors can try exquisite dishes from all the Cyclades Islands, wash them down with local wine, and dance to traditional music in the company of locals.
Top 5 Things to Eat in Sifnos
In no particular order, these are some delicious dishes you should try in Sifnos to taste the most authentic local gastronomy!
Revithada
The island's signature dish is revithada or chickpea stew. There's a dispute over which island, Sifnos or Paros, serves the best revithada version. Either way, revithada is a hearty, must-try dish that brings legume dishes to a whole new level.
Slow-cooked to perfection in a clay pot for an entire night to ensure that chickpeas are incredibly tender, revithada is traditionally prepared on a Saturday night so that locals can enjoy it during their Sunday lunch. Moreover, revithada is the main dish served at traditional festivals that take place in Sifnos throughout the year, especially during the summer months.
The best place to try revithada in Sifnos: Simos Restaurant in Kamares.
Heading to Sifnos soon?
>>Check the best beaches in Sifnos here<<
Revithokeftedes
Another chickpea-based dish not to be missed in Sifnos is revithokeftedes or fried chickpea balls. Revithokeftedes are usually served as a meze dish or starter but they can definitely be enjoyed as a main alongside some salad or freshly cut French fries.
Revithokeftedes are always meat-free but they may contain cheese sometimes.
The best place to try revithokeftedes in Sifnos: Mosaico Restaurant in Artemonas.
Mastelo
Second only to revithada in popularity, mastelo is the island's typical meat-based dish. It consists of lamb or goat's meat, washed in red wine, and doused in dill. It's then slow-cooked inside a clay pot also called mastelo.
It should be noted here that, apart from all its other charms, Sifnos is also renowned for its rich pottery tradition. This is why most of the island's traditional recipes are prepared in special clay pots, which are handmade in Sifnos for generations.
There are a handful of pottery workshops scattered across the island, selling handmade pots, tools and decorative items made of clay.
Mastelo was once a special dish reserved for a special day: Easter Sunday. However, it's now easy to try mastelo at the island's restaurants all year round.
The best place to try mastelo in Sifnos: Meropi Restaurant in Kamares.
Local Cheese from Sifnos
Sifnos produces some of the best cheese οn the Cyclades Islands. Cheese in Sifnos is made according to traditional methods and with the freshest ingredients.
In this respect, it's very much like the cheese produced in many parts of Greece and other Mediterranean countries such as Italy, especially as far as Apulian Cuisine is concerned.
The three main types of cheese produced in Sifnos are chloromanoura, gilomeni manoura and xinomizithra. Depending on the producer, local cheese can be spread-like or firm.
That said, there aren't any huge differences in taste, while it's absolutely certain that cheese in Sifnos is always made of fresh local milk.
The best place to try local cheese in Sifnos: Any traditional restaurant on the island.
Kaparosalata
Kaparosalata or capers salad is a staple starter dish in Sifnos. Its main ingredients, capers and onions, are cooked together until they reach a chutney-like texture with a very distinct, sweet and sour taste.
Although Kaparosalata is a very popular spread in Sifnos, some people find its flavor too intense for their taste buds.
The best place to try kaparosalata in Sifnos: Tsikali Restaurant in Vathi.
Bonus: Dessert
Of course, no culinary trip is complete without dessert. The typical dessert in Sifnos is melopita, a traditional sweet that's made of local cheese and honey.
In essence, melopita is the island's take on cheesecake. Furthermore, Sifnos produces fresh and delicious cookies that come in many flavors.
The best place to have dessert in Sifnos: Any pastry shop or bakery on the island!
Travel is all about getting in touch with different people, cultures and customs through immersive and authentic experiences. One of the best ways to delve into any destination's local culture is by trying its food.
Apart from being one of the quaintest islands in the Aegean Sea, Sifnos is also a unique culinary heaven. Food in Sifnos can't and shouldn't go unnoticed, as it's central to the local culture and lifestyle.
Therefore, the best way to get to know and, ultimately, fall in love with the real Sifnos is through the island's tastes. Food in Sifnos manages to achieve the perfect balance between traditional cooking and experimenting, a blend that renders the local cuisine one of the best not only in the Cyclades but in the entire country.
---
So, which of these dishes would you like to try?
Let me know in the comments below!
---
Read more:
Picturesque Airbnbs in Sifnos, Greece
The Most Amazing Things to Do in Paros, Greece
Where to Stay in Naxos, Greece: Best Areas & Hotels on the Island
Awesome Airbnbs in Corfu That are Perfect for Your Holidays
The Most Amazing Beaches in Sifnos Island
Hey, Don't Leave Yet! Pin This Guide to What to Eat in Sifnos for Your Next Greece Adventure!
About the Authors
Katerina and Maria are two part-time yet passionate travellers who focus on authentic experiences and responsible travel. Katerina captures their travel moments to eternity through her camera while Maria is the one who puts them down on paper.
Currently living in Athens, Greece, Katerina and Maria started It's All Trip To Me in an effort to help people with full-time jobs travel more by making the most of their vacation time. They publish highly informative travel guides and carefully planned-out itineraries about the destinations they visit across the world, with a focus on Greece and Italy. Follow them on Instagram and Facebook!
---
You might also want to read:
---
About the author of this blog: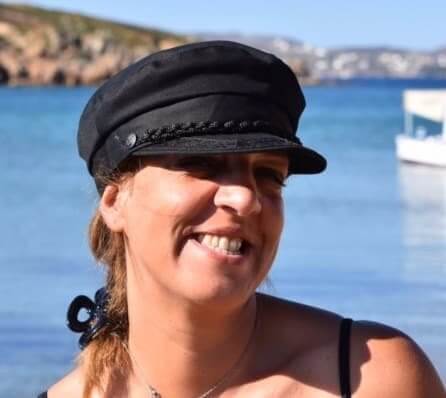 Gabi has been living in Crete for the last five years. On the island, she juggles being a solo mom, hosting culinary tours in summer, translating, and freelance writing.
She's written for Greek Reporter, published several travel guides about Greece, and had more glasses of frappe than any regular person would be able to handle.