Corfu is a very popular destination in Greece, loved by Italians and British alike. It is a great place for a family holiday, with a unique old town, fantastic beaches, and dozens of activities to do, including hiking, road-tripping, and visiting several interesting museums. If you're about to visit the island, you will certainly need a comfortable place to stay.
There are hundreds of hotels on the island, and some of them are stunning, but if you're eager to experience the lifestyle of the locals, why not try one of these great Airbnbs in Corfu? I'm sure you'll love the experience!
---
Disclaimer: Posts include affiliate links to products or services. I might earn a commission if you make a purchase, at no extra cost to you.
---
Airbnbs in Corfu, Greece
Last-minute plans for Greece?
Get there: Use Ferryhopper to book your tickets.
Stay: Find accommodation deals on Booking.com.
Move around: Compare car rental prices with Discover Cars.
Tours: Visit popular places with GetYourGuide.
Read more: Pack the Lonely Planet Guide to Greece.
Holiday Homes in Corfu That You Will Want to Book!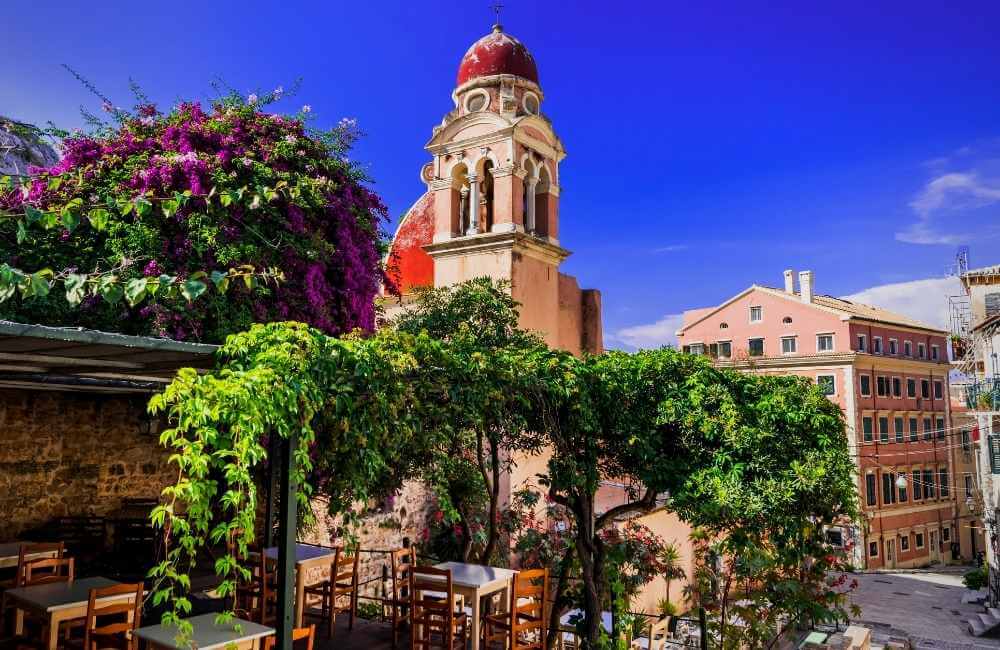 One of Greece's most popular islands is Corfu, located on the pristine waters of the Ionian sea. There're plenty of things to do in Corfu for a fantastic vacation and if you're planning to head there soon, you might be already thinking about where to stay in Corfu.
For this reason, I came up with this practical guide featuring some of the best holiday homes and villas to rent in Corfu for you to choose from.
Whether the rest of your holiday is already planned or not, why not head to this guide to prepare for the most magical holidays in Corfu?
You will find every detail you need, including the best beaches, top things to do in Corfu, and practical details about when to go, which areas are the best ones to stay, and how to move around.
For those planning on a longer stay, check this unique day trip to Paxos and Antipaxos.
Or learn more about the local flavors by checking this article about the unique orange liquor of the island, koum quat.
Are you ready to visit Corfu? I'm sure you'll have a lot of fun.
Check ferry tickets to Greece here!
Cozy Eco Cottage, Liapades
Why you should stay: To experience the unique style of this romantic cottage just minutes away from Paleokastritsa.
This fantastic eco-cottage is a beautifully decorated villa in Liapades, one of the most beautiful traditional villages of Corfu, surrounded by hills full of olive groves, picturesque small roads, and ancient donkey paths. The beautiful home has a unique family atmosphere, and it's ideal for those willing to experience Greek hospitality and way of living.
The family home, which is over 400 years old, has been recently renovated. The building is mainly made of stone, solid wood, and kourasani. Kourasani is a natural traditional, ecological finish plaster and it consists of colored sand, pumice, natural pozzolans from Greek quarries and volcanos.
It has been refurbished renovated with lots of love and respect for traditional architecture and design, choosing high-quality ecological building materials.
Sleeps: up to 4 guests.
Upon request, the hosts can provide facilities for young children for free.
CHECK AVAILABILITY AND BOOK A STAY HERE
Selini Apartment
Why you should stay: To enjoy the comfort of being close to the old town… and the spectacular and relaxing jacuzzi inside your room!
Located close to Corfu International Airport, Selini Apartment is about 2 m from the center of the Old Town. This vacation home is a great choice for your next holidays in Corfu. Close by, you can also visit the Museum of Asian Art of Corfu as well as Dassia Beach.
The apartment features a big comfortable bedroom with a handmade wooden king-size bed, a big wardrobe, a jacuzzi for two, and windows all around that create a space full of light and color.
Guests will certainly appreciate the comfort of having a washing machine, a TV, and a practical minibar. There's also a fully equipped kitchen and a sitting room with comfortable sofas and a small aquarium! You will adore the views from the balcony too!
READ REVIEWS AND BOOK YOUR STAY HERE
Anesis Apartment in Corfu Town
Why you should stay: Because a stay in the old town of Corfu will transform your holiday into a magical experience, besides… the views from the balcony are breathtaking!
Located in the old port of Corfu Town, the apartment offers stunning views of the New Fortress, the island of Vido, and the opposite coasts of northern Corfu. The small apartment has 2 comfy bedrooms, a bathroom, and an open-plan kitchen. There is also a comfortable living room and a dining area. All rooms have a balcony.
This is a well-organized apartment to spend a relaxing holiday in. There are two small beaches nearby (Mouragia and Falikari).
Close to the house, you'll find restaurants, cafes, supermarkets, pharmacies, and other useful shops. The place is also close to the Museum of Asian Art, the Municipal Art Gallery, the Byzantine Museum, and the Old Fortress.
There's no better place to stay to enjoy the best of the old town… this is one of the prettiest
holiday homes in Corfu!
CHECK AVAILABILITY AND BOOK HERE
Handmade House in Acharavi
Why you should stay: Because Acharavi, on the northern coast of Corfu, is one of the best places to enjoy the most tranquil side of the island.
Handmade House is a small and cute cottage house in the north part of Corfu, close to Acharavi. It's exactly 1 kilometer away from the beach which means a pleasant 12-minute walk or a quick 4-minute drive.
The cottage is 50 sqm featuring a 2000 sqm garden with olive trees, pines, palm trees, flowers, as well as a small BIO garden with tomatoes, cucumbers, and peppers. For kids (and adults too!) 2 hammocks to relax on and a picnic table in the yard.
There are two rooms, a living room with a comfortable bed, a beautiful kitchen. Hosts offer very good thermos water bottles for the beach and trips around the island to avoid spending money on plastic water bottles. All the windows have double glasses that keep the house cool.
Sleeps: up to 5 guests.
CHECK AVAILABILITY AND BOOK IT HERE
Art House Corfu
Why you should stay: Because it's always great to surround yourself with a stylish atmosphere in a refined environment.
Art House Corfu is a unique and beautiful property located within walking distance from the historic center of Corfu, not far from some of the beaches in the city.
This vacation home is located in the heart of Garitsa bay, a traditional neighborhood with historical sites, but also a lot of venues for evenings out, including bars and restaurants for you to enjoy.
This house features two levels. On the ground floor, there's a comfortable living room with a fireplace, a kitchen, and a small toilet. Upstairs, you'll find a bedroom with its master bathroom, and a small veranda.
This flat is one of the most original holiday homes in Corfu!
CHECK AVAILABILITY AND BOOK A STAY HERE
House in the Center of Corfu Town
Why you should stay: Because who wouldn't like to experience living in the alleys of the old historic district in Corfu?
This home offers you the unique opportunity to spend your holiday in the historic center of Corfu. The place is a small renovated house, near the old Monastery of Agia Katerini, just two blocks from the Church of St. Spyridon, the patron saint of Corfu.
The house has two different levels, on the ground floor, you can enjoy a comfortable living room, the kitchen, the dining room, the lounge, and a small bathroom. In the living room, there are two sofa beds for extra guests.
On the second floor, there's one double bedroom, one bedroom with two single beds, a bathroom, and a hallway. In addition, two bedrooms where four people can sleep, a large sofa in the living room where one adult can sleep, and a small sofa that can accommodate a small child.
In the area, you can explore the old Venetian town of Corfu with its gorgeous narrow streets and unique buildings. You can also visit the Asian Art Museum, the Old Fortress and New Fortress, and so many more Corfu landmarks. In addition, there are many picturesque taverns, restaurants, cafes, bars, and souvenir shops.
CHECK AVAILABILITY AND BOOK HERE
Alkinoi Sea View House, close to Nisaki Beach
Why you should stay: To enjoy a morning coffee or an evening drink at the beautiful veranda admiring the view towards the Ionian sea and the garden.
This house with a fantastic sea view is located in Nisaki, one of the most picturesque resorts on the northeast coast of Corfu Island.
If you choose this home, you'll be able to relax at the hydromassage bathtub after a long day at the beach. This is a perfect place to spend some rejuvenating time with family and friends.
This is a well-designed house that can accommodate up to 6 guests, making it ideal for families and friends. It is also suitable for families with kids since the host can provide a baby cot and a baby chair. The house is surrounded by a beautiful green landscape.
CHECK AVAILABILITY AND BOOK HERE
Jasmin Apartment, Near Kaminaki Beach
Why you should stay: Because this flat for two is a romantic place in a wonderful area of Corfu and it's only steps away from the beach.
Jasmin is a great apartment close to Kaminaki Beach. The spacious one-bedroom apartment right in front of the beach has a nicely equipped kitchen and a comfortable bedroom with air conditioning. The lounge opens out into a terrace ideal for a breakfast, before you head down to the beach. The apartment is fully equipped with all that you would need on a holiday.
In this traditional village, there are two great tavernas. On the beach, it's possible to rent a motorboat to go around the numerous bays of the North East of Corfu.
A nearby footpath takes you to the beach of Krouzeri, just 300 meters away, with extra restaurants, tavernas, and watersport activities. Jasmin is ideal for a relaxing and comfortable holiday.
CHECK REVIEWS AND BOOK A STAY HERE
Elia Room and & Garden in Kontokiali
Why you should stay: To discover this beautiful, luminous apartment and the great area of Kontokiali.
This newly built apartment is located in Kontokali, a village next to Gouvia Marina (a place where sailing boats anchor).
The apartment is very central, perfect to explore the old town of Corfu and the whole island. The nearest beach is only 10 minutes away from the flat.
In the area, guests can find a pool, restaurants, coffee shops, bars, and supermarkets. I will be here for you for anything you need, including shops, tavernas, bars, and more are just minutes from the property. The flat is close to the airport as well.
READ REVIEWS AND BOOK THIS PLACE HERE
>>Discover the beautiful island of Corfu and all the things you can do in the area<<
Paleopetres K-Six
Why you should stay: Because the views from the traditional stone villa in Corfu are simply magnificent!
Paleopetres K-Six is part of the Paleopetres collection of properties which has recently been fully renovated. Premium quality and authenticity are two of the main characteristics of the place.
Want a holiday far from the rest of the world? Then, there is no other place better than this! The house is located on a small hill overlooking the beautiful Bay of Kalami, with green surroundings and an amazing view of the sea, only 5 minutes from one of the top beaches in Corfu.
The area also features nice restaurants, authentic tavernas, cafeterias, and beach bars.
This charming cottage features a comfy bedroom, a gorgeous and relaxing living room, and a magnificent veranda. As an alternative to the sea, there is a large pool with views over the bay.
CHECK AVAILABILITY AND BOOK HERE
---
Which of all these Holiday Homes in Corfu is your favorite?
Let me know in the comments below!
---
Read more:
Best Things to Do in Corfu for a Great Adventure!
Magical Things to Do in Paleochora, Crete
Day Trip to Chrissi Island, Crete: Super Guide to Visit
Beyond Stunning Airbnbs in Santorini to Check Before your Trip
How to Plan a Fabulous Road Trip in Crete
Hey! Don't Leave Without Pinning! Pin this Guide to the Best Holiday Rental Homes in Corfu for Your Stay in Greece
About the author of this blog: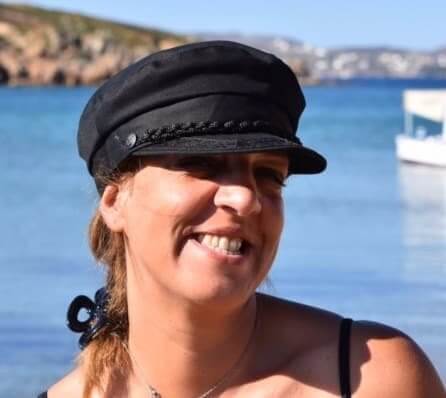 Gabi has been living in Crete for the last five years. On the island, she juggles being a solo mom, hosting culinary tours in summer, translating, and freelance writing.
She's written for Greek Reporter, published several travel guides about Greece, and had more glasses of frappe than any regular person would be able to handle.
---
You might also want to read:
---