Corfu is a very popular destination in Greece, loved by Italians and British alike. It is a great place for a family holiday, with a unique old town, fantastic beaches, and dozens of activities to do, including hiking, road-tripping, and visiting several interesting museums. If you're about to visit the island, you will certainly need a comfortable place to stay. There are hundreds of hotels on the island, some of them really stunning, but if you're eager to experience the lifestyle of the locals, why not trying one of these great Airbnbs in Corfu? I'm sure you'll love the experience!
---
Some of the links on this site are affiliate links of products and services that I like and use, so if you click on a link and make a purchase, I might get a small commission at no extra cost to you.
---
Where to stay in Corfu, Greece
Awesome Airbnbs in Corfu that you will want to book for your holidays
One of Greece's most popular islands is Corfu, located on the pristine waters of the Ionian sea. There're plenty of things to do in Corfu for a fantastic vacation and if you're planning to head there soon, you might be already thinking about where to stay in Corfu. For this reason, I came up with this practical guide featuring some of the best Airbnbs in Corfu for you to choose.
Whether the rest of your holiday is already planned or not, why not heading to this guide to prepare the most magical holidays in Corfu? You will find every detail you need, including the best beaches, top things to do in Corfu, and practical details about when to go, which areas are the best ones to stay, and how to move around.
For those planning on a longer stay, check this unique day trip to Paxos and Antipaxos. Or learn more about the local flavors checking this article about the unique orange liquor of the island, koum quat. Are you ready to visit Corfu? I'm sure you'll have a lot of fun.
Cozy Eco Cottage, Liapades
Why you should stay: To experience the unique style of this romantic cottage just minutes away from Paleokastritsa.
Sleeps: 4
Minimum stay: 3 Nights
Pets allowed: No
Upon request, the hosts can provide facilities for young children for free
This fantastic eco-cottage is a beautifully decorated villa in Liapades, one of the most beautiful traditional villages of Corfu, surrounded by hills full of olive groves, picturesque small roads, and ancient donkey paths. The beautiful home has a unique family atmosphere, and it's ideal for those willing to experience Greek hospitality and way of living.
The family home, which is over 400 years old, has been recently renovated. The building is mainly made of stone, solid wood and kourasani. Kourasani is a natural traditional, ecological finish plaster and it consists of coloured sand, pumice, natural pozzolans from Greek quarries and volcanos.
It has been refurbished renovated with lots of love and respect for traditional architecture and design, choosing high-quality ecological building materials.
Selini Apartment, close the airport
Why you should stay: To enjoy the comfort of being close to the old town… and the spectacular and relaxing jacuzzi!
Sleeps: 2
Minimum stay: 1 Night
Pets allowed: No
Located close to Corfu International Airport, Selini Apartment is about 2 m from the center of the Old Town. This Airbnb is a great choice for your next holidays in Corfu. Close by, you can also visit the Museum of Asian Art of Corfu as well as Dassia Beach.
The apartment features a big comfortable bedroom with a hand made wooden king size bed, a big wardrobe, a jacuzzi for two, and windows all around that create a space full of light and color.
Guests will certainly appreciate the comfort of having a washing machine, a TV, and a practical minibar. There's also a fully equipped kitchen and a sitting room with comfortable sofas and a small aquarium! You will adore the views from the balcony too!
Maryhope's Flat in the Old Town
Why you should stay: Because a stay in the old town of Corfu will transform your holiday into a magical experience.
Sleeps: 3
Minimum stay: 3 Nights
Pets allowed: No
This beautiful flat in the old town of Corfu features amazing views of one of Greece's most beautiful settlements. The flat is close to many important landmark in town, such as the Church of Saint Spyridon. This sunny, fully furnished studio is within walking distance of shops and restaurants too.
It features a modern interior decoration, but the highlight of the place is the breathtaking view from the balcony.
It is ideal for couples, solo travelers, and families with one child.
>> There's no better place to stay to enjoy the best of the old town… this is one of the prettiest Airbnbs in Corfu!
Handmade House in Arachavi
Why you should stay: Because Arachavi, on the northern coast of Corfu, is one of the best places to enjoy the most tranquil side of the island.
Sleeps: 5
Minimum stay:

6 Night

s
Pets allowed: No
Handmade House is a small and cute cottage house in the north part of Corfu, close to Acharavi. It's exactly 1 kilometer away from the beach which means a pleasant 12-minute walk or a quick 4-minute drive.
The cottage is 50 sqm featuring a 2000 sqm garden with olive trees, pines, palm trees, flowers, as well as a small BIO garden with tomatoes, cucumbers, and peppers. For kids (and adults too!) 2 hammocks to relax on and a picnic table in the yard.
There are two rooms, a living room with a comfortable bed, a beautiful kitchen. Hosts offer very good thermos water bottles for the beach and trips around the island to avoid spending money in plastic water bottles.
All the windows have double glasses that keep the house cool.
The Treehouse in Ano Korakiana
Why you should stay: Because it's always great to turn back time and feel like a child again…! Or because if you've never spent the night on a tree, why should you miss it now?
Sleeps: 2
Minimum stay:

3 Night

s
Pets allowed: No
Yes! A Treehouse!
Have you ever slept on a tree, surrounded by the spectacular nature of Greece and under a thousands of stars? Why not now? The treehouses are different cottages in the area of Ano Korakiana a few minutes by car from the beautiful Dassia Beach.
A lovely and romantic treehouse set in the woods, it is light and airy with a balcony that overlooks the verdant landscape so typical of Corfu. Whilst small it has everything you need.
The treehouse is part of Vradi Estate at the foothills of the village of Ano Korakiana. As part of the estate, there is a guest house with 7 bedrooms, three cottages, a treehouse, and a horse trekking center. The cottages were built in such a way so that our guests can enjoy total privacy. Near the cottages, there is a vegetable garden from where guests can help themselves to fresh produce.
>> This treehouse is one of the most original Airbnbs in Corfu!
Thalassa Garden Corfu
Why you should stay: Because the views are simply inspiring and the place plain gorgeous.
Sleeps: 2
Minimum stay:

4 Night

s
Pets allowed: Yes
Spectacular infinity pool with crazy views of the island.
Known as Thalassa Garden Corfu, this property in Psaras, Messonghi in mid-southeast Corfu—has a cozy covered personal veranda that faces the garden and the sea. The rental home has a queen-size bed and a small kitchen with all the basic amenities.
The ground-level studio is part of a family-run seafront property of rental apartments and studios, all of which are surrounded by a vast garden that leads to a privately accessed pebbly beach with crystal clear waters. Guests have unparalleled private access to the crystalline sea for bathing and other water activities just a few steps from their rooms.
Originally, the property was a point of sea transportation during the mid-1950s and 1960s, used by locals to catch or disembark from boats that would take them to and from points around the island. A seafront kafenion (coffee house) was also located at this site at that time.
>> This the place to book if you're dreaming of having your own private beach!
Alkinoi Sea View House, close to Nisaki Beach
Why you should stay: To enjoy a morning coffee or an evening drink at the beautiful veranda admiring the view towards the Ionian sea and the garden.
Sleeps: 6
Minimum stay:

2 Night

s
Pets allowed: No
This house with a fantastic sea view is located in Nisaki, one of the most picturesque resorts on the northeast coast of Corfu Island.
If you choose this home, you'll be able to relax at the hydromassage bathtub after a long day at the beach. This is a perfect place to spend some rejuvenating time with family and friends.
This is a well-designed house that can accommodate up to 6 guests, making it ideal for families and friends. It is also suitable for families with kids since the host can provide a baby cot and a baby chair. The house is surrounded by a beautiful green landscape.
Jasmin Apartment, near Kaminaki Beach
Why you should stay: Because this flat for two is a romantic place in a wonderful area of Corfu and it's only steps away from the beach.
Sleeps: 3
Minimum stay:

3 Night

s
Pets allowed: No
Jasmin is a great apartment close to Kaminaki Beach. The spacious one-bedroom apartment right in front of the beach has a nicely equipped kitchen and a comfortable bedroom with air conditioning. The lounge opens out into a terrace ideal for a breakfast, before you head down to the beach. The apartment is fully equipped with all that you would need on a holiday.
In this traditional village, there are two great tavernas. On the beach, it's possible to rent a motorboat to go around the numerous bays of the North East of Corfu. A nearby footpath takes you to the beach of Krouzeri, just 300 meters away, with extra restaurants, tavernas, and watersport activities. Jasmin is ideal for a relaxing and comfortable holiday.
Elia Room and & Garden in Kontokiali
Why you should stay: To discover this beautiful, luminous apartment and the great area of Kontokiali.
Sleeps: 2
Minimum stay:

1 Nigh

t
Pets allowed: No
This newly built apartment is located in Kontokali, a village next to Gouvia Marina (a place where sailing boats anchor).
The apartment is very central, perfect to explore the old town of Corfu and the whole island. The nearest beach is only 10 minutes away from the flat.
In the area, guests can find a pool, restaurants, coffee shops, bars, and supermarkets. I will be here for you for anything you need.ou need, including shops, tavernas, bars, and more are just minutes from the property. The flat is close to the airport as well.
>> Discover the beautiful island of Corfu and all the things you can do in the area <<
Rural Retreat in Strogili
Why you should stay: Because the views from this rural, traditional home in Corfu are simply magnificent!
Sleeps: 6
Minimum stay:

7 Night

s
Pets allowed: Yes
Ideal place for a big group of friends or a family, this is a fantastic traditional house built in natural stone featuring breathtaking views of the Ionian sea.
Considered an oasis of quietness for lovers of unspoiled nature, the property is at the foothills of the mountain over olive groves, just 2,5 km from Acharavi.
The house is a 200-year-old property recently renovated with respect to its original layout and style. In the three amphitheatric terraces we preserved the big unshaped rocks as the natural parts of the characteristic wild landscape of Mount Pantocrator. We are also very proud of the large variety of trees in our property: lemon, pomegranate, and mulberry among others.
---
Which of all these Airbnbs in Corfu is your favorite?
Let me know in the comments below!
---
Travel Plans for Greece?
More Resources to Organize Your Trip!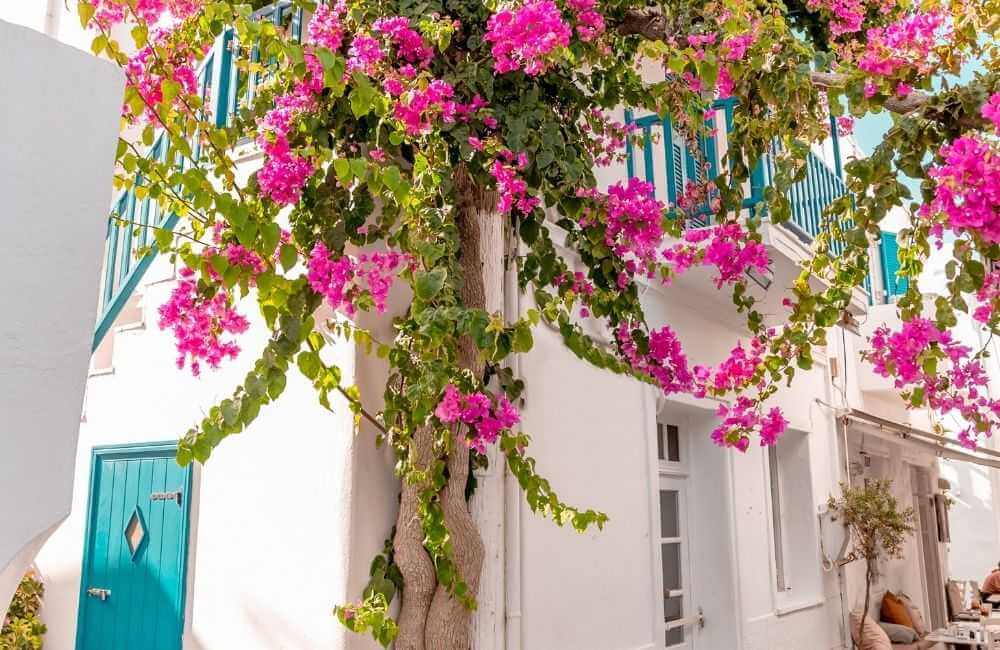 Start by heading right to my Greece travel guide for in-depth details you need to know about Greece. You can also check my post to plan a trip to Greece with children!
Get in touch if you need extra help to plan your trip. If you want to tour West Crete, check my guide. Want more? Join my Private Facebook Group to connect with like-minded travelers who love Crete as much as you do!
Make Sure You've Got Everything For a Hassle-Free Vacation!
I never move around the islands without my Osprey backpack, a sturdy but light travel partner I just love. For short trips, I carry this little crossbody bag. If I drive, I pack my Nikon D7200 and a good travel guide! Lonely Planet's Best of Greece & the Greek Islands.
When it comes to plane tickets, compare prices with a powerful search engine. However, nothing beats traveling by sea in Greece. With Ferry Hopper, you can book in advance at the lowest price.
For accommodation, I personally use Booking.com.
Traveling to remote places is easier with Discover Cars. Other times, I join organized tours with GetYourGuide, which features anything from cooking lessons to airport transfer!
Are you coming to Crete any time soon?
Get in touch and let me know!
Read more:
Awesome Airbnbs in Corfu That are Perfect for Your Holidays
Magical Things to Do in Paleochora, Crete
Day Trip to Chrissi Island, Crete: Super Guide to Visit
Beyond Stunning Airbnbs in Santorini to Check Before your Trip
How to Plan a Fabulous Road Trip in Crete
This is a pin-pin situation!
About the author: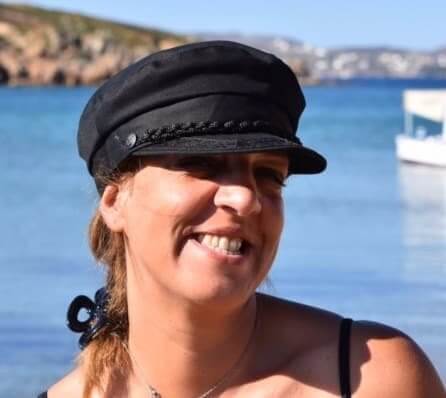 Gabi has been living in Crete for the last five years. Here, she juggles being a solo mom, hosting culinary tours in the summer, translating, and working as a tech advisor.
She's written for Greek Reporter, published two travel guides about Greece, and drunk more glasses of frappe than any regular person would be able to handle.
---
You might also want to read:
---