Mykonos is one of the most popular and at the same time most exclusive islands in Greece. The island, which attracts thousands of tourists every year, is among the most visited places you can visit in Greece. A must-visit island for anybody wishing to enjoy the iconic views of the Cyclades, Mykonos can be easily reached by plane or by sea. Whether you're visiting from Europe with a charter flight or traveling from the capital of Greece, Athens, here you will find the basics on how to get to Mykonos.
---
Disclaimer: Posts include affiliate links to products or services. I might earn a commission if you make a purchase at no extra cost.
---
How to Travel to Mykonos, Greece
PLANNING A LAST-MINUTE TRIP TO GREECE?
Be sure to book accommodation and tours in Greece ahead of time to ensure availability!
🛥️ Book ferry tickets with Ferryhopper.
🛌 Find hotel deals on Booking.com.
🚘 Compare car rental prices with Discover Cars.
💳 In need of money? Use WISE as a digital card and top-up from the app.
Top-rated tours in Mykonos:
The Original Morning Delos Guided Tour
Yacht Cruise to Rhenia Island & Guided Tour of Delos
Discover Authentic Mykonos Tour
Tour and Wine Tasting in Mykonian Land
Where to Stay in Mykonos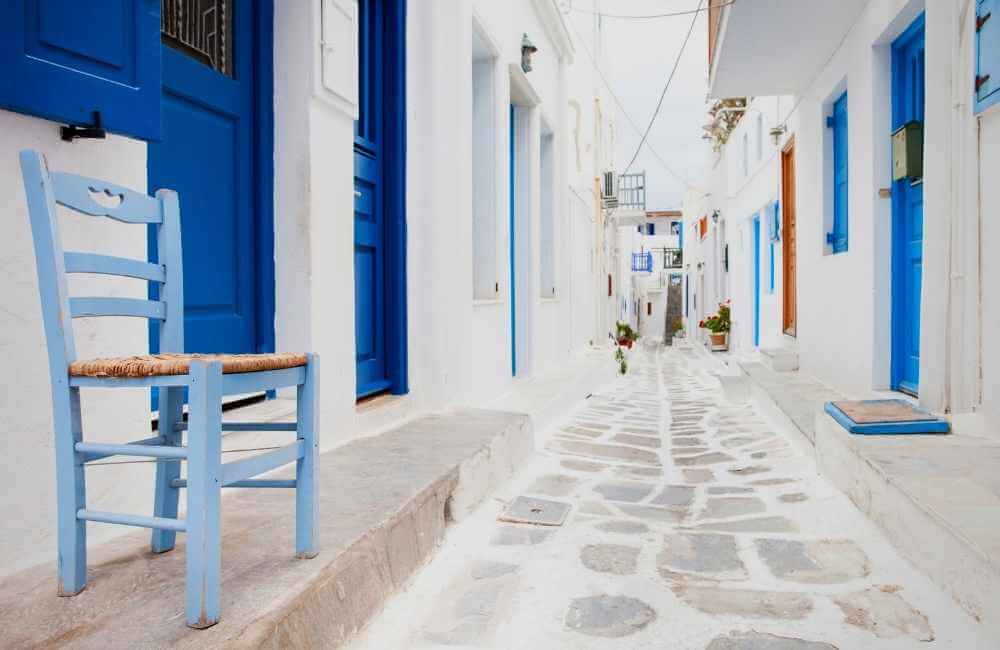 There are plenty of amazing places to stay on the island, no matter whether you prefer a B&B, a top hotel, or a vacation home in Mykonos.
Some of the places I recommend you to check include Jenny's Summer Houses or a family place like Acrogiali Beach Hotel both in Platys Gialos. If you're looking to compare prices and availability, click on the map below to discover more accommodation opportunities.
General Information About Mykonos
Iconic, whitewashed, and typically Greek are some of the ways you might use when trying to describe Mykonos. The utmost expression of thoughtless holiday life, summer entertainment, and decadent parties, Mykonos is a controversial island that, each season, attracts an eclectic kind fo audience.
On Mykonos, elite travelers from the European jet set share the island with young travelers with a more restricted budget.
Mykonos is also a popular destination for gay tourism due to its open-minded and friendly atmosphere. All these reasons, make it a super popular destination, with easy connections not just from Athens, but from all over Europe.
However, Mykonos is not just about wild parties, dance floors, and yachts. There are plenty of things you can do on the island, including visiting museums, discovering some amazing churches, or even swimming in quite remote and tranquil beaches.
Can you Fly to Mykonos? Getting to Mykonos by Plane
Only 20 minutes from Mykonos Town, Mykonos International Airport is right in the center of the island. It receives daily flights from Athens (Aegean Airlines and Olympic Air) – up to seven daily flights in summer, as well as up to five weekly flights from Thessaloniki.
The flight time from Athens is only 35 minutes while a flight from Thessaloniki is about an hour.
In summer, there are direct flights from some of the main European cities, including London, Milan, Rome, and Paris. Both Mykonos and Santorini are also connected by plane with a daily flight.
Once at the airport, there are buses connecting to the city center. You can also hire a taxi (although the taxi fares on the island are quite high compared to other Greek Islands).
If your hotel offers transfer services to or from the port, do consider it.
How to Get to Mykonos by Ferry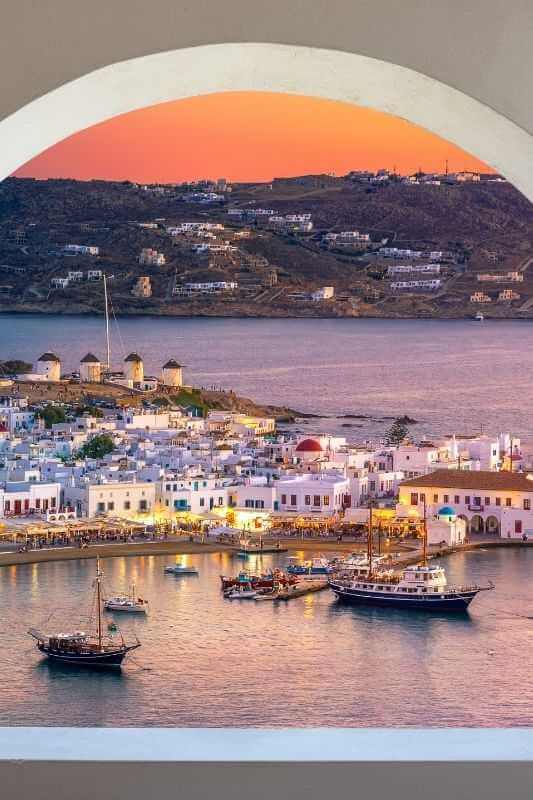 Getting to Mykonos by ferry is the most popular way to reach the island from Athens, especially in the high season. Always remember to book your ticket in advance to secure a seat on the desired dates.
Most ferries arrive at the modern port of Mykonos, as well as the several cruise ships that reach the island from late May well into October.
If you're reaching the island by sea, do check your ticket to be certain that you arrive and depart from the same port.
⛴️ Check out ferry ticket fees and schedules
Ferries to Mykonos from Athens
There are 3 to 4 daily ferries from the Port of Piraeus. The trip lasts about 5 hours (an hour less if you choose to book a fast ferry).
You can also depart from the lesser-known Port of Rafina, which offers up to seven different ferries during the high season with a much shorter sailing time (about three hours).
Traveling to Mykonos from Other Greek Islands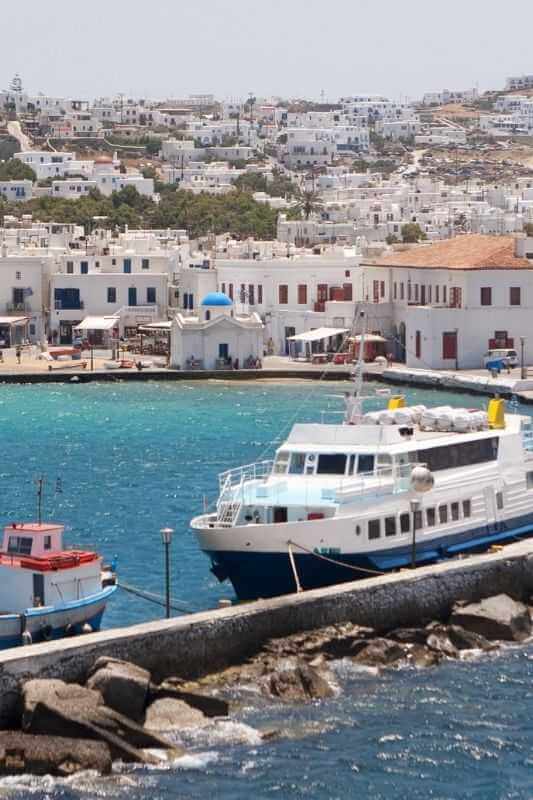 Who wouldn't like to travel to Mykonos for a short day trip if they are spending time on other Greek islands? In fact, many visitors often include Mykonos in their island-hopping itinerary and travel there from other islands.
For this reason, there are several ferry connections between Mykonos and many other Greek Islands, these are some of the most popular routes:
Crete – Mykonos
There's a daily ferry connecting Mykonos to the Port of Heraklion. During summer, there's a daily boat from Chania as well as two weekly trips departing from Rethymnon. The trip lasts between 4 and 5 hours.
Santorini – Mykonos
There are two to four daily ferries connecting both islands. The trip can last from 2.30 h to 4 hours, depending on the kind of ferry you choose. Those staying in Santorini can easily visit Mykonos on a day trip if they travel with a high-speed ferry.
Paros – Mykonos
Paros is quite close to Mykonos, it can be reached in about an hour (up to two hours on a regular ferry) boarding one of the 2-4 ferries departing daily.
Naxos – Mykonos
From three to five daily ferries connect Mykonos and Naxos with fairly short sailing times (1-2 hours). For this reason, a day trip to Naxos is also a great idea if you're spending your vacations in Mykonos.
Ferry Routes from Mykonos to Other Greek Islands
Amorgos: 2-4 weekly ferries. For a more frequent schedule, choose the Port of Katapola.
Andros: 1-2 daily ferries, with a short sailing time (about 2 hours).
Ios: 1-3 daily ferries with a sailing time of a bit more than just an hour. Ios is, in fact, another great island to visit if you're staying in Mykonos and would like to experience some authentic island-hopping in Greece.
Folegandros: 1 daily ferry.
Samos: There is one daily service and the trip takes a bit less than four hours.
There are also ferries bound to the islands of Kimolos, Folegandros, Sifnos, Serifos, and the Small Cyclades, travel times are often related to connections, so trips can last quite long even when the distances to be covered are fairly short.
Ferries to the nearby island of Delos depart from the old port of Mykonos.
Moving Around in Mykonos
The main bus station is located at the entrance of Mykonos town, not far from the iconic Windmills by the sea.
From here, there are buses reaching the most important villages in Mykonos, including Platys Gialos, Ornos, Agios Stefanos, Kalafati, Elia, and other popular beaches. Some of these beaches can also be reached by boat.
The buses to the most trendy beaches on the island, including Ornos, Paradise, and Super Paradise are not as frequent and are usually super crowded.
Sometimes the boat looks like a far better option though sailing times are more relaxed. There's also a regular service that connects the old and the new port.
Rent Your Own Vehicle in Mykonos
Although this is not my favorite island to drive on, it can be just fine if you avoid the chaos of some coastal villages, the most popular beaches, and Mykonos town. Here you can compare car rental fees.
If you decide to hire a quad or a motorcycle, please be extremely careful with the intense summer traffic. Also keep in mind that in the high season, many areas to access the center of the Old Town are closed to traffic.
Which car rental service is the best to choose?
If you want to rent a car for your trip and look for the best service, then I am here to help you! Consider choosing Discover Cars, an international car rental booking service present worldwide. This way, you will find the best car for your trip wherever you are!
Taxis are not as affordable as in other destinations in Greece, and in peak months the waiting times for a taxi can be very long. At night you'll probably pay an extra fee as well as for any piece of extra luggage. Did you know how to get to Mykonos? Let me know in the comments below!
Before You Leave, Pin This Guide to Easy Ways to Travel to Mykonos without Going Crazy!
---
You might also want to read these other travel guides to visit Greece:
---
About my blog: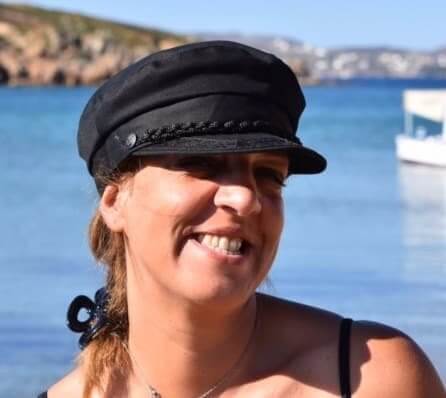 I moved to Crete in 2016. During these years, I learned much about the island.
In Crete, I juggle being a solo mom, hosting culinary tours, and writing for several travel blogs.
I've written for Greek Reporter, published travel guides about Greece, and had more glasses of frappe than any regular person could ever handle.