One of the most popular destinations in Greece is Mykonos island, right in the center of the Aegean sea. The island, famous for the crazy nightlife, the paradisiac beaches, and the exclusive hotels, can sometimes prove to be a bit pricey. However, if you choose the right moment to visit and, most of all, if you pick one of the several Airbnbs in Mykonos for your stay, you could be making the right move for a stunning holiday on the Greek islands.
This article may have affiliate links to products and services that I use. If you make a purchase through these links, it might earn me a small commission at no extra cost to you.
Spectacular Airbnbs in Mykonos that you will want to book
Mykonos is one of the most visited islands in Greece. It's a top-rated destination for fun holidays, ideal for couples and friends in search of the ultimate summer entertainment. Discos, nightclubs, beach bars, music, and lots of thrilling experiences are waiting for you in Mykonos. However, the island has also rightfully gained the fame of being overpriced when it comes to accommodation.
Yet… not everything is lost, this guide to the best Airbnbs on Mykonos is the best resource you'll find online to choose your place to stay without breaking the bank!
You might not be aware that Mykonos is a fantastic destination for families too, so I've included in this guide a few places that are ideal for families with kids, so that everyone can enjoy a magnificent holiday in Mykonos, Greece.
Junior Suite Vol.3 * La Maison Blanche, Agios Stefanos Hill
Why you should stay: Romantic view, stylish white decor, Cycladic atmosphere are the highlights of this beautiful Airbnb in Mykonos.
Sleeps: 2
Minimum stay: 3 Nights
Pets allowed: No
The exclusive Maison Blanche is a white dream facing the beautiful Aegean Sea on the island of Mykonos. Modern and elegant, every space has all the necessary comforts and facilities for your holiday on the island. Enjoy a cozy Cycladic home of your own on top of the steep hill of Agios Stefanos. The suite is nestled in the rock and well protected from the summer winds of the island.
La Maison Blanche guarantees absolute privacy and the most breathtaking sunsets on Mykonos. The studio comes with the possibility of enjoying coffee, a glass of wine, the free use of the mini-golf course in a close-by hotel. Laundry services are available for a small fee.
Cycladic House by the Beach
Why you should stay: Full house ideal for big families or groups of friends near the stunning Kalo Livadi Beach.
Sleeps: 8
Minimum stay: 1 Night
Pets allowed: No
Located near the secluded beach of Kalo Livadi, the area is an oasis of tranquility and relaxation for those whose main goal is to rest and have no interest in partying every single night. The two-story house features 3 big bedrooms, one of them with a private bathroom. The kitchen and the living room are ample and comfortable, while the large veranda offers spectacular views of the beach. For an extra fee, it's also possible to enjoy the outdoor jacuzzi-pool.
You can also enjoy the magnificent nightlife of Mykonos town which is located 20 minutes from the property. If you're renting your own car or motorcycle to explore the island, this can be a super convenient place to stay. If you are moving around with public transport, take into account that a taxi will be necessary to reach the center of town.
Traditional Mykonian House in Mykonos Town
Why you should stay: Longing to live the way the locals do? Check this beautiful Cycladic house in the heart of Mykonos town.
Sleeps: 2
Minimum stay: 3 Nights
Pets allowed: No
The Traditional Mykonian House has been transformed into a pristine loft apartment in the heart of the town of Mykonos. And although it's just some steps away from the best of the city's nightlife, it remains sheltered from noisy shops and bars. The old port and the well-known windmills of Mykonos can be reached with a short walk.
When choosing this property you will enjoy a once in a lifetime experience living in a 400-year-old traditional, white-washed home, surrounded by 16th-century family churches and with every modern amenity you need. The loft is on the first level of the building.
>> Traditional Mykonian House is one of the most authentic Airbnbs in Mykonos Town!
Biatriza's Summer Shelter 1
Why you should stay: Because this is probably one of the most beautiful Airbnbs in Mykonos with stylish decor touches and amazing sea views.
Sleeps: 4 (2 bathrooms)
Minimum stay:

3 Night

s
Pets allowed: No
Small service fee!
Biatriza's Summer Shelter is an Airbnb Plus property facing the stunning Aegean Sea. It features a beautiful terrace with a pergola, a super modern kitchen, and a cool, relaxing interior decorated in soft earth tones.
The property adhered to the enhanced clean program and it's committed to a rigorous cleaning protocol developed with leading health and hospitality experts.
The property is in the area od Faros Armenistis, about 20 minutes from Mykonos Airport. If you plan to rent this amazing home, bear in mind that renting a car can be the best bet to move around the island or to reach the city center. You can always check this useful car rental search engine to compare fees and find a car that suits your needs.
Melina's House Mykonos Town
Why you should stay: This is just the perfect whitewashed Cycladic house that you always dreamed of. In a central position and beautifully renovated.
Sleeps: 4
Minimum stay:

4 Night

s
Pets allowed: No
Unique veranda with views of the port and the windmills!
Top-rated on Airbnb for the hosts' outstanding hospitality, Melina's House is a delicious apartment you can book for your holidays in Mykonos. The refined and minimalistic interior features comfortable furniture and tasty artwork. The house features huge windows that make the spaces airy and luminous.
There is a fully equipped kitchen on the first floor and a dining area as well as a double bed and a bathroom. Going up a few steps, the second floor hosts the second double bed and the gorgeous veranda with a comfy sitting space. This house is a top choice that combines the best from traditional and modern design surrounded by the main Mykonos attractions. The place is comfortable also for a longer stay, featuring also a washing machine.
Semy Boho Chic House with Pool & Terrace
Why you should stay: This Airbnb Mykonos rental is a top place to stay with every comfort of your own home, tasty decor, and roomy spaces.
Sleeps: 5
Minimum stay:

3 Night

s
Pets allowed: No
Spectacular infinity pool with crazy views of the island.
Known as Semy Boho Chic House, this recently renovated place is among the top Airbnbs in Mykonos. It's located in the relaxing village of Ano Mera not far from the well-known Kalafati Beach. Ano Mera is a lively village where you'll be able to find Greek tavernas, ATMs, supermarkets, and the bus station. In the nearby area, don't forget to pay a visit to the gorgeous Monastery of Panagia Tourliani.
Other beaches you can visit not far from the property include Elia, Fokos, and Kalo Livadi, while Mykonos Town is about 20 minutes away. Transfer services from and to the Port and Airport can be arranged upon request.
This stylish house is one of the most original Airbnbs in Mykonos, Greece!
Verano Mykonos Villa
Why you should stay: Enjoy this entire home with pool and self-check-in with lockbox in the magnificent area of Ornos.
Sleeps: 6
Minimum stay:

1 Night

Pets allowed: No
This is a fantastic villa for a family or for friends a few meters from the exclusive bay of Ornos, one of the top spots on the island. Ornos features shops, restaurants, and a beautiful port from where you can sail in a exclusive yacht. There are stunning private beaches and there's no need to rent a car since the bus station that takes you downtown Mykonos is close to the house.
Verano Mykonos Villa has been built in the traditional Mykonos style and it is inside a private complex of small luxury villas featuring a communal swimming pool. The two-story house features two bedrooms, a fully equipped kitchen, and two beautiful outdoor areas. The place is great for families with kids.
Dew Luxury Houses in Platys Gialos
Why you should stay: Platys Gialos is a fantastic bay in Mykonos, safe for kids and with a small harbor from where you can take a boat to visit many other famous beaches.
Sleeps: 3
Minimum stay:

2 Night

s
Pets allowed: No
Flexible check-in
Dew Luxury Houses are in the area of Platys Gialos, one of my favorite beaches in Mykonos, quite close to another spectacular beach, Cavo Psarou.
The accommodation is modern and is in a quiet area, not far from the beach. There are several bus stops and supermarkets too. Most guests praise the sunny veranda with views of the sea features, an ideal place to lounge after a day at the beach, perfect to enjoy an afternoon drink.
Elpis Loft Flat & Rooftop
Why you should stay: Discover the amazing sea landscape and the vibrant nightlife of Mykonos from the comfort of your rooftop lounge.
Sleeps: 4
Minimum stay:

1 Nigh

t
Pets allowed: Yes
Elpis Loft is a picturesque Mykonian house in a convenient location, right in the heart of Mykonos town. Everything you need, including shops, tavernas, bars, and more are just minutes from the property.
The charming rooftop terrace is the top feature of this apartment while the whole property is a perfect introduction to the most authentic Greek lifestyle. The attic apartment was originally an ancient townhouse with its own private entrance. It is fully equipped with every comfort you need for an unforgettable vacation. If you need to work while on holiday, you'll be able to take advantage of the desk and the free wifi connection.
>> Discover more about Mykonos Town and the things you can do in the area <<
Mykonian Art Houses – Casa Zen in Ano Mera
Why you should stay: We've already mentioned how comfortable Ano Mera is as a holiday retreat. The village is peaceful and quiet and it's fairly easy to reach several beaches in Mykonos with a short drive
Sleeps: 6
Minimum stay:

1 Night

Pets allowed: Yes
Ideal place for a group of friends or a family, Mykonian Art Houses – Casa Zen has been decorated with a unique taste in total respect of the Cycladic style. The villa has an ample yard and patio decorated with flowers, olive trees, and palms. From there, it's possible to soak in the gorgeous views of the island.
If you're into visual arts, as from the 2016 Summer season, Greek and Foreign artists exhibit their artistic works for guests and visitors to admire.
Are you willing to discover other Greek islands? If you want to explore Crete, you might be heading to the trip of your lifetime. Get in touch if you need extra help to plan your itinerary in Greece or join my Crete Travel Group on Facebook. You can also check this guide if you're touring West Crete for detailed info about where to go, what to see, where to eat, and more!
Coming to Mykonos? These resources will help you organize the trip!
Start by reading my guide for first-timers in Mykonos to plan the perfect vacations on the island. Check also my guide to enjoy the Mykonos with kids, full of ideas for adults and solo travelers too!
If you're a fan of traditional places, check what a Mykonian Windmill looks like from the inside.
Finally, make sure you've got everything you for a hassle-free trip!
I never move around the Greek islands without my Osprey backpack, a sturdy, light, roomy, and super comfortable travel partner I just love. To visit villages, sites, and museums instead, I carry this little crossbody bag.
When driving around, I always pack my Nikon D7200. In Summer I also carry good sunscreen lotion, the sun in Greece can be pretty aggressive.
Airfares to Greece change from one airline to the other, make sure to compare prices with a powerful search engine. Planes are fast, but nothing like the romantic experience of traveling by sea in Greece. Direct Ferries has great ticket deals!
If I need to book accommodation, I personally use different search engines. Booking.com and Hotels.com are my go-to options.
Sometimes, the best way to get to know a place and make the most of your time is to join an organized tour. GetYourGuide has top-rated tours to save time and money.
Do you have everything you need? Then you just have to get ready to discover the beautiful island of Mykonos!
These articles about Greece have been thought just for you!
If you're curious about traveling the Greek islands, check the most amazing places to visit in Greece. Crete is my favorite island of all, and these 50 unmissable things to do in Crete is a great article from where to start planning a visit. Greece is also an ideal place for scuba diving, here you can discover where to do in on the islands.
Head to this article to check the best ports for cruises in Greece. This guide, instead, shows you the best things you can do in Athens if you visit for three days. If you have less time in the capital of Greece, find inspiration in this article describing all you can do with one day in Athens.
What's your favorite Airbnb in Mykonos?
Let me know in the comments below!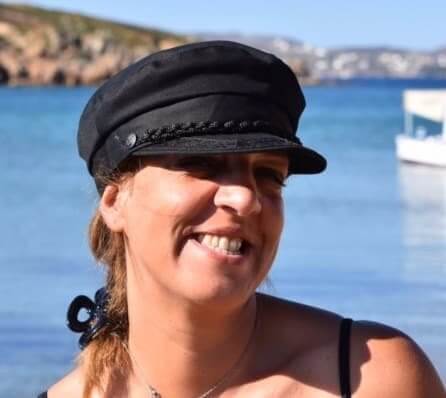 About the Author
Hola! I'm Gabi. Welcome to The Tiny Book – Crete Travel Blog! I moved to Crete to explore the island all year round. I love taking pictures and driving on the mountain roads of Crete. I'm a beach freak and on this island I've found heaven on earth!
---
You might also want to read:
---