Collaboration post
You are swimming 32 yards below the water, yet you feel on top of the world. That's the allure of going scuba diving, especially in Greece. With a coastline that spans more than 9,900 miles, Greece is an exceptional spot for any scuba diving enthusiast to explore.
---
Disclaimer: Posts include affiliate links to products or services. I might earn a commission if you make a purchase, at no extra cost to you.
---
Where to go scuba diving in Greece
10 Best Scuba Diving Spots in Greece
Although Greece's strict regulations limited scuba diving in the country for a while, this adventure sport is now growing in popularity. And as a result, today, diving is an exceptional way to explore areas in Greece that are otherwise challenging to visit and where relatively few individuals come.
For the ultimate adventure of scuba diving in Greece, you need to know which areas to explore for the most enchanting and unique sights and experiences. So, here's a rundown on the 10 best scuba diving spots in Greece.
1. Santorini
Santorini is a volcanic island known for providing excellent opportunities for scuba diving in Greece. Diving there can be an adventure due to the presence of a riveting underwater world stemming from volcanic activity, which is a unique Mediterranean Sea phenomenon.
The massive volcanic eruptions that impacted the island over the past several hundred years have produced impressive underwater scenery.
Let's take a look at some of the exciting diving opportunities available off Santorini.
Nea Kameni
A top spot on the island is Nea Kameni, an area where a major volcanic eruption occurred in ancient times. This area offers plenty to explore as a result of this eruption, including alluring sea caves as well as lava formations and rocks. You can scout out fascinating and diverse marine life while diving in this area of Greece.
While scuba diving at Nea Kameni, you'll also get to see the shipwreck of a passenger ship called the Santa Maria—a steel ship that measures more than 100 feet long. The shipwreck is located in the southeastern part of Santorini, in the area of Taxiarachis Bay. The boat, which capsized in 1975, lies just 59 feet deep, so it's an ideal place for both expert and novice scuba to go scuba diving in Greece.
Other diving treasures in Santorini
In addition to enjoying the diving spot of Nea Kameni, you can visit the volcanic island of Palea Kameni and the cliffs of the Caldera. Scuba divers have nearly limitless options for drop-offs and wall dives in these areas due to the previous volcanic eruptions on Santorini.
If you're interested in exploring by scuba diving in Greece, you can easily set off for the experience of a lifetime from Perissa Beach or the Caldera. In just a handful of minutes, you can reach your dive site. And fortunately, you have the flexibility to dive in these areas on any day of the week.
Once you reach the dive site, you can start diving below cliffs and around the edge of the Caldera. Here, you'll find numerous colorful sponges, fish schools, barracuda, snappers, groupers, and nudibranchs.
You'll also have the opportunity to admire lava formations as well as the marine life hiding among the majestic lava rocks.
These include spirographs, clams, moray eels, and lobsters. You can also explore a marvelous reef that has been protected in the area. Diving in Greece is never as spectacular as it is in Santorini.
2. Scuba diving in Kea Island
This area of Greece is also a treat for any avid scuba diver who is interested in exploring yet another one of Greece's world-famous sunken shipwrecks.
HMHS Britannic Wreck
The HMHS Britannic, a hospital ship from World War I, ended up sinking in 1916 near Kea, a tiny Aegean island that also goes by the name of Tzia. Kea is a part of the well-known Cyclades group of islands.
In this wreck, the dive is relatively deep and complex. Therefore, you should attempt scuba diving here only if you are an experienced diver.
However, once you make the dive, you can expect to witness some breath-taking sights under the water due to the abundance of beautiful marine life here.
3. Mykonos
Mykonos, which is widely recognized as Greece's party island, is also a hot spot for divers looking for a party under the sea.
>> Top Scuba Experiences <<
Anna II Wreck
If you're itching to go scuba diving around shipwrecks in Greece, then the Anna II wreck of Mykonos is sure to scratch that itch.
The Anna II is an over 200-foot-long cargo ship that sank in the southeastern area of Mykonos.
Lying more than 80 feet deep, this ship is a fascinating and enjoyable playground for wreck diving experts. That's because the ship is totally accessible for exploring and remains in excellent condition.
In addition, the area near the shipwreck is just as captivating due to the presence of a healthy, mesmerizing reef coupled with numerous sea sponge colonies.
In this spot, you can expect to make some beautiful diving memories in Greece that will last you a lifetime.
4. Zakynthos and Kefalonia
Zakynthos is an Ionian island that remains a top tourist destination due to its diverse and vibrant nightlife, as well as its jaw-dropping cliffs, magnificent coastline, and spectacular beaches.
Still, if you look beneath the surface—literally—you'll find yet another reason to fall in love with this Greek island…
HMS Perseus Wreck
The area features the famous HMS Perseus shipwreck, which comes with a thriving marine life environment.
In addition, nearby, you can find incredible rock formations that provide some of the most unforgettable scuba diving experiences in Greece.
This shipwreck is a highly sought-after destination for scuba divers because it is unique in comparison to most other Greek wrecks.
The HMS Perseus is a 1929 British submarine that sank during World War II. The 1941 shipwreck occurred after the boat struck a mine from Italy several miles off of Zakynthos's coast.
Today, the ship lies about 170 feet underneath the surface of the water.
Because of its depth, it is accessible only to advanced divers with deep-diving certifications.
Note that Kefalonia, another Ionian island, is yet another area where you can access the HMS Perseus wreck area.
Like Zakynthos, Kefalonia stands out for its attractive coastline, a diverse nightlife, and one-of-a-kind beaches. Thus, this island has similarly captivated the eyes and hearts of many people scuba diving in Greece.
5. Lesvos
Mirmigi Reef
Mirmigi Reef is close to the northwestern coast of Lesvos (or Lesbos, as you prefer). This reef is yet another must-see in Greece for all scuba diving enthusiasts for a number of reasons.
Here, you'll find unforgettable volcanic formations underneath the water. In addition, you can expect to see plenty of marine life, along with interesting topography. You can also explore many coral corridors and colorful sponges.
What's especially great about this spot for scuba diving in Greece is that it is excellent for both advanced divers and beginning divers. That's because the reef begins at just 16 feet, then progresses to 118 feet over time.
Overall, this dive is very smooth because you don't have to contend with currents. On top of this, the crystal clear water provides wonderful visibility during your entire diving journey.
6. Marathonisi
Another must-visit spot for scuba diving in Greece is an uninhabited Marathonisi island, near Zakynthos. This is a major nesting area for the loggerhead sea turtle, also known as Caretta Caretta. So, if you dive here, you'll likely come across these spectacular creatures.
You'll get to see magnificent local species in their habitats, including flying fish, octopus, eels, and parrotfish, while diving in Greece. Manta rays are also known to reside among the striking coral in this area.
This spot also boasts a gorgeous beach and exquisite vegetation, including green oaks, pines, sprouts, and olive trees. You'll also find many maratho, or wild fennel, after which this island was named.
7. Go scuba diving in South Crete
Schinaria Beach
If you're looking for yet another breathtaking getaway spot for scuba diving in Greece, look no further than Schinaria Beach, located on Crete's southern coast, close to the wonderful beach of Plakias.
Crete's south coastline is dramatic throughout. However, this small diving area in the Rethymnon region is particularly captivating. That's because the seabed features a habitat for a wide variety of marine species, such as moray eels, octopus, and black fish.
You can swim right along with these glorious creatures.
Scuba divers love this spot for its crystalline waters as well as its abundant marine life. This provides great visibility in the area for divers.
In fact, this is likely one of the reasons why there are so many diving schools in the area.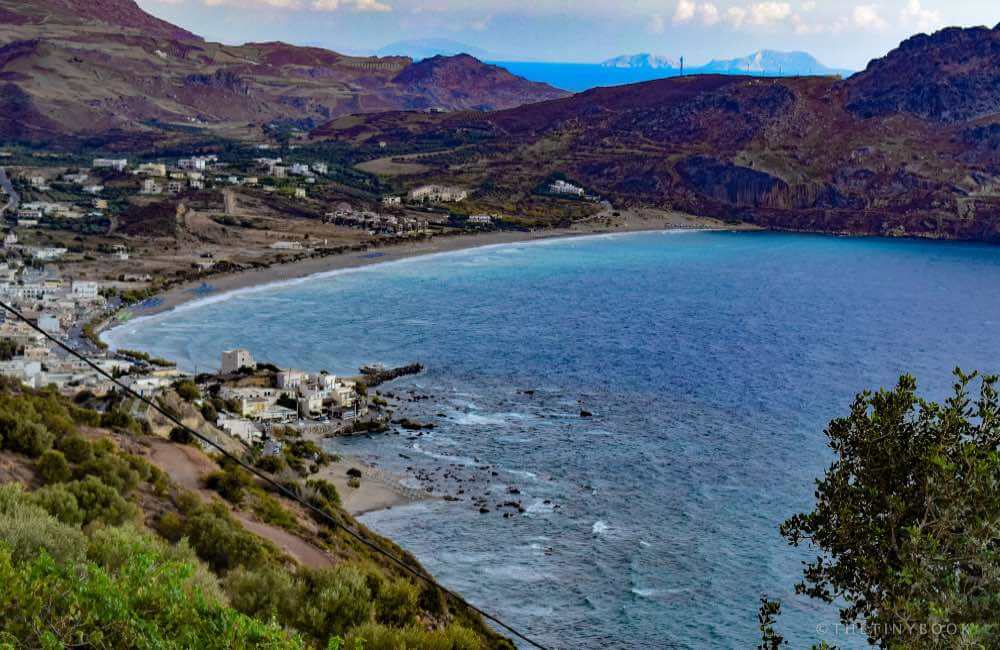 8. Chios
Chios is a lovely island just a few miles from Turkey in the Aegean Sea. Chios offers numerous fascinating dive sites featuring underwater caves and vertical walls. You can also find colorful coral reef formations, lively marine life, and outstanding shipwrecks while diving near this island in Greece.
What divers love about Chios is that it is a good option for both experienced and novice divers.
Whatever your skill level, you can be confident that you'll enjoy your underwater scuba diving adventure off this island in Greece due to the area's reduced currents and clear waters.
>> Top Scuba Experiences <<
Where to dive in Chios
Multiple diving centers in Chios offer boat trips and courses to fascinating spots for scuba diving in Greece. Some of these are Trahili and Elinda, two beaches on Chios's southern side. Another great spot is the strait between the Oinousses islands and Chios.
Note that the majority of diving centers in Chios are based in tourist places such as Agia Ermioni and Karfas. With the help of expert divers, you can even take advantage of opportunities to go night diving in this area of Greece.
9. Chania, Crete
If you favor the unusual, you may want to add Elephant's Cave off northern Crete to your scuba diving list.
Elephant's Cave
This unforgettable underwater beauty, filled with fossils, offers opportunities for completely unique dives in the area of Crete's Chania.
Elephant's Cave is an underwater cave not far from Cape Akrotiri which hosts extinct animals' remains. This cave has been shaped throughout multiple millennia and is an excellent diving site for any experienced diver.
The cave is partially filled and offers stunning red and white stalagmite and stalactite views.
Once you are inside this cave, you can take in an extinct elephant species' fossilized remains. For instance, you get to view the elephant's teeth and vertebrae, and you can even catch a glimpse of a large elephant tusk.
There's endless variety in the sights you can see while scuba diving in Greece!
10. Corfu
Finally, Corfu's northwest coast is a top choice for scuba diving in Greece.
Paleokastritsa area, Corfu.
Paleokastritsa
The area of Paleokastritsa is known for its crystal-clear and turquoise waters, as well as its awe-inspiring beaches, among other natural treasures. For this reason, the site registers thousands of diving enthusiasts each year.
One of the reasons why this site is an appealing spot for diving in Greece is its underwater rocks and reefs, which form attractive underwater gardens.
These gardens are perfect for a diving junkie to explore.
Kolovri Beach is even more spellbinding due to corals as deep as 131 feet underneath the water. The beach also offers a scenic archway beneath the water.
Note that if you ever become ill or injured during your scuba diving adventure in Greece, you can always take advantage of a telemedicine service to obtain helpful recovery advice for your unique situation.
Embrace scuba diving in Greece this year!
If you're serious about taking your scuba diving experience to a new level, now couldn't be a better time to plan out your next scuba diving expedition in Greece.
Whether you're interested in exploring a shipwreck or taking in the wonders of an underwater cave, Greece has got you covered with the above-mentioned diving sites.
Start experiencing the beauty and mystery of some of the world's top scuba diving spots by choosing your favorite places in Greece to explore today!
Are you ready to explore Greece? It can be the trip of your lifetime.
---
Are you considering going scuba diving in Greece?
Let me know in the comments below!
---
Read more:
Sublime Things to Do in Patmos, Greece
The Most Relaxing Things to Do in Lipsi, Greece
How to Move your Belongings to Crete
Unique Reads: Great Books about Moving to Crete
51 Great Things to Do in Chania (Region) for an Unforgettable Holiday
Katie Tejada is a writer, editor, and former HR professional. She enjoys writing about events, travel, decorating trends, and innovations for the home, but also covers developments in HR, business communication, recruiting, real estate, finance, law, and investing.
---
You might also want to read:
---