The Dodecanese is a magical place where nothing ever seems to go wrong. When I thought about visiting Patmos, I was tempted by an off-the-beaten-path experience. Patmos is a sublime destination with a quiet atmosphere, able to offer experiences made of culture, adventure, and beauty. I've adored Patmos, and you will too. Here are the best things to do in Patmos, Greece, in a super thorough travel guide.
---
Disclaimer: Posts include affiliate links to products or services. I might earn a commission if you make a purchase, at no extra cost to you.
---
Last-minute plans for Greece?
Get there: Use Ferryhopper to book your tickets.
Stay: Find accommodation deals on Booking.com.
Move around: Compare car rental prices with Discover Cars.
Tours: Visit popular places with GetYourGuide.
Read more: Pack the Lonely Planet Guide to Greece.
General Information about Patmos Island, Greece
The Greek island of Patmos (Πάτμος) is small in the north of the Dodecanese. It covers an area of about 34 square kilometers and is surrounded by several islands and uninhabited islets.
The main settlements of the island are Chora (the religious center and main capital) and Skala (the commercial harbor).
The island is 158 nautical miles from the port of Piraeus, in Athens, and it will take you a good seven-hour sail to arrive from Greece's capital.
Patmos, mentioned in the Apocalypse or Book of Revelation, plays an important role as a sacred place of Christian pilgrimage.
Popular among tourists are both the Cave of the Apocalypse and the Monastery of Saint John the Theologian. UNESCO declared both of them, together with the Chora, World Heritage Sites.
Where to Stay on Patmos Island
These are some of the best places you can stay on the island, in no particular order…
Anamar Patmos
This hotel has an ever-returning audience of travelers and great reviews.
It's in a central location, just 5 minutes from Skala, offering great access to every place on the island.
From the rooms, you can enjoy the scenic views of the nearby Ikaria and awesome sunsets. Kids will love the pool and the assorted library with stories in all languages.
>>Click here for more information and to get the latest prices.
Porto Scoutari Romantic Hotel
Described as the most romantic venue on Patmos, Porto Scoutari Romantic Hotel & Suites is surrounded by beautiful gardens and stunning sea views.
Known as a celebrated premier hotel, it offers a small intimate Spa with a free Jacuzzi and a gym.
Porto Scoutari overlooks the bay of Meloi, and it's just a km from Skala. This hotel has the perfect atmosphere for a romantic holiday in Patmos.
>>Click here for more information and to get the latest prices.
Patmos Aktis
This stunning hotel is a luxurious spot with excellent views of Grikos Bay.
Expect comfortable, spacious rooms, filled with dazzling natural light and paired with white curtains, cushions, and bed linen.
A wonderful shared swimming pool as well as private pools in the most exclusive suites, and phenomenal views. About 5 km from Skala, the hotel is on an idyllic pebble beach.
>>Click here for more information and to get the latest prices.
The Most Beautiful Things to Do in Patmos
In no particular order, these are the things I suggest you do when visiting Patmos Island…, take a look!
Visit the Villages
There are several tiny, beautiful settlements to spend the day wandering the alleys and admiring the remarkable views of the island hidden behind every corner. Patmos has traditional little villages worth exploring.
Some of them are bigger and popular among tourists in Summer, while others are off the beaten track and virtually empty. So, when in Patmos, don't miss checking these.
Skala
The first village you will see upon arrival is Skala, the port and most vibrant settlement on the island.
A white double-domed church and some Venetian buildings make an elegant first impression.
A few steps further, Skala comes alive with a pleasant square, encircled by souvenir shops, restaurants, and bars. Skala is not the capital of the island, but it's certainly the largest town.
Everything takes place in Skala, on the rather longish promenade facing the marina, that extends to reach the city beach and a small port for fishing boats and luxury yachts.
All excursion boats to nearby islands and secluded beaches leave from Skala.
Check Out Patmos' Chora
Chora, the capital of Patmos, stands in an elevated position overlooking the harbor. A white settlement that falls over the slopes of the hill, crowned by the severe Monastery of Saint John.
White, elegant mansions, fortified buildings, and Medieval architecture make it the focal point of interest for visitors to Patmos.
Chora, about 4 kilometers away from Skala, can be reached by taxis or buses departing from the port.
Apart from the refined shops and venues, there is a fantastic world made of tiny alleys, covered passages, and impressive houses.
Kampos
Kampos is a village third in importance and population. Upper Kampos is mainly residential, with a few restaurants and a nice square.
Tourists choose Kampos mostly to take advantage of Kampos beach. The biggest on Patmos, ideal for kids and watersports lovers as well.
Due to its position, this side of the island is a privileged place for beautiful sunsets. A famous spot to enjoy the views is Merika, immediately after the road leading to Kampos. Benches on top of the hill are there for you to take in all the magic of the golden hour.
Grikos
A laid-back village, with both luxury and convenient accommodations. The bay overlooks the impressive Petra Kalikatsou, a peculiar rock formation that seems to emerge from the sea, apparently a place chosen by hermits, who left carved traces on it.
This area hosts an important biotope on Patmos, home to several bird species and natural beauty.
Discover the Traditional Mansions
In the capital of the island, Chora, there are impressive homes and mansions you can visit. One of them is Simandiri Mansion where, past the modest entrance door, astonishment follows.
Inside the house, a building dating from 1625, constructed by craftsmen from Asia Minor, plenty of art objects, antique furniture, silverware from Russia, and also icons from the 15th to 17th centuries.
An example of traditional architecture with vaulted ceilings and refined arches.
Check the Spectacular Windmills of Patmos
Still, up close to Chora, three windmills give a distinct shape to the landscape of Patmos. Two of the mills date back to 1588, and they all underwent restoration in 2010 thanks to the generous contribution of private sponsors and benefactors.
The windmills, property of the Monastery, are in the nearby area, in a quarter named Mili (after the mills, naturally). The entrance is free.
Inside you can see the unique woodwork of the mill's mechanism. All three mills are restored externally, using original materials, and it's possible to visit the interior of the only operational mill.
Visit the Churches and Monasteries
Religious Tourism in Patmos
Patmos is a distinctive center for religious tourism. A destination targeted by thousands of Christians who come to the island to visit many of its churches and hermitages, but above all, to see the Monastery of Saint John the Theologian.
One more important religious place to visit is the Holy Cave of the Apocalypse, located quite close to the monastery, and considered to be one of the most sacred places in the Christian world.
Once inside the narrow cave, check the magnificent rock with a triple crack on the solid rock, thought to be made by God at the moment he spoke to Saint John Apostle.
Are you planning to visit Patmos and want to learn more about its churches and monasteries?
>>Check this guide about Patmos religious tourism<<
Spend Some Great Moments at the Beach
Many visitors agree that Patmos has some of the most beautiful beaches in Greece. Indeed, seaside landscapes are marvelous; crystal water, a clean environment, and colorful pebbles.
Those who hate sand getting in the middle of everywhere will be happy to read the news that many of Patmos' beaches have small, smooth, pebbles.
If, instead, you're looking for sandy beaches, then head to Psili Ammos. You will have to hike for a good while or choose to get there by boat.
No matter which type of beach is your kind, these are some of the most beautiful beaches on the island.
Lambi Beach
This rather long beach, famous for its rare pebbles, can be a good option if you have your car as it is located nearly 15 km from Chora.
Its name, which means shining, apparently refers to the reflections the sun produces against the stones that cover the beach.
Agriolivadi
Not far from Skala, the beach is sand mixed with pebbles, there are a bar and a taverna. Waters are shallow enough for kids, and a nice, long row of trees offers shade if you prefer to avoid umbrellas.
It can get quite crowded during the season.
Meloi
Probably the most comfortable beach in terms of location, Meloi is one of the few sandy shores we visited.
With a restaurant and a supermarket nearby, it's fine to spend the day. It's close to Skala, and shallow waters make it great for families.
Livadi Geranou
The views of this distant beach are worth the visit. The small islet in front of it, Agios Giorgos, offers a beautiful panorama with its tiny, white chapel.
They say orchids blossom during spring, probably adding an extravagant touch of beauty.
Vagia
We liked the relaxed atmosphere of Vagia, with clear wats and lush vegetation surrounding the area. They say the cafeteria nearby serves the best chocolate cakes in Patmos (our kids agree!).
I settled for their delicious apricot cake.
Grikos Bay
Defined by enthusiasts as one of the most beautiful bays in the world, the pebble beach of Grikos offers a relaxed atmosphere to swim in or enjoy the views of little boats docking on the shore.
Ducks, fish, and other interesting fauna will make the joys for adults and kids.
Psili Ammos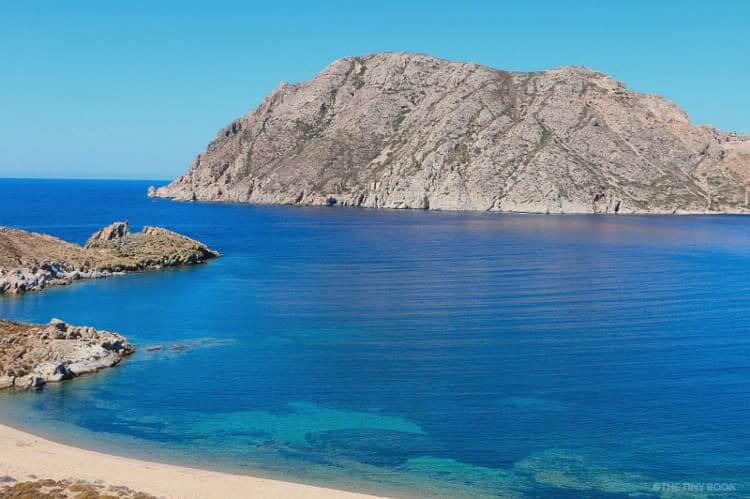 In our description of the beaches of Patmos, we left the most beautiful place last. Rightfully considered one of the most pretty beaches of the Aegean, its name is a promise: "fine sand".
A unique character and complete isolation (not in August, to be honest) but often exposed to northwest winds making it difficult to reach by boat under certain conditions.
For those who don't mind walking to reach this idyllic spot, two paths take you there.
A bit longish and more demanding one, starting from Diakofti to end in the southern extreme of Psili Ammos, and the other one which begins at Stavros Bay and takes you to the northern part of the beach. In both cases, you will need plenty of water and closed (or very comfy) walking shoes.
Explore Patmos' Walking Trails
Eco-tourism has taken a new twist in Patmos with the so-called Paths of Culture.
This marked network of ancient footpaths will guide visitors around many of the cultural sites of the island, passing through beautiful landscapes.
Some of the trails connect Skala to Chora, and Skala to Kastelli. if you are interested in walking the island, visit this site for a list of trails and detailed information.
Taste the Local Gastronomy
Patmos' local gastronomy, largely inspired by Greek traditions, also receives the influence of years of Ottoman domination.
If you love pastries, sweets, and savory pitas, then you must try the pies of Patmos. And there is no better place than Christodoulos, in the heart of Skala.
Christodoulos produces a whole variety of typical sweets: cakes, pastries, and ice creams; but he is famous for local sweets and his special cheese pies, also loved by visitors.
With fluffy cheese pies and sweets filled with almonds and honey, Christodoulos is the flag-bearer of the delicious local gastronomy.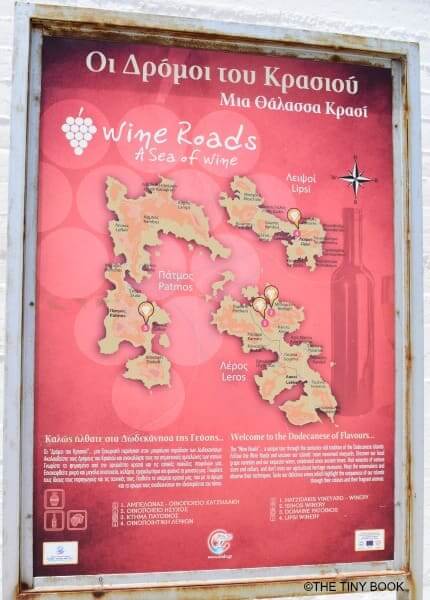 Traditional Dishes you Should Try on Patmos island
Some of the delicacies you will find on Patmos include shinopsomo, a traditional kind of bread made with a local seed, sugar, and cinnamon. Xerotigana is a deep-fried kind of pastry with abundant use of honey and cinnamon.
Local cheese varieties include kalathoro, made of goat milk, and touloumotiri, matured in goatskin, similar to the popular Greek feta cheese.
As far as wines are concerned, Patmos has its wine roads together with the neighboring islands of Leros and Lipsi.
Muscat of Alexandria is a traditional white variety growing on Patmos, which is reviving its traditional wine culture through a new plan designed to restore vineyards in the region of Petra. If you are after local labels, make sure to try a glass from Domaine Patoinos.
Where to Eat in Patmos
These are some of the places where you can taste delicious local dishes on the island.
Plefsis
Plefsis is a traditional Greek taverna by the sea, in the magnificent setting of Grikos beach.
However, expect much more than the traditional dishes of the country.
The restaurant offers a menu based on the staple ingredients of Greece, but cooked and served with more than just a twist. Try their fava, their salads, and their grilled cheese.
Ostria
Fresh fish dishes right in front of the port. This traditional Greek restaurant plays it more on substance than on form and comes out as a winner. Prices are very affordable and the staff kind and attentive.
Ktima Petra
A pleasant atmosphere, very tasty dishes, and all the choices available for those tiny picky palates.
For adults, creative dishes made of fresh vegetables (do try their aubergines as well as their dolmades), abundant salads, and great meat too.
As a dessert, creamy Greek yogurt is topped with homemade spoon sweets.
Tarsanas
Close to Stavros Bay, this restaurant makes quite an impression due to the location. But once you go past the appearance, it's time for food.
And it's great local food with quite regular prices. Curiously enough, it's a restaurant many of our Italian friends know and prefer. Convenient as far as prices are concerned too.
Nautilus
One could think the Nautilus takes all the merit due to the impressive landscape of the location.
One could also say that the classy ambiance, the candles, and the colors are what make this venue unforgettable.
From start to end, no single dish disappointed me. Suggestion: Try their meat. For kids? Also hamburgers!
Great Things to Do in Patmos with Children
We arrived on the island after a long trip from Chania to Piraeus, an even longer day in Athens, and a final sailing night to Patmos.
Greeted at the port by heat and humidity at three in the morning was not the best of welcomes. We needed a cold shower, a regular bed, and some real rest.
The next day was a promise of activities, tastes, and experiences.
As a mom, my piece of advice would be to take it easy. There is indeed a lot to do in Patmos and it can be overwhelming to try to see it all in a couple of days.
Cultural activities, religious sites, great beaches, and superb food to taste.
Lots, indeed. So, if you are short of time, work on your priorities. Eventually, plan a second visit, I am sure you will find all the reasons to return.
Restaurants that Kids Love in Patmos
For a relaxed night where kids can enjoy beloved gyros, souvlaki, and less complex food, try Pita Konne, in the main square of Skala. Their terrace is comfortable with a touch of ethnic fashion. Prices are affordable and the meat is excellent.
Try their fresh salads!
A traditional place everybody suggested we visit is Pantelis. Also in the heart of Skala, this taverna serves what I define as comfort Greek food. Abundant dishes, no-frills, pure taste. Also here the prices are very convenient.
How to Get to Patmos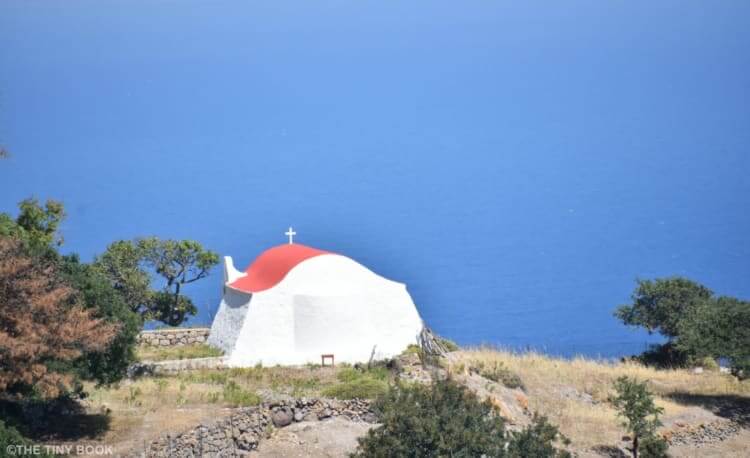 There's no airport in Patmos, so if you fly from Athens, count on landing on the neighboring islands of Leros, Kos, or Rhodes.
Boats depart from Piraeus (leaving from Gate E1) and Rhodes is bound to Patmos every day. In summer, there is also a frequent service connecting Patmos to Kos. We traveled with Blue Star Ferries.
To move around the island, rely on taxis, buses, or the comforts of car rental services. Many people choose motorbikes and quads too.
Thanks to the Municipality of Patmos, the Patmos Tourism Committee, and local venues and residents for the help and hospitality offered during our trip.
---
Read more:
Most Traditional Airbnbs in Aegina, Greece
Discover the Beautiful Hidden Gems in Greece You Can Visit Right Now
Top Nudist Beaches in Crete: Complete Insider's Guide
10 Great Reasons to Visit Greece on Your Next Holidays
What to do in Heraklion, Crete in 1, 2, or 3 days
Pin This Great Guide to All There's to Know About Patmos Island for Your Next Trip!
About the author of this blog: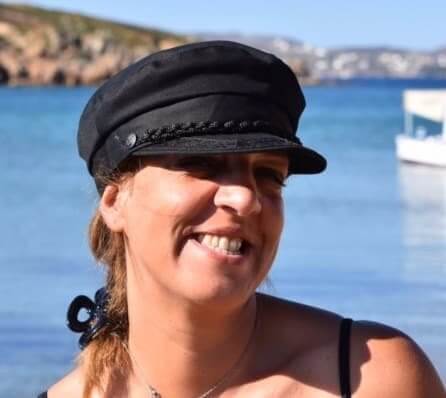 Gabi has been living in Crete for the last five years. On the island, she juggles being a solo mom, hosting culinary tours in summer, translating, and freelance writing.
She's written for Greek Reporter, published several travel guides about Greece, and had more glasses of frappe than any regular person would be able to handle.
---
You might also want to read:
---