Patmos is a fantastic, lesser-known island in Greece, rather off the beaten track, and full of unique landscapes that will make you fall in love with the place. The island, with its somewhat aristocratic vibe, offers some gorgeous villas to rent for your vacation. The following properties are among the prettiest Airbnbs in Patmos, Greece… Check them before you go!
---
Disclaimer: Posts include affiliate links to products or services. I might earn a commission if you make a purchase, at no extra cost to you.
---
Airbnbs in Patmos, Greece
Last-minute plans for Greece?
Get there: Use Ferryhopper to book your tickets.
Stay: Find accommodation deals on Booking.com.
Move around: Compare car rental prices with Discover Cars.
Tours: Visit popular places with GetYourGuide.
Read more: Pack the Lonely Planet Guide to Greece.
Gorgeous Vacation Homes to Rent in Patmos, Greece
Known as the island of the Apocalypse, Patmos is an island belonging to the Dodecanese. Home to the magnificent Monastery of Saint John the Theologia, the Cave of the Apocalypse, and other stunning religious places, including, churches, monasteries, and hermits, Patmos conquers travelers with a laid-back vibe and classic architecture.
The island hosts magnificent homes and villas, some of them on top of the hills, with awe-inspiring views of the different bays that give shape to Patmos.
You can go for the more vibrant environment of Skala, the important town near the port, or choose an aristocratic mansion in the capital, Chora. Austere facades made of thick whitewashed walls and discrete windows, often hide magnificent villas and mansions where you can spend an unforgettable stay on the island.
If you're planning to visit a different Greek island this season, and still haven't found where to stay, then this is the guide toy need. Here, I've included the most gorgeous Airbnb in Patmos for an unforgettable holiday in the Dodecanese.
Visiting Patmos soon?
>>Discover what things you can do on the island<<
To Spiti tou Papou, Patmos
Why you should stay: To enjoy waking up and having breakfast in the nation, to discover a simple lifestyle on Greek islands.
This is a simple yet traditional place in Patmos' chora. Granpa's home (or To Spiti you Papou) is great to enjoy being close to the Chora and having a unique view of the island, overlooking the best areas of Patmos, right below the windmills and the Monastery of St. John.
It features a large pation and courtyard while the interior of the house is decorated in the traditional Patmian style, blending wood and stone.
>> CHECK REVIEWS AND BOOK HERE
Patmos Residences
Why you should stay: To experience the magical beach and the fantastic swimming pool with a cozy lounging area.
This complex of stone residences is less than 1 km from Patmos Aktis Beach. Among the main features, the stunning seasonal outdoor swimming pool, the balcony with great views, and the garden.
All homes have a comfortable kitchen (with a coffee machine!) and an ample dining area, and a spacious living room. As a plus, it's possible for guests to enjoy continental breakfast.
Patmos Residences are less than 2 km from Petra Beach and a little less more than 2 km from the quiet Meloi Beach.
>> CHECK REVIEWS AND BOOK HERE
Want to visit the religious places on Patmos island?
>>Check this article<<
Manos House in Chora, Patmos
Why you should stay: Because it's a great way to experience life in a traditional home in Patmos' Chora.
Manos House is a great place to stay on Patmos island. It's conveniently located in the capital, Chora, just meters from the main road Skala-Chora-Grikos. There's also free parking on the street.
Recently renovated, this home entirely made of wood and stone, features the typical style of Patmos, whitewashed walls, exposed rocks, and the warm tones of wood. There's a beautiful terrace for complete relaxation. There're two bedrooms, a nice living room, and a kitchen. Just a few minutes from the central square in Chora, the comfortable place enjoys a privileged position and offers great views of the island.
>> CHECK REVIEWS AND BOOK HERE
Chris House
Why you should stay: Because Chris House is one of the nicest rental homes in Patmos, close to beautiful and off-the-beaten-track beaches such as Sapsila and Loukakia.
Set in a tranquil bay, not far from the area of Grikos is in a unique location, just a few meters from gorgeous, lonely beaches. A perfect setting to wake up early and enjoy the sunrise from the marvelous garden.
There's a beautiful garden, a comfortable kitchen, and enough space to accommodate from 2 to 4 guests. Before arrival, you can arrange with the hosts to pick you at the port to reach the villa.
>> CHECK REVIEWS AND BOOK HERE
Villa Apanemo
Why you should stay: Because the place enjoys a premier location and is a perfect example of comfort and the island's architectural style.
Apanemo is a self-catering accommodation located right by the port of Grikos, one of Patmos' most tranquil corners. There are different apartments you can choose from, all of them featuring a beautiful balcony or veranda overlooking the sea or garden.
The units feature a small but super equipped kitchenette, comfy beds, and sitting areas. The residential completes is 5 km from The Cave Of Apocalypse and the Monastery of Saint John Theologos.
>> CHECK REVIEWS AND BOOK HERE
Villa En-Plo (Εν Πλω)
Why you should stay: Because it's a unique accommodation, super comfortable, and ideal for big groups of travelers.
Check this great accommodation with a balcony in Grikos, right on the beachfront, with a beautiful terrace to sit and relax listening to the sound of the waters in Grikos Bay.
This villa features 2 bedrooms, a living room, an equipped kitchen with a dining area, and even a washing machine.
In the area, guests can enjoy diving and fishing as well as visit Petra Beach. Nearby, it's also possible to check different religious buildings, including Zoodochos Pigi Monastery.
>> CHECK REVIEWS AND BOOK HERE
Slow Luxury Patmos Villas Sophia and Tatyana
Why you should stay: Because it's the right place for a luxury stay in Patmos. Looking for the utmost Patmos experience? This is a great place to choose.
Great and comfy luxury villas with stunning pools, luxurious lounge areas, and amazing views of the sea.
The property is just 150 meters from Epsimia Beach too. The villas boast a cozy fireplace and are decorated following the traditional architecture and style of Patmos. They all open to a balcony and a patio, with includes a seating area and a built-in sofa.
Guests can relax at the sun loungers and use the BBQ facilities. There's also a beautiful roof garden with sea views.
Skala is approximately 4 km from the property while the Cave of the Apocalypse is about 6 km away.
in the settlement of Skala. The traditional stone-built house is on the top of a hill, overlooking the beach of Meloi beach. There are three fully-equipped and private apartments, each with a private entrance, balconies, and parking areas. There's a big veranda with amazing views of the beach.
Sleeps: these 5-bedroom villas can accommodate from 4 to 18 people!
Extras: free private parking is possible on site.
>> CHECK REVIEWS AND BOOK HERE
Sea & Sunset View Villa in Chora
Why you should stay: Because it's a wonderful, traditional villa, completely made in stone, with unique views of the sea.
Find this place the beautiful settlement of Chora, the capital of the island. Close to the main landmarks of Patmos, including the Monastery of Saint John and the Cave of the Apocalypse.
This unique 2-story villa has been built with elegance and taste with full respect to the local style, combining wood and stone. The west orientation of the villa offers a spectacular view of the sunset and a panoramic view of the Aegean.
It's fully accessible by car and only a 5-minute walk from Chora's main square. The Interior is tastefully decorated with an eclectic mixture of modern and traditional furniture.
The ground floor has a living room-dining area connected to a fully equipped kitchen with brand new appliances. There's also a bedroom with a queen sized bed and an en-suite bathroom.
On the upper floor, the master bedroom has a built-in bed, a small desk, spacious closets, and a large en-suite bathroom. From here, guests can admire the breathtaking panoramic views of Petra bay. There's also a steam room for the utmost relaxation!
>> CHECK REVIEWS AND BOOK HERE
In the mood for more islands in the Dodecanese?
>>Check what to do on Lipsi Island<<
Premium Pool Villa
Why you should stay: Because this is probably the most beautiful, stylish, and inspiring place to stay on Patmos island.
Check this unique luxury seafront place to stay with an amazing swimming pool. Recently built, the house offers everything you can ask for to live a fantastic vacation rental. There's a magnificent panoramic sea view combined with modern design, comfort, and total privacy!
The villa features 2 double bedrooms and 2 bathrooms with a shower. The common indoor area features a living-dining room with a comfortable kitchen and enjoys the same spectacular sea view and sunlight as the rest of the house. There are 2 outdoor terraces furnished and designed to comfortably host you while you are lounging by the private swimming pool.
Patmos House
Why you should stay: To enjoy this home with a beautiful pool no far from one of the most gorgeous beaches on the island, Psili Ammos.
Located in Gikos village, and only 2.7 km from Psiki Ammos, Patmos House features a garden, a terrace, and a fantastic swimming pool. Pets are allowed.
>> CHECK REVIEWS AND BOOK HERE
So… in which of these places are you planning to stay when you visit Patmos?
---
Where would you like to stay on Patmos island?
Let me know in the comments below!
---
Coming to Greece any time soon?
These resources will help you organize the trip!
Start by heading right to my Greece travel guide for in-depth details you need to know about Greece. You can also check my post to plan a trip to Greece with children!
Get in touch if you need extra help to plan your trip. If you want to tour West Crete, check my guide. Want more? Join my Private Facebook Group to connect with like-minded travelers who love Crete as much as you do!
Make sure you've got everything for a hassle-free trip!
I never move around the islands without my Osprey backpack, a sturdy but light travel partner I just love. For short trips, I carry this little crossbody bag. If I drive, I pack my Nikon D7200 and a good travel guide! Lonely Planet's Best of Greece & the Greek Islands.
When it comes to plane tickets, compare prices with a powerful search engine. However, nothing beats traveling by sea in Greece. With Ferry Hopper, you can book in advance at the lowest price.
For accommodation, I personally use Booking.com and Airbnb.
Traveling to remote places is easier with Discover Cars. Other times, I join organized tours with GetYourGuide, which features anything from cooking lessons to airport transfer!
Read more:
Sublime Things to Do in Patmos, Greece
Perfect Things to Do in Aegina, Greece
The Most Amazing Beaches in Sifnos Island
Relaxing things to do on Lipsi island
Family Holidays in Greece: The Best Places to Visit with Kids
Pin Now This Guide to the Best Homes and Villas on Patmos Island for Your Next Greek Vacation!
About the author of this blog: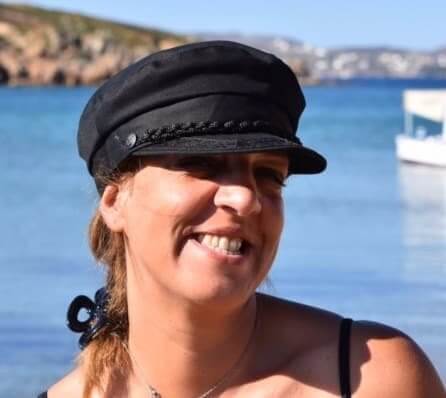 Gabi has been living in Crete for the last five years. On the island, she juggles being a solo mom, hosting culinary tours in summer, translating, and freelance writing.
She's written for Greek Reporter, published several travel guides about Greece, and had more glasses of frappe than any regular person would be able to handle.
---
You might also want to read:
---