Who's with me in fighting the holiday blues by dreaming about Greek destinations for family holidays? Because it's that time of year again: Christmas. If you are anything like me, you are not excited at the prospect of this holiday hanging over you. Let's face it, Santa Claus is a just lazy old man who gets all the credit for parents' efforts!. Other than that, the endless festive cooking (and cleaning), the ongoing pretence to be jolly… etc! I could go on but I will make a decision to stop myself right about here and get back on track. So, let's dream about Greek destinations for family holidays.
---
This article may have affiliate links to products and services that I use. If you make a purchase through these links, it might earn me a small commission at no extra cost to you.
Porto Heli: Resort town just a short drive from Athens
If you want to discover a place that has been a long-time favorite of Athenians, head to Porto Heli. A seaside town in the Peloponnese, only 2,5 hours from Athens, Porto Heli awaits to give families a wonderful holiday experience.
One of the best Greek destinations for family holidays in the Peloponnese is situated on a private bay, that of Hinitsa, with the island of Spetses in the distance.
Children have an entire world of their own, ample facilities will keep them entertained and engaged. Playground, cinema, and sports are available, all under expert supervision thus giving a new meaning to their holidays.
The added advantage to this is that parents can enjoy much needed alone time. Day trips to nearby attractions for the entire family to enjoy include the islands opposite, such as Spetses and Hydra by boat. By car, the ancient theatre of Epidaurus, built in 4th century BC, is less than an hour away.


Folegandros: An off the grid island for a family retreat
If your family wishes to vacation in a place that has been least affected by tourism, that is Folegandros. This Cycladic island has somehow managed to retain its traditional character charming visitors with its frugal and demure personality.
It is a laid-back island with a carefree attitude that most visitors find refreshing, especially families with young children. Upon arrival, it is not unusual to see the locals riding their donkeys, welcoming you with a heartfelt "Kalimera"!
To stay somewhere that is as much suited to adults as it is to children, then a luxury hotel in Folegandros port may be the perfect fit. It has all the facilities families could want from a hotel in Greek destinations for family holidays.
Folegandros has many beautiful beaches and loads of beautiful churches. Landscapes are incredible too. And as dramatic as those of the more popular Santorini.
Santorini: The iconic island that is not just about romance
Despite popular opinion, Santorini is not an exclusively romantic destination. And thankfully, because this way children can also become bewitched by this majestic place. They will probably never forget it!
When visiting Santorini with children opt for a central location, like the main town. This way you can saunter in and out by foot, any time you desire.
You can avoid staying in the crowded area of Oia since the sunset can be enjoyed from every spot facing the volcano.
Another thing to consider is staying somewhere which is family-friendly and has facilities everyone will enjoy.
Centrally located hotel & suites in Fira Santorini feature a large, main swimming pool in contrast to the endless array of private pools for only two. As for experiences for the family, horse riding on the beach (no donkeys), exploring villages, or a day at the water slides in Perissa.
What is your ideal destinations for the Holidays with the family?
Let me know in the comments below!
ARE YOU LOOKING FOR GREAT THINGS TO DO IN CRETE?
Check the complete destination guide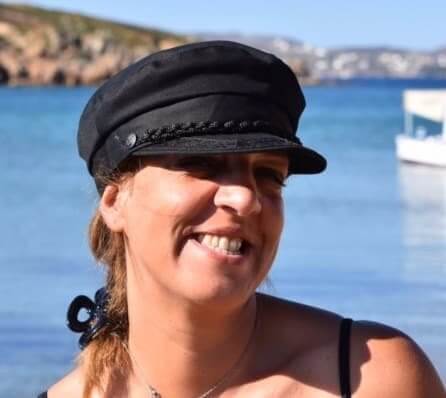 About the Author
Hola! I'm Gabi. Welcome to The Tiny Book – Crete Travel Blog! I moved to Crete to explore the island all year round. I love taking pictures and driving on the mountain roads of Crete. I'm a beach freak and on this island I've found heaven on earth!
Last updated on