Greece is an amazing country, living here for a whole calendar year made me experience incredible stories that (I keep promising myself), sooner or later are bound to end up in a book. A complete year of Greek life also taught me a lot about traditions and superstitions that I started observing, fearing, and even putting into practice myself: A little bit for fun, and another bit because… you never know! So you only need to take a look at the following list of beliefs and superstitions to add a touch of Greek luck to the end of the year.
---
Disclaimer: Posts include affiliate links to products or services. I might earn a commission if you make a purchase.
---
PLANNING A LAST-MINUTE TRIP TO GREECE?
Be sure to book accommodation and tours in Greece ahead of time to ensure availability!
🛥️ Book ferry tickets with Ferryhopper.
🛌 Find hotel deals on Booking.com.
🚘 Compare car rental prices with Discover Cars.
💳 In need of money? Use WISE as a digital card and top-up from the app.
Everything About Greek Superstitions!
In this article we discuss some of the most common, the funniest, and the most bizarre superstitions you're bound to find in Greece during your travels, get yourself a lucky charm and read on!
The Evil Eye
This ancient superstition is my favorite of all. And it's the perfect excuse to buy tons of Greek lucky charm in any possible version: Bracelets, rings, necklaces, bags, and more.
They say that evil eye can strike any moment. You just need someone making a compliment, for minor catastrophe striking a minute later. That's the evil eye hitting on you.
Blue charms shaped like eyes or just blue beads protect you from this bad luck. The legend says that anything that's blue will protect you from the evil eye. But they also say that people with blue eyes are exceptional givers of the evil eye.
Another lucky charm against its is garlic. But, of course, the bulbous object might be a bit inconvenient inside your pocket or your bra, so remember: repeat the word skorda (the Greek for garlic) whenever someone makes a compliment. Then, spit three times on yourself.
Bread is Always Holy
Bread comes to us as a gift from God, and it is a protagonist in several pages of the Bible. I even remember seeing my grandma kissing a piece of bread before slicing it. I have seen the same ritual in lonely villages, places where, God forbid, no bread is ever thrown away.
>> Read everything about bread in Greece <<
Bat Bones
Some consider the bones of bats to be carriers of good fortune and even carry a small chip of bat bone with them all the time. On a side note, though, killing a bat is thought to bring extremely bad luck, so act accordingly!
Lucky Pomegranate Seeds
Another all-time-favorite lucky charm is this fruit, symbol of prosperity, joyful times and fertility all over Greece. The tradition of smashing a pomegranate on your threshold on New Year's Eve is still very much alive in my village.
And locals say that the more seeds you spread and the more mess you make, the more luck and prosperity you will get in the new year. Those cleaning the floor might agree a bit less, though.
Knives and Crows
Bad luck can come in different shapes. Like with salt back in my country, remember to never, ever hand a knife to a Greek. Just put it on the table and then let others pick the knife themselves if you want to avoid a fight.
Misfortune and bad news come together with the sight of crows. In fact, when locals see or hear them cawing, people would say Sto kalo, kala nea na me feris or something like "fly and bring back good news".
Show Me the Money
The more I get to know the local customs, the more I wonder about my grandma's origins… Because many (and I mean really a lot) of the local superstitions had been introduced to me during my childhood by my grandmother, this first and foremost: Money attracts money.
As a logical result, you should never have a wallet, purse, or pocket empty, the same goes for your bank account. Equally, if you decide to give a wallet as a present, always give it with a coin inside.
Salt and Onions
These two are some of the most popular medicines in Greek folklore. Onions apparently have healing powers for breathing issues, but also for bones and sprains.
Salt is a house cleaner, if you are moving to a new house, sprinkle some of it before entering so that all evils are driven away. If you want someone to leave your house because… well, let's say you've got better things to do, drop some salt behind them, and they'll leave.
Go and Buy that Cactus
I didn't know about this one until I received one from a neighbor. Every Greek household should have a cactus near the front door. This is the evil eye for buildings, and I'm sure you've seen them around the islands growing proud in tomato sauce cans or huge feta cheese containers
Greek Spitting: Ftou, ftou, ftou!
There are lots of reasons why spitting is common in Greece, spitting will:
1) Keep evil away from you and others
2) Avoid misfortune or bad news also happening to you or others
Tradition wants you (or someone else) spitting three times repeating Fitse ston korfo su (or at least this is what I hear and meaning spit on yourself).
Something I heard recently is that fishermen spit on their nets before putting them at sea both to keep the evil eye at a distance but also to get plenty of fish.
Tuesday 13th is the unlucky day of Greece, not Friday (again, like back in my country!). The same goes for black cats or making a toast with coffee or water.
Other Oddities from the Greek Folklore and Superstitions
Greeks shouting Pease kokkino (touch red!) if two people say or think the same at the same time. Both persons have to touch something that's red immediately!
Greeks treating of putting pepper on your tongue when you curse (if this was true, I'd be dead already!)
Remember, don't you ever fall asleep under a cypress, it will steal your brains!
---
Are you superstitious?
Let me know in the comments below!
---
Read More:
Top Convenient and Beautiful Airbnbs in Chania, Crete
Fantastic Resources to Travel to Crete
Most Traditional Airbnbs in Aegina, Greece
One Day in Hydra, Day trip from Athens
Perfect Things to Do in Aegina, Greece
Pin it Now! Pin this Fun Guide to Superstitions in Greece and Be Ready for Your Next Adventures!
About my blog: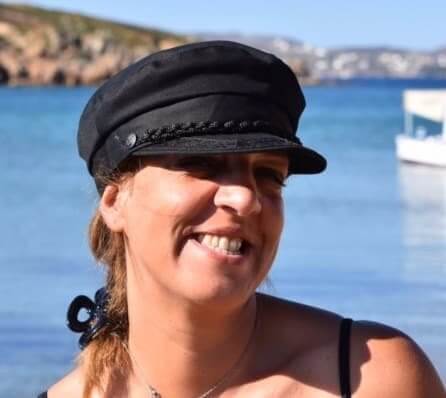 I moved to Crete in 2016. During these years, I learned much about the island.
In Crete, I juggle being a solo mom, hosting culinary tours, and writing for several travel blogs.
I've written for Greek Reporter, published travel guides about Greece, and had more glasses of frappe than any regular person could ever handle.
---
You might also want to read:
---