When you think about Greece, you usually picture sunny days by the sea and amazing beaches, right? However, Greece is not only just a summer destination. Different and unique Greek Christmas traditions can be discovered during the cold season.
There's plenty to see and do in Greece at Christmas, and there are also so many fantastic Christmas traditions that Greece is famous for… Read on to learn everything about Christmas in Greece.
---
Disclaimer: Posts include affiliate links to products or services. I might earn a commission if you make a purchase.
---
Greek Christmas Traditions: Everything about Christmas in Greece
PLANNING A LAST-MINUTE TRIP TO GREECE?
Be sure to book accommodation and tours in Greece ahead of time to ensure availability!
🛥️ Book ferry tickets with Ferryhopper.
🛌 Find hotel deals on Booking.com.
🚘 Compare car rental prices with Discover Cars.
💳 In need of money? Use WISE as a digital card and top-up from the app.
Holiday traditions vary from country to country and even within a country, from region to region.
In Greece, for instance, you can spend a magical season by exploring the cold northern regions of the country or even taking advantage of the more affordable prices to reach some of the islands.
When looking at Greece, for example, a country with hundreds of inhabited islands, you will find that there are unique rituals and customs in every one of them.
Christmas Traditions from Greece
Here, I share some Greek Christmas traditions belonging to the Cyclades and some about the island of Crete.
Delicious Greek Christmas Traditions!
In every Greek household, it's more than expected to have homemade Christmas treats.
These can vary from the traditional Greek Christmas cookies to other food specialties and dishes unique to each island.
When it comes to cookies, the tradition is split between two distinct flavors, both of which usually pose a dilemma (at least for me!)
Melomakarona vs. Kourabiedes
How about both, please?
Melomakarona is a honey-glazed cookie, usually sprinkled with crushed walnuts, and often found in a version covered in dark chocolate that can be a bit heavy but utterly delicious.
Kourabiedes are butter cookies with toasted bits of almond and covered in caster sugar (shortbread style). It was probably my favorite until I was introduced to chocolate melomakarona.
Both are delicious and available in every patisserie around Greece, not just on the islands. They are not complex to make either, so they are usually found on every family table during the holidays.
If you want to enjoy both and avoid feeling guilty about calories, check this post I wrote for Greek Reporter.
Discover the Best of Santorini during Christmas!
Get in a festive spirit and discover, together with a professional local guide, the magic that Christmas brings to Santorini…!
Learn the secrets of Christmas traditions in Santorini
Venture to a Christmas market and try the local delicacies
See Santorini away from sunshine as it fills with Christmas magic…
You will also learn about the Christmas legends of Santorini. Together we will visit the old-fashioned Christmas Market in the city. Fill your heart with Christmas joy and experience the magic of Santorini.
The exclusive tour is only available during the Christmas period, allowing you to see Santorini in a different light!
Xerotigana
Also known as Tigana, tiganites, or diples, these fried treats are a tradition in many households.
This sweet is a thin fried dough drenched in syrup that can take very different and creative shapes according to where you eat them.
On Christmas day, these festive treats or tiganites are an authentic tradition in Santorini, while on Crete (not a Cycladic island though) they are also served but are not strictly festive.
Christopsomo and Vasilopita
In many different areas of Greece, and not just on the islands, housewives cook Christopsomo (which translates as the bread of Christ).
This kind of festive bread is fancier and sweeter thanks to the addition of extra ingredients, such as raisins, walnuts, and spices.
You can read my Bread from Greece article to have a more in-depth idea about the different types of baked products that are typical of the country.
When it comes to New Year, Greeks cook Vasilopita. The traditional version of this dish is more or less a special New Year cake bearing a lucky coin inside, the flouri.
It's customary for families to divide and serve the Vasilopita in equal portions for everyone attending the dinner, and of course, whoever lands the slice with the flouri will be the lucky one for the coming year!
Luck is what brings us to the second group of traditions, the superstitious ones.
Superstitious Greek Christmas Traditions
The Santorini tradition of Kalichera
Going back to Santorini, it's common for the local elementary school students to extend their hands to their teachers in an old custom called Kalichera (good hand). This usually takes place on January 1st.
Kalichera is a tradition with very ancient Byzantine roots which always suggests good intentions. Children bear money, eggs, or chickens to their teachers, as a goodwill present. This might perhaps suggest that maybe it pays to be a teacher in Santorini.
The Kallikantzaroi
Another island worth mentioning for its superstitions is Folegandros. Here, there's a local legend that has to do with the universal myth of evil spirits trying to defile humans at Christmas.
And even though this is a very famous superstition all over Greece, it's on Folegandros that this story is most dear to the locals.
According to Christmas lore, our world connects to the underworld through a tree. However, these little, evil creatures, the kallikantzaroi, live beneath the tree, waiting for a chance to trick the minds of men, causing them to steer away from virtue.
The kallikantzaroi spend the year trying to saw and ax the tree down but they usually fail. According to this superstitious legend, during these 12 days, evil spirits can rise to our world because in this period Christ wasn't baptized.
That means he can't protect humanity from evil. These evil goblins roam the earth freely, entering people's households and usually upsetting and frustrating them. Here, you can read more about this superstition in the rest of the Balkans.
Unique Greek Christmas Traditions
Christokoutsouro
This superstition relates to the evil spirits above. On the Greek island of Naxos, and during the 12 days of Christmas, people try to keep the kallikantzaroi away. The best way to do so is by keeping their fireplace lit.
In Naxos, locals usually burn what they call Christokoutsouro. The Christokoutsouro are two logs, one on top of the other, with the shape of a cross.
The legend says that keeping this special fire going deters evil spirits from entering the home.
What's interesting (and slightly weird) is that these logs represent the bond of the household couple. As the embers burn together as one, the bond between the couple is enhanced. It must be incredibly challenging to keep the fire going for a straight 12 days.
Let alone make sure that the two logs stay together when they burn.
According to the local folklore, all the above help drive back these evil beings into the ground for one more year. This way the Greeks contribute to making the world go back to normal.
Fun Holiday Traditions from the Greek Islands
Santa Run on Crete island
Personally, Christmas is my least favorite period of the year, however, there's one tradition I enjoy since I'm in Crete, and that's the local Santa Run marathon that we celebrate every year in Chania.
For those who still have never considered Crete for a Christmas break, the island is awesome to escape some colder regions in Europe, thanks to its milder December temperatures.
Plus, it comes packed with outstanding Cretan food and a unique event.
The Santa Run is a celebration held in many other cities around the world, on Crete it is organized to raise funds to support children's associations.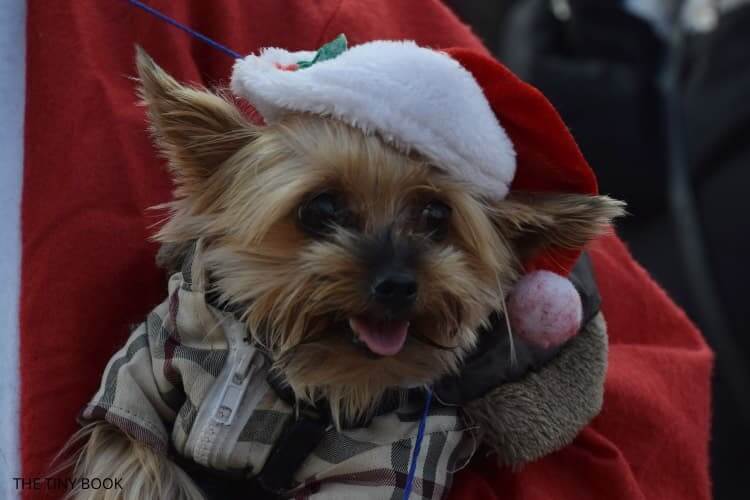 The participants, dressed up as Santas (and some as elves too!), walk along a city route, usually singing and dancing, until they reach the arrival point, commonly set at the Yiali Tzami Mosque, in the Venetian Port of Chania.
Upon arrival, both those who participated and those who were just witnesses, gather in circles and dance to the traditional music of Crete.
As they say in town, Santa Run features no winner, at Santa Run everybody wins because the funds go to kids in need.
Once the marathon is over, it's common for everyone to spend the rest of the afternoon in one of the different cafés by the sea, enjoying a cup of hot chocolate.
Epiphany
When Epiphany finally arrives, it's time for the blessing of the waters. Probably one of the most heartfelt rituals all over the country.
On the 6th of December, the local priest throws a wooden cross on a chain into the sea. When this happens, many locals dive into the cold January waters in a swimming race to grab it.
He who rescues the cross from the bottom of the sea, river, or lake, receives the holy blessing for the coming year. In virtually every Greek village, all the communities organize a unique Epiphany event.
The way the Greeks celebrate Epiphany is only for brave participants. And only fun to watch as opposed to diving into very cold waters yourself (which is not fun at all).
In all other circumstances, you should choose to swim in the Aegean in warmer months. And then enjoy the Greek sea to the fullest with a wonderful holiday on the Greek islands.
To Karavaki
A unique symbol of Christmas in Greece and one of the most heartfelt Greek Christmas traditions is this small boat. It usually has lights as decorations and it's in every square of towns and villages.
It's the karavaki (literally, "little boat") and it has gradually been replaced by the more common Christmas tree. However, it remains in many places.
In a country with such an important maritime past and tradition, this little boat remains the preferred Christmas ornament on many Greek islands.
The tradition of having a boat is related to Saint Nicholas, the patron saint of the seas, and the sailors which Greeks celebrate on the same day that they start preparing their houses for Christmas, on December 6th.
Kalanda
A kid's favorite, Kalanda is what they call the Christmas Carols in Greece. Children, sometimes dress in Christmas costumes too. They wake up early and go, from door to door, singing Christmas songs, usually with some simple musical instruments.
Some kids choose to do this either on the 1st of January or on the Epiphany. However, children tend to go out singing carols also on the 25th of December.
This very old tradition is pretty much alive all over the country, but mostly in very small villages. The custom requires that when the kids come to your door, you will give them some pocket money.
This is because their songs are supposed to be a blessing for every house they visit.
Have you ever spent the Christmas holidays in Greece?
Read more about Christmas & Winter Travel
🛌 Suggested Accommodation in Athens:
🗺️ More resources to book your trip to Greece:
Want to Read it Again? Pin This Guide to Christmas in Greece and Save the Read for Later!
About my blog: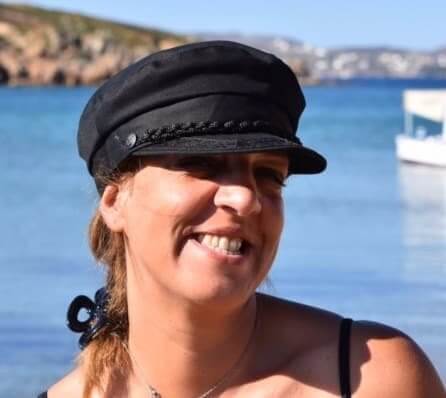 I moved to Crete in 2016. During these years, I learned much about the island.
In Crete, I juggle being a solo mom, hosting culinary tours, and writing for several travel blogs.
I've written for Greek Reporter, published travel guides about Greece, and had more glasses of frappe than any regular person could ever handle.