When thinking about Crete, what usually comes to mind is the image of heavenly pink sand beaches, picturesque seaside villages, and gorgeous summer weather. However, Crete is a fantastic winter destination, and spending Christmas in Crete can be an unforgettable surprise!
In this post, I will share some of Crete's Christmas traditions and offer ideas of places to see foods to eat, and things to do for an unforgettable holiday season in Crete.
---
Disclaimer: Posts include affiliate links to products or services. I might earn a commission if you make a purchase.
---
Christmas in Crete: Everything You Need to Know
Christmas in Crete
By the end of October, the island starts to look more lonely, with fewer tourists flocking to the beaches of Crete, but also fewer flights and cruise ships arriving on the island.
And although there are still many visitors in the most popular regions, little by little the cities go back to a more relaxed rhythm as children go back to school and days get shorter.
As November arrives, locals seem to conquer back their towns. Traffic is less intense, parking is easy again, and finding a good place to eat is not as overwhelming.
Finding where to stay can also be easier, even when beach resorts and seaside accommodations close during the winter, many city hotels, mountain resorts, and vacation homes remain open all year round (and fees are very convenient).
By the first weeks of December, cities are already dressed in thousands of Christmas lights and decorations. Across the island, different main squares display a huge Christmas tree or a big karavaki, the lightened Christmas boat, one of Greece's most heartfelt Christmas traditions.
Markets start offering seasonal produce for delicious Christmas dishes and everything about shop windows is kind of Christmassy. Let's see what are the most common Christmas traditions in the different regions of Crete.
Christmas in Heraklion
Since Heraklion is the capital and biggest city in Crete, you can expect to find dozens of Christmas events everywhere in town.
There is a popular Christmas Market that's set up in central Eleftherias Square, where it's possible to buy gifts and traditional decorations.
However, this Christmas market is better known for the festive atmosphere given by small wooden houses where you can purchase delicious treats, including Heraklion's famous custard bougatsa, but also taste local spirits and even mulled wine.
This market resembling Santa's village is a great place to purchase original crafts made on the island and taste roasted chestnuts, and it's a perfect place for children to have fun too as there are ice skating rinks, workshops, music events, playgrounds, and dozens of other entertaining activities.
The Cathedral of Heraklion is another place worth a visit during the days leading to Christmas. It is here where many locals gather to participate in the different liturgical services that take place during the whole month of December.
On Christmas Eve, all the churches in Crete have a special service, but Saint Minas Cathedral's nativity liturgy is the most remarkable of them all, receiving people from all over the island.
Christmas in Chania
The prettiest town in Crete gets even more beautiful during the festive season. You will find lights and Christmas decorations all over town, with specially designed photo spots for a Christmassy snapshot of the whole family.
The Old Venetian Port area looks magical with all the colorful buildings decorated with hundreds of lights. Near the Mosque of the Janissaries, right opposite the Egyptian Lighthouse, the city hall sets up a big Christmas tree while there are a few stalls selling sweets and Christmas decorations in the area as well.
Although it could not be described as a full-size Christmas market, kids can enjoy the Christmas train ride or have a delicious sugar candy treat.
During the days leading to Christmas, locals love to gather at any of the port bars and restaurants for festive dinners or just a coffee but also to exchange Christmas and New Year's wishes with family and friends.
The week after Christmas, usually on the 26th of December, Chania's traditional Christmas appointment is Santa Run, a massive gathering of people often dressed as Santa (or even elves), that run this Christmas Marathon (although many people simply walk and have fun) for charity purposes.
This is one of the most traditional events during Christmas in Crete!
If you're staying in Chania during Christmas, do not miss the Christmas mass in the cathedral of Chania, at Trimartyri Square.
For a more religious experience, check out the service on the Eve at Agios Nikolaos Church in Splantzia, or visit the nearby Agia Triada Monastery.
Christmas in Rethymnon
Lively and buzzing with its huge University population, this young Cretan town is a great Christmas destination if you happen to spend the holidays on the island.
The third city in Crete is home to dozens of bars and pubs that get especially decorated during the merry season adding to the festive atmosphere.
Most of these places host their special Christmas events starting from mid-November until the first week of January. Pubs such as Fraules or Queens Rooms, opposite the sea, have popular seasonal events
Christmas-related activities are available all over December, including small street markets, Christmas bazaars, artistic performances, and music festivals.
Kalanda (which is the traditional name that Christmas Carols receive in Greece) are particularly popular in Rethymnon, where there is even a dedicated event featuring the Municipal Philharmonic playing popular Greek Christmas songs.
The city of Rethymnon proudly displays a myriad of Christmas lights and decorations on every corner. Particularly beautiful Christmas sights can be enjoyed along the Venetian port and the old town.
Moreover, in every square of the modern city, it is possible to have a seat inside these immense illuminated Christmas ornaments.
There is also a lot to do in the rest of the region too. Reach the Psiloritis Natural Park for a weekend away in the traditional village of Anogeia, where it's possible to live a truly white Christmas as snow is not odd up in the highest peak on the island.
Foodies will be happy to know that many of the city's best restaurants and boutique hotels offer Christmas dinners that feature our delicious roasted lamb.
Besides, dinners often end with a tasty sampling of Greek Christmas honey cookies – melomakarona and kourabiedes, but also with local Rethymnian wines and tsikoudia!
Christmas in Agios Nikolaos
Another coastal town worth visiting all year round, the capital of the Lasithi region, Agios Nikolaos, is a magical corner in Crete to celebrate Christmas.
However, the city starts getting festive from the beginning of the month when, on December 6 the city (and the whole island) celebrate Saint Nicholas, its patron saint.
The celebrations are impressive, including music and fireworks. Being the patron saint of Agios Nikolaos, but also of fishermen, sailors, the Greek Naval Forces, and Coast Guard as well as the patron saint of the country, everyone gathers and celebrates on this special occasion.
Just as you'll find in every port on the island, the small port of Agios lightens up during Christmas with dozens of fishing boats decorated with lights and other ornaments.
This is a wonderful, purely magical sight when the sun goes down and the water shines reflecting the colors of Christmas.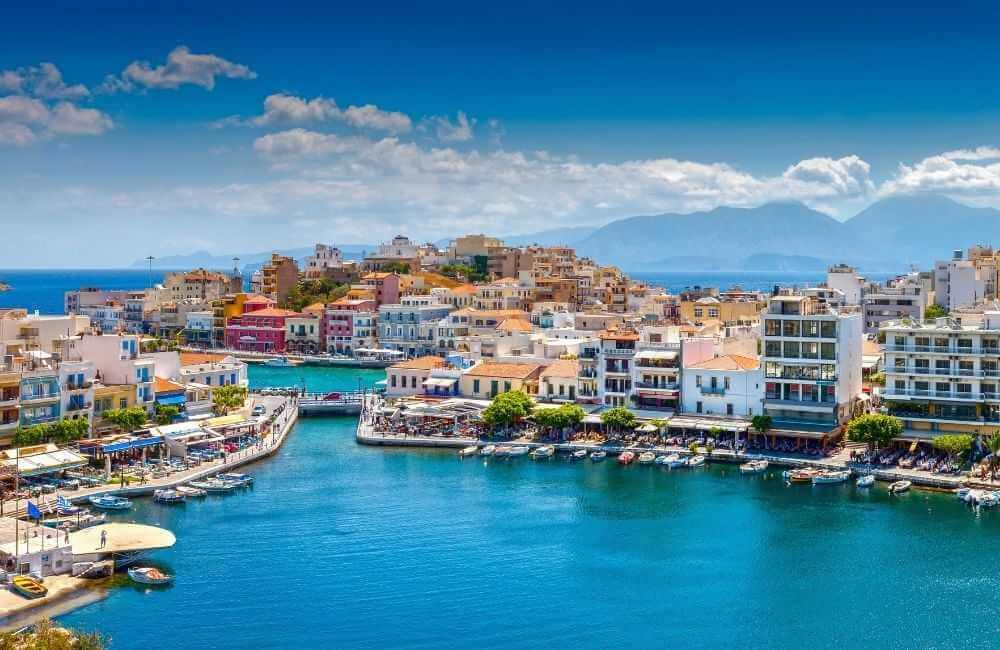 The main area where locals gather is around Lake Voulismeni where a huge Christmas tree with colorful lights and decorations is a must-visit sight in town.
But for a more traditional flavor, pay a visit to the enchanting villages nearby, such as Mochlos or Neapolis, for a unique Christmas spirit, a small mountain settlement such as Kritsa is a great place to pay a visit.
During the Christmas liturgy, head to any of the local chapels and feel the spiritual atmosphere of the holidays, far from the more commercial areas on the island.
Christmas Dishes to Eat in Crete
Crete is a place where food is often one of the main reasons for travelers to visit, and Christmas could not be any different.
Apart from sharing dozens of tasty Christmas dishes from the rest of Greece, some recipes are especially treasured and enjoyed on the island, including dishes made with pork, as well as different varieties of Christmas cookies, Christmas bread, and more.
Christmas Cookies: Melomakarona and Kourabiedes
There are two different cookies you can enjoy in Crete at Christmas: Melomakarona, a honey-glazed cookie, humid, very sweet, and sprinkled with crushed walnuts, and kourabiedes, a kind of shortbread or butter cookies with toasted bits of almond. You can learn how to make these cookies here.
Christmas Bread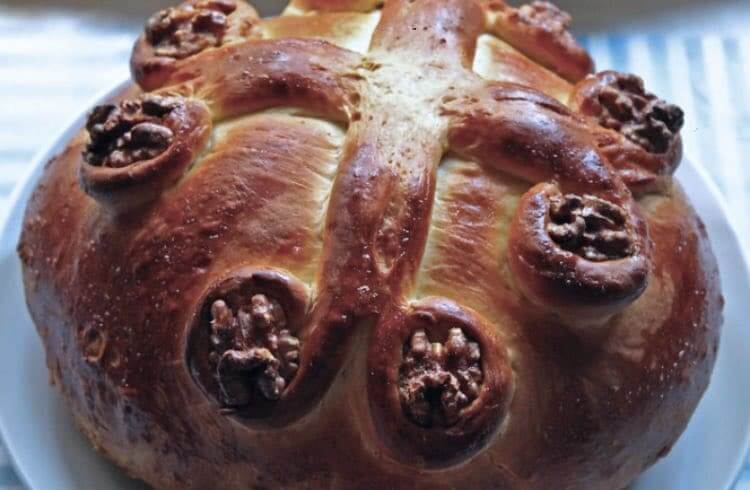 In many different areas of Crete (as well as in other areas in Greece), housewives cook Christopsomo, which translates as the bread of Christ.
When it comes to New Year, Greeks cook Vasilopita. The traditional version of this dish is more or less a special New Year cake bearing a lucky coin inside, the flouri.
It's customary for families to divide and serve the Vasilopita in equal portions for everyone attending the dinner, and of course, whoever lands the slice with the flouri will be the lucky one for the coming year!
Christmas Pork
Another staple dish that won't be missing on any Cretan table during Christmas is pork. Pork cooked with celery is one of the local favorites.
However, you can also find other dishes made with pork, including pork cooked with tomato sauce, lemon sauce, grilled, and many varieties of sausages as well.
This culinary staple comes from an old tradition in Crete where, in the past, every family in the village used to raise a pig which was slaughtered on the night of the Eve in order to serve as the main Christmas dish.
However, once the celebrations were over, the rest of the pig was cooked and prepared in a way that it would feed the household for months to come.
Families would cut the pork to prepare unique dishes including rich-in-fat dishes such as tsilada a dish prepared with the head and feet of the pork, siglina, omathia, and tsigarides, a typical Christmas snack made with the fat of the animal as well as the more common village sausages and smoked pork or apaki. Are you planning to spend Christmas in Crete?
Read more
🛌 Suggested Accommodation in Crete:
🗺️ More resources to book your trip to Crete
Pin This for Later: Things to Do during Christmas in Crete
---
You might also want to read these posts about Crete's regions:
---
About my blog: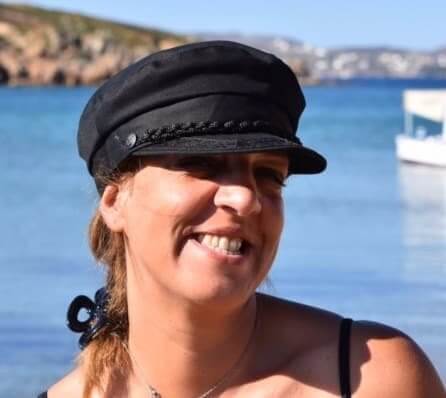 I moved to Crete in 2016. During these years, I learned much about the island.
In Crete, I juggle being a solo mom, hosting culinary tours, and writing for several travel media.
I've written for Greek Reporter, published travel guides about Greece, co-authored DK Eyewitness Top 10 Crete, and had more glasses of frappe than any regular person could ever handle.