Having lived just a few minutes from Milan for more than 20 years, I must admit that I know this city quite well. I was a student at Milan University, where I graduated, and both my kids were born in the area too.
Milan is a fascinating town, my second home, and a place that never stops amazing you with its incredible architecture, its unique churches and museums, and its interesting shopping experiences.
In this guide, I've gathered the best things to do in Milan, including a few unusual gems and lesser-known spots to visit. Let me show you the best of Milan to make the most of your trip to Northern Italy.
---
Disclaimer: Posts include affiliate links to products or services. I might earn a commission if you make a purchase, at no extra cost.
---
Best Things to Do in Milan, Italy
Basic Things You Need to Know about Milan
But first, let's get ready for Italy!
RESOURCES TO PLAN YOUR TRIP TO ITALY!
Book your flight: I use Skyscanner to compare prices before booking a plane ticket.
Book your accommodation: I've tried many different platforms for accommodation, but none of them beats the advantages of Booking.com.
Book your car: The best way to find an affordable car to rent is to use a powerful search engine that compares all the rental companies in the market. I use Discover Cars.
Book your tours: Live unforgettable adventures and cultural experiences with Get Your Guide. For instance, you can visit the Colosseum, discover Milan's Duomo, explore Pompeii, or wander the streets of Florence.
Don't forget travel insurance: Things can go wrong at times, but travel insurance will protect you against illness, injury, theft, and cancellations. I recommend Safety Wing for peace of mind.
Where is Milan
Milan is Italy's most important industrial city and one of the richest areas in the country. Milan lies in the northern Lombardia region (Lombardy) of Italy.
It's the country's most developed economic and industrial area. Milan is located a 6-hour drive from the capital of the country, Rome, and nearby cities including Turin in the Piedmont region to the east, and Venice, in the Veneto region, to the west.
How to Get to Milan
It is not difficult to find affordable flights to Milan from almost any European capital. There are also regular flights from Naples, Rome, Sicily, and other Italian cities.
There are two international airports in the region: Milan Malpensa Airport, about 40 km from the center of town, and the smaller Milan Linate Airport, just minutes from the center.
Not far from the Lombardy region, the smaller Milan Orio al Serio Airport is another low-cost hub receiving flights from the rest of Europe. Orio al Serio is about 90 minutes from the center and it operates with low-cost carriers including RyanAir, Vueling, and the Turkish low-cost Pegasus among others.
Italians, though, love train travel. And they are not to blame since the country has a very efficient train system.
High-speed trains also connect Milan to other European capitals, for instance, it is possible to reach Paris from Milan by train in about 7-8 hours departing from Gare de Lyon.
When is the Best Time to Visit Milan
Milan is an attractive city to visit all year round, however, I prefer Milan during winter. Even when the weather can be grey, windy, and very rainy at times, the city is especially charming in cold weather.
Snow is not very common in town as it can be closer to the northern part of the region, including the mountains and the lakes.
However, it can snow a little in town too during December and January, causing some traffic issues, so avoid driving if you can.
And even when it does not snow, winter temperatures can be really low, so packing warm clothes and waterproof boots is a good idea.
Autumn is a great time to discover Milan on foot, it can be rainy, but when the sun shines, nothing beats the blue skies of Lombardy. This is the time when the school period begins, so many attractions are less crowded.
Milan can be really hot in summer and overcrowded too as it receives visitors from all over the world. During August, most locals take their summer break and many shops and attractions can be closed or have reduced operating hours.
Spring is also a fantastic season to explore Italy, especially the regions in the north of the country.
The weather can be somewhat unstable so carrying a packable umbrella or a fordable raincoat is always a good idea when visiting Milan, in EVERY season!
How to Move Around in Milan
Milan's urban transport system is affordable, fast, and efficient. There are several metro lines connecting different neighborhoods and taking you to almost every landscape.
Purchasing a daily or a weekly pass for the metro allows you to save plenty of money (the metro pass can also be used on urban buses and trams). It is also possible to download the ATM App and purchase the tickets online. This is the Android version and this is the App Store version.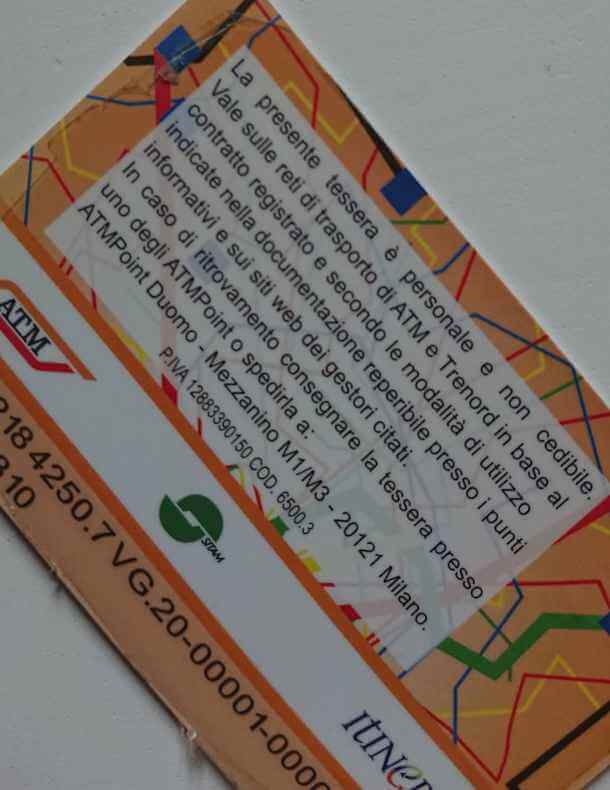 The bus and tram network is also efficient, however, remember that Milan is famous for its chaotic traffic, so prefer the metro whenever you don't want to waste time being stuck in the traffic.
Urban and regional trains are good for short-distance day trips as well as to reach Milan Malpensa Airport.
The main station is Milano Centrale, but there are other stations in town including Milano Porta Garibaldi and Milano Cadorna among others.
Helpful resources to move around in Milan
It's a good idea to get a city pass like Milan 48-hour to explore Milan according to your interests, it includes discounts at dozens of affiliated restaurants and shops, free entrance to city museums, and convenient transport options.
Alternatively, you can opt for a Milan hop-on-hop-off pass, which can be valid for 1, 2, or 3 days in Milan.
Where to Stay in Milan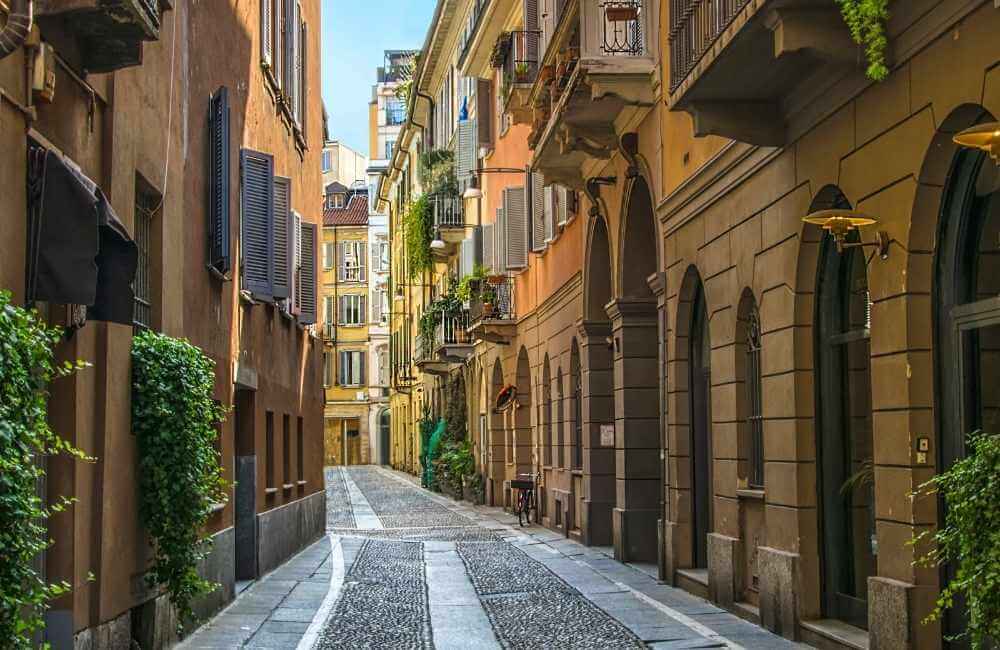 There are several neighborhoods that are great for travelers wanting to remain in a central area and close to the main attractions. If that's your case, I suggest staying near the Duomo.
If you're staying in Milan for a short time, you could also stay near the main train station, however, it is not as safe as night and, in any case, you can reach Milano Centrale Train Station with a short metro ride from virtually any neighborhood in town.
The city of Milan offers dozens of places to stay for all budgets, with prices starting from € 100-120 per night in affordable hotels or during the lower season. I suggest checking these places to stay near the Duomo:
Didn't find the right place to stay? Check this link to look for the best hotel deals as well as rental homes if you still don't know where to stay in Lombardy.
Top Places to See and Best Things to Do in Milan
The Duomo
This is arguably one of the most popular things to do in Milan. Known as Il Duomo di Milano, the city's cathedral is an iconic symbol of Milan that was built over a period of five centuries, seeing the work of different architects, sculptors, and artists as time went by.
This imposing Gothic church was built in white Candoglia marble and features impressive stained-glass windows.
It is the second-biggest cathedral in the world and is dedicated to the nativity of the Virgin Mary. It features more than 200 bas-reliefs, 90 gargoyles, 130 spires, and more than 3000 statues.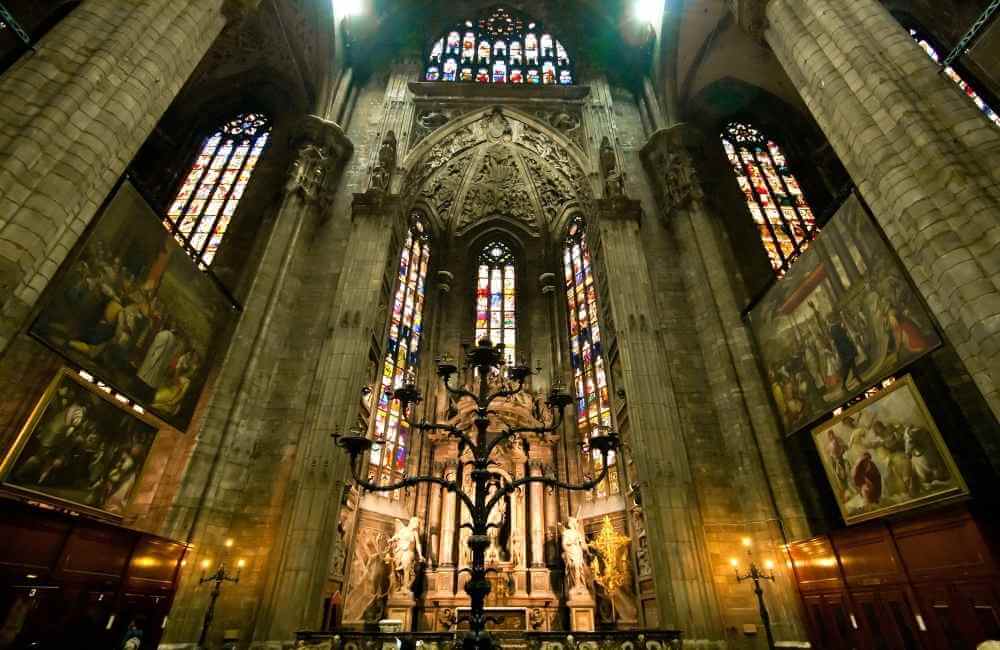 As you would expect, this is one of the most crowded landmarks in Milan, so it is a good idea to book a tour & skip the line pass to avoid spending long hours waiting in lines. This way, you will be able to make the most of your day.
Remember to cover your shoulders to access the cathedral. Take a scarf or sarong to cover your shoulders (even in summer) as this is required to visit the place.
When visiting the Duomo, you can check out the interior of the 5-nave church but also climb to the rooftop. In fact, not just tourists love to climb to the top of the cathedral, but also locals do it from time to time.
To get to the roof you can either use the stairways or the lift. This access is open from Mondays to Sundays and from 9.00 to 18.30. And prices vary according to how you decide to climb. There are different tickets available and they also grant access to
The Cathedral
Duomo's archeological area
Rooftops (lift or stairways – prices vary by about €5)
The Duomo Museum, the San Gottardo Church, and any Exhibition (if available at the moment of the visit)
From the roof, you can enjoy an outstanding view of the city stretching as far as the Alps on a clear day. However, the most important thing to see when going up to Duomo's rooftop is the Madonnina, Milan's most remarkable statue.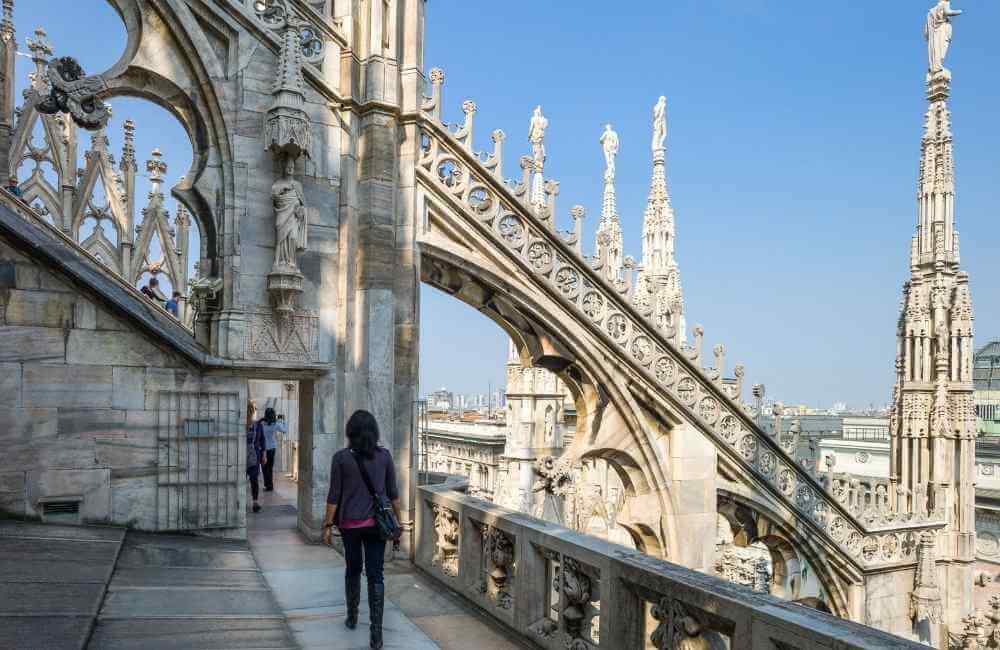 This small virgin perched on the highest spire of the Cathedral is the symbol of the city. It was erected in gilded copper in 1762 at a height of 108.5 meters.
>> A curious fact: By tradition, no building in Milan is higher than the Madonnina. When the Pirelli building was erected (127 meters), a smaller replica of the Madonnina was placed atop, so the new Madonnina remains the tallest point in Milan.
The same was done in many other modern and taller buildings as the years went by.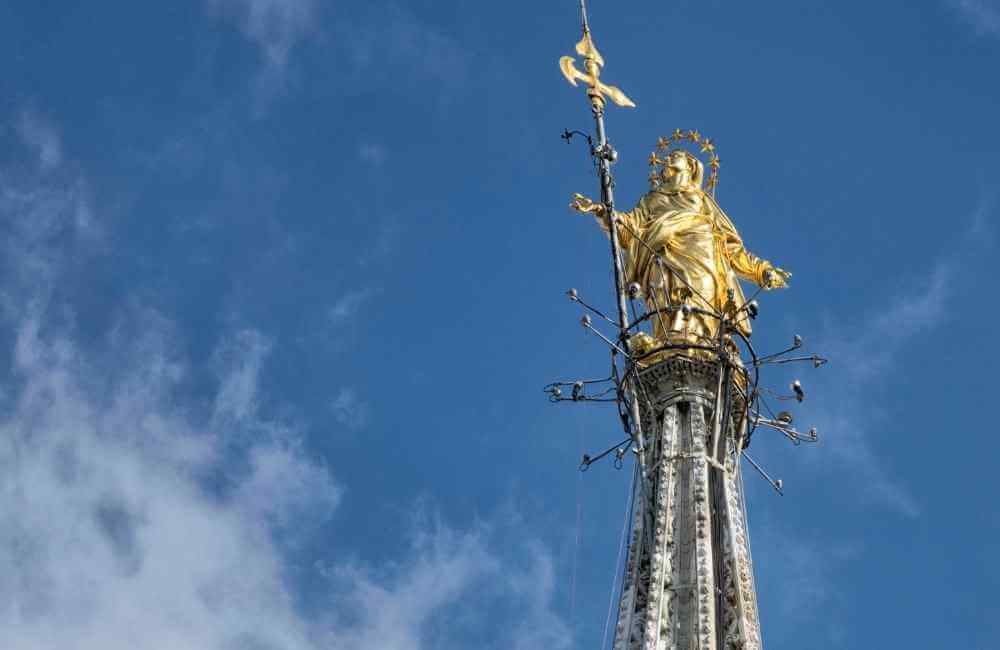 Discover more by joining an organized tour:
>> How to get to the Duomo: reach the Duomo with the metro, lines M1, or M3, and get off at Duomo station.
Vittorio Emanuele Gallery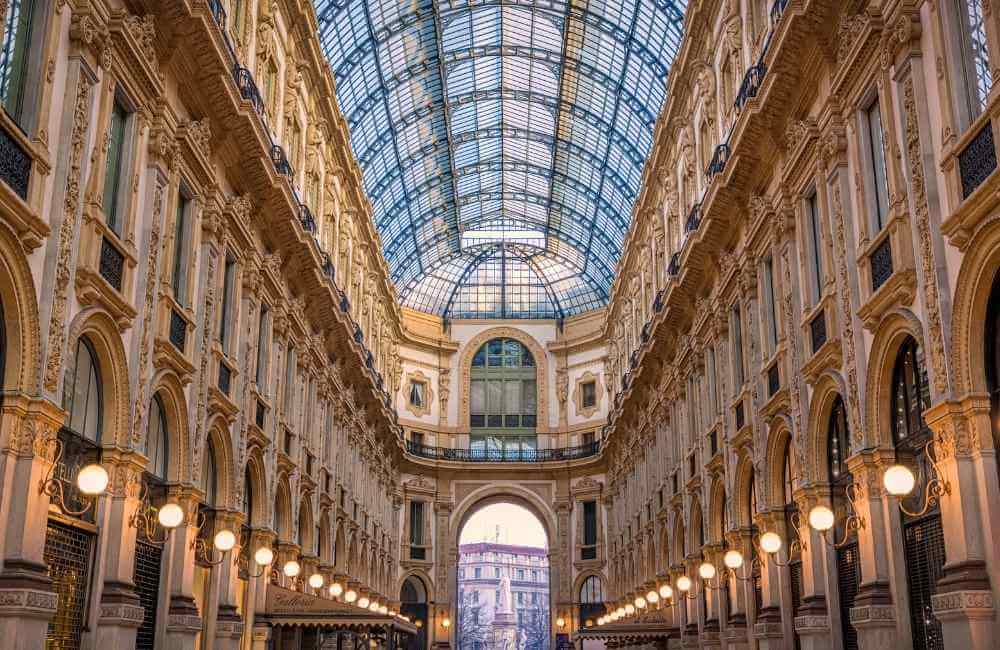 Ready to visit the most iconic place in town and maybe splurge on some shopping? Cross the Duomo Square and head to Galleria Vittorio Emanuele, the impressive covered passage is Italy's oldest shopping gallery in the country. Featuring impressive architecture, the gallery hosts a unique central octagonal space topped with a glass dome, and lavish mosaic floors with the coat of arms of the three capitals of Turin, Rome, Florence, and Milan.
Other than being an important landmark and meeting point in the city center, the Galleria connects the Duomo to another remarkable place in town the Scala Theater, Milan's imposing opera house.
Santa Maria Delle Grazie and The Last Supper
A must-stop in Milan, Santa Maria delle Grazie is a church and Dominican convent housing the mural of The Last Supper by Leonardo da Vinci in the refectory of the convent. The painting works of the masterpiece started around 1495, commissioned by the Duke of Milan, Ludovico Sforza.
Both the church and the worldwide known fresco on the refectory wall have been listed as World Heritage Sites by UNESCO.
If you're interested in visiting, it is a good idea to book a guided tour or a timed-entrance ticket as the place tends to be crowded all year round. Since tour prices vary a lot, check out all the proposals before booking. These are the ones I suggest:
Organized tours of Santa Maria delle Grazie:
Spending just a weekend in Milan and looking for a well-tested plan? Check out this 2-day in Milan itinerary!
Sforza Castle
Locally known by the name of Castello Sforzesco, the Sforza Castle is a fantastic place for a long walk in Milan as well as the best way to get rid of the city's traffic, chaos, and pollution at least for a few hours.
Although the castle hosts a variety of museums (collectively known as the Civic Museums), there are several parts of the castle that are open to the public.
Here, you will be free to wander and admire the medieval architecture of the fortress. This Sforza Castle Guided Tour offers a fantastic opportunity to learn everything about the history of the castle.
If you're also interested in the museums, tickets (for one or more museums) are available at the castle. Among the exhibitions featured, you will find the Ancient Art Museum, the Museum of Furniture, and the Museum of Musical Instruments, among other art collections.
Furniture MuseumMuseum of Musical Instruments
Leaving the castle from the back gate, you can enter the most beautiful green area in town, Sempione Park.
Sempione Park and Arch of Peace
Extending more than 380.000 sq. m., Sempione is a favorite place in town both for locals and visitors. It features centennial trees from all over the World as well as some of the best views of the walls surrounding the Sforza Castle.
In a central position, you will come across a beautiful triumphal arch dating back to the nineteenth century with rich bas-reliefs and other ornaments.
However, the gate is thought to have more ancient origins, as it was part of the Roman walls of Milan.
Teatro Alla Scala Opera House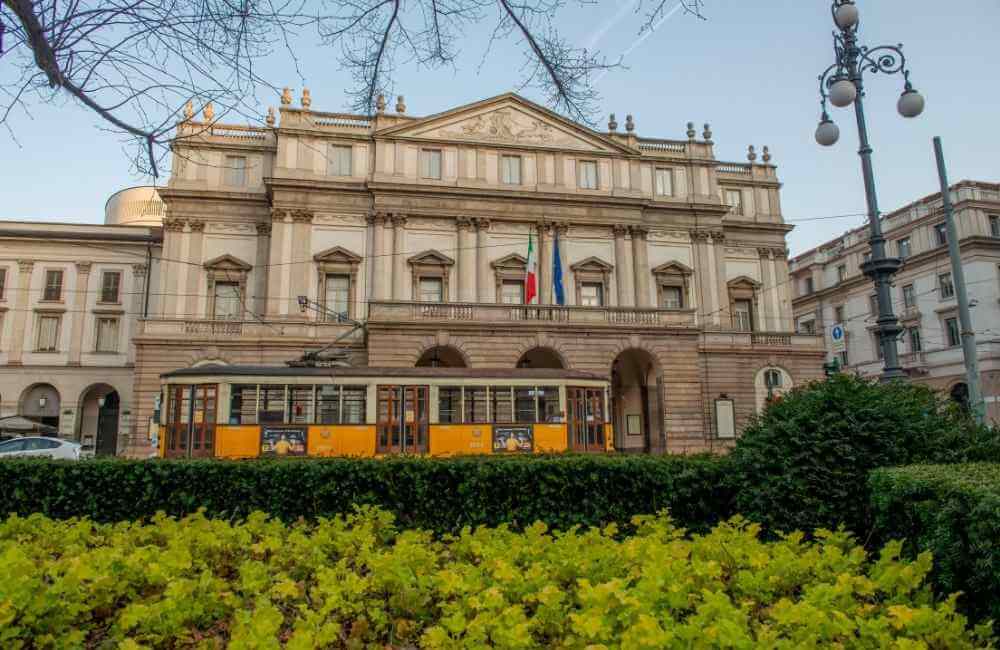 Right behind Galleria Vittorio Emanuele stands one of the most famous opera houses in the world, a theater that has featured important opera singers and prestigious ballet groups from every corner of the planet!
Teatro alla Scala was built between 1776 and 1778 on the former site where the church Santa Maria Alla Scala used to be, therefore getting the name from the church. The building suffered great damage during World War II and remained closed for restoration for 3 years, reopening in 1946.
Today, it is possible to visit not just the premises but also its museum or to book a ticket to an opera performance or a ballet exhibition. La Scala is located opposite Piazza Della Scala (Largo Ghiringhelli 1, Piazza Scala).
Discover more by joining an organized tour:
Piazza Mercanti
Another favorite place of mine, especially during my days as a student in the city, Piazza Mercante is a medieval square perfect to sit and enjoy the views of one of the most hidden and underrated gems in the city center.
This ancient square is located between Piazza del Duomo and Piazza Cordusio and it functioned as a commercial market and place of trade in the Middle Ages.
At that time, the square used to be bigger, featuring six different entry points each associated with a specific trade ranging from blacksmiths to hat makers!
In fact, several streets around the area still today carry the names of some of those trades, such as Via Orefici (Goldsmiths' road) and Via Mercanti (Merchants' road).
Getting there is really easy as the square is about 200 meters from Galleria Vittorio Emanuele.
Milan's Fashion District
Take the metro line M3 and get off at Montenapoleone station to explore Milan's fashion district, locally known as Quadrilatero della Moda.
This glamorous neighborhood home to the most exclusive boutiques in town hosts the world's leading fashion designers along Via Montenapoleone and Via Della Spiga, two of the most exclusive streets in the neighborhood… and the whole town!
Even when shopping can be very expensive in the area (and to access some shops you might even need to book an appointment a few months in advance), the place is great to go window-shopping if you're a fan of fashion and design.
Milan's Stock Exchange
Another of my favorite sights in town, this provocative sculpture carries a lot more meaning due to its location, right opposite Piazza Affari, the seat of Milan's Stock Exchange.
Located a few steps from the Cordusio metro, the stock market is set in a gorgeous building from the beginning of the 1900s famous for its imposing marble facade.
The modern work of art facing the Neoclassic building is a masterpiece by the contemporary artist Maurizio Cattelan. It features an 11-meter-high middle finger raised at the stock market.
The official name of the sculpture is L.O.V.E (which stands for the Italian words Libertà, Odio, Vendetta, Eternità, or freedom, hatred, revenge, and eternity in English).
Milan's Planetarium
Milan's Planetarium Ulrico Hoepli is located in the district known as Porta Venezia (get there with M3 metro line, Porta Venezia station).
This is the largest and most important planetarium in the country and it is surrounded by gorgeous gardens where you can spend some time before the exhibition.
The planetarium first opened its doors back in 1930 and has been in operation ever since then. More information is available on the official website.
Brera Art Gallery
If art galleries are your cup of tea, then do not miss the Pinacoteca di Brera. Often included among Italy's most important art galleries, the permanent exhibition includes masterpieces by important artists such as Caravaggio and Tintoretto.
On the premises, it is also possible to check out Milan's Botanical Garden, the National Library, and the Astronomical Observatory.
Brera District
This bohemian district in Milan is often described as one of the most charming corners in the city. Picturesque alleys dotted with colorful and aristocratic houses. Romantic winding alleys, cobblestoned roads, and fancy coffee shops are part of the Brera neighborhood, a great place to hang out any time of the day.
You can visit both the district and Brera Art gallery in just a couple of hours, . It was a great experience and learned a lot. It's available in English and in Italian and it will also allow you to skip the line when it's time to enter the gallery.
I personally went on a guided tour that included a walk around Brera and a skip-the-line entrance ticket to Brera art gallery.
Discover more by joining one of these tours:
Vertical Forest
The bosco verticale or vertical forest is a set of two residential towers in the Porta Nuova district not too far from Milano Porta Garibaldi railway station. They are 111 meters and 76 meters tall and house over 900 trees between them, places on more than 8000 square meters of terraces.
The towers were designed by local architects and they included the work and ideas of horticulturalists and botanists. The curious project was developed in order to give new life to this historic district in Milan, known as one of the richest business districts in Europe.
The complex was awarded the International Highrise Award back in 2014 the year when it was inaugurated.
Navigli District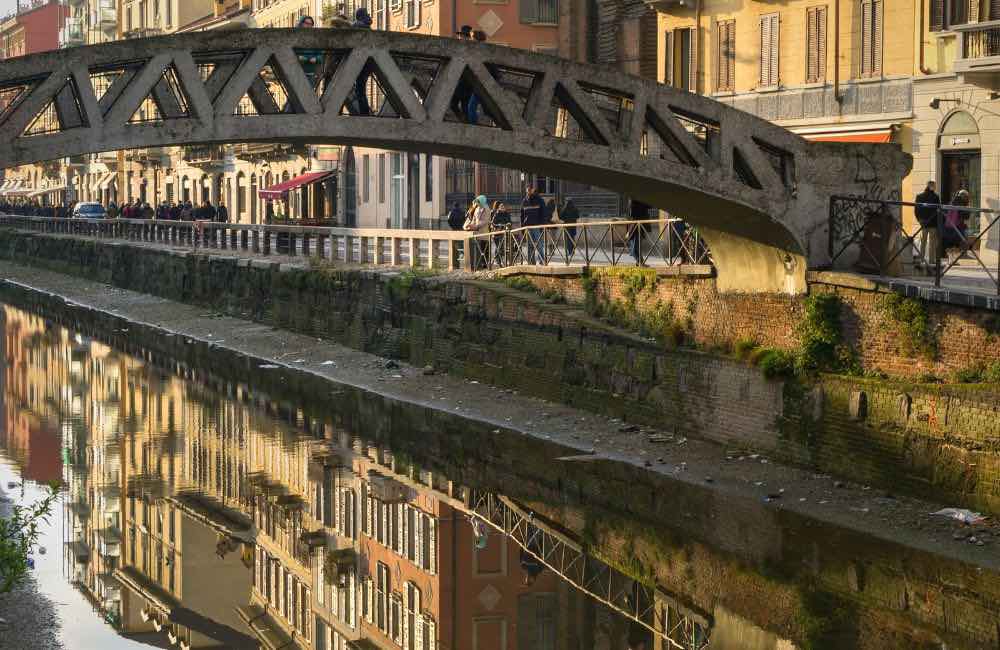 A local's favorite for aperitivo, long walks, and romantic sunsets, the Navigli is the ancient canal system of Milan (yes, just like the one in Venice, only smaller) that was used in the past to transport goods in the Lombardy region.
The system was designed by Leonardo Da Vinci, and it connected Milan to the surrounding area, including Lake Como and Lake Maggiore.
In some spots, washerwomen used to wash clothes for the citizens. All around the Navigli district, you can find typical Milanese houses but also murals and graffiti.
Today, the area is known for the dozens of bars, coffee shops, and alternative restaurants that allow you to taste some of the most authentic food in the region. The best way to reach Navigli is by the metro (line 2, Porta Genova station).
Discover and taste more by joining a walking tour:
Milan's Chinatown
Yes, Milan also has its own Chinatown area, and it is one of the liveliest districts in town and a great place for affordable shopping and traditional Chinese food – not that you would ever get tired of pizza and pasta, right?
This very old Chinese district (the Quartiere Cinese) is in fact a multi-ethnic starting on the pedestrian Paolo Sarpi street, where you can explore original food markets and different stores selling oriental products. The best way to get there is by metro, line 2, Moscova station.
Milano San Siro Stadium
I've never been to a football match in San Siro, but I did witness tons of rock concerts during my years as a student at Milan University.
Known as the world's most titled stadium, the legendary San Siro is a place worth a visit, especially if you would like to attend the local derby Milan-Inter on any given Sunday.
The stadium, known as the temple of soccer, also houses a museum and an exhibition which can be visited together with the rest of the premises. The official website offers more details to organize the visit.
Gallerie d'Italia (Piazza Scala)
Definitely my favorite art exhibition in Milan, Gallerie d'Italia is located only steps from La Scala opera house, right behind the Galleria Vittorio Emanuele, making it easy to visit when strolling along the streets of the city center.
Gallerie d'Italia is, in fact, a complex of buildings, such as the impressive Palazzo Traversi and Palazzo della Banca Commerciale. There are pieces belonging to modern art, paying special attention to art tendencies from the late 50s to the present.
Monumental Cemetery of Milan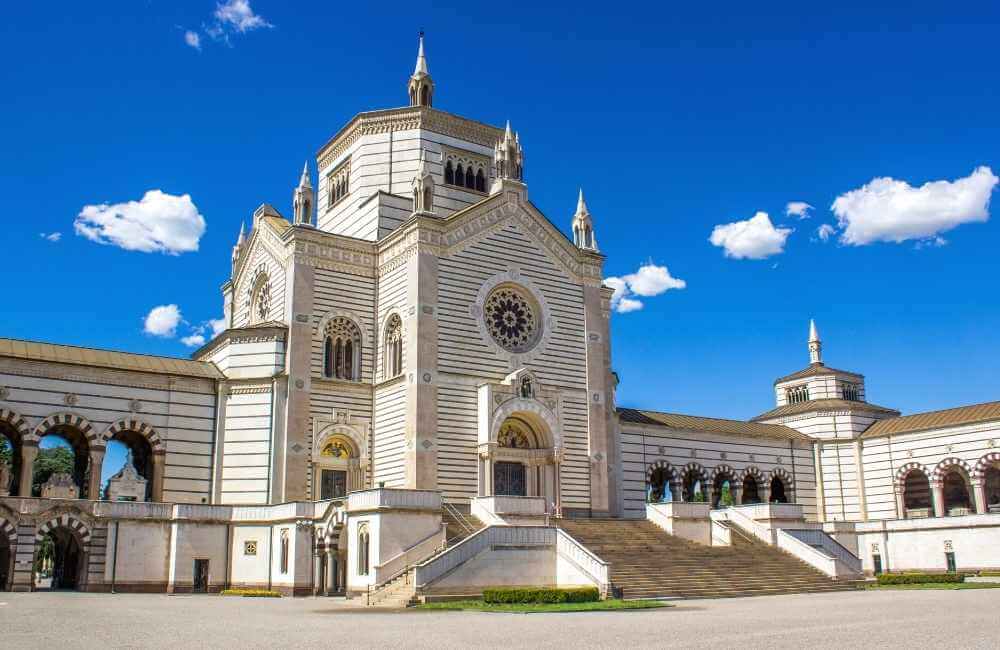 Milan's Monumental Cemetery (Cimitero Monumentale) is one of the two main cemeteries in Milan. It houses a spectacular collection of graves and funerary art, including impressive monuments, mausoleums, and sculptures that decorate the tombs of Milan's most remarkable families and personalities.
During the visit, it is a good idea to check out the so-called Famedio, a special pantheon where the memory of Italy's most important artists is honored and kept alive. To visit the cemetery, use metro M5 and get off at Monumentale station.
Discover more by joining an organized tour:
Sant' Ambrogio Church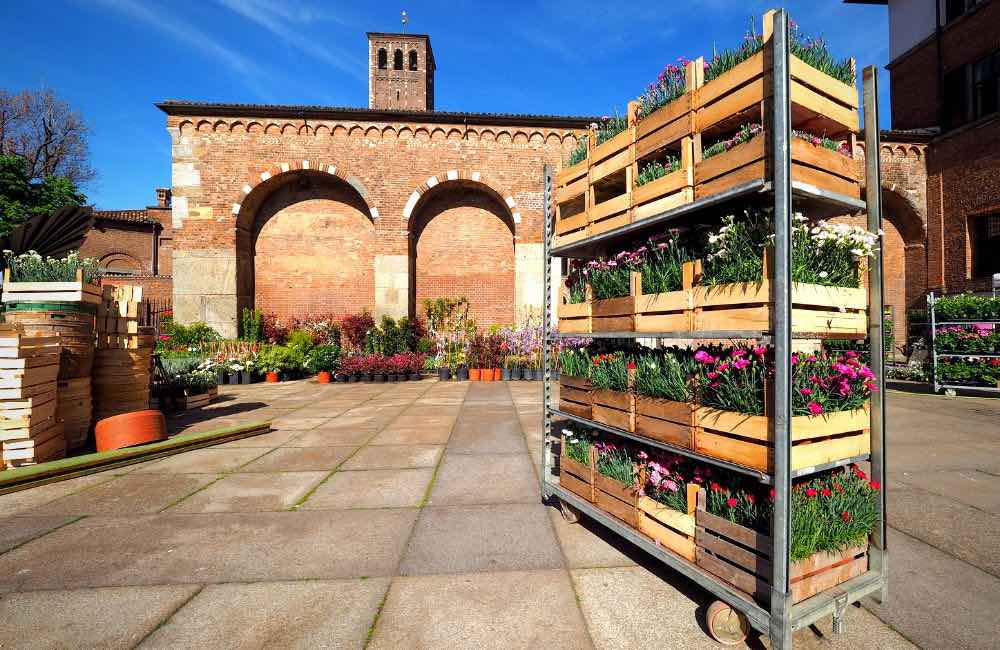 Another church that is worth a visit, Sant' Ambrogio is among the oldest basilicas in the city of Milan.
The church, a perfect example of Romanesque architecture, was built between 379 and 386 following the orders of Milan's most famous (and beloved) bishop, Ambrogio, who ordered the construction to honor the martyrs that had been buried on the premises.
Both the basilica and its museum are open from Monday to Saturday, from 10 am to 12 pm and from 2.30 pm to 6 pm. On Sundays, it only opens in the afternoon from 3.00 to 7.00. To get there, the best thing to do is to take the metro (M2, green line), and the stop is Sant'Ambrogio.
You can learn more about Sant'Ambrogio with this tour:
Pirelli HangarBicocca
The utmost alternative space to discover the modern face of the city, Hangar Bicocca mixes cutting-edge trends, post-industrial art, and space redevelopment. The place also offers guided tours on the weekend (more info).
Set in a former industrial complex, the hangar is a huge exhibition space with both temporary and permanent collections all of them meant to be thought-provoking as well as stimulating. On the premises, check out Iuta Bistrot, which features a contemporary ambiance and quality cuisine.
Hangar Bicocca is located at 2, Chiese Street, and the best way to get there is with the metro, (M5, purple line), Ponale Station. For more details about the exhibitions, check out the official site.
QC Milano Terme
Take the metro to Porta Romana station (Line 3) and discover the unique thermal baths in the center of Milan. The complex features saunas, health and beauty treatments, massages, several hot and cold water pools, wellness meals, and a lot more.
Spending an evening at Milano Terme can be a great treat and relaxing experience, you can get enjoy a quiet moment at the spa and then finish the night with an Italian aperitivo that includes a drink and buffet of light snacks like this one.
Leonardo Da Vinci National Science and Technology Museum
One of my kid's favorite places to visit in town before we moved to Crete, this is a remarkable museum offering dozens of interesting labs and hands-on experience that will grab your attention and teach you a lot about Italy's most brilliant mind.
This is the largest museum in the country dedicated to science and technology, with dozens of different exhibitions that include a real submarine, trains, ships, and ancient technologies. You can get there by metro (Line 2, Sant'Ambrogio Station).
Milan's Farm Cascina Cuccagna
Have you ever thought that Milan could also host an old farmhouse dating from the seventeenth century? Well, it does!
The farmhouse (Cascina in Italian) has been completely renovated and transformed into a cultural center where ecological and sustainable projects are related to the most authentic roots of the Milan area, and the Lombardy region in particular. They even offer cooking lessons with their own produce.
The farmhouse is located at 2, Cuccagna Private Street, the best way to get there is by metro (line 3) and the station is Porta Romana.
Eataly Milano Smeraldo
One of the best places to check out if you're planning on buying gastronomic souvenirs or indulging in the local cuisine, Eataly Milan has been defined as a forum where to eat, buy and learn.
Inside this innovative space in the city, there are thematic restaurants offering a wide choice of menus while all dishes are made with top local and seasonal products.
Eataly is located at 10, Venticinque d'Aprile Square, you get there by metro, getting off either at Milano Moscova (metro line 2) or Milano Porta Garibaldi stations (metro lines 2 and 5).
Birrificio Lambrate
What about a glass of Italian beer to have a taste of the local flavors? Not everything is about wine in the country, on the contrary, Italy has a lively beer scene and produces dozens of craft beers in different breweries across the peninsula. Birrificio Lambrate in Milan is one of them.
Their modern tasting room is set on the premises of an authentic brewery house and it features a top-class restaurant as well as an alternative pub where you can order different flights and spend a few hours enjoying different beer types classified according to the season of the year!
The brewery is located at 5, Adelchi Street and it is open from 7 pm until 2 am. You can get there by metro Line 2 (green line) and your station is Lambrate.
It is quite obvious that there is a lot to discover and that you will find plenty of interesting things to do in Milan during your visit. Bookmark this guide and keep it handy to read again right before your trip!
---
Have you ever been to Milan?
Let me know in the comments below!
You might also want to read these articles:
Don't Forget to Pin this Guide to the Best Things to Do in Milan for an Amazing Vacation in Italy
About the author of this blog: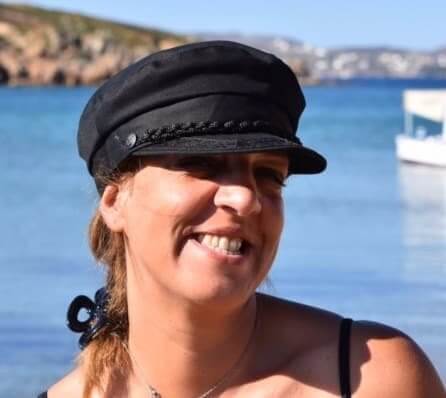 Gabi has been living in Crete for the last six years. On the island, she juggles being a solo mom, hosting culinary tours in summer, translating, and freelance writing for several travel blogs.
She's written for Greek Reporter, published several travel guides about Greece, and had more glasses of frappe than any regular person could ever handle.