The poet Robert Browning described Lake Orta as being the place where 'the Alps meet heaven', and it's not – of course – a personal definition…
---
Disclaimer: Posts include affiliate links leading you to products or services, I might earn a small commission if you make a purchase. This has no extra cost to you but allows me to continue writing articles that are helpful for your travels. I only recommend things I use myself or that I believe will deliver value to you. 
---
Where to Stay in Orta
Are you getting ready for a visit to Piedmont? Check these great places to stay in the area:
Budget: Traveling on a budget? I suggest you check the comfortable facilities and convenient prices in Ginetta, in Madonna del Sasso. Compare prices here.
Mid-range: If you're able to stretch your budget a little more, I recommend you book a room in La Corte di Alzo, in Pella. Compare prices here.
Luxury: For a top stay in Lake Orta, check the reviews and excellent facilities in Locanda d'Orta, in Orta San Giulio. Compare prices here.
Italian Lakes and Me…
Italian lakes have grown a reputation as luxury retreats. Postcard-like landscapes and extreme relax are features that have attracted visitors looking for a rest, inspiration, and its magnificent nature for decades.
Sailing as well as staying in stylish villas are an innate part of the atmosphere. Walking the cobblestone centennial promenades, the feeling I get is that a posh woman in a Gatsby dress and a cloche with a feather might come up directly from the Twenties, making me look completely out of place.
That's why I avoid the lakes. I never liked the lakes in Italy because that's a recurrent feeling when I visit. And I don't like recurrent feelings. Nor being out of place.
A long time ago, almost 15 years ago, I was awarded a grant. I wast meant to come to Italy, stay at a villa by lake Garda for over 30 days, have classes in the morning and culture lectures in the afternoon, those in another villa, also by the lake.
You see..? I'm a beach beast.
On a beach the sun looks different, the skin feels different, the waves bring constant energy.
Lake Orta & Isola San Giulio
I somehow managed to stay away from lakes for a while. Yet, I decided to give it another try this last week.
To face the lake with other eyes, and a mind a bit more open. Now that, after so many years, I'm only weeks away from leaving Italy, I thought it might look different.
Lake Orta is one of Italy's lesser-known lakes and it wasn't exactly packed with tourists on an early Wednesday morning.
After a walk down the path that faces the little marina, escorted by the ticking of the steel wires against the yacht poles, my boat sailed from Pella to reach the Lilliputian islet of Saint Giulio. It wasn't love at first sight, but I must admit that I liked it.
Isola San Giulio is 275 meters long and 140 meters wide. And you can walk around it in about an hour.
For the last thirty decades, it's been a Benedictine monastery. A suggestive path, La via del silenzio (Pathway of silence) goes in one direction; La via della meditazione (Pathway of meditation), in the opposite.
It's all so tiny that obviously, it remains traffic-free. There are just a few little cafés.
The pace of life is slower than on the mainland, nuns holding books and families wandering the little port waiting for water buses.
According to the legend, Saint Giulio (Julius of Novara) founded his church here in the fourth century AD.
The island was the lair of a giant serpent, which used the island to attack nearby villages. But the saint, with his ability to command the waves, stood on his cloak over the water and managed to send the monster away.
If you're looking for a very Italian place, quieter than Lakes Como or Maggiore, you can't miss Orta. The town itself is on a promontory on the eastern bank of the lake and it is famous for the Sacro Monte, a pilgrimage site part of UNESCO's World Heritage List.
Orta San Giulio with Kids
We arrived on the market day, which means frenzy activities in the main square.
Bars and restaurants full of tourists and boats sailing the lake back and forth from the tiny island.
The town is quite worth a visit after you leave the port behind, walk up the town paths leading to the church of San Rocco, a tiny example of Baroque architecture.
The path right at the angle of the church leads to the center of the village: ice cream parlors, pizza places, and traditional shops. Characteristic buildings, and wide flocks of stairs populate the area, while the Palazzotto della Comunità imposes its presence to the visitors reaching Piazza Motta.
The Palazzotto is an important central structure with impressive frescoes and a colonnade, dating back to the 1500s.
The square, instead, faces the promenade and the marina, from where it's also possible to navigate back to Pella.
Where to Eat Around the Lake
The culinary tradition is typical of the Piedmont region; for a simple yet genuine choice of tastes reach Edera, a small restaurant a few meters away from the square (Via Bersani 15).
Here you can try local mushrooms and fish. Kids will happily feast with huge hamburgers or simple dishes of pasta and will be treated as guests of honor.
If you are looking for inspiration, the lake has always been loved by writers. Friedrich Nietzsche, Samuel Butler, Lord Byron, Honoré de Balzac, and Robert Browning visited the lake and have referenced mentioned the surroundings in their works.
For more information get in touch with the municipality here.
---
Is Lake Orta in your travel plans?
Let me know in the comments below!
---
Travel Plans for Italy?
Check these Resources to Organize your Trip!
I never travel in Europe without my Osprey backpack, a sturdy but light travel partner I just love. For short trips, I carry this little crossbody bag. If I drive, I pack my Nikon D7200 and a good travel guide Lonely Planet Guide to Italy!
When it comes to plane tickets, compare prices with a powerful search engine. However, nothing beats traveling by sea. With Ferry Hopper, you can book in advance at the lowest price.
For accommodation, I personally use Booking.com. Traveling to remote places is easier with Discover Cars. Other times, I join organized tours with GetYourGuide, which features anything from cooking lessons to airport transfer!
Read more:
Where to Go for the Next Summer Holidays in Greece
How to Spend 3 Fantastic Weeks on the Road in Crete
What to Pack for a Road Trip in Crete: Genius and Practical Packing List
Explore the Fantastic Unspoiled Beaches in South Crete
Outstanding Things to See in Knossos Palace, Crete
Pin This Guide to Discover Lake Orta, For Your Next Italy Adventures!
About the author of this blog: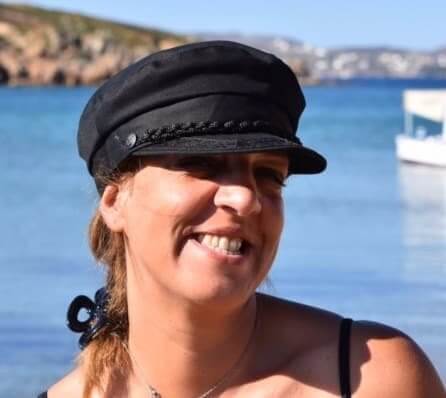 Gabi has been living in Crete for the last five years. Here, she juggles being a solo mom, hosting culinary tours in the summer, translating, and writing for The Tiny Book and her other blogs.
She's written for Greek Reporter, published three travel guides about Greece, and had more glasses of frappe than any regular person would be able to handle.
---
You might also want to read:
---