Santorini island is magical, inspiring, majestic. Is it captivating, alluring, and mesmerizing? It definitely is. It's also more than just a ridiculously gorgeous island. Parents, though, are often forced to gear down since it's been labeled "for couples only". So what do we do with the kids? … For couples only? There's a lot for kids to do in Santorini… and for adults too. For instance, you can spend a day with the family outside Fira!
---
Disclaimer: Posts include affiliate links to products or services. I might earn a commission if you make a purchase, at no extra cost.
---
Last-minute plans for Greece?
Get there: Use Ferryhopper to book your tickets.
Stay: Find accommodation deals on Booking.com.
Move around: Compare car rental prices with Discover Cars.
Tours: Visit popular places with GetYourGuide.
Read more: Pack the Lonely Planet Guide to Greece.
Quick guide to the best Santorini hotels
Budget: Asterolithos is in the center of Fira Town, within walking distance of the Caldera. Check it on Booking.com.
Mid-range: Enjoy the comfort of a Romantic Spa Resort. Check it on Booking.com.
Luxury: Have an unforgettable stay at Andronikos Canaves. Read the reviews on Booking.com.
Rental Home Type? Check villas in Santorini here.
Santorini with Children
Best Things to Do in Santorini with Kids
Discover
Ancient Thera
This region lies on an elevated headland that divides Perissa from Kamari: Meso Vouna (or between mountains). The flatness of the plateau and its height from sea level results in a phenomenal 360° panorama. A visit to Ancient Thera is a must-do if your kids love all that's ancient. And it's a must from the beginning.
A drive on one of the most spectacular roads on Earth, the Kamari Serpentine, with 22 hairpin switchbacks, takes your breath away (not always in a good way!).
The settlement is on the east side of Santorini and offers a very different observation point. Important ruins are the Temple of Dionysus, the Sanctuaries of Artemidoros and Apollo Karneios, The Terrace of the Festivals, and ancient graveyards that will certainly move you.
keep the island in your pocket!
The Tiny Book of Santorini
Villages & Iconic Landmarks - Things to Do - Places to See
Where to Stay - Where to Eat - Beaches
Gastronomy & Wines
Get The Tiny Book of Santorini
Buy it now!
If the Kamari Serpentine is too much for your vertigo, reach Ancient Thera on foot, the hiking trail starting in Perissa takes about an hour and rewards you with spectacular views of the Aegean.
Explore the Akrotiri Excavations


(One of the Top Things to Do in Santorini with Children!)
Santorini's Pompeii, if you will, lies in Akrotiri which is on the southernmost tip of the crescent-shaped island. With remains that date back to the 2nd millennium BC, the Bronze Age has left a permanent mark on this side of the Cycladic island.
The ruins are incredibly well-preserved and you can almost walk inside the two and three-story buildings that were part of the original settlement; once adorned with colorfully vibrant wall paintings and frescoes.
You'll find pottery and clay decanters still very much intact. The remains of this advanced civilization will astonish you.
So as not to miss any important detail, we opted for a professionally guided tour of Akrotiri. It was excellent to get a well-rounded insight into the most prominent areas of the island and in a reasonable time.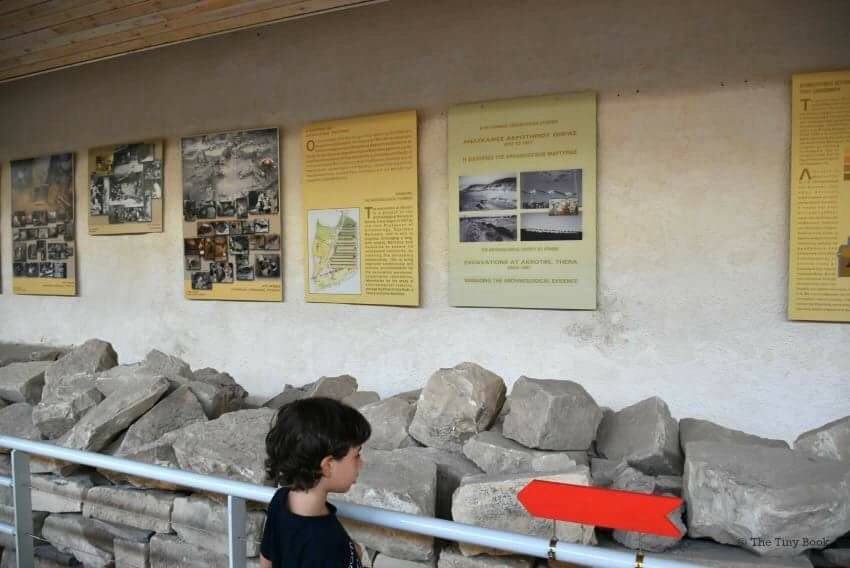 Back to Base: Fira
This particular tour was flexible in terms of pick-up as well as tour hours. In fact, it began as soon as we were ready, it's them who adapted to our schedule, not us! (Yes, they know you are on holiday!).
It is perfect if you are spending a few days in Santorini but I also think it can show much of the island if you're a cruise passenger.
In that case, they pick you up from the port of Athinios, at the base of the Caldera, they take you to Akrotiri and show you Oia.
And you finally return to Fira, Santorini's beating heart.
Check ferry tickets to Greece here!
If you are staying in Santorini for more than a day, can I suggest you three things to do?
Try Fava!
Fava is probably the best-known dish from the island, and when it's cooked by the book, it's heaven. Fava has nothing to do with fava beans, it's a dish mainly made of yellow split peas, and a must in Santorini.
Taste Santorini Wines
I've already talked about wines and kids in Santorini… and our experience was awesome. And third..?
Choose the Right Hotel for the Family!
As much as you can. Santorini is a treat to the senses, enjoy sunsets, tastes, experiences… and choose a ravishing hotel in Fira, Fira, such as the lovely Kalisti, (which, by the way, means beautiful in Greek; and the Kalisti honors its name!). We were lucky to manage our time quite wisely and to return to the hotel in time for some relaxing downtime. Kids included!
We all took in all those beautiful cultural images experienced during the day and enjoyed a memorable dinner overlooking the Caldera… romance does not mean kids forbidden. In a way, that's how kids are started sometimes!
For those of you interested in museums, check these:
Official website of the Archaeological Museum of Thera
Official website of the Museum of Prehistoric Thera
---
Have you thought about traveling to Santorini with your kids?
Let me know in the comments below!
---
Travel Plans for Greece?
More Resources to Organize Your Trip!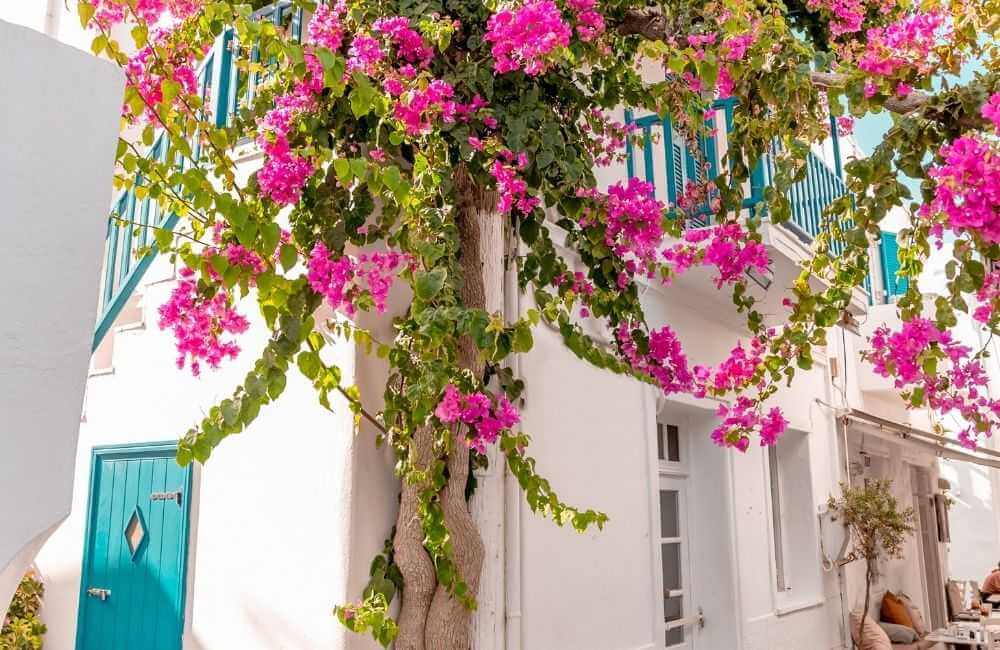 Start by heading right to my Greece travel guide for in-depth details you need to know about Greece. You can also check my post to plan a trip to Greece with children!
Get in touch if you need extra help to plan your trip. If you want to tour West Crete, check my guide. Want more? Join my Private Facebook Group to connect with like-minded travelers who love Crete as much as you do!
Make Sure You've Got Everything For a Hassle-Free Vacation!
Without my Osprey backpack, I never move around the islands…it's a sturdy but light travel partner I just love. For short trips, I carry this crossbody bag. If I drive, I pack my Nikon D7200 and a good travel guide! Lonely Planet's Best of Greece & the Greek Islands.
When it comes to plane tickets, compare prices with a powerful search engine. However, nothing beats traveling by sea in Greece. With Ferry Hopper, you can book in advance at the lowest price.
For accommodation, I use Booking.com.
Traveling to remote places is easier with Discover Cars. Other times, I join organized tours with GetYourGuide, which features anything from cooking lessons to airport transfer!
COMING TO CRETE SOON?
Get in touch and let me know!
Read more:
Where to Stay in Naxos, Greece: Best Areas & Hotels on the Island
How to Get to Mykonos: Best Ways to Travel to the Greek Island
Sublime Things to Do in Patmos, Greece
Perfect Things to Do in Aegina, Greece
Discover the Beautiful Hidden Gems in Greece You Can Visit Right Now
This Calls for a Pin!
Pin this Guide to Santorini with Children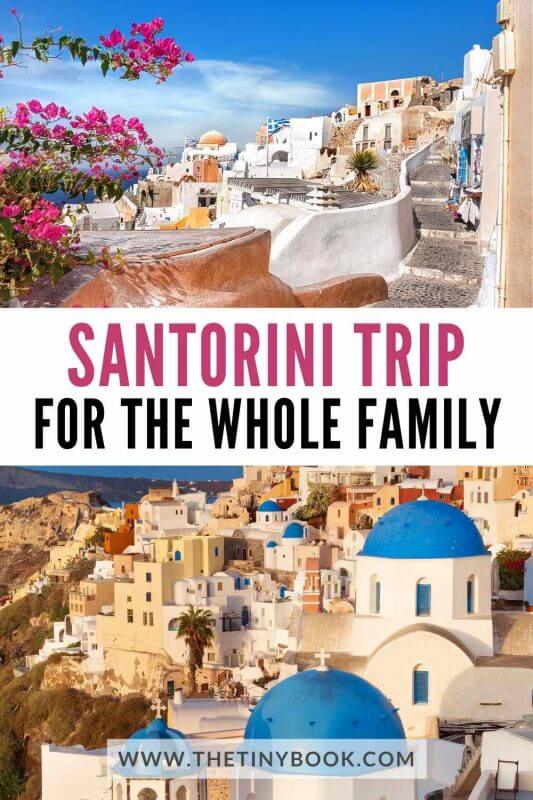 About the author of this blog: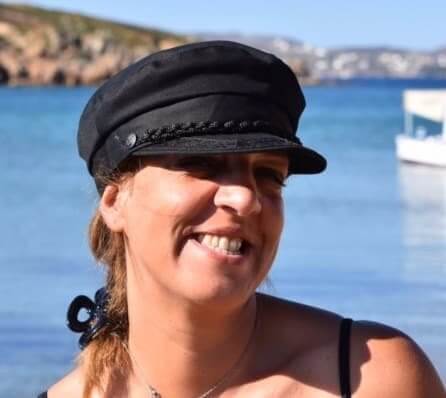 Gabi has been living in Crete for the last five years. On the island, she juggles being a solo mom, hosting culinary tours in summer, translating, and freelance writing.
She's written for Greek Reporter, published several travel guides about Greece, and had more glasses of frappe than any regular person would be able to handle.
---
You might also want to read:
---