Assyrtiko, Aidani, Athiri. These are three of the best-known grapes produced in Santorini, and they usually result in excellent wines. If you're wondering what things you can do on the island, other than checking the stunning landscape of the Caldera, the whitewashed houses, and the traditional blue domes, it can be a great idea to book a wine tasting in Santorini. However, if you're traveling with kids, you might feel that they might be missing out. Solve this by booking a wine tour in a wine museum. Everyone in the family will certainly have a great time, and you won't miss that wine tasting!
---
Disclaimer: Posts include affiliate links leading you to products or services, I might earn a small commission if you make a purchase. This has no extra cost to you but allows me to continue writing articles that are helpful for your travels. I only recommend things I use myself or that I believe will deliver value to you. 
---
Last-minute plans for Greece?
Get there: Use Ferryhopper to book your tickets.
Stay: Find great accommodation deals on Booking.com.
Move around: Compare car rental prices with Discover Cars.
Tours: Check the most popular places with GetYourGuide.
Read more: Pack the Lonely Planet Guide to Greece or get a copy of my digital guide to Santorini.
Quick guide to the best Santorini hotels
Budget: Asterolithos is in the center of Fira Town, within walking distance of the Caldera. Check it on Booking.com.
Mid-range: Enjoy the comfort of a Romantic Spa Resort. Check it on Booking.com.
Luxury: Have an unforgettable stay at Andronikos Canaves. Read the reviews on Booking.com.
Rental Home Type? Check villas in Santorini here.
Winery Tours in Santorini
Upon arrival, red signs attracted our attention in Santorini, they were placed along the road that from the airport takes you south to Perissa. These signs indicate the official Wine Road of Santorini.
Santorini is not just a picture-perfect island, full of romantic landscapes, it also has a wonderful history and magnificent cuisine. Besides, Santorini is also known for the good quality of its grapes and a top-class wine.
So, it's very simple. If you visit Santorini you should definitely include a wine tasting experience. It's a genuine activity that will connect you with the local traditions in a very different way.
In this post, I will tell you why we chose Koutsoyiannopoulos for our Santorini wine tasting, but also a bit about all the other wineries you can check on the island.
Wines of Santorini
More than 90% of the land in Santorini is devoted to grape production, the vineyards occupy about 14000 hectares (3450 acres) of land and produce approximately 500 tonnes of grapes.
The most famous local variety is known as Assyrtiko, and it's original from Santorini, where it has been growing since 1500 BC.
The volcanic soil of the island is a mixture of pumice (kissiri in Greek) and ash, but also calcium, magnesium, and iron. All elements that, according to some experts, shape the character of Assyrtiko. Yet, there's a lot of controversy regarding this aspect, new studies have recently found that minerals in the soil don't really affect tastes and aromas.
>>Check the best Villas in Santorini<<
keep the island in your pocket!
The Tiny Book of Santorini
Villages & Iconic Landmarks - Things to Do - Places to See
Where to Stay - Where to Eat - Beaches
Gastronomy & Wines
Get The Tiny Book of Santorini
Buy it now!
Everyone agrees, though, that Assyrtiko can produce great wines, regarding the minerals in the soil and its influence on the wine, the dispute remains.
Moreover, the dry atmosphere of Santorini creates a hostile environment for insects, thus allowing the local grapes to strive. The unique climate of the island, its soil, its dryness and very low yields per acre seem to be key elements when it comes to producing wines so rich in aromas and flavors.
Are you planning to visit Santorini soon?
>>Check this complete itinerary of the island<<
Some Facts About Santorini Wines
The vineyards in Santorini are among the oldest in Greece.
They are unique because of the special ecosystem created thanks to the successive eruptions of the volcano and to the island's warm and dry climate.
To protect the grapes from the fierce winds, locals prune the grapevine close to the ground in the shape of a coil. It retains the dampness from the atmosphere and the one rising from the soil. It also provides a safe nest for grapes to grow.
Santorini's vineyard is home to more than 50 red and white grapes, the most prevalent of which is Assyrtiko.
Santorini is also known for its renowned for its sweet sun-dried Vinsanto wine, with its orange-yellow color and strong bouquet.
Wine tasting in Santorini & kids…
How to combine them?
During our first visit to Santorini, our kids were still very little (and obviously skipped the alcohol part of the experience). Their age made us wonder what cand of wine experience to choose. We really wanted something that allowed us (mom and dad) to try the local wine varieties, but that also gave something to the kids that they were able to enjoy.
We got in touch with several wineries, and although most of them were ok with receiving kids, the offer usually included stunning views of the island and a few glasses of wine. Eventually the kids were going to get really bored.
Kousoyannopoulos Winery, instead, had a proposal that looked just right from the very beginning. And it became even better after reaching out and learning that they indeed welcome kids, from pre-school on.
In this winery, they not only produce top quality wines, but they have also created a wine museum dedicated to explain the wine production process.
Koutsoyannopoulos Winery
Koutsoyannopoulos Wine Museum is close to the village of Vothonas, roughly in the middle area of the island, and quite close to the airport. If you have time, after the winery, you can take a look at the small village, it won't take more than an hour.
The philosophy in this winery is to receive adults for wine tasting and to include their kids. They open their doors to children of all ages to teach them about the history and tue culture of wine production on Santorini, as well as about the people that has been involved in the wine industry through the times.
The Wine Museum in Santorini
Other than the modern wine tasting facilities, Koutsoyannopoulos Wine Museum has been settled in a unique underground area about 8-meters deep. It's a maze that along 300 meters portray the different stages of wine production.
It includes motion characters and explanations easy to understand but also entertaining.
The proposal truly ignited the interest in our kids. The best part of it is that the whole visit is designed for you to be completely independent.
At the entrance of the tunnel you are handled and audio guide (available in 21 languages) that accompany you along the 24 different stages and that you can hear as many times as you want. This means that your visit can last as much as you want.
The museum and the winery staff were a very pleasant surprices. Our kids were also encouraged to learn and ask questions in order to better understand the process of winemaking, both in the past and in the present.
Koutsoyannopoulos Wine Museum received second place in the list of Top Ten Wine Museums in the World. "A pleasant satisfaction – Mr. Koutsoyannopoulos said – that pays off for all the work done".
The tour was excellent to teach kids about grapes, production processes, and machiners. After the tour, we sat and tasted different wines that are produced in the premises. There's a comfy bar area as well as different rooms with chairs and tables to sit and enjoy their wines.
Our kids chose fresh orange juice while we went for a white dry Assyrtiko as well as for two dessert wines. The first one, Vinsanto, is a trademark on the island. The second one, Kamarítis, is a superb sweet wine made by Koutsoyannopoulos.
KOUTSOYANNOPOULOS KAMARÍTIS
This is a 10-year old, naturally sweet wine made from sun-dried grapes. A wine that is a blend of six indigenous varieties of Santorini; three white ones: (Assyrtiko, Aidani, and Athiri); and three red ones: (Mantilaria, Mavrotragano, and Mavrathiro).
A curious note is that the name Kamarítis derives from the word kamara (meaning cave room).
For this variety, grapes are sun-dried for a fortnight, and their sugars are dehydrated and caramelized; then, the winemaking process begins.
The wine ages in oak barrels for 10 years before bottling.
They limit the production of this sweet, delicious wine to about 4.500 bottles per year. A limited production that was the secret recipe of the family's great-grandfather.
Another curious note is that Kamarítis cannot be purchased outside the winery.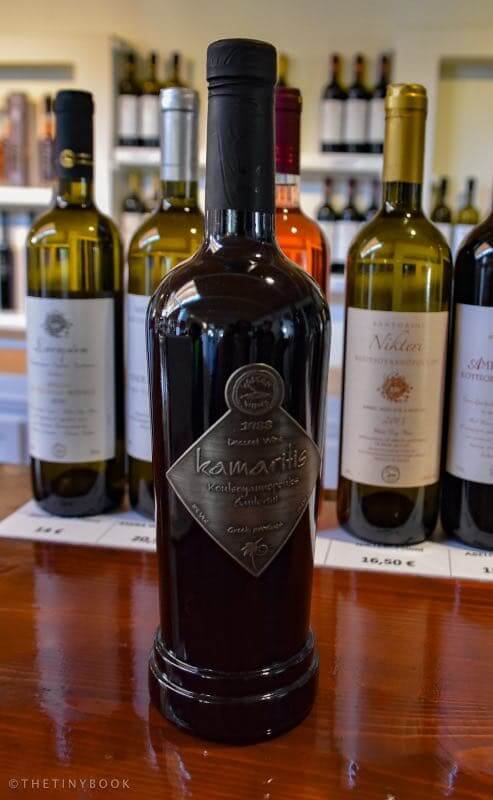 Mr. Koutsoyannopoulos wants this wine only for his visitors as a thank you gesture for coming and visiting the museum. (If you are flying back home with no liquid restrictions, you are likely to take a bottle with you, for it is delicious).
Kamarítis is best enjoyed before or after a meal, ice-cold at 6-8 ºC with fruit, nuts, cake, chocolate or over ice-cream. A completely natural product with no additives. It is pure grape juice with 11 % alcohol.
It has an inviting fragrance, it's sweet, warm, from medium to full-bodied and has an attractive darkish caramel color.
VINSANTO PDO
Vinsanto PDO is a naturally sweet wine, with a rich caramel yellow-brown color.
It's made from white grapes sun-dried for 14 days. A blend of Assyrtiko, Aidani, and Athiri with strong rich aromas of caramel, toffee, dried fruits and marmalade, raisins, and nuts.
It offers a fine balance between intense sweetness and final acidity in the mouth. We also learned the name Vinsanto is Italian and comes from the words vino (wine) and Santo (Santorini).
Vinsanto is exclusively produced in Santorini. Five kilos of dried grapes produce a liter of Vinsanto. The wine ages in oak barrels for 2 to 4 years before bottling.
The aging process goes on in the bottles for some more years.
This wine is served at 7-9 ºC, normally before a meal, accompanied by fruit, nuts, cake, or chocolate. Also on top of ice-cream, or after a meal.
The visit to this winery was one of the best moments in Santorini. Our kids were involved in the learning part of the visit and wanted to know things "hard to understand for kids" like why does the wine taste like chocolate..?
So, do I agree on taking kids to a winery, the answer is yes! They do not need to drink in order to learn!
Kids

saw how grapes were pressed in the past and how now it's a mechanized process.
They learned that pressing grapes bare-footed was a night job because the hot weather was intense.
Many things kept their interest alive for hours, and that also left the family talking about advances in technology for the rest of the afternoon.
Visit this winery: GEORGE KOUTSOYANNOPOULOS WINERY AND WINE MUSEUM
Road to Kamari Beach, Vothonas. (+30 22860 31322) e-mail: [email protected] or visit the winery site. The museum website is www.winemuseum.gr
More Wineries in Santorini
Updated in 2021
This small list includes the top wineries you can visit in Santorini, I've visited some of them in successive trips to Santorini, but without the kids. Take a look!
Santo Wines
This is the Union of Santorini Cooperatives and it was founded in 1947.
It's currently the largest organization of Santorini and its main goal is to protect the local traditional cultivations and to promote the development of sustainable agriculture.
Location:
The wine tasting facilities are located in Pyrgos. The tasting can go together with a tour of the facilities. The wine tasting can take place on a beautiful terrace facing Santorini's Caldera.
Experiences:
A wine-specialist explains the wines served, including varieties and tastes. It's possible to taste 3, 6 or 12 different labels. If you visit in high season, it's better to book beforehand.
Check Santo Wines here.
Hatzidakis Winery
In my opinion, Hatzidakis produces some of the best labels of Santorinian wines. If you're not into fancy locations, but after extraordinary wine quality, this is a winery you should visit. Its production is based on organic farming.
Location:
The winery is located in the village of Pyrgos, and the wine tasting takes place in the private storage areas of the winery.
Experience:
This is about a completely informal experience, basically, you get to taste the wines, talk to the family running the winery, and discover the places you're interested to see. Nothing fancy, but wines will blow your mind.
Check the winery here.
Venetsanos Winery
When visiting Venetsanos you will taste local wines in a beautiful setting overlooking the breathtaking Santorini cliffs. There's also a small wine exhibition that you can check during the visit.
Location:
The winery is in the village of Megalochori, above the Athinios port and the wine tasting takes place on a terrace on top of the Caldera. The establishment was rebuilt during the last years with a modern and sustainable architectural concept.
Experiences:
Wine tours can last from 20 minutes to an hour and can include a wine tasting session in which you will be able to taste up to 6 different wines. There's also a menu with traditional local bites.
Check Venetsanos website here.
Gaia Winery
Gaia is one of the most original wineries in Greece, known for the over 400 "Thalassitis" Assyrtiko bottles that were left to age at the bottom of the sea, in total lack of oxygen. Unfortunately, just a few bottles survived the experiment with heavenly results. The experience was so good that it was actually repeated. This wine aged under the sea can be acquired in auctions.
Location:
The winery is on the eastern coast of the island, in the village of Vrachies (between Kamari and Monolithos).
Experience:
The visit includes the wine tasting of its range of wines from Santorini and Nemean (mainland Greece) as well as a tour of the winemaking areas.
Check Gaia's website here.
Domain Sigalas
When you visit this winery you will be amazed at the beautiful open-air facilities devoted to wine tasting. It's also possible to check their fantastic cuisine under the vine leaves of its pergola. It's also possible to enjoy Santorini's famous sunset with a glass of their wine.
Location:
Sigalas is in the beautiful village of Oia, on the northernmost tip of Santorini.
Experiences:
There are different experiences available to choose from. Some of them include a winery tour, tasting every one of their labels, and menu degustations.
Check the experiences here, to learn more about the winery, visit this site.
Gavalas Winery
Not to be confused with Gavalas Crete Wines, this is a fantastic wine place in Santorini. Nothing fancy nor overlooking the Caldera, but again, outstanding labels. You can even take part in the ancient experience of grape crushing with your feet if you're lucky to visit in August/September.
Location:
Gavalas is also located in the traditional village of Megalochori which you can visit after the wine tasting and winery tour.
Experience:
The visit can include a tour of the winery as well as the tasting of the several varieties they produce, including the traditional Assyrtiko, as well as lesser-known wines from grapes such as Katsano and Gaidouria.
To have more information, check the Gavalas website.
These are other wineries you can check when you visit Santorini:
If you think Santorini is an island for romance and honeymooners, you are right. But if you think Santorini is there only for romance and honeymooners you are making a big mistake. There are endless possibilities and things to do on the island. Wine tasting is just one more of them!
Best Winery Tours in Santorini
If you have just finished outlining your Santorini itinerary, or if you're short of ideas, check this post to discover more things to do on the island. Instead, if you've already made up your mind and want to visit a winery, below you check the best guided tours for wine tasting in Santorini.
Santorini Wine Sunset Tour
This is a four-hour tour that includes a visit to two traditional wineries and over 6 different wines to taste. The tour ends with a sunset & wine tasting experience in the last winery. It has excellent reviews and it's good value for money. You can check and book this tour here.
Santorini Private Wine Tour
A five-hour tour through the countryside that takes you to three traditional wineries with a private guide. Check reviews and book in this link.
Small-Group Wine Tasting Tour
This is a certified afternoon tour that includes the visit to three wineries, wine tasting with an expert, and the sampling of 12 different wines. Check it here.
Santorini Wine Adventure
A fantastic tour that also lasts half a day, the visit takes you to 3 renowned wineries and allows you to sample 12 different wines, served with cheese and snacks. Here you can check Santorini Wine Adventure.
Santorini Wine Roads with a Sommelier
This is another great value for money experience on the island. It will take you to visit three different wineries. and you will learn about Santorini's winemaking techniques and with a local sommelier. You can book your wine road trip here.
Wine Tasting and Sunset
Another fabulous half-day tour in which you will be driven through the countryside to visit three wineries. In each of them, you will taste local wines, sampling up to 15 different varieties throughout the tour. You can book this special tour in this link.
---
So, are you taking your kids to your next wine experience… or not?
Let me know in the comments below!
---
Travel Plans for Greece?
More Resources to Organize Your Trip!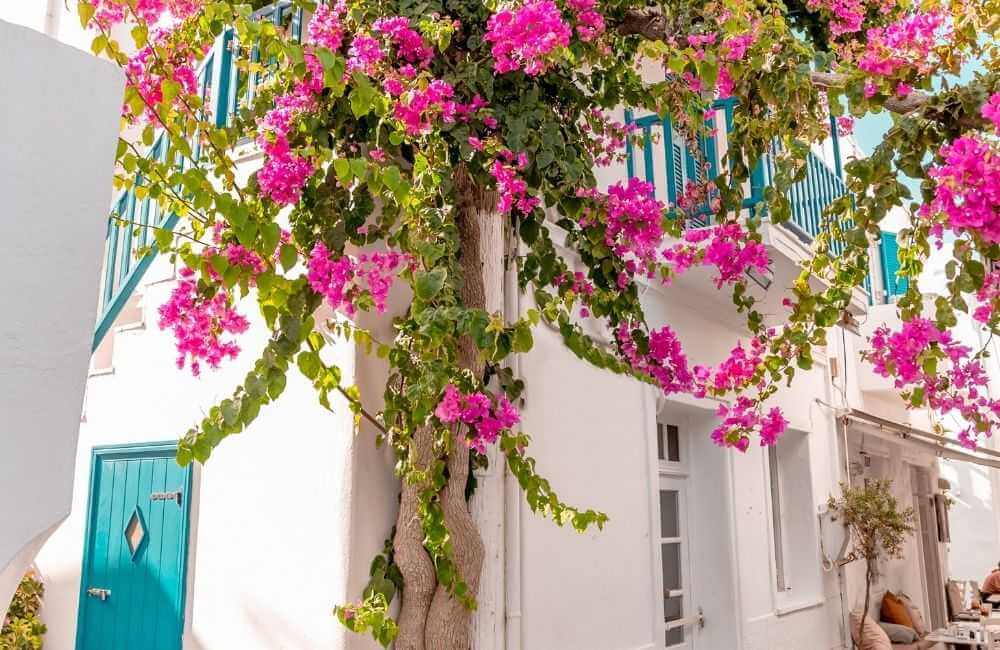 Start by heading right to my Greece travel guide for in-depth details you need to know about Greece. You can also check my post to plan a trip to Greece with children!
Get in touch if you need extra help to plan your trip. If you want to tour West Crete, check my guide. Want more? Join my Private Facebook Group to connect with like-minded travelers who love Crete as much as you do!
Make Sure You've Got Everything For a Hassle-Free Vacation!
Without my Osprey backpack, I never move around the islands…it's a sturdy but light travel partner I just love. For short trips, I carry this crossbody bag. If I drive, I pack my Nikon D7200 and a good travel guide! Lonely Planet's Best of Greece & the Greek Islands.
When it comes to plane tickets, compare prices with a powerful search engine. However, nothing beats traveling by sea in Greece. With Ferry Hopper, you can book in advance at the lowest price.
For accommodation, I use Booking.com.
Traveling to remote places is easier with Discover Cars. Other times, I join organized tours with GetYourGuide, which features anything from cooking lessons to airport transfer!
COMING TO CRETE SOON?
Get in touch and let me know!
Pin Before You Leave! Pin This Guide to the Best Santorini Wine Tours For Your Travels!
About the author of this blog: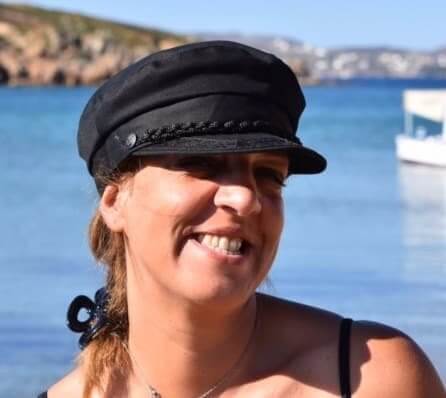 Gabi has been living in Crete for the last five years. Here, she juggles being a solo mom, hosting culinary tours in the summer, translating, and writing for The Tiny Book and her other blogs.
She's written for Greek Reporter, published three travel guides about Greece, and had more glasses of frappe than any regular person would be able to handle.
---
You might also want to read:
---