I've been to Santorini a few times already and every time I come back I think about how it is one of those destinations that makes everyone agree: The island is simply mesmerizing. You could argue that Santorini can get overcrowded and that it's extremely touristic, and yet, it is an authentic paradise nobody wants to miss. This article introduces you to the top things to do in Santorini, it's a natural spin-off post from my overly extensive article featuring everything you need to know about Santorini.
---
Disclaimer: Posts include affiliate links to products or services. I might earn a commission if you make a purchase, at no extra cost to you.
---
Top Things to Do in Santorini, Greece
Last-minute plans for Greece?
Get there: Use Ferryhopper to book your tickets.
Stay: Find accommodation deals on Booking.com.
Move around: Compare car rental prices with Discover Cars.
Tours: Visit popular places with GetYourGuide.
Read more: Pack the Lonely Planet Guide to Greece.
Fabulous Things to Do on Santorini island, Greece
Romantic like no other Greek island, Santorini is one of the most popular destinations in Greece.
This is one of the several guides I especially wrote for those who visit Santorini… check which are the best things you can do when you visit…
General Things to Know About Santorini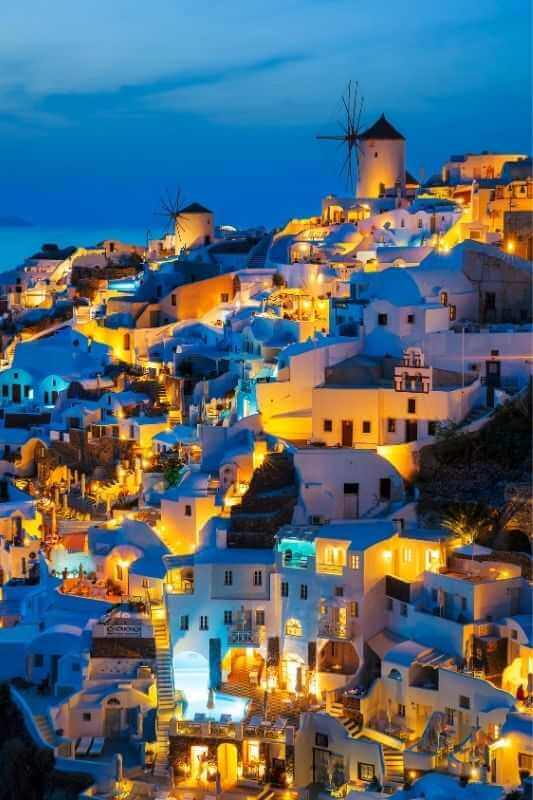 Santorini
Santorini is one of the most romantic islands of the Aegean and its rugged Caldera is the most famous cliff in the world.
It's a natural scenario of unforgettable sunsets and traditional settlements, perched like white pearls on the top of the rusty-red cliff.
The capital of Santorini is Fira a name that comes from the old denomination of the whole island, Thira.
The settlement, with its romantic whitewashed Cycladic houses built on the edge of the Caldera, is located about 400 meters above the sea. In the villages, there are countless shops, bars, and restaurants as well as hotels and villas for you to stay.
A quick guide to the best Santorini hotels
What to Expect When You Visit Santorini
The island is a hot destination all year round. Not being exactly what I would call a beach island, Santorini welcomes visitors all year round. In general, it has a mild Mediterranean climate with very hot and quite dry summers.
As in the rest of the Cyclades, summer-like weather begins somewhere in the middle of March and extends until the end of September, sometimes even well into October!
To avoid crowds and extreme temperatures, it's better to visit during March, April, or May, and if you happen to visit during Easter, even better!
Other good months to discover Santorini are September and October, while winter can offer not just great fees as far as transportation and accommodation, but the island will look empty, and moving around will be certainly easier.
The island is one of the few places in the world where people live right on a volcanic caldera! Did you know that?
This is one of the many fun and interesting facts about Santorini that surprise everyone who visits the island.
Frequently Asked Questions About Santorini

How long does it take to get to Santorini from Athens?
It all depends on what kind of ferry your board. It usually takes from 4 to 5 hours to travel from the Port of Piraeus to Santorini with a high-speed boat. If you're traveling with a conventional ferry, the trip can last anything from 7 to 9 hours, depending on the weather conditions.
Can you fly directly to Santorini?
Yes, during the high season, there are charter flights from several countries in Europe. Different low-cost companies fly directly to Santorini from April to October. It's also possible to fly to Athens and from there, take a connecting flight to the island.

What is Santorini known for?
Known as the ultimate Greek destination, the island is famous for several reasons. Santorini is known for its iconic whitewashed landscapes and the imposing cliff with small settlements perched high on the mountain overlooking the sea. Famous vistas of Santorini include tiny blue-domed churches, seas of endless beauty, and picturesque romantic settings.

Which is better, Mykonos or Santorini?
As always, it all depends on what kind of traveler you are and what you are looking for. While Mykonos is an island of unique beauty and fantastic traditions, the island has a party side to it made of discos, beach clubs, and exciting nightlife with almost no rival in Europe. Santorini, instead, enjoys a more laid-back and even quieter atmosphere that makes it a more romantic destination.
Is Santorini safe?
Santorini, like many other Greek islands, is a safe destination. However, being usually overcrowded, it's always a good idea to take a few precautions when it comes to your personal belongings. Santorini is also a volcanic island, which means you'll encounter a rugged landscape. Accidents are not common, but they might happen.
Is Santorini expensive?
Being such a popular place among tourists, price tags in Santorini are generally high. However, I've always found Santorini to be more affordable than other Greek islands. If you book your tickets and accommodation well ahead of time, do some research on places to visit and where to eat, or even if you visit in less popular months, you will be able to visit Santorini at quite reasonable prices.
What are the best things to do in Santorini?
Santorini is known for iconic things to do, such as witnessing the sunset from Oia, discovering the whitewashed churches on the island, exploring the Red Beach, or swimming in the black beach of Perissa. But there are so many more things to do in Santorini. You can also explore ancient archaeological sites or taste local dishes such as tomatoes, aubergines, and Assyrtiko wine. To learn more, read on… This article has the answers you're looking for.
Map of Santorini
keep the island in your pocket!
The Tiny Book of Santorini
Villages & Iconic Landmarks - Things to Do - Places to See
Where to Stay - Where to Eat - Beaches
Gastronomy & Wines
Get The Tiny Book of Santorini
Buy it now!
How Much Time You Should Spend in Santorini
Two to three days are more than enough to take a look at the most iconic places on the island. However, if you want to discover lesser-known areas or explore the places that tourists often overlook, then try to spend at least four days in Santorini.
Let's now take a look at some of the things you can't miss when you visit Santorini.
Top Things to Do in Santorini, Greece
In no particular order…
Explore the Village of Oia
Oia is a ravishing village located on the northern tip of Santorini.
Over here, the whitewashed landscape of Cycladic houses and churches is the typical Santorini postcard that you probably have in mind if you ever think about visiting Santorini.
Perched on top of the Caldera, the village is a labyrinth of cobblestone alleys and endless steps that wind up and down the hill.
A visit to Oia is one of the top things to do in Santorini, and although Oia looks stunning all day long, the village truly shines at sunset.
And not just because of the spectacular image of the sun setting over the sea from the caldera, but also because the warm colors at that particular hour, cast a magical light over the white buildings on the cliff, and everything looks as if being set on fire.
Visit Oia's Atlantis Bookshop
Are you a fan of books and bookstores? Then you shouldn't miss a visit to Atlantis, one of the prettiest shops in Oia.
Inside this corner, you'll be able to find unique books, maps, and magazines in many different languages, as well as great gadgets and souvenirs from Santorini.
Atlantis is a fun place to visit, where you can spend hours discovering witty quotes and inscriptions carefully designed on the walls of the bookstore.
Hike All the Way Down to Skaros
The village of Imerovigli, halfway between Oia and the capital of Santorini, Fira, is a remarkable attraction you should visit. An imposing rock on top of a high promontory over the sea which, centuries ago, was one of the five fortresses on the island, as well as a privileged observation post providing security from pirates.
Skaros dates back to the times when the Venetians ruled over many Greek islands, it was constructed between 1205 and 1230 ad it featured a movable wooden bridge.
Unfortunately, different earthquakes have destroyed the castle but it's still possible to hike to the ruins and marvel at the stunning landscape.
Discover Fira, the Capital of Santorini
The capital of Santorini is, together with Oia, the most overcrowded place on the island at any given hour of the day. And still, magic and beautiful, Fira is another place that you shouldn't miss when you explore Santorini.
Fira is the best place for you to buy souvenirs to take back home with you, you can find anything from mugs, postcards, beauty products, jewelry, and t-shirts.
In Fira, there are also some great bars with beautiful views where you can sit for a cold coffee to wait for the sunset.
When trying to visit such a popular spot, it's always a good idea to get there early to avoid crowds.
This way, it will be easier for you to walk the alleys and soak in the magnetic whitewashed landscape of Fira.
Check the Archaeological Museum of Thera
Right in the heart of Fira, the Archaeological Museum of Thera is a very interesting but small museum visit if you want to discover the history of the island.
It features artifacts from the 3rd millennium BC until the Classical period.
The museum is just steps away from the Cable car station and it's also close to the Catholic Church of Saint John the Baptist.
Learn Everything About Photography on the Island
Probably one of my favorite things to do in Santorini, I even wrote a guide to better photograph the island. A photographic tour allows you to see a different side of Santorini.
And it can prove the best way to discover spectacular scenarios that only local photographers know about while also getting a few interesting tips on how to take better pictures.
So… why not look at the landscape of Santorini through the eyes of a professional photographer taking a private photography tour like this.
This tour is true value for money if you are a fan of taking great travel pictures.
Check Out the Stunning Red Beach
Make some time to visit the southernmost tip of the island and discover the famous Red Beach. To get there, you'll need to hike a rocky path, sometimes a bit slippery, but worth the views.
The Red Beach is located in the village of Akrotiri and it's another magnificent place to witness the sunset on the island if you want to avoid the crowds at the Caldera.
When in the area, also pay a visit to the Archaeological Site of Akrotiri, one of the most stunning and best-preserved ruins in Greece.
The Archaeological Town of Akrotiri
Known as one of the most important prehistoric settlements in the Aegean, the archaeological site of Akrotiri dates back to the Bronze Age.
The original settlement is believed to have been destroyed by the most devastating volcanic eruption that might have taken place in about 1627 BC.
The city, which remained buried under a thick layer of volcanic ashes, was thus preserved until it was discovered in modern times.
Today, it's possible to visit the site to learn more about the advanced civilization which once strived on the island.
Spend Time Exploring Santorini's Perissa Black Beach
Santorini is not all about the sunset, Oia, the Caldera, and the romantic sights. It can also be a relaxing place, less crowded if you visit the not so touristic areas which are still quite impressive.
One of these places is the extensive Black Beach of Perissa, also on the south coast of the island.
Perissa is a laid-back village with a uniquely long strip of black sand and volcanic pebbles and an endless blue sea.
At night, Perissa is the perfect place to hang out if you don't love overpopulated places. You can walk by the waterfront, choose a bar to listen to some music and chill, or have a lavish Greek dinner right by the sea.
Wander the Gorgeous Inland Villages
Forget everything about the touristic side of Santorini for a while and focus only on discovering some hidden gems on the island, places with an authentic flavors that will truly make you fall in love with the island.
One of those villages is Pyrgos, located in a rather central position, Pyrgos was one of the island's five castle cities. The picturesque town is high on top of a hill, therefore the views of the sea are simply breathtaking.
This traditional settlement is the best place to spend Easter in Santorini since it's home to a unique celebration on the evening of Good Friday. If you want to know more, check out this article about how Pyrgo celebrates Easter.
Emporio (also Emborio) is another characteristic settlement worth a visit. The settlement is surrounded by a green landscape dotted with ancient mills, many of them now turned into wonderful rental homes.
The town features a maze of picturesque alleys and cobblestone streets as well as two Venetian castles that used to keep people safe from pirates.
Taste the Local Wines
Santorini is also known for its wine varieties. On the island, there are street signs that mark the official Santorini Wine Trail as well as many wineries on the island.
The economy of the island does not only rely on tourism but is also largely based on local wine production, with over 90% of the soil producing about 5000 tons of grapes per year. The main grape variety from Santorini is Assyrtiko.
If you're looking for the ultimate experience to complete your trip to the island, book a visit to one of the many Santorini wineries and sample the unique local wines.
Interested in Santorini's wines?
>>Check everything about wine tasting in Santorini<<
Top Tours you Shouldn't Miss in Santorini
Gold Catamaran Cruise
One of Santorini's top experiences is this catamaran cruise with lunch and an open bar that takes you to the most iconic corners of the island at sunset.
Guided Winery Tour
Sip your way through the Santorini vineyard booking a visit to three wineries including appetizers and wine tasting. Learn all about the local wines.
Horseback Riding Experience
Explore and admire the stunning black sand beaches and volcanic hills of Santorini on this horse riding experience.
Begin your horse riding experience at the stables in Megalochori. Ride along the paths of the vineyards and see their traditional layout. Continue along the south trails that lead to the secluded black sandy beach.
Photos with a Private Photographer
Forget selfies! Book your own Santorini personal photographer to capture your journey in a contemporary style. Return home with amazing photos of your travel.
Scuba Dive Experience
Explore Santorini's famous active volcanic underwater environment with the guidance of professional diving instructors. Dive into different sites around the island.
Where to Eat in Santorini
Ammoudi Fish Tavern: An iconic restaurant by the sea at the port of Oia. Booking in advance is highly recommended (Ammoudi Port).
To Psaraki: Informal place by the beach, ideal for lunch and local platters (Vlychada).
Metaxi Mas: One of the best places on the island, hard to reach without a car. Tasty dishes with a modern touch (Exo Gonia).
Food You Must Try in Santorini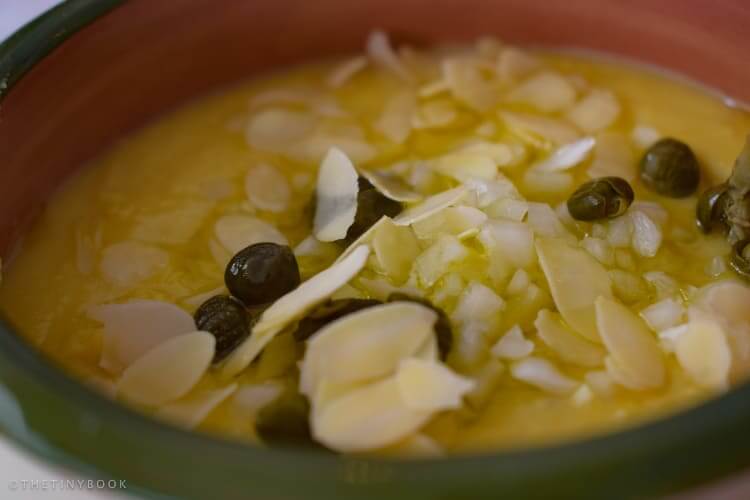 Traditional fava from Santorini, the dish is a delicious spread made from yellow split peas and seasoned with olive oil, parsley, and fresh onions, delicious!
Ntomatokeftedes, are mouthwatering tomato fritters made with the delicious cherry tomatoes that grow on the island, usually, they are seasoned with fresh herbs such as sage, mint, or oregano.
White aubergines from Santorini are another staple in the local cuisine. Try them alone or served as a side dish to fresh grilled fish, octopus, or cuttlefish. Give your experience a twist by pairing dinner with a bottle of local wine.
Santorini at Night
Nightlife is not as exciting as it can be on Mykonos, Ios, or even Paros, yet, there are a few things you can do to enjoy your evenings in Santorini. These are my top picks.
Top Things to Do in Santorini at Night
How about experiencing one of the activities that the Greeks enjoy the most in Summer? Open-air cinemas! You can enjoy a movie under the stars in the Open Air Cinema Kamari, in the village of the same name.
In the mood for a cocktail? PK Cocktail bar in Fira is a place offering a unique atmosphere, a breathtaking view of the Caldera, and super well-crafted cocktails.
Staying in Perissa? Head to Tranquilo Beach Bar, chill out listening to music and sipping a glass of Santorini beer under the stars.
How to Get to Santorini
Traveling to Santorini by plane is the most comfortable option. There are several flights from different European countries, at least during the long summer season. Flights from Europe usually start during Easter.
If you're traveling from Athens, there are at least 3 daily flights (Aegean Airlines). It takes you about 45 minutes to get to Santorini.
There is also a daily flight from Crete (Heraklion, 30 minutes). You can also fly to Santorini from Rhodes (2 weekly flights) or from Thessaloniki.
It's quite common to reach Santorini by ferry if you're traveling from Athens, especially in summer. Always remember to book your ticket in advance to secure a seat on the planned dates.
Ferries dock at the port of Athinios, about 15 minutes Fira. There are 3 to 5 daily ferries departing from the Port of Piraeus.
For more information about different ways to reach Santorini, read this article.
How to Move Around in Santorini
Driving in Greece is not as hard as it might seem. Nothing better than the freedom of renting your own car.
It's the perfect way to explore hidden corners of the island that you would otherwise miss because no public transport reaches the areas frequently.
Besides, a rental car lets you forget about schedules and offer more flexibility when planning your itinerary beforehand or your day on the go.
Renting a car in Santorini is the best thing you can do to discover every secret corner on the island. When looking for a rental company check an international car rental search engine to have a wider choice of vehicles.
Hiring a bike is a second possibility. However, motorcycles are not really the best means of transport in the middle of summer when traffic gets really very intense, if you're not really used to riding a bike, play it safe and rent a car.
What to Pack for a Trip to Santorini
Luggage: The best piece of advice I can give you is to travel light, and carry on only whenever possible, especially if you're traveling from one island to the other via ferry. A good 40-liter backpack or a backpack like the one I use are good solutions. If you prefer a suitcase, check out this extra convenient Amazon hard shell model. Always add a small foldable daypack for excursions or day trips.
Beach & Excursions: Other than the essential swimming suits, pack your snorkeling gear, beach shoes for pebbles, and a high SPF lotion.
Hikers will certainly walk better when wearing breathable walking shoes. If you venture into the mountains, go for a comfortable pair of pants, and add a good quality hat to your outfit.
If you want more details about how to prepare your beach bag, check this article!
Clothing and accessories: Pack clothes that you can easily mix and match. Choose breathable material or garments that dry fast for you to wash and wear the day after. Three t-shirts, two pairs of shorts, and a couple of summer dresses will be more than fine.
For men, a nice shirt for dinner, three to five t-shirts, plus two pairs of shorts or bermudas are more than enough for a week on the islands.
When it comes to shoes, if you're a woman, avoid heels and prefer flat sandals or wedges. For men, the best shoes are summer loafers or soft leather sandals. Don't leave your flip-flops at home.
Don't forget your toiletries, your electronics, your photo camera, extra memory cards, and a good guide to the Greek islands.
Only a Short Visit to Santorini? Don't Miss These
If you're visiting Santorini for a couple of days only, these are the three things you should not miss:
Witness the sunset over the Caldera in Oia
Check Santorini's Black Beach of Perissa
Taste some of the delicious local wines
More About Santorini
---
What other things would you add to this list of best things to do in Santorini?
Let me know in the comments below!
Read more travel blogs about Greece
---
Pin this Ultimate Guide to the Best Things to Do in Santorini for Your Next Greece Escape!
About the author of this blog: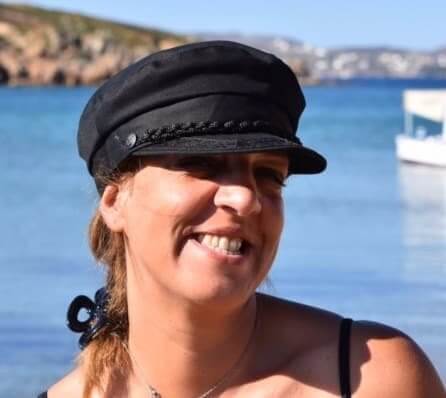 Gabi has been living in Crete for the last five years. On the island, she juggles being a solo mom, hosting culinary tours in summer, translating, and freelance writing.
She's written for Greek Reporter, published several travel guides about Greece, and had more glasses of frappe than any regular person would be able to handle.
---
You might also want to read:
---