This practical guide helps you organize a key item during your Crete travels: Your Beach Bag! Check what you need to pack in your beach bag for a trip to the beach in Crete.
Discover which items are essential when visiting beaches off the beaten track!
---
Disclaimer: Posts include affiliate links to products or services. I might earn a commission if you make a purchase.
---
What to Pack in Your Beach Bag
How to Prepare Your Beach Bag: Packing your Beach Bag for Crete's Beaches
Many beaches in Crete are well organized, close to big cities, or at least not far from villages where you can find the basics for your day at the beach.
Sometimes though, you also need to consider what beaches you will be visiting.
My different beach guides often tell you whether a beach is organized or not. However, don't believe that because a beach has some kind of organization, you will find everything you need.
Sometimes they run out of products, sometimes there's only one shop or beach bar catering for the whole beach, and sometimes beaches are so crowded that you need to wait in line for a drink.
Since I want your day at the beach to be perfect, and I know how much we hate to get there and realize we've forgotten something, this guide helps you tick off the list the items you need.
Choosing the Right Beach Bag
Summer is around the corner and you're planning your ultimate Crete trip, adding Balos or Elafonisi to your list of beaches to see on the island, right?
I know, the planning phase of any trip is really exciting but also overwhelming. There's tons to be done and the key not to losing it is just a bit of organization. So let's organize our beach bag… but first, what's the right bag for you?
Use a Backpack as Your Beach Bag
Are you the sporty type and what to keep everything at hand but out of the way? Or are you planning to visit beaches that require a bit of hiking to reach?
In that case, what you'll need is a good sturdy backpack, lightweight if possible too, that can fit all your necessities and remain comfortable to carry when walking to the beach.
If you're the backpack type, also consider two more things. Are you carrying stuff just for you or are you sharing it with the family? Keep that in mind went it's time to decide on the size.
Canvas Tote
Practical, light, and easy to fold and put back in your luggage, canvas totes are a great solution to lug your beach essentials around Crete. They might get wet, but nothing beats them when it comes to a practical item to pack and always carry on your travels.
Light cotton totes can be repurposed as a shopping bag when going for groceries in the local markets, or as an extra bag to carry souvenirs back home. If you choose a tote that's more structured and waterproof or with zippers and rope handles, they are still comfortable and roomy, but can also be heavy.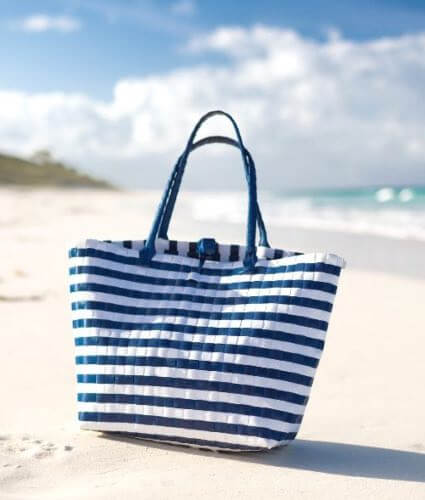 Basket Bag
They're beautiful and have a unique beach flare to them, but unless they are fitted with long handles for you to carry on your shoulder, they can be a nuisance to lug around unless you're heading to the pool of your resort or a fully organized beach close to the city… or even to your hotel's private beach.
They can be as pretty as you want, but not practical when it comes to reaching the wild beaches on Crete. Besides, unless you also double them as your personal item on the plane, they're quite bulky to pack.
Plastic Tote
They're either transparent or super colorful, very roomy, and practical because they're easy to clean and things can be found easily. However, they can be heavy, and bulky, and the handles quite uncomfortable.
They're not my favorite, but I've seen them a lot on our beaches.
Essentials for Your Beach Bag
These are some essential items that are always necessary no matter what kind of beach you're visiting in Crete. You will need a few pouches to keep yourself organized and to find things easily when you need them.
Pouches
I like to use waterproof pouches to divide my stuff inside the beach bag. I normally have a bigger one for my phone and documents (I'm a Kipling fan even if they're not waterproof!), a small silicone one for change, and a plastic one for all the lotions and potions you need at the beach, including sunscreen and lip balm.
I also usually add a plastic bag for any wet item, and I keep my goggles in another small plastic pouch.
Beach Towel
Some people just throw in an old towel and use it both to sit on the beach and to dry their bodies. I rather have two different items. When it comes to towels, I simply love microfiber ones.
They dry really fast, they're super light and easy to pack, I usually roll them for them to take as little space as possible.
Another good option is the so-called Turkish towel. Turkish towels are made of cotton, super practical too, and you can find them easily in several shops around Crete.
Buy this item at your destination and bring it back home as a souvenir of your trip.
Sarong
Sarongs are good for sunbathing and they can also double as a cover-up to go and sit at the beach bar for a sunset cocktail. I prefer the ones made of cotton, and as big as they can get.
I have a huge collection of sarongs since, for a while, this was the only item I would bring back home as a beach souvenir, so I stopped buying them. In my opinion, sarongs are super versatile, and a must for a trip to the beach. If you prefer, go for a cover-up, not as versatile, but trendy for sure.
Sunglasses
I'm not a fan of sunglasses, but they are important. I've bought a foldable pair from RayBan just like this one and I'm quite happy with them.
When buying your sunglasses, privilege quality over price to give your eyes real protection against both UVA and UVB rays. Don't fall for those cheap imitations sold at the beach or in souvenir stores, your sight will thank you.
Sunscreen Lotion & Lip Balm
Go for a high SPF for extra protection (at least anything over 45), and choose a non-greasy, fast-absorbing, waterproof formula that you can apply over and over during the whole day under the sun.
I've started using a lip protection product since my lips started cracking not just from going to the beach, but just by being exposed to the sun for long hours during my food tours.
I always carry one in my purse and it comes with me to the beach too. This particular brand works wonders, quickly fixing my chapped lips.
Water Bottle
It's certainly easier to buy your water as you go, mineral water is really cheap in Crete. However, I am personally trying to reduce plastic waste.
Getting rid of plastic is already difficult, even more on an island, so I always try to carry a refillable water bottle that keeps drinks cool for long periods.
Earbuds
I love to put on my earbuds, turn on my music, and sleep under the sun. It's my favorite hobby. Don't forget a good pair of buds and a protective pouch to keep them.
You can either use the playlist on your phone or get a convenient music player that resists the beach environment.
Book or Kindle (eBook)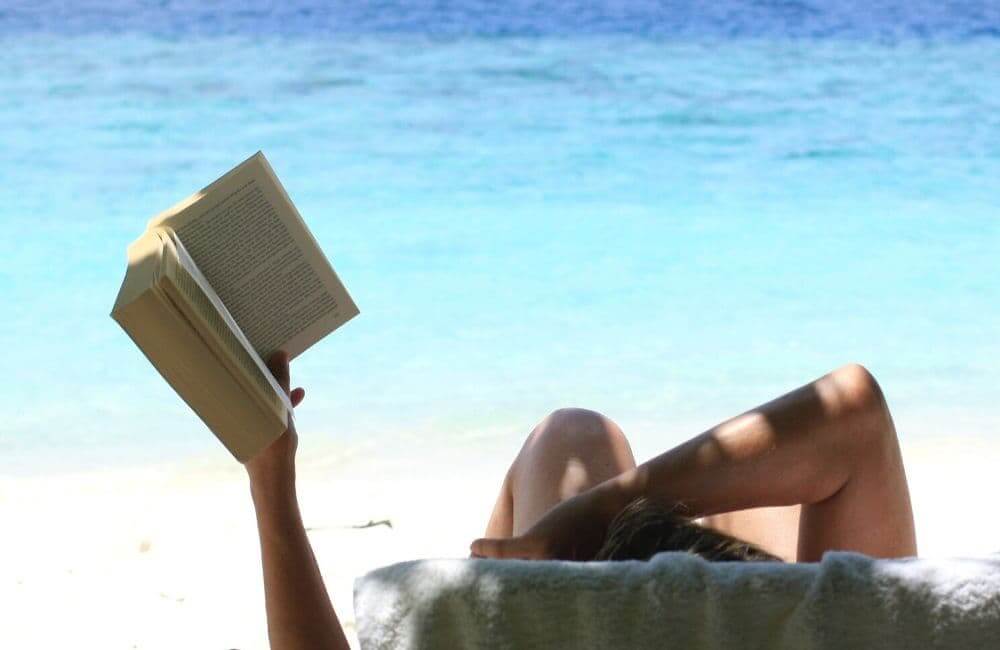 Nothing like reading and spending a long afternoon reading a good book by the sea. Don't forget to toss your favorite novel inside your beach bag.
I personally like to carry my Kindle Paperwhite, if you don't have one and are planning to get it, go for the new model, it's waterproof and has double storage space!
Beach Hat
Don't forget to pack a foldable hat, a cap, or a bandana. They are key to protecting you from the sun and providing extra shade to your face when need be. Besides, they're great to hide horrible beach hair!
Other Things You Need in Your Beach Bag!
These are some other essential things that I always suggest carrying inside your beach bag…
Goggles
The seabed in the Libyan Sea is spectacular. There are several places where you can go snorkeling in Crete along the south coast and you don't want to miss them, so pack at least your favorite goggles.
Mask and Snorkel
If snorkeling is your thing, then don't just settle for a pair of goggles and get the right equipment to enjoy the best submarine landscapes of the Mediterranean.
Plastic Bag for Wet Clothes
There's always wet stuff to carry back home, especially if you have kids. Don't let it mix with your dry stuff or your valuables.
Wet clothes can be smelly and your whole bag will probably end up stinking too. Wet bags are reusable and easy to clean. You can also use bags with a plastic zip.
Waterproof Camera
They are not really a necessity but they can be fun to use. There are plenty of models in the market but always make sure to read enough reviews.
You can either go for a top model like the GoPro Hero 9 with a touch screen and live streaming options. Or you can try a more convenient version.
As an alternative, get a waterproof pouch for your phone if you dare to put it underwater.
Earplugs
Some people can't swim without them and it's easy to see why. Earplugs help to prevent water from entering the ear canal, reducing the chances to get a painful swimmer's ear, and even an ear infection.
Find the right pair, it needs to fit comfortably and – of course – don't let any water in. Self-molding plugs form to your ear shape and ensure the perfect fit. Consider getting the right case to keep them in your bag.
What to Pack in your Beach Bag: Extra Items for Women
We both know that we, women, need a few extra items when we head to the beach, these are some of the things you should never forget to pack in your beach bag…
Hair Needs
It's crucial to protect your hair from salt and sun. The sea and the wind help tangle your hair, plus sand easily gets in the middle and the sun makes it dry.
Keeps your hair tamed and healthy with the right leave-in conditioner with UV protection.
There are tons of products to choose from. If you're curly like me (yes, I hide it, but I am!), have long hair or you usually dye it, choose something that gives an extra touch of protection.
Use a gentle brush or comb to help untangle your hair after you've applied any protective product. Either a wide-tooth comb (especially if you're curly) or a detangling brush is all you need. Add a small mirror if you need to.
Personal Care Items
Choose a small, plastic pouch to carry your favorite feminine products. Add refreshing wipes for your face and body to clean the sweat or remove rests of lotion.
If your skin is very sensitive, you might also want to add an aftersun gel. This way you can get immediate relief without having to wait until you get back to the hotel to feel better.
Flip-Flops
I don't like any fancy models. I don't!
Since moving to Crete I started buying the basic type because I put them inside my bag, so they must be light.
Yes! Unless I'm just walking to the beach close to my house, I wear hiking shoes or tennis shoes to reach the beach.
Why? Because you often hike, climb, or walk on irregular terrain in order to get to places like Seitan Limania, Agiofarago. Or also when you're hiking all the way from Chora Sfakion to the beach of Glyka Nera to name a few.
Water Shoes
Many beaches on Crete have soft white sand, but many others have pebbles, especially on the beautiful south coast. Places like Triopetra or Loutro come to my mind.
Now, some people really don't mind them, but other people cannot really stand walking on them. I use a no-frills, comfortable pair quite similar to these ones because – of course – I belong to the second group!
What to Pack in your Beach Bag: Extra Items for Men
Also, men need their share of things in their beach backpacks…
First Things First: Choose the Right Bag
There are several beach bag models also for men. You can go for a small, comfortable duffle, choose a stylish tote or mesh light backpack or stick to the classic backpack. Backpacks can be repurposed for day trips or hiking, and as a carry one. Besides, they're gonna give you more freedom to move, leaving your hands free.
Extra pair of Swimming Trunks
It's always comfortable to have at hand an extra pair of shorts to change if you decide to hit the beach bar or you just want to have lunch at the beach taverna. Sitting for long on your wet swimming pants can be a real pain in the ass… neck! Roll an extra pair and toss it in your backpack.
T-Shirt
I know, I know, you're going to the beach in a T-shirt! I know.
Just remember to wear it also when you're going for a sandwich at the beach restaurant. It might be hot, but it's not always a nice view… besides, would you sit at a restaurant without covering up in your country? Exactly! So don't do it in Greece!
Flip-Flops
Chances are that you'll be packing them and not wearing them since you leave your hotel. Unless you're just crossing the street to reach the beach, the most beautiful beaches in Crete are hidden and hard to access.
Walking among spiny bushes, stepping on loose rocks, and climbing stone stairs is quite common if you want to visit the best beaches in Crete.
Pack your flip-flops and wear them on the hot sand once at the shore. These Amazon Essentials have great reviews.
Water Shoes
For the same reason I mentioned before, this is another item you want to carry with you if you can't stand walking on pebbles. Beautiful bays on the southern coast of Crete usually have stones or a rocky seabed. Sometimes the whole beach is made of pebbles.
This is up to you, if pebbles are a nuisance, get a good pair of water shoes and forget about the issue.
Sunscreen Lotion
Don't steal from your wife and get a formula that's ok just for you! Men and women have different skin needs so go for something that's right for you.
Choose a waterproof non-greasy formula, better if in a spray for it to be easier to apply.
Beach Mat
Go for something that's easy to fold or roll and that you can easily throw into your back without taking much space.
There are some models which are also waterproof and that repel sand, so perfect comfort and not an ounce of sand sticking to your body with the aid of lotion!
What to Pack in Your Kids' Beach Bag
My eldest son now goes to the beach alone, well, sometimes… but I still pack a bag for my youngest. Of course, he carries it, but it's my task to prepare all the things he needs to take with him.
When both were toddlers, I used to pack one extra bag for their necessities. As well as a small bag with beach toys, including masks and snorkel equipment.
I remember carrying extra swimming suits, extra towels, plenty of liquids, special sunscreen lotion, and more!
Those days are long gone, but there are some essentials that I still carry.
Small Backpack
Your kid's beach backpack can perfectly be the same bag they'll use all through their holidays, for road trips, and as a carry-on.
For that reason, it needs to be light, easy to clean, and with a small compartment for electronics. This convenient, no-frills Amazon model is perfect for kids.
Googles and Snorkel Equipment
Choose the right size for kids to enjoy without losing their equipment or getting water in the way of their sight. Don't buy those one-size-fits-all, cheap models that souvenir shops usually sell in seaside resorts. Go for a little bit of quality like this set.
Some models expand as your kids grow, they can be a little bit more expensive, but they are totally worth the expense.
We got one of those many years ago and my youngest used them for years, they really adapt to the face of your kid even when they're growing. For top-class little swimmers, add the fins too.
Sunglasses, Earplugs & Hat
Get the right sunglasses for kids. Children's eyes are particularly sensitive to UV rays exposure and you don't want their sight to be damaged. Don't save on this item, please!
Some kids have very delicate ears and it's crucial to protect them with the right earplugs, especially if they like to swim and spend long hours at sea.
Add a hat to the list too, I prefer these soft models that also have a UV shield.
If your kid already has his favorite had or if you don't want to buy a new one, just pack it. Any cap is better than no hat at all. And trust me, they won't use it only on the beach.
Sunscreen Lotion (Kid's Formula)
Choose a very high SPF (sun protection factor) for kids with very sensitive skin, make it fragrance-free, and easy to apply too.
Products that come in spray or stick apply better, some of them have a light color which lets you know whether there are areas on your kid's body that still needs sunscreen.
Water Shoes
Kids' delicate feet won't have a good time on some of Crete's pebble beaches.
Water shoes are a must for children to be able to walk, play, enter the sea, and swim without feeling the nuisance of small shells or stones. Kids will be happier… and you too!
Beach Mat and Changing Mat
They are great for kids to play with or for them to take a nap under the umbrella.
Choose a beach mat that's easy to clean, easy to fold, and packable. For kids still wearing diapers, don't forget to add a changing mat.
Beach Towel
Although I love microfiber towels, for smaller kids I prefer something more fluffy and soft. Beach ponchos or hooded towels are also a good idea for small children. For older kids, microfiber beach towels work fine.
Beach Toys, Inflatable Toys, and Games
When it comes to beach toys or inflatable toys, the obvious choice is to buy them on the island. Really… who wants to pack a beach bucket? A suggestion? Don't bring them back home!
Find other kids on the beach on your last holiday day and teach your kids to pass their toys on. The same is valid for inflatable toys and beach rackets sets.
As far as games go, my kids usually pack the same travel games they usually carry for their road trips, cards and dice are a good idea.
If your kids have tons of toys, these bags are just great ad easy to pack in your luggage!
Packing a Beach Bag to Visit Crete's Remote Beaches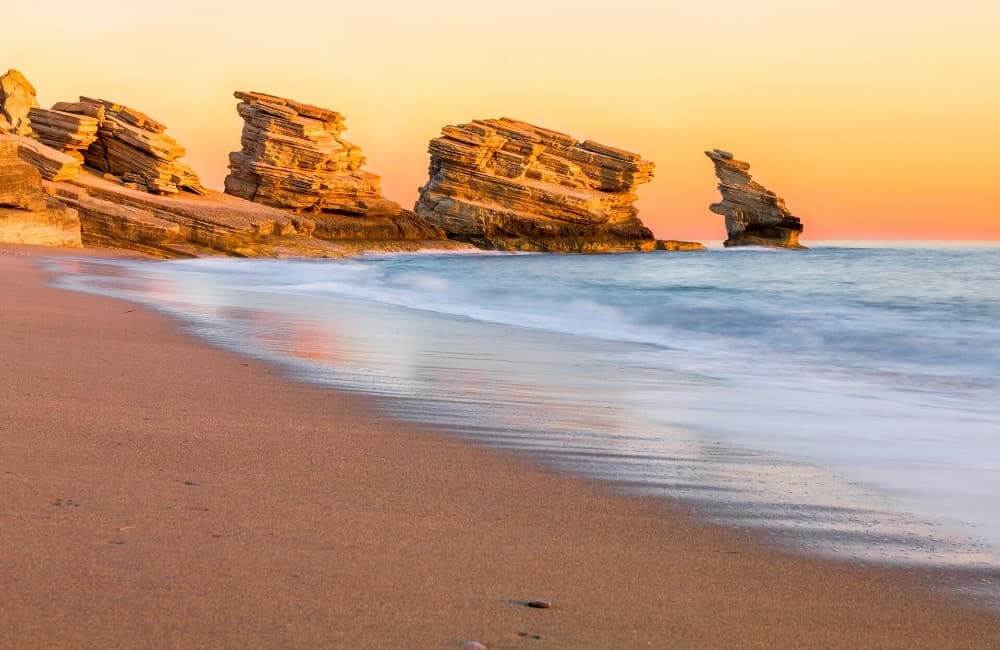 You want to be ready for everything when packing your beach bag to visit one of Crete's most isolated beaches.
The most beautiful beaches in Crete are often off the beaten track and are not organized. That means you must consider everything you might need.
You will also have to pack drinks and some snacks, toys for the kids or games to keep you entertained, and maybe a book or a snorkel and mask set.
Since convenience stores or mini-markets are not always available in these isolated areas, don't forget essentials such as sunscreen, sunglasses, and even cigarettes (for those who smoke).
These are some of the things you need to pack in your beach bag to explore Crete's unspoiled shores.
Cooler, Lunch, and Drinks
Even when some remote beaches can have some form of organization, such as a small bar or taverna, many times they are not enough to cater to the whole beach, so a cooler is always a good idea.
On some other beaches, they are a must because there's nowhere to get a cold drink or a quick sandwich.
Choose a small insulated cooler for just a couple of beers and a sandwich if you're going to the beach alone, or go for a bigger model if you're packing for the whole family.
Don't forget to get the ice packs and freeze them in advance. Some coolers are shaped like backpacks and are super comfortable to lug around.
Pack cold water and a good amount of fruit. Both will help you stay hydrated.
Comfortable Lounge Mat
I love this new foldable mat model which can double as a lounge. It's quite lightweight and easy to carry.
If you're spending long hours lying on the beach privilege comfort over lightweight and choose a thicker mat or an inflatable one that can be used at sea, your back will appreciate it.
Beach Umbrella or Foldable Tent
A beach umbrella is quite necessary when beaches lack organization, especially if you spend long hours at the beach, you have small kids, or you cannot find a good tree for natural shade.
When visiting beaches such as Falasarna, where the wind can blow quite strong, a small, foldable tent is the perfect solution to keep sand from getting everywhere!
Extra Necessities
When planning a trip to a remote beach, think about everything! They are usually far from villages or towns where it's possible to get the basic stuff you forgot.
Some of the things you might need include your medicine, reading glasses, toilet paper, wet wipes, ice cubes, lighter and cigarettes if you smoke, mints or gum, spray for bugs, and more.
Don't leave anything to chance, have everything ready to spend a fantastic and comfortable day at the beach!
🏖️ Please, help us protect the beaches in Crete. Respect the environment and don't leave any trash behind.
Read more about Crete
🛌 Suggested Accommodation in Crete:
🗺️ More resources to book your trip to Crete
This Belongs to a Board! Pin This Super Helpful Guide to Prepare Your Beach Bag For Your Next Travels!
---
You might also want to read these posts about Crete's regions:
---
About my blog: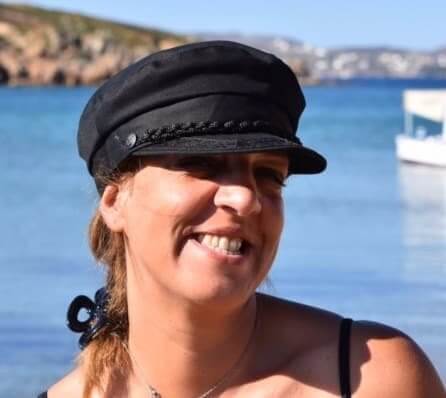 I moved to Crete in 2016. During these years, I learned much about the island.
In Crete, I juggle being a solo mom, hosting culinary tours, and writing for several travel media.
I've written for Greek Reporter, published travel guides about Greece, co-authored DK Eyewitness Top 10 Crete, and had more glasses of frappe than any regular person could ever handle.