One of the prettiest villages you can visit in Chania is Loutro, located on the southern coast of the region. Loutro is a tranquil fishing village facing the Libyan Sea.
Adorned with the blues and the whites so typical of the Greek landscape, a visit to Loutro can be the perfect day trip from the city of Chania.
Read on to discover how to get there, Loutro boat hours of departure, where to eat, and a lot more about Loutro, in Crete.
---
Disclaimer: Posts include affiliate links to products or services. I might earn a commission if you make a purchase.
---
Loutro, Crete: Everything you Need to Know
This quaint coastal hamlet, about 95 km from the center of Chania, could easily be described as Heaven on Earth.
Surrounded by the imposing frame of the Lefka Ori, or the White Mountains, Loutro is a white little village located in an amphitheatrical position.
Better known for the crystal clear waters of the sea, and the somewhat lazy atmosphere.
Loutro has also a few gems to offer in the inner areas, closer to the mountains.
In a landscape of whitewashed buildings, blue doors, shutters, and white and pink bougainvillea, Loutro plays the card of the Cycladic island landscape but on Crete… and it wins the game!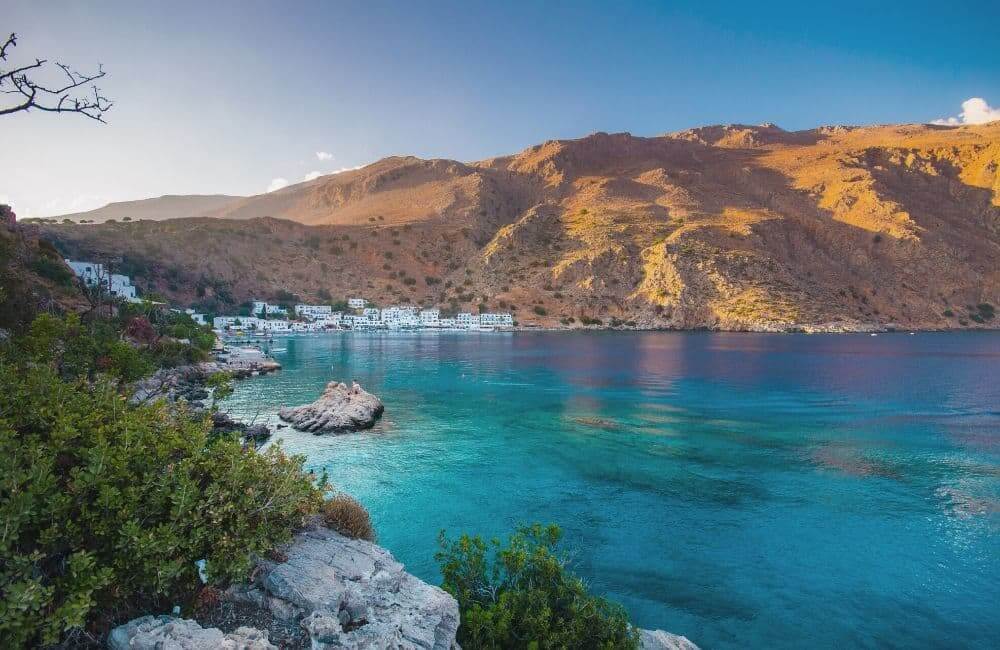 Undeniable home with a peaceful atmosphere, it might surprise you to see that the things to do in Loutro are not boring at all.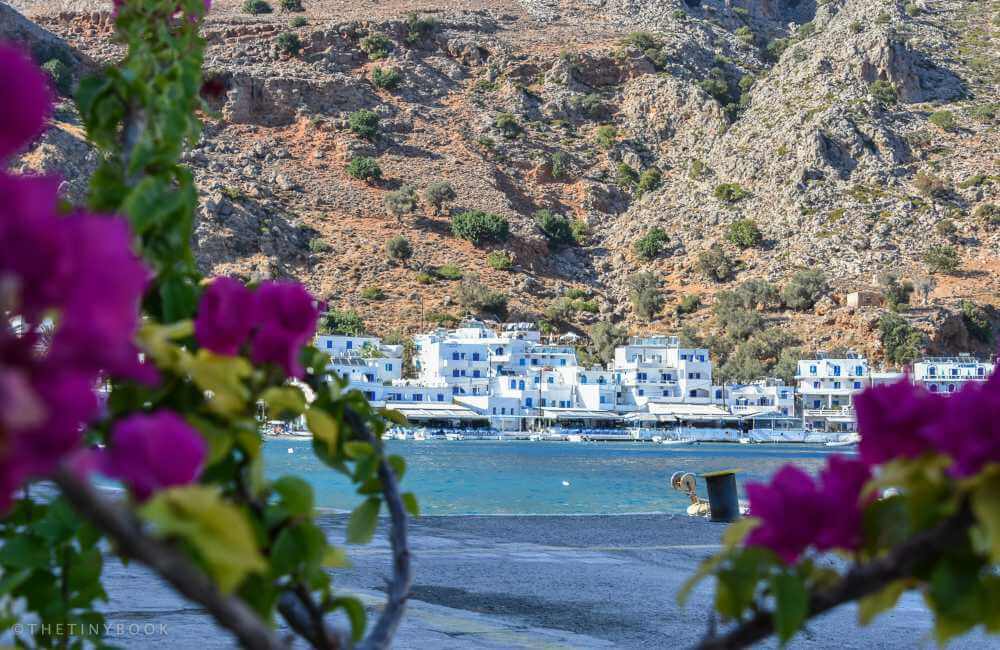 You won't find exciting nightlife, a huge choice of entertainment, or the typical hustle of the North.
Yet, if your goal is to reconnect with nature, admire incredible landscapes, relax, disconnect, and detox, then this is the place to be.
Loutro, Crete: Map
Unique Things to Do in Loutro, Crete
You're probably heading to Loutro because you were told that this is a great place to relax and clear your mind.
Or maybe, you're heading there in search of unforgettable romantic moments. Loutro is indeed a superb location for couples.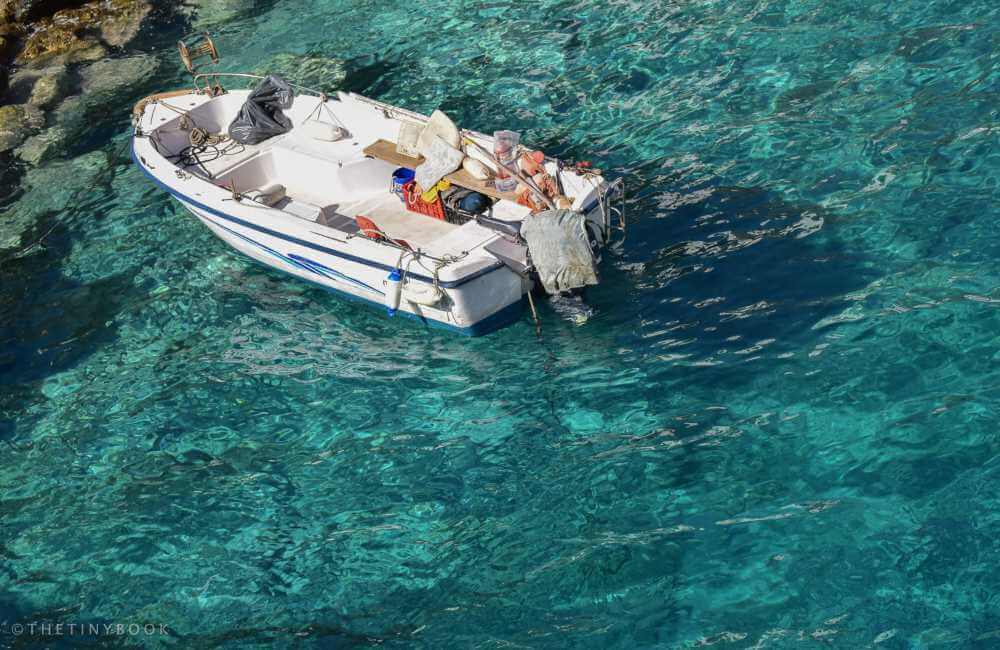 However, no matter whether you're looking to unwind or to plan the perfect romantic escape, it's always a great idea to add some things to do to your lazy days on the beach.
Check these and pick your favorite!
Walk Along the Seaside
The moment you disembark from the ferry, you will feel overwhelmed by the stunning beauty of the village.
Having hardly had any time to recover from the wonderful colors of the sea, you'll start to look around and marvel at the inspiring scenario.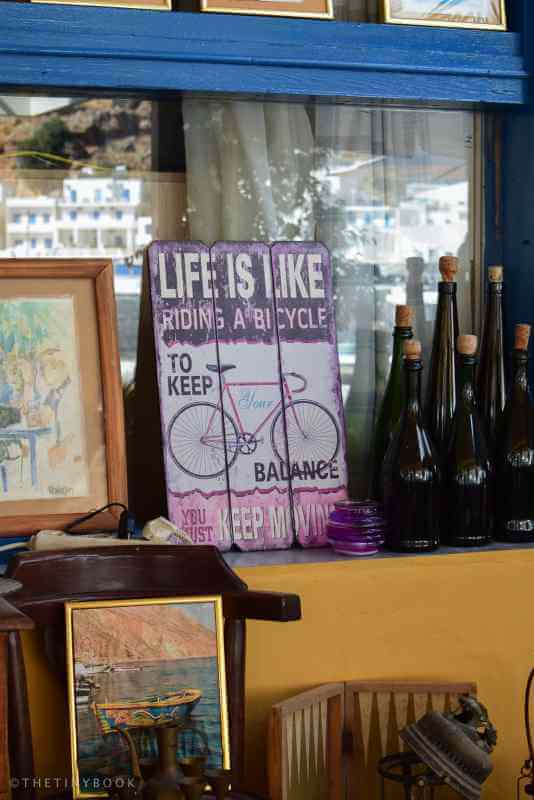 The tiny village, with a quiet, kind of hippie vibe, is made of narrow passages and alleys that lead up to the mountain.
The unique seaside walk features several fish taverns, with simple blue and white tablecloths, inviting fresh seafood menus, and an overall welcoming environment.
A few shops sell colorful souvenirs while some cafés have comfortable sofas and tables for you to spend some time just admiring the landscape.
Explore the Lesser-Known Area of the Village
Not being more than a few hundred meters big, it's quite simple to visit the village while walking around.
The area facing the bay, where you find most hotels and tavernas is just a part of Loutro.
Although it's a pretty compact village, a few roads cross the area taking you up and down the landscape, making it quite simple to move around.
If you're in the mood for a brisk hike, pick a road uphill and reach the local Venetian castle.
Known as the Venetian Castle of Loutro, this abandoned fortress overlooking the bay from above rewards hikers with mesmerizing sights. A perfect spot if you love photography!
The easy path that leads to the area can be a very pleasant thing to do in Loutro for walkers of all ages.
Loutro is Beach Life at Its Best
Loutro has a small but very pretty beach on the central part of the bay. It's a pebbled beach with some organization.
The waters are very quiet and crystal clear, and since the bay is quite big, the sea is, generally, fairly shallow and completely lacking waves.
Perfect for kids, ideal for long swims, and a paradise for fishermen too!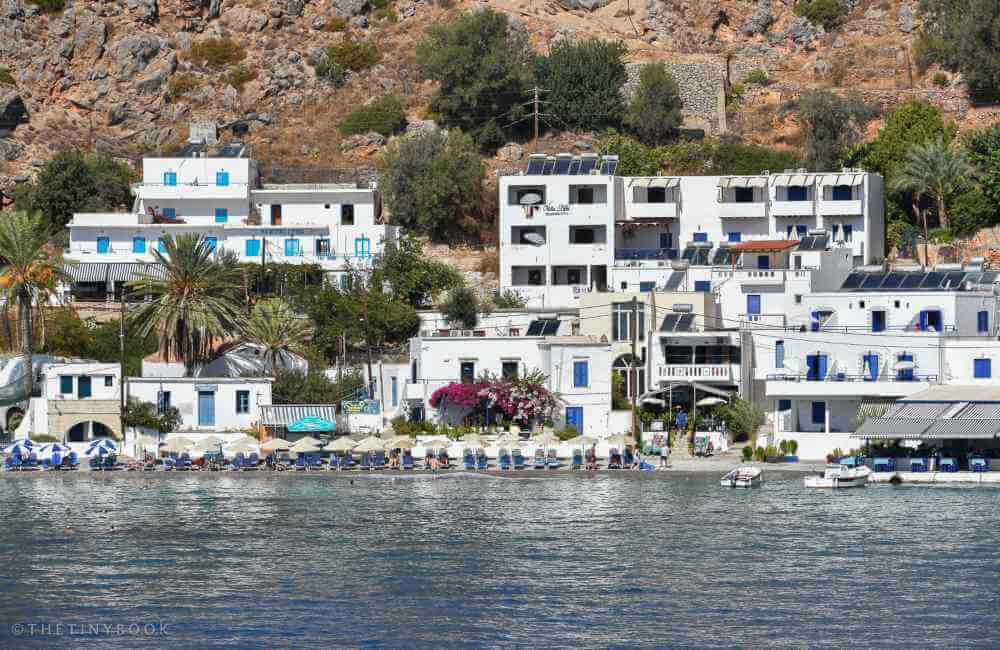 Head to any of the waterfront tavernas to rent a sunbed or simply find a free spot where to place your beach mat.
If you are not fond of pebbles, remember to have with you a good pair of swimming shoes (I use a no-frills, comfortable pair quite similar to these).
Sail Your Own Boat on the Coast of Loutro
Well-known thanks to the impressively clear waters of the coast, I'm certain you've already seen the emerald colors of the sea in Loutro…
And you've thought I must visit this place!
Yes, you must.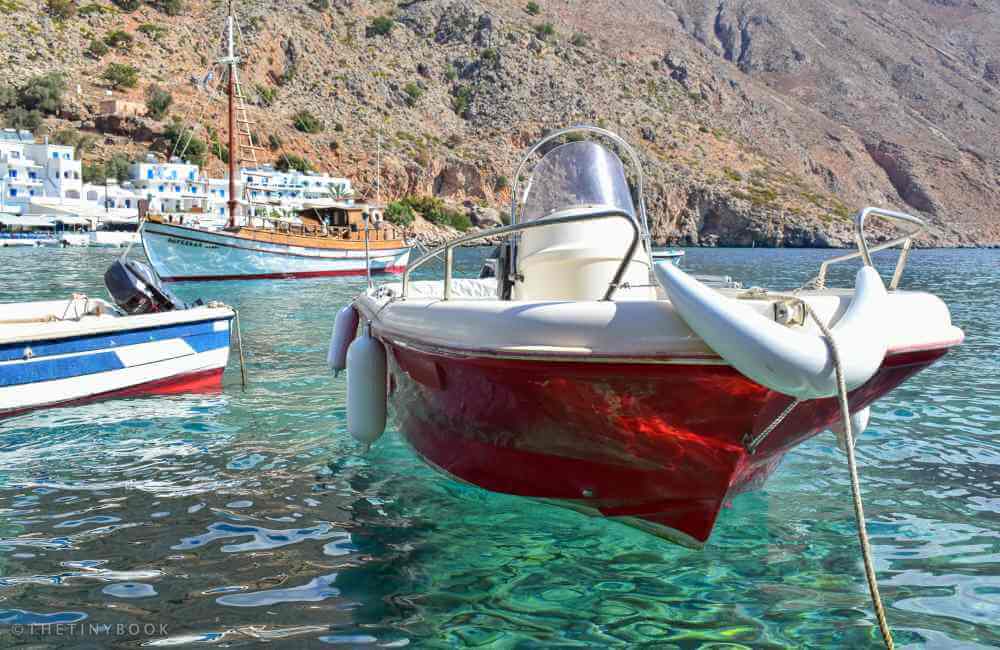 But wouldn't it be great to see such a landscape from a completely different perspective?
What more spectacular way to experience the sea of Loutro than sailing along its coast? These are some of the things you need to know if you want to hire a boat in Loutro:
Fees are counted daily. And they vary according to the type of boat you go for. A convenient base fee usually starts from €70-80 per day.
This fee does not include the price of petrol which you should add according to current market prices.
There are no refueling stations so you can try and bargain, locals can be friendly and accommodating.
Renting a kayak or a canoe can be much cheaper and you do not need to come up with a full-day fee. Renting a canoe for a few hours is enough to explore a good part of the coast.
Since moving around in Loutro can only be done on foot, as there are no other means in this isolated, coastal village, having your own means of transport allows you to visit lonely beaches where to swim and relax… or just explore the impressive underwater landscape of Crete's South.
Eat Delicious Seafood
Tourists are often surprised when, after carefully planning a trip to Crete, the menu included, they find that locals are fonder of goat and lamb than of fish.
The mountainous landscape defines Crete as a land of shepherds more than fishermen, yet, there are a few seaside settlements along the coast where there's a great seafood tradition.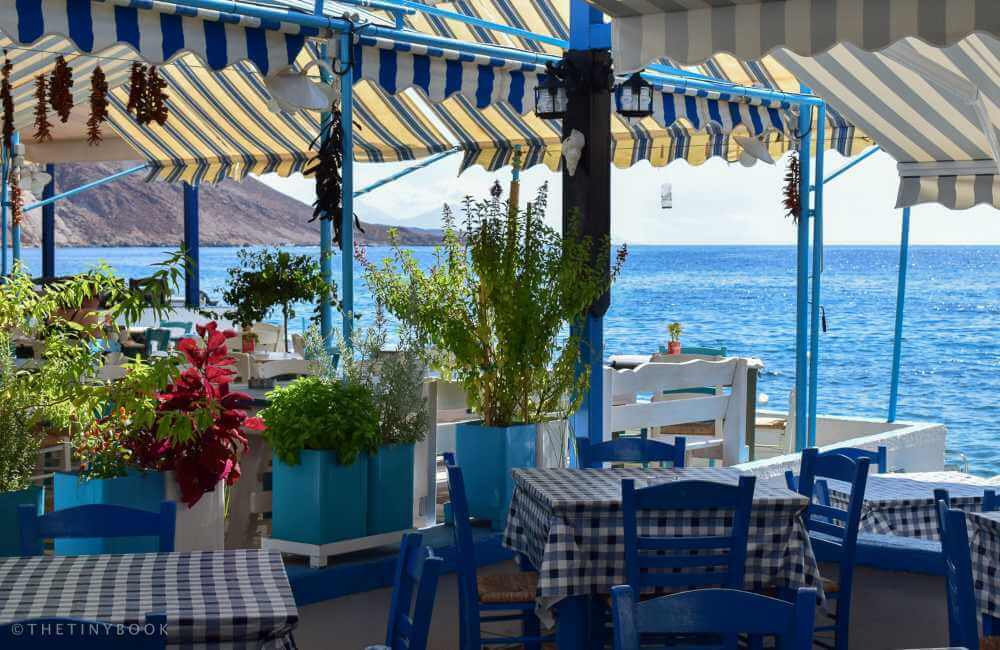 Loutro is one of them. Pick any of the tavernas on the waterfront and try unique, fresh dishes that taste just like summer.
My pick? Greek marinated anchovies (gavros marinatos), grilled octopus, and of course freshly fried squid.
Add a cold beer and this is as close to heaven as it gets.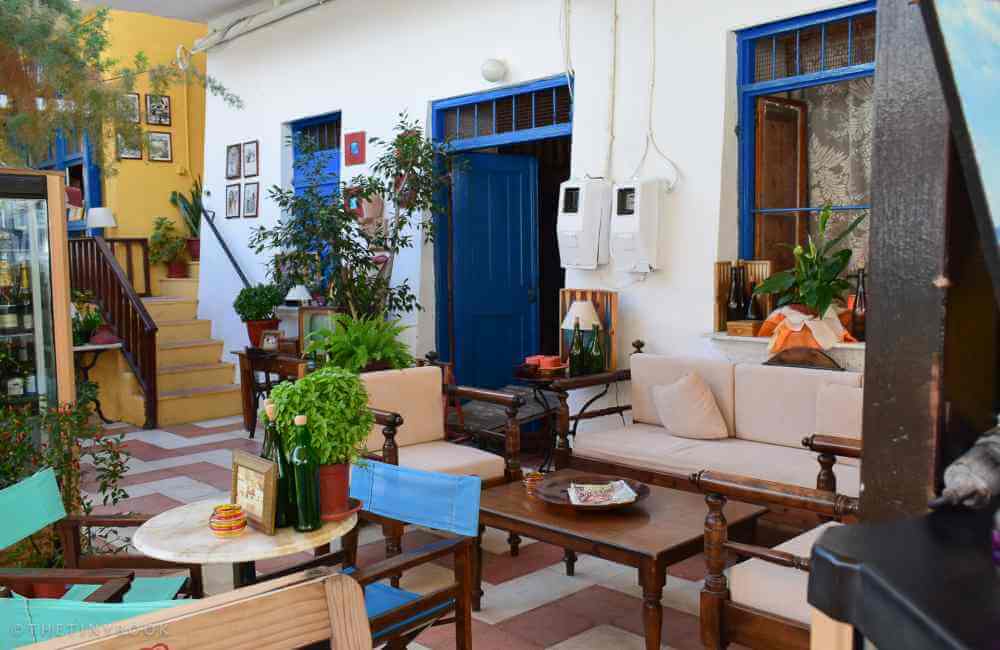 Incredible Things to Do Around Loutro
If you're wondering what to do in such a laid-back atmosphere, you'll be surprised to discover that there are a few interesting activities you could do in Loutro.
Discover the magnificent landscape of Crete's south and go hiking or simply walk amidst the fragrant bushes in the Cretan mountains.
Simply go walking through the valleys and gorges in the Sfakia region.
Be ready to discover the awe-inspiring canyons belonging to the Lefka Ori mountain range, never mind if you walk right or left, remember to pack cold drinks, a hat, and sunscreen lotion to avoid painful sunburns.
⛴️ Check out ferry ticket fees and schedules
Check the Beaches Nearby
When in Loutro, set some time aside to explore the nearby beaches in South Crete.
Let's start local: Loutro Beach, on the east of the settlement, is a small, organized pebbled beach with emerald waters. Usually not crowded, unless it's August.
About 800 meters west of Loutro, you can visit Finikas Beach as well as Lykos Beach, two small shores perfect for swimming and snorkeling.
Marmara is one of the prettiest beaches in the area if you're in the mood for a longer hike. Here you can explore the beautiful sea caves in total solitude.
If instead, you head east, you can walk to Glyka Nera, along the E4 coastal path.
The beach is also known by the name Sweetwater due to the surprising natural springs that you'll find right by the sea.
Crystal clear, cold waters, soft pebbles, and a unique vibe are the traits of Glyka Nera.
There's just one taverna in the area, where the boat docks, but it's not open all year round, so do take some water with you!
Although most of these beaches can be accessed on foot, check at the port of Loutro for local taxi boat services.
Climb All the Way Up to the Small Anopolis Village
If you're fit enough for this challenge, don't miss the 2-hour vertical climb to land right in the historic village of Anopolis.
Offering great views of the plateau and the mountains, nothing like this village to taste Chania's most delicious treat, the Sfakian pita.
To discover more about why this village is so important, talk with the locals, or read this.
Discover the Gorge of Aradena
One of the most imposing gorges in South Crete, Aradena (also written Aradaina), is a fantastic area to challenge your adrenaline levels.
The impressive high mountain walls offer a unique scenario you won't easily forget.
This is a medium to hard hike, that can take from 3 to 4 hours, depending on your pace, just a few minutes from the village.
….And Jump From the Gorge's Bridge!
Yes, you can also experience the thrill of jumping off the second-highest bridge in Europe, 138 meters over the spectacular gorge.
The local company Liquid Bungy will take care of your jump in total safety. Do not skip this adventure!
Visit Agia Roumeli Village
A great way to enjoy and admire the beautiful landscape of the Libyan sea is to sail off the coast.
One of the stops you should make if you're going west is the isolated village of Agia Roumeli.
The settlement is located almost at the exit of Crete's most famous gorge, Samaria, which can make it a bit of a crowded area in the late hours of the afternoon.
If you're visiting just for the day, check the boat schedules to program your visit.
Catch your boat back to Loutro in the afternoon to experience a magnificent sunset right at sea.
Face the Challenge of Imbros Gorge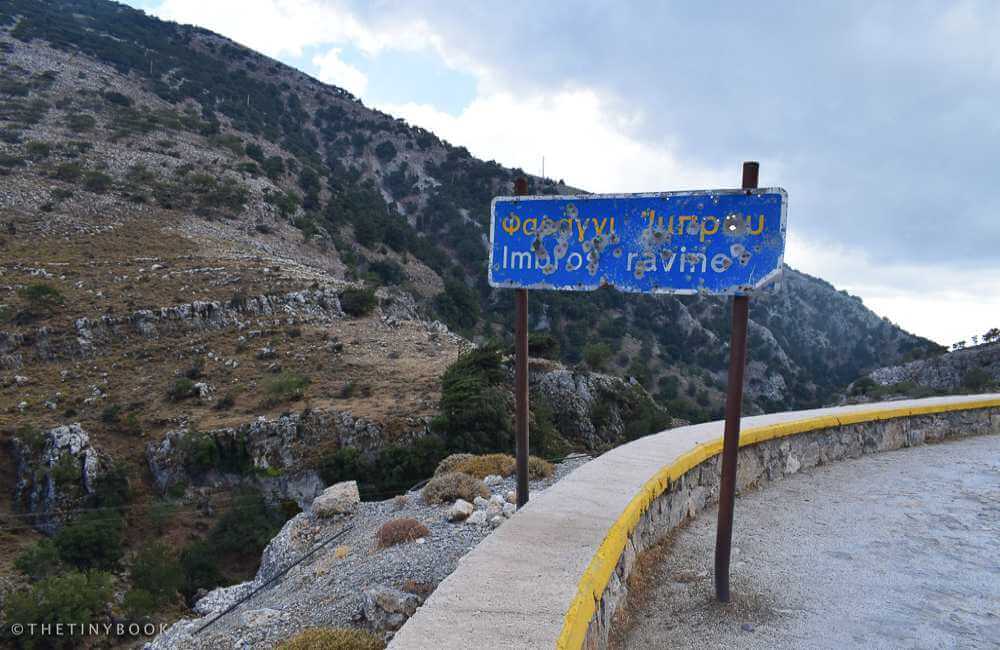 The second most popular gorge in Crete, after Samaria is Imbros Gorge. Usually, fewer people hike through this gorge, which is shorter, less challenging, and often suggested as a great place for children who want to hike through a gorge.
The whole path takes from 2 to 4 hours, and you don't need to be in top physical shape to do it.
From Loutro, you'll need to reach the port of Chora Sfakion and then take the bus back to Chania, only to get off at the entrance of Imbros.
Once there, take some minutes to admire the landscape, and then face the descent.
At the exit of the gorge, depending on how much strength you still have, you can either walk back to Sfakia or take a local taxi for a few euros in time to catch your last boat for Loutro.
Don't forget to check the boat schedules for the day.
Loutro at Its Best: When is the Best Time to Visit Loutro
Of course, Summer is the best season to travel to Crete, the weather is nothing but perfect, there's no rain and no clouds whatsoever.
Yet, that's not the only good time to visit Loutro.
Both Fall and Spring can be great moments on the southern coast of Crete.
During Fall the atmosphere is extremely relaxed, it's quite easy to find a place to stay without booking in advance, and the beach will be empty.
In September, you'll find a few more tourists, you'll need to book, but the place will be quiet and the weather still amazing.
How to Get to Loutro, Crete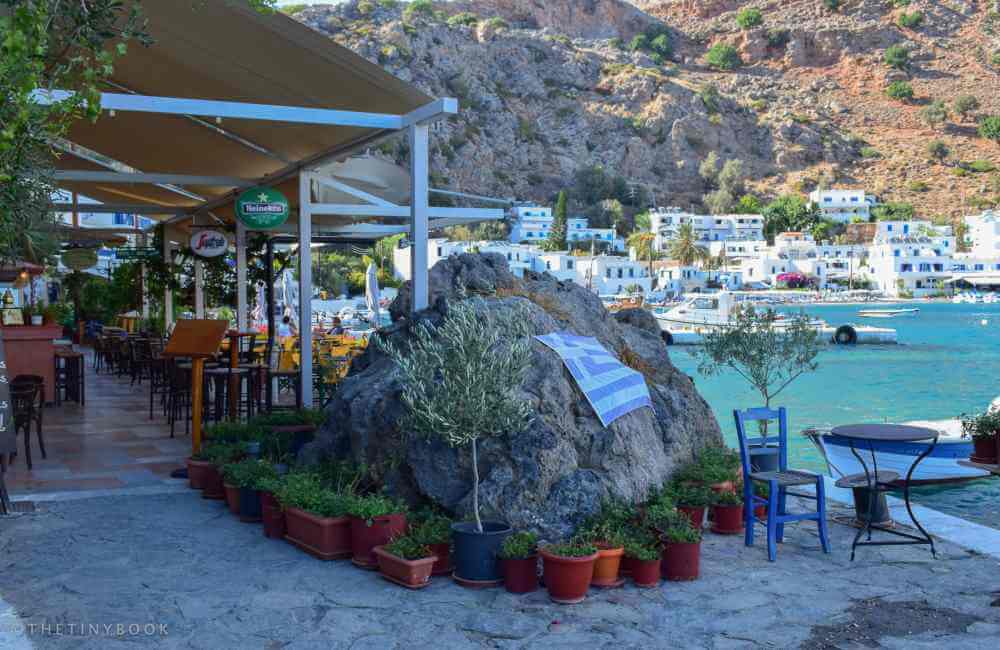 The most comfortable way to get to Loutro is to travel from Chania to Chora Sfakion and take a boat in this coastal town.
There're different ways to reach Chora Sfakion, you can either drive yourself there or use the bus. Here are more details about bus travel in Crete.
Check out this Loutro tour that takes you to spend a great day in this village.
How to Get to Chora Sfakion by Car
As you know, I'm a fan of driving Crete's roads. Driving from the north coast to Chora Sfakion takes you along a great scenic road. Renting a car in Crete is easy; driving on the island is a blast.
You can get to Chora Sfakion either if you come from the center of Chania or if you're coming from any of the other main cities in Crete.
Drive along the National Road until Vryses village. From here, you'll need to drive south through the Askifou Plateau.
As the road moves south, you will pass by the magnificent Imbros Gorge towards the end of the road by descending the winding road to the sea, which takes you directly to Chora Sfakion. The trip from Vrysses to Chora Sfakion is no more than one hour.
How to Get to Chora Sfakion by Bus
Public transport is, at times, limited on Crete, however, several daily buses are covering the route Chania – Chora Sfakion.
They depart from the Central Bus Station in Chania. The trip is about 2 hours and the ticket is €8.30. If you need more info, this site has the official bus schedule.
How to Actually Get to Loutro
Once you've reached Chora Sfakion, it's time to set to Loutro.
Those arriving by car will easily find a parking spot near the main access road to the village. The bus coming from Chania also stops in the area.
To reach Loutro, you have two options: a boat trip, or a good pair of legs… Yes! 'Cause, you'll need to hike!
Getting to Loutro by Boat
Loutro Boat Hours
From the port of Chora Sfakion:
There are daily departures from May to October (10.30, 12.00, 13.00, 16.30, 17.30, and 18.30).
The trip takes 20 minutes and the ticket is €6.
There are more schedules and Loutro boat hours are here.
Loutro is the first port of call on the ferry line that connects other southern villages, including Agia Roumeli, Paleochora, and Gavdos Island.
So if you're staying in Paleochora, you can reach Loutro from there too. This is the official ferry webpage.
Hiking to Loutro, Crete
As I said, walking to Loutro is a super adventure that includes unique panoramic views of the south coast!
It's possible to walk along the coast on the E4 path (the total hike can be from 2 to 4 hours, depending on your pace).
The best part of it? You can take a break and stop for a swim.
Tiny shores like the unknown Timios Stavros, or the wider, and pretty Glyka Nera are just a few alternatives.
You can also make this road shorter by driving from Chora Sfakion up to Anopolis, leaving your car in this village, and then slowly walking down to Loutro.
Remember that the south of Crete is really hot in Summer.
Pack enough water and sunscreen lotion, don't forget a hat, and comfy shoes. Add a walking pole if you need one. Of course, your camera must come with you too!
Where to Stay in Loutro
There are dozens of small waterfront hotels in Loutro, I've chosen to review here only the ones I've visited. But there are many more to check on Booking.com.
Hotels in Loutro
Villa Niki
A little gem hidden behind the hotels on the waterfront in Loutro, Villa Niki is a great favorite place to stay in the village.
It has great views of the bay and the mountains.
Scirocco Rooms
One of my go-to places when visiting Loutro without a reservation during the low season.
Unique views from the terrace in your room capture the whole bay!
If you come without a booking, the friendly hosts will be willing to help you out.
The place is simple and quiet, and I loved the family atmosphere.
Rental Homes in Loutro, Crete
Molos Apartments
One of the most perfect and romantic places to stay in Loutro.
Ideal for a romantic escape with your better half!
Food: The Best Places to Eat in Loutro
After so much swimming, sunbathing, and loads of fresh air, a killer appetite is a sure thing. These are, in no particular order, some of the best places to eat in Loutro…
Notos – Restaurant & Rooms
Personally, Notos is my favorite place to eat in Loutro. This is a small taverna almost at the end of the first Loutro beach promenade.
The place has a fantastic shaded terrace overlooking the sea, where to rest and spend some time relaxing and enjoying the vibe of the place.
They serve delicious fresh fish, but also local meat and interesting mezes. They do have a good choice of vegetarian dishes as well.
Pavlos Restaurant
Pavlos is another of those Loutro places that I've visited more than once. Do try their fresh fish meze, including fried fish and their delicious marinated anchovies.
They also serve dishes typical of the Greek tradition, including stifado, moussaka, and pastitsio.
If you're in the mood for a sweet that locals and travelers love alike, ask for a portion of warm Sfakiani pita.
A flat local bread filled with goat cheese that's served hot with a drizzle of thyme honey over it.
Stratis
Book a table here if you're in the mood for a memorable meat or fish grill night!
Stratis is known for serving abundant and delicious grilled platters with ingredients that range from village sausages, paidakia (local chops), and even the catch of the day.
Not directly on the waterfront, but just a few steps up the hill, the place is quiet and offers an amazing view of Loutro Bay. Go there when the sunset lights start to fade… magical!
Have you ever been to Loutro in Crete?

Read more about Crete
🛌 Suggested Accommodation in Chania
🗺️ More resources to book your trip to Crete
This Calls for a Pin!
Pin this Guide to Loutro, Chania – Crete
---
You might also want to read these posts about Crete's regions:
---
About my blog: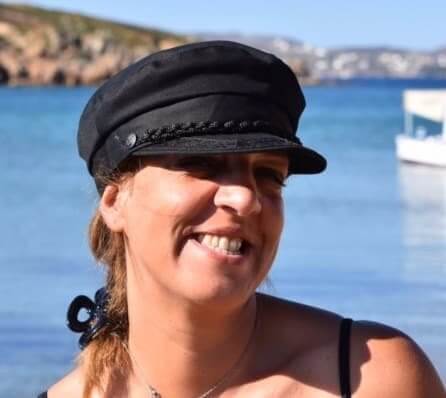 I moved to Crete in 2016. During these years, I learned much about the island.
In Crete, I juggle being a solo mom, hosting culinary tours, and writing for several travel media.
I've written for Greek Reporter, published travel guides about Greece, co-authored DK Eyewitness Top 10 Crete, and had more glasses of frappe than any regular person could ever handle.