As the capital of Crete, Heraklion has all that you need to spend an amazing vacation. Bars and trendy pubs included. So here, you'll find a great (and well-tested) list of the best places to hang out in Heraklion. Pubs, speakeasy bars, and more. Venues where you won't only spend a great time, but also get familiar with the legendary Cretan hospitality.
Which are the best bars in Heraklion, Crete
This article may have affiliate links to products and services that I use. If you make a purchase through these links, I might earn a small commission at no extra cost to you. Some of the articles in this blog have affiliate links to properties and services provided by Airbnb. As an Airbnb Associate, I might earn a small commission – at no extra cost to you – if you book through one of these links.
Discover the best places to hang out in Heraklion
Are you spending some of your vacation days in Heraklion and have no clue where to have a drink at night? This guide will guide you to the best pubs you can find in town, including music bars, trendy spots by the beach, wine bars, shisha bars, and more.
Heraklion is the capital of the island, so do not expect anything less than a selection of awesome places to hang out at night, take a look!
Best bars and pubs in the city of Heraklion
Xalavro Cocktail Bar
10 Milatou Street
Visit the unique Xalavro Open Bar, a magnificent open space located in the heart of Heraklion.
Believe it or not, this atmospheric place came out from the ruins of a house from the 1900s! Old stone walls, roof beams with flower pots on top, a great wooden bar, and window sills turned into tables, all these and more you can find when you step into unique open space.
And let's not forget to mention their signature cocktails that are well known all over town. As a matter of fact, each summer Xalavro organizes a Cocktail Festival where you can try some of the best drinks mixed by bartenders from all over the world. As for me, I always remain true to my favorite Jungle Bird.
The Bitters Bar
25 Idis Street
A surprising place where you can experience the Prohibition Times of America through the handmade cocktails of The Bitters Bar.
Inspired by the 1920s atmosphere, as well as by many famous speakeasy styled bars, this place offers high-quality drinks, mostly mixed including a wide selection of bitters.
Another specialty is homemade marmalades which you will always find next to your drink. A great selection of Blues and Jazz music finishes the picture of this unusual place. I would really recommend trying their Yellow Prince, something that you are not going to find in every bar…
Beer O'Clock
Parodos 23, next to OTE
Beer O'Clock is an American style rock pub and bistro where you can find more than 100 kinds of beers and taste some of the best burgers in the city.
If you are not sure which beer to try, the friendly staff will always help you with the choice. Pay attention to the Cretan beer labels as this can be a one-of-a-kind experience. The Cretan Charma Lager is definitely worth trying.
The service here can sometimes be on the slow side, but always at a high level. And don't forget to visit during the happy hour, from 4 to 8 pm, when you can get convenient discounts and delicious treats.
Wets & Drys Speakeasy Bar
Korai 7-9
One of the top-rated bars in Heraklion, Wets & Drys Speakeasy Bar offers you an unforgettable journey in time to the America of the 1920s.
Outstanding interior design and pleasant Jazz and Blues music make it a great place to enjoy your drink. The bar has a superb range of cocktails, both classic and signature ones.
Wets and Drys is probably one of the best bars in Heraklion!
Their exceptional Familiar Stranger cocktail will make you come back for another round! Oh…! And one more thing, to go in you'll need a secret code!
Looking for a place to stay in Heraklion?
>Check the best Airbnbs in town<
Think Tank 3rd Wave
Andreou Kritis 7
This fantastic espresso-wine bar is set in a beautiful neoclassic building with a lovely terrace.
The professional barista will make you an outstanding coffee of your choice and the sommelier will help you choose some wine from their carefully selected wine cellar.
If you have the chance, make a reservation in advance for a table at the terrace. Very often, this bar hosts wine tasting events, so maybe you will be lucky to take part in one of them.
If you come for coffee, then you should definitely try their special espresso. And if you are a wine lover, then Cretan Kotsifali wine is a must.
Stone Project Cocktail Bar
Korai 14
Stone Cocktail Bar is a great place set in a wonderfully decorated venue. Here, you can get your favorite cocktail made by passionate bartenders.
Try their signature Mastiha Sour and taste real Greece! Not only they have superb service but also great music with some of the best DJs from Crete.
Each Sunday, happy hour goes on from 6 to 9 pm, and you can get one free cocktail of your choice.
Opus Wine Bar
Capetan Charalampi 3
A cozy atmosphere, great wine selection, and knowledgeable staff are part of the ingredients that can make your night a great experience in this wine bar hidden in the alleys of central Heraklion.
Opus Wine Bar is one of my favorite places when it comes to a glass of Cretan wine. I choose it for its intimate atmosphere, the music, and their wine list. Not the best place for food though, so just go for a glass of wine and a cheese platter.
Cuckoo Bar
1 Korai Street
A little hidden gem of Heraklion's nightlife. Not so popular among tourists, this is the place where locals like to party.
Great music, both Greek and International, plays until the early morning. And the famous Planter's Punch is a perfect choice for some amazing party time.
Located in the heart of Heraklion city yet hidden in a narrow street, Cuckoo features some of the best theme parties in the city.
Swing Thing
13 Arkoleontos Street
This dynamic bar offers some of the most creative cocktails in Heraklion. Discover new mixtures and unusual tastes together with a team of professional bartenders and baristas.
Retro music and chilling vibes guarantee a pleasant time when you're hanging out here. Each drink here has its own story and the bartender will gladly explain to you all the secrets of the cocktail creation.
Their Cinnamon Treasure Cocktail is a perfect start to your tasting journey.
And if you are in a rush you can always check their Take Away Cocktail List, perfect to park your car in front of any Heraklion beach, turn on the radio, and enjoy your evening in a more private way.
Best Bars and Pubs on the coast of Heraklion
Del Mar Café Bar
Agia Pelagia Beach
Offering a stunning view over the pristine bay of Agia Pelagia, this café-bar is a perfect place to enjoy your coffee in the morning and a colorful cocktail in the evening.
Friendly and caring staff serve delicious drinks in no time and the pleasant sound of the waves creates a relaxing vacation atmosphere.
The Strawberry Daiquiri will help you to totally immerse yourself in paradise. By the way, you definitely need to visit this place right before the evening: the sunsets here are magical!
>Check this awesome tours departing from Heraklion<
Nefeli Café Bar
Agia Pelagia Beach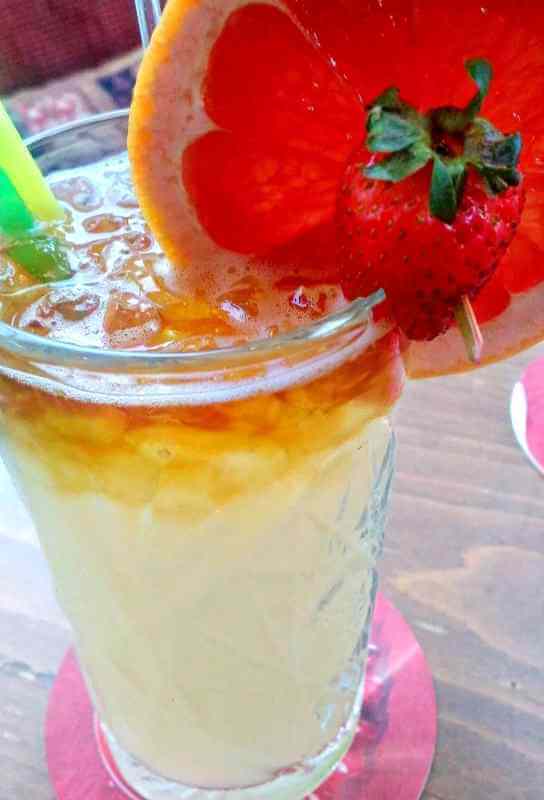 This fantastic bar will stay in your heart forever. And no wonder as it is set in a beautiful location and is run by very welcoming staff.
Choose from their tasty and beautifully decorated cocktails and chill out enjoying the front sea view. Try their Zombie cocktail and you won't regret it!
The bar always treats you with some free snacks and popcorn and in the end, you will receive a small carafe of homemade Raki. This bar has a very relaxing environment, the inside area is gorgeous and the music just great.
Dolphin Beach Bar
Malia Central Beach, Malia
A unique bar made directly inside a… pirate ship! This is truly an exciting experience. And their cocktail list is just amazing.
You can enjoy your drink either on the ship bar or directly on the beautiful sandy beach under your umbrella.
The choice is yours, but I recommend both. Start with the Cuba Libre to get in the pirate mood on the ship and then continue on a sunbed with their signature Piña Colada.
Zoo Bar Malia
Dimokratias 117, Malia
Zoo Bar is a great place for chilling out with your friends and enjoying your drink. The bright jungle styled design directly will immediately grabs your attention. Besides, the great service and very welcoming staff won't disappoint you.
The bar's menu has a big range of classic and signature cocktails as well as some delicious finger food. Their Passion Fruit Mojito is nothing but to die for!
Have a drink, or smoke a narghile (or shisha, as locals usually call it), or do both! The music perfectly finishes this picture of relaxation.
Nissos Beach Bar
Afenti Christou, Malia
A spacious sandy beach is just what you need to enjoy your drink. Nissos Beach Bar brings you nothing but an unforgettable experience surrounded by a classy setting and with a stunning view over the sea.
Chill out in a tropical style terrace or suntan on a comfortable sun lounge, the choice is yours. And if you add some of their extremely tasty cocktails then your day will be just amazing.
If I were you, I would definitely go for their tempting Watermelon Sangria. Great music, live DJs, and beach parties until the break of the day. Those are just some of the things you'll bind in Nissos.
Kahlua Beach Bar
25 Martiou & Pampoudaki, Hersonissos
Would you like to have a drink with the sea touching your feet? Then Kahlua Beach Bar is the place you are looking for. A luxurious seafront beach bar with a breathtaking view over Hersonissos bay should be on the top of your list.
Upscale service, great music, and summer vibes guarantee a pleasant stay. Their menu includes a wide selection of drinks and food. Savor the signature Kahlua Sour Martini while enjoying all the shades of blue Cretan Sea.
Shenanigans Irish Pub
Beach Road, Agias Paraskevis 50, Port of Hersonissos
Can you imagine visiting an Irish pub that offers a stunning view over the Cretan Sea? Well, Shenanigans Irish Pub makes it possible!
Enjoy the mixture of Irish bar atmosphere and Greek hospitality. The bartender will gladly help you with the choice through their wide beer collection and will treat you with few shots of traditional Greek tsipouro.
If you're not so passionate about beer, do check their Strongbow Cider served perfectly chilled. One more reason why I visit again and again.
The Trap
Agiou Vasiliou 58, Koutouloufari, Hersonissos
Get yourself trapped in the atmosphere of fun and joy! The Trap bar is well known around Hersonissos for its cheerful staff who try their best so that you spend an unforgettable time.
Even though the selection of drinks is not that big the bartender is always ready to make a special cocktail just for you.
The famous Spicy Mango cocktail has become a legend! And the outstanding rock music selection is another reason why I recommend this place.
---
Which of these Bars in Heraklion will you visit during your next time in Crete?
Let me know in the comments below!
---
Travel plans for Crete?
These resources will help you organize the trip!
Start by reading these helpful tips to plan a trip to Crete or check family holidays in Crete if you travel with kids. To visit Crete's heavenly beaches, check my guide to the best beaches. Discover what region is best to stay in or check what to do in Crete.
Get in touch if you need extra help to plan your trip. If you want to tour West Crete, check my guide. Want more? Join my Private Facebook Group to connect with like-minded travelers who love Crete as much as you do!
Make sure you've got everything for a hassle-free trip!
I never move around Crete without my Osprey backpack, a sturdy but light travel partner I just love. For short trips, I carry this little crossbody bag. If I'm driving around, I pack my Michelin map and my Nikon.
When it comes to plane tickets, compare prices with a powerful search engine. However, nothing beats traveling by sea in Greece. With Ferry Hopper, you can book in advance at the lowest price.
For accommodation, I personally use Booking.com and Airbnb.
Traveling to remote places is easier with Discover Cars. Other times, I join organized tours with GetYourGuide, which features anything from cooking lessons to airport transfer!
Are you coming to Crete any time soon?
Get in touch and let me know!
Read more:
Amazing things to do in Heraklion
Top things to do in Matala
Top tours, day trips, and excursions from Heraklion
Comfortable Airbnbs in Heraklion
What to do in Heraklion in 1, 2, or 3 days
Pin this article and read it later!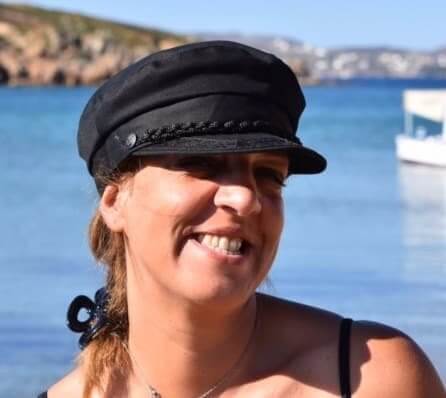 About the Author
Hola! I'm Gabi. Welcome to The Tiny Book – Crete Travel Blog! I moved to Crete to explore the island all year round. I love taking pictures and driving on the mountain roads of Crete. I'm a beach freak and on this island I've found heaven on earth!
---
You might also want to read:
---