As Crete's capital, Heraklion has everything you need to spend a fantastic vacation. Bars and trendy pubs are included.
Looking for the best bars in Heraklion? Here, you'll find a great (and well-tested) list of the best places to hang out in Heraklion.
Pubs, speakeasy bars, and more. Venues where you will have a great time and get familiar with the legendary Cretan hospitality.
---
Disclaimer: Posts include affiliate links to products or services. I might earn a commission if you make a purchase.
---
The Best Bars and Pubs in Heraklion, Crete
Holidays on Crete? After a great day exploring museums, archaeological sites, and stunning beaches, it's time to go out and have a cocktail like locals do…
This guide will guide you to the best pubs you can find in town, including music bars, trendy spots by the beach, wine bars, shisha bars, and more.
Heraklion is the island's capital, so do not expect anything less than a selection of incredible places to hang out at night; take a look!
Xalavro Cocktail Bar
The unique Xalavro Open Bar is a magnificent open space in the heart of Heraklion town.
Believe it or not, this atmospheric place came out from the ruins of a house from the 1900s!
Old stone walls, roof beams with flower pots on top, a great wooden bar, and window sills turned into tables, all these and more you can find when you step into a unique open space.
And let's not forget to mention their signature cocktails that are well-known all over town.
Each summer, Xalavro organizes a Cocktail Festival where you can try some of the best drinks mixed by bartenders worldwide. As for me, I always remain faithful to my favorite Jungle Bird.
The Bitters Bar
This is a surprising place where you can experience the Prohibition Times of America through the handmade cocktails of The Bitters Bar.
Inspired by the 1920s atmosphere and many famous speakeasy-styled bars, this place offers high-quality drinks, mostly mixed, and a wide selection of bitters.
Another specialty is homemade marmalades. And you will always find them next to your drink. A great selection of Blues and Jazz music finishes the picture of this unusual place.
I recommend trying their Yellow Prince, something you won't find in every bar…
Beer O'Clock
Beer O'Clock is an American-style rock pub and bistro where you can find more than 100 kinds of beers and taste some of the best burgers in the city.
If you don't know what beer to try, the friendly staff will always help you make up your mind. Pay attention to the Cretan beer labels: It can be a one-of-a-kind experience!
The Cretan Charma Lager is worth trying.
The service here can sometimes be slow but always at a high level. And don't forget to visit during the happy hour, from 4 to 8 pm, when you can get convenient discounts and delicious treats.
Think Tank 3rd Wave
This fantastic espresso & wine bar is set in a beautiful neoclassic building with a lovely terrace.
The professional barista will make you an outstanding coffee of your choice, and the sommelier will help you choose some wine from their carefully selected wine cellar.
Make a reservation in advance for a table on the terrace.
This bar often hosts wine-tasting events, so you may be lucky to participate in one of them.
If you come for coffee, then you should try their special espresso. And if you are a wine lover, then Cretan Kotsifali wine is a must.
Stone Project Cocktail Bar
Stone Cocktail Bar is a great place set in a wonderfully decorated venue. Here, you can get your favorite cocktail made by passionate bartenders.
Try their signature Mastiha Sour and taste real Greece! They have superb service and also great music with some of the best DJs from Crete.
Each Sunday, happy hour goes on from 6 to 9 p.m., and you can get a free cocktail of your choice.
Swing Thing
This dynamic bar offers some of the most creative cocktails in Heraklion. Discover new mixtures and unusual tastes together with a team of professional bartenders and baristas.
Retro music and chilling vibes guarantee a pleasant time when you're hanging out here.
Each drink here has its own story, and the bartender will gladly explain to you all the secrets of the cocktail creation.
Their Cinnamon Treasure Cocktail is a perfect start to your tasting journey.
And if you are in a rush, you can always check their Take Away Cocktail List, perfect to park your car in front of any Heraklion beach, turn on the radio, and enjoy your evening more secretly.
Dish Bar Party Restaurant
Perfect location to celebrate any event… or just life! Dish Bar is in the heart of Heraklion, just a few meters away from the historic Saint-Titos Church.
The place features a cozy, stylish environment with tip-notch gastronomic proposals and exquisite drinks.
This welcoming all-day bar is the right place for cocktails and drinks that transform the night into an unforgettable experience.
It has a glamorous lounge for you to chill and a bar serving custom and sophisticated cocktails. The music is just fantastic, and you can stay late until late or dance until the morning.
Deja Vu Cafe Bar
Great beer selection for this friendly local bar, perfect for a quiet night with friends in Heraklion. The place also features a good variety of snacks, cocktails, and drinks.
There's also a small garden to sit in and enjoy al fresco drinks. Online reviews praise the warm welcome of the staff. Don't miss the experience.
The Dodo Cocktail Bar
Take away cocktail bar right by the sea in Heraklion. Dodo is the perfect place for a night out without breaking the bank: Affordable drinks with a view. Do you need anything else?
At Dodo, they do know how to mix great cocktails, so try their Mojito Pirata for a different twist on this popular cocktail. Wine labels and several beers are also on the menu, and prices are also contained for these.
Route 66 Rock Bar
Open until pretty late at night, this old-school bar is a top venue for good music and tasty cocktails in Crete's capital.
Besides classic rock music and the wide selection of beers, you can also find delicious snacks and fast food-style meals. The atmosphere is relaxed and welcoming, and the staff knows how to make you feel at home.
Stylvie Bar
Fun nights: music, dancing, and great cocktails in the heart of Heraklion. Stylvie's proposal is practical and straightforward, ensuring you'll have a great time in town.
Reservations are a must (+30 697 153 9300)
Jailhouse Booze House
Are you a rum enthusiast? Then this is the place to go in the center of Heraklion!
Check out Jailhouse, a cozy environment made of ancient old stone walls for this top rock bar featuring good drinks, cocktails, and a solid selection of beers.
The music is excellent, and the vibe inviting. The atmosphere heats up after midnight; don't miss it!
Best Bars and Pubs on the North Coast of Heraklion
There's nothing like having a cocktail by the sea, enjoying some music, and great company. For that, reach any of these pubs and bars on the coast of Heraklion…
Del Mar Café Bar
Offering a stunning view over the pristine bay of Agia Pelagia, this café-bar is a perfect place to enjoy your coffee in the morning and a colorful cocktail in the evening.
Friendly and caring staff serve delicious drinks in no time, and the pleasant sound of the waves creates a relaxing vacation atmosphere.
The Strawberry Daiquiri will help you to immerse yourself in paradise. You need to visit this place right before the evening: the sunsets here are magical!
Looking to have fun also under the sun? Check out these awesome tours departing from Heraklion.
Nefeli Café Bar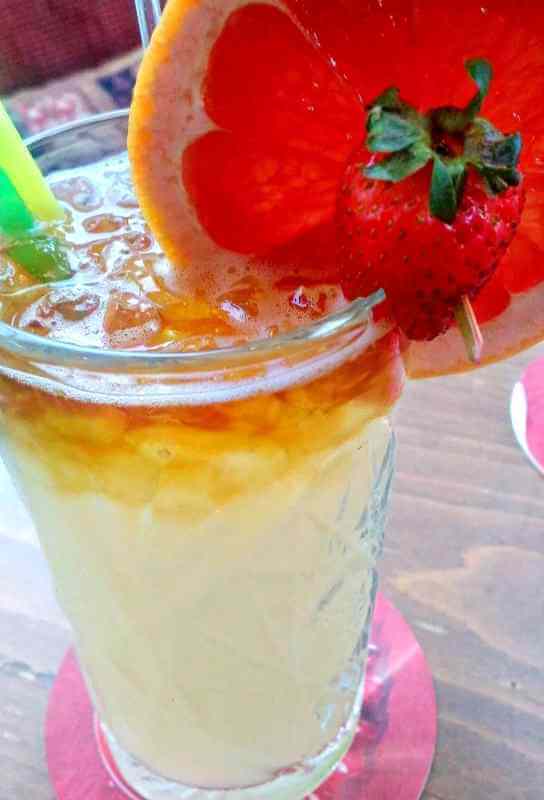 This fantastic bar will stay in your heart forever. And no wonder! It's in a beautiful location and is run by very welcoming staff.
Choose from their tasty and beautifully decorated cocktails and chill while enjoying the front sea view. Try their Zombie cocktail… you won't regret it!
The bar always treats you with some free snacks and popcorn, and in the end, you will receive a small carafe of homemade Raki.
This bar has a very relaxing atmosphere, the inside area is gorgeous, and the music is just great.
Dolphin Beach Bar
A unique bar made directly inside a… pirate ship! This is truly an exciting experience. And their cocktail list is just fantastic.
You can enjoy your drink either on the ship bar or directly on the beautiful sandy beach under your umbrella.
The choice is yours, but I recommend both. Start with the Cuba Libre to get in the pirate mood on the ship and then continue on a sunbed with their signature Piña Colada.
Zoo Bar Malia
Zoo Bar is great for chilling out with your friends and enjoying your drink. The bright jungle-styled design will immediately grab your attention.
Besides, the careful service and very welcoming staff won't disappoint you.
The bar's menu has a huge range of classic and signature cocktails and some delicious finger food. Their Passion Fruit Mojito is to die for!
Have a drink, smoke a narghile (or shisha, as locals usually call it), or do both! The music perfectly finishes this picture of relaxation.
Nissos Beach Bar
A spacious sandy beach is just what you need to enjoy your drink. Nissos Beach Bar brings you nothing but an unforgettable experience surrounded by a classy setting and a stunning view of the sea.
Chill out on a tropical-style terrace or suntan on a comfortable sun lounge, it's your choice. And if you add some of their extremely tasty cocktails, then your day will be just perfect.
If I were you, I would go for their tempting Watermelon Sangria. Great music, live DJs, and beach parties until the break of the day. Those are just some of the things you'll bind in Nissos.
Did you know that you can also enjoy incredible venues in Rethymnon at night?
Kahlua Beach Bar
Would you like to have a drink with the sea touching your feet? Then Kahlua Beach Bar is the place you are looking for.
A luxurious seafront beach bar with a breathtaking view over Hersonissos Bay should be at the top of your list. Upscale service, great music, and summer vibes guarantee a pleasant stay.
Their menu includes a wide selection of drinks and food. Savor the signature Kahlua Sour Martini while enjoying all the shades of blue Cretan Sea.
Shenanigans Irish Pub
Can you imagine visiting an Irish pub with a stunning view over the Cretan Sea with an Irish vibe? Well, Shenanigans Irish Pub makes it possible!
Enjoy the mixture of the Irish bar atmosphere and Greek hospitality. The bartender will gladly help you with the choice through their super beer collection and will treat you with a few shots of traditional Greek tsipouro.
If you're not so passionate about beer, do check out their Strongbow Cider served perfectly chilled.
One more reason why I visit again and again.
The Trap Bar
Get yourself trapped in the atmosphere of fun and joy! The Trap Bar is well known around Hersonissos for its cheerful staff. They'll try their best so that you have an unforgettable time.
Even though the selection of drinks is not that big, the bartender is always ready to make a customized cocktail just for you.
The famous Spicy Mango cocktail has become a legend! And the outstanding rock music selection is another reason why I recommend this place.
Which of these Bars in Heraklion will you visit during your next time in Crete?
Read more about Heraklion
🛌 Suggested accommodation in Heraklion:
🗺️ More resources to book your trip to Crete:
Oh Hey! Pin this Before You Leave: Best Places to Hang Out in Heraklion!
---
You might also want to read these posts about Crete's regions:
---
About my blog: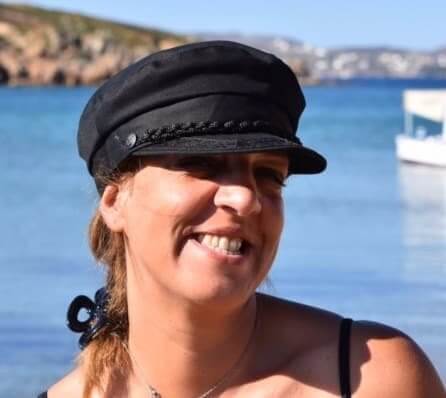 I moved to Crete in 2016. During these years, I learned much about the island.
In Crete, I juggle being a solo mom, hosting culinary tours, and writing for several travel media.
I've written for Greek Reporter, published travel guides about Greece, co-authored DK Eyewitness Top 10 Crete, and had more glasses of frappe than any regular person could ever handle.