Are you heading to Crete and have 2 days to spend in Heraklion? There is more to do than you expect in the capital of the island.
Known as the main gate to Crete, Heraklion is one of those cities that visitors usually discard too fast from their itinerary, preferring more popular destinations.
However, Heraklion has a lot to offer. Not sure? Let me show you some of the best things you can do with 1 or 2 days in Heraklion.
---
Disclaimer: Posts include affiliate links to products or services. I might earn a commission if you make a purchase.
---
2 Days in Heraklion (or more!)
Heraklion City Break: What to Do in Heraklion, Crete in 1, 2, or 3 Days
Whether you have a few hours in Heraklion during your holiday in Crete, or you've read about Heraklion becoming the most popular European destination for a city break, there's always plenty to see and do in the area, other than just visiting the archaeological site of Knossos.
Just a Few Hours in Heraklion… or More!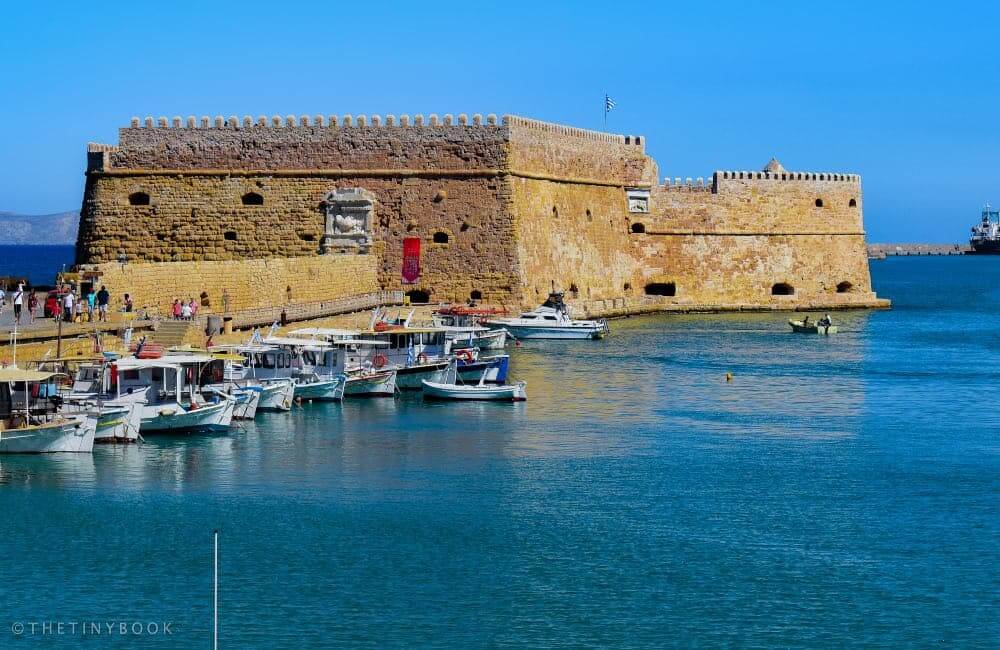 If you plan to spend a weekend in Crete's capital, you'll be surprised by its vibrant offer of activities, the fantastic gastronomy, the unique architecture, and great day trips good enough even for a short stay.
Instead, if you're in the city for a layover, or simply have 1 day in Heraklion, choose some of the ideas from the following itinerary.
How to Use This Itinerary Guide to Heraklion
A few hours in Heraklion
This itinerary can be used for a short visit to Heraklion. If you're in town for a stopover, just a few hours, head directly to the places listed under Heraklion Layover.
One day in Heraklion
Add some afternoon suggestions if you're staying in Heraklion for a whole day. Take a look at restaurants for the evening.
Two days in Heraklion
If you're in Heraklion for two full days, choose one of the alternative itineraries under What to do in Heraklion in 2 days. Don't forget to check the hotel recommendations and tips for public transportation.
More time in Crete? Check this 3-week itinerary!
Heraklion Layover
3 Things Not to Miss in Heraklion
There're 3 must-do things you cannot skip even during a short visit to town, let's see them one by one.
1. Try Bougatsa at Kirkor
The best way to start – or even end – your day in Heraklion is with a bite of a traditional local taste.
Bougatsa is a landmark breakfast in Crete. Few places know the art of this pie. This Greek phyllo pastry, usually stuffed with custard in the rest of Greece, acquires an original twist on the island due to the filling of local myzithra cheese. Even better if paired with Cretan thyme honey.
Kirkor is the most famous place on the island to savor this dish, competing only with Chania's Iordanis, another well-known bougatsa artisan.
Kirkor is in Plateia E. Venizelos 31, right in the heart of the city.
2. Visit the Landmarks of Heraklion
Lions Square
If you managed to find Kirkor, that means you're already in the right place to continue this mini itinerary. You're sitting right in front of the famous Morosini Fountain. Also going by the name of Liontaria.
This beautiful square is simply the best place to start exploring the capital of Crete.
The area is also known as Morosini's Fountain, The Lions Square, or simply The Lions. The area dates back to the Venetian times when it was known as Grain Square or Piazza delle Biade.
This 1628 Venetian Fontana was more than a decorative fountain. It was Heraklion's source of drinking water which was coming to the city from Archanes, in Mount Juktas.
The water reached the fountain through an underground aqueduct about 15 km long. The altitude difference between Heraklion and Archanes made water flow naturally out of the mouths of the lions.
Rather well-preserved and still gushing water from the four lions, the fountain counts eight lobes from where people could fill their jars. The landmark is decorated with mythical water beings and Venetian coats of arms.
Every day and night, no matter the season of the year, the Square is the most vibrant place to be, both for locals and visitors.
The Venetian Loggia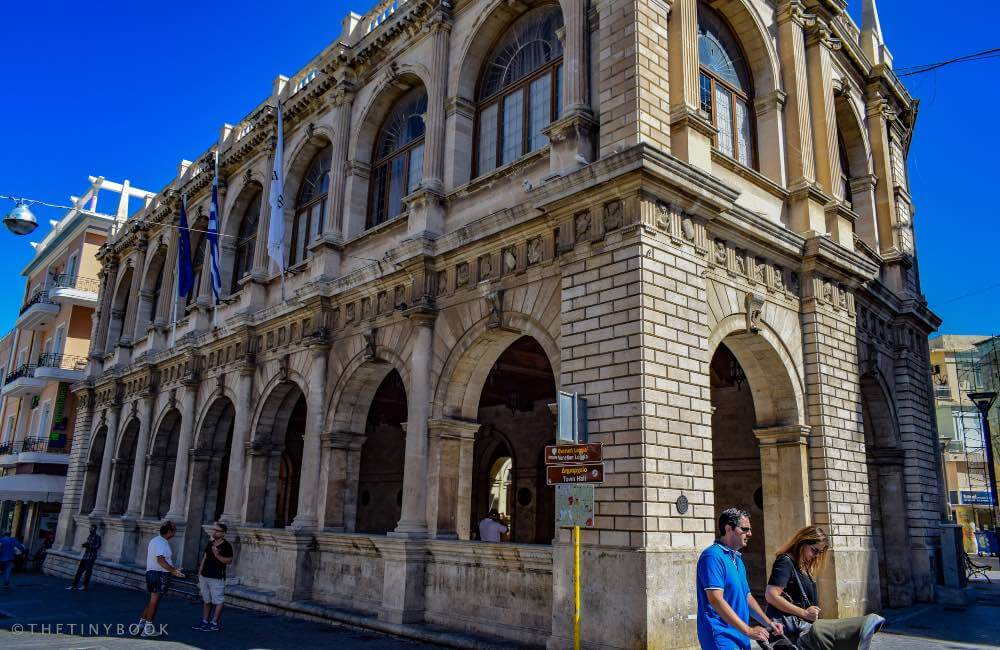 The Loggia is a remarkable building on the pedestrian 25th of August Street, not far from the Lions. The building is a fine monument in the style of Palladio and a legacy of Crete's Venetian past.
Also built by Francesco Morosini, the Loggia dates back to 1628. A meeting place for nobles and rulers, this building combines Doric and Ionian styles with unique elegance.
Saint Mark's Basilica and Church of Agios Titos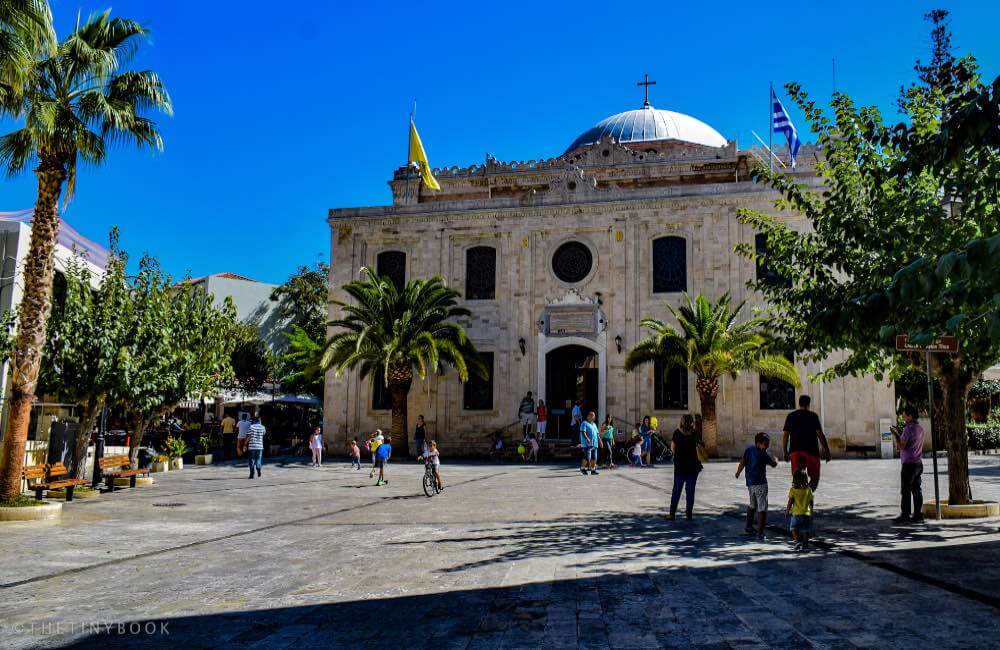 Very close to the Lions, it's possible to visit another example of Venetian architecture. Now functioning as Heraklion's Art Gallery, the former Basilica of Saint Mark is worth a stop in town.
Another building to visit in the same area is the Church of Agios Titos, one of Crete's most important buildings.
The original church dates back to the Byzantine Empire (about 961 A.D.) It's, in fact, one of Crete's oldest churches. This Orthodox church underwent renovation in 1925.
Inside, check the impressive stained glass windows that enlighten the church's interior with beautiful colors.
During the Ottoman occupation of Crete, the basilica was transformed into a mosque, and its bell tower was made into a minaret.
The local population tore it down after the liberation of the island to erase yet another reminder of the dark ages of the Turkish rule of Crete.
The Central Open Market on 1866 Street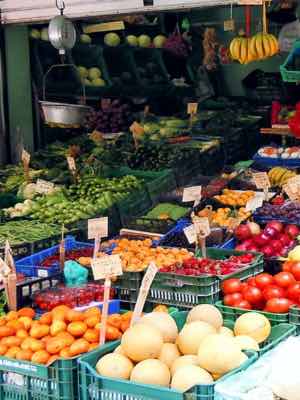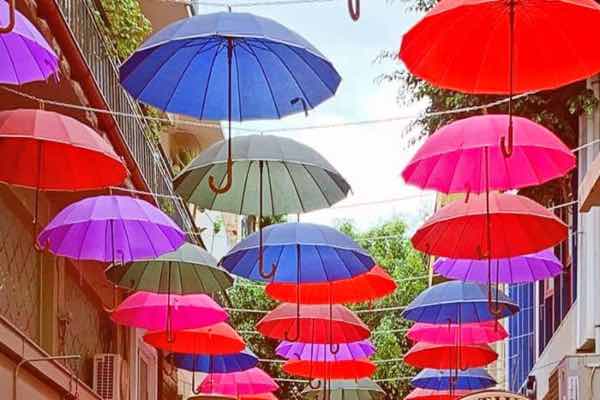 Next up, don't miss 1866 Street, home to Heraklion's famous open market. Here you can try the best of the local produce or buy a few gastronomic souvenirs, such as olive oil or spices.
Sit at a local café and savor a cup of authentic Greek coffee too.
Not far from the market, the smaller 1821 Street (to the right of the market), is another lane that you shouldn't miss.
The place has recently been decorated with colorful umbrellas, which makes it one of the most instagrammable places in the city.
3. Discover the Old Port of Heraklion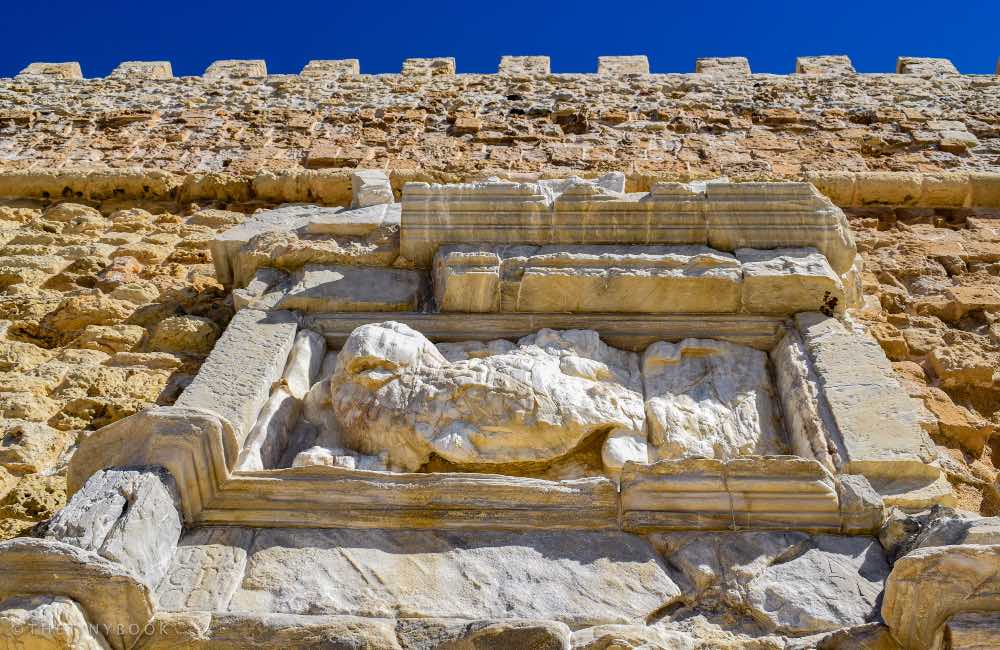 Heraklion is home to the Koules, or Venetian Rocca a Mare, another landmark in town, at the entrance of the old port.
The building was erected during the 16th century by the Republic of Venice and it's open to the public.
When you visit, check out the different rooms housing ammunition, but also explore the roofs for a beautiful view of the Cretan Sea.
The square building boasts thick defensive walls and an entrance heavily protected by different wooden doors. Look up to admire the remarkable Saint Mark's Lion.
The entrance fee is 2 €. It can be visited from 08.00 to 19:00 in summer, and from 08.00 to 18.00 in winter – closing hours vary in the shoulder season (September-October). The fortress is closed on Tuesdays. Check here for a detailed timetable.
1 Day in Heraklion, Crete
Do you have more time to spend in town? Perfect! If you don't leave until later that night, take it easy! Here are a few more interesting places to add to your day itinerary of Heraklion.
Things You Can Do in Heraklion in the Afternoon
Spend the afternoon in the city and do some of these things…
Check the City Landscape, Kazantzakis' Tomb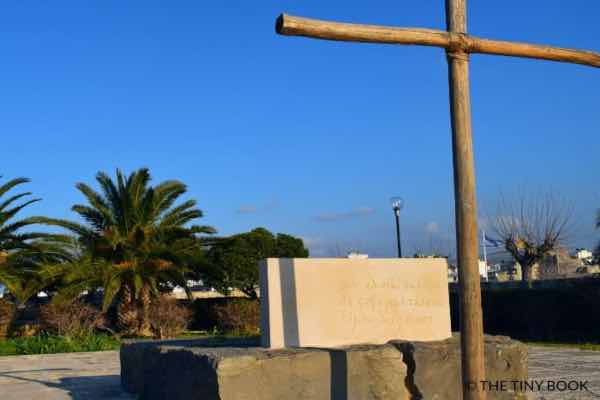 One of Crete's most famous figures is Nikos Kazantzakis, he was the author of many books that define the Cretan character and portray every weakness and strength of human beings.
His most famous work is probably Alexander Zorbas, which gave origin to the famous movie, Zorba the Greek.
The author was nominated for the Nobel Prize in Literature on nine different occasions. Not everybody knows though, that he was also a prolific travel writer as well as a fantastic translator.
Kazantzakis also wrote more controversial books, such as The Last Temptation of Christ, which lead to his ex-communication back in 1955.
When he passed away, in 1957, his funeral took place in Agios Minas cathedral, while – at the same time – religious fanatics were burning his books out of the church.
If you want to visit the grave of Nikos Kazantzakis, reach the top of Martinengo Bastion, the highest point of the Heraklion's Walls. You will get an impressive birdseye view of the fifth largest city in Greece.
From here it's also possible to see the skyline of Crete, including the Pankritiko Stadium as well as the dome and bell towers of Agios Minas Cathedral (1862-1895), the seat of the Archbishop of Crete.
Kazantzakis' grave is a famous place in the city, there are just a simple wooden cross and a gravestone with the well-known phrase I hope for nothing. I fear nothing. I'm free (Δεν ελπίζω τίποτα. Δε φοβούμαι τίποτα. Είμαι λέφτερος).
Explore the Old District of Lakkos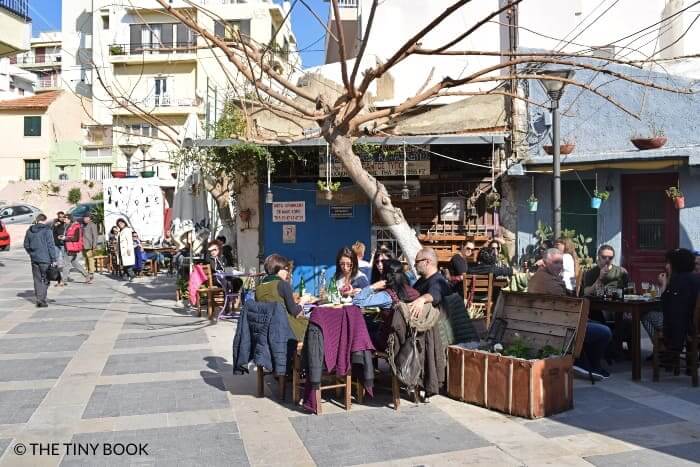 Lakkos is a wonderful place to walk around in town to get a full immersion experience into the real Heraklion. Lakkos, which has gone through an important requalification process in recent times, used to be Heraklion's underground neighborhood.
Lakkos was the place that would horror and scandalize the good society of Heraklion, the area where prostitutes and outlaws would live and hang out.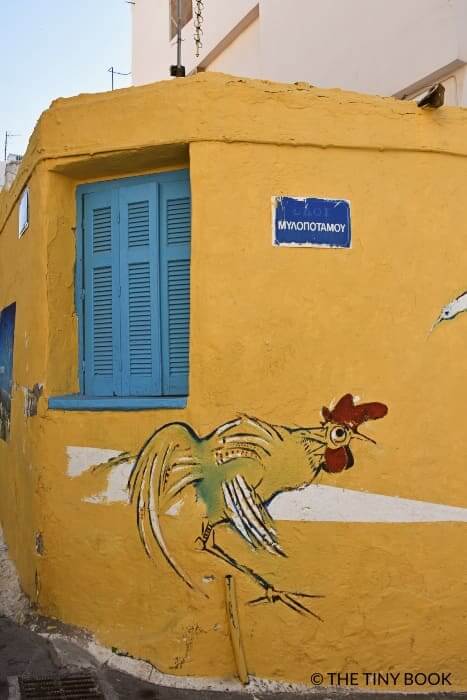 A decree dating back to 1900 established that brothels were to be established in isolated areas, so Lakkos was the place designed for the Christian brothels (the Turkish ones were confined to a different area).
In Lakkos, hashish, raki, and crime was the norm, but also rebetiko music and bohemian artists.
Lakkos was home to prostitutes, criminals, and pimps, representing everything that the good and snobbish Heraklion society would despise.
During the exchange of population between Greece and Turkey (the 1920s), Lakkos received many refugees from Asia Minor, a bit like Splantzia, in Chania. This fact helped, even more, making Lakkos a place for the outcasts.
After World War II, during the Nazi occupation, Lakkos' prostitutes were transferred to a central hotel to attend to the needs of German soldiers. And, little by little, the district was abandoned.
Today, and thanks to the Lakkos Project, the district has become a fantastic place to hang out. Many cafés and tavernas managed to preserve the local mystic atmosphere. Besides, the walls of many abandoned houses are a great canvas for local graffiti.
Stop in Lakkos for an afternoon appetizer and a glass of Cretan beer before heading back to town for dinner.
Dinner in Town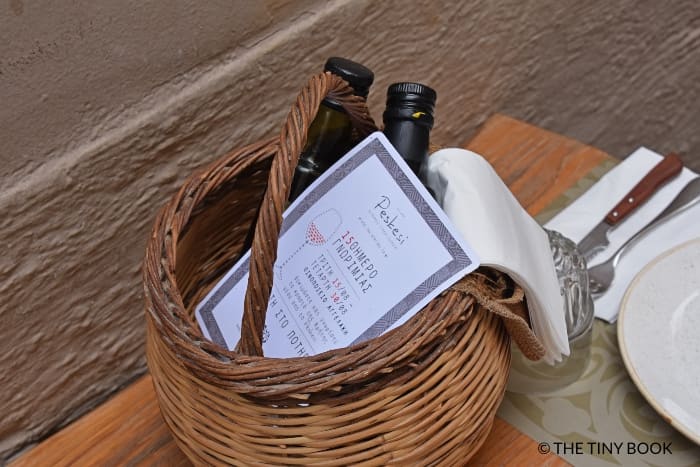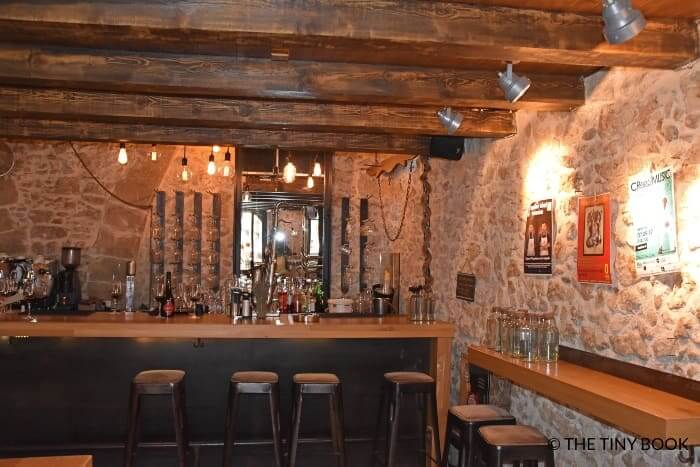 Nothing better than ending the day with authentic Cretan dishes.
If you are on the hunt for information about what you can do in Heraklion in 2 days, I'm sure you've already heard about Peskesi.
Peskesi is Crete's most famous restaurant, serving unique traditional dishes inside a wonderful house in the center of the town.
The building, which was mentioned in one of Kazantzakis' books, has wonderful open areas for dinner with aromatic herbs and pleasant decorations.
Their wine list highlights some of Crete's best vineyards, and the dishes are simply superb. It's a bit on the expensive side, but you won't regret it. Be aware that, especially during the high season, you might need to book in advance.
If you're in the mood for a glass of Greek wine but don't have the time to visit the wine region of Heraklion, just across the street Opus Wine Bar is great for wine tasting.
If you want to remain on the traditional side of Cretan gastronomy, spending less but enjoying great food, try my personal favorite. The Kafenio O Tempelis is on Milato Street, a nice pedestrian area with several other tavernas, some with live music too.
O Tempelis serves delicious Greek tapas. My favorite dishes are mushrooms saganaki, baked potatoes, and dakos. They also have great salads and fried fish. Prices are super convenient.
It would be a pity to visit Crete to choose ethnic food over local. However, you can do so as well. If you find yourself in the area of Liontaria, craving some Mexican, German, or Asiatic food, walk along Chandakos Street.
Many restaurants serve international food as well as a very picturesque tea house with incredible cake platters even late at night.
Finally, for some typical Greek streets food, such as gyros, souvlaki, or a juicy piece of grilled meat, no place beats Krasás.
The restaurant is in the center of town, right in Plateia Eleftherias (Heraklion's main square). Or, if you're about to board your plane, there's a second Krasás in Nea Alikarnassos close to the airport. The prices are very convenient.
Heraklion in 2-3 Days
If your stay extends for more hours, or if you especially chose Heraklion as your city break destination, your second day could easily include one of the following alternative itineraries.
If you decide to rent a car and drive around, you'll not need to rely on public transportation and will be free to explore much more. Check this step-by-step guide to driving on Crete.
Trendy Heraklion Itinerary
Morning: Hersonissos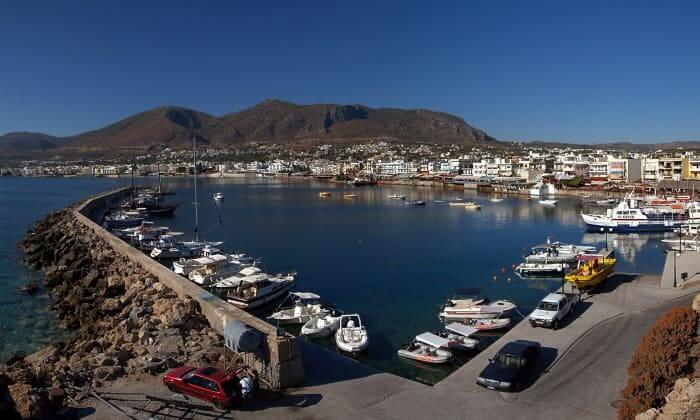 One of the most popular spots in Crete is Hersonissos (also spelled Chersonisos). This seaside resort is less than 30 km from Heraklion and caters to entertaining holidays, beach life, and cheap alcohol. Not my piece of cake, and not the best beach on the island. However, Hersonissos is the place to be for many Europeans.
Noisy videogame arcades, crowded seaside restaurants, and not very original souvenir shops animate the main road of the village. It's the place for package holidays, with all-inclusive seaside resorts for any pocket.
Not a very authentic atmosphere. Hersonissos is my least favorite place in Crete, but still super loved by mass tourism. I can't help it, but when I think about Crete, Hersonissos is not in the picture.
Afternoon: Koutouloufari
A more pleasant place in the area is the nearby village of Koutouloufari.
This traditional settlement rests on the slope of Mount Pyrgia (100 meters a.s.l.), a few hundred meters from Hersonissos main road.
Koutouloufari is a quaint little town with traditional Cretan architecture made of limestone houses, cobblestone alleys, and plenty of flowers and vineyards.
In the village, it's possible to pay a visit to Agios Vasilios church, which dates from 1840.
Picturesque tavernas and cafés offer great appetizers and a panoramic view of the bay of Hersonissos.
Heraklion for Foodies
One of the best things you can do in Heraklion is drive through the wine region of Peza and visit some of the local wineries.
Heraklion is the most important wine region of Crete, with 12 different unique grape varieties, growing only in Crete, and outstanding production of remarkable quality.
There are many different wineries you can visit, among the ones I prefer, certainly Gavalas Winery. I can also recommend you to visit Minos-Miliarakis and Silva Daskalaki. Two of the best wine producers of Crete.
A visit to the village of Archanes should also be included in your itinerary. This gorgeous traditional village is less than 15 kilometers from Heraklion and it was restored with the aid of European and private funds.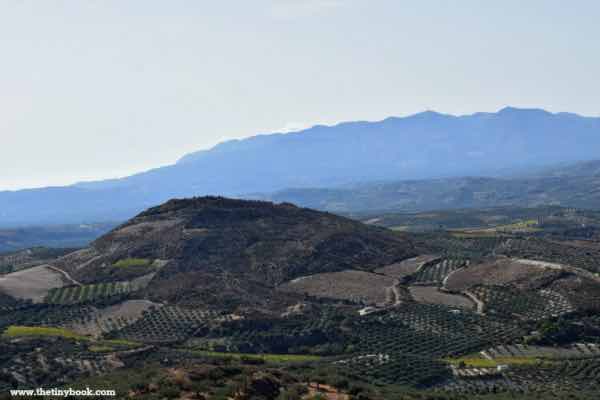 In the settlement, it's also possible to visit their museum, and the surrounding green fields as well as to enjoy the local hospitality.
There are several other incredible villages in this wine region, but also churches and monasteries. Most wineries offer lunch or appetizers, but local tavernas shouldn't be overlooked.
In the village of Kyparissi, about half an hour from the city center, Yannis' Taverna is a place that ticks every box for food, wine, and a unique atmosphere. The place lacks electricity, so you will be eating strictly in a candlelight dim-lit dining room, surrounded by fragrant house wine barrels, and Cretan music.
Relax by the Sea in Heraklion
Agia Pelagia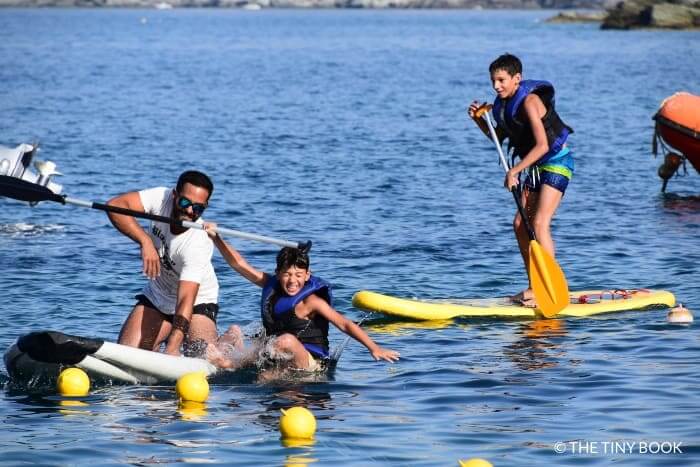 One of the most popular beaches in the area of Heraklion is definitely Agia Pelagia.
Last summer, in July, I rented a small house up in the mountains, in the village of Rogdia, where I managed to disconnect from stress and write while enjoying a very simple life in the village.
The peaceful Rogdia was just a few minutes away from Agia Pelagia, which became the place to go every day after lunch.
Agia Pelagia is a tranquil fishing village made of different bays, more or less crowded. The shores are perfect for lazy afternoons by the beach and for water sports and sailing.
One of my favorite beaches is a rather small pebbled beach, Psaromoura. Here, my kids enjoyed sup surf and kayaking, while the whole family went for an amazing boat trip to visit nearby beaches only accessible by boat.
I returned to Agia Pelagia again back in September for a weekend, and I stayed in the village this time. I found a good offer online which turned out to be one of the most amazing stays ever.
The view of Agia Pelagia Bay from the Sunday Life Hotel was outstanding and the restaurant served delicious Cretan food and sweets. Prices? Super convenient. Do ask for their Sky Roof Suite!
Fodele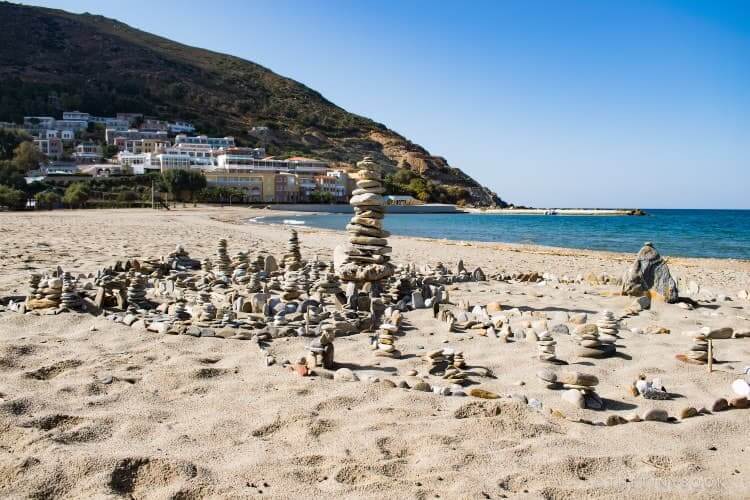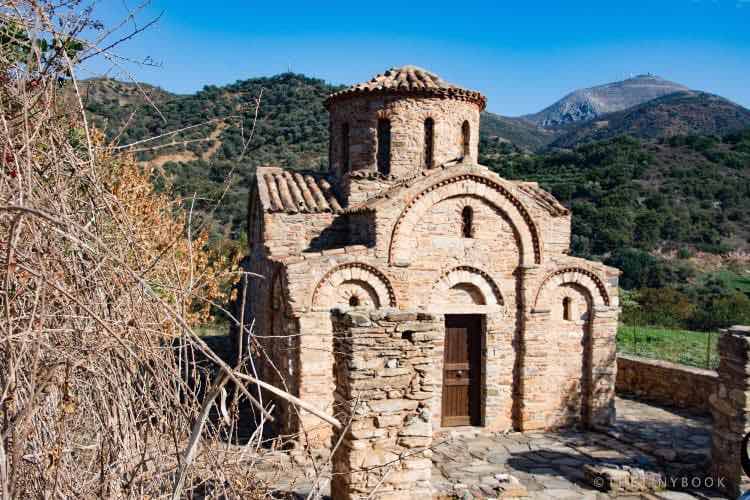 If you have some more time, it's also a good idea to visit the nearby village of Fodele.
Not only there's an incredibly beautiful sandy bay ideal for swimming, thanks to its protected position, but it's also a good idea to visit the village. It's in the middle of orange groves, with interesting craft shops, traditional tavernas for a lunch break, and old churches.
Once in Fodele, pay a visit to the Byzantine Church of the Panagia, dating back to the 11th century.
The magnificent building is located about 1 km past the village, surrounded by orange trees, the characteristic fruit of Fodele.
The church stands on a former Early Christian Church of the 6th century. Inside, it's possible to check the beautiful frescoes and the ancient marble floor.
The church is in a somewhat high position and it's visible even from the road that leads to the village.
Always in Fodele, pay a visit to El Greco Museum, right in front of the Church of the Panagia. Locals claim that Domenikos Theotokopolous El Greco, the important mannerist painter, was originally born in Fodele (1541).
Later in life moved to Italy and then established and died in Spain.
El Greco Museum opens daily, from 9.00 to 19.00 (from April until the end of October) and the entrance fee is 2.00 € for adults. Kids enter for free.
More free time? Visit the stunning beach of Paleokastro, just 9 kilometers from Heraklion. You can hike to the fortress Paleokastro of Malevizio, a triangular castle of which just the walls remain.
Despite being known as a Venetian building, it was originally built in 1206 by the Genoans.
You might also want to visit the best beaches in Heraklion.
Classic Itinerary of Heraklion
Morning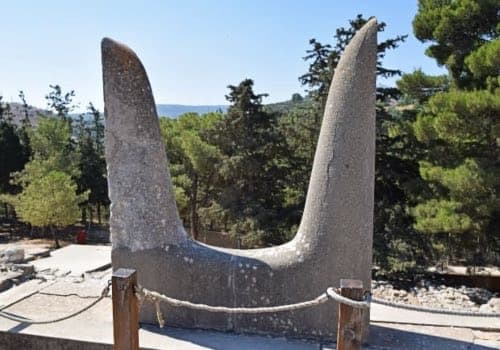 I've already written tons about Knossos and Heraklion's Archaeological Museum, both on the blog and for other media.
In fact, a combined visit to both places remains the most important reason why people decide to stop in Heraklion for a day (or sometimes two).
The Archaeological Site of Knossos is about 15 minutes by bus from the center of town. It's also one of the most visited places in Greece.
You can either visit with a guide or on your own. One might think that a guide would be the way to go. It's indeed a good source of information if you have no clue about the Minoan civilization. Still, I was most disappointed during a guided tour a few weeks ago. The guide kept talking of King Minos and Queen Pasiphae as if they really existed.
She insisted on the fact that the famous Throne found in Knossos used to belong to the king. But none of all that was ever proved. On the contrary, it has been said many times that the throne probably belonged to a priest.
She made her best to make the place look like the wonderful setting of a fairy tale, yet I would have appreciated a different, more truthful insight.
Up to you! You can join a guided tour for 10 euros, or you can perfectly visit on your own. You just need to get a guidebook at the entrance or check out my self-guided tour of Knossos Palace.
Opening hours & closing dates (2019)
Winter: January 7 to March 31 (2019) 8:00 – 17:00. (Last admission at 16:45)
Summer: 8:00 – 20:00. (Last admission at 19:45)
Tickets & special fees
Full €15, Reduced €8.
A special pass also includes access to the Archaeological Museum of Heraklion, for 1 more euro: Full €16, Reduced €8.
Afternoon
Up next (or before, as you wish), devote a couple of hours to the Archaeological Museum.
It will provide all the necessary background to better understand what was going on inside the Palace.
A guided visit to the museum is something a bit more personal than a massive guided tour of the archaeological site.
Besides, it's easier to ask as many questions as you want. I personally recommend this guided visit, which is not extremely expensive and provides good value for money with very reduced groups. There's more information about it in my Archaeological Museum of Heraklion post.
Currently (March 2020), the entrance fee is €15. With just one more euro, you can also visit the Archaeological site. The combined ticket is valid for three days, so you don't need to rush around. Excellent value for money.
Some shopping in town
There're many shops for those souvenirs you want to take with you.
Check the shops in the area of the Archaeological Museum for art replicas, trendy t-shirts, and alternative memories of Greece.
If, instead, you want to buy trendy clothing brands, cosmetics, shoes, and bags, try the shops on 25th August Street.
Bring home with you some local products such as spices and herbs, marmalades, liquors, and olive oil. Where to get all that?
Try the biggest open market of Heraklion, on 1866 Street, or any of the smaller farmer's markets around town.
---
General Information about Heraklion
Check this info before your trip!
Heraklion Crete Hotels
I've many times recommended where to stay in Heraklion, here you can check my review of Galaxy Hotel Iraklio.
However, if you're looking for something different, try accommodation in nearby areas. There are a few interesting budget places in Amoudara, one of the closest beaches to the city. This proves convenient if you're looking for a seaside place still close to town. I have personally stayed in the following ones.
Ikaros Suites, just a few meters from the sea, and about 3 km from the city center, Ikaros offer a great swimming pool and gardens. One of my top choices near the city. Check availability and if you find a room, don't miss it and book immediately!
Another great option in Amoudara is Yianna Caravel, which has a very good restaurant. A pool close to the beach and a spa are some of the key features providing excellent value for money.
If you prefer the comfort of a house, then do not miss Villa Delfino. It comes with all the things you need to feel at home. Check availability and book as soon as you can, it's very odd to find it available.
How to Reach the Airport of Heraklion
---
How to travel to the Airport of Heraklion from the city center:
From 10 to 15 min. (max. 25 min. under heavy traffic)
Reach the new Bus Station of Heraklion, walk past it and just around the corner, cross the street.
At the gas station, you will see a wooden booth. This is where you take the bus to the Airport (Bus number 1). The bus coming from the airport to the city stops right across the street.

Buy the ticket either on the vending machine (€ 1,20) or on the bus (€ 2,00).


The ride takes from 10 to 15 minutes under normal traffic conditions. If you're traveling with several bags or heavy luggage, it might be wiser to ride a taxi or book a private airport transfer.
Arriving or Departing by Sea: The Port of Heraklion
The Heraklion port is Greece's third busiest port, so if you arrive or depart from here, get ready for some action. Crowds are not odd so plan to arrive well ahead of departure.
Ferries leaving for Athens (Port of Piraeus), as well as the ones for other Greek islands mostly concentrate here (some ferries also depart from Chania). There are also ships that cover the route to Thessaloniki, in northern Greece.
⛴️ Check out ferry ticket fees and schedules
Read more about Heraklion
🛌 Suggested Accommodation in Crete:
🗺️ More resources to book your trip to Crete
Don't Leave Before You Pin! Pin this Guide to 1-3 Days in Heraklion For Your Crete Adventures!
---
You might also want to read these posts about Crete's regions:
---
About my blog: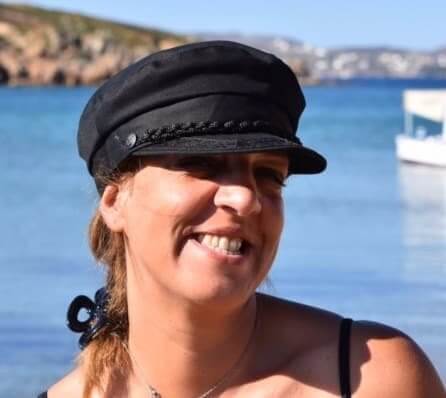 I moved to Crete in 2016. During these years, I learned much about the island.
In Crete, I juggle being a solo mom, hosting culinary tours, and writing for several travel blogs.
I've written for Greek Reporter, published travel guides about Greece, and had more glasses of frappe than any regular person could ever handle.