There's nothing more enjoyable, rewarding, and beautiful than a glass of good wine shared with friends. We experienced it on a day visiting a family-run winery in Peza, near Heraklion, the capital of Crete. Here we discovered many secrets about the wines of Crete.
---
Disclaimer: Posts include affiliate links to products or services. I might earn a commission if you make a purchase, at no extra cost to you.
---
Wines of Heraklion, Gavalas Crete Wines
Crete is home to one of the largest vineyards in Greece, Cretan vines have a long continuous presence in Europe. Being a core part of everyday life for Cretans, we find a wine on the everyday table, in religious feasts as well as in folk and myth.
Nikos Gavalas and his family received us in the village of Vorias to show us their wine-making process, taste some award-winning wines he produces, and enjoy a day highlighted by top flavors.
A millennial tradition
Archaeological findings have proven that ever since Minoan times, Crete never ceased to produce wine.
The history of wine on the island has very deep roots, archaeologists discovered traces of the Minoan flourishing economy and their staple products were olive oil, cereals, and wine.
The wine remains a family business, it's always been so. Not long ago most wines came from domestic vinification, a widespread tradition mainly for private consumption.
Different conditions lead to a change, and a new generation of Cretan winemakers have worked hard for the rebirth of local production, however, their still honor that family tradition.
An effort that was soon rewarded by international recognition, medals, and satisfaction.
They're doing a superb job, impressive wines are now a distinctive part of the prestigious Cretan cuisine.
New varieties, aromas, and flavors are emerging, satisfying every taste and need.
Making good use of traditional varieties and experience, modern wine producers in Crete have managed to elevate Cretan wine to its rightful position.
Cretan Wines
A real evolution of local wines was the result of quality improvements. But tradition is not enough.
Minas Tsoulfas, who helps Nikos in the management of the Domaine, tells us that a renewed use of traditional varieties has put local wine in its deserved place on the international market.
Certain Cretan wines were already quite famous, as Malvasia. Even today, traditional Cretan wines, like Marouvas or the sweet wine from Muscat of Spina, are still popular.
To that tradition, raki adds to the list with its surrounding ritualism.
Best Hotels in Heraklion
Affordable: Candia Studios & Rooms or Rea Hotel in the city center.
Mid-range: Capsis Astoria and Veneziano Boutique Hotel in town.
Luxury: GDM Megaron H. M. Hotel or Galaxy Iraklio in the center.
Check also Heraklion Accommodation Guide and Best Places to Stay in Crete.
Natural & Bio
In 340 hectares Gavalas cultivate Vidiano, Vilana, two white autochthonous varieties, as well as Moscato, Malvasia Aromatica, Chardonnay, and Sauvignon. Among the red varieties are local Kotsifali, Mandilari, Cabernet Sauvignon, and Syrah. All these turn into about 300.000 bottles a year of 11 different labels.
Nikos Gavalas takes extreme care of his wine. In 2001 his vineyards became part of the organic cultivation system. "Organic products protect the environment from pesticides' contamination as well as the consumers and us, the cultivators and our children", he says.
A key reason for their success. Not only do their labels taste amazing, their grapes too.
In 2004, Gavalas set up a modern winery into the vineyards; besides, having their cultivated land so close to the winery allows them to control the quality of the grapes, further enhancing the product.
Lunch with Cretan friends
After a visit to the factory and cellars, we walked among the vines, tasted some grapes, and took delight savoring their labels.
A warm household spirit is very much alive, our kids spent a fantastic time with Niko's wife helping her in the kitchen (only God knows in which language!!!) to prepare an excellent lunch! An authentic Cretan table with traditional dishes for special occasions. A taste of Cretan hospitality that proved – again – that unique Greek spirit of receiving friends.
Fantastic homemade dishes, grapes, and cheese with an endless choice of their wines. As wine should be tasted… with friends, among chat, pairing it with great delicacies.
We were lucky to taste a new label about to be launched, Speedy Wine, a fresh new red that will undoubtedly be the reason for more satisfaction to Gavalas.
As far as whites, their Frangospito is a star. A dry pleasant wine, with an aromatic, intense bouquet of jasmine, lemon blossom, and melon. One of the best whites I've tasted in a long time.
Another excellent label is Efivos, a red and fresh surprise.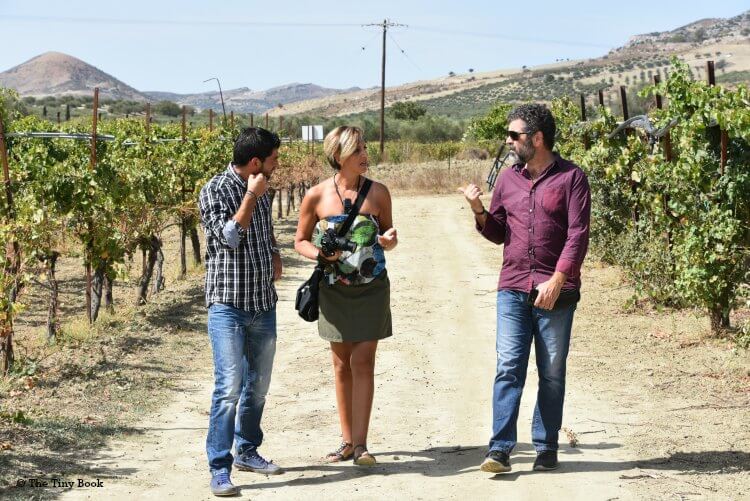 Vorias, the god of the northern winds
The domain is the PDO of Peza, in the small village of Vorias. Vorias plays an important role in wine production for Gavalas Crete Wines.
The village, in fact, takes its name after Boreas (Tramontana), a fierce wind from the north which receives a famous name during summer: Meltemi… Those who really love the Greek islands know that Meltemi is far more than the nuisance tourists believe it is.
Meltemi is a blessing bringing relief to the hot Mediterranean summer.
Visit the Domaine Gavalas Crete Wines
Nikos Gavalas and his family are the perfect examples of Cretan hospitality. Their wines have earned a well-deserved recognition that will definitely keep growing.
You can visit the winery or you can take advantage of OiNotika 2016, the Cretan Wine Fair this weekend in Athens. A perfect opportunity to combine Gavalas' labels with a selection of local wines that are putting Crete back on the map of prestige, taste, and quality.
Special thanks to the network of Cretan Wine Producers, Wines of Crete.
Thank you to Nikos Gavalas and his family and Minas Tsoulfas for making this day possible!
Have you tried the wines of Crete? Which one would you like to taste?
Let me know in the comments below!
You might also want to read these articles:
– Unforgettable Day Trip to the Lasithi Plateau, Crete – A guide to touring the Lasithi Plateau.
– Where to Stay in Crete for the Best Beaches – A guide to the best places and hotels in Crete.
– The Most Gorgeous Beaches in Rethymnon – A guide to visiting the top beaches in Rethymnon.
– Best Luxury Resorts in Crete – A complete list of 5 and 4-star resorts in every region of Crete.
– Unmissable Things to Do in Crete – A guide with over 50 incredible things to do on the island.
Let's Start by Getting Ready for Crete!
RESOURCES TO BOOK YOUR TRIP:
Book your flight: I use Skyscanner to compare prices before booking a plane ticket.
Book your ferry: When ferries are more convenient than air travel, I use Ferryhopper.
Book your accommodation: I've tried many different platforms for accommodation, but none of them beats the advantages of Booking.com.
Book your car: The best way to find an affordable car to rent is to use a powerful search engine that compares all the rental companies in the market. I use Discover Cars.
Book your tours: Live unforgettable adventures and cultural experiences with Get Your Guide. For instance, you can Visit Elafonisi, discover Balos Beach, hike Samaria, or explore Knossos.
Don't forget travel insurance: Things can go wrong at times, but travel insurance will protect you against illness, injury, theft, and cancellations. I recommend Safety Wing for peace of mind.
Pin This Guide to Gavalas Crete Wines for your Next Crete Trip!
About the author of this blog: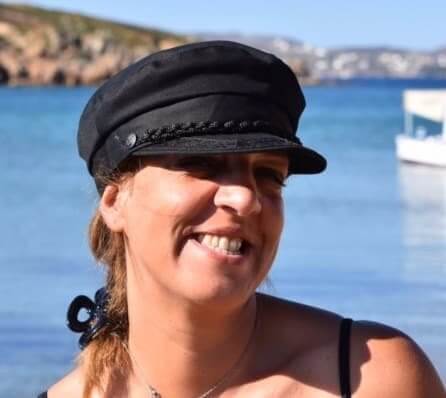 Gabi has been living in Crete for the last five years. On the island, she juggles being a solo mom, hosting culinary tours in summer, translating, and freelance writing.
She's written for Greek Reporter, published several travel guides about Greece, and had more glasses of frappe than any regular person would be able to handle.
COMING TO CRETE SOON?
Get in touch and let me know!