Not far from the center of the bustling Chania, there's a green oasis of silence ideal to spend some time during your holidays. Just minutes away from the old town, Crete's Botanical Park features local flowers, fruit trees, and herbs from the island, as well as stunning exotic plants from different regions of the world. Use this guide to plan a visit to the Botanical Park and Gardens of Crete.
---
Disclaimer: Posts include affiliate links to products or services. I might earn a commission if you make a purchase.
---
Botanical Park and Gardens of Crete
The Botanical Park and Gardens of Crete is a 20-hectare park that came to be from the ashes of a terrible misfortune that took place back in 2004 when a fatal fire burned the orange trees and olive groves in Skordalou village.
Botanical Park & Gardens of Crete: Location, Distances, and Map
Getting there easily: Latitude: 35.25.06 N | Longitude: 23.56, 22 E
The Botanical Park & Gardens of Crete is 17 km south of Chania, in the village of Fournes, on the road that takes you to the Omalos Plateau.
You should take the road to Omalos-Samaria, there are plenty of signposts on the road indicating the way.
The area is easy to reach by car, and there's also a comfortable parking space at the entrance.
You can also get to the botanical park by bus, from the central station of Chania (daily departure at 9.30 am – daily return at 2.30 pm). The bus stops in the main seaside villages west of Chania (Agii Apostoli, Stalos, Agia Marina, and Platanias).
The gardens are 80 km from Rethymnon and 156 km from Heraklion.
Get Ready to Visit the Botanical Park in Chania
Useful tips for the visit:
Operating Hours: from March to November from 9 am until sunset.
Admission fee: €6 (ages 6 to 12 €4, under 6 years of age, free).
The fee for local residents is half the price.
Frequently Asked Questions
Is it hard to walk around?
No, the walk is quite pleasant and as relaxed as you want. You can take all the time you need. There are also plenty of places where to sit and rest if you get tired, mostly if you visit in the heat of the summer.
You will find some points in the circuit where you need to climb up (or down) steps, some climbs might be a little steep but not much.
If you want, you can choose to take a small detour before reaching the pond (signpost with a map), this way you will be able to shorten the way.
The path is not paved, so don't wear fancy shoes or flip-flops. Walking sandals are hiking boots are great, but a pair of tennis shoes is more than enough.
The way is not complex, but if you think you might need a bit of extra help, ask at the entrance for a typically Cretan shepherd's walking cane which you can borrow for the walk.
In your day pack include…
Plenty of water (a bottle is included with the entrance fee, but you can buy more when you pay the entrance ticket, at the restaurant. There you can also have a coffee or fresh juice before accessing the gardens, and you can stop for lunch after the walk.
Sunscreen lotion, remember that you will be walking under the sun for almost 2 hours. The vegetation can be lush enough to protect you from the heat, but this can be tricky, you won't notice it but you will end up sunburned. Better to be prepared.
Mosquito repellent lotion. I never had any trouble, yet it's a garden, and bugs are bound to happen.
Photo camera. There are plenty of beautiful sights to capture, and the colors of exotic flowers in blossom are splendid.
Things to See in the Botanical Garden of Crete
There are hundreds of species you can see in the Garden, from very exotic fruit and tropical trees to local herbs and citrus.
Among the plants you can check, there are berries, grapes, and a lot of beautiful flowers as well some of them truly unique in shape, color, and fragrance. You can discover the plants such as coffee and cotton, or several varieties of nuts.
In the pond, at the bottom of the circuit, there are several species of birds, including geese, ducks, and peacocks. You can also see turtles, donkeys, deer, and the local wild goat, the kri kri.
Native Species of Crete
Mediterranean Herbs: Endemic Plants of the Island
In this area of the Botanical Park, there's a huge variety of endemic Cretan and Mediterranean herbs, bushes, and trees.
These include the typical herbs used for medicinal purposes and for delicious Cretan dishes, such as thyme, oregano, mint, or rosemary.
You can also check old olive trees and other species that grow on Crete such as white malotira and diktamo. According to research, Crete hosts one of the most varied and interesting ecosystems on the continent.
The Vineyards
The vineyards are one of the last gardens you will see on the way since it's almost at the exit of the circuit, quite close to the restaurant.
As you might have read before in the blog or on the internet, there are over 12 native grape varieties on Crete that produce excellent wines and the local spirit, tsikoudia.
In the vineyard, you can also see a real kazani, the cauldron used to distillate Crete's famous raki.
The Gardens
When visiting don't miss these areas…
Mediterranean Fruit Trees Garden
The variety of Mediterranean fruit trees you can discover in this section of the park is stunning, anything from the common apple tree to species such as cactus and prickly pear, pomegranate, plum, mulberry, pear, peach, and more.
Did you know that in Crete we eat four times more fruit than in the rest of South Europe? I didn't…
Well, no wonder we do, our rich soil and great mild temperature make the fruit that grows on the island very tasty and full of flavor.
The Cherry Tree Garden
If you visit in March, April, or May, this section of the garden is one of the most magical places you can see! Cherry trees blossom and cover the place with beautiful white and pink flowers.
There are different varieties of cherry trees in this part of the park. Most of them originally come from Asia Minor.
The Citrus Garden
There are endless citrus trees that will amaze you with fruits of bizarre shapes and big sizes. Not just oranges, lemons, or clementines, but also lime, kitron, kumquat, Buddha's hand, finger lime, sunkuat, and many more.
Did you know that citrus made it all the way to Greek mythology? At the Botanical Park, I also learned that citrus fruits were a wedding gift given by the Earth (Gaia) to the gods Zeus and Hera.
The Tropical Garden
Thanks to Crete's perfect Mediterranean climate, several tropical fruits grow without any limit on the island.
Especially in the southern regions of Crete, it's possible to taste delicious avocados, kiwis, and bananas.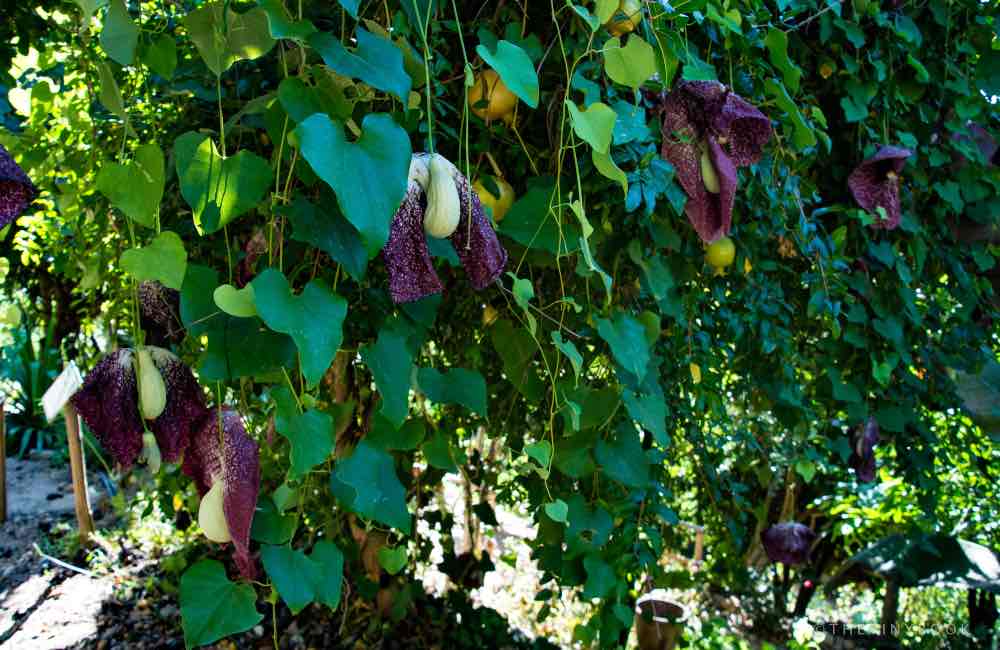 And when you visit, make a point to buy the local small bananas in the public market or in any supermarket.
They are super sweet and have a delicious taste. I'm warning you, they are addictive!
The Animals
We found turkeys and peacocks all along the way since the moment we entered the garden and started walking our way towards what the park calls the lake (it's more of a pond). They would just walk along the way with you or simply sit under the sun without paying any attention to you.
There are wild birds, farm animals, native species, and even a butterfly garden!
Other Things to See in the Botanical Park and Gardens of Crete
All along the walk, you will encounter bizarre sculptures and decorations made with local elements from the world of gardening and agriculture.
These are a few of the ones we found on our way.
Eat at the Botanical Park of Crete: The Restaurant
Have lunch, an early dinner (the restaurant kitchen opens at 6 pm, but you can have snacks and drinks after that time), or even a snack surrounded by the magnificent mountainous landscape of the area.
The restaurant serves food prepared with organic fresh products outsourced from the garden itself, and everything is delicious and really tasty. Besides, if you're a vegetarian, there are plenty of choices!
I absolutely recommend…
Ksanigo (lamb liver with wine and rosemary).
White Mountains (fennel pies with staka and mint).
Glako (lamb braised for 12 hours with aged local wine – marouvas – sauce and wild greens).
And for a quick snack in summer, do try the ice cream!
Would you like to visit the Botanical Garden of Crete?
Read more about Chania
🛌 Suggested Accommodation in Chania
🗺️ More resources to book your trip to Crete
Don't Leave Before You Pin! Pin This Guide to the Botanical Park and Gardens in Chania For Your Next Trip to Crete!
---
You might also want to read these posts about Crete's regions:
---
About my blog: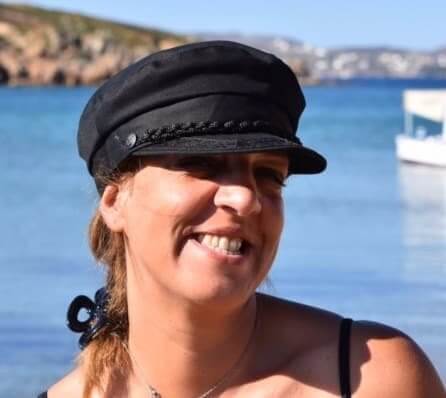 I moved to Crete in 2016. During these years, I learned much about the island.
In Crete, I juggle being a solo mom, hosting culinary tours, and writing for several travel blogs.
I've written for Greek Reporter, published travel guides about Greece, and had more glasses of frappe than any regular person could ever handle.