During our last trip to Corfu, there was a little orange bottle that made its appearance on the windows of every shop in all the towns we visited, that recurrent view made me curious. So after some research, we made time to visit Mavromatis, a distillery that produces the liquor that is the trademark of this land, Kumquat.
---
Disclaimer: Posts include affiliate links to products or services. I might earn a commission if you make a purchase.
---
Everything About Kumquat from Corfu
They told us that kumquat (or koum quat) originally comes from China and south Japan, and the meaning of the word is golden fruit.
It was an English agronomist that brought the fruit to Corfu back in 1860 and it has come to be one of the main agricultural products of the island.
Greek Tastes: Kumquat from Corfu
The round kumquat, also called Marumi kumquat, produces a small, round, or oval-shaped golden-yellow colored fruit.
Its peel has a sweet flavor but the fruit is sour. You can eat kumquat raw but they mainly use it to make marmalade and jelly.
In Asiatic countries they also use the kumquat in bonsai and, as a symbol of good luck, it is sometimes given as a gift.
On a personal note, this plant brings a lot of childhood memories as there was a kumquat tree in my grandma's backyard (though I admit I hated its taste back in those times!).
During our visit, we saw the old machines of the distillery, learned about the production process and tried some fine products. My favorite was their jam, but there were preserves and spoon sweets too.
As far as the liqueur, following my curiosity, I first tried the colorful one, made from the skin. Kumquat is a very sweet spirit, bright orange, and very fragrant. It's quite strong in taste, therefore better for cocktails or to enhance desserts.
The white extract is less sweet and Corfiots usually serve it after meals.
Kumquat Products
Mavromatis produces a variety of delicacies, such as kumquat in syrup (ideal for Greek yogurt), marmalade, and cookies.
Of course, I came home with my carry-on-size bottle of liqueur and marmalade jar!
It's easy to find typical wines and spirits of high standard quality in Greece.
Each of them is distinctive in its area. The writer of this blog has a declared weakness for Cretan raki (for Greek wines too, to be honest), that's no secret.
Knowing how good local drinks are, I try to learn about the local favorite every time we visit a new destination. My inquisitiveness is rewarded with tasty surprises. Kumquat was certainly one of them.
You can visit Mavromatis or look for some authentic Corfiot recipes on their webpage! The company Mavromatis Kumquat began in 1965, this family business specializes in processing and bottling Kumquat, in liqueurs and sweets, reaching a production line of one million bottles and fifty tons of Kumquats in jams and pastries.
The factory also produces ouzo, brandy, and twenty different fruit-flavored liqueurs.
---
Read more about Corfu:
---
Read it Later! Pin this Guide to Kumquat from Corfu to Read Again Before your Trip to Corfu Island!
About my blog: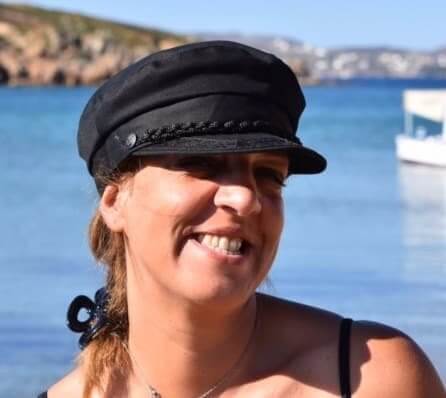 I moved to Crete in 2016. During these years, I learned much about the island.
In Crete, I juggle being a solo mom, hosting culinary tours, and writing for several travel media.
I've written for Greek Reporter, published travel guides about Greece, co-authored DK Eyewitness Top 10 Crete, and had more glasses of frappe than any regular person could ever handle.