Are you looking for a good, sturdy, packable daypack for your travels? Then, check my review of this wonderful foldable backpack by Bago Bags that we have used during our many exploration trips on Crete and which has also been a unique beach bag for the whole family!
---
Disclaimer: Posts include affiliate links to products or services. I might earn a commission if you make a purchase.
---
Bago Daypack Review
Great Travel Companion and Top Beach Bag!
We love to travel light when possible. Even for long trips, we normally pack two 40/45-liter backpacks, a huge camera bag, and a 35-liter backpack.
These contain all our travel needs for parents and kids. We roll, compress, and use many packing cubes.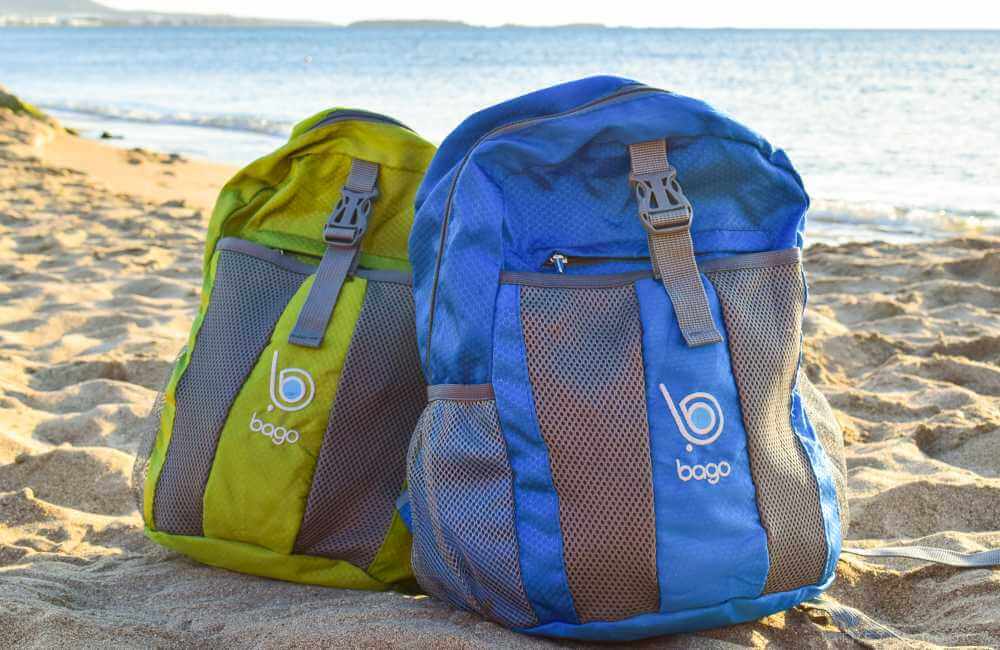 However, packing this way doesn't leave much extra room for day bags. Once at the destination everything gets downgraded, we transfer the cameras we need for the day into a smaller bag and beach stuff to another one.
Daypacks need to take the least possible room and Bago Travel Bags Packable Daypack does the trick!
Bago Packable Daypack
Over the years we tested several solutions and even when we chose extremely light and resistant backpacks, once opened they looked awful, losing their shape or assuming strange ones according to the content.
I hated that and avoided foldable bags as much as I could.
My quest for the perfect day pack came to an end when I found the Bago Travel Bags.
This little bag is not that little! It weighs close to nothing and once you open it, it looks like a real, decent backpack.
A waterproof backpack that turned out to be amazing as a beach bag.
Wide, extremely light for the kids to carry, with breathable mesh straps that are fantastic as they adapt to a child's small shoulder, making it easy to carry without losing it on the way: A surprise!
When it was time to explore the city, it was perfect. There are two hidden pockets inside, another zippered pocket on the outside, and three comfortable mesh pockets too.
🛌 Suggested Accommodation in Crete:
🗺️ More resources to book your trip to Crete
When we were on the road, exploring or for interviews, it easily carried a big camera, a microphone, my notes, maps, and a bottle of water, plus any extra scarf or jacket to visit sanctuaries.
I found my ideal travel day pack. And the best of all? Once home I just threw it into the washing machine and… As good as new.
Bago Toiletry Bag
Washbags, toiletry bags, make-up bags… Well, I might have bought hundreds of them, and always thinking This is it!
Guess what? It was never it. Either too big, too small, foldable but uncomfortable, or easy to roll but things kept coming out…
Anyway, this Bago Travel Bags Toiletry Bag fits our needs perfectly.
It's big enough for our family's needs but not huge so as make it difficult to pack. It's possible to hang it (an awesome feature in hostels) or just place it on the counter, open it, and use it.
We received two of them matching our backpacks, but honestly, one is perfect for all of us, so I thought…
Would you like to try it?
So, if you would, just leave me your comment below, and tell me… What colors does Bago Travel Bags make this toiletry bag? It's an easy one, just go to their website and check (Tip: there are more than 4 colors!).
The contest is open until November 26th and, if you are lucky, you will receive a brand new Bago Toiletry Bag I will be happy to send you!
Answer just one simple question in the comments below.
What colors does the hanging toiletry bag come in? Check on Bago's Website… and don't forget to subscribe!
Disclosure: I was not compensated for this post, however, I did receive samples for my review. All opinions are my own and are not influenced in any way. I received two daypacks in exchange for an honest review, I received two complimentary toiletry bags, one intended to be the prize of this giveaway.
ELIGIBILITY: Open to legal residents in Europe who are over 18 years of age. Employees of The Tiny Book or Bago Travel Bags (affiliates, subsidiaries, advertising agencies, and their immediate family members and/or those living in the same household) are not eligible to take part.
---
What's your favorite packable daypack?
Let me know in the comments below!
---
Read more:
Review of Osprey Farpoint 40, My Backpack
What to Pack for a Road Trip in Crete: Genius and Practical Packing List
Insanely Useful Packing List for Your Crete Vacation (Plus Bonus Insider's Tips)
Guide to Driving in Crete: Everything You Need to Know
How to Spend 3 Fantastic Weeks on the Road in Crete

This Calls for a Pin!
Pin this Guide to This Foldable Daypack For Your Travels!
About my blog: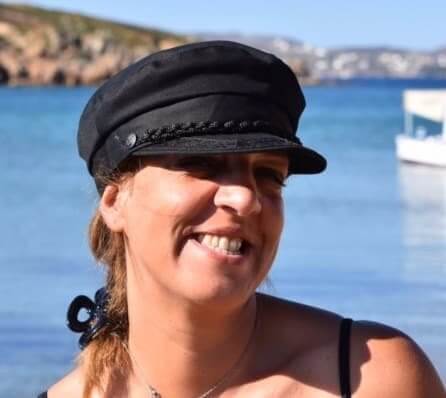 I moved to Crete in 2016. During these years, I learned much about the island.
In Crete, I juggle being a solo mom, hosting culinary tours, and writing for several travel blogs.
I've written for Greek Reporter, published travel guides about Greece, and had more glasses of frappe than any regular person could ever handle.
---
You might also want to read:
---