A great day tour of Rethymno should certainly include some time in the mountains. You can combine booth a morning city tour with an afternoon visit to a monastery, and then finish the day with an adventure in the mountains. Among the many things to do in Crete with kids, a trip to the valley of Amari is a good idea. You can enjoy an authentic Cretan afternoon at the base of Mount Psiloritis learning everything about local traditions.
---
Disclaimer: Posts include affiliate links leading you to products or services, I might earn a small commission if you make a purchase. This has no extra cost to you but allows me to continue writing articles that are helpful for your travels. I only recommend things I use myself or that I believe will deliver value to you. 
---
Things to Do in Rethymnon
The Amari Valley
General Information about Amari
Rethymnon is a region full of surprises, the Valley of Amari is certainly one of them. Located about 30 km from the center of Rethymnon, driving through the region to visit the villages that dot the valley is a perfect day trip to plan on your own and spend a day in full contact with nature.
The valley is located about 500 meters above sea level, between the ranges of Kedros and Psiloritis, Crete'shighest peak.
Thanks to its unique and strategic position, connecting the northern coast of Rethymnon to the Messara Plain, the area witnessed several historic moments during the years of the Turkish domination on the island. Among the many things you can visit, don't miss one of Crete's biggest dams, Potami, but also Byzantine churches, forgotten villages, such as the tiny and beautiful Thronos, with the church of Agia Panagia, but also Minoan settlements, and the beautiful Patsos gorge, among other sights.
For those who are curious about hiking the E4 Walking Path, this famous European trail is at its best in the area, gentle routes surrounded by olive groves and fragrant bushes adorn this special portion of the walking path.
You might also enjoy reading: 10 Fantastic Things to Do in Rethymnon, Crete.
Natural Crete for Kids
Our scheduled trip to Amari Valley with Crete Urban Adventures included a close encounter with Cretan traditions. We spent a day in Thronos, at the foot of the magnificent Psiloritis. We were hosted by the owner of Aravanes taverna, Lambros, with a tasty lunch abundant in local delicacies.
Aravanes is no ordinary place, it faces the magnificent views of the Amari Valley. We see impressive peaks, wild goats, and a wonderful blue sky.
My kids soon exchanged being at the table for baby goats and all kinds of games in the open. It was a rather hard task to keep them focusing on lunch when playful baby animals are less than a stone's throw away.
Tastes of Amari, Rethymnon
Our table included dishes full of fresh grapes and glasses of wine to start our lunch feast. The dishes that followed were typical staples of the local tradition: Not only gemista and moussaka; but also different cuts of meat and vegetables, to end with a terrific homemade galaktoboureko.
Fragrances of local herbs surround us. They are drying, spread on a table next to ours. It's inebriation.
Click here for more information and the latest prices in Arvanes Taverna.
Surrounded by Nature!
For kids, instead, running in the wild, playing with animals, maybe even falling inside the goat's trough sounded better!
Dirty pants and genuine joy is all you need to spend a great day!
Kids were the leading characters of the day, with everything that surrounded them awakening their curiosity and living a completely different lifestyle, in close contact with nature in every possible way.
After a while, it was time for the kitchen to call for bread time. A huge wooden container full of flour and there they went, hands on the dough and strength!
After making the dough ready, my kids leave the dough to rise and we pay a visit to the village. Thronos is a jewel of Byzantine memories, little mountain houses unveil their mystery when we see how they look from the inside.
You might also enjoy reading: Where to Stay in Rethymnon – Accommodation Guide.
Secrets of Thronos
Deceivingly small doors hide wide spaces and fresh walls made of stone. We were invited to discover what these tiny mounting houses really look like. A welcoming wooden kitchen and internal patios that one would have never imagined.
Fruits, herbs, colorful nature, and olive trees along the path here and there. We even pick some and eat them on our way to the most sacred place, the tiny Church of the Virgin.
The small sanctuary is in the middle of the village of Thronos, surrounded by stunning views of the Amari valley.
The name of this settlement relates to the episcopal seat of Byzantine origins (Thronos mean throne, seat in Greek).
Traces of the mosaic floors of the basilica can still be seen in the courtyard of the present church.
Its only Gothic entrance is normally closed, but Federico, the youngest of the family is granted the ancient key to open the door and visit the magnificent old interiors of the building.
An emotion he will treasure for long. This church strongly links to the collective memory of the Amari region and can be visited by getting in touch with the locals.
If you visit, remember to ask the local kafenio for the key to the church to visit!
Distilling Cretan Hospitality
The walk goes on along the paths of the village until we finally reach a place I've been wanting to visit for a long time, a raki distillery.
A hospitable family welcomes us as longtime friends. They're gathered near the fire while freshly made raki begins to flow out of the cauldron. A fire that's also used to cook inviting pieces of meat. We make our toast and slowly walk back to the taverna, our home for the day. It's time to bake.
You might also want to read: Everything about Raki distillation here.
Cooking Lessons in Amari: Time to Bake Our Bread!
Back in our taverna, the kids gave more food to the goats and cuddled newborn rabbits. Soon after, we went gathering wood to feed the fire.
Picking the right pieces and throwing them in the oven proved a hard but fun task.
It's time for patience, for the oven to reach the right temperature and for the dough to finally go in. The days the family bakes their bread are a feast in the village, friends gather in the taverna to help, but also to share a piece of freshly baked bread and even to take a loaf back home.
And while an inviting fragrance invaded the place, the sunset was casting a reddish tone upon Mount Psiloritis. Finally, kids took their bread out of the oven and the joy of eating their food is incredibly rewarding.
It taught them that hard work and patience are the main ingredients to taste the best results… in bread and life too.
We took home with us more than just a few loaves.
We carried with us secrets, memories, and treasures from our day in the mountains, we took home friendship and lessons, and the taste of Cretan hospitality.
>>Read my article for Urban Adventures about this tour here
>>Book a tour like this with Get Your Guide here
---
Which of the above things would you like to do in Rethymnon?
Let me know in the comments below!
You might also want to read these articles about Crete:
– Guide to Driving in Crete: Everything You Need to Know – A guide to everything you need to know about driving in Crete.
– How to Spend 3 Fantastic Weeks on the Road in Crete – A 3-week itinerary to see the best of Crete.
– What to Pack for a Road Trip in Crete: Genius and Practical Packing List – A useful packing list to visit the island.
– Explore the Fantastic Unspoiled Beaches in South Crete – A guide to the best beaches on the southern coast of Crete.
– Outstanding Things to See in Knossos Palace, Crete – A guide to visiting Knossos Palace.
Best hotels in Rethymnon
Affordable: Ilian Beach and Summer Drem in Rethymnon Town.
Mid-range: Archipelagos Hotel in town or Veneto Boutique Hotel.
Luxury: Avli Lounge and Rimondi Boutique Hotel in the old town. Or read my review of this top old town boutique hotel.
Check also Rethymnon Accommodation Guide and Rental Homes and Airbnb in Rethymnon.
LAST-MINUTE PLANS FOR CRETE?
– Use Ferryhopper and Skyscanner for the best ticket rates.
– Find great accommodation deals on Booking.com.
– Compare car rental prices with Discover Cars.
– Check the best tours with GetYourGuide.
– Visit Elafonisi, discover Balos Beach, hike Samaria, or explore Knossos.
– Pack the Lonely Planet Guide to Crete or get my digital guide to Chania.
Pin This Guide About Amari Valley in Rethymnon For Your Next Adventures in Crete!
About the author of this blog: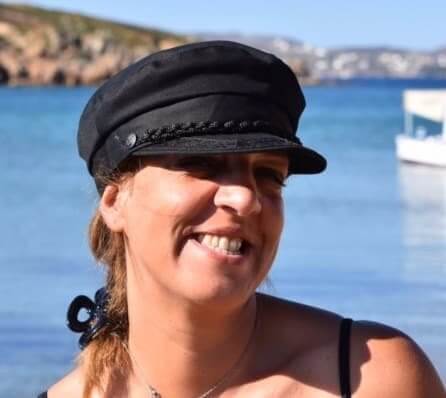 Gabi has been living in Crete for the last five years. Here, she juggles being a solo mom, hosting culinary tours in the summer, translating, and writing for The Tiny Book and her other blogs.
She's written for Greek Reporter, published three travel guides about Greece, and had more glasses of frappe than any regular person would be able to handle.
COMING TO CRETE SOON?
Get in touch and let me know!