Did you ever wish you packed less stuff for your holidays? Or does the thought of taking only a few clothes with you scare you? If the answer to either question is yes, then this article is just for you. Here we will learn why and how to travel to Crete with just a backpack.
Yes, you heard that right! It is possible to visit Crete with only a backpack. Are you ready for some serious Crete backpacking? Here is how you do it!
---
Disclaimer: Posts include affiliate links to products or services. I might earn a commission if you make a purchase at no extra cost.
---
How to Travel to Crete with a Backpack: Traveling Light is the Key
In general, you need only two things to travel to Crete with only one backpack: the right mindset and the right backpack.
Although the first one may need some work or persuading to form, the latter one is easy to get. So let us start with the simple steps first…
Find the Right Backpack for Crete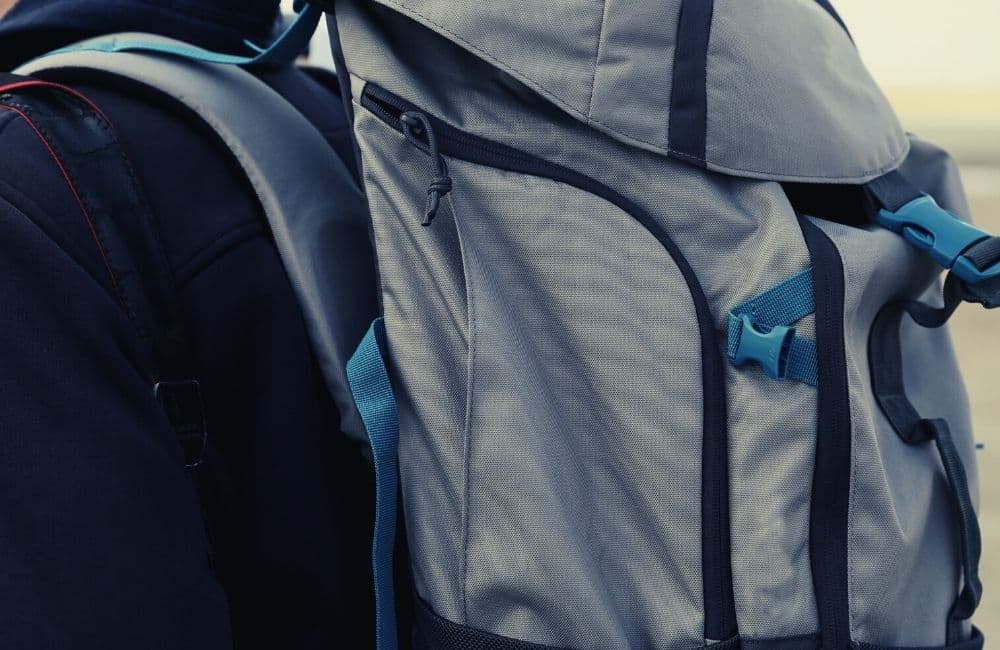 Some say that the priority when it comes to a backpack is its capacity. Yes, size is critical, but you do not want to end up carrying a 60L backpack for the entirety of your trip.
Unless you are after a daily and challenging back workout, this is not the wisest way to go.
What you want from any backpack is comfort. Although there are many options out there, only a select few will fit perfectly to your back.
Note that one backpack can work great for you, but it may not suit someone else.
Test it… or Not?
The ideal situation would be to try the backpack before you get it.
But if you want to be realistic, you have to place a lot of random stuff inside it to see how it feels, which is not something you can do easily.
And it is even harder to test the backpack for hours in a row to proxy how you would use it in real life.
The next best option is to consult others, read reviews, and ask for opinions. Speaking from experience, one of the best backpacks you can get is the Osprey Farpoint 40L, which has now been upgraded and is sold as the Osprey Fairview 40L.
There are many reasons why this backpack can be the perfect fit. In short, it is versatile, easy to carry, and helps you immensely to organize and quickly access your stuff while on the go.
Keeping it Organized!
Organization is crucial for a backpack. You do not want to squeeze all your stuff in your bag and then hustle to find a single item.
It must have enough compartments or dividers, as well as easy-to-access pockets for items you use during your day.
In short, organization is an important point you want to look out for in your new backpack.
Note that the larger the backpack, the easier it is to organize your stuff.
Although it may sound handy to have a large bag, you would regret it if you had to carry a bulky and heavy item on your back all the time.
Especially when you could do without most of its content.
In sum, here are the three main points you need to look for when you buy a new backpack: comfort, organization, and capacity; in that order.
Are you Ready to Ditch the Suitcase?
This article does not mean to change the way you think. But it will show you what to do if you want to travel to Crete with just a backpack.
What to Do to Travel to Crete with a Backpack and No Other Luggage?
Once you have selected your backpack, there are three main decision phases you will go through.
First, you have to handpick which clothes to take with you to Crete.
Then, you have to select what accessories and other things you will bring. In the end, it is time to do your magic and fit everything in your backpack: this is the art of packing.
✈️ Find cheap flights with Skyscanner.
PHASE 1: Handpick Clothes
The critical word here is handpick. If you want to travel light, you have to give up the privilege of choosing your best clothes.
Instead, you handpick the best of the best clothes while you make sure you bring no more than what you need to go through 5 days without laundry.
There is usually a tendency to pack so many clothes that you can go without laundry for 20 or even more days.
Not only is this impossible if you want to travel with a backpack, but it is also unnecessary.
So the first rule of choosing your clothes is to be super picky. The aim is for your clothes to fill no more than three-fourths of your backpack; this may sound hard, but it is not.
To select only the clothes you need, a good rule of thumb is to bring only three changes of clothing in total:
one to wear,
one to wash,
and one to dry.
Yes, laundry will be part of your routine while traveling with a backpack. There is no magic formula around it. Instead of sweating yourself carrying extra luggage bags around, you spend 10 minutes per one or two days doing laundry.
Laundry? Sure!
If you worry about finding a way to wash your clothes, note that most Crete accommodations offer an option for laundry, either on or off-site.
In case of emergency, hand washing is always a quick and welcoming alternative. Your efforts here will enable a carefree and comfortable trip, with only a backpack to carry.
Think of the many places you can go when you can travel light; doing laundry enables that.
Ok… But What to Pack?
Apart from being selective, it is also wise to think of cloth functionality. You want to bring lightweight, multipurpose clothing.
For example, you can save space and gain versatility if you pack pieces of clothing that you can wear in several different ways.
Think of a pair of shoes that you can use both day and night or at the beach and in town (I've found it!).
To give you an idea of what you may pack for Crete, here is a list of items for all the women who want to travel only with a backpack. This list is for the summer months between May and October.
What to Put in Your Backpack for Crete in Summer (Women's Version)
2 Basic T-shirts: choose neutral colors that you can wear on any occasion.
2 tank tops: pick breathable fabrics as these garments are great for excursions. Basic garments in packs of two, like this one, can be really convenient.
1 long-sleeve shirt: if you are traveling in May or October.
1 light jacket or raincoat: the weather in Crete is sometimes unpredictable, especially at the end of summer. This one is packable and it has a very convenient price.
2 pairs of shorts: consider a loose-fitting pair, comfortable for long walks.
1 pair of long pants: it can get chilly in the evening, especially during May or October. These can tick several boxes!
2 summer dresses: consider ones that do not need ironing, something like this works really well if you pick neutral colors.
2 swimming suits: bring one in your day bag, in case you want to change it while you are on the go.
4-6 underwear: but they don't really take much space, so you can take a few more if you want!
2 bras: it is a good idea to avoid push-ups as summer in Crete can be super hot.
1 beach towel: pack a microfiber one as they are thin while they can still absorb lots of water.
A few pairs of socks if you pack hiking boots or sneakers.
Travel sandals: choose a comfortable pair because you will walk a lot. I try to wear sketches whenever I can as they are super light (great for a backpack) and comfortable. I love these ones!
Sneakers: comfortable yet stylish sneakers are great for long walking days.
Sleepwear: have something comfortable and light as the nights in summer can be pretty hot.
What to Put in Your Backpack for Crete in Summer (Men's Version)
And this is the list for men:
3 everyday T-shirts: choose darker colors; they are easy to match with other colors and show dirt less.
1 long-sleeve shirt: for May and October.
2 pairs of shorts: these are great for long walks and tours, and they do not need a belt!
1 pair of jeans: you may often have to follow a dress code for dining, where shorts are not allowed for men.
1 light jacket or raincoat: for May and October. This one is both quite light and affordable.
2 pairs of swimming pants: you will need them for the beach or pool.
Underwear: whatever you need plus a couple of extras.
Socks: bring more if you plan to hike.
1 beach towel: choose a light microfiber one.
Sneakers: comfortable plain dark sneakers are great for long walking days. If there are no fancy colors, you can also wear them during a night out.
Sleepwear: choose something comfortable and light.
Hat: a baseball cap or a jockey hat is a must for hot summer days.
Flipflops: you can also get them everywhere in Crete
PHASE 2: Choose Extras and Accessories
Once you know what clothes to bring, it is time to choose your accessories and other extras. Most important, prepare a small ziplock bag with all the toiletries you will need.
Toothpaste, toothbrush, insect repellent, conditioner, sunscreen, and even shower gel to use in case your hotel does offer it.
Make sure you do not bring any bottle of more than 50ml. After all, your backpack will go with you on the plane.
A good rule of thumb is to bring the lightest and smallest possible versions of your necessary items. And this also applies to tech gadgets.
For example, you will not need a laptop or tablet if you can access your social media and the internet on your smartphone.
And if your smartphone has a good enough camera, you do not even need to bring a separate camera.
Another handy item to pack is a canvas tote or some other foldable fiber backpack. Whether you visit a grocery store, the local market, or a souvenir shop, you will need a bag to place and carry your items.
If you have your own, you will also avoid using any plastic bags, which are harmful to the environment. And if you end up with more stuff that you can fit in the backpack for your way back home, you can use the extra bag. It is a win-win.
PHASE 3: Pack Your Stuff
At this point, you already know what you need to bring with you to Crete… in that backpack!
It is now time to fit everything into your backpack; this is the art of packing.
There has long been an intense dispute in the backpacking community about the ideal way to pack clothes. It is known as the fight between the so-called "folders, and "rollers".
While folding is a more traditional and reliable way of packing items, if you effectively apply the technique of rolling, you can save a lot of space in your backpack.
I am a roller enthusiast, but some things are better packed if folded. If you are unsure which packing method will save you the most space, why not try both? Just spend a few minutes folding everything and then put them in your backpack.
See how much space is left, and then repeat the process with rolling items instead. Finally, compare the two scenarios and choose the one that looks more practical and saves you the most space.
If you need any help with organizing your backpack or want to fit more on it, consider getting a few packing cubes. These are zippered compartments that can also work as compression cubes. These are the ones I use:
You can put small items like socks or underwear into a packing cube and prevent them from rolling or moving around in your bag. As a result, you can easily find what you are looking for without taking everything out of the backpack.
Traveling to Crete with a Just a Backpack: The Verdict
As you see, it is possible to travel to Crete with a backpack and no other piece of luggage. Even if you have not done this before, this article presents a few steps you can take to help you travel light in Crete.
In short, once you have found the ideal backpack for you, it is time to carefully handpick your clothes, choose the accessories, and then pack everything together.
If you are accustomed to traveling with an entire array of suitcases and bags, the idea of hitting the road with a single backpack can be somewhat daunting.
But if you make a few key changes to the way you choose and pack your clothes, you will find that backpacking can be a fun, stress-free way to travel.
And do not forget that you visit Crete. The island has everything you need for a perfect holiday. As long as you bring yourself (and your wallet) to Greece, it will be okay if you forgot to pack something.
Whenever you need any extra piece of clothing, you can quickly get that from the island.
All in all, traveling to Crete with only a backpack is possible and gives you a unique opportunity to travel to remote places on the island.
So what are you waiting for? Prepare your backpack, and get ready to discover the island like you never had before.
Are you planning to travel to Crete with just a backpack?
Read more about Crete
🛌 Suggested Accommodation in Crete:
🗺️ More resources to book your trip to Crete
Written by Dimitrios Tsevremes
Passionate about travel, spirituality, and sports, I have lived in 5 countries and traveled to more places than I have counted. Writing, for me, is a way to express myself and my creativity. Whether I write for my blog or a freelancing gig, I always fall in love with the process and often lose my sense of time. If you want, you can check out more about me and my work here.
This Belongs to a Board! Pin This Guide to Traveling to Crete Only with a Backpack For Your Next Adventure!
---
You might also want to read these posts about Crete's regions:
---
About the author of this blog: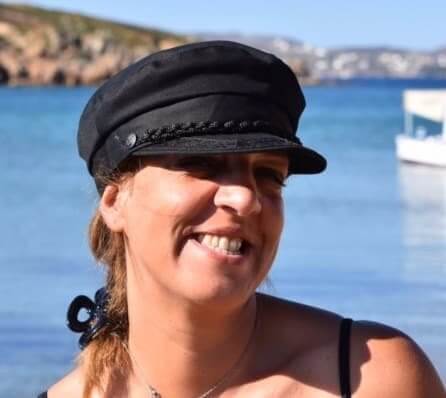 Gabi has been living in Crete for the last five years. Here, she juggles being a solo mom, hosting culinary tours in the summer, translating, and working as a tech advisor.
She's written for Greek Reporter, published two travel guides about Greece, and drunk more glasses of frappe than any regular person would be able to handle.