One of the prettiest cities in the Mediterranean, Chania, on the island of Crete, has turned into a top destination to enjoy all year round. Home to a magnificent, mild climate, the city is full of life in every month of the year. Not all hotels, though, stay open also in the cold season. what better excuse than this to check the best Airbnbs in Chania. Some of them are houses full of charm and history, others are modern and minimalistic… this selection of Airbnbs in Chania will certainly show you the right option for every need.
Where to stay in Chania, Crete
This article may have affiliate links to products and services that I use. If you make a purchase through these links, I might earn a small commission at no extra cost to you. Some of the articles in this blog have affiliate links to properties and services provided by Airbnb. As an Airbnb Associate, I might earn a small commission – at no extra cost to you – if you book through one of these links.
Top convenient Airbnbs in Chania to stay in town any time of the year
Chania is the region where I live. And the city one of the places I've explored the most during my years on the island. The old town of Chania is my favorite place to go to dine out, walk by the sea, or simply enjoy ice cream during our torrid summers. It's is definitely my favorite city in Crete and a place that you should put in your travel bucket list asap!
With so many things to see and do in town, booking a stay in the Venetian quarter is a perfect idea. This way, everything will be close and handy and you'll be able to discover every single corner of the city.
You can also choose to stay in the Turkish district or pick a stunning loft near the tanneries. Chania certainly doesn't lack in unique Airbnb homes for your stay in Crete.
Onar Studio, Chania Old Town
Why you should stay: This is a small and cozy apartment, perfect for a couple or a solo traveler. It's located in a very central position in the Old Town.
Sleeps: 2
Minimum stay: 2 Nights
Pets allowed: No
A luminous and well-equipped flat in the center of Chania's Old Town, Onar Studio is a very convenient Airbnb rental home. Its location, close to every landmark in town, is great to walk around the alleys, enjoy the tavernas, and explore the Venetian harbor.
The apartment is in a romantic building with Turkish and Venetian features, sparkling clean, and equipped with all the necessary amenities. Top characteristics are the modern design that mixes wood elements with the original stone walls of the old building. There's a comfy queen-size bed with fine linen and the space is air-conditioned. Sit in the gorgeous balcony every morning to enjoy your morning coffee.
Litsa's Aparment, Chania
Why you should stay: Because this gorgeous place takes part in the Airbnb Plus Program and the reviews are simply excellent.
Sleeps: 4
Minimum stay: 3 Nights
Pets allowed: No
Litsa's Elegant Apartment is a great accommodation for a family with kids (crib available). It's located fairly close to the Old Town and among the amenities most valued by guests, it's the possibility to enjoy Netflix.
The beautiful terrace is an ideal area to relax after a day wandering around in the city. It features comfortable outdoor furniture adorned with colorful flowers.
The apartment is bright and sunny but also cool thanks to the stone walls and high ceilings. There's a small but fully equipped kitchen and a comfy, modern bathroom.
Design Home only 10 minutes from Chania's Old Port
Why you should stay: It's easy to get used to the relaxing environment of this magnificent apartment just steps from the old town.
Sleeps: 2
Minimum stay: 5 Nights
Pets allowed: No
Check this comfortable flat a few blocks away from the Old Town to experience life the way locals do. Known as Design Home, this property has been recently renovated with unique taste and refined details.
One of the most beautiful features of the flat is the well-equipped kitchen and lounging area, with a super comfy couch. The bedroom is bright and airy, decorated with wood details that add a warm touch to the atmosphere.
>> This is one of the most beautiful Airbnbs in Chania.
Luxury Maisonette in the Halepa District
Why you should stay: Halepa is a traditional and historic neighborhood in Chania which used to host embassies and mansions when Chania was the capital of the island. It's about a mile from the Old Town and the walk along the seaside promenade is a great alternative to the local bus.
Sleeps: 5
Minimum stay:

2 Night

s
Pets allowed: No
Not suitable for children under 2
Luxury Maisonette is a beautiful property that can perfectly accommodate a couple for a romantic stay. It's also great for a group of friends since it features two comfortable sofa-beds too.
The apartment, recently renovated, features a complete, modern kitchen and a wonderful communal patio with two different dining areas.
Chania Urban Living, traditional stone house in Chania's Old Town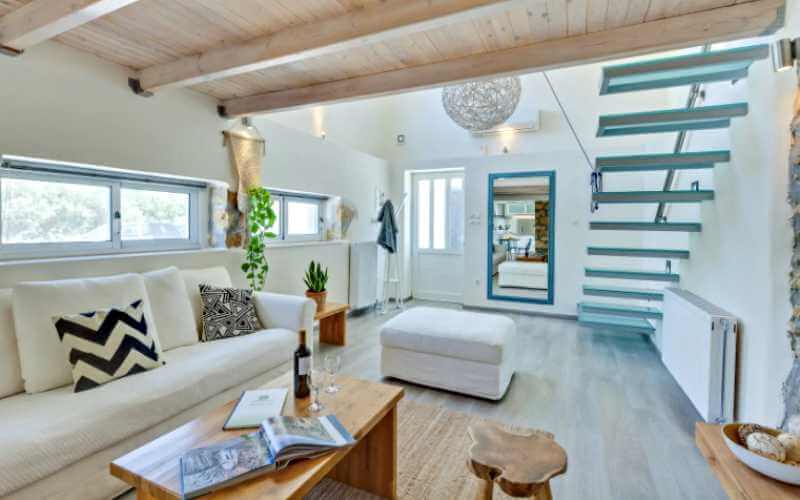 Why you should stay: The house enjoys a wonderful location, it has been recently renovated, and it has a convenient price too.
Sleeps: 4
Minimum stay:

1 Night

Pets allowed: No
Kids are not allowed
Top-rated on the Airbnb platform, Chania Urban Living is an amazing apartment where you will certainly feel at home. The house has been tastefully decorated with unique, refined details, yet it remains minimalistic and simple.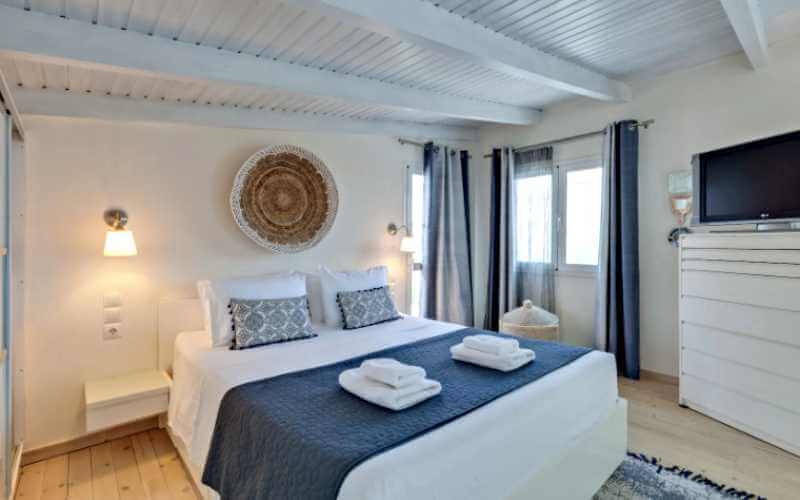 The property is a former 18th-century farm building that has been expertly converted into a modern lodging respecting the authentic traits of Cretan houses, such as stone walls, and olive trees in the garden.
A unique space that has been carefully designed keeping comfort in mind. For those staying in winter, the apartment features a fantastic stove to keep yourself warm and comfy. The floating steps lead you to the mezzanine level with a magnificent queen-size bed.
You can also use the outdoor patio or enjoy cooking with the different fresh herbs you will find in the garden.
Corner House, Authentic Venetian Stone Mansion, Old Town
Why you should stay: Discover this central home away from home in the most beautiful Cretan old town.
Sleeps: 4
Minimum stay:

1 Night

Pets allowed: No
This house is located in the authentic district of Koum Kapi, in the eastern area of the Old Town. The Venetian Stone Hideaway is a property participating in the Airbnb Plus Program.
This historic place dates back from the days of the Venetian rule, featuring the original stonework of the construction in the high walls of the building. Set on two different floors, the compact but smart home offers every modern comfort to the guests.
>> Discover everything about the most spectacular beaches in the region of Chania <<
Modern Old Town Maisonette
Why you should stay: To take advantage of its central position and to discover the local vibe in one of the most characteristic alleys in Chania's Old Town.
Sleeps: 3
Minimum stay:

2 Night

s
Pets allowed: No
This Modern Maisonette in the heart of the Old Town is a gorgeous home rental with every facility both for a short and a long stay in Crete. This house features a roomy kitchen and dining area as well as a comfortable bedroom with a bright atmosphere.
The house can accommodate a group of three or a family with two kids. On the top floor, guests can enjoy a terrace and the romantic atmosphere of the majestic old town of Chania.
Captain Nick, near the Old Town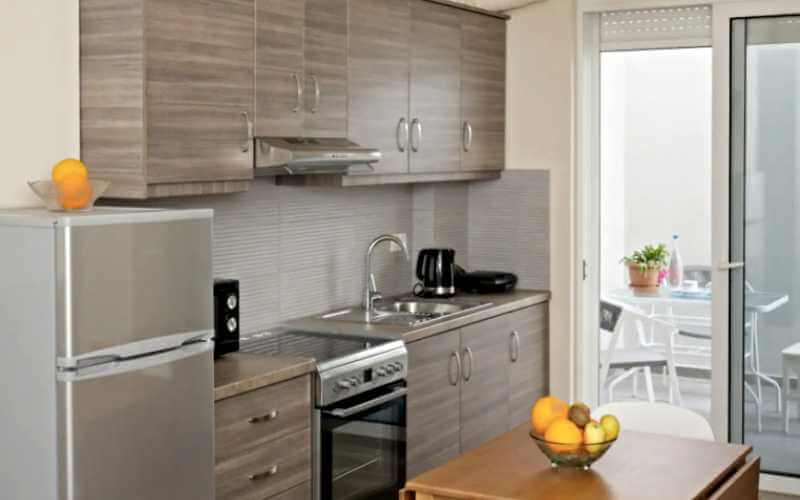 Why you should stay: Enjoy this small but cozy studio in the neighborhood of Nea Chora, a few minutes on foot from Chania's Egyptian Lighthouse.
Sleeps: 3
Minimum stay:

2 Night

s
Pets allowed: No
Captain Nick is a small but comfy flat in the beautiful Nea Chora district, which hosts one of the city beaches and that's no more than 10 minutes from Chania's Old Town.
The apartment has a completely renovated kitchen, fully equipped, as well as a comfortable bed, and an extra sofa. The balcony is a great space to relax and enjoy a cold coffee, following the most traditional Cretan style.
Santa Katerina Apartment with rooftop terrace, Splantzia
Why you should stay: If you enjoy open spaces with warm wood decorations, pillows, and comfy chairs for romantic nights under the stars, this is the place you were looking for!
Sleeps: 2
Minimum stay:

3 Nigh

ts
Pets allowed: No
One more inviting place to stay in the alleys of Chania's Old Town, completely renovated in a beautiful minimalistic style, with off-white walls and wooden details.
The key feature of this apartment is the fantastic rooftop terrace, ideal to enjoy breakfast right before starting your day exploring the nearby Municipal Market of Chania. The apartment is in one of my favorite areas, Splantzia, a bohemian corner full of beautiful restaurants, old Turkish houses, and a popular square with traditional cafes where locals love to gather.
>> This is one of the most romantic Airbnbs in Chania!
Charming Flatlet in the Old Town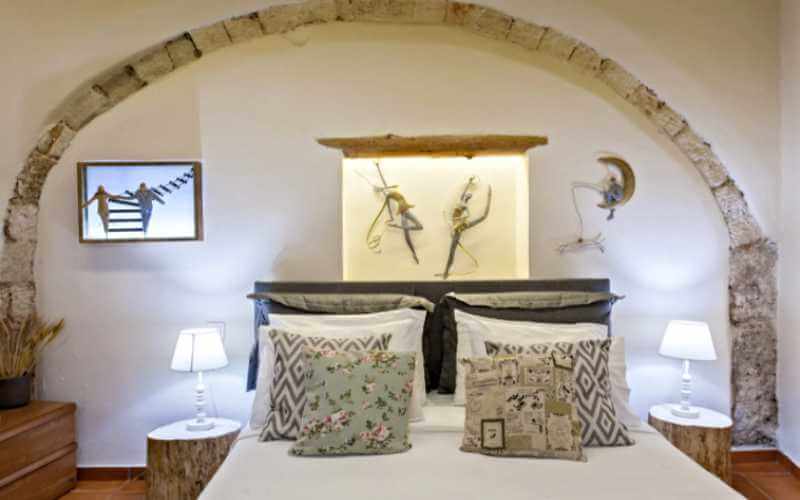 Why you should stay: Unique space with every comfort you need for a short stay in the city.
Sleeps: 2
Minimum stay:

2 Night

s
Pets allowed: No
Onar Flatlet is a charming space ideal for a couple or a solo traveler. The rental home is located in one of the most picturesque streets of the Old Town, just meters from Chania's Cathedral and the Lighthouse.
The traditional home features a comfortable bed, a recently renovated bathroom, and a small but smart kitchenette in one corner of the apartment.
In case you were wondering, this host is committed to a rigorous cleaning protocol developed with leading health and hospitality experts for your peace of mind. It's an ideal place for a short stay in the old town for those interested in discovering Crete's most beautiful city.
---
What's your favorite Airbnb in Chania?
Let me know in the comments below!
---
Travel plans for Crete?
These resources will help you organize the trip!
Start by reading these helpful tips to plan a trip to Crete or check family holidays in Crete if you travel with kids. To visit Crete's heavenly beaches, check my guide to the best beaches. Discover what region is best to stay in or check what to do in Crete.
Get in touch if you need extra help to plan your trip. If you want to tour West Crete, check my guide. Want more? Join my Private Facebook Group to connect with like-minded travelers who love Crete as much as you do!
Make sure you've got everything for a hassle-free trip!
I never move around Crete without my Osprey backpack, a sturdy but light travel partner I just love. For short trips, I carry this little crossbody bag. If I'm driving around, I pack my Michelin map and my Nikon.
When it comes to plane tickets, compare prices with a powerful search engine. However, nothing beats traveling by sea in Greece. With Ferry Hopper, you can book in advance at the lowest price.
For accommodation, I personally use Booking.com and Airbnb.
Traveling to remote places is easier with Discover Cars. Other times, I join organized tours with GetYourGuide, which features anything from cooking lessons to airport transfer!
Are you coming to Crete any time soon?
Get in touch and let me know!
Read more:
50 Unmissable Things to Do in Crete: A Fabulous Visit Guide by an Insider
How to Spend 3 Fantastic Weeks on the Road in Crete
Tours in Chania: Top Day Trips from Chania, Crete
Comfortable Airbnbs in Heraklion
Unique Airbnbs in Paleochora for an Unforgettable Stay in South Crete
Pin this article and read it later!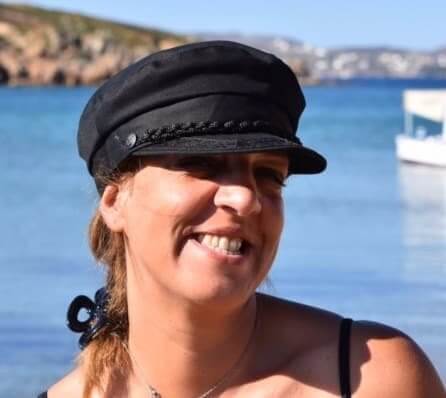 About the Author
Hola! I'm Gabi. Welcome to The Tiny Book – Crete Travel Blog! I moved to Crete to explore the island all year round. I love taking pictures and driving on the mountain roads of Crete. I'm a beach freak and on this island I've found heaven on earth!
---
You might also want to read:
---