Gorgeous beyond measure, Santorini is one of the most romantic spots in Europe. It's an ideal destination for a honeymoon, a romantic escape, or just a holiday with your partner. Hotels facing the Caldera offer heavenly sunset views which you need to overpay to be able to enjoy them. Home rentals come to the rescue offering more affordable alternatives. Let's check together these stunning Airbnbs in Santorini for a great stay on the island.
Beyond stunning Airbnbs in Santorini that you should check before your trip
Postcard-perfect landscapes, Cycladic villages, and sunset views are some of the perks that come with a vacation in Santorini. An island that has rightfully earned a spot in every list of the most romantic destinations in the world.
There is a lot to see and do in Santorini and not just in the famous villages of Oia and Fira. You can also explore the black beaches of Perissa and Kamari, discover the ruins of Akrotiri, or get lost in the fantastic villages of Pyrgos and Karterados.
But… where to stay in Santorini? After many visits to the island, I've decided to come up with a unique guide to help you find the best Airbnbs in Santorini so that you can enjoy a fantastic getaway in Greece that doesn't cost more than you can afford.
Terracotta Cave House
Why you should stay: The house is an original Santorini cave, totally renovated, boasting marvelous position facing the Caldera of Santorini.
Sleeps: 4
Minimum stay: 2 Nights
Pets allowed: No
The exclusive Terracotta Cave House is a traditional Cycladic house in the magnificent Oia village. The main balcony faces the spectacular Caldera of Santorini and is a privileged place to enjoy the famous sunset on the island.
This house is easy to spot in Oia's typical maze of alleys due to its distinctive terracotta color. Terracotta is a restored traditional cave a few steps from the Venetian Castle, the place where everyone gathers to take pictures of the Caldera during sunset. The fantastic location of the property offers a panoramic view of the entire village but it remains silent and quiet at the same time.
The property is divided into two fully independent cave houses. They have been partly carved out of the soft volcanic rock while plenty of windows 2 allow light and fresh air to enter every area. There's also a staircase leading from the living room to the loft.
Divine View Collection
Why you should stay: The place is ideal to experience the minimalistic architectural style of the Greek islands, enjoying some of the most stunning views in Oia, Santorini.
Sleeps: 5
Minimum stay: 1 Night
Pets allowed: No
The Divine View Collection House is a private cave that has been recently renovated and which can host up to 5 persons. Great taste and elegance, relaxing colours, and romantic details are the main features of the space.
The cave house features a double bedroom as well as a loft with a double wooden bed, a large comfortable living room, and dining areas. The small kitchen is fully equipped and the modern bathroom has an originally built shower place.
The most enjoyable place of the rental home is the veranda, with two comfortable sofas and a table where the guests can enjoy their breakfast and drinks.
The views of Oia and Akrotiri are impressive, besides, it's possible to sit at the veranda to enjoy the sunset and the landscape or the nearby island of Thirassia. The property is perfect for honeymooners, but it can also accommodate families and groups of friends.
Unique Architecture Cave House in Oia
Why you should stay: Discover this stunning lodging facing the blue sea and featuring a unique architecture, as the name of the cave suggests
Sleeps: 4
Minimum stay: 2 Nights
Pets allowed: No
Unique Architecture Cave House is a magnificent accommodation opportunity in the heart of Oia. Spacious rooms are the main feature of this house hanging on the cliff of Santorini's Caldera.
The cave house, which used to be the old bakery of Oia, is located only a few steps from the main pedestrian street. It has been renovated by local craftsmen featuring every typical trait of Santorini's cave houses, including rustic walls, domed ceilings, and built-in beds and lounges. Cozy and sophisticated, the house features an original path naturally created by the cliff structure, connecting two caves that shape the property.
The fully equipped kitchen includes an oven, a coffee machine, and a toaster to ensure your stay will be as convenient as possible. Top features are the private terraces expanding on different levels literally on the rim of the Caldera, as well as the whitewashed semi cave whirlpool.
>> Probably one of the pretties Airbnbs in Santorini!
Cocoon Cave in Fira
Why you should stay: This is a beautiful complex of houses sharing a spectacular terrace over the sea.
Sleeps: 2
Minimum stay:

3 Night

s
Pets allowed: No
Small service fee!
Cocoon is an Airbnb property facing the stunning Aegean Sea with a magnetic view of Skaros Rock in the capital of Santorini, Fira. It's very well located and there are many restaurants and shops nearby. The local bus station is within a short walking distance and it a good way to visit different beaches and other landmarks on the island.
Cocoon cave was renovated respecting the traditional features of the old house, for instance, the cute kitchenette has been settled in the same place the old wood-stove used to be.
Akron Cliff Suite in Fira Town
Why you should stay: Wonderful Cycladic house in Fira, in a fantastic, central position.
Sleeps: 4
Minimum stay:

2 Night

s
Pets allowed: No
Not suitable for children.
Top-rated on the Airbnb platform, Akron Cliff is a fully-renovated, traditional cave suite in Fira on the edge of the Santorini cliff. It has a characteristic traditional Cycladic architecture that combines a clean, minimalistic style with smart comfort.
The property has two bedrooms, one of which is a loft with a unique view to the volcano. In this Santorini Airbnb, there's also a private bathroom with spa bathtub and a magnificent furnished terrace overlooking Santorini's world-famous sunset.
Due to the steep steps you need to climb to reach the property, kids are not allowed and it's always advisable to pack light.
Neso and Thoe Traditional Houses
Why you should stay: Karterados is a quiet village in Santorini very close to the capital, Fira, and also not far from the sea. The property is close to Santorini airport as well as to the beach of Exo Gialos.
Sleeps: 4
Minimum stay:

2 Night

s
Pets allowed: No
Known as Neso and Thoe Traditional Houses, This house is in the small village of Karterados, one of the most authentic places in Santorini.
When checking reviews, you'll be able to read many guests praising the spotlessly clean home and the host's unique hospitality.
The residence is a traditional domed house ideal for couples, families, or friends who wish to experience a comfortable stay at a typical Santorinian home. Karterados is a village that, being right in the center of the island, enables visitors to explore every corner of Santorini without needing to spend much time on the road.
In particular, the house has a distinctive dome ceiling and rounded corners, typical in the local architecture.
This home is a simple yet super comfy Airbnb in Santorini.
Sensation Villa in Pyrgos Kallistis
Why you should stay: Because of the stunning outdoor pool and the spectacular views of the island. Besides, you can even order breakfast for a fixed daily fee.
Sleeps: 4
Minimum stay:

1 Night

Pets allowed: No
The gorgeous villa is in the center of the traditional village of Pyrgos, close to the main square of the settlement. Fira is about 5 km while the airport is 7.5 km away.
This home has a spacious living room and a wonderful private terrace with a seating area and a heated pool overlooking Perissa, Akrotiri, and part of the Caldera.
Sensation Villa is located in one of the most relaxing areas of the island, not far from the black beach of Perissa, near the ancient settlement of Akrotiri and its world-famous red beach.
Théros | Shades of White
Why you should stay: Emporio is one of the lesser-known villages in Santorini where the atmosphere is relaxed and it's possible to discover the local traditions that are still alive on the island.
Sleeps: 4
Minimum stay:

3 Night

s
Pets allowed: No
Theros Shades of White has to be one of my favorite places to stay in Santorini for long term. The property is in a quiet area, surrounded by a green landscape and beautiful windmills and it has been decorated with unique taste and fantastic touches of style.
This apartment develops in two different levels, with a cozy loft bedroom on the first floor as well as a comfortable queen-sized double bed on the ground floor.
The open plan living area is an inviting place to sit and relax with friends, while the spacious terrace offers magnificent views of the island and featured a lavish private jacuzzi for a dreamy stay in Santorini.
>> One of the top-rated off-the-beaten-track Airbnbs in Santorini!
Windmill House Santorini
Why you should stay: You should definitely stay in this house because I bet you've never slept in a windmill before!
Sleeps: 4
Minimum stay:

2 Nigh

ts
Pets allowed: No
Why not trying something different while staying in Santorini? In my opinion, sleeping in a traditional Cycladic windmill might be one of those unique experiences that will most certainly make your holiday an unforgettable experience.
This charming Windmill House is a luxury home surrounded by a pretty garden and with amazing views of the island. The place is just 5 minutes from the center of Fira.
With a unique shape and an edgy decoration, this is probably one of the most original places where you can spend your Santorini holiday.
>> Discover everything about Santorini wines and wine tasting tours on the island <<
Cycladic House in Akrotiri Village, Santorini
Why you should stay: The fantastic 180° views from the house are one of the main reasons to choose this Santorini Airbnb.
Sleeps: 5
Minimum stay:

2 Night

s
Pets allowed: No
One beautiful Cycladic House in the unique village of Akrotiri that features amazing views of the island in a super quiet atmosphere. The house is at the highest spot of the village but still close to different shops, supermarkets, and the most important archaeological settlement in the Aegean.
The traditional house is equipped with modern facilities, including a large balcony and a main comfy bedroom. There's a smaller, cozy bedroom, a well-furnished kitchen, and spacious living rooms with two sofas. For some extra at-home feeling, the property offers a washing machine to its guests.
---
What's your favorite Airbnb in Santorini?
Let me know in the comments below!
---
Travel Plans for Greece?
More Resources to Organize Your Trip!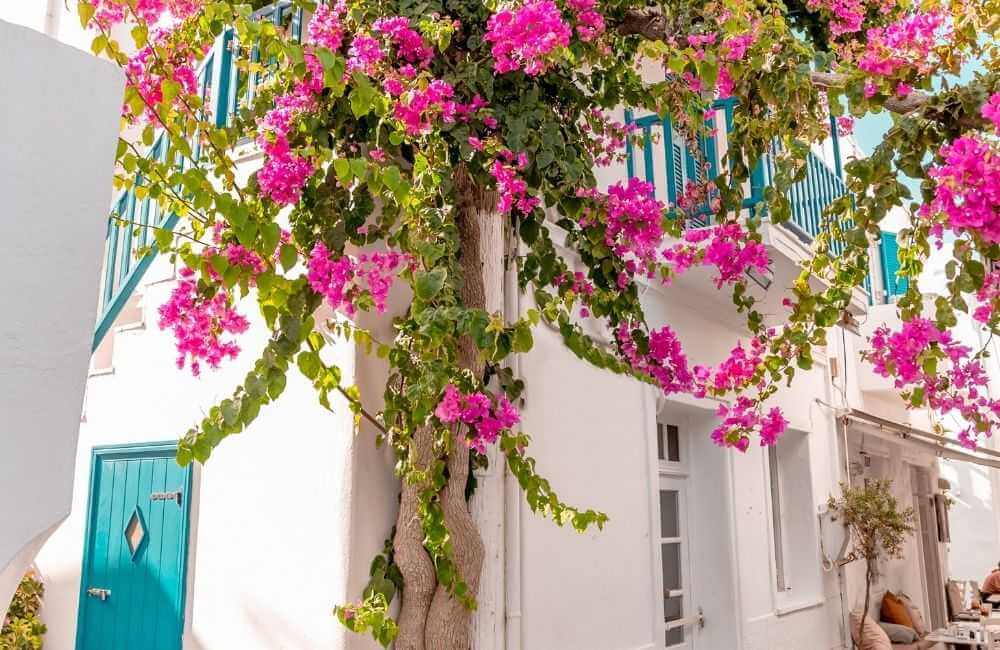 Start by heading right to my Greece travel guide for in-depth details you need to know about Greece. You can also check my post to plan a trip to Greece with children!
Get in touch if you need extra help to plan your trip. If you want to tour West Crete, check my guide. Want more? Join my Private Facebook Group to connect with like-minded travelers who love Crete as much as you do!
Make Sure You've Got Everything For a Hassle-Free Vacation!
I never move around the islands without my Osprey backpack, a sturdy but light travel partner I just love. For short trips, I carry this little crossbody bag. If I drive, I pack my Nikon D7200 and a good travel guide! Lonely Planet's Best of Greece & the Greek Islands.
When it comes to plane tickets, compare prices with a powerful search engine. However, nothing beats traveling by sea in Greece. With Ferry Hopper, you can book in advance at the lowest price.
For accommodation, I personally use Booking.com.
Traveling to remote places is easier with Discover Cars. Other times, I join organized tours with GetYourGuide, which features anything from cooking lessons to airport transfer!
Are you coming to Crete any time soon?
Get in touch and let me know!
Read more:
This is a pin-pin situation!