All the Things you Need to Know for a Fabulous Trip to Santorini
Having developed into the best-known Greek destination, tourism in Santorini is always on the rise. This calls for a practical travel guide to Santorini, packed with accurate information and all the basics you need for a perfect Santorini itinerary to make the most of your stay.
---
Disclaimer: Posts include affiliate links leading you to products or services, I might earn a small commission if you make a purchase. This has no extra cost to you but allows me to continue writing articles that are helpful for your travels. I only recommend things I use myself or that I believe will deliver value to you. 
---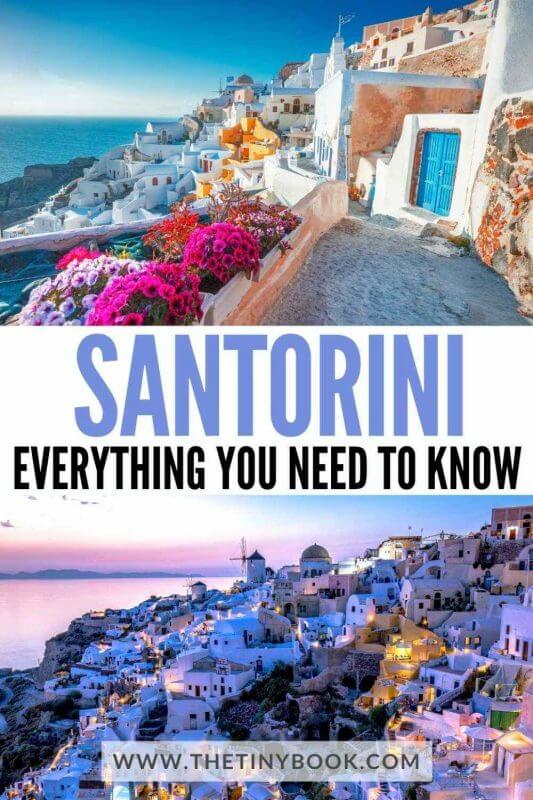 Last-minute plans for Greece?
Get there: Use Ferryhopper to book your tickets.
Stay: Find great accommodation deals on Booking.com.
Move around: Compare car rental prices with Discover Cars.
Tours: Check the most popular places with GetYourGuide.
Read more: Pack the Lonely Planet Guide to Greece or get a copy of my digital guide to Santorini.
Quick guide to the best Santorini hotels
Budget: Asterolithos is in the center of Fira Town, within walking distance of the Caldera. Check it on Booking.com.
Mid-range: Enjoy the comfort of a Romantic Spa Resort. Check it on Booking.com.
Luxury: Have an unforgettable stay at Andronikos Canaves. Read the reviews on Booking.com.
Rental Home Type? Check villas in Santorini here.
Travel Guide to Santorini
Santorini is one of the most romantic islands of the Aegean and the Caldera, the most famous cliff in the world. It's a natural scenario of unforgettable sunsets and traditional settlements, perched like white pearls on the top of the rusty-red cliff.
In this travel guide, you will find every village worth a visit for you to choose and design the best Santorini itinerary according to your needs. Let's start with the basics.
Moving Around in Santorini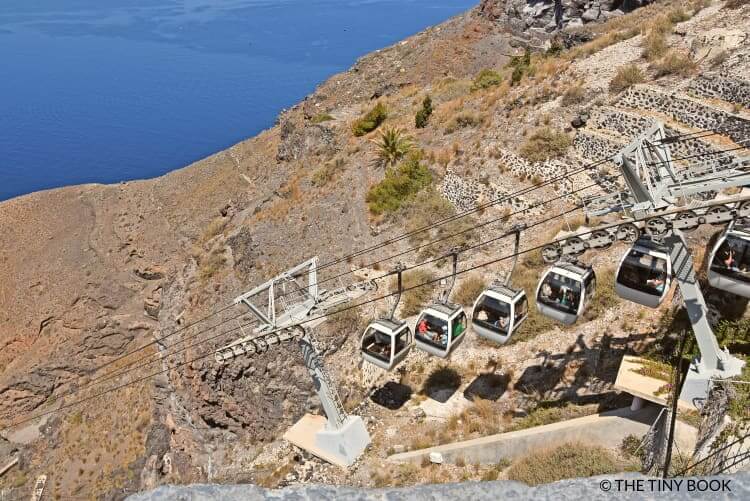 No time to read all this guide?
>>Check the most fabulous things to do in Santorini<<
It's fairly easy to move around Santorini with buses or taxis since the island is rather small. The island has an area of about 76 square km, it's 18 km long and 12 km wide. Driving is also very simple and renting a car allows exploring off-the-beaten-path areas easily.
Unlike bigger Greek islands, such as Crete or Corfu, it doesn't take long to go from one place to the other in Santorini, so there is no need to change hotels as you change location.
What Area You Should Choose to Stay in Santorini
It's better to choose accommodation according to your needs and budget. Oia, Imerovigli or Fira offer want spectacular views; while Perissa and Kamari are better places for beach life.
Another trend is to spend a night or two in the luxury of a boutique hotel at the Caldera, and the rest of the time in a more modest place. This guide offers options everywhere, it's up to you!
>>Check the best rental homes in Santorini<<
What to Do in Santorini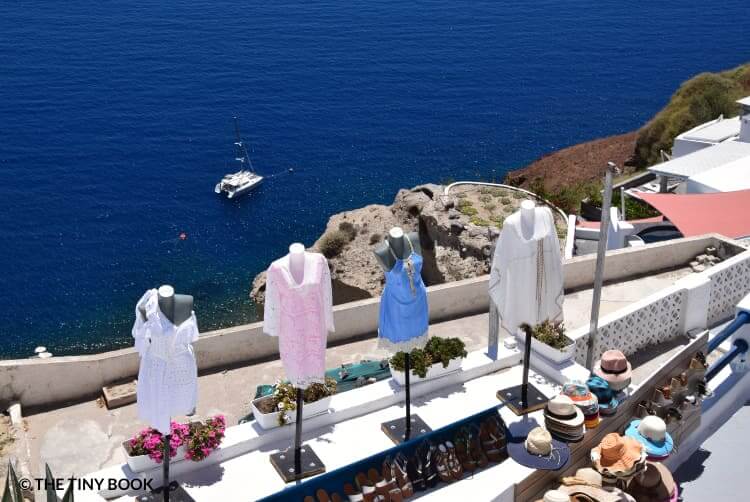 This super-useful travel guide to Santorini will take you around the most dramatic landscapes of the island, if you want, you can also check this photographic itinerary to find the best scenarios for your pictures.
Personally and as a fan of photography, taking pictures of the island is my favorite thing to do when I visit Santorini.
I will also include tips to buy souvenirs and local art, or to dance the night away.
There is a plethora of creative things to do in Santorini, traditional visits to churches and museums, wine tasting, gastronomic tours, cooking classes, and more.
However, there are even more exotic things to be done, you can fly over the island, take a photographic tour with a professional photographer, and even get married!
This guide will show you the traditional town of Pyrgos and the rich archaeological area of Akrotiri. It will invite you to rest on the black beaches of Kamari and Perissa.
We will end this trip with a wine-tasting experience and tips to enjoy the best of the local gastronomy!
Santorini will awaken your senses so go ahead and indulge in a world like no other. Welcome to this great Santorini travel guide!
keep the island in your pocket!
The Tiny Book of Santorini
Villages & Iconic Landmarks - Things to Do - Places to See
Where to Stay - Where to Eat - Beaches
Gastronomy & Wines
Get The Tiny Book of Santorini
Buy it now!
Oia & the Caldera
Probably the most famous island of the Aegean, Santorini has been gifted with unique beauty, superb tastes, and rich culture.
Let's start exploring Santorini from the northernmost point on the island, visiting the romantic village of Oia.
Much has been said about the attractive beauty of this town, a place where everybody gathers in the afternoon to see a glorious sunset. There's one thing, though, that many fail to mention, the quality of its light. Oia is one of the best destinations for photographers.
Once we've walked the steep paths of Oia, we'll take a day off by the pool with a stunning view of the caldera. However, if you prefer a less predictable day, I will show you the lesser-known beaches on the eastern coast.
Things to Do in Oia, Santorini
Oia is a ravishing village in the North of the island. The landscape is made of white houses with a typical Cycladic architecture facing the caldera.
A maze of cobblestone pathways climbs up and down the hilly landscape dotted with luxurious boutiques, smart cafés, and local souvenir shops.
Check the Infinity Pools
Posting a picture of yourself soaking in an infinity pool overlooking the Caldera has probably made it to your wishlist for Santorini.
Infinity pools are catchy to the eye, they seem to go on forever into the ocean. Santorini is full of them. Some hotels have terrace pools that can be used by all guests.
Other more exclusive accommodations have in-room jacuzzis playing the role of an infinity pool. And very high-end hotels even have an exclusive infinity pool -just for you- in the privacy of your own room.
Even if you're not such a lucky host, it's worth it to walk through the main street of Oia to peep inside the exclusive facilities, the views are stunning.
As you walk on the main street you will find the stunning architecture of the Andronis Luxury Suites, worth a shot or two. The famous Canaves has an imposing entrance and the Katikies is second to none as far as whitewashed views are concerned.
Remember, the best views in Santorini sometimes cost, but not always! Don't be afraid to explore. If you don't find a gate or a sign reading private on your way, venture down them for a closer look.
Explore the Backstreets in Oia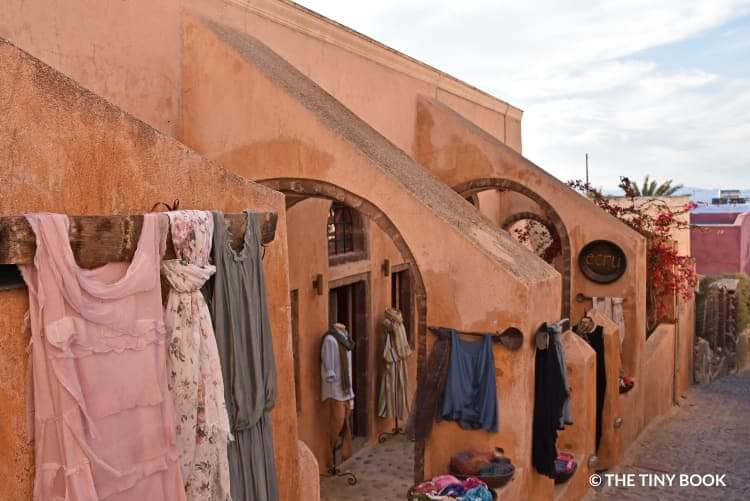 While crowds tend to concentrate on Oia's main road as well as on Oia's castle, mostly at sunset, it can be a great idea to experience some of the village's backstreets and alleys to get away from the crowds. I particularly enjoy this area during the late hours of the afternoon when the light is perfect for photography.
Oia's alleys are narrow, incredibly colorful, and sometimes show hidden views of the sea. The tiny houses create spectacular landscapes and there's always an original or surprising door or window that will catch your attention. In the area, there are also a few interesting souvenir shops that specialize in local crafts such as ceramics or paintings.
The Sea in the North of Santorini
If you don't really care about pools, there are a few beaches to visit near Oia. Ammoudi is the closest seaside spot and it's accessible on foot. It takes about 25 minutes to walk to the bottom of the cliff.
The hike down includes a stunning view of the red cliff that seems on fire when hit by the sunlight. There is a shorter way down (the 214 steps from Goulas); it only takes 15 minutes but is less panoramic.
The steps will take you down to a tiny bay close to the port of Ammoudi, there are a few tavernas around to taste the local dishes.
Do note that the terrain in the area is not stable, loose stones and gravel make it hard to access the place. Wear hiking sandals or tennis shoes to access the place in safety and comfortably.
Visit Oia's Famous Bookshop
Atlantis is one of the prettiest shops in the village of Oia, a colorful angle where you can buy unique books in many different languages. Set in a lovely scenario, you can have fun discovering the quotes and inscriptions carefully designed on the white walls of the bookstore.
Famous all over the world for its unique setting and the interesting reading material on sale, it's also a great place to find original souvenirs – and not just books – to take back home, such as pens, notebooks, and original cloth bags.
Head to Oia's Castle at Sunset
To be precise, it's really better to reach the Agios Nikolaos castle much earlier, since you will find it packed at sunset time. The ruins of the structure date back to the 15th century and it's probably one of the best places from where to take great photos of the caldera and its whitewashed houses.
Also, from the top of the castle, you will be amazed at the unique views of Oia's windmill facing the sea.
Remember, though, that if you are patient enough to stay in the area way after the sunset and wait until the blue hour sets, the dusk and the lights of the buildings of the caldera can give you amazing views equal or even prettier than the sunset.
Enjoy the Hunt for the Blue Domes
Everybody coming to Santorini wants to take home a shot of the beautiful domes perched on the caldera. And for a good reason! These enchanting iconic views are a trademark of Santorini.
Despite the fact that everyone wants a sunset photo of the caldera, there's nothing than the clear light of the early morning to appreciate the contrast of the white chapels and the blue skies. Set your alarm early and discover the three domes of Oia without the crowds.
The Other Coast
Still rather free from massive tourism are the beaches which, still close to Oia, lie on the opposite side of the island. They are free, easy to reach and incredibly wild. You won't regret exchanging an infinity pool for a day here.
Baxedes is a silent beach perfect for families with children because of the sandy coast. There's one taverna on the beach and a few restaurants close by. It's a place secluded from crowds. In May or late September, you can find yourself there all alone.
Another peaceful area is Paradise Beach, it has grey sand and there are some sunbeds, but it is also subject to strong winds on some days.
Koloumbos lies to the east and isn't really far from Baxedes or Paradise Beach. Actually, Koloumbos and Paradise are one very large beach divided into two sections.
Paradise beach is a black pebbled beach with a high hill surrounding it. There's no organization and it can be windy at times. At the edge of the cliff, the landscape is magnificent.
Where to Eat in Oia
Santorini's new culinary trends mix with the remote traditions of the island. Tomatoes, fava, honey, grapes, herbs, and olive oil can be a feast for your senses.
On the island, you must try Santorini tomatoes, white eggplants, and octopus… If you visit in Easter, look out for melitinia, the amazing Easter pastries from Santorini made with soft cheese.
Oia at Lunchtime
Krinaki is not exactly in Oia, but a couple of hundred meters away, in the village of Finikia. Krinaki serves fresh dishes reasonably priced, very different from the crowded restaurants in Oia.
Back in town, Skiza Café has a wide selection of local dishes, salads, and desserts with a stunning view of the caldera.
Best Spots for a Romantic Dinner by the Caldera
Ammoudi Fish Tavern offers an excellent sun-dried octopus, the view is fantastic but prices can be a bit high. A more convenient option is Anemomilos Restaurant, a hotel with a restaurant open to the public and excellent local food.
A Snack with a Wiew
Vitrin Cafe-Creperie offers good snacks as well as tasty ideas for an early dinner. Arrive early, its amazing views over the Caldera make it a popular place.
Where to Stay in Oia
Ambelia Traditional Villas is in the quiet settlement of Finikia, about 800 m from Oia. This complex has 8 cave houses, ideal for families, couples, or friends.
Onar Villas are authentic caves perched on the Caldera with spectacular views of the sea. Some of their rooms include a private heated outdoor jacuzzi for two.
Mystique Luxury Collection is a complex of over 40 suites that you reach through the cobbled paths of the village.
Santorini Secret Suites & Spa combine luxury and simplicity in the unique suites that include either an outdoor jacuzzi or a private pool
Imerovigli
Probably less known than Fira or Oia, Imerovigli is another alluring place facing the Caldera. Sunsets here are as glorious as in the more popular villages.
Imerovigli is also known as The Balcony over the Aegean. Here, the crater here takes the shape of an amphitheater adorned with whitewashed buildings perched on the cliff.
Its central position makes it a place with a visual command of the whole area of the volcano. There are several beautiful Cycladic churches and it's also possible to visit the remains of a Venetian castle, Skaros, built here due to the strategic visual position of Imerovigli.
Very close to Imerovigli you will find Firostefani. The views from this side of Santorini are spectacular, offering another perspective of the volcano.
Things to Do in Imerovigli
Imerovigli has been declared a Traditional Settlement. Several regulations control building development in the area. You can access Imerovigli by car, taxi, and bus; and it is also possible to reach it walking from Fira.
Thanks to a privileged position, the view of the island of Thirassia is stunning at dawn, when everything turns orange for a moment or two.
An interesting place to see is the Temple of Our Most Holy Mother, home to the wooden image of the Panagia Malteza, an icon supposed to have come from Malta, brought to the island by the captain of a vessel who was shipping Vinsanto of Santorini.
A remarkable attraction of the village is Skaros, this imposing rock lies over a promontory several meters above the sea. It was one of the five fortresses of Santorini and it served as an observation post providing security from pirates.
Skaros, built by the Venetians between 1205 and 1230, was the medieval capital of the island. It was entirely made of stone and had a movable wooden bridge. Different earthquakes destroyed the castle, leaving only the ruins. This is a top view spot in Santorini and it's possible to hike to the top.
Where to Eat in Imerovigli
A much-loved restaurant in Imerovigli, even if it not on the Caldera, is Anogi, on the main street between Fira and Oia. The restaurant takes pride in its combination of spices, herbs and the use of Greek olive oil.
Bella Thira is a bit more modest but serves excellent dishes with good prices.
If you want to pamper yourself with a dinner overlooking the sunset, The Athenian House is a first-class gourmet experience based on creativity, fine food, and regional ingredients.
Where to Stay in Imerovigli
Aliko Luxury Suites is an ideal place for honeymooners or a romantic escape in the peaceful setting of Imerovigli, with unique views and comfort.
Cocoon Luxury Cave Suites presents 9 unique suites in the magic setting of Santorini's caves, with a majestic panorama of the island.
My personal favorite in Imerovigli is the exclusive and minimalistic Kapari Natural Resort (a member of Unique Lodges National Geographic). This hotel is probably one of the most beautiful hotels I've ever visited in Greece.
Explore Firostefani
Between Fira and Imerovigli there is a growing village that, some claim, has the best view on the island. It's officially considered as a distinct village from Fira, but in real terms, it's, in fact, its continuation.
Firostefani has a relaxed atmosphere as it's mostly populated by hotels, traditional villas, and studios to rent.
There are just a few cafés and restaurants, while most activities concentrate in the nearby Fira, which you can reach on foot. There is a very interesting church in Firostefani with a remarkable dome and a stunning bell tower.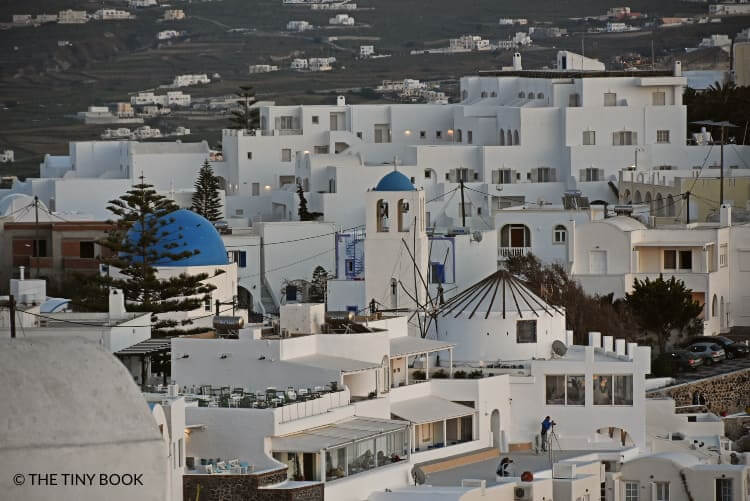 Firostefani is perfect for those who intend to spend their time splurging in amazing hotels by the crater, enjoying the pool and other spa facilities.
There is almost nothing else to do apart from spending some time in the square, a meeting point both for locals and tourists. But this doesn't mean that Firostefani should be crossed off your itinerary.
Staying in Firostefani is very worth it, and the views are breathtaking. However, for exciting nightlife, or for museums and shops, the closest place to go is Fira.
Where to Eat in Firostefani
Cafe Galini offers excellent breakfasts, quick dishes for lunch, and a variety of snacks. A bit on the expensive side, but it has one of the best sunset views in the area.
Taverna Romantica serves good dinners. Go for their Married fava, a delicious combination of fava, white aubergines and sauce. Their Eggplant chicken nest with chicken, onions and melted cheese is also very good.
Where to Stay in Firostefani
Alta Vista Honeymoon Suites are 5 exclusive honeymoon suites perched on top of the Caldera with unique aesthetics and perfect views of Santorini.
Millhouses Santorini Suites offers vaulted ceilings and whitewashed rooms of elegant simplicity and modern comforts
Santorini View Studios is a great option for families for its relaxed atmosphere and apartments with all the comforts and amenities.
Fira, the Capital of Santorini
The modern capital of Santorini is Fira, its name derives from the old denomination of the whole island, Thira.
This lively town has a romantic side due to the whitewashed Cycladic houses built on the edge of the Caldera, about 400 meters high. There are countless shops, bars, and restaurants as well as hotels and villas.
Two of the most relevant museums of Santorini are in Fira, the Archaeological Museum of Fira and the Museum of Prehistoric Thira.
You will also find incredibly beautiful churches, but not all of them have the typical blue domes.
You can reach Fira from the airport quite easily, in no more than fifteen minutes. If you reach Santorini with a ferry, it's also possible to come up to Fira from the port either via a cable car or riding a donkey (a practice I don't really support).
Being Santorini, one of the most popular destinations in many Mediterranean cruise routes, huge ships as well as small fishing boats anchor daily at the port of Fira, carrying thousands of passengers that visit for the day.
Fira is another special location on the island to watch the sunsets that have made Santorini the most visited island in the world.
Things to Do in Fira
There's quite a touristic side of Fira. There are countless souvenir shops selling postcards, ceramics, and t-shirts. Despite being crowded, Fira is home to magnetic landscapes, romantic pathways, and hidden spots too pretty to be missed.
Simply because Fira has the reputation of being too touristic, doesn't mean you should pass. Chances are that, no matter what they say, you will fall in love with the views that Fira reserves for its visitors.
Whether you have arrived in Fira by sea or not, a ride on the Cable Car offers an outstanding perspective of the Caldera and the traditional atmosphere of the Old Port.
PRO TIP: Avoid the cable car when cruise vessels arrive, the waiting line becomes endless.
The two archaeological museums are worth a visit. They are rather small and won't take you more than an hour each (unless you're an expert, of course). Agiou Mina is a street going through the village which provides all the incredible views of Fira you would normally see on brochures.
If you choose to walk during the sunset hour, keep in mind that pedestrian traffic is insane. Be patient and remember that in the early evening many passengers of the cruises go back on board. Hang in there, streets, cafés, and restaurants are about to get more enjoyable!
Among the churches to see in Fira, don't miss the beautiful bright colors of Santorini's Catholic Church, the Cathedral of Saint John the Baptist. It's small but pretty and rather close to the Archaeological Museum.
For your basic needs, Fira's main square has it all. In Plateia Theotokopoulou there is the bus station, supermarkets, taxis, shops, and banks. In the area, there are also pharmacies and a hospital.
Alternative Things to Do in Fira
These are some of the unique things that Santorini offers to every visitor, check the most bizarre things to do in Santorini!
Fly over Santorini
If you're not happy about the crowds but still long to see Fira, why not seeing it from above? With a chopper you will be able to enjoy stunning aerial views of the island, rise vertically, and fly into the skies over the sea!
Book as soon as you make up your mind because they tend to be a hot-seller. Flights go from 20 minutes to a full hour. Yes, they can be expensive, but if you are part of a group the cost can be split up making it affordable.
One good tour agency doing this tour is Santorini Day Tours.
Take a Photographic Tour
To experience a different side of Santorini, photographers will show you secret spots, and help you discover spectacular sceneries. You will get tips on how to take better pictures too.
You can see Santorini through the eyes of a professional photographer and learn how to create your own compositions with a private photography tour.
Book a Cooking Class
Maybe the best memory one can take home from a place is not just a magnet, but the things you learn. Santorini is a quintessential gastronomic destination in Greece. Learning how to cook the local dishes of the island will certainly help better understand the local culture.
Where to Eat in Fira
Best Breakfast in Town
If you are after rich tastes, don't miss Corner, in the center of Fira. They serve delicious waffles and crepes as well as fresh loukoumades (Greek fried donuts usually served with honey and cinnamon).
Fira's Famous Gyros
Lucky's Souvlakis made it to the Lonely Planet's recommended places to eat in Santorini and for a reason. They serve the most incredible pita gyros in Fira, made of fresh bread, abundant fillings, tasty sauces, and crunchy fries. No frills but all taste. This is the way to go if you are on the run sightseeing and don't want to waste time for lunch.
Dinner in Fira
Rakadiko MeRaki is one of the top-rated traditional tavernas in town. Give it a try, you won't be disappointed.
Where to Stay in Fira
Being in such a central position, it's a good idea to make Fira your base, there are many lodging possibilities to choose from, from budget to top class.
Petit Palace Suites is just two km away from the center of Fira and has about 20 suites ideal for honeymooners.
Romantic Spa Resort offers more affordable prices as it is not located exactly over the caldera, however, it's a good hotel with comfortable premises.
Volcano View by Caldera Collection is probably one of my favorite places in Santorini, very close to the center of Fira, and affordable prices with a unique view of the Caldera.
Kalisti Hotel & Suites is an elegant hotel with a wonderful pool right in the center of Fira.
I've stayed in the Volcano View by Caldera Collection twice, prices are more affordable than in the center of Fira, the views magnificent, and every point of the island is easy to reach.
Thirassia
Often described as The Gem of the Caldera, Thirassia is a tiny island less than a mile from the port of Oia.
With its imposing rugged coastline and the traditional architecture, Thirassia will surprise you. Whitewashed houses contrast the dark landscape created by the ashes of the volcanic explosion. The paths offer unique views of the not-so-distant Santorini.
The capital of Thirassia is Manolas, while Potamos is a higher town, home to the church of Agios Nikolaos. A bit less than 300 steps separate Manolas from the bay of Korfo. In Korfo you can enjoy the catch of the day in a traditional taverna. Make sure to spare some time to swim in the clear waters of the island.
You can reach Thirassia both with a boat or also contact one of the many tour agencies in Fira that sell day tours to Thirassia.
Tours include activities such as sailing around and visiting the island of Nea Kameni and the Volcanic Park. Here, you can have a first-hand experience of the active volcano. There's an entrance fee of 2.5 € to the park.
Some tours also propose swimming in the hot springs of Palea Kameni. Here, water temperature is 30-35 degrees but constantly mixes with the water from the sea. The smell is rather sulfuring and in all, it's a fun experience.
Some boats sail back to the port of Athinios but make a previous stop in Oia, where you are also given time to descent and walk around. There are boats sailing both from Oia and from Fira.
Lunch in Thirassia
The port of Thirassia can be a bit on the expensive side for lunch. If you feel like walking, reach the village up the hill and enjoy a great view at more reasonable prices. Panorama Resto in Manolas is a nice restaurant serving fresh fish and traditional Greek food.
Akrotiri: Red Beach & White Beach
The area of Akrotiri, in the south, is great to learn about the mesmerizing past of the ancient civilization that once inhabited the island.
Akrotiri is certainly not so crowded and it's easy to see in a day. It maintains the character of ancient Greek villages, with small Cycladic houses, irregular paths and a castle on top of a hill.
Very close to the village you can access the famous Red Beach of Santorini. From the big parking lot in front of the sea, close to the white chapel that seems to be painted on the rocks, stroll until you reach the path that takes you up, and then down, right to the Red Beach.
The incredible sunsets of Santorini are not exclusive of the Caldera. From the highest point of the path that leads to the Red Beach, just before going down, the golden hour is magnificent.
The rocks in the background seem to catch fire while ships sailing the Aegean draw their shape on the horizon. Akrotiri has magical views, it's far less touristic, and is home to a rugged, beautiful landscape with impressive colors.
What to Do in Akrotiri
Check this things you can do in the small village of Akrotiri…
Visit the Archaeological Town of Akrotiri
Akrotiri is one of the biggest and most important prehistoric settlements in the Aegean (Bronze age). It's on the southern tip of Santorini. It was destroyed by the Theran eruption (about 1627 BC) and buried under volcanic ashes which preserved the region until recent times.
The advanced civilization left a legacy made of elaborate piping systems, multi-storeyed houses, and wall paintings. Their sophisticated counting and stocking systems remained registered on clay tablets.
Commercial relations with other peoples in the Mediterranean (Crete, the Dodecanese, Syria, and even Egypt) have been deduced too.
The Archaeological Site of Akrotiri is open to the public. It's a roofed structure where you can see many findings and artifacts, however, the most important paintings and objects are in the Archaeological Museum of Fira.
The Museum of Cycladic Art and the National Archaeological Museum, both in Athens, also exhibit some findings from Akrotiri.
The Castle of Akrotiri
Located on top of a small hill, the castle of Akrotiri dates to the 1330s. It was called Punta Castelli (also La Ponta, which in medieval Italian meant the peak). The castle was donated by the Duke of Naxos.
The castle hosts the Museum and Workshop of Traditional Musical Instruments, and there are musical events especially in summer.
A visit to the castle can be combined with a morning in the nearby archaeological site, a nice meal by the sea and a hike to the Red Beach. A great way to spend a day in Santorini.
The Red Beach
Some visitors don't make it all the way down to the beach, they just admire the landscape of volcanic rocks from the headland.
However, Red Beach is probably one of the most intriguing places in Santorini. As you gradually descend the rocks towards the beach, the changing shades of the cliff will leave you in awe.
If you are keen on snorkeling, you can admire the impressive submarine volcanic rocks and formations. If you don't feel like hiking down the path, you can access the beach by the sea (boats depart from the port of Akrotiri).
On the way to the beach, you can find local fruit vendors selling fresh grapes and peaches to take to the beach with you. Remember to bring drinking water and sunscreen, apart from the few sunbeds, the area is not organized.
Due to its characteristics (great swimming spot, relatively wide with a smooth surface) the beach gets crowded in Summer but remains an ideal location for an early Spring session of solitary sunbathing and swimming.
The White Beach
The cove next to the Red Beach is known as the White Beach. But don't expect white. In fact, this beach is very similar to most beaches in Santorini, with black and grey pebbles. The name refers to the white cliffs standing behind the beach.
The White Beach is not as popular as the Red Beach, so it's less crowded. There are only a few umbrellas, and it can easily be accessed by boat only.
Where to Eat in Akrotiri
The Good Heart serves excellent grandma's meatballs, good saganaki (fried fetta cheese), and huge fish platters. Prices are very reasonable.
Where to Sleep in Akrotiri, Santorini
Astarte Suites is one of my favorites, I love their suites and the pool. The views are amazing.
Villa Galinia is a great family accommodation at affordable prices. There's also a good restaurant with great views of the island
Hotel Village Mathios is another family-run hotel, perfect for children where you will certainly feel at home.
Perissa
Perissa is Santorini's most relaxed spot, ideal to forget about mundane experiences or routine. This long strip of black sand and pebbles is great to cool down, look at the horizon, and spend whole days on the beach.
With less than 500 permanent residents during the year, it definitely looks crowded in the middle of the high season. Yet, a visit in spring can be a pleasant surprise, maybe not hot enough for long swimming sessions, but the sun starts warming up the pebbles which can be scalding hot at noon.
Evening strolls enjoying the soft sea breeze can quickly become a habit. At night, choose a bar or a pub and make it yours. Making friends on this stretch of the island is easy.
Have a glass of local beer or try a much more liberal cocktail. Perissa has no calderas, no breathtaking sunsets nor whitewashed houses, but its black sands are also magic.
What to Do in Perissa
Perissa is a black sand beach, 15 km southeast of Fira. It's on the eastern coast of Santorini and it's more than 7 km long. The beach is a mix of black sand and pebbles with crystal clear waters. There're several organized beaches and bars along the seaside.
Messa Vouno is an imposing rock that rises on one of the ends of the beach. In a way, it separates Perissa from Kamari, another dark sand beach.
Due to the more affordable prices and a relaxed atmosphere, Perissa attracts low-cost travelers and families with kids looking for a calm environment. There is a great variety of lodging, many along the coast. There are also restaurants and pubs with a free wi-fi connection.
A small path crosses the mountain from Perissa up to the ruins of Ancient Thira. It's a hiking trail more than 2.5 kilometers long that takes about an hour on foot.
Perissa extends to the south to reach the beach of Perivolos, quite similar to Perissa, also offering a lot of water sports facilities, like windsurfing and scuba diving.
Where to Eat in Perissa
Restaurants, bars, and tavernas are plentiful on the main roads of Perissa. Octopus is delicious in Fish Tavern Fratzeskos, they also serve vegetables and salads and prices are very affordable.
Tranquilo Bar has a unique environment, excellent drinks, and frappés paired with relaxing music. If you feel like sushi and champagne, try Pleasure Lounge Bar in Perivolos, an elegant spot with wooden decks, beautiful garden decoration and eclectic cocktails.
Where to Stay in Perissa
Drossos Hotel offers maisonettes and suites for families and unique suites for couples too.
Aretousa Villas is an affordable option for your holidays on the island, the hotel features a beautiful swimming pool
Meltemi Blue is an adult-only hotel, perfect for a romantic escape on the island.
Vlychada
This area of Santorini boasts a phenomenal grey beach with a Lunar atmosphere. The impressive white cliffs have been shaped by the wind and the sea.
Vlychada is on the southern part of the island, not far from Akrotiri. The easiest way to access Vlychada is to travel from the village of Emporio.
Vlychada Marina, known as Fisherman's Haven, is the little port that serves the area. It's mainly a fishing port with a few spots for visiting yachts. There are also some restaurants and fish tavernas if you decide to take a break from the beach.
What to Do in Vlychada
Visit a different museum, the Tomato Industrial Museum and Santorini Arts Factory. Cherry-sized tomatoes grow in Santorini without the need for irrigation due to the volcanic soil. Here, tomatoes have all the minerals present in the ground which add a unique rich flavor and texture.
This former tomato processing factory has been transformed into a museum about the industrial history of Santorini. The entrance ticket is 5 € and kids up to 12 enter for free.
Where to Eat in Vlychada
To Psaraki has both a superb fish-based menu and a gorgeous landscape. Try their crab and avocado salad, their cherry tomato dumplings and the grilled squid. All dishes come with romantic views at sunset.
Meroula Restaurant is a beachfront taverna and hotel, good for a midday break or a casual dinner. Dishes belong to the Greek tradition of everyday fresh food. Their spaghetti with mussels and tomatoes is delicious.
Emporio
Emporio is the biggest village in the South and testimony of the glorious economic past of the island, its name, in fact, comes from the Greek word for trade (Emporeio).
People pass by Emporio without paying much attention since it lacks the glam of more central villages. However, you will love the magic of the place. Its traditional paths and atmosphere make it one of the must-stops in Santorini.
The first thing you see as you approach from Fira is the hills and the windmills. Next, in this old town, there's a maze of picturesque alleys where expose their paintings adding another touch of color to the place.
In the North, there are two Venetian castles that used to keep people safe from pirates, Kasteli and Goula. Emporio is still one of the biggest villages of Santorini with shops and good restaurants.
Where to Eat in Emporio
To Kafenedaki tou Emboriou is a taverna serving local delicacies and wines, with a daily menu. Do try their yogurt with honey and nuts.
Where to Stay in Emporio
Stunning Windmill Villa has an outdoor swimming pool and a garden 10 km from Fira.
Villa Therme Athena boasts a great garden and unique views of the area for up to 5 guests.
Pyrgos
Pyrgos is a village in central Santorini (also known as Pyrgos Kallistis, meaning the most beautiful tower). It's one of the island's five castle cities and it was also the capital of the island. The town is high on top of a hill, offering breathtaking views of the island, the sea, and the caldera.
This beautiful, laid-back village has a typically Greek atmosphere. Pyrgos has also gained a name for its Good Friday celebration at Easter when hundreds of aluminum cans are lit up to produce a magical atmosphere. You can read about Pyrgo's Easter celebration here.
What to Do in Pyrgos
Pyrgos is not a traditional touristic place. Yet, it's a landmark of the island as it embodies the authentic appearance of Santorini: less polished or attractive than Fira and Oia, but genuine and authentic. Narrow cobblestoned streets wind around the traditional village leading uphill to the old Venetian castle.
Another interesting site to visit is the Church of Agia Triada, a white monastery complex, home to a small museum of icons, ceramics, and religious clothing.
Santorini of the Past is a cultural village in Pyrgos. This modern cultural center (with a museum, a hotel, and a restaurant) promotes the Greek culture and the development of cultural tourism.
Where to Eat in Pyrgos
Metaxi Mas Taverna is located in Exo Gonia to be precise, very close to Pyrgos, and it's one of the most popular restaurants in Santorini (it might be necessary to book in advance: +30 228 603 1323). There's a good choice of Mediterranean cuisine, local wines, and a terrific terrace view.
Penelope's is a good ouzeri and local restaurant with a cozy atmosphere and authentic home-made dishes. Staple Santorini dishes, such as fava and tomato keftedes are excellent.
Where to Stay in Pyrgos
Santorini Seaside Kallisti is a wonderful apartment that easily accommodates 6 people, there is a fantastic patio with jacuzzi.
Santorini 180 Degrees is a 2-bedroom villa with unique views of the island.
Ancient Thira
Ancient Thira is an antique settlement on top of Messa Vouno. Its name comes from the mythical ruler of the island, Theras. This old settlement, located among spectacular views, was inhabited from the 9th century BC until the year 726 AD.
Ancient Thira is today open to the public and can be reached via the winding road that starts in Kamari.
The road to reach Ancient Thira has been described as one of the most stunning roads in the world. A famous section of this road is called the Kamari Serpentine. It's a little more than 2 very impressive kilometers with more than 20 hairpin switchbacks, sheer drops, twists, and turns. The road closes early in the afternoon, so make a point to visit early in the morning.
If you don't feel like driving, several tour operators in town take you up to the top.
The ancient city was an 800 meter long street with several buildings vital for the community. Among them, the Agora marked the center of public life. There was a theater on the slope with an audience capacity of 1500 people. There was also an important Temple dedicated to Apolo while most inhabitants lived up on the mountain plateau.
Kamari
Kamari is a beach resort close to Santorini's airport. It has a black pebble beach and lies under the mountain of Messa Vouno. Its central position makes it a good base since any point on the island can be easily reached in a short time and by means of good routes.
There are some villages in the surrounding area, interesting for a day visit. One of them is Vothonas and the small settlement that developed carved in the rock. In the area, there are several wineries with interesting labels and a wine museum.
At night, bars, cafés, and pubs along the beach promenade serve excellent cocktails and usually offer free wi-fi connection. Some of them are also beach bars.
Kamari offers lots of facilities for tourists such as shops and boutiques, taverna and as well as a bizarre beach landscape worth visiting early in the morning to appreciate the beauty of the sunrise by the sea.
What to Do in Kamari
Completely rebuilt after the last earthquake in the mid-fifties, Kamari is one of the top beach resorts of the island.
It's located on the southeast coast and the hill of Messa Vouno virtually divides it from Perissa.
The black beach of Kamari is organized and there are some good water sports facilities. While the other black beach, Perissa, is the low cost, familiar side of it, Kamari is more cosmopolitan, even when remaining more relaxed than Oia or Fira.
There's a wide promenade parallel to the coast with restaurants, trendy pubs and bars, and hotels.
After a day under the sun on the hot volcanic pebbles, people walk on the seaside road and have a drink in one of the many pubs.
Where to Eat in Kamari
You can even find Thai food in Kamari at the Kiwi Chinese and Thai Restaurant!
Enjoy a cocktail at the Groove Bar Kamari or at the Aiagaion, the local Irish pub that also serves snacks and a traditional English breakfast.
Kamari has a nightlife of its own proving that Fira is not the only place that caters to amusement on the island.
Where to Stay in Kamari
Poseidon Beach Hotel is on the Kamari seaside promenade, right in front of the sea.
Afroditi Venus Beach Hotel & Spa can be found on the same road, and it offers a private beach and sunbeds for its guests.
Glaros Hotel is about 150 m from the beach and is better known for its traditional local dishes served on the wonderful terrace.
Vothonas
Only 3 km from Fira, Vothonas is a tiny village quite unknown to mass tourism. There're several abandoned houses carved on the sides of the valley or along a steep slope.
Their odd roofs have been built using a smear of volcanic soil. These houses were famous for preserving a constant and pleasant temperature during all seasons.
In Vothonas you can visit a church built inside a cave, the Panagia Sergena or Holy Mary in the Hole. Here, locals hid during the Turkish domination.
Closer to the road that leads to Kamari, another church worth a visit is Panagia Episkopi. Due to its high location, the gardens have a scenic view of the sea and vineyards.
Karterados
This traditional village is no more than a 15-minute walk from Fira. It was one of the main villages during the 19th century but now it's rather calm, safe from the invasion of tourists. Here it's possible to still see ancient houses carved in the rock.
There is a large windmill in the main square, which honors those fallen during World War II. The village stretches all the way down to the public black beach of Karterados.
On the beach, there are some tavernas serving mostly fish dishes with excellent service. In the village of Katerados, there's an alternative hostel, Caveland and it has very accessible prices. It's unique design and concept have made it one of the trendiest places to stay in Santorini.
General Tips & More Things to Do in Santorini
Do you want to know what other things you can do on the island? Check these activities!
Wine Tasting in Santorini
Red signs on Santorini's roads indicate the location of several wineries as well as the official Santorini Wine Trail. Santorini's economy largely relies upon wine, with over 90% of the soil producing about 5000 tons of grapes per year.
The main grape variety is Assyrtiko, and the volcanic soil shapes the character of this grape. Santorini's dry atmosphere also creates a hostile environment for insects, helpful for grape cultivation.
A visit to a local winery will connect you with the local community and it will surprise you pleasant tastes.
One of the top local wineries is Koutsoyannopoulos Wines. Located on the main road near Vothonas.
In the premises, you can explore the winemaking process and the history of Santorini wines in their museum. They produce a delicious Vin Santo as well as a unique label, the Kamaritis.
Their Wine Museum includes audio guides in several languages. Visit the wine tasting facilities after the tour. This is the second most important wine museum in the World.
>>You might also want to read Wine Tasting in Santorini<<
Santo Wines is a winery in Pyrgos. They offer wine tasting experiences including a view of the Caldera and cheese sampling. This is also a terrific location for pictures and many weddings are celebrated in their premises too.
Art of Santorini
During the past decade, Santorini has become a center for art and fine craftsmanship. Apart from the obvious souvenirs (evil eyes, worry beads, and Greek owls), Santorini has developed its own fine art tradition. There are several art galleries both in Fira and Oia, as well as photographic and art exhibitions open to the public.
Many artists live in Santorini and craft original works of art with local natural material. Mati Art Gallery, in the center of Fira, close to Fira's Cathedral, exhibits the works of contemporary art produced by the visual artist Yorgos Kypris.
Stavros Galanopoulos sells original artwork and limited edition prints at the Galanopoulos Art Gallery, in Oia.
There are also many jewelry shops since Santorini has a strong tradition related to jewelry manufacture. The best (but also most exclusive and expensive) of these boutiques are on Oia's main street.
Hiking in Santorini
There is a walking path that will take you from Fira to Oia in 3 to 6 hours, depending on your walking pace. This hike offers superb views of the Aegean sea.
This trail is made of loose gravel, so wear comfortable shoes. Also, remember to bring a hat and sunscreen. The walk is easier early in the morning, and less crowded too. It takes you through the small villages between Fira and Oia, and if it gets too hard… leave the trail and grab a taxi!
Morning Coffee
It's a great idea to start the day with a coffee at Mes Amis, they serve great traditional frappés (iced Greek coffee), but also espresso and cappuccino. The pastries and croissants are home-made. Mes Amis is on the main road that leads from Oia to Fira, a few meters before Finikia.
Nightlife in Santorini
Santorini is known to be a relaxed place for honeymooners, couples, and lonely souls. You would expect to find crazy nightlife in Mykonos or Ios, however not so much in Santorini.
Yet, and mostly in recent years, there has been a strong development of places that heat up the local night. Some clubs are definitely worth checking out.
The main places to hang out are the bars and clubs in Fira. Two Brother's Bar is a funny, entertaining place that keeps rock music loud well into the night. Koo Club, also in Fira, is one of the oldest clubs in town with a nice outdoor patio.
Dating back to the Seventies, right across Koo, there's Enigma, popular among visitors with a great outdoor area.
Remember that no matter how relaxed your mood gets on vacation, Santorini's nightclubs won't let you in if you're wearing shorts and flip flops.
What to Eat in Santorini
Fava is probably the best-known dish on the island, and when it's cooked by the book, it's incredibly tasty. Its main ingredient is the yellow split pea (which has nothing to do with the fava bean).
The dish only uses yellow split peas, onions, and abundant extra virgin olive oil.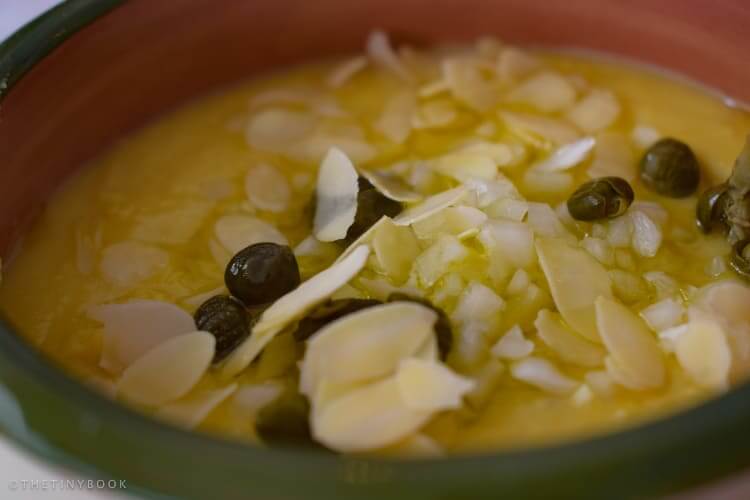 Santorini's local cherry tomatoes have a great taste and locals are skilled in making the best tomato dishes, among them the famous tomato fritters known as tomato keftedes. Also, try Santorini's white eggplants and fresh grilled fish.
What's the Weather Like in Santorini
Santorini is very hot during in summer, it's easy to get a sunburn, even when walking down the streets. During autumn and spring, it can be windy and the occasional shower is not rare. Bring a light raincoat in every season.
---
Have you enjoyed this Travel Guide to Santorini?
Let me know in the comments below!
---
Travel Plans for Greece?
More Resources to Organize Your Trip!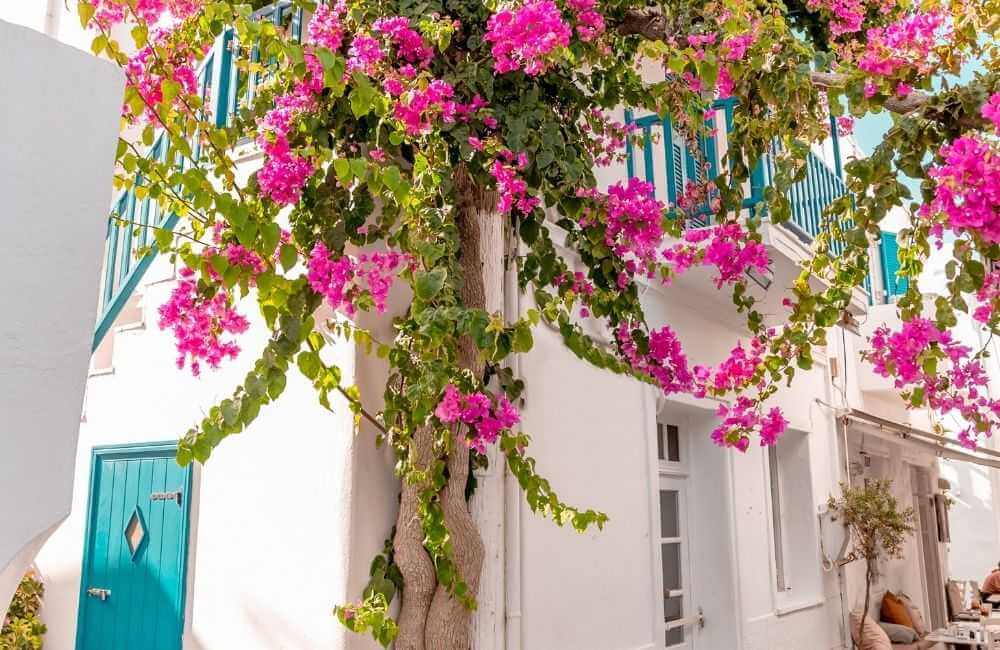 Start by heading right to my Greece travel guide for in-depth details you need to know about Greece. You can also check my post to plan a trip to Greece with children!
Get in touch if you need extra help to plan your trip. If you want to tour West Crete, check my guide. Want more? Join my Private Facebook Group to connect with like-minded travelers who love Crete as much as you do!
Make Sure You've Got Everything For a Hassle-Free Vacation!
Without my Osprey backpack, I never move around the islands…it's a sturdy but light travel partner I just love. For short trips, I carry this crossbody bag. If I drive, I pack my Nikon D7200 and a good travel guide! Lonely Planet's Best of Greece & the Greek Islands.
When it comes to plane tickets, compare prices with a powerful search engine. However, nothing beats traveling by sea in Greece. With Ferry Hopper, you can book in advance at the lowest price.
For accommodation, I use Booking.com.
Traveling to remote places is easier with Discover Cars. Other times, I join organized tours with GetYourGuide, which features anything from cooking lessons to airport transfer!
COMING TO CRETE SOON?
Get in touch and let me know!
Read more:
Beyond Stunning Airbnbs in Santorini to Check Before your Trip
The Most Fabulous Things to Do in Santorini
Essential Things to Do in Santorini in One Day
Where to Take the Best Pictures in Santorini: Photography Guide
Wine Tasting in Santorini and Wine Museum Tour
Pin This Super Helpful Santorini Travel Guide For Your Adventures in Greece!
About the author of this blog: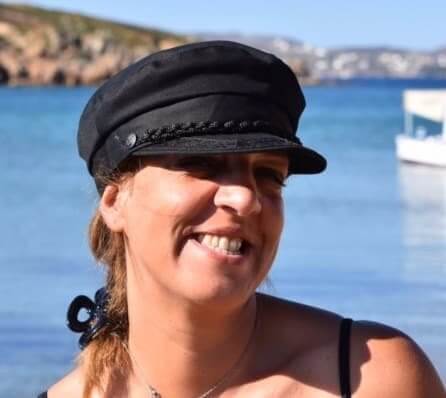 Gabi has been living in Crete for the last five years. Here, she juggles being a solo mom, hosting culinary tours in the summer, translating, and writing for The Tiny Book and her other blogs.
She's written for Greek Reporter, published three travel guides about Greece, and had more glasses of frappe than any regular person would be able to handle.
---
You might also want to read:
---