For many, the best time to visit Thassos is June or September. Although the island has much to offer in all seasons, it all boils down to personal preferences. This article describes the best time of year to visit Thassos and what to expect from Thassos weather.
---
Disclaimer: Posts include affiliate links to products or services. I might earn a commission if you make a purchase.
---
When to Visit Thassos
The island of Thassos is a green and quiet holiday destination in northern Aegean. The time you visit the island will decide how much you like the island and what you can do. However, personal taste and preferences play a role in that.
If you like exploring and being on the go, you will love late spring and early autumn for the pleasant days with just enough sunlight. On the other hand, if you cannot do without sunbathing and swimming, make sure to come between May and September.
There is no best time to visit Thassos, but there is the best time for everything. The island is alive most of the year, and you have every reason to enjoy it anytime. However, let's take a look season by season to work out the ideal time of year for your visit to Thassos.
Summer in Thassos
There is no doubt summer in Thassos makes for the busiest time of the year for locals and tourists alike.
The island is full of life. Cars create congestion or delays in the main roads, bars and restaurants are often full, beaches are crowded, and locals work long hours.
Yet, there is a reason summer is so popular among tourists. For one, the weather is stable and hot enough for sunbathing, snorkeling, or endless swimming at the best beaches on Thassos.
Stores, hotels, and bars are all open for the season. There is no comparison in how much you can do between summer and winter.
After all, Thassos is predominantly a summer destination. Ferry connections with the mainland quadruple during summer, pensioners return to their summer houses while locals never cease to organize events and ceremonies of any kind.
PLANNING A LAST-MINUTE TRIP TO GREECE?
Be sure to book accommodation and tours in Greece ahead of time to ensure availability!
🛥️ Book ferry tickets with Ferryhopper.
🛌 Find hotel deals on Booking.com.
🚘 Compare car rental prices with Discover Cars.
💳 In need of money? Use WISE as a digital card and top-up from the app.
Thassos Weather during Summer
The main reason you want to visit Thasos in summer is the weather. Because the island is in the northern part of the country, it is one of the Greek islands with the mildest summers.
Although it can still go as high as 35 degrees almost daily, you will not experience the unprecedented heat of southern Greece.
Although not recommended, it won't be much of a struggle to go for a walk in the market at noon, when the sun is at its highest. That would be unthinkable in other parts of Greece, where the sun is a bit too much to bear.
Of course, the best time to take a stroll would be in the evening, when the temperature remains pleasant until early morning.
However, What you will appreciate the most about summer is that you do not need to look into the weather forecast anymore. You know what to expect, and this does not change. The days are almost identical to each other. Clouds are a rare, although welcoming, phenomenon. The sun will be the only constant, and you will love it.
🛌 Suggested Accommodation in Thassos
Thassos in Winter
Whatever you think or know about the island in summer, it does not apply in winter.
Thassos is an entirely different island during the colder months of the year. Forget about congestion and crowds; life now is slow and quiet. Yet, still captivating and worth discovering.
Although most stores, bars, and taverns are closed, there are places to visit, mainly in Limenas and Limenaria. These two largest settlements of the island are the meeting points for the youth and those up for shopping.
Locals in winter have all the free time in the world. And this could not be otherwise as the local economy revolves around tourism.
Although there are a few agricultural tasks, such as olive harvesting and gardening, winter for Thassians is the time to relax and recharge their batteries. Read more about Thassos in winter here.
Thassos Winter Weather
Winter in Thassos is windy and chilly, although dry enough for outdoor activities. You need a warm jacket to move around, even during sunlight. And the temperatures at night drop even further, sometimes below zero degrees.
Yes, there can be snow in Thassos, and there has been some almost every year. And that did not only happen to the mountains but also right by the sea. Imagine golden sandy beaches turning into snow-capped fields. That is a reality all too often in winterly Thassos.
Because of the cold weather, most locals prefer to sit at home, read, watch TV, and have fun with their family and friends. In every village you visit, you will notice smoke coming out of almost every house. That makes for a picturesque setting if you happen to be at a viewpoint.
Thassos in Spring
For any nature enthusiasts out there, you will fall in love with the spring season in Thassos. Everything blossoms, the temperatures rise, and days are longer. There is no better time to explore the mountains and hidden sights of Thassos.
Whether it is climbing, hiking, or mountain biking, there are hundreds of places to be and discover during spring. Although surrounded by lush vegetation, the paths have remained open thanks to local wild goats, which would be the animal you will see around most often, next to sheep and rabbits.
Most importantly, the island in spring becomes more and more alive after the relative hibernation of the winter months. Bars and taverns start to open, renovations happen, and locals prepare for yet another hectic summer season.
Thassos in Autumn
After the peak of the summer in August, the island turns to an in-between phase, when activities slow down while a few tourists are still around.
This is, for some, the best time to visit Thasos, especially if you are after making the most of your budget with inexpensive accommodation.
What you will love the most about autumn is that the sea remains warm enough for swimming. Even in late October, you won't regret diving into the water on a sunny day. Compare that with spring when sea temperature is still low.
When it comes to weather, expect autumn to be wetter than summer and spring. Rains are frequent, coming either as storms in early autumn or in week-long formats in November. Despite that, you will have the chance to enjoy several clear-sky and sunny days during autumn as well.
The Best Time to Visit for Cheap Holidays in Thassos
If you are looking to get the best value for money during a holiday in Thassos, make sure to avoid coming here in summer. In particular, give August a complete miss. Prices on the island, especially in accommodation, soar in August.
Because of the school holidays, several families and vacationers do not have any choice other than to visit Thassos in July and August. And since the weather in Thassos is phenomenal during these months, the island is crowded with tourists. That is another reason to avoid visiting Thassos in July or August.
For budget-friendly holidays in Thassos, aim to visit during the shoulder seasons. After Easter break, usually at the end of April, until mid-June is one of the best times to save a lot for your visit to Thassos. Alternatively, come here between mid-September to the end of October. Your wallet and bank balance will thank you.
Best Time for Swimming in Thassos
The best time for swimming in Thassos is no other than September. The sea is at its warmest while the weather outside is still pleasant but without the excessive heat waves of the summer. That makes for a great time on the beach, sunbathing, snorkeling, or swimming all day.
If you also factor in the lighter winds and calmer waters, you have all you wish for an unforgettable beach holiday. And remember that September is the time of the year that the island starts to become empty after the holiday-makers make their way home for work or school.
Although September is undoubtedly the best month for swimming in Thassos, there is always time for a quick dive and bath in the Aegean. July and August feature the warmest sea temperature, while June makes for a great snorkeling experience, although in colder waters.
And if you are a winter swimmer, you will love the calm waters with no currents all year around.
So, What's the Best Time to Visit Thassos?
All in all, there seems to be one month during the year that has it all. Pleasant weather, warm sea temperature, fewer crowds, open stores, and better prices. All packed in the month of September.
And more often than not, the weather of September drags until early October, especially in the absence of rains. Anything after that, and the winter starts to show its signs. However, a few tourists, mostly pensioners, remain on the island and do not leave until November.
If September is not a suitable option for you, consider visiting Thassos in spring, just before the summer season starts. May or even April are great months to discover the island and its mountains. Although the waters are still cold, nature is at its best.
In short, no matter the time of your visit, you have every reason to fall in love with the island. Choose your accommodation, rent a car, and let the magic of the island fascinate you.
Featured author: this article is part of the extensive Thassos Island Series, written and curated by our Thassian writer, Dimitrios Tsevremes.
---
So, now that you know everything about Thassos weather, when are you visiting?
Let me know in the comments below!
---
This Belongs to a Board! Pin This Guide to the Best Time to Visit Thassos, Greece!
---
Written by Dimitrios Tsevremes
Passionate about travel, spirituality, and sports, I have lived in 5 countries and traveled to more places than I have counted. Writing, for me, is a way to express myself and my creativity. Whether I write for my blog or a freelancing gig, I always fall in love with the process and often lose my sense of time. If you want, you can check out more about me and my work here.
You might also want to read:
---
About my blog: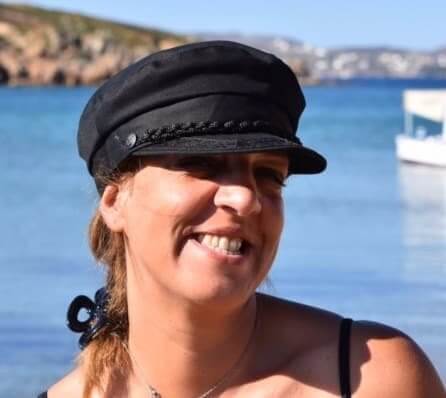 I moved to Crete in 2016. During these years, I learned much about the island.
In Crete, I juggle being a solo mom, hosting culinary tours, and writing for several travel media.
I've written for Greek Reporter, published travel guides about Greece, co-authored DK Eyewitness Top 10 Crete, and had more glasses of frappe than any regular person could ever handle.