Wondering what Easter in Greece looks like? How Greeks celebrate Easter is loud and delicious. Easter is perhaps the most favorite holiday for Greeks. Why? Two simple reasons, and a more complex one. The first one is, of course, food. The second is the festivity. The third is linked to religion which has brought about many customs and ceremonies that the Greeks kept alive. If you visit Greece during Orthodox Easter you are sure to eat well, be part of an incredible all-day feast, and get to experience some moving traditions, regardless of which Greek destination you choose. Let's delve a little deeper into everything you need to know about Easter in Greece.
---
Disclaimer: Posts include affiliate links leading you to products or services, I might earn a small commission if you make a purchase. This has no extra cost to you but allows me to continue writing articles that are helpful for your travels. I only recommend things I use myself or that I believe will deliver value to you. 
---
Easter in Greece
In this article, I bring you some essential information you need to know if you're planning to spend Easter in Greece, take a look
Last-minute plans for Greece?
Get there: Use Ferryhopper to book your tickets.
Stay: Find great accommodation deals on Booking.com.
Move around: Compare car rental prices with Discover Cars.
Tours: Check the most popular places with GetYourGuide.
Read more: Pack the Lonely Planet Guide to Greece or get a copy of my digital guide to Santorini.
Greek Easter: Traditional Food and Treats
Meat is back on the menu, and since Greeks are big meat lovers, this is a fact to celebrate in itself. A gradual fasting period begins 40 days before Easter, starting on Clean Monday, which is spiritually symbolic.
The purpose of fasting is to cleanse the body (and mind) of toxins. It is a way of paying reverence to the Passions of Christ. Following his Resurrection, everyone enjoys homemade goodies.
It is typical for Greek households to bake Easter cookies, known as koulourakia, and a sweet, milk bread called tsoureki while places like Corfu will have their take on these Easter classics.
For example, their tsoureki is called fogatsa and adds their local kumquat fruit into the mix.
Looking for a place to stay in Corfu during Easter? Check these awesome Airbnbs in Corfu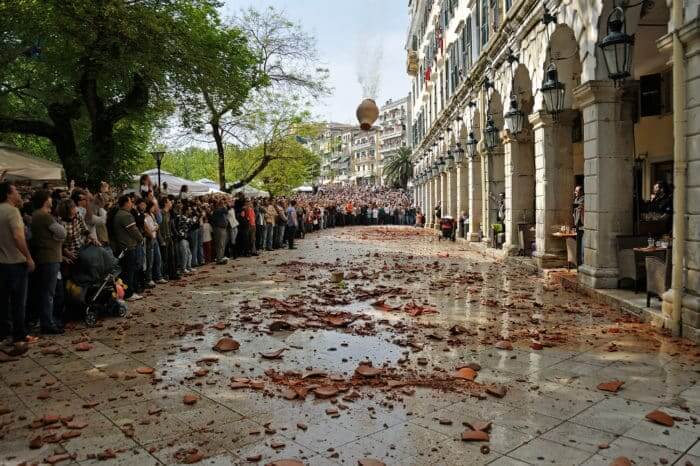 During the Holy Week before Easter Sunday, locals dye hard-boiled eggs, symbolizing the blood of Christ.
Each family member receives one of these at the Resurrection dinner, where a special tripe soup, the magiritsa, is the dish of the hour. And cracking the egg begins.
However, Easter Sunday is when a proper feast is in order. The kokoretsi, a gyros kind of meat delicacy, is crackling over the fire. As is the customary lamb, both on a spit, roasted for many.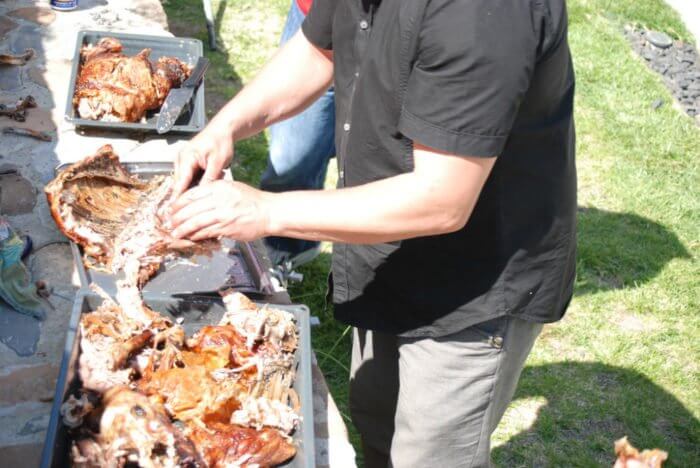 Accompanied by dips of many kinds, meze such as slices of the Easter eggs. There are cold cuts, cheese, olives, tomatoes, and rusks.
Not forgetting the legendary tzatziki that goes so well with meat treats, smoked eggplant dip, and various salads. In Crete, it is usual to taste the local twisted pasta called sioufichta.
As are delicious pies of all kinds, both vegetarian versions, and ones that also include a little bit of meat. 
Customs and Traditions in Greece during Easter
Easter is the ultimate Springtime highlight. Essentially a great opportunity to combine great Greek food with great Greek weather. It is also the perfect excuse to do what Greeks do best: Have a feast of epic proportions!
The Sunday feast takes place on an outdoor table and it involves a fair amount of alcohol.
Plenty of wine and ouzo or tsipouro. Whenever Greeks get around a table and say yia mas (cheers) what happens is the word is kefi (joy, spirit, passion, happiness – no English word can convince the meaning).
As Greeks like to feel united in merriment, they often celebrate in tavernas where strangers end up as friends. One great example is the Easter Sunday feast on Paros. 
Paros is renowned for its vibrant Easter feast in the village of Naoussa and its main square right on the harbor. Here, four tavernas meet, and on Easter Sunday the square becomes one huge eating, drinking, and dancing festival.
You might also want to read: Easter in Santorini.
Greek Easter: Festivities and Ceremonies All Over the Country!
The Cyclades take Easter quite seriously. Santorini has one truly impressive Easter custom in Pyrgos village.

Pyrgos is one of the less-known towns of Santorini, during Easter, it takes on a leading role. The entire town is illuminated with torches on Good Friday, creating a true spectacle to behold.
Looking for a place to stay in Santorini during Easter? Hotels sell too fast! Check the best Airbnbs in Santorini.
In the Chora of Folegandros, each household is open from Good Friday onwards. It is a way of accepting the litany of the Epitaph as it makes its way throughout the island.
On Easter Tuesday, the blessed icon of the Virgin Mary is taken aboard every fishing boat in Karavostassis.
Easter customs in the Ionian also change from place to place. For example, in Zakynthos, the Good Friday litany is quite low-key, different from other Greek destinations.
The Epitaph takes place early in the morning of Holy Saturday. It has no flowers, it is quite plain and frugal, symbolizing the overbearing loss that has no room for colors.
In Corfu, however, everything has a flamboyant note. The philharmonic orchestra follows the Epitaph.
On Holy Saturday at 11 am, people throw jugs of water from the balconies of Liston, making for a truly thrilling display of excitement.               
If the above is all Greek to you, then you have not experienced a Greek Easter. Put it on your bucket list!
---
Would you like to experience Easter in Greece?
Let me know in the comments below!
You might also want to read these articles:
Things to Do in Mykonos: Visit the Windmills
Where to go for the next summer holidays
The Most Amazing Greek Destinations to Visit All Year Round
Genius Itinerary to Spend 3 Great Days in Athens
Insanely Practical Tips to Plan a Trip to Crete
Pin this Guide to Spending Easter in Greece for Your Next Easter Break!
About the author of this blog: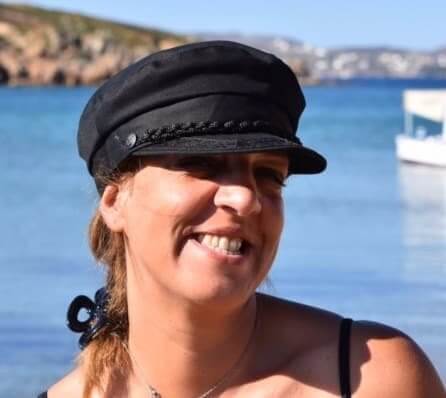 Gabi has been living in Crete for the last five years. Here, she juggles being a solo mom, hosting culinary tours in the summer, translating, and writing for The Tiny Book and her other blogs.
She's written for Greek Reporter, published three travel guides about Greece, and had more glasses of frappe than any regular person would be able to handle.
---
COMING TO CRETE SOON?
Get in touch and let me know!