How Greeks celebrate Easter is definitely loud and delicious. Easter is perhaps the most favorite holiday for Greeks. Why? Two simple reasons, and a more complex one. The first one is, of course, food. The second is the festivity. The third is linked to religion that has brought about many customs and ceremonies that the Greeks kept alive. If you visit Greece during the Orthodox Easter you are sure to eat well, be part of an incredible all-day feast, and get to experience some moving traditions, regardless of which Greek destination you choose. Let's delve a little deeper into how Greeks celebrate Easter.
Easter food and treats
Meat is back on the menu, and since Greeks are big meat lovers, this is a fact to celebrate in itself. A gradual fasting period begins 40 days before Easter, starting on Clean Monday, which is spiritually symbolic.
The purpose of fasting is to cleanse the body (and mind) of toxins. It a way of paying reverence to the Passions of Christ. Following his Resurrection, everyone enjoys homemade goodies.
It is typical for Greek households to bake Easter cookies, known as koulourakia, and a sweet, milk bread called tsoureki while places like Corfu, home to our favorite Mayor Hotels, will have their own take on these Easter classics. For example, their tsoureki is called fogatsa and adds their local kumquat fruit into the mix.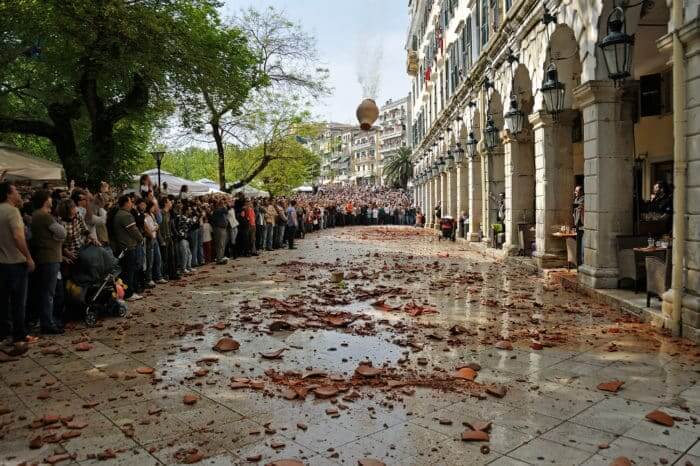 During the Holy Week before Easter Sunday, locals dye hard-boiled eggs in, symbolizing the blood of Christ. Each family member receives one of these on the Resurrection dinner, where a special tripe soup, the magiritsa, is the dish of the hour. And cracking the egg begins.
However, on Easter Sunday is when a proper feast is in order. The kokoretsi, a gyros kind of meat delicacy, is crackling over the fire. As is the customary lamb, both on a spit, roasted for many. Accompanied by dips of many kinds, meze such as slices of the Easter eggs. There are cold cuts, cheese, olives, tomatoes, and rusks.
Not forgetting the legendary tzatziki that goes so well with meat treats, smoked eggplant dip, and various salads. In Crete, it is usual to taste the local twisted pasta called sioufichta. As are delicious pies of all kinds, both vegetarian versions, and ones that also include a little bit of meat.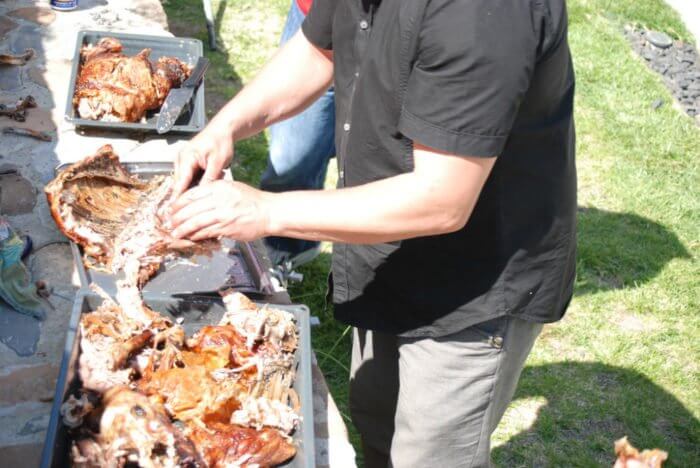 Easter customs and traditions
Easter is the ultimate Springtime highlight. Essentially a great opportunity to combine great Greek food with great Greek weather. It is also the perfect excuse to do what Greeks do best: Have a feast of epic proportions!
The Sunday feast takes place on an outdoor table and it involves a fair amount of alcohol. Plenty of wine and ouzo or tsipouro. Whenever Greeks get around a table and say yia mas (cheers) what happens is the word is kefi (joy, spirit, passion, happiness – no English word can convince the meaning).
As Greeks like to feel united in merriment, they often celebrate in tavernas where strangers end up as friends. One great example is the Easter Sunday feast on Paros. Home to the family-friendly hotel in Parasporos, Minois Village Hotel Suites & Spa. Paros is renowned for its vibrant Easter feast in the village of Naoussa and its main square right on the harbor. Here, four tavernas meet, and on Easter Sunday the square becomes a huge eating, drinking and dancing festival.
Easter Festivities and Ceremonies
The Cyclades take Easter quite seriously, Santorini, where Art Maisons hotel is situated, has one truly impressive Easter custom in Pyrgos village. Pyrgos is one of the less-known towns of Santorini, during Easter, it takes on a leading role. The entire town is illuminated with torches on Good Friday, creating a true spectacle to behold.
In the Chora of Folegandros, each household is literally open from Good Friday onwards. It is a way of accepting the litany of the Epitaph as it makes its way throughout the island. On Easter Tuesday, the blessed icon of the Virgin Mary is taken aboard every fishing boat in Karavostassis, home to Anemi Hotel.
Easter customs in the Ionian also change from place to place. For example, in Zakynthos, the Good Friday litany is quite a low key, different from other Greek destinations. The Epitaph takes place early in the morning of Holy Saturday. It has no in flowers, it is quite plain and frugal, symbolizing the overbearing loss that has no room for colors.
In Corfu, however, everything has a flamboyant note. The philharmonic orchestra follows the Epitaph. On Holy Saturday at 11 am, people throw jugs of water from the balconies of Liston, making for a truly thrilling display of excitement.

If the above is all Greek to you, then you have clearly not experienced a Greek Easter. Put it on your bucket list!
Contribution Post – About the Author
Helen Marie Joyce is an SEO and Creative Copywriter. She is a Greek-American with a British education, having lived in both Greece and the UK. She specializes in travel and destination marketing in Greece. Having traveled within Greece and abroad, she has gained many priceless experiences.
Discovering new cultures and interesting microcultures, visuals that will remain etched in the mind for years to come, and gastronomy that has now been associated with indelible memories.
She has visited many countries the majority of which in Europe, also including Asia, Africa, and the States. During each journey, she has mentally collated a myriad of images and a plethora of information, only to reinforce her travel addiction. The more you do it, the more you want it! Admittedly, she has the …travel bug.
She has a passion for writing to express her feelings, thoughts, and reflections, as well as to convey, as vividly as possible, pictures made of words, of the places she considers worth visiting.