Crete is believed to be a summer destination. A land of paradisiac beaches, permanent sunshine, and endless summer nights. Let me dispel this myth. In this article, I will show you that there's more to Crete than just a sunbed by the sea, summer cocktails, and beach adventures. Discover with me how many amazing things you can do during winter in Crete.
---
This site contains affiliate links to products and services. I may receive a commission for purchases made through these links.
---
Things to Know About Winter in Crete
Winter in Crete starts very rapidly. One day you are still in shorts and t-shirts, and the very next day you can already be wearing a winter coat. But don't forget that to the Greek understanding, winter is when the temperature is lower than +20°C. Yes, no kidding!
That's why, starting from November, when the thermometer shows +19°C, people already wish each other Καλό χειμώνα! (Kalo xim'ona) – which means Have a good winter!
This is also the time when most of the tourist establishments, like hotels, restaurants, beach bars, and souvenir shops, are closing until spring.
Therefore, in some parts of the main Cretan cities, you can even get a feeling of desolation. Worry not! Just head to the main streets, you will see that they're full of life.
>>Discover the best areas to stay in Crete<<
Another interesting fact is that during the winter months, the island starts to… blossom! What about fresh green grass in December? Or trees full of lemons, oranges, and pomegranates?
And what would you say about fragrant flowers and lush trees surrounded by butterflies and bees in January or February? All this is happening in Crete!
Weather Forecast for Winter in Crete
Winter in Crete is also a time of storms and rains. But even though some storms can be really heavy, they don't last long, and most of the time you can enjoy soft sunny days a few hours after.
The temperature usually doesn't go lower than +10. But here is a thing: Don't trust the thermometer. Because of the high humidity, it often feels much colder during winter. So, be sure to have warm clothes in your luggage.  
Keep in mind that in the mountains the temperature is lower than by the sea. Plus, while along the coast it might be raining, up in the mountains it will be snowing (usually from January). Yes, we have snow. And sometimes really a lot of snow! 
As you see, Crete in winter is an island of contrast. One day you have a crazy storm with thunder and lightning, and the very next day it's so warm and sunny that you can drink your coffee at the seaside, or even have a swim.
Drive just for an hour up to the mountains and you'll be playing with snowballs.  
Now that we finish with this little weather overview, let's move on to the tasty part, what you can do in winter in Crete!
Top Things to Do in Crete in Winter
These are some of the best things to do in Crete in Winter, in no particular order…
Visit Archeological Sites and Museums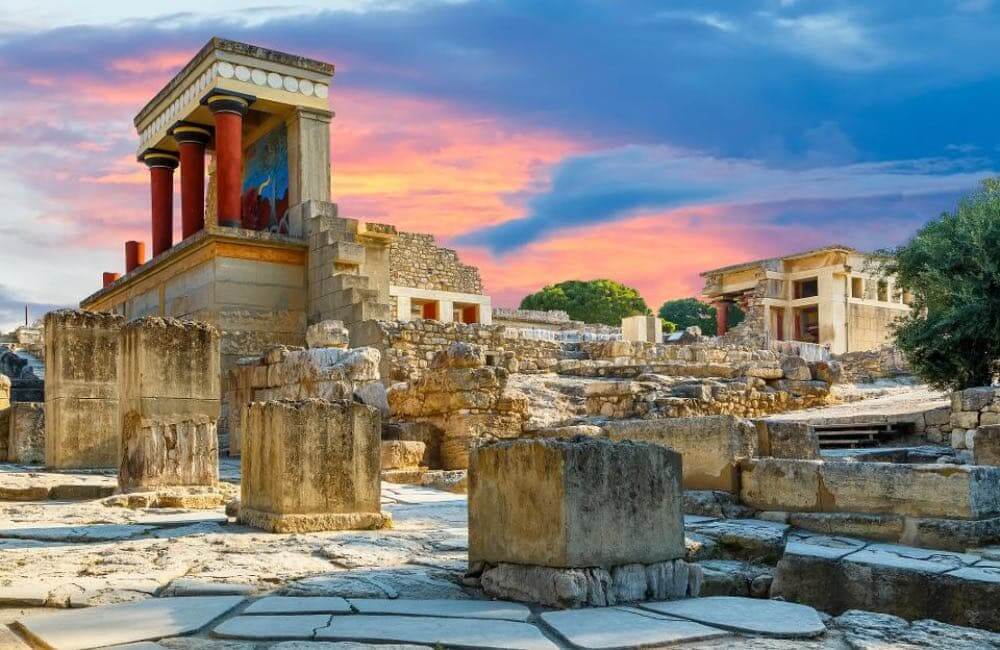 Probably the biggest advantage of the winter months in Crete is that you can visit archeological sites and museums without lines and crowds of tourists.
Plus, the prices for the admission tickets are lower, and you can get some pleasant compliments, like a free tour around the place (in case you are alone in some small museum), or a free souvenir (like a set of postcards).
And a cherry on the cake! Every first Sunday from November 1st till March 31st most of the archeological sites and museums in Crete offer a free entrance (and this happens also all over Greece)!
Want to explore more?
>>Discover the beautiful monasteries on the island<<
Discover the Main Cities of Crete
Winter is a perfect time for long walks around the cities. When you are not melting from the heat and the streets are empty from the crowds, you can truly enjoy the place!
Heraklion in Winter
As the capital city of Crete, even during winter, Heraklion is busy. Of course, most of the tourist shops are closed, but this is what makes Crete in winter so differently interesting. Besides, the area around the Morosini Fountain is as lively as it can be during any season.
And if you follow the main shopping street of 25th August, you will have a great choice of local coffee shops to enjoy your hot drink in the open, comfortably sitting next to the cozy heaters.
Stroll down till the port, admiring the architecture and the historical landmarks. Pay a visit to the numerous museums or have a relaxing walk along the seaside.
Another bustling place to come around is Plateia Eleftherias (Freedom Square). It's not far from the Heraklion Archeological Museum and it can be a nice spot for a coffee break.
>>Tops rental homes in Heraklion<<
Rethymnon in Winter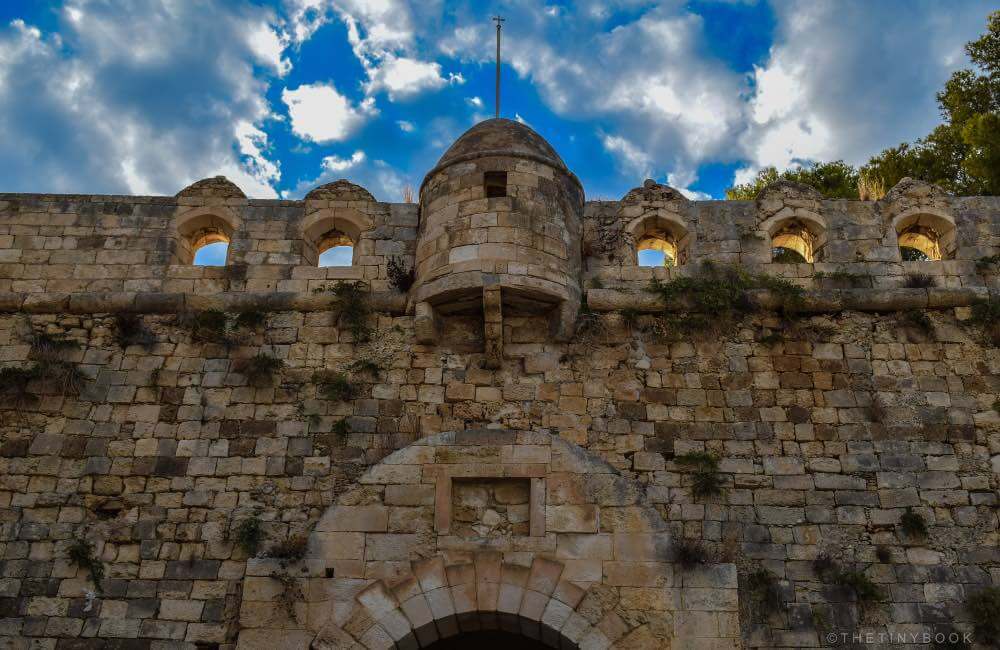 As you arrive in Rethymnon city, check out its center with great lively coffee shops, a lovely park, and of course, the streets of the Old Town. Even though in the Old Town most of the restaurants and souvenir shops are closed, you can still find some friendly open-door places here and there.
The main shopping street, Arkadiou, is fully operational, here you can indulge in some fabulous shopping for winter collections.
The coffee shops on Eleftherios Venizelos street are also delighted to welcome you with food and selected drinks. Visit the museums and don't forget to climb up the Fortezza.
Walk along the empty beachside promenade. Enjoy a cup of hot cocoa in Nuvel, one of the few open coffee shops in the Venetian Harbor, admiring the view over Rethymnon city and the Psiloritis covered with snow. 
>>Check the best things you can do in Rethymnon at night<<
Chania in Winter
Chania is wonderful at any time of the year. Just walk through the colorful rain-washed streets of the Old Town, visit the numerous art galleries or museums, and you will experience something truly magical.
Follow the smell of fresh pastry and discover local small bakeries that can please you with some hot traditional pies. Don't miss the opportunity to wander through the Agora – the fantastic covered market, where you can try local specialties, like homemade olive oil or fresh fruits and vegetables.
The market is open all year round and sells only fresh and seasonal local products. There are also many coffee shops and taverns in winter. And they're always ready to welcome you with their best food and drinks!
To end your Chania experience with charm, enjoy a walk along the majestic Venetian Harbor, with no doubt a must-see, even on a stormy day.
Planning a stay in Chania?
>>Check the best places to stay in town<<
Agios Nikolaos in Cold Weather
If you seek solitude, then Agios Nikolaos is a perfect destination for you. During winter, it's so silent and empty that you will have the privilege to uncover the beauty of the small town in private.
Tour around the charming Voulismeni Lake and continue along the seaside. Go uphill and search for Migomis Piano Restaurant, one of the only spots open in winter.
It's a popular spot all year round, but in winter only the café part is available. With an incredible view over the lake, the place is unquestionably worth a visit. 
Is Agios Nikolaos in your itinerary?
>>Check the best home rentals in the area<<
Beach Time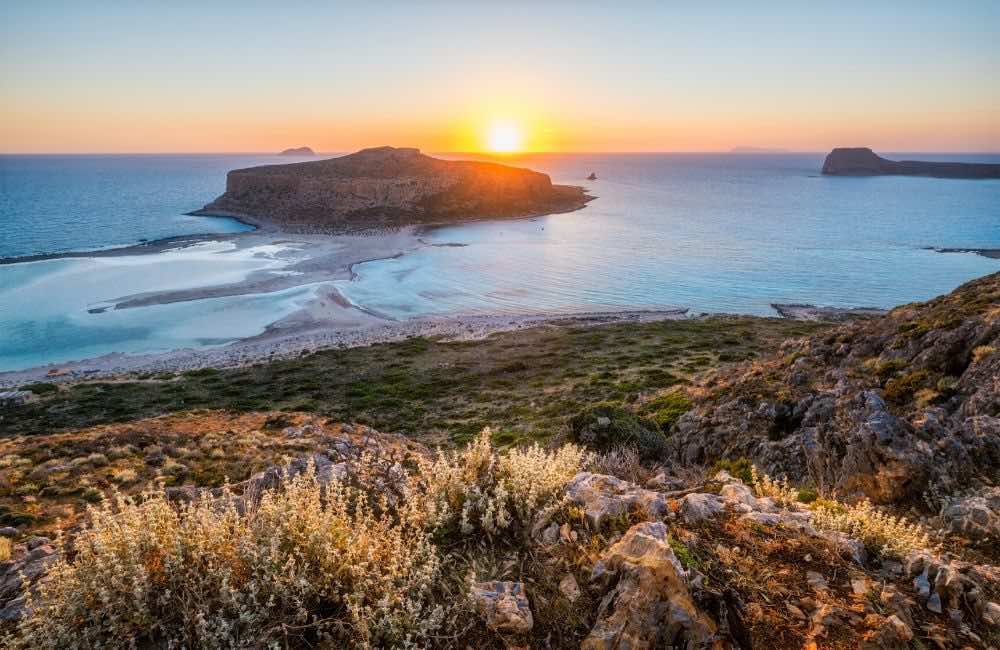 Try a peaceful walk along the Cretan beaches and have completely redefined the expression beach time!
When there are not so many people on the beaches, they seem endless, and wherever you go, it's just you and the sea! Don't hesitate to visit a beach and during stormy weather as you will be thrilled by the power of the sea.
If there are any sunny days in a row, you should try the sea temperature. And you can be pleasantly surprised! Actually, throughout all of November, people are still swimming.
From December till March the sea temperature ranges between +15 and +17°C. But even during these months, some people keep suntanning and swimming.
Let it Snow!
As I've mentioned before, during winter, the mountains are covered with snow, as well as many mountain villages. But sometimes it snows even by the sea in Crete. Can you imagine, beach, sea, and palms covered with snow?
In case you are not lucky to witness such phenomena, don't be upset. If the snow is not coming to you, then you can go to the snow!
For this, you need to rent a car, preferably a nice SUV or a Jeep, because your port of call lies up to the mountains.
There are few locations, more or less accessible, that can be reached within a 1-3 hours drive, depending on where you're staying. You can choose villages such as Zoniana or Anogia in the Rethymnon region.
These villages are on the slopes of the Psiloritis mountain, the highest summit on Crete.
Honestly speaking, these two villages are worth a visit anytime of the year. But in winter they're something special! All those narrow streets are covered with snow, the smoke from the numerous chimneys rises in the crystal-clear sky. Unforgettable picture!
Another great place to search for snowdrifts is the Samaria Gorge in the region of Chania. Of course, only the area of Xyloskalo (the entrance to the gorge) will be available for access but believe me, there will be enough snow for everyone. Driving the way there, through the Omalos Plateau can be more than stunning.
In the area, the height of the snow sometimes reaches up to 3 meters! After having fun, warm up at Xyloskalo café-restaurant with a cup of traditional Cretan mountain tea. This restaurant offers a breathtaking view of the White Mountains and is open all year round.
On your way back, stay some time in the village of Omalos that is next to Samaria. This lovely village in winter looks like coming right out of a Christmas postcard – everything is caped with snow… green pine trees dressed in white make you hear Jingle Bells!
It's That Time of the Year!
If you choose to come to Crete during Christmas days, then expect to spend one of the most amazing Christmas holidays ever! For Greeks, Christmas is among the most important celebrations of the year.
It's a time for family gatherings, great dinners, and total fun everywhere. All the streets are beautifully decorated and illuminated.
Groups of children go from door to door singing old Greek Christmas carols accompanied by popular musical instruments such as the triangle (which locals call trigono). The atmosphere is magical! 
Each city has to offer some amazing things for you to spend a super cheerful time.
In Heraklion, pay a visit to Plateia Eleftheria. Here you can find a Christmas market with small kiosks offering sweets, hot wine, and local delicacies. Also, there is a small tent with a live band playing in the evenings.
In Rethymnon, Mikrasiaton Square is beautifully transformed into a Christmas city with Santa's workshop, exhibitions, and other interesting Christmas activities to take part in.
Santa Run in Chania
If you are in Chania, don't miss to pass by Main Market Square with its Christmas lights and wooden houses offering some Christmas specialties.
In the port, close to the Mosque of the Janissaries, you can take a picture next to the Christmas karavaki, the small traditional boat that characterizes Christmas in Greece.
Want more action? Then take part in the Chania Santa Run marathon on the 26th of December, when thousands of people dressed as Christmas elves or Santas take part in a huge solidarity marathon, and then wander the streets of Chania until really late at night.
Check the nearest sweets shop or bakery for the traditional Greek Christmas sweets, like Melomakarona (cookies with nuts dipped in syrup) or Kourabiedes (sugared cookies with nuts inside).
The CreAquarium in December… and More!
For a more extraordinary experience, go to CretAquarium on the 26th of December, where you can witness how Santa Claus rides his slay together with a mermaid under the water! Besides that, there are a lot of amusing activities for children, like theater performances or carol singing. 
One of the most unusual things you can do in Crete during Christmas is to go to The Cave of Marathokefalas, a place where Saint John the Hermit (Agios Ioannis Xenos) lived.
On Christmas Eve the Hierarchical Divine Liturgy is held, and later the representation of Jesus Christ's birth is played with actual animals. You can't describe with words how atmospheric and spiritual this evening can be! 
Get in a Carnival Mood!
The Carnival of Rethymnon is one of the biggest and no doubt one of the most fun celebrations of the year! Starting from the end of January until the first days of March, different activities, like treasure hunts, costume parties, and concerts, are held in various parts of the city.
During these months, people prepare for the Grand Parade, which is run on the last Sunday before the Great Fast.
The Grand Carnival Parade is worth taking part in. From early in the morning, thousands of people in the most unbelievable costumes gather on the streets of Rethymnon. The parade features groups of people that wear handmade costumes with a theme in common.
On your way, you'll meet Vikings and fairies, pirates and cavemen, ninja turtles and supermen, and much more! Everybody dances or throws confetti, and blows all kinds of horns and whistles! Don't forget the rhythmic music that plays so loud that can be heard from every corner in town. This is truly an incredible experience! 
Well, did I manage to convince you that Crete in winter offers lots of fun? Then don't hesitate next time if you see a great winter deal, grab it and have one of the most fascinating winter holidays on Crete!
---
Have you ever been to Crete in Winter?
Let me know in the comments below!
---
Travel Plans for Crete?
More Resources to Organize Your Trip!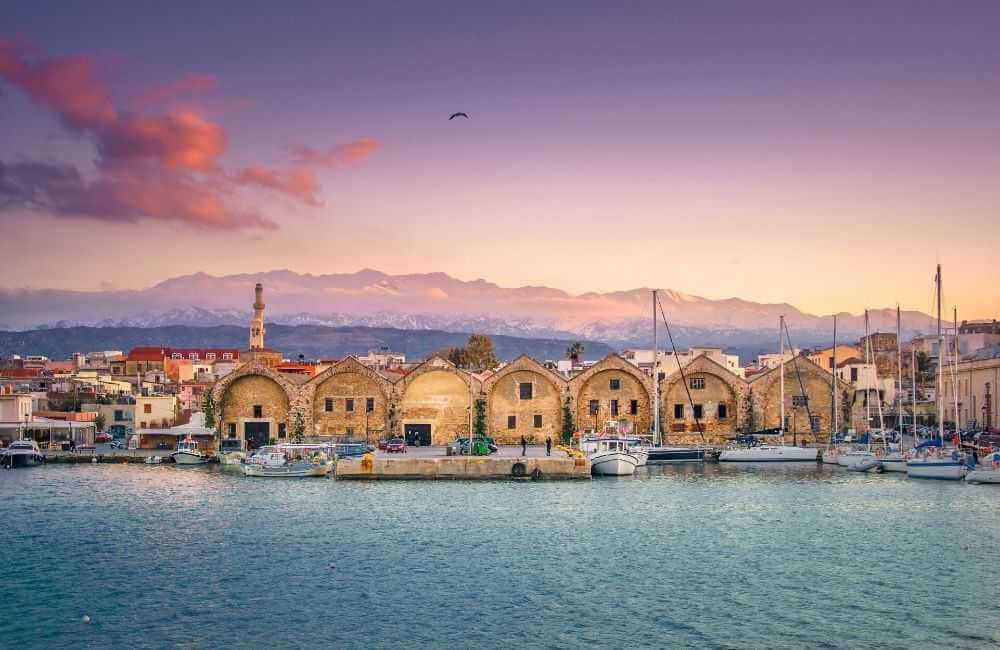 Start by heading right to my tips to plan a trip to Crete for in-depth details you need to know about Greece. You can also check my post to better know what to pack for a trip to the island or read this info to visit Crete with children!
Get in touch if you need extra help to plan your trip. If you want to tour West Crete, check my guide. Want more? Join my Private Facebook Group to connect with like-minded travelers who love Crete as much as you do!
Make Sure You've Got Everything For a Hassle-Free Vacation!
I never move around the islands without my Osprey backpack, a sturdy but light travel partner I just love. For short trips, I carry this little crossbody bag. If I drive, I pack my Nikon D7200 and a good travel guide: Lonely Planet's Best of Greece & the Greek Islands.
When it comes to plane tickets, compare prices with a powerful search engine. However, nothing beats traveling by sea in Greece. With Ferry Hopper, you can book in advance at the lowest price.
For accommodation, I use Booking.com. Traveling to remote places is easier with Discover Cars. Other times, I join organized tours with GetYourGuide, which features anything from cooking lessons to airport transfer!
Are you coming to Crete any time soon?
Get in touch and let me know!
Read more:
Magical Things to Do in Paleochora, Crete
Day Trip to Chrissi Island, Crete: Super Guide to Visit
The Most Beautiful Holiday Homes in Elafonisi, Crete
Comfortable Airbnbs and Rental Homes in Heraklion
How to Plan a Fabulous Road Trip in Crete
Pin These Great Things to Do in Crete in Winter for Your Next Trip to Greece!
About the author of this blog: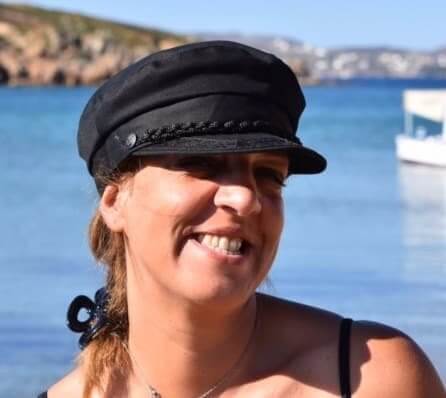 Gabi has been living in Crete for the last five years. Here, she juggles being a solo mom, hosting culinary tours in the summer, translating, and working as a tech advisor.
She's written for Greek Reporter, published two travel guides about Greece, and had more glasses of frappe than any regular person would be able to handle.
---
You might also want to read:
---