If you are in Thassos, consider yourself lucky. You can do hundreds of things which will make your holidays unforgettable.
You should consider some activities that make this an unforgettable destination. So read on and discover ten unmissable things to do in Thassos.
---
Disclaimer: Posts include affiliate links to products or services. I might earn a commission if you make a purchase.
---
Top Things to Do in Thassos, Greece
PLANNING A LAST-MINUTE TRIP TO GREECE?
Be sure to book accommodation and tours in Greece ahead of time to ensure availability!
🛥️ Book ferry tickets with Ferryhopper.
🛌 Find hotel deals on Booking.com.
🚘 Compare car rental prices with Discover Cars.
💳 In need of money? Use WISE as a digital card and top-up from the app.
Best Things to Do on Thassos Island During Your Holidays
Looking for inspiration for your next trip to Greece? Planning a visit to Thassos Island? Consider yourself lucky; Thassos is a fantastic destination; there are plenty of places to discover, experiences to try, and things to do in Thassos.
In this list, we have included some of our favorite ones, so read on to discover some of the best things to do in Thassos!
Walk Around the Ancient City of Limenas
Your first stop in Thassos would be its main port, Limenas, the island's capital. Surrounded by mountains, olive groves, and a forest of pine trees, it offers some of the most picturesque settings you can find in Thassos.
As the administrative and commercial center of the island, Limenas is home to a vibrant marketplace full of shops, stalls, kiosks, and even street vendors.
And when you are done shopping, your choices for a café or a bar are endless. Not to mention the lovely seaside taverns and restaurants.
Limenas is not all about its market and crowds. Its history also dates thousands of years ago.
Even while you walk around, you will often stumble upon large land plots of archaeological sites still being excavated in the middle of the town.
Swim in Crystal Clear Waters in Marble Beach
Perhaps the most popular and unique spot on the island, Marble Beach will leave you in awe of its beauty.
Marble Beach is located in a small isolated bay near the main marble excavation sites, from where it takes its name. And as you might have already guessed, it's one of the best beaches in Thassos!
If you did not know already, Thassos marble is one of the whitest in the world.
As you approach Marble Beach, you will notice that the landscape switches from the dense pine forest to a large mine with shiny white blocks of marble sitting around.
There is no way you will not love this sudden change of scenery.
The beach itself is a combination of white sand and small white pebbles. At the same time, the marble flinders at the seabed give the water its stunning emerald color, which reminds you of the tropical coast.
If you also account for the many yachts and private ships approaching the beach from the water, you will quickly find yourself filled with a sense of joy and gratitude.
Sunbathe on the Golden Sand of Paradise Beach
As the name suggests, Paradise Beach will take all your worries away and leave you in a state of bliss and awe.
You cannot do otherwise, as you are surrounded by a dense pine forest that almost touches the crystal-clear waters of the Aegean. Not to mention the small islet a few hundred meters in front of Paradise Beach.
And somewhere along its 300 meters of golden sand, you will stand in praise of your surroundings. Not far away, a bar occupies a small part of the beach.
The rest is open for everyone to set their umbrella or towels and sunbathe peacefully. Note that one corner of the beach is reserved for nudists and naturists.
When you enter the water, you will notice how clear and clean it is.
More often than not, the winds on this part of the island are strong, creating distinct waves of about half a meter, ideal for playing on the shore.
Your kids will love it. And you can sit back, enjoy the surroundings, and be in the moment. Time will fly, and you will all have fun.
Stroll Around the Traditional Village of Panagia
As much as you will love the beaches in Thasos, you do not want to skip a visit to the mountain villages on the island. Take Panagia, for example, the old capital of Thassos.
This traditional village is downstream from Mount Ipsarion and channels the mountain spring through multiple conduits and fountains.
Just walking around Panagia makes for a great experience that you will remember for a long time.
And if you are an early bird, come here during sunrise and witness how the sun appears on the horizon opposite Golden Beach.
Factor in the absolute peace of this time, and you are in for a treat.
Panagia is also famous for its taverns and traditional meat dishes. Just head to the village square, pick a restaurant, and indulge yourself in a meal similar to no other.
See the Waterfall in the Mountain Village of Theologos
On the south side of the Thassos mountains, Theologos is another old capital of Thassos, this time during the Ottoman occupation. Remember that piracy was common in the past.
As a result, Thassians preferred to live in the mountains to keep safe. That is the main reason you will find many historical settlements hidden in the view from the seaside.
The name Theologos stands for the "Word of God," and for a good reason. The landscape is spectacular.
In the middle of the village, a short path leads to a breathtaking waterfall where cold, clear water comes directly from the source into a small pool. This is the scenery you do not want to miss.
After you visit the waterfall, make sure to stroll around the traditional Macedonian-style stone houses around the village.
Follow the cobblestone paths and allow yourself to be lost in the beauty of Theologos. And when you feel like eating, turn to the village square and pick one of the many restaurants.
Hike to Mount Ipsario
If you are after an adventure, you will be glad to hear that Thassos sightseeing is not the only activity on the island. Water sports, mountain biking, and even paragliding are on the rise.
Yet, no matter how thrilling technology can be for sports tourism, nothing beats a regular hike to the top of a mountain.
Ipsario is the tallest peak of Thassos, sitting at 1204 meters from sea level. Although there's a dirt road that leads to the top, hiking is a favorite thing to do.
You can start from the mountain village of Kazaviti or even the seaside settlement of Skala Potamia, which sits in the shadow of Ipsario.
However, the most fascinating hike to Ipsario starts from the mountain village of Theologos. From there, an 8-kilometer path takes you through ever-changing scenery to the island's top.
The views you will have along the way are one of a kind. The journey can be even more rewarding than the destination. And this is how it should be while you are in Thassos.
Feel Like a Prince in La Scala Beach
If you want a break from the pristine and isolated beaches all over Thassos, make sure to spend an entire afternoon in La Skala Beach Bar. Although the beach is not as good as in other parts of the island, you won't mind at all.
This bar looks more like a beach resort than an ordinary bar. Sitting furniture, modern decoration, comfortable sunbeds, pine trees, and hammocks all combine to provide a king-like experience.
Not to mention the quality upbeat and commercial music playing all around the resort.
However, what makes you feel like a prince is no other than the service. The waiters and managers are always around the corner to cater to your every need.
Renowned chefs also work in the bar restaurant and are ready to prepare some of the best meals you will have on the island.
You can easily spend an entire day on the site and still choose to come back the next day. Even your children will love it, as a tiny pool and playground area exists.
And for the rest of the family, feel free to join one of the water sports activities organized by the bar.
Explore the History and Beauty of Aliki Archaeological Site
If you are looking for unique things to do in Thasos, consider exploring the archaeological site of Aliki, in the southern part of the island.
This small rocky peninsula was once a thriving marble quarry from where ships could immediately load large marble rocks. Sources date it as far back as the 12th century BC.
The architecture and technology used to move the marbles into the ships were ahead of their time.
You can learn all about it while walking around the site, as there are many signs with detailed text and explanations.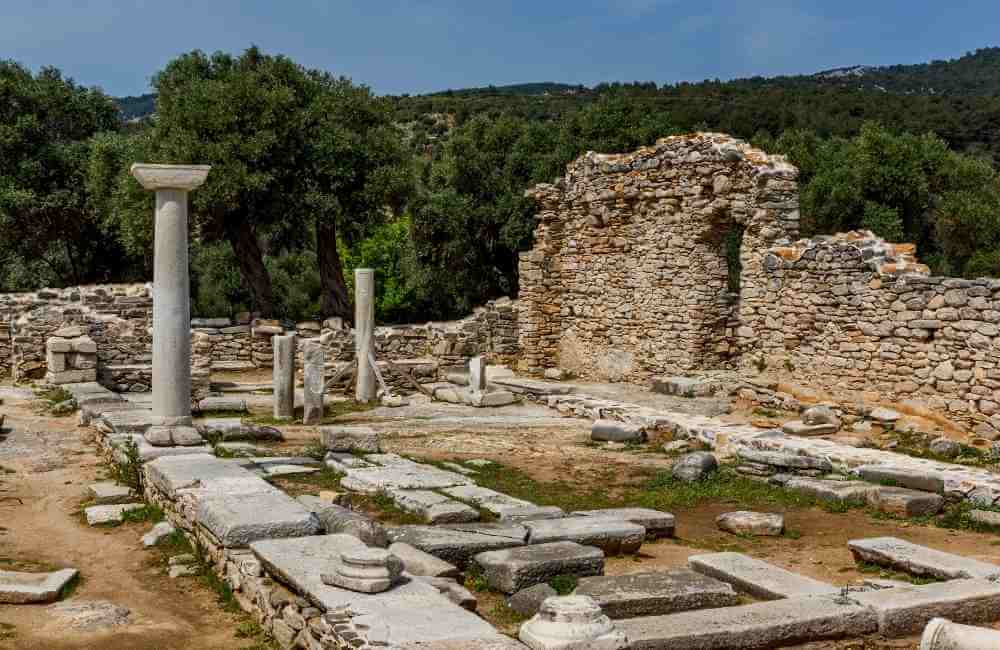 It will feel like walking around a museum without a roof but with the shadow of scattered pine trees.
As you approach the top of the peninsula, you will encounter a pair of early Christian basilicas. Sailors used to hike here after carrying the marbles to the two nearby coves that functioned as ports.
Today, one of those cloves has been transformed into a full-blown organized beach with many bars and taverns.
Get a Taste of the Archangel Michael Monastery
One of Thassos's most visited sites and attractions is the traditional monastery of Archangel Michael. Built on the side of the cliff, it will feel like it is coming straight out of a fairy tale.
You can even visit the interior and witness how old this place is.
The story of the monastery dates back to the 12th century when a hermit constructed a small church after a vision with Archangel Michael.
The monastery was founded a century later but was soon abandoned after the Ottomans took over the island.
In 1974, a group of nuns from Volos moved to the monastery and brought its past glory to life.
If you are religious or want an insight into a local religious building, then there is no way around not visiting the monastery. At the very least, you will love the view over the cliffs and into the Aegean.
Take a Snapshot of Giola
The most spectacular and photographed spot on the island is no other than the circular lagoon of Giola in southern Thassos. Greece is home to many natural pools, but none is as unique as Giola in Thassos.
This lagoon's proximity to the sea from where the water joins and exits makes it so memorable.
No matter how windy or wavy the Aegean is, Giola is always calm and invites you for a peaceful swim in an atmospheric setting.
Although the site was tough to reach, a new road, bar, and parking slot made access much easier. Just a few years ago, you had to hike for at least 30 minutes.
Now, in just under 10 minutes, you can be from the parking slot in the most instagrammable spot in Thassos.
Overall, Thassos is an island that will impress you with the number of activities you can do.
Whether you want to sunbathe on spectacular beaches, explore mountain settlements, or visit archaeological sites, Thassos is the place to go.
What other things would you like to do in Thassos?
Featured author: This article is part of the extensive Thassos Island Series, written and curated by our Thassian writer, Dimitrios Tsevremes.
Read more about Thassos
🛌 Suggested Accommodation in Thassos
Written by Dimitrios Tsevremes
Passionate about travel, spirituality, and sports, I have lived in 5 countries and traveled to more places than I have counted. Writing, for me, is a way to express myself and my creativity. Whether I write for my blog or a freelancing gig, I always fall in love with the process and often lose my sense of time. If you want, you can check out more about me and my work here.
This Belongs to a Board! Pin This Guide to the Best Things to Do in Thassos!
---
Read more about Greece:
---
About my blog: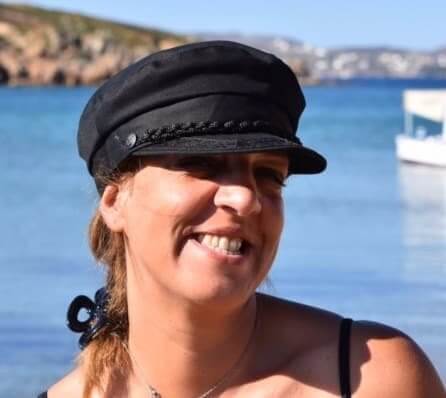 I moved to Crete in 2016. During these years, I learned much about the island.
In Crete, I juggle being a solo mom, hosting culinary tours, and writing for several travel media.
I've written for Greek Reporter, published travel guides about Greece, co-authored DK Eyewitness Top 10 Crete, and had more glasses of frappe than any regular person could ever handle.