An easy thing to do in Athens is to jump on a ferryboat and leave the chaos behind! The Saronic Gulf offers a quick relaxing break, both for Athenians and visitors. Among the many islands, one stands out: Hydra.
Book a return ticket and let the magic of Hydra carry you away to a day of marine atmosphere and stunning landscapes. Let's see what things to do in Hydra in one day!
---
Disclaimer: Posts include affiliate links to products or services. I might earn a commission if you make a purchase at no extra cost.
---
1 Day in Hydra: Full Itinerary
PLANNING A LAST-MINUTE TRIP TO GREECE?
Be sure to book accommodation and tours in Greece ahead of time to ensure availability!
🛥️ Book ferry tickets with Ferryhopper.
🛌 Find hotel deals on Booking.com.
🚘 Compare car rental prices with Discover Cars.
💳 In need of money? Use WISE as a digital card and top-up from the app.
Where to Stay in Hydra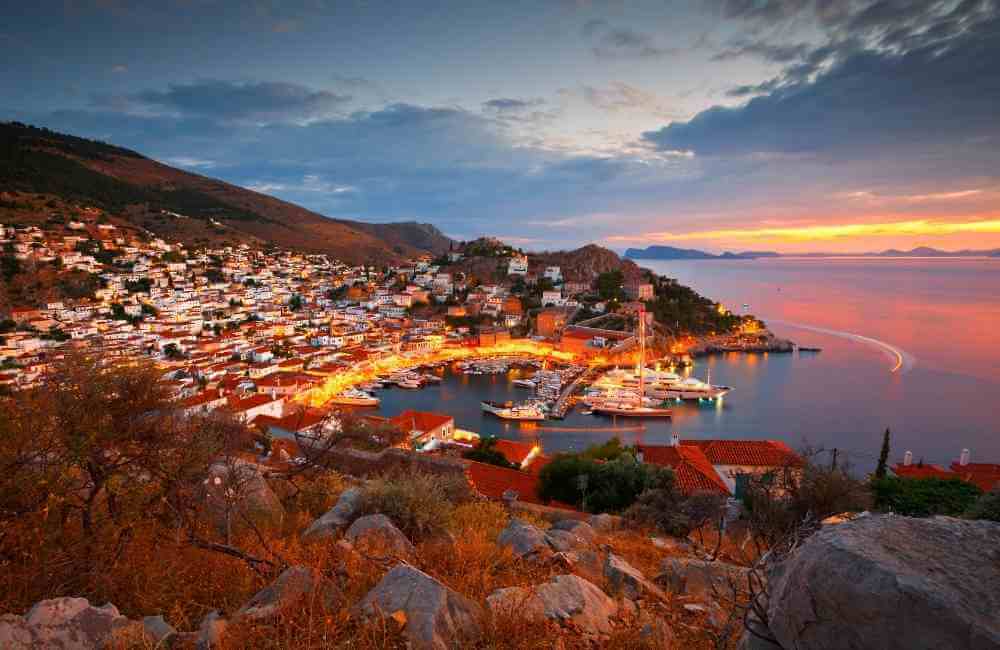 If you fall in love with the beauty of the island and want to transform your one-day trip into a longer stay, check out this guide to the best rental homes on Hydra.
This is another useful article with tips on how to make the most of your rental home on the island.
Affordable accommodation in Hydra: If you're looking for an inexpensive place to stay in Hydra, Botsis is a comfy guest house with very convenient prices and impeccable facilities.
Click here for the latest prices.
Mid-range accommodation in Hydra: If you can spend a little more during your stay, I suggest Mistral Hotel, centrally located and offers great value for money.
Click here for the latest prices.
Luxury accommodation in Hydra: You can upgrade your nights on the island by staying at Hotel Four Seasons Hydra Luxury Suites, with stunning views of the island and excellent reviews.
Click here for the latest prices.
Ready to Spend 1 Day in Hydra? Jump on a Boat at Piraeus
If you're planning to spend one day on one of Athens' closest islands, then get up early in the morning and reach the Port of Piraeus by bus or – even easier – with the metro.
The trip from the center of Athens is about 25 minutes and the metro station is right opposite the port.
It's always better to book your ticket to Hydra in advance since it's not always easy to find available tickets.
Although several ferries cross every day, finding the right ticket is not always a piece of cake, especially in summer. I always use Ferryhopper for convenient fees.
⛴️ Check out ferry ticket fees and schedules
Things to Do on Hydra Island in One Day
Arriving in Hydra you will notice a line of mules and donkeys waiting to carry somebody or somebody's luggage. The island offers plenty of interesting things to do even if you don't plan to spend more than a day in Hydra.
For instance, you can hike some trails (or not), swim in the crystal waters, and indulge in some authentic food of the best Greek tradition.
Morning in Hydra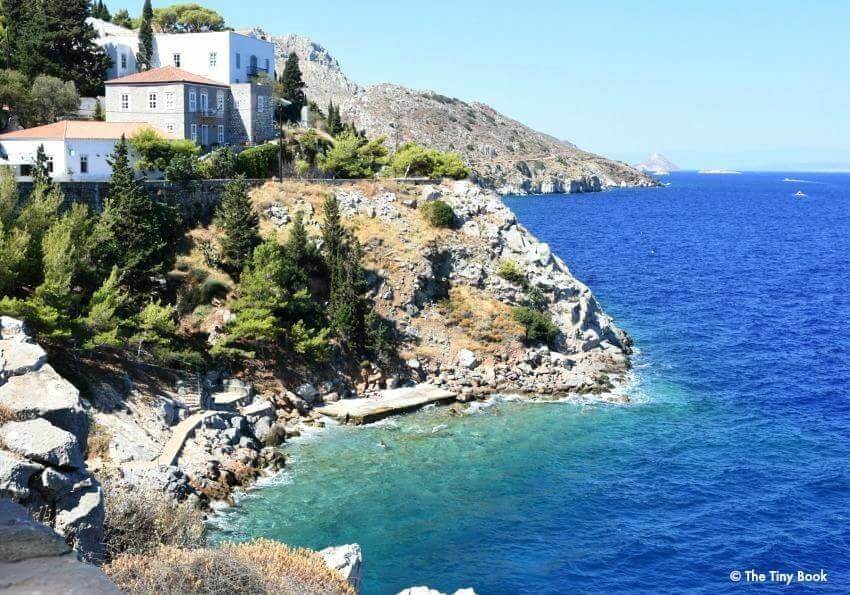 Arriving in Hydra while it's still early is great to enjoy a less busy waterfront and a laid-back vibe. During the early hours of the morning, the small town is peaceful and silent, especially along the narrow streets that head to the heart of the island.
At the port, you will find lines of mules and donkeys ready to help visitors with luggage, but also locals waiting for goods arriving from Athens.
From the port, there are several paths going through the hills that lead to lonely monasteries overlooking the sea. This is the right time to walk past the port and follow the coastal path next to the sea until you spot three old windmills.
Right after, when the road bends, you will find a gorgeous small shore where the sea looks like a tiny angle of emerald. This tiny pebbled shore is known as Paralia Avlaki, and it's heavenly for a quick, refreshing swim.
REMEMBER: When getting ready for your day trip to Hydra, don't forget to pack enough sun protection with you because the sun can be merciless in summer along the coast.
Midday by the Sea: Where to Have Lunch in Hydra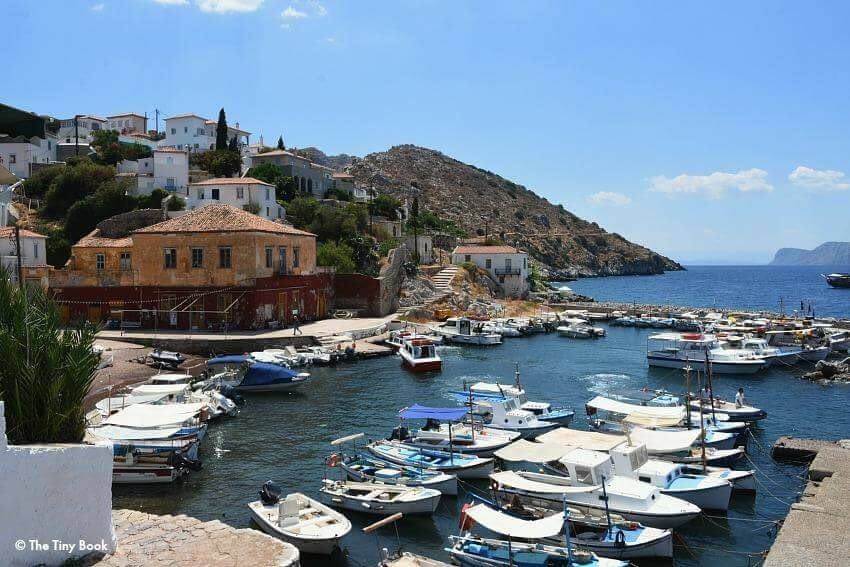 Not far from the beach, there's one of the nicest tavernas in the area, To Pefkaki. Here you can feast with tasty seafood dishes (octopus is delicious), combine it with a rustic glass of retsina wine, and a simple bowl of homemade yogurt with quince.
Choose a table under the trees, overlooking the sea, and get lost in the amazing views of the sea.
Afternoon in Hydra
Not far from this family-run taverna, you will find the small port of Kamini, where you can spend some time discovering the beautiful landscape and the traditional homes of the island.
If you plan to spend more time on the beach in the afternoon, then walk a few more minutes until you reach the next shore on Hydra's coastal trail, Vlychos. Or move on and extend your beach towel on Kastello, another popular beach on the island.
Spend a peaceful afternoon sleeping or swimming, and then climb the steps back to the main path and head back to the main port before sunset… the landscape is stunning.
If, instead, you prefer to explore the island, then head inland for stunning views!
In fact, it can be a great idea to spend a few hours visiting Profitis Ilias Monastery, although there are many religious sites to explore on the island, Profitis Ilias offers some spectacular views. It's situated up on Mount Eros, Hydra's highest hill, at the end of one of Hydra's hiking paths, about 6 km from the port.
And since the views from the site are stunning, I strongly urge you to head there before sunset for some unforgettable landscapes of the island.
The traditional Orthodox monastery dates from the seventeenth century and its central church is richly adorned with paintings and icons.
The ascent to the monastery is quite steep, so you can explore the area by hiring a donkey if you want to avoid the hike.
Once on the site, keep in mind that the monastery is no longer fully active, however, you can schedule a tour of the chapel with the caretaker priest assigned to the monastery.
Walking to the monastery takes about 2 hours (each way), so don't forget to wear comfortable walking shoes and to carry enough water for the way.
Getting Back to Athens: A Piece of Cake!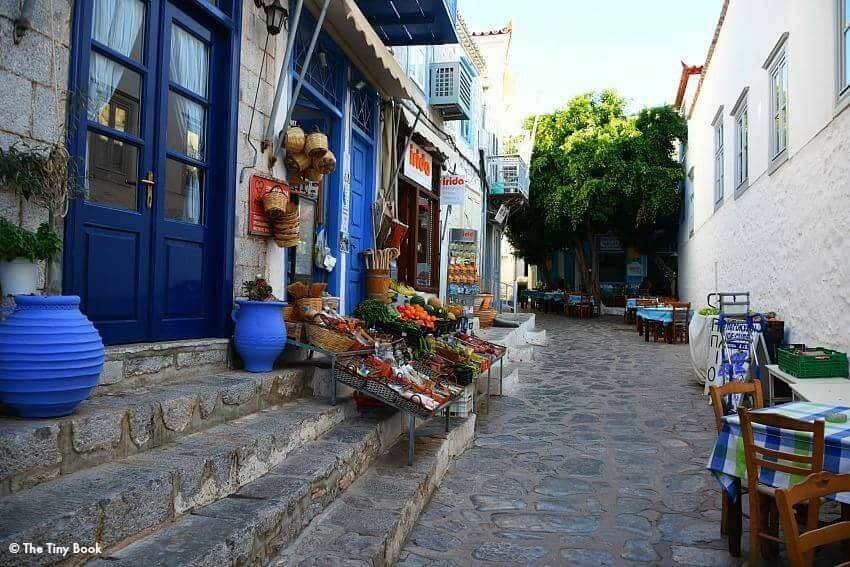 Before it's dinner time, it is a good idea to walk along the seaside promenade, purchase a few souvenirs from the island or enjoy a good cup of Greek coffee.
If you want to avoid the crowds, find a table at a bar closer to where the boats from Athens arrive, this area tends to be less crowded.
Try the local cakes (either chocolate or my favorite: orange cake soaked in honey with whipped cream), and spend some time people-watching.
Before it's finally time to get back to Athens, reach out for your camera and walk to the extreme of the port to capture the sunset over the hills, the beautiful shapes of the yachts, and the sun setting over the sea.
Organized Activities in Hydra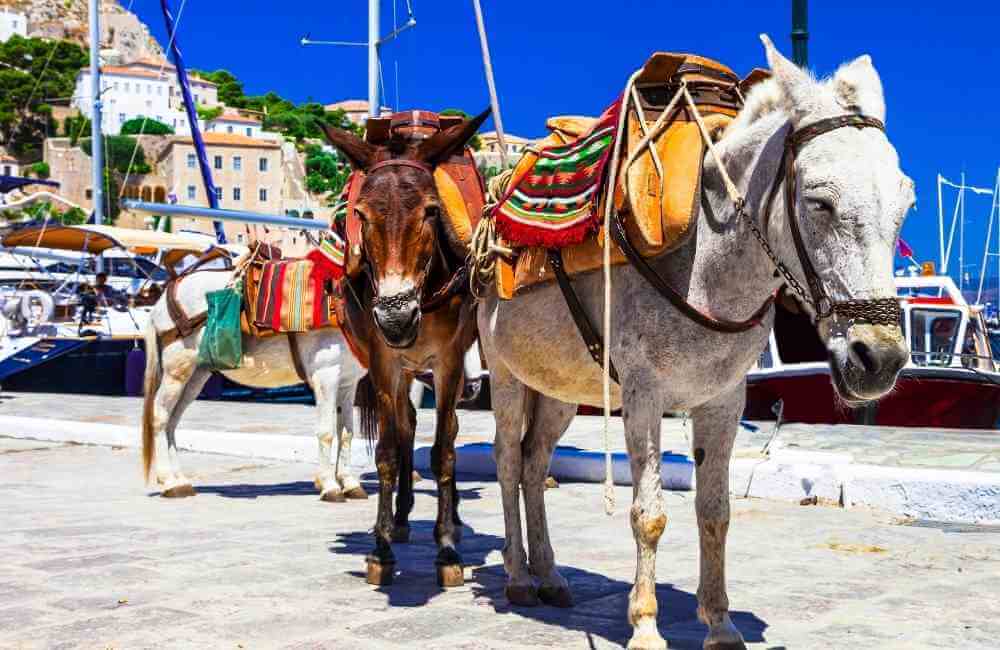 If you'd like to visit Hydra but are not sure about booking a ferry ticket and venturing on an adventure, you can join an organized daily cruise like this one that also includes stops in other incredible islands. The tour is a top-rated activity that also includes lunch and offers great value for money
Tips to Visit Hydra
Keep these tips at hand for the next time you plan to spend 1 day in Hydra!
Reaching Piraeus Port from Athens
From the center of Athens take the metro (Line 1 Piraeus/Kifissia) to Piraeus.
It's a 20-minute ride from the center. Arrive with plenty of time to spare and have your trip information at hand: You will have to find your gate in one of the busiest places ever and you will probably need to walk!
Spending the Night in Hydra
Most visitors come only for the day (accommodation is limited and tends to be on the expensive side). If you intend to spend the night, search for a room the moment you arrive or book in advance before leaving Athens.
Moving Around in Hydra
You can reach the beaches located further from the port by water buses or taxi boats. To see the inner part of the island choose a donkey, a mule, or a horse. If you are there just for the day explore or move along the coast in the best of ways: walking.
Where to Eat in Hydra
Choose one of the bars facing the seafront. Most of them serve local dishes and prices are on the middle-range side. Mezes (traditional small dishes similar to the Spanish tapas) and ouzo or a glass of local beer can be a good choice.
Late at night, The Pirate and Papagalos are there for music and cocktails. My orange cake comes from The Skipper.
Are you planning a trip to Hydra?
I have written a practical guide for Hydra. It's inside my Three Days in Athens Guide.
Already been to Hydra? Want to visit another island near Athens? Check out the best things to do in Aegina.
Read more about Greece
🛌 Suggested Accommodation in Athens:
🗺️ More resources to book your trip to Greece:
Don't Leave Before You Pin!
Pin This Guide to One Day in Hydra for Your Next Trip to Greece!
---
You might also want to read these posts about Crete's regions:
---
About my blog: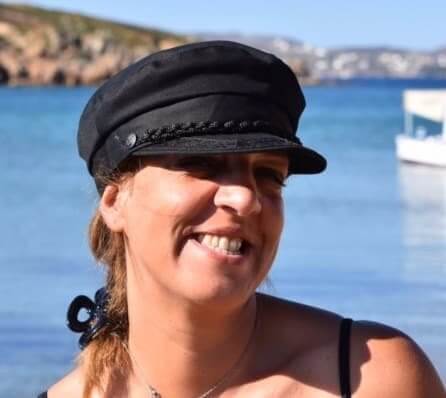 I moved to Crete in 2016. During these years, I learned much about the island.
In Crete, I juggle being a solo mom, hosting culinary tours, and writing for several travel blogs.
I've written for Greek Reporter, published travel guides about Greece, and had more glasses of frappe than any regular person could ever handle.