What to do in Hydra in one day
An easy thing to do in Athens is to jump on a ferryboat and leave the chaos behind! The Saronic Gulf offers a quick restoring break, both for Athenians and visitors. Among the many islands, one stands out. It's Hydra, Athens' Paradise. I book myself a return ticket and let the magic of Hydra carry me away to a day of marine atmosphere and stunning landscapes. What can you do on one day in Hydra?
One Day in Paradise? Jump on a ferryboat
The alarm goes off early, too early after a night of cocktails and days of heavy walk. I somnambulate to Omonia square, awake enough to get myself a koulouri and catch the right train. I sit and promise myself the first thing to do at the port is buying a much-needed cup of coffee.
Past Monastiraki station, the underground turns into a suburban kind of train. Daylight is painful but forces me to open my eyes and see an Athens I still don't know. I enjoy the last part of the trip, from Tavros to Piraeus. Everything becomes even more familiar if that is in any way possible.
Welcome to Hydra
Arriving in Hydra I notice a line of mules and donkeys waiting to carry somebody or somebody's luggage. Despite the trendy traits of the place, I'm not fooled. The wild nature of Hydra surrounds me completely. I might hike some trails (or not), I will definitely swim the crystal waters. And indulge in some authentic food of the best Greek tradition.
While it's still early, the atmosphere looks peaceful along the narrow streets. Lines of mules and donkeys, a soft perfume of herbs, people waiting for goods arriving from Athens. Several paths in the hills lead to lonely monasteries. I've arrived with tons of intentions but just one certainty: I'm in Hydra for loneliness and some Aegean splurge.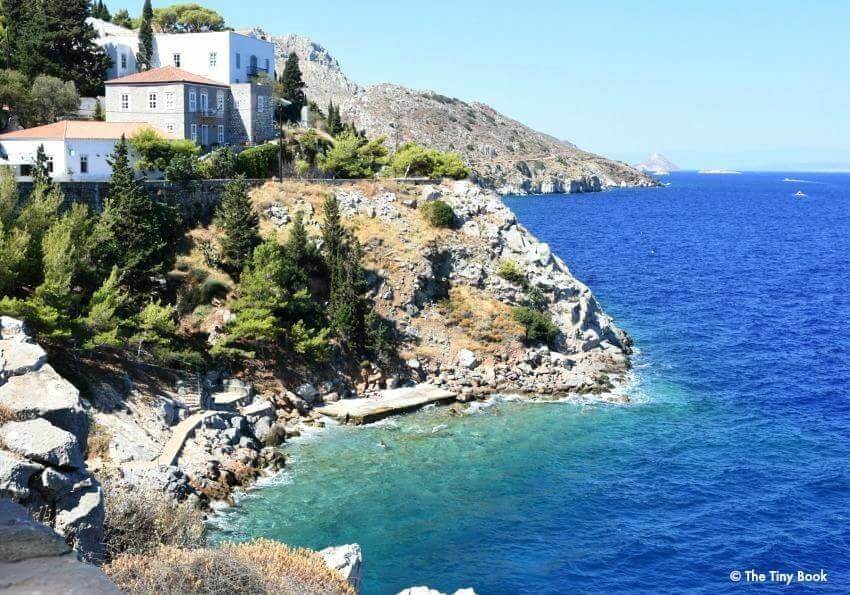 The sea right before Kamini.
I walk under a merciless sun along the coast and sit again to take another look at the port; the further you go, the more it charms you. I spot three windmills and after a bend on the road, I look down at the sea. A tiny angle of emerald, steps among the trees. I suddenly don't need to walk anymore, I'll stay.
The most lonely angle is my favorite. I extend a sarong and sit for a while wondering if walking over the big slippery pebbles (or rocks!?) to reach deep waters is doable. Or if my waterproof clumsiness has also made it to Hydra. It's too hot to keep wondering. Gathering courage, I move to the concrete platform and jump.
Who cares at all? I'm here for a different day, why care after all? It's so beautiful I spend hours swimming, diving, forgetting and remembering. Remembering why I chose to make a change. And why that change will soon take place.
Lunch with an octopus in Paradise
It's my day, a day for me alone. Not the mom, not the blogger, not the one who travels for work. It's a gift to myself, a personal celebration. I celebrate my past and my decision to be over with it. A toast to surviving nights of fear, doubt, and nightmares about change. And celebrations need banquets. Mine is an octopus, retsina wine and home-made yogurt with quince. At a very low pace. Under the trees, overlooking the sea I fell in love with it.
Later, I reach the little port of Kamini and stay there for a while. The only bench I find looks so old I need to decide whether it will hold if I sit. It does. I breathe the air of Hydra, the celebration goes on.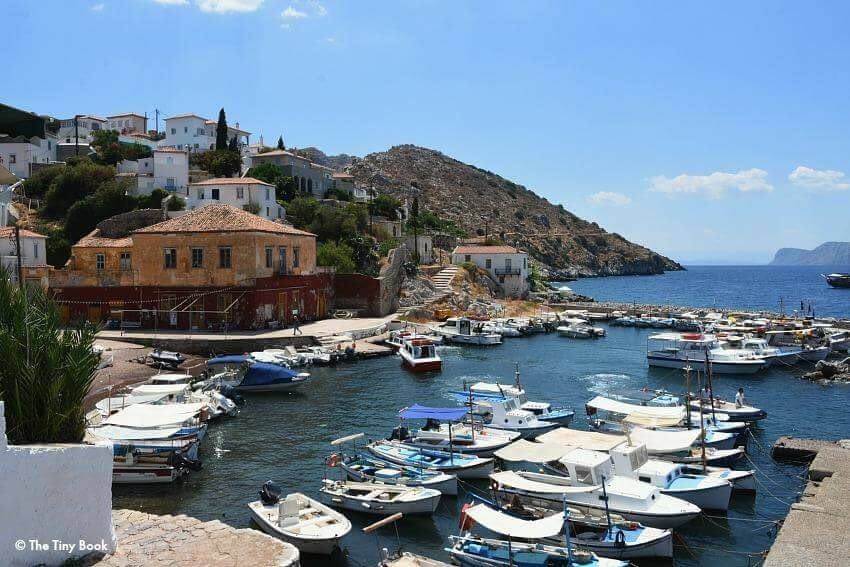 The small port of Kamini.
I get to Vlychos because everyone had said I had to. I don't like it much, though. I mean, it is indeed gorgeous, but not as lonely as I want, so I go back to Kastello and swim for a while. However, the day feels over for me. The traveler has taken over the blogger. I don't feel like exploring anymore, I want to go slow and be with myself.
I leave Kastello and go back to the morning beach, to my still lonely angle and take out my notebook. I don't write. The old habit of drawing comes back to me and I sketch some blue horizons framed by rocks and trees. It's weird, it's been a long time. However, I love how it feels.
The afternoon goes by sleeping, sketching and swimming. When I climb the steps back to the main path I stop every couple of seconds. I look back and the colors and wonder how will I ever leave Hydra? How can I take part of it with me? How can I dare abandon the state of mind it leaves me in. Cake, maybe?
Orange Cake and back to Athens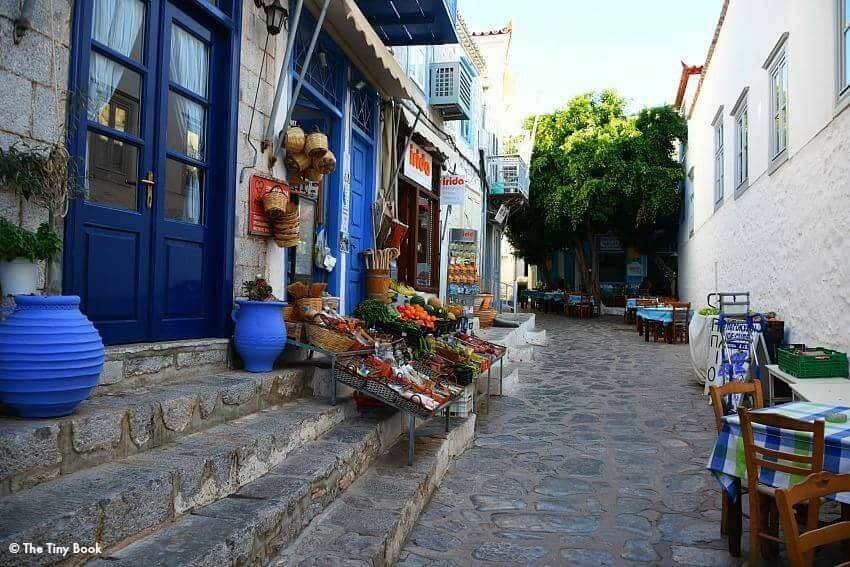 Alleys of Hydra.
Before dinner, I walk some more. A whole day of rest has given back the energy Athens had stolen from me. Unable to fulfill my carving for loukoumades, I'll settle, anyway.
I avoid the crowds and sit in a quiet place and order another treat: a sweet dinner. A piece of orange cake soaked in honey with whipped cream, a very sweet frappé (that tastes bitter next to the cake) and some more Hydra-watching.
Time is almost up, the ferryboat will be here in an hour. I pay and move closer to the cannons. I sit on the floor, take my camera and start shooting a sunset I will take with me. It's more than a sunset though. It's a collection of certainties, it's a gift I wasn't expecting, Greece's reward.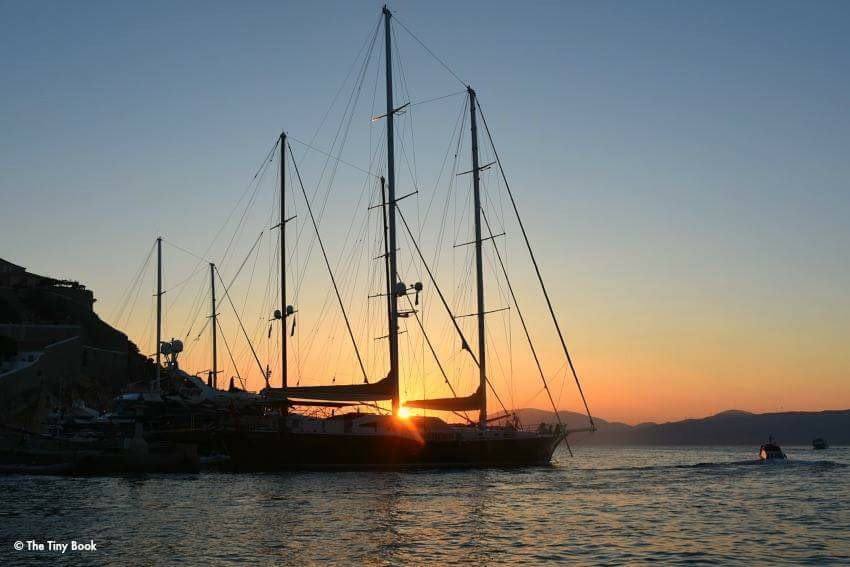 Sunset facing the port.
Tips for Paradise
From the center of Athens take the metro (Line 1 Piraeus/Kifissia) to Piraeus. It's a 20-minute ride from the center. Arrive with plenty of time to spare and have your trip information at hand: You will have to find your gate in one of the busiest places ever and you will probably need to walk!
Most visitors come only for the day (accommodation is limited and tends to be on the expensive side). If you intend to spend the night, search for a room the moment you arrive or book in advance from Athens.
You can reach far beaches with a water-buses or taxi-boats. To see the inner part of the island choose a donkey, a mule or a horse. If you are there just for the day explore or move along the coast in the best of ways: walking.
Choose one of the bars facing the seafront. Most of them serve local dishes and prices are on the middle-range side. Mezes (traditional small dishes similar to the Spanish tapas) and ouzo or a glass of local beer can be a good choice. Late at night, The Pirate and Papagalos are there for music and cocktails. My orange cake comes from The Skipper.
I have written a practical guide for Hydra.
It's inside my Three Days in Athens Guide. You can check it here.
Pin for Later